UFO-SIGHTINGS  =  PHOTOS & DATA: THEY ARE HERE! WHAT DO THEY WANT? 
Below is a trove  of UFO-SIGHTINGS  -- Obscure photos, data and videos from around the world. The question is, are all these different craft from one alien civilization or are there many different races that are observing planet Earth.  These sightings are baffling, is it a positive or negative, that these aliens are interested in humanity.  Are these UFO-SIGHTINGS a clue to the fact or idea that Aliens have been having a hand in events, be it culture, science, and wars ?   One thing that is odd --- is that as of the 1960s onward -- the main stream media has not reported flying saucer sightings as diligently as they did in the previous decades. Why is this? 
ON JULY 29, 1952 George Stock was in his backyard at 381 Brooks Avenue, Passaic, New Jersey when he took the following pictures of a UFO that flew over his house. It was estimated that the Flying Saucer was  25-29 feet in diameter and about 200 feet off the ground.

Stock ran after the craft and took these photos, his friend John H. Riley witnessed the 4:30 PM event.

The craft had a blue gray metallic body color, its dome was greenish blue. These photos are thought to be legit. Stock was NOT-NOT known to be a prankster, also the tilt of the craft is from Stock turning his camera as he ran.  

The first photos investigator-author  ALLAN PACHECO saw of this incident was many decades ago and that photo is below. By going by just one photo, AL thought it was phony flying saucer snapshot.

Now that Allan has seen the shots, not just one,  he now thinks Stock did shoot a classic flying saucer.

UFO-SIGHTINGS - Why (Contemporary Times) are there so few flying saucer reports?  Is a new species visiting Earth in different craft? Does that account for the lack of (FLYING DISK) accounts? 

ALLAN doubtS that the new craft that are witnessed today are the result of a radical new design.  It seems that many aliens civilizations are scouting Earth.

santafewriter@me.com

Today, when there is an Alien encounter there is rarely a craft mentioned in the dispatch.  People report GRAY beings, these creatures or cyborgs are described as ugly, emotionless creatures that appear in somebody's house, this is usually followed by an abduction. Allan has his doubts about a lot of these Gray encounters.

Repeating: why is it that the main stream media rarely ever reports on UFO-SIGHTINGS & when they do, it is done a mockery type expose.

UFO-SIGHTINGS --- VIDEO ---The below short docu is on the above PASSAIC, NJ sighting of July 29, 1952 by George Stock.  The video is done by OPEN MINDS PRODUCTIONS -- it one of the better ones out there --- it was done years after the above page was posted --- no, I am not an associate of that video company. Take a look.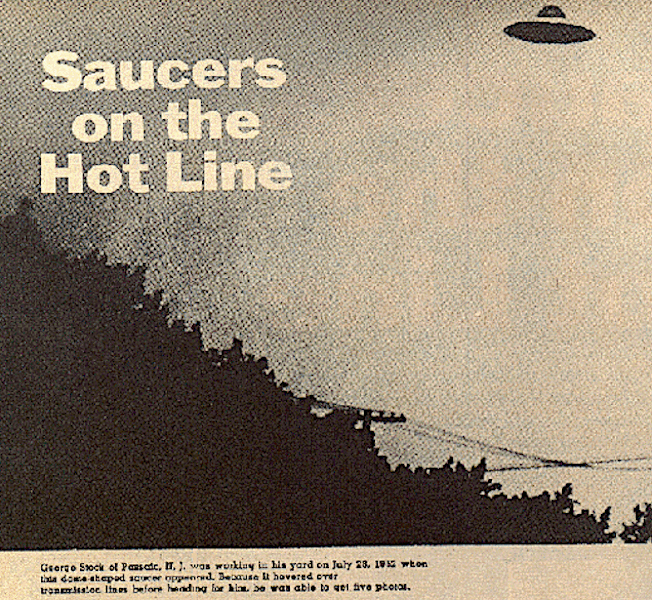 MORE - UFO-SIGHTINGS RIGHT: This photo was taken on July 10, 1947 by John H. Jansen, in his airplane at about 6,000 feet over Morristown New Jersey. Jansen was able to capture four of the craft in his photo, but was certain that their were six craft.

Do you count 4 saucer craft and is the large object the mothership or are three of the saucers linked together?  

Jansen had another encounter with two UFOs on July 23.  In this incident his engine died, but The plane DID not plunge to the ground.  

As his plane glided, he felt as if he was being examined by an electric prickly field. Once the sensation left him, the engine came back to life.

Jansen maintained there was a UFO on his wing and beyond it anther one on this later encounter.
RIGHT: The Naga Fireballs, they are probably a natural phenomena. These fireballs are sometimes classified as UFOS, they are seen in October on the Mekong River between Thailand and Laos.

Allan Pacheco first heard of these (THAAANGS) in the mid to late 1960s. Thais claim, a dragon or sea serpent wakes up in the Mekong, the fireballs are part of his breath.

Skeptics claim the balls of light are the result of Thai fireworks and Laotian soldiers firing off their weapons on the other side of the river.

The fireballs may be some type of Mekong river gas that is ignited and is then propelled upward.  

Yet some think the fireballs are UFO activity.  Allan votes NAY on this one, he tends to believe it is a natural phenomena that has to do with the properties of the MEKONG. This October light show has been going on for hundreds of years.  

There it was, but nobody will believe him!
The BELOW two photos are from May 7, 1952-- Barra Da Tijuca, Brazil, they were taken at 4:40 in the afternoon by Ed Keffer.  There were 40 witnesses to this UFO sighting.
RIGHT: PHOTO TAKEN DECEMBER 10, 1954 IN TAORIMA, SICILY, BY GUISEPPE GRASSO.

SUPPOSEDLY THE UFOS STAYED MOTIONLESS FOR A FEW MINUTES. IS THERE SOMETHING WRONG WITH THIS PICTURE. WHY ARE THE MEN LOOKING SLIGHTLY AWAY FROM THE AERIAL ACTIVITY? IS THIS A HOAX PHOTO?

If you like how thorough this page is -- concerning UFO-SIGHTINGS -- then take a look at ALLAN PACHECO'S SANTA FE GHOST AND HISTORY TOURS pages -- great stuff about the paranormal.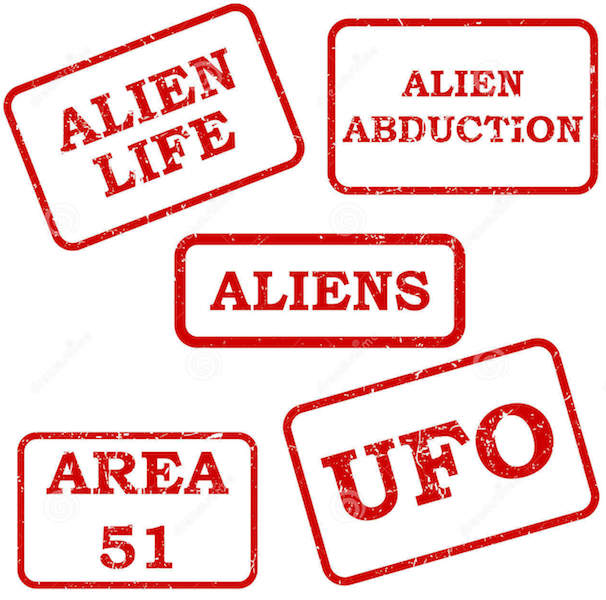 Below something very strange!  A UFO or life form feeding off the sun, take a look, a very odd video!
MARCH 2012, by way of telescope with video.
BELOW: Interesting  doc from MEXICO on the LONNIE ZAMORA incident. Socorro, New Mexico 1964. Also--  here is a link to GHOST AND HISTORY TOURS -- that ALLAN PACHECO  guides  -- FIRST RATE PARANORMAL -- PRIVATE TOURS = GHOSTs - Bits of HISTORY, Some UOF and THE MISSING
COMING SOON -- Allan Pacheco PODCASTS ---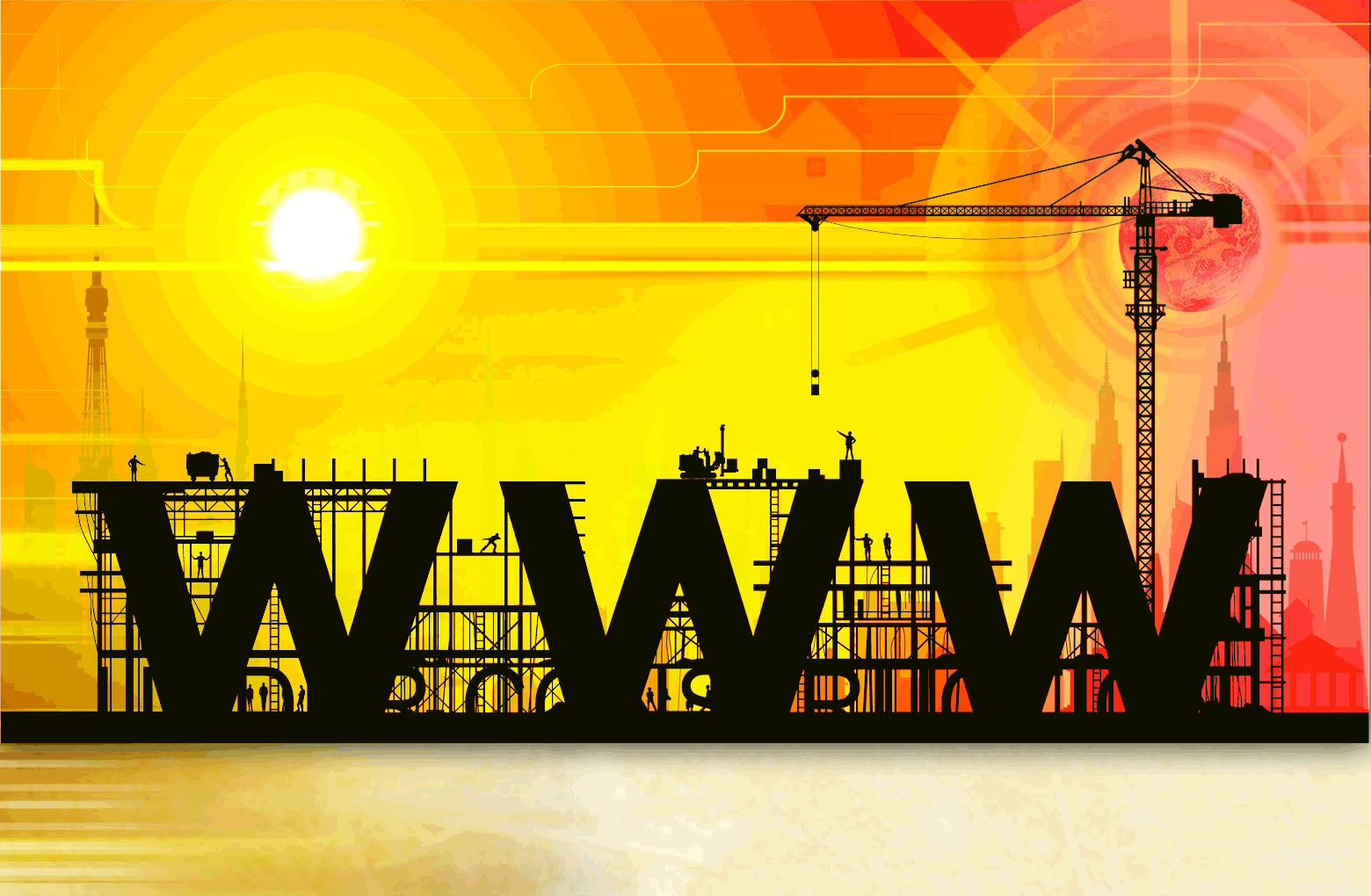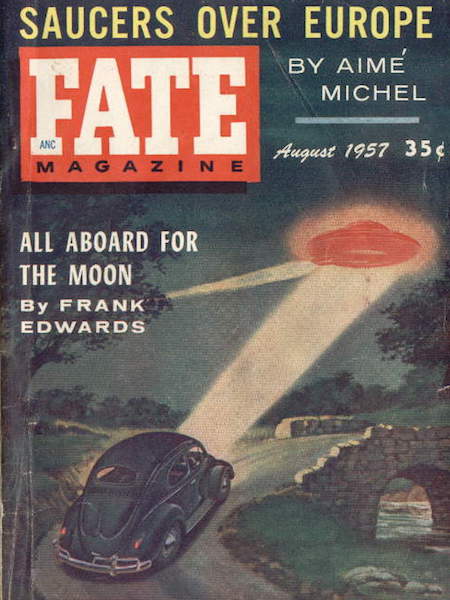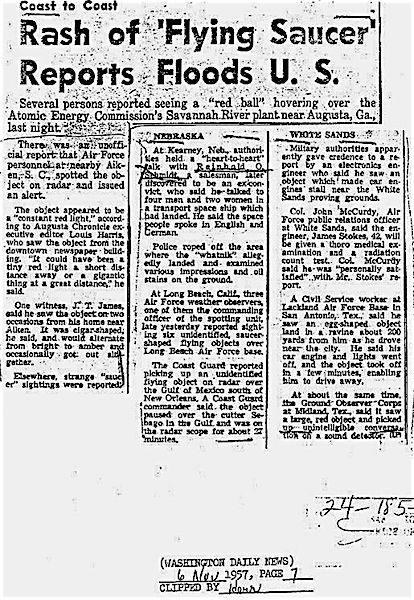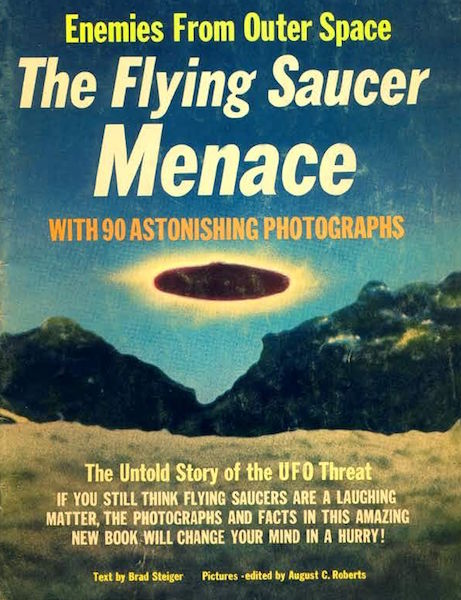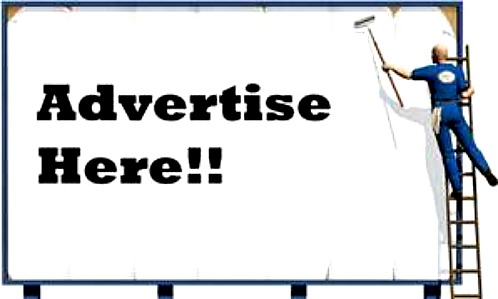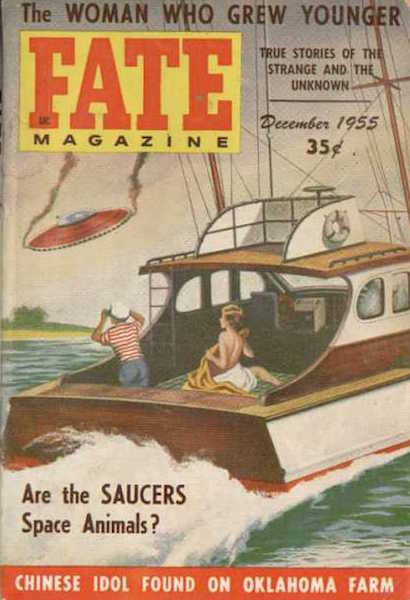 UFO over HONG KONG 2012 -- BELOW
Below: Photo of UFO in Giraffe picture, 1972 DEVON ENGLAND. Skeptics say it is an insect.. Hmmm?