SANTA-FE-Fiesta-tours-4th-July-TOURS    are led by author, historian, and Santa Fe native -- Allan Pacheco -- BELOW: photos + info.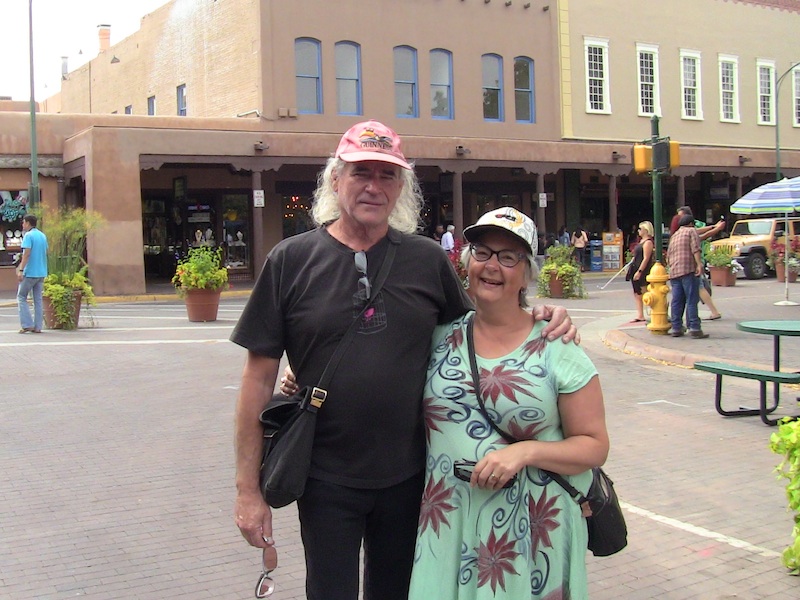 History tour during Fiestas or 4th July - book a safari 505-986-5002. Below: review of Allan's private SANTA FE TOURS

SANTA-FE-FIESTA-TOURS-4TH-JULY-TOURS
May 13, 2016
Allan Pacheco is the tour guide for an ultimate experience when visiting Santa Fe. I have been to Santa Fe five times, and it was on my latest trip that I had the best of all experiences.
My companions and I booked two tours with Allan prior to arriving in Santa Fe. These were private tours just for us and the prices were so reasonable.

We had the ghost tour on the first day we arrived meeting Allan right at dusk. We wound our way around town listening to fascinating information. Although I am not as much of a ghost enthusiast as my friend, I found myself very interested in the stories told on location.
The tour ended back at the square just at dark. Allan even walked us (three women) to the La Fonda, where we were staying.
Two days later, we met Allan for the historic walking tour. I have been on a walking tour of Santa Fe in the past, but this far exceeded my prior experience. Again, this was private to our group and, therefore, tailored to our questions.
As a history buff, I came away feeling that this jewel of a city was part of me.

Both the ghost walk and history tour of Santa Fe more than met our expectations. Allan's depth of knowledge, high energy and upbeat personality are second to none.
I have been on many tours both in the USA and abroad and Allan's history tour ranks in my top two!

Go to Santa Fe. Meet Allan. You won't be disappointed.  By the way, Allan is a one man show. If you read a review about someone other than Allan leading, it's not the correct tour!
J.G.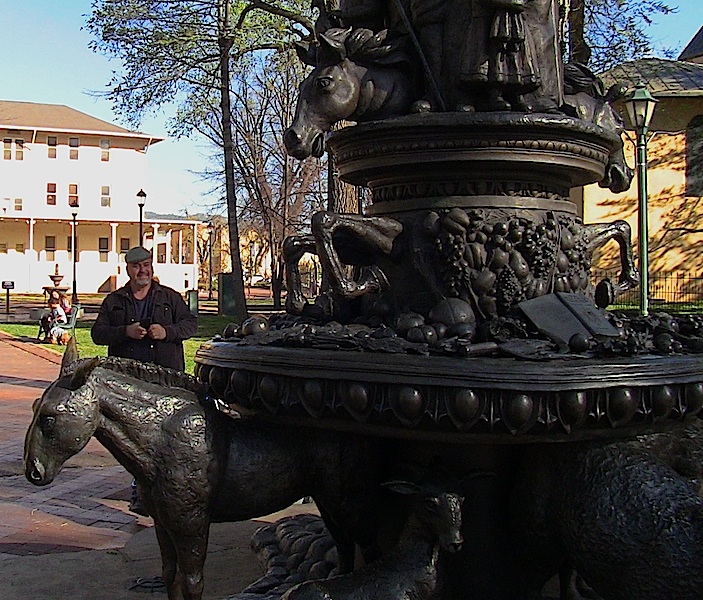 | | |
| --- | --- |
| ABOVE: This iron work honors Santa Fe's Iberian lineage .  See the monuments with ALLAN pronto, due to P.C. protests, it is likely this & other statues & plaques will be a thing of the past. ...................  The media along with a number of local Democrat leaders + radical groups are erasing Santa Fe's Spanish heritage. ................................  The oddity, these politicos & fourth estate power brokers are ignorant to the point of stupidity when it comes to SANTA FE or USA HISTORY.  Likewise the nescients resemble characters in the novel "1984", CNN = "BIG BROTHER".  Consequently these Pavlovians tend to follow main stream media ideals; they are anti 2nd Amendment, they are open border proponents & deem facts + culture as erasable.  //// //// ///// ///// //// // /// //// // // / // Videos Right; What these human drones should protest = the porous border that enables drugs to pour into USA/ Heroin, Meth, etc... = Crime, addiction, death! TERRIBLE FACT!!!  At minimum, MINIMUM, over 100,000 Americans die of FENTANYL overdose per year.  A jumbo jet holds 524 people. /ANALOGY /, how many jumbo jet crashes in the USA-- are illegal drugs causing? | |
November 10, 2016
If you want to have a real understanding of the Santa Fe- historical or paranormal, Allan Pacheco is superb tour guide.
Allan has a strong depth of knowledge of not only Santa Fe history but also has an insightful world view of history to provide great context. Allan is also a professional actor so is skilled in weaving great stories of the past - both culturally and ghostly.
One of the best tour guides I have met anywhere in the world.
S. SCOTT
SANTA-FE-FIESTA-TOURS-4TH-JULY-TOURS
Below: Another tour -- the other side of the Santa Fe - monument.  The landmark honors what the Conquistadors brought to the NEW WORLD (Santa Fe).
Below: History Tour -- the statue of Conquistador DeVargas.  This man's exploits ----  the reconquest of Santa Fe and the peace that followed is celebrated during Santa Fe's Fiesta. ............  ............     ...................................................................   ............... WORDS OF WARNING ---  due to the ROYAL CITY's  Progressives & Leftist high sheriffs -- it is likely -- in time -- this monument will be torn down -- and the Fiesta which has been in existence since 1712,  will turn into PC (POLITICALLY CORRECT) block party or just abolished ------------  --------------------------------------------   ----------    WHY? Santa Fe's present day liberal superintendents have tended to reject most anything that is conservative and they champion causes or themes that negate Santa Fe's rich past.   ------------------------------------------------------------    As of 2018 the "ENTRADA",  a historical pageant which consists of Conquistadors and Indian allies opening the Fiesta in the Plaza has been nixed.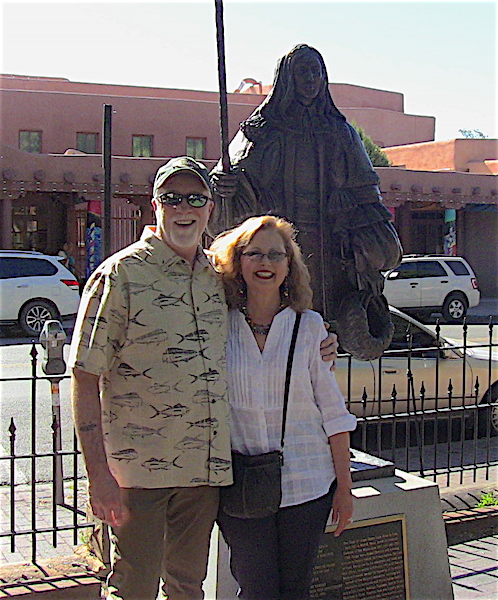 SANTA-FE-FIESTA-TOURS-4TH-JULY-TOURS
ABOVE: The statue of Don DIEGO De Vargas, the conquistador who reconquered Santa Fe...  Below: Lorraine and Laura in front of the plaza monument.  The obelisks honors soldiers that died protecting the wagon trains from Indian attack on the Santa Fe Trail, and soldiers that died in battle during the Civil War.
This plaza monument is a favorite target for culture vandals.   The steel bars of this defaced obelisk were cut with a power tool.  Its a shame U.S. & Santa Fe History is being altered or being suppressed by the local ANTIFA-esque groups + ULTRA LEFT government honchos.  The irony, hypocrisy or idiocy of all of this = the town's current leadership rubs out Santa Fe's history because its the P.C. thing to do, in turn these Top Dog Politicians, ( Most are transplants to Santa Fe ) break Federal Law and go against the U.S. CONSTITUTION, by mandating the capital city be a Sanctuary City.  In essence Santa Fe is in rebellion by way of its leaders, in how they make laws or proclamations that blatantly negate the U.S. Constitution.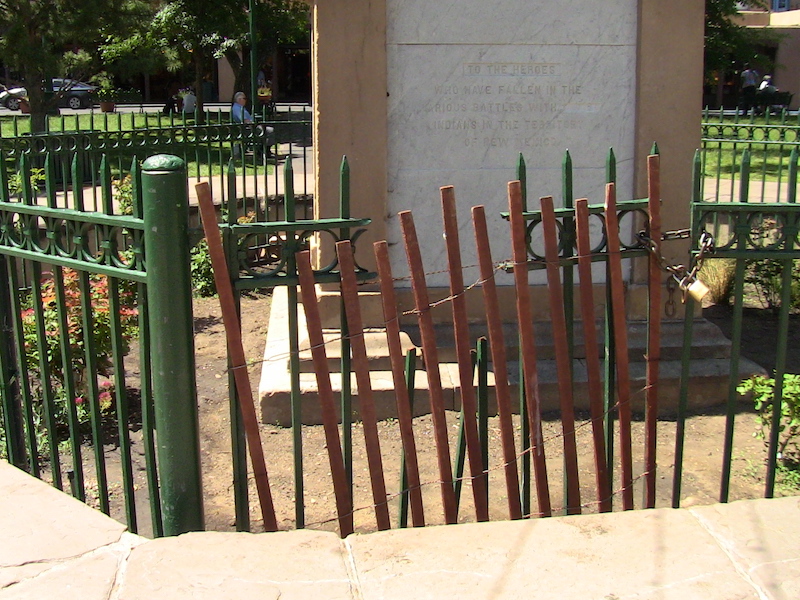 SANTA-FE-FIESTA-TOURS-4TH-JULY-TOURS
Below, on tour as an add hoc  pre 2018 Fiesta procession passes by.  VIVA LA FIESTA! Lets go touring 505-986-5002 or 505-231-1336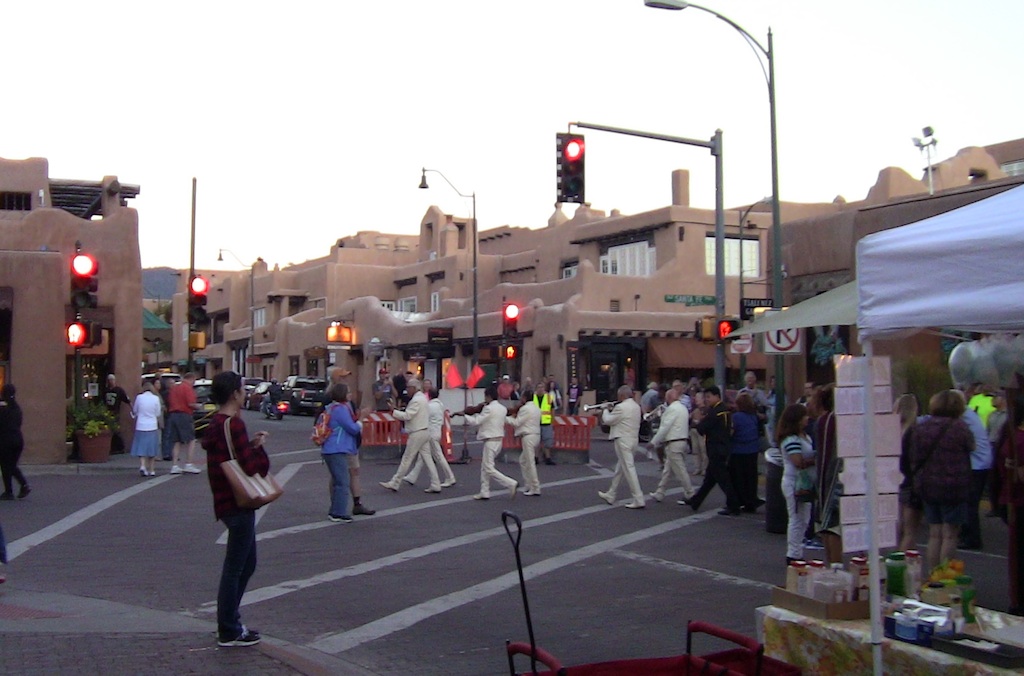 SANTA-FE-FIESTA-TOURS-4TH-JULY-TOURS
BELOW: FIESTA CIRCA 1946.  Schedule a tour with Allan  during FIESTAS. 505-986-5002... 
If you like GOOD Western Art -- click here -- see my pal Ron Kil's works -- they have a fantastic Wild West - Santa Fe Flavor -- look at one of his work's below --- THE SANTA FE TRAIL. The above photo is where the Trail started or ended  -- depending on which direction you are going.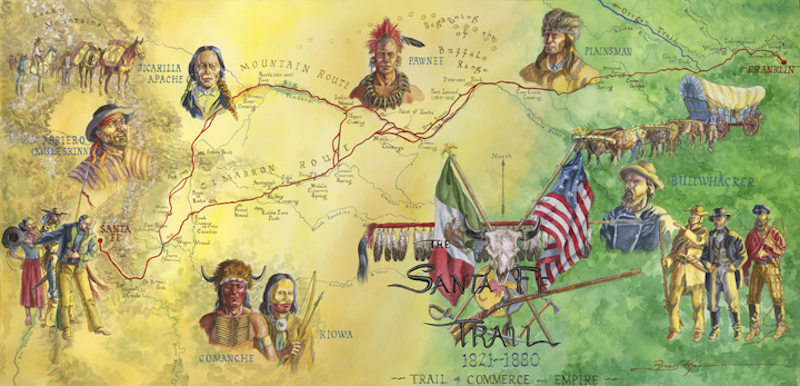 SANTA-FE-FIESTA-TOURS-4TH-JULY-TOURS
BELOW: Fiesta 2017, this unknown fellow, had the FIESTA SPIRIT --- VIVA LA FIESTA!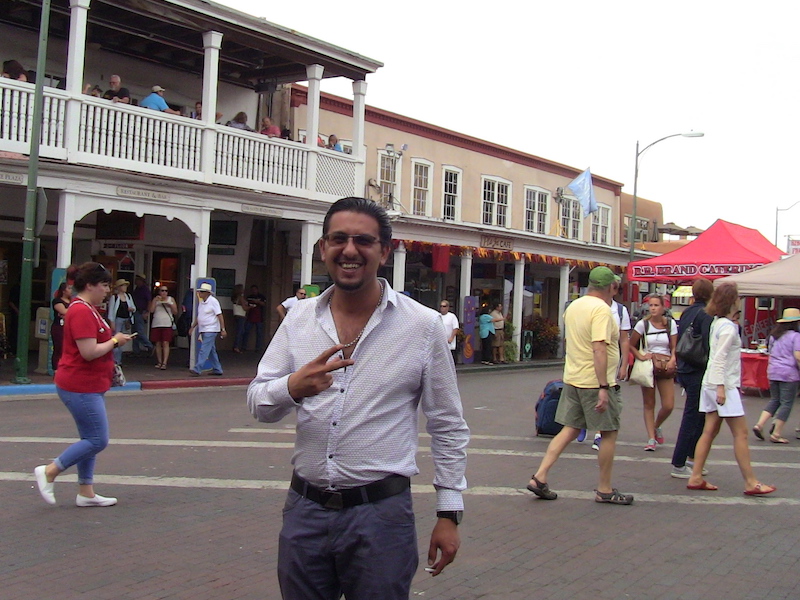 SANTA-FE-FIESTA-TOURS-4TH-JULY-TOURS
During Fiesta - an annual weekend celebration- the plaza is free of traffic, it is filled with booths, impromptu parades, music from the mariachis and dancing.  It is a fun and unique celebration!  Get Allan to take you on a Fiesta Tour!  505-986-5002 ...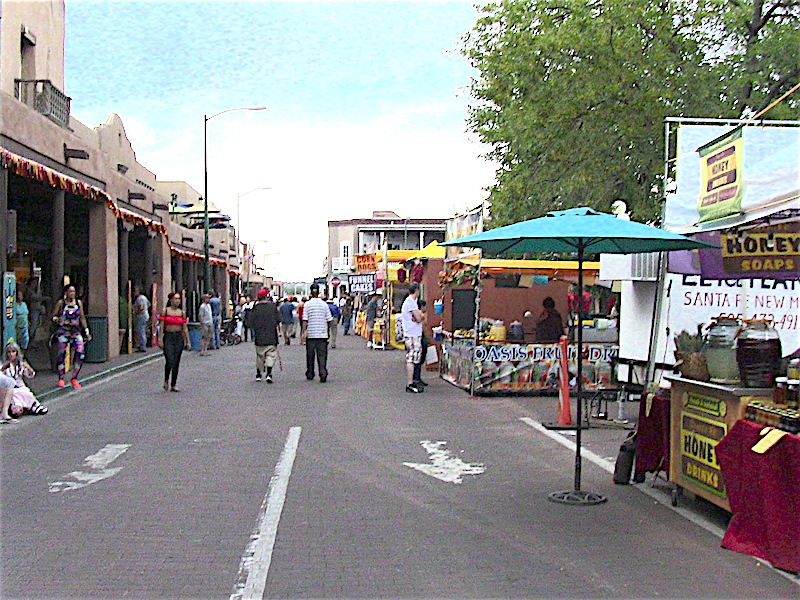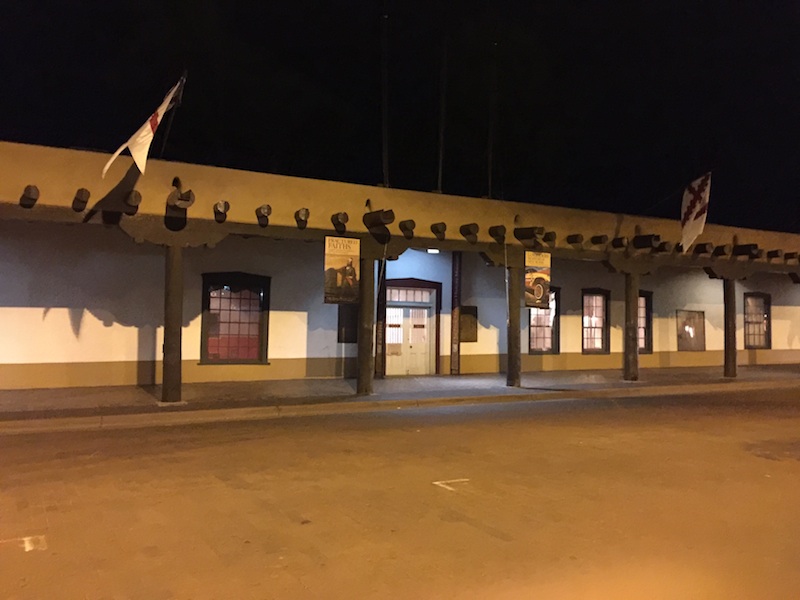 ABOVE-- the Plaza's  Palace of the Governors a historic and haunted landmark.  When you tour with ALLAN you see where history was made. On your trek you get the inside info: The 1680 War, the Reconquest of Santa Fe, the Fiesta, Zozobra -----  Reader --- REMEMBER -- History at times is not pretty, it can be bloody and unjust, but to ignore the facts means that the past's mistakes will be repeated again.  Case in point -- The Invasion of Iraq -- did not anybody in the different administrations or in CONGRESS or the voting populace -- recall or learn anything from the VIETNAM debacle?  APPARENTLY NOT!  Because the RINO  and DEMOCRAT leaders that got the USA into that IRAQ WAR were re-elected over and over again.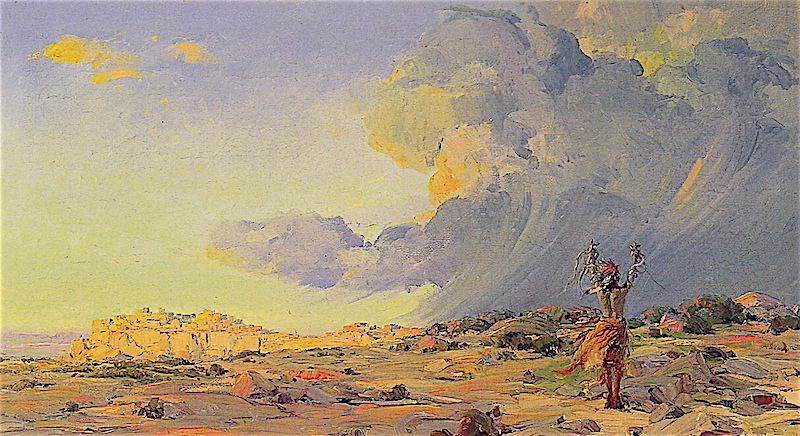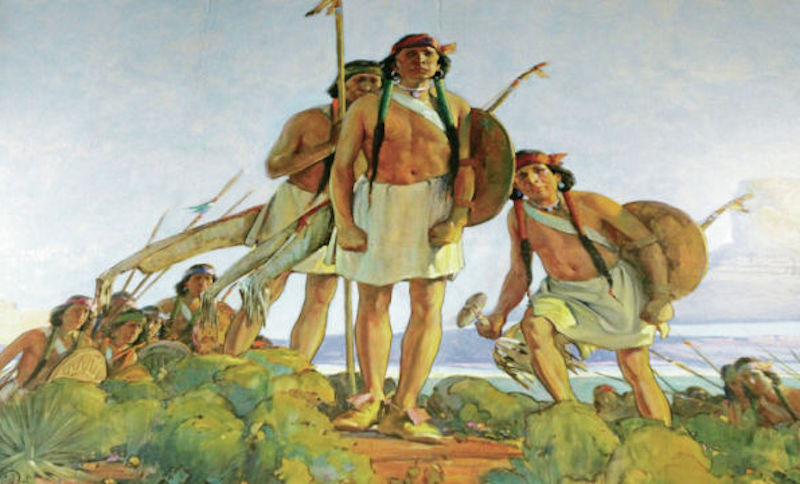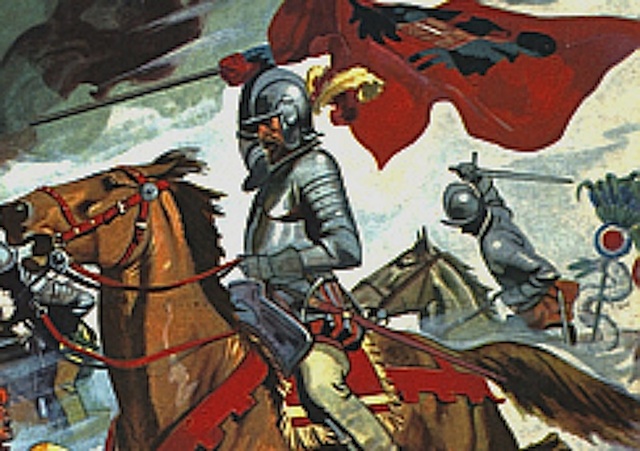 PLAIN & SIMPLE -- The Conquistadors explored and subjugated the west.  Conquistador means conqueror (translation).  The Spaniards were tough, brave, macho men who CONQUERED.  The picture below captures their no quarter asked or taken élan, like the Spartans they were either victorious or they were brought back to their camp dead on their shields.  To eradicate Santa Fe's history or Fiesta because its not PC, means that the ruling class makes the SHEEPLE more feeble-minded by way of indoctrination & propaganda.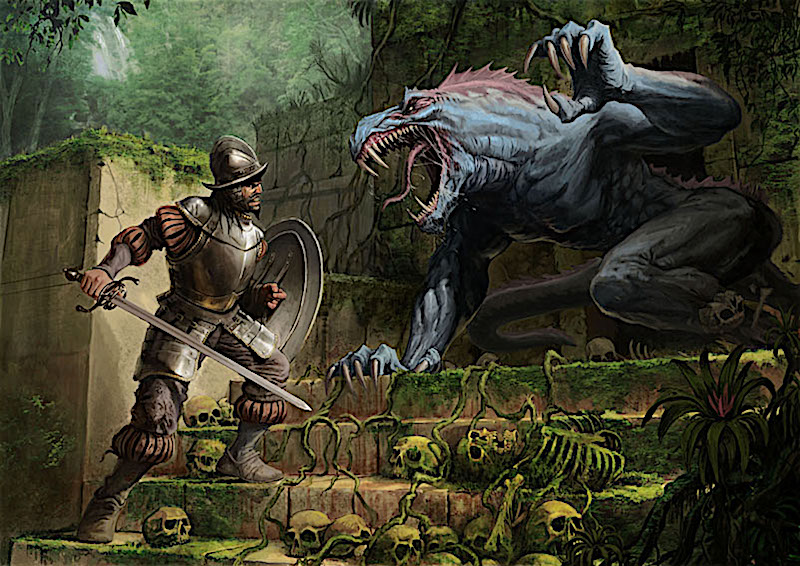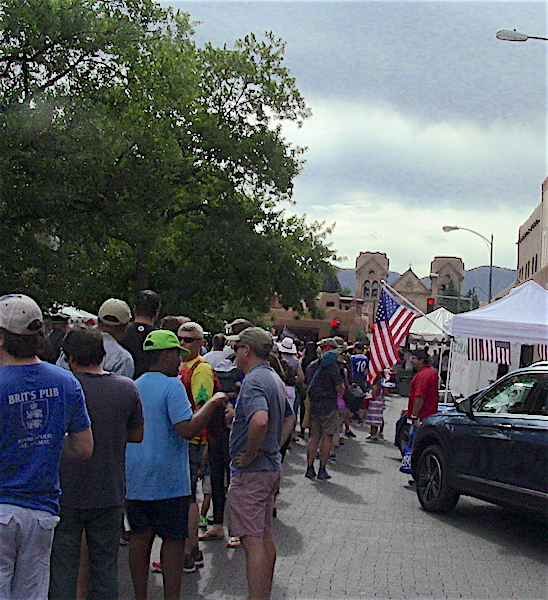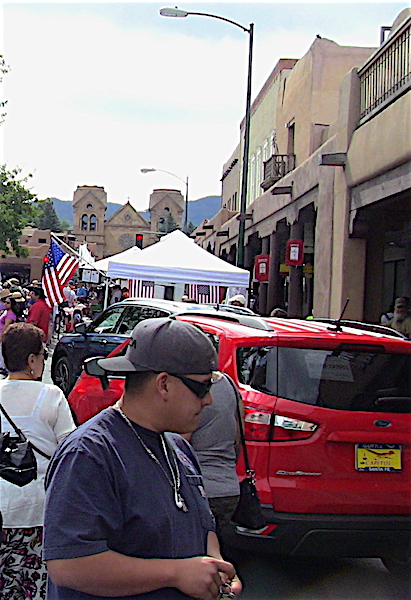 Below left - docu on Santa Fe's Fiesta & on the right, a segment on the no nothings of today that disrupt it.   
| | |
| --- | --- |
| The clueless revisionists champion Chief POPAY 1680 -- However these protestors fail to mention that genocidal POPAY and his men maimed & killed Indians + Spaniards alike.  POPAY sometimes spelled POPE, had a dictate; that all people of mixed heritage. SPANIARD  & INDIAN ARE TO BE PUT TO DEATH.  THAT MEANS ALL MESO-AMERICANOS OR MESTIZOS ARE TO BE SLAUGHTERED. EINSATZKOMMANDO TACTICS. | |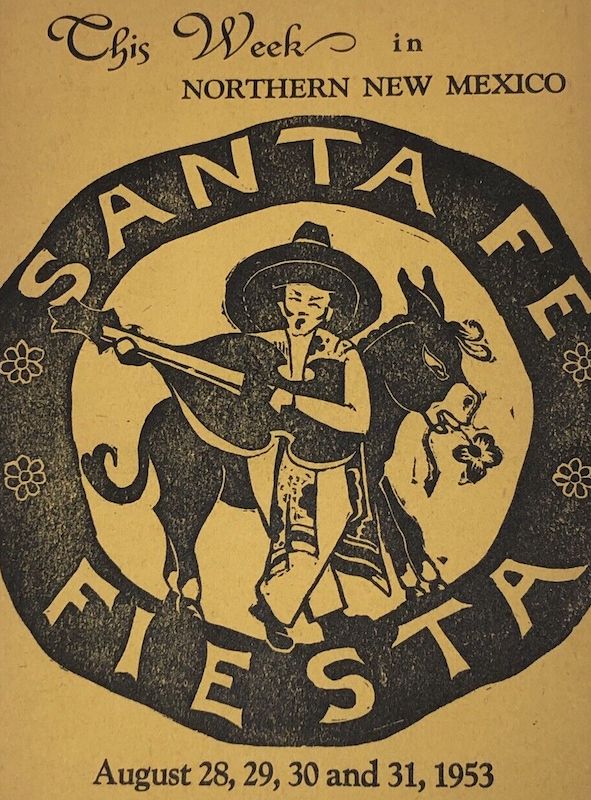 Below: Malcontents disrupting the Fiesta in 2017.  Note the police officer (Red Light behind him). Allan's tours will not be intimidated or detoured by the mob!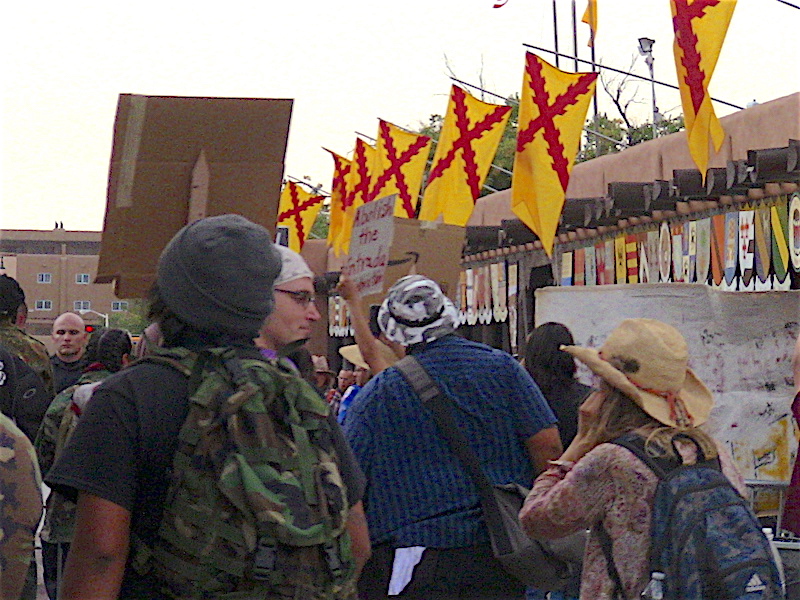 | | |
| --- | --- |
| | ANTIFA-ESQUE/ SHEEPLE. THEY DO NOT KNOW HISTORY. THEY KNOW PROPAGANDA - BRAINWASHED. |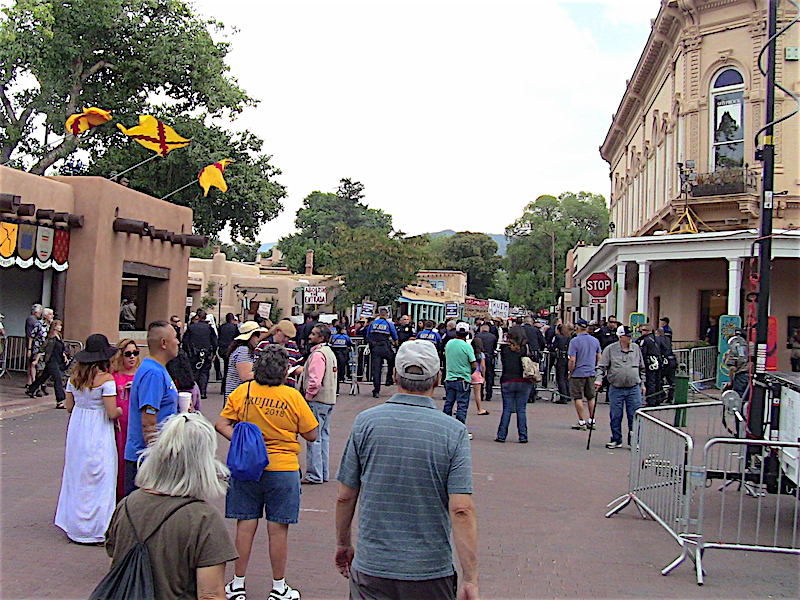 Allan & tour got through, then the extremists rushed the police a 2nd time, more foul mouth anti-Hispanics were arrested.  If these sunshine activists had a brain, they would be doing something positive, like protesting the government's failure to stop the BLACK TAR HEROIN that floods into the USA from MEXICO.  Over 90% of in-country heroin comes across the OPEN southern border.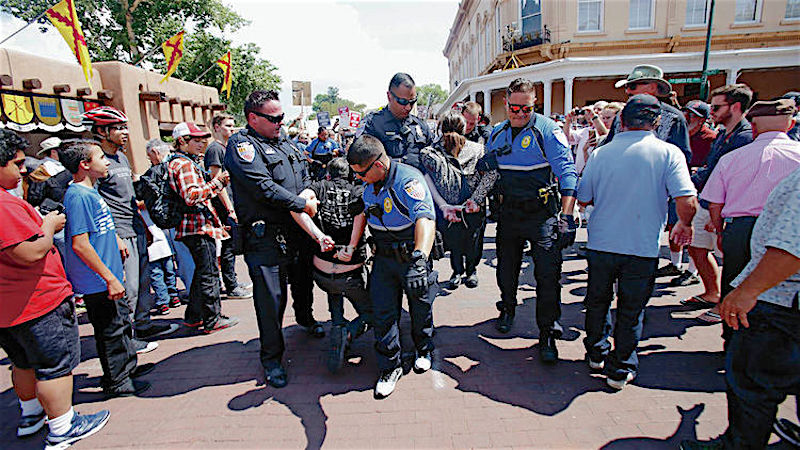 | | |
| --- | --- |
| ABOVE: 1st wave of arrests, the ignoramuses are fed propaganda & they act on it.  The video /RIGHT/ sums up the dolts.  The clueless like making noise + being violent.  FACT!  Cocaine & heroin is decimating America's populace, but this tragedy or the injustice of the USA prison system is not railed against.  The protestors are unhinged, they should demonstrate  against what is killing  Americans or the corrupt judicial system.  Below: Fiesta circa 1932 | |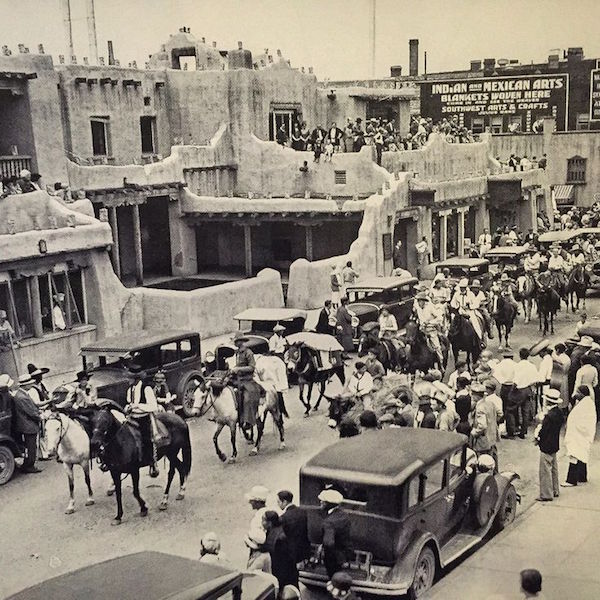 Below: The movie (Film Noir 1947) "Ride The Pink Horse' incorporates Santa Fe' Fiesta into the plot; in this Robert Montgomery flick one sees parts of 1940s Santa Fe -- the film does have its moments. 
| | |
| --- | --- |
| When you get to Santa Fe -- schedule a tour with Historian - Author  - Native SantaFean - Allan Pacheco -- you will get the true history of this fascinating city.  From Conquistadors to Wild West / to the Manhattan Project mayhem -- Soviet spies WWII/ 505-986-5002 | Driving home - it  registers; AL PACHECO's tour = interesting + |

ABOVE -- VIVA LA FIESTA 2023!    Schedule a tour (HISTORY or GHOST) or get Allan on your radio show or podcast -- Below some of the programs Allan has been on...