Trying to decide on the many computer choices = (Ghost Tours Santa Fe, New Mexico)? Look no farther --- for large or small groups Allan Pacheco of Santa Fe Ghost and History Tours welcomes you! 505-986-5002
Yes the listing for Ghost Tours Santa Fe New Mexico is filled with many options but when you safari with Allan Pacheco's Santa Fe Ghost and History Tours ---- you get a tour for the ages. Day or night--Allan Pacheco leads your ghost tour ---- at a comfortable pace. You can ask questions, and bring a camera + a ghostometer if you have one!  Haunted Santa Fe awaits--505-98-5002 or 505-231-1336...
| | |
| --- | --- |
| | Some satisfied trekkers, ghost tours Santa Fe -- New Mexico.  505-986-5002 |
| | |
| --- | --- |
| | Summer or Winter  Ghost or History Tours/ DAY or NIGHT/ Santa Fe NM = 505-986-5002 |
Above WINTER Ghost tour -- headed towards Haunted La Posada --That is a tour member --- paranormal thaaangs have been photographed...  I think the above photo is the result of the falling snow and light reflection.  One can see the tour in the background of the photo.  Schedule a tour that fits you.  505-986-5002 or 505-231-1336...
| | |
| --- | --- |
| | Bring you cameras, ghost meters, flashlights, and questions… GHOST TOURS SANTA FE NEW MEXICO---anything can happen!  Some interesting  thaaangs, or apparitions have been photographed on Allan's tours in the past! The old BOY SCOUT motto applies "BE PREPARED"! |

Bring a camera! You never can tell! There are many (Ghost Tours Santa fe New Mexico) but  on Allan's you sometimes make contact----why? Your Guide Allan Pacheco is a paranormal investigator and author of renown, so you do pass by some places that are haunted. No it is not the wind moving the bushes!

505-986-5002 or 505-231-1336 schedule a tour...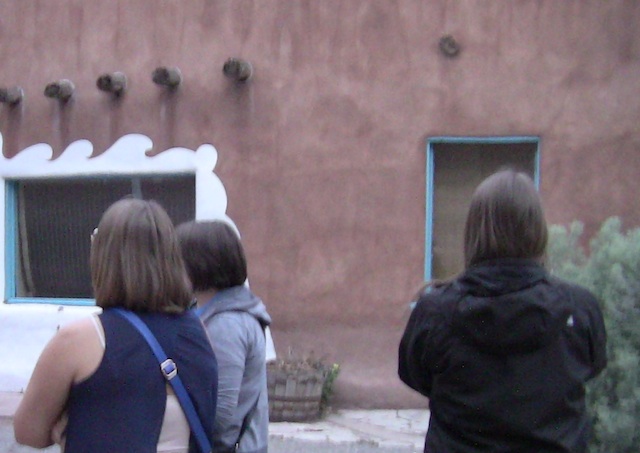 ABOVE: daytime outside of the haunted Oldest House, taking snapshots. Below: inside the ghostly old historic building!
BELOW: TRICKS OF LIGHT? --- SOME WEIRD BEARDS THINK NOT. WHAT IS FACT IS THAT THE PHOTO BELOW WAS TAKEN IN THE HAUNTED "SPOOKLANE" AREA. CONTACT WAS MADE THAT NIGHT.  CAMERAS FAILED AND THEN CAME BACK TO LIFE AND PEOPLE DID FEEL A PRESENCE OR PRESENCES ON THIS PATH AND ON THE ADJOINING WITCH PATH (BLAIR WITCH PROJECT TRAIL).  NOTE THE PERSON WITH THE FLASHLIGHT ON THE HAUNTED PATH, YOU CAN BARELY MAKE HER OUT, LOWER MIDDLE OF PICTURE. NOTE ON THE FAR UPPER LEFT THE TWO LIGHTS-- AS IF SOMETHING IS LOOKING DOWN AT HER.  ODD PICTURE-- A TRICK OF LIGHT CLAIM THE SKEPTICS--- SOME SHADOW CHASERS THINK IS IT SOMETHING ELSE.  I THINK IT IS A ODD PICTURE--AND YES THERE WAS CONTACT MADE BEFORE AND AFTER THIS PICTURE WAS TAKEN-- SO WHAT IS IT? I WILL PUT THIS PICTURE NOT IN MY WHITE  (YES) BASKET OR BLACK (NO) BASKET, BUT IN MY GRAY BASKET.
| | |
| --- | --- |
| Right: Sure there are tricks of light that are misidentified as ghosts, but sometimes thaaangs are seen and shot.  On another night tour, on a haunted balcony that has had activity in the past this came out on the picture. You decide, are they dust particles or water particles, or? | |
Note the above right photo with the below photo, the snapshots were taken on different tours, different years and seasons.  The orb below in the area where the above right photo shows some orbs. Skeptics will say it is tricks of light, dust or water particles. History says, this area has been know as being at times a haunted location. Conclusion-- when it comes to ALLAN's "GHOST TOURS SANTA FE NEW MEXICO-- bring your camera...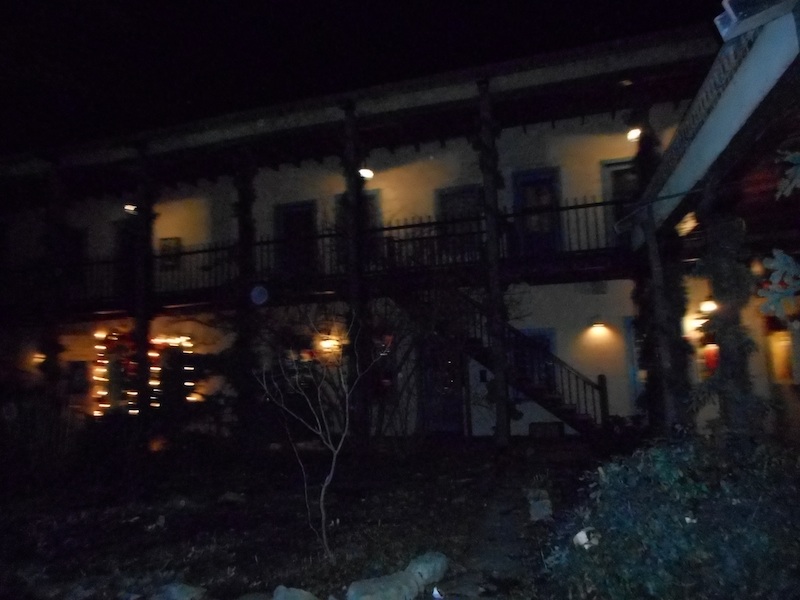 BELOW-NIGHT (GHOST TOURS SANTA FE NEW MEXICO) At the graveyard next to the Cathedral. Note the Alfred Hitchcock-esque iron fence.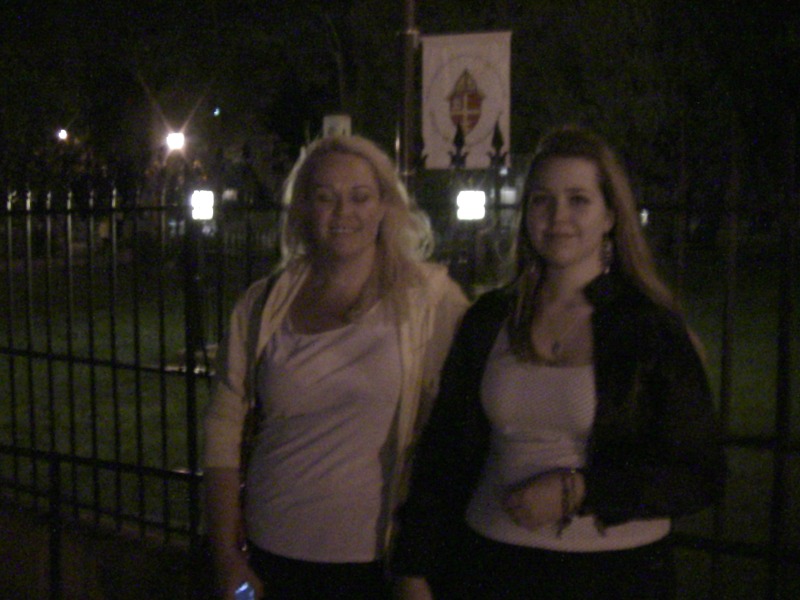 BELOW -- The tour just left (ghost central) the nickname for a very haunted colonial street in Santa Fe --- the safari is now preceding down SPOOK LANE and there was some chilling, scary vibes at a location where paranormal activity has been registered in the past.  As you can see with this photo --- something was sensed there…  Chills and thrills and a lot of fun when you tour with ALLAN!
505-986-5002 or 505-231-1336
ABOVE: THE BACKSIDE OF LA POSADA.  BELOW: Trick of light in the Haunted (OLD) Dining Room of La Posada, note the odd face in the photo to the left of the young lady --- evil oblong skeletal features --OR OWL VISAGE --- what aN odd shadow on photo to get those features.  Strange things or oddities due happen at the La Posada Resort which used to be the mansion of ABRAHMA STAAB, (THE AL CAPONE OF SANTA FE -- DURING WILD WEST DAYS). 
BELOW: Inside one of the witch rooms. (THE OLDEST HOUSE)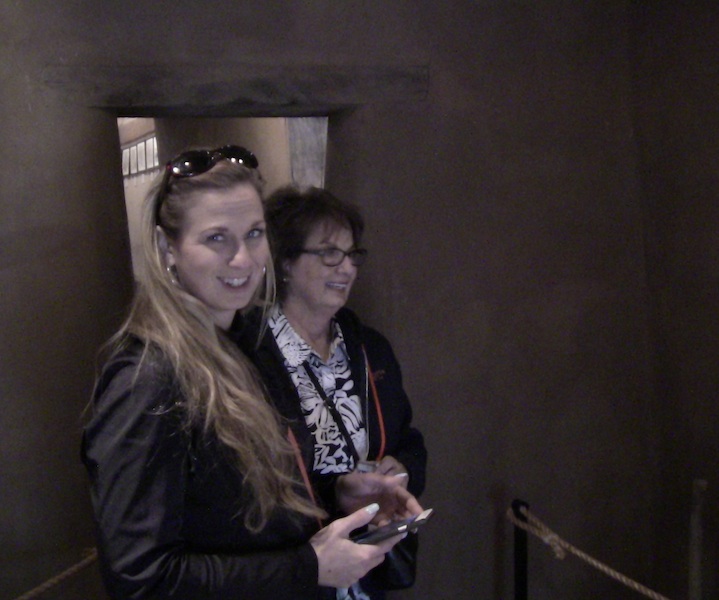 End of the tour, at La Posada.  These found ladies had a wonderful time on the safari, SMILES do not lie!
Halloween tours --- this is the company, 505-986-5002 or 505-231-1336 SANTA FE GHOST AND HISTORY TOURS...
BELOW:  Daytime GHOST TOURS SANTA FE NEW MEXICO safari, a fun time was had. Note the statue behind Charles & Melanie  --   DAY or NIGHT --- 505-986-5002  PRIVATE TOUR LED by ALLAN PACHECO.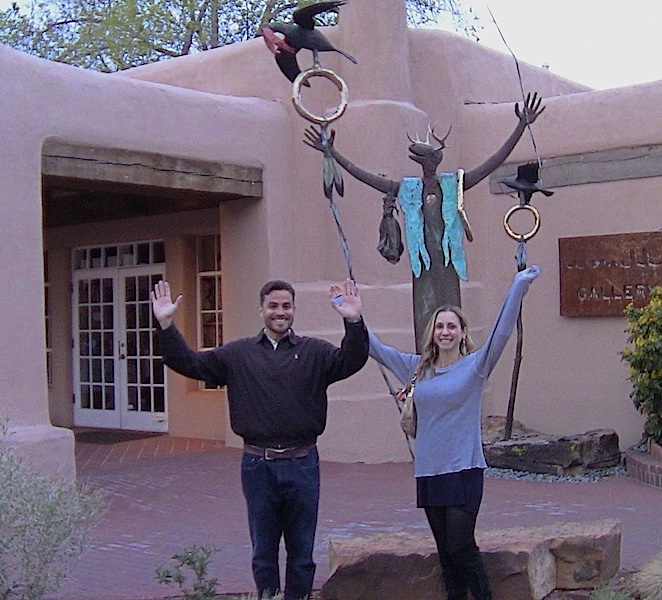 On ALLAN's tours, you have a good time.  
                         505-986-5002 or 505-231-1336