---
SANTA-FE-TOUR-INDEX     505-986-5002  OR 505-231-1336 ---  Guide Allan Pacheco -- Available GHOST TOUR or HISTORY TOUR -- DAY or NIGHT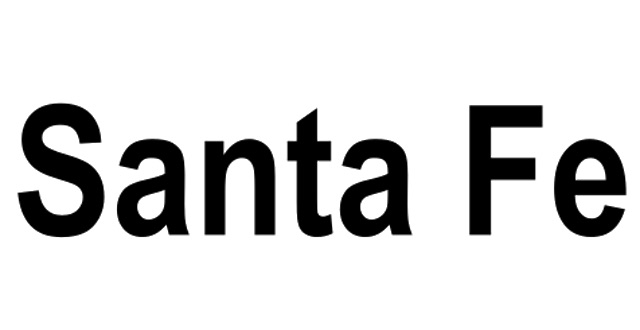 505-986-5002 or 505-231-1336 
                           SCHEDULE A TOUR
                       SANTA-FE-TOUR-INDEX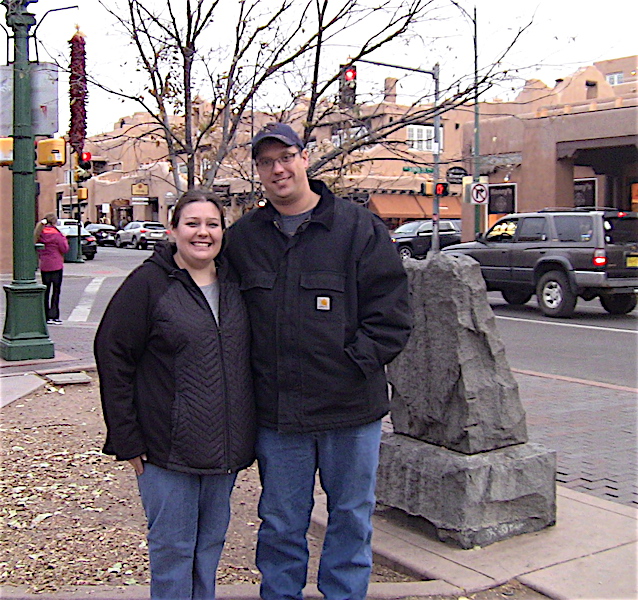 SANTA-FE-TOUR-INDEX = All tours are led by AL Pacheco (Born and raised in Santa Fe) your safari is done during the day or at night...  505-986-5002 or 505-231-1336
SANTA-FE-TOUR-INDEX = Ghost tour or History Tour -- all are done at a comfortable pace -- summer or winter tours.  Schedule a walking tour = 505-986-5002 or 505-231-1336
SANTA-FE-TOUR-INDEX = History Tour bring your questions -- tour guide Al Pacheco (Historian - author -Native Santa Fean -- (BORN & RAISED IN SANTA FE) tries to talk the tour towards your interests..
LIKEWISE-- Santa-Fe-Tour-Index = Ghost Tour -- bring your handheld ghostometer -- the tour does pass by and through some haunted areas -- AL PACHECO is a paranormal investigator of renown -- let him know what your interests  are -- ghosts -- hauntings-- UFOS -- the missing, etc... 
HISTORY TOURS -- 505-986-5002 -- GHOST TOURS
DAY or NIGHT -- SAFARI ----  505-231-1336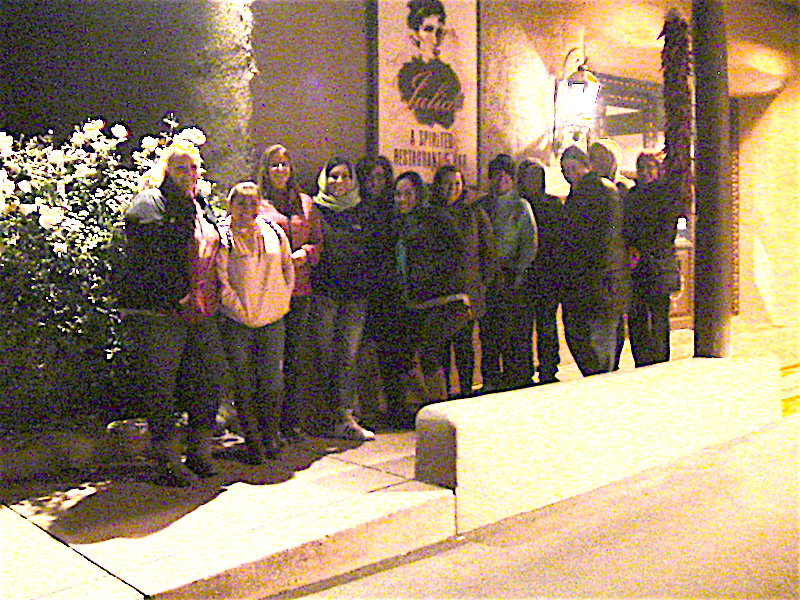 ---
---
ALLAN's TOURS KEEP YOU INTERESTED!!! W/ GREAT TALES & FACTS--ALLAN WORKS WITH YOUR SCHEDULE-FOR BEST RESULTS
CLICK HERE FOR MORE INFO ON TOURS---SCHEDULE A TOUR-505-986-5002
505-986-5002 or 505-231-1336  All tours are down at a comfortable pace... Summer or Winter tours.. Ghost or History walks... Day & Night.. All tours are led by author, historian, paranormal investigator AL PACHECO -- a Santa Fe Native. // DUSK TOUR -- SOMETHING UNWORLDLY WAS THERE. Yes, that area -- right - is linked to all kinds of energies. 

SO BEAM DOWN TO PLANET EARTH--GET TO SANTA FE AND LETS GO TOURING! 505-986-5002 or 505-231-1336 -- HISTORY or GHOST TOUR --DAY OR NIGHT & DONE DURING HOLIDAYS AND FIESTAS!

ABOVE -- SENSE -- NOTE THE QUICK CRANK OF THE HEAD.
---
---
---
---
---
---

ABOVE: A HAPPY GROUP-- AT THE END OF THEIR PRIVATE GHOST TOUR--IN THE PLAZA-- ALLAN'S TREKS = FUN & YOU CAN AKS AS MANY QUESTIONS AS YOU WANT--- IT IS YOUR PRIVATE TOUR!!!AND ON THIS TOUR--WE MADE CONTACT--AT HAUNTED CASA SENA--AND OUTSIDE THE OLD HOSPITAL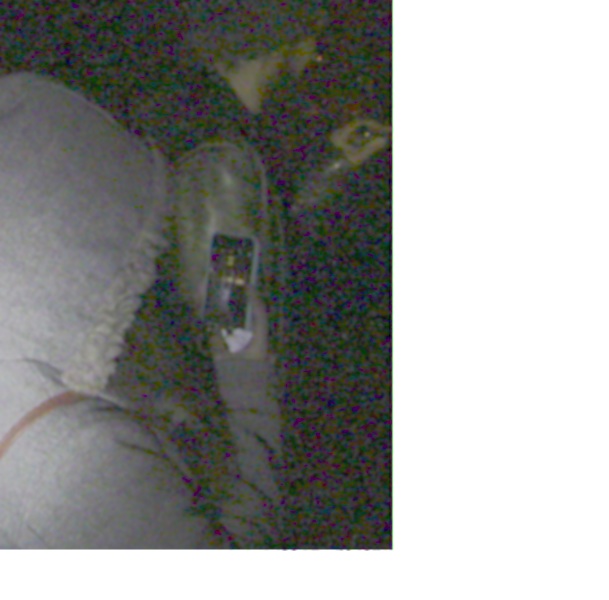 -----THE TOUR GROUP THAT TOOK THIS LEFT PHOTO MADE CONTACT WITH A LL KINDS OF ENERGIES AT A LOT OF PLACES IN THE OLD TOWN OF SANTA FE! ----SOME TOUR GROUPS OR SOLO TOURISTS HAVE A DARN GOOD CHEMISTRY WHEN IT COMES TO THE PARANORMAL AND THIS MAKES FOR ENERGIES + ORBS TO BE SHOT ON FILM. THIS LEFT TOUR GROUP WAS ONE OF THOSE MAGICAL GROUPS, IT RATES UP THE WITH AN APRIL GROUP OF MANY YEARS AGO. (LEFT) OUTSIDE OF CASA SENA. YES,--CASA SENA IS A HAUNTED BUILDING-- OLD JOSE SENA WHO OWNED THE MANSION DURING WILD WEST DAYS ---DEPENDING ON WHAT DAY IT WAS ----HE WAS A GOOD GUY OR BAD GUY--DR. JECKYL-MR. HYDE…ALL KINDS OF LETHAL MAYHEM--HE WAS INVOLVED IN---AND THIS GROUP GOT ALL KINDS OF SNAPSHOTS--AND AT TIMES SOME OF OUR CAMERAS DID NOT WORK. WHEN YOU TOUR WITH ALLAN-- YOU NEVER CAN TELL WHAT WILL HAPPEN---WHAT IS DEFINITE-- IS THAT ALLAN DOES KNOW HIS STUFF BE IT PARANORMAL OR HISTORY---DUE TO ALL THE RESEARCH HE HAS DONE AND BOOKS HE HAS WRITTEN.
To see the inside of the OLDEST HAUNTED HOUSE--click on photo above----- BELOW: WORDS FROM SOME HAPPY CUSTOMERS--WHO TOOK TOOK A PRIVATE TOUR (WALKED THE OLD TOWN) WITH ALLAN
SANTA-FE-TOUR-INDEX
OCT 20,2019
Santa Fe Ghost and History Tour

My husband and I booked the Santa Fe Ghost and History Tour on our trip to New Mexico.
Allen is so knowledgeable about the history of Santa Fe. He is an excellent guide and made the tour fun and exciting.
My husband and I really enjoyed the tour because it was just the two of us and Allen. We didn't have to put up with people who didn't want to pay attention.
We were lucky enough to see orbs at one of the many locations Allen took us to. The Ghost and History tour was the high-light of our trip to New Mexico and we would highly recommend it to anyone who is interested in History and the Paranormal.
It was well worth the money and time we spent going on this tour. We plan to go on another ghost and history adventure with Allen when we go back to Santa Fe.
S-M.
GHOSTERS -- BRING YOUR CAMERA -- WHO KNOWS?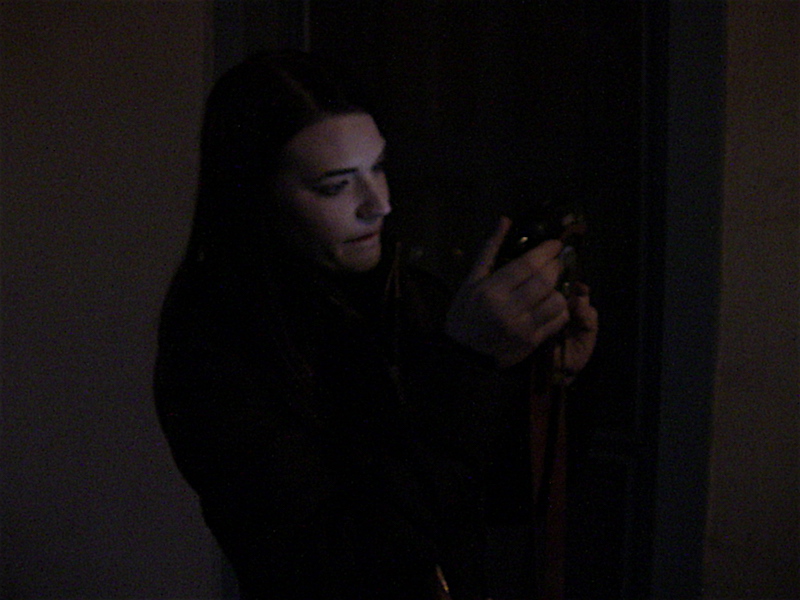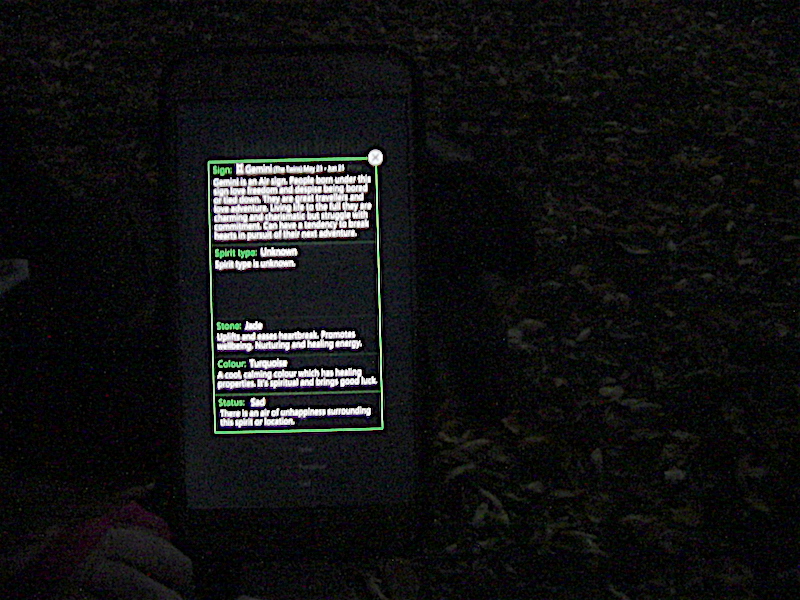 BRING YOUR GHOSTOMETER -- YOU NEVER CAN TELL!
---
CONTACT ALLAN = santafewriter@me.com
---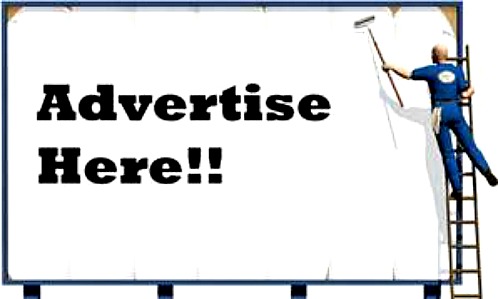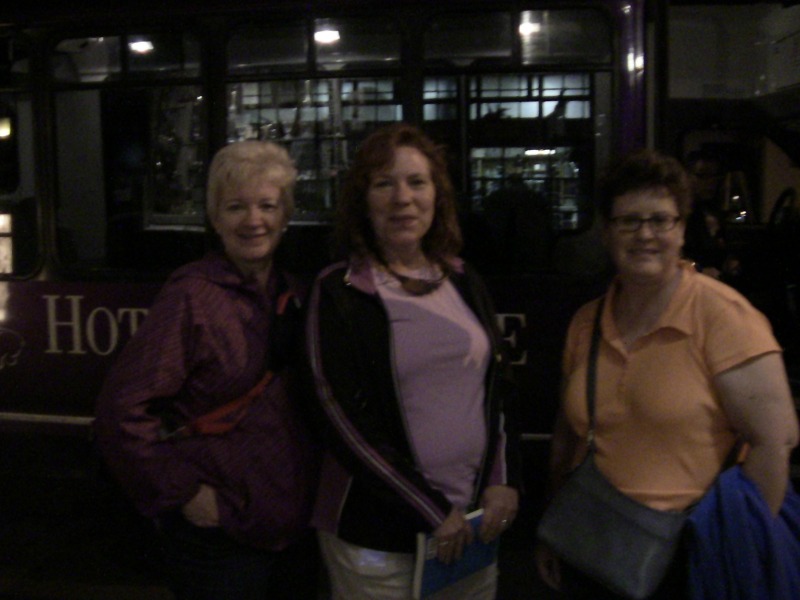 BELOW: AT LA FONDA----THE END OF A (PRIVATE) LATE NIGHT GHOST TOUR. THE GROUP GETS READY TO BOARD THE COURTESY BUS TO TAKE THEM TO THEIR LODGING AT HOTEL SANTA FE.
ALLAN's TOURS CAN PRETTY MUCH END WHERE YOU WANT THEM TO. THIS FLEXIBILITY ENABLES A PERSON OR GROUP--TO CATCH A RIDE--(COURTESY BUS) BACK TO THEIR HOTEL. SOMETIMES ON ALLAN's TOURS-- IT IS REQUESTED--TO END THE TREK IN FRONT OF THE LA POSADA RESORT-- (THE OLD STAAB MANSION). AFTER HEARING THE GHOST STORY OF JULIA STAAB-- SOME TOURS LIKE TO GO INTO WHAT WAS THE OLD MANSION AND HAVE A DRINK AT THE LA POSADA BAR-- ONE OF THE FINEST (SMALL) BARS---ANYWHERE. ALLAN's TOURS ARE UNIQUE, DONE AT A COMFORTABLE PACE--AND SOOOO INTERESTING.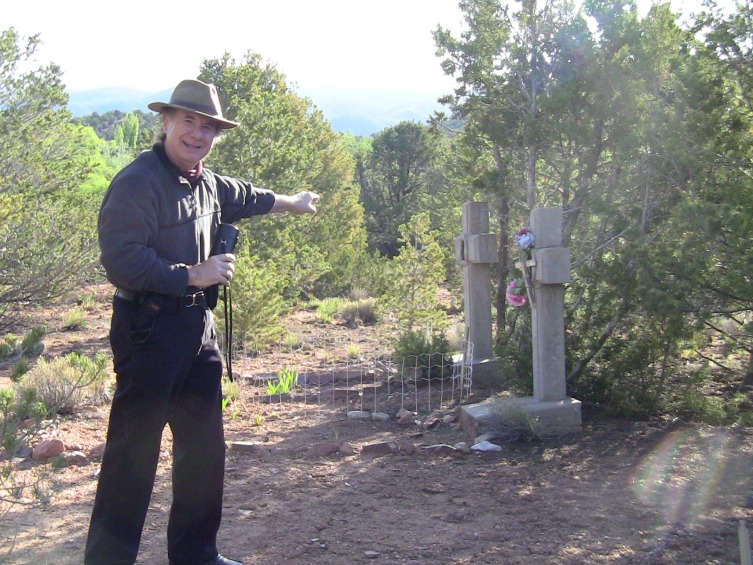 WHEN YOU TOUR WITH ALLAN  PACHECO  --  SANTA-FE-DOWNTOWN-TOUR   --  YOU GET THE SKINNY ON (THE CITY DIFFERENT) BECAUSE YOUR TOUR GUIDE & AUTHOR HAS RESEARCHED AND INVESTIGATED SANTA FE's STRANGE YARNS, LEGENDS, & LOST LOCATIONS! 505-986-5002 or 505-231-1336
---
LATE NIGHT GHOST TOUR / BIRTHDAY TOUR---IN THE DESERTED SPANISH MARKET -------ALLAN IS AVAILABLE FOR BIRTHDAY TOURS & PRIVATE LECTURES-------------CLICK ON BIRTHDAY CAKE TO GET TO HALLOWEEN TOUR PAGE-------------------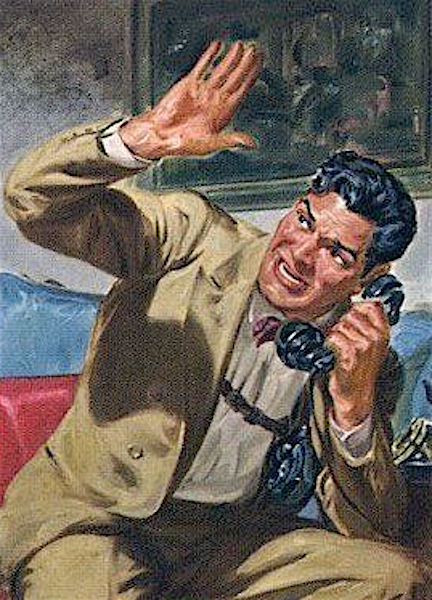 DON'T GET DISTRACTED -- CALL AL PACHECO --- LET'S GO TOURING----505-986-5002 or 505-231-1336 PRIVATE TOURS----SANTA FE AWAITS!!! ----- HISTORIC WALKS OF SANTA FE or SPIRIT WALK------ TOURS LED BY A SANTA FE NATIVE ----ALLAN PACHECO ____click on the picture below to view a short video about his tours

BELOW -- at the end of the tour, a happy customer with guide AL PACHECO. Yes that is world famous, SCI,FI author LOUIS PAUL DEGRADO, he enjoyed the safari.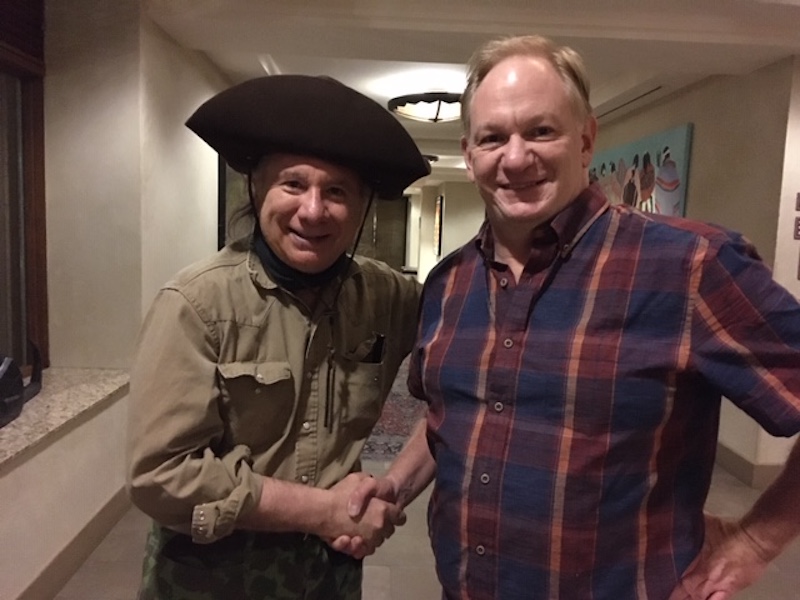 HOW GOOD ARE AL PACHECO'S TOURS -- PEOPLE COME BACK TO SANTA FE AND TAKE THE TOUR OVER AGAIN -- BELOW -- TERRY FROM TEXAS, ON SAFARI WITH ALLAN PACHECO -- SCHEDULE A SAFAR  -- 505 986 500W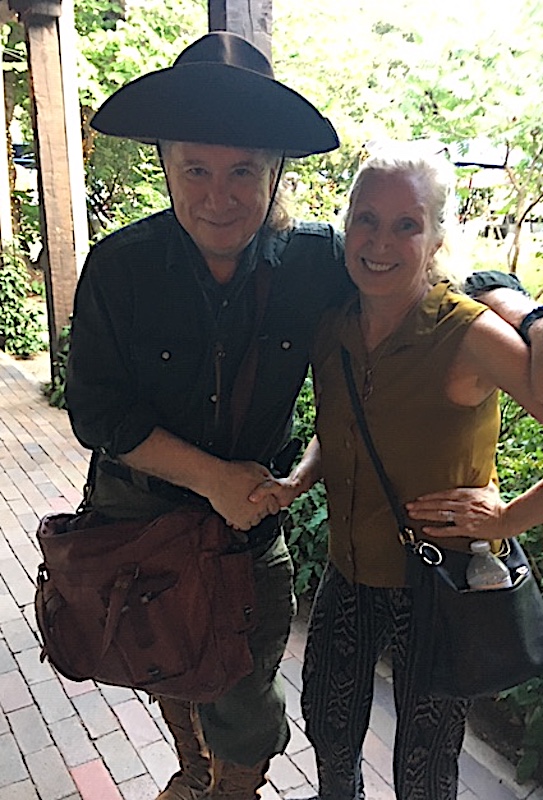 | | |
| --- | --- |
| | LEFT: Paranormal/history tour, in the plaza around 2021. These Tennesseans stand in front of the First National Bank. This Wild West institution is linked to a lot of historic  skullduggery, along with some major paranormal happs. Below; the bank circa 1956, from a different angle of the contemporary snapshot. Arrow points to where LEFT picture was shot. |
---
GHOSTS OR HISTORY IS NOT YOUR THING --- YOU LIKE UFO & CONSPIRACY -- TRY THIS PAGE --- FLYING SAUCER STUFF!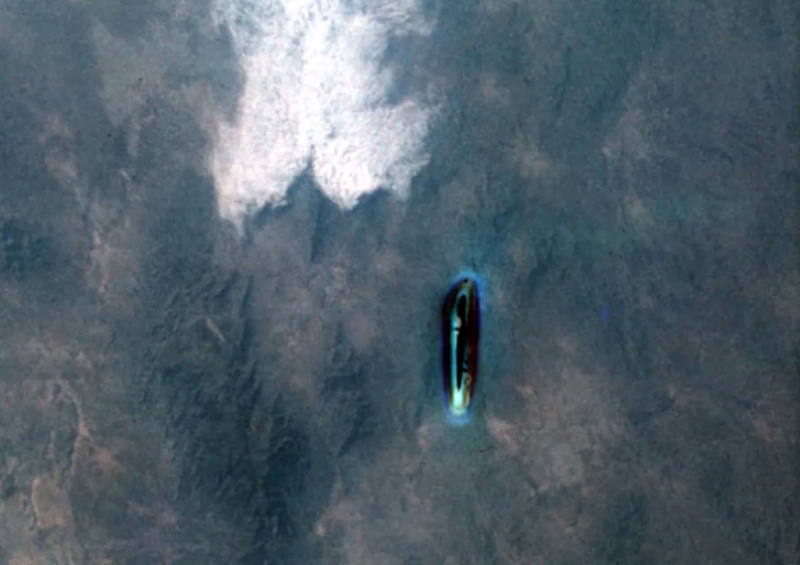 PEOPLE OF EARTH ATTENTION -- LISTEN TO THE VOICE OF DOOM -- CLICK BELOW.
---
STILL HAVE DOUBTS ABOUT GHOSTS -- DO THEY EXIST -- CLICK HERE TO GET TO "GHOST ON FILM" PAGE-- ON THIS SECTION = ENTITIES CAUGHT ON VIDEO -- LEGIT!
---
HOME PAGE----SANTA FE GHOST AND HISTORY TOURS--- CLICK HERE-----
REVIEWS -== SANTA FE GHOST AND HISTORY TOURS --- SCHEDULE A TREK 505-986-5002