TOURISM-SANTA-FE-GHOST-oR-HISTORY-TOUR  

There are many tour companies to choose from; what does Allan Pacheco (Santa Fe Ghost and History Tours) offer --

AL leads your private tour, NOT SOME OFF THE BUS-NEW TO SANTA FE - IN FOR THE SEASON TOUR GUIDE

AL PACHECO  is a paranormal researcher of renown  +  historian, author, KEY NOTE SPEAKER.  On your walkabouts, Allan encourages questions, if you are a ghost hunter & have a ghostometer -- bring it, book a safari 505-986-5002 or 505-231-1336...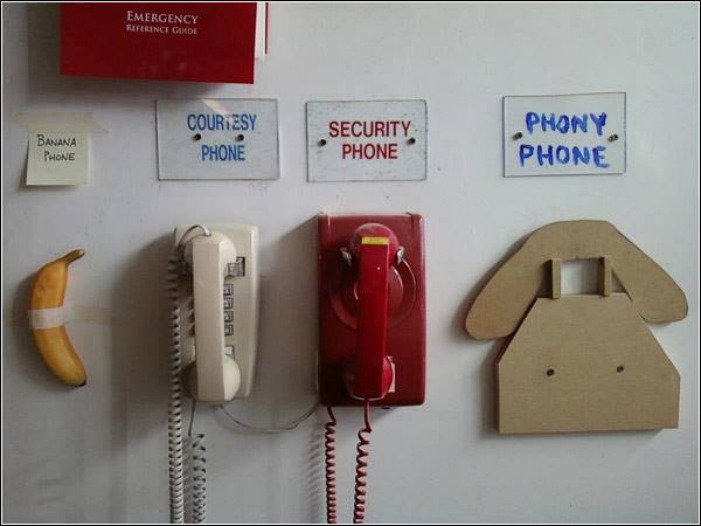 TOURISM-SANTA-FE-GHOST-or-HISTORY-TOUR
--------------------------------------------------------------
July 17, 2018
THANKS AGAIN FOR THE HIGHLIGHT OF OUR TRIP TO SANTA FE!
MELISA C.

------------------------------------------
JULY 7, 2018
My daughter and I had a private tour with Allan. We covered everything from Santa Fe's beginnings to Charles Manson!
It was amazing - very interesting! We learned so much from Allan.
The tour was truly a highlight of our trip. THANK YOU!
Debbie P.
-------------------------
JUNE 14, 2018
Alan knows Santa Fe, inside and out, old and new, the weird and normal, scary and sad......and we had a blast.

Highly recommend. Don't hesitate to leave him a voice mail as he called us back promptly and the tour was set.

Don't let the idea of a walking tour scare you off. He was so full of valuable history that the 2 hours flew by. He gave us plenty of time to rest or take a pit stop between the stories.
Juanita S.
Santa Fe is the oldest capital city in the USA and also the most haunted -- when you take a HISTORIC TOUR with Allan Pacheco -- you see where history happened. -- BELOW -- the end of the trail monument in the plaza -- this photo is circa 1911 --- yes the monument is still there --- If you go on one of AL's Ghost Tours -- its thrills - spills and chills (paranormal deluxe) =  505-986-5002 Schedule History or Ghost --  First the History Tour --- middle of page onward = Ghost Tour ---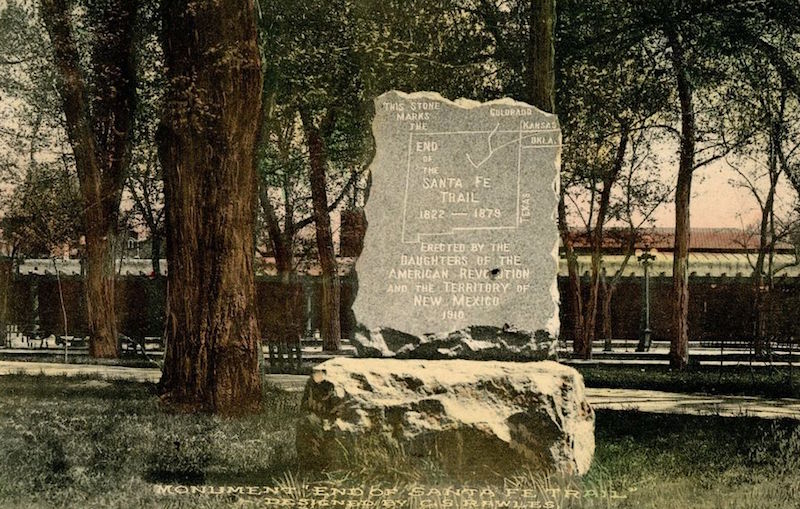 BELOW: The Santa Fe Trail monument 2018-July, nothing has changed in the past plus 100 years except the background.   The two pretty ladies from the Land of Lincoln that stand by Santa Fe's "ROCK OF GIBRALTAR" give the granite a less-harsh look...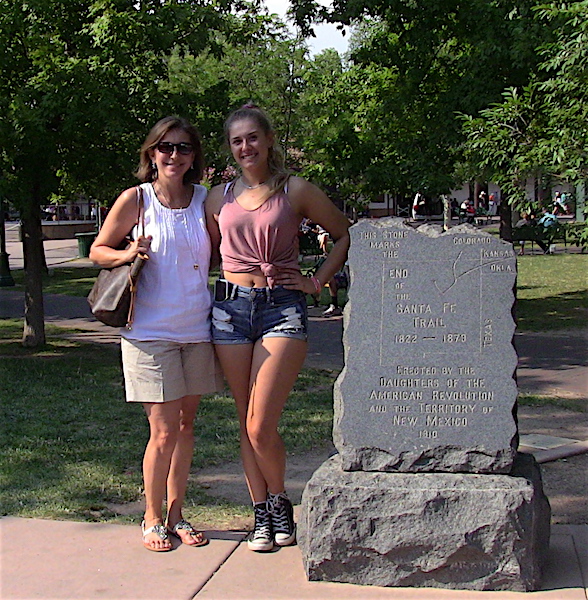 Below: History tour -- the last hitching post in Santa Fe --- on the History Safari you visit the landmarks & get the facts, this is not a (PC) TOUR.   History is NOT NOT -- Politically Correct.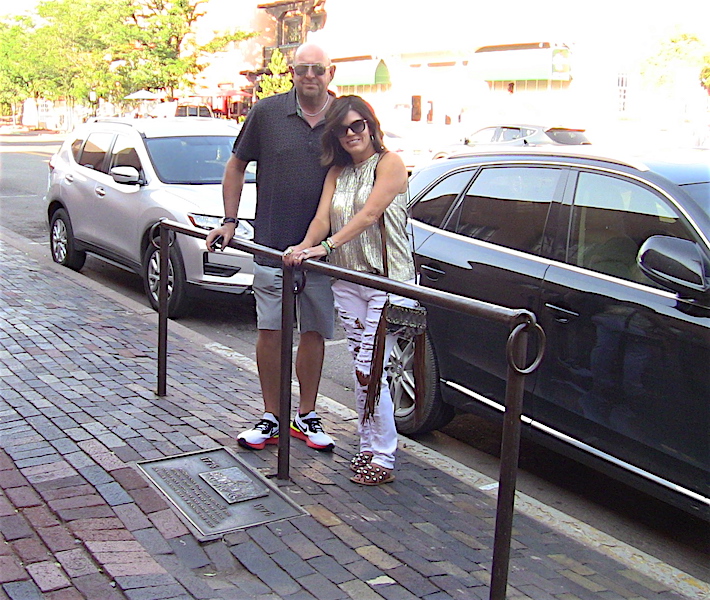 Below: HISTORY TOUR ---- Inside the historic "THE OLDEST HOUSE IN THE USA"... The artifacts at this museum date back to Spanish CONQUISTADOR days...  Yes, this building made out of adobe --- during colonial days was a house.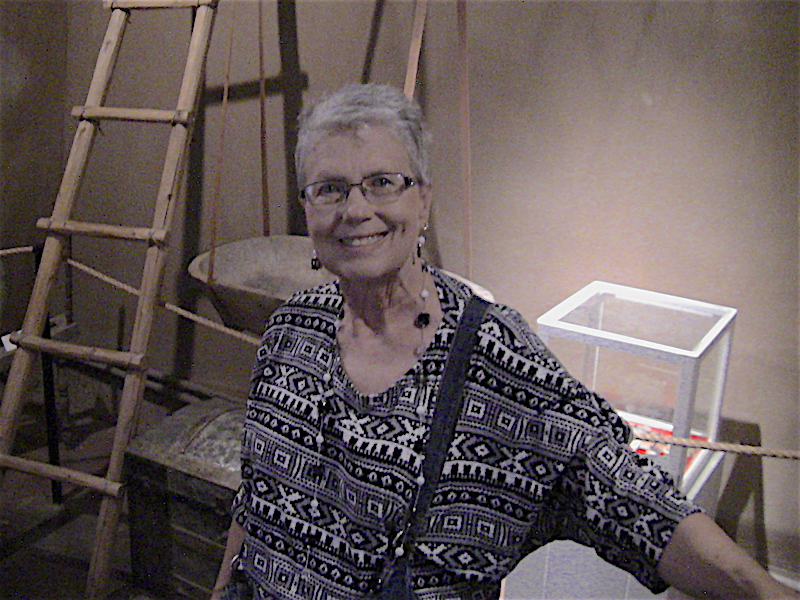 Your tour guide AL with Charles and Jackson, in the courtyard of the historic SENA PLAZA --- Santa Fe tourism does not give you the low down on what happened here during Wild West days --- on Allan's treks you get  the inside info -- and it is so very interesting!  505-986-5002 History Tour or 505-231-1336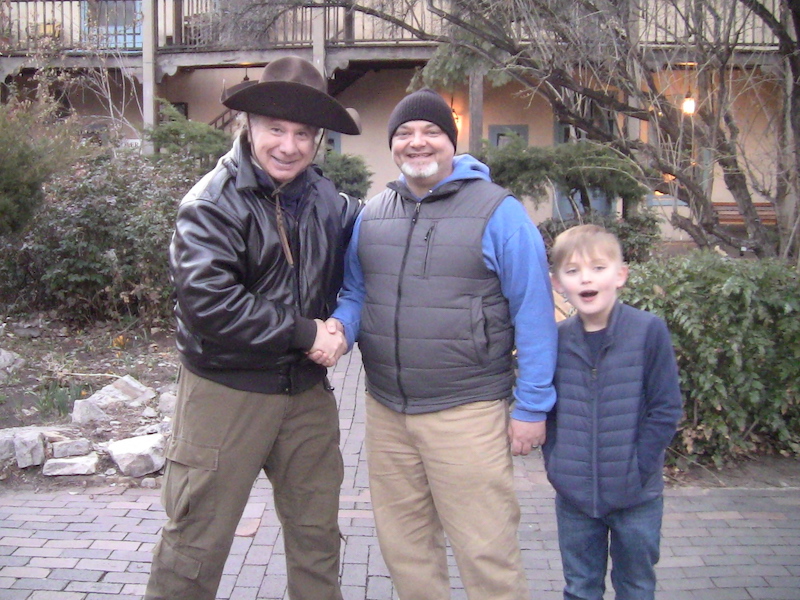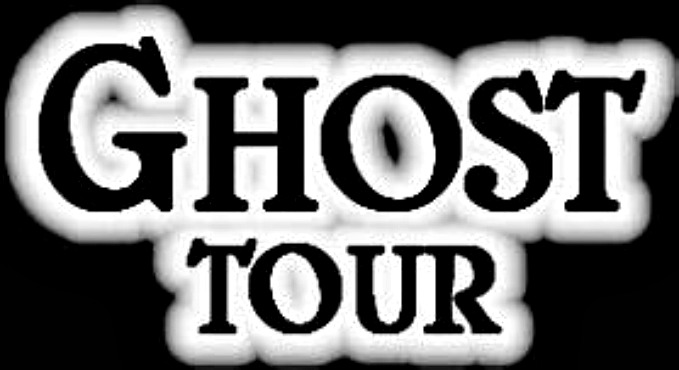 BELOW: On a Ghost Tour in front of the Drury Hotel which used to be the old hospital -- this photo was taken on Allan's ghost trek and later given to him... The photographer thinks he captured orbs on film. Skeptics dismiss the notion and claim it's a picture through a dirty lens -- you be the judge --- and yes the building is haunted at certain locations, this place has been the scene of many - many - deaths.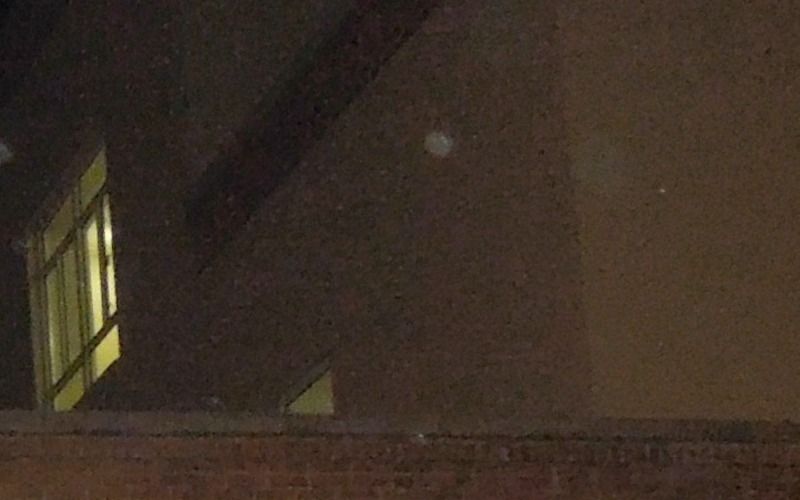 Below: The haunted abandoned St. Vincent's hospital before it was remodeled and became the DRURY HOTEL.  The place does look erie as for the light, the snapshot was taken on Allan's ghost tour, then darkness.  Skeptic think it was a security guard that passed by the window with a lantern -- shadow chasers adamantly proclaim that is not a snapshot of security man's flashlight beam or light source.  Again -- you be the judge...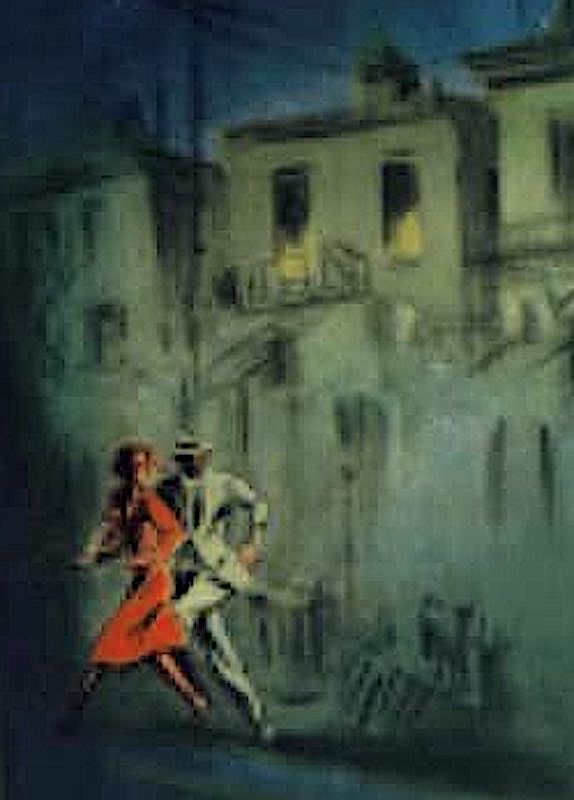 On Allans ghost tours you get ghost tales + data from his investigations.  BELOW: IN THE SKY, WHAT IS IT?  Santa Fe & the surrounding areas have been the scene of UFO WAVES...  Your tour is a private trek, Al does his best to direct the theme of the tour to your interests, be it UFO, The MISSING or Cattle Mutilation Phenomena.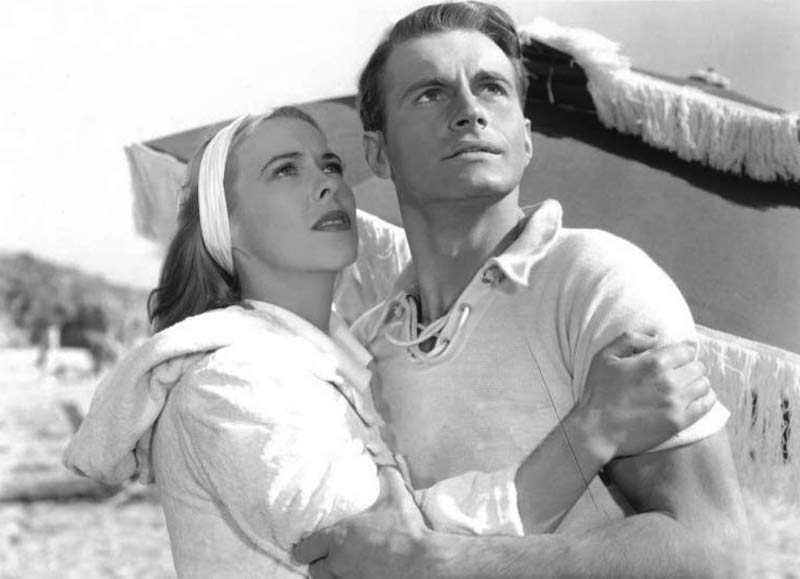 BELOW: On the Blair Witch Path -- what is it -- the WITCH's Wheel?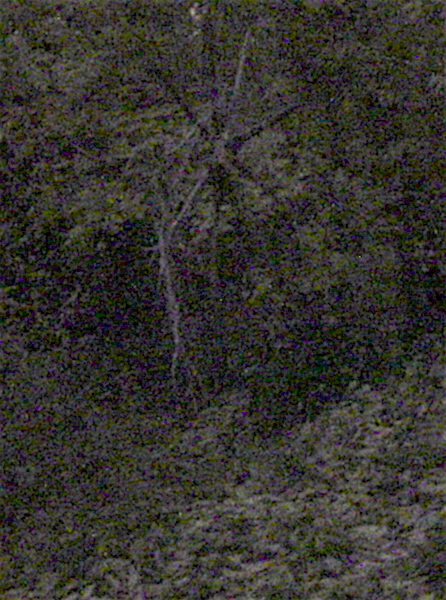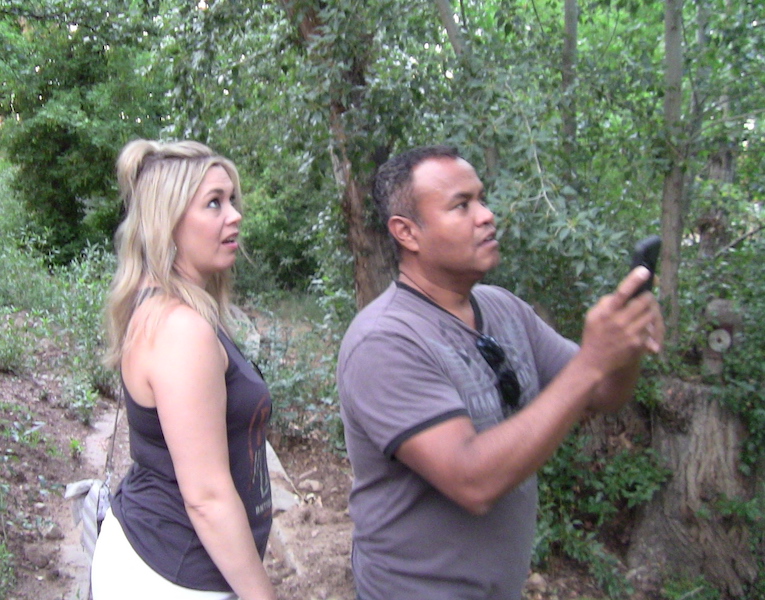 ABOVE Photo-- summer daytime ghost tour -- at times thannnngs from some other realm do visit or make themselves noticed at certain Santa Fe locations. On Allan's tours --- you are encouraged to bring your cameras and ghost gadgets! You never can tell! 
These two(ABOVE)  felt, sensed and then briefly saw SOMETHING! As in ghostly something or energy invoked -- NOT FROM THIS WORLD by way of an ICON!  However on closer look there is antoerh icon lurking in the trees to the right of the duo.
BELOW--- Appropriate music for this area / or this part of the ghost tour --- THE BLAIR WITCH PATH  -- SHADES OF DEATH PATH -- SPOOK LANE the  --- the location has all kinds of mod nick names due to the activity and what is found there...  The area kind of does have a lot of --- quasi -- HOLLYWOOD BACKLOT what can pass for jungle/tropical foliage -- as in the picture above... 
BELOW--- NIGHT PHOTO -- instruments --- ghost o meters --- at times go off and sometimes in this area batteries are drained or  cameras malfunction than come back to working order after leaving this location.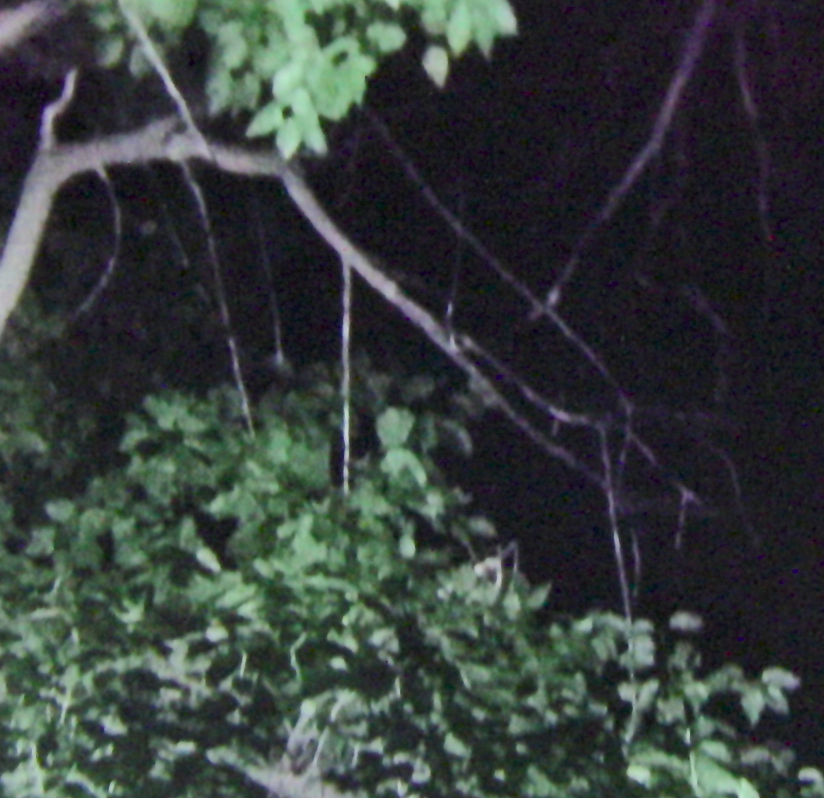 BELOW: Same area GHOST TOUR NIGHT -- something unworldly roams this location -- and something was felt and noticed.  Since the days of the CONQUISTADORS this area has had odd energy - bad energy - invokings, and death.  Not more than 20-40 yards from this area, Allan knew a fellow who got murdered  40 plus years ago... This is one of many bad mojo things that have happened here  -- At times - it is rare but it does happen, cameras do not work in this location.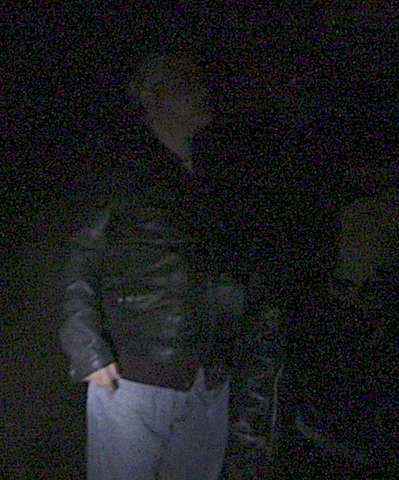 Below, the same area during a day tour --- ALLAN does History tours during daylight hours.. GHOST or HISTORY -- its a tour for the ages 505-986-5002