"DOMINGO NEGRO"          
           ZOMBIE APOCALYPSE 1880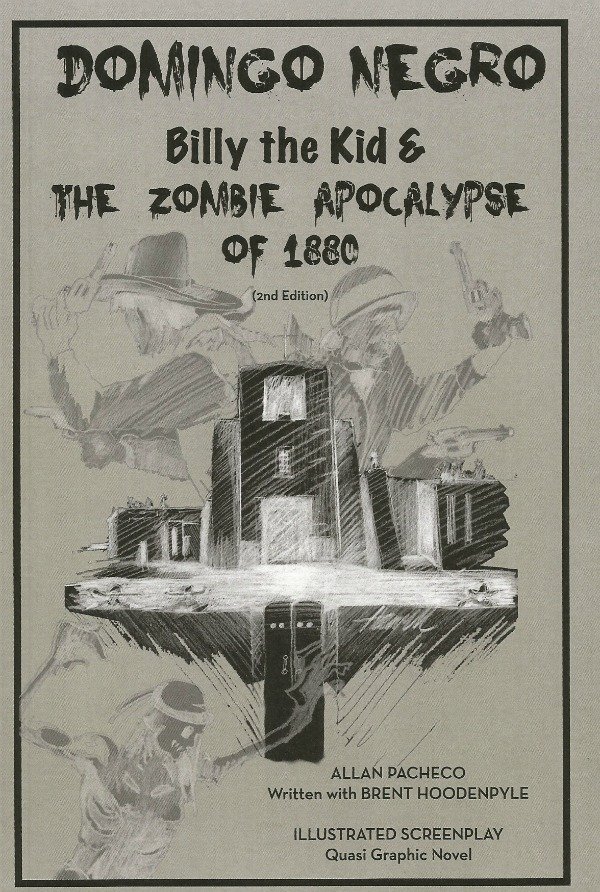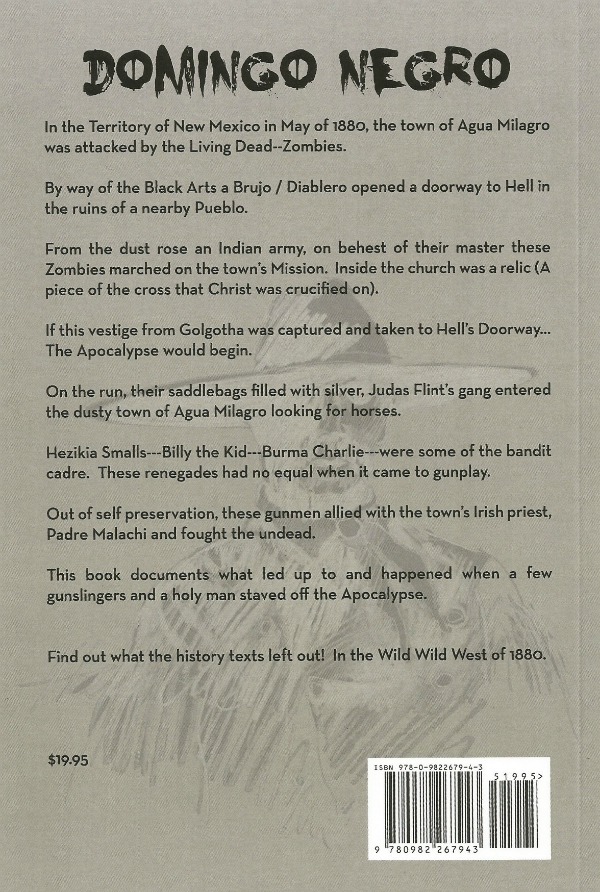 HOW DOES ONE DESCRIBE "DOMINGO NEGRO"------- SOME PUNDITS HAVE STATED --- ITS THE ZOMBIE APOCALYPSE of 1880-- I PREFER---GEORGE ROMERO's "NIGHT OF THE LIVING DEAD"  MEETS SAM PECKIPAU's "THE WILD BUNCH"…. OR….COWBOYS Vs. ZOMBIES IN THE WILD WEST.
IF YOU LIKE DRIVE IN STORIES--OR 1960s SCI/FI YARNS----THIS BOOK IS FOR YOU---AN EASY-FAST READ--FILLED WITH TWISTS & WESTERN--HORROR!
DOMINGO NEGRO---IS 190 PAGES OF WESTERN ACTION & ZOMBIE MAYHEM.  THE BOOK HAS MANY ILLUSTRATIONS.  LED BY A DIABLERO, THE EATERS OF THE DEAD RISE FROM A PUEBLO.  THE ZOMBIE ARMY ATTACKS THE NEW MEXICAN TOWN OF AGUA MILAGRO.  TRAPPED INSIDE THE VILLAGE IS AN OUTLAW GANG.  OUT OF NECESSITY THESE GUNMEN ARE FORCED TO FIGHT ON THE SIDE OF THE TOWNSMEN.   
IF THIS STORY WAS TO BE TURNED INTO A FILM-- THE DRIVE IN TOTALS-- FOR "DOMINGO NEGRO" WOULD BE:
HEADS ROLL
NO KUNG FU BUT PLENTY OF ZOMBIE FU
NUMEROUS GUNFIGHTS
ZOMBIE WRESTLING
40 GALLONS OF OOZE
EPIC BAR FIGHT
ZOMBIE CHOMPING
PILLOW STABBING
ONE EPIC POSSE CHASE
GATLING GUN FU
BRUJO FIREBALLS
EXPLODING ZOMBIES
5 STARS--- A MUST READ BOOK

505-986-5002  or  505-231-1336 or santafewriter@me.com
BELOW: A fan of of ALLAN's book "DOMINGO NEGRO" --- What a picture! __ HOOORAAAAAH!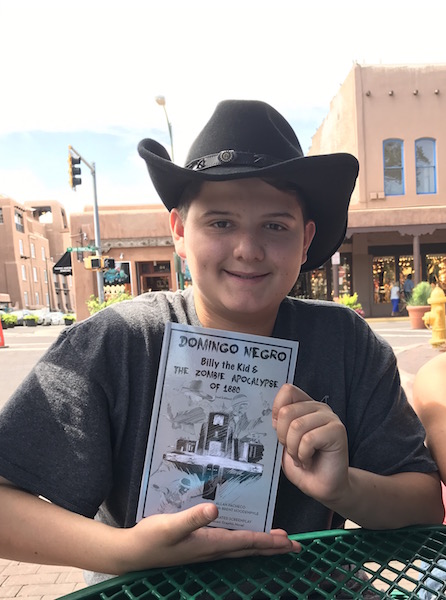 WINTER TOUR -- BELOW-- DECEMBER---ANOTHER HAPPY FAN WITH ALLAN's -- "DOMINGO NEGRO"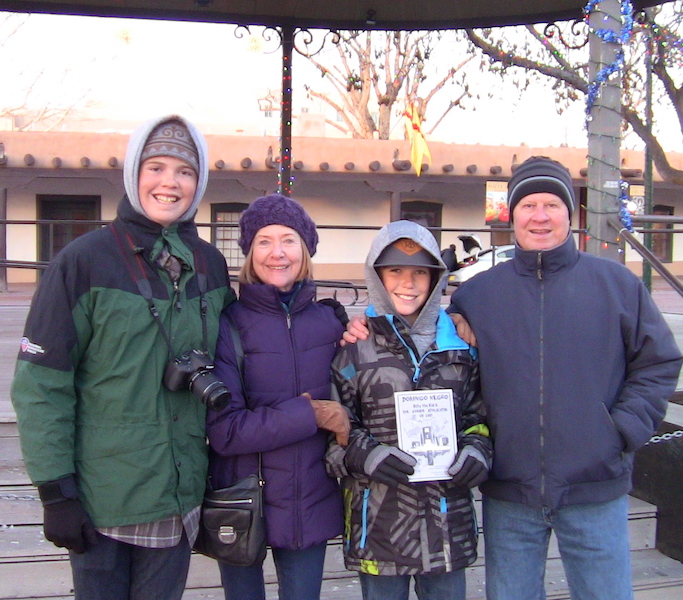 TOUR SANTA FE--W/ AUTHOR ALLAN PACHECO--HISTORY OR GHOST TOUR. YOU WILL BE GLAD YOU DID!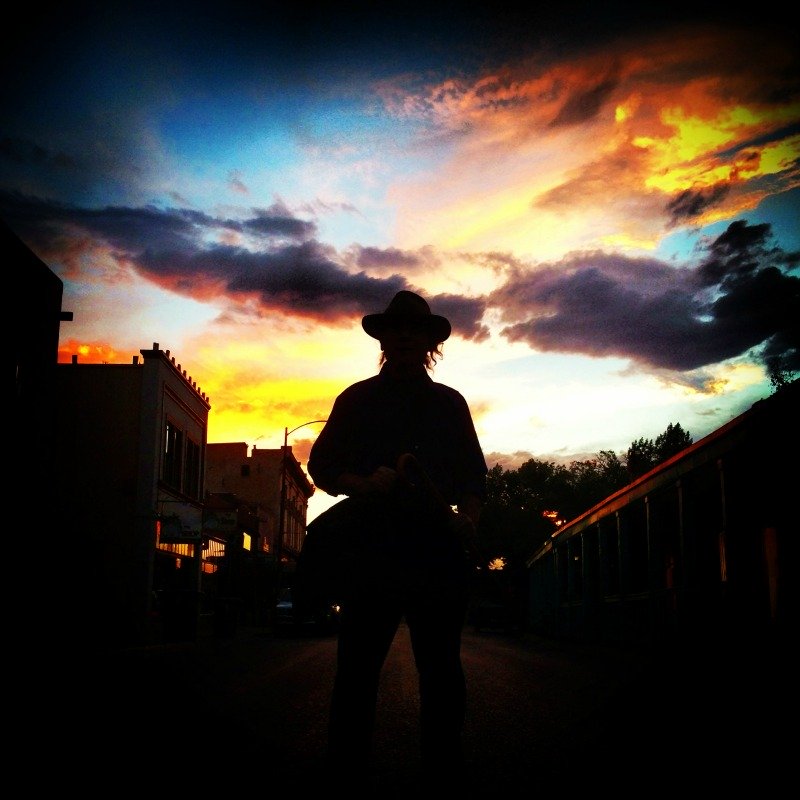 CLICK HERE---HOME PAGE---SANTA FE GHOST AND HISTORY TOURS----