YOUR HISTORY TOUR IS (NOT-NOT-NOT) A RUSHED AFFAIR;  IT IS A HISTORIC WALK = DONE AT A COMFORTABLE PACE. --505-986-5002 or 505-231-1336 -- THIS IS NOT A BUS OR CART TOUR -- IT IS A PLEASANT TREK!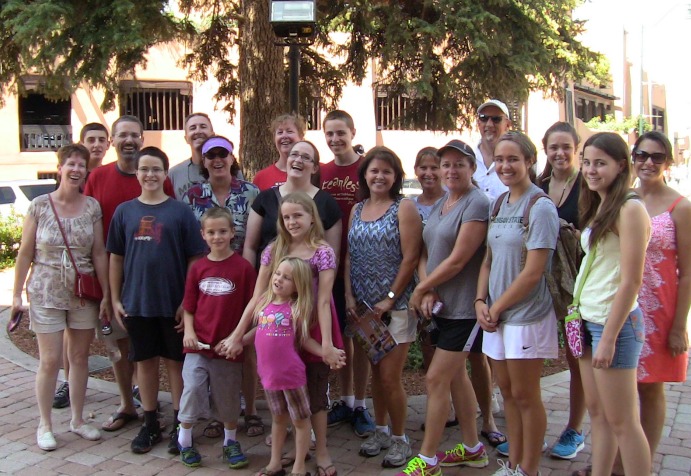 BIG OR SMALL GROUPS ARE WELCOME --YOUR PRIVATE HISTORY SAFARI = FUN + UNKNOWN FACTS = THIS IS A HISTORIC WALK YOU WILL REMEMBER 505-986-5002 or 505 231-1336 SCHEDULE NOW!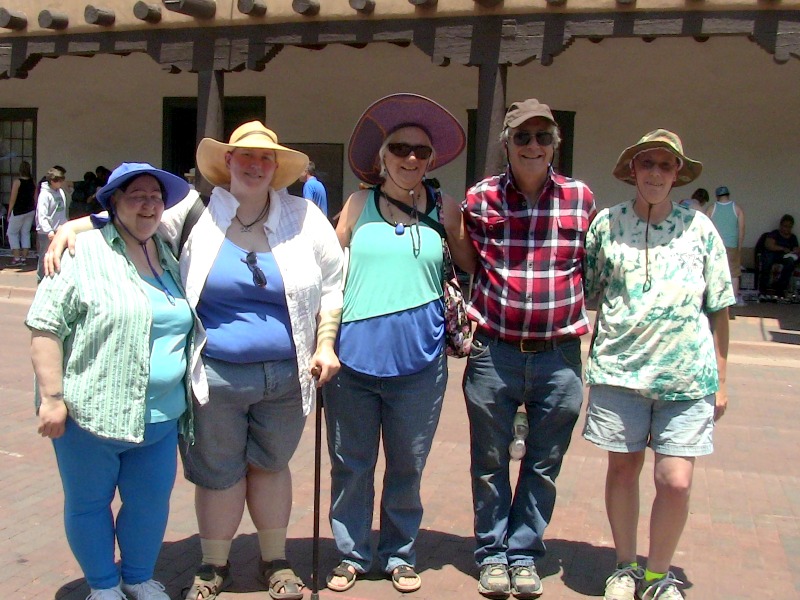 Allan's History tours or Historic walks are done year round --- summer or winter -- 505-986-5002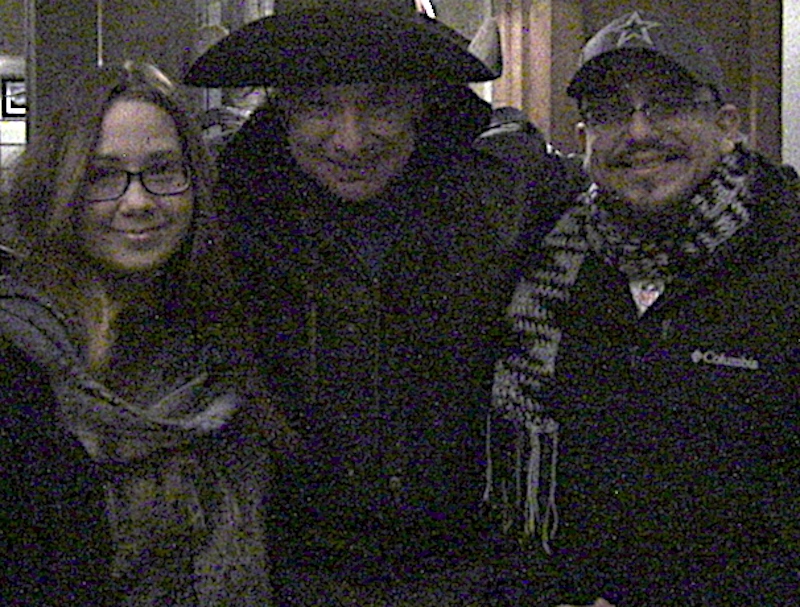 Large - small groups - or solo/ AL Pacheco tour 505-986-5002 = day -
night - winter- summer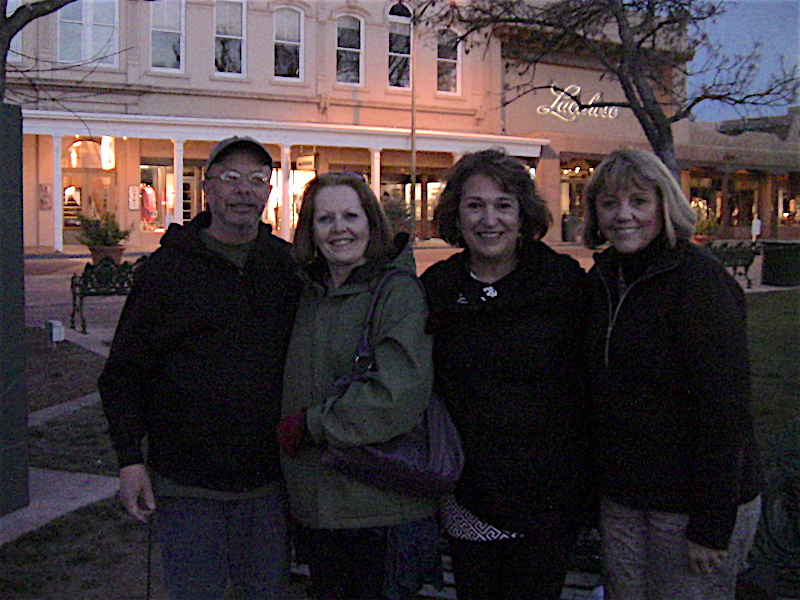 When you get into town - book a private tour with ALLAN PACHECO 505-986-5002

LENA AND KATHY AT THE ENTRANCE TO BURRO ALLEY, YES THAT IS A METAL BURRO.  ON YOUR PRIVATE HISTORY TOUR, YOU GET THE FACTS AND YARNS FROM  HISTORIAN ALLAN PACHECO. WHO IS THE ONLY GUIDE WHO WAS BORN AND RAISED IN SANTA FE.  HIS ANCESTORS PIONEERED THE AREA, SO YOU GTE A FUN AND INTERESTING SAFARI THROUG THE OLD TOWN.

LENA'S TOUR WAS ONE FOR THE RECORD BOOKS-- GREAT QUESTIONS ASKED--- WHEN YOU TOUR WITH ALLAN--- BRING YOUR QUESTIONS---IT IS YOUR PRIVATE TOUR!!!

ON TOUR INSIDE THE OLDSET CHURCH  SAN MIGUEL (ST. MIKE'S).  THE CHURCH FRONTS THE "OLD SANTA FE TRAIL' WHICH WAS THE PIONEER ROAD THAT  CAME INTO SANTA FE. THIS CHURCH AKA THE SAN MIGUEL MISSION IS THE OLDEST CHRISTIAN OR CATHOLIC CHURCH IN THE USA. ON ALLAN's HISTORY TOURS -- YOU VISIT COLONIAL AND CONTEMPORARY LANDMARKS. 

santafewriter@me.com
ABOVE -- the OLDEST CHURCH IN USA --- founded 1550 ---- BELOW --- inside the SAN MIGUEL MISSION --- Oldest Church in USA.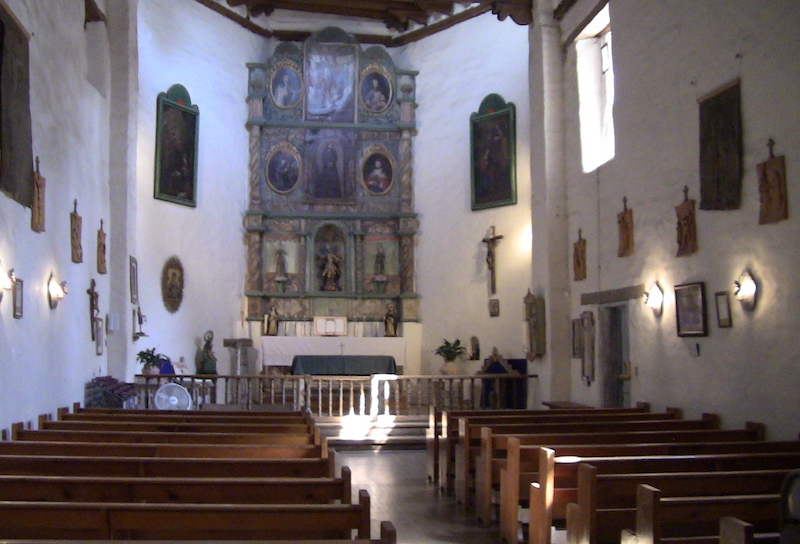 In the back of the SAN MIGUEL is the old Bell --- which is linked to an interesting legend!
RIGHT--COLORIZED PHOTO OF THE OLD MISSION BELL CIRCA 1900

 END OF THE SANTA FE TRAIL -- NIGHT TIME PLAZA. 

THE BELL's EXACT DATE OR WHEN IT WAS FORGED IS QUESTIONED.  CIRCA 1366 IS WHAT IS MAINLY AGREED UPON, BY WAY OF WHAT IS STAMPED ON IT. THE BELL WAS BROUGHT TO THE NEW WORLD, NEW MEXICO, BY THE SPANIARDS FROM (SPAIN) THE OLD WORLD.  

DUE TO WIND STORM AND TREMOR THE BELL FELL FROM ITS STEEPLE IN THE 1800s.  THE HUGE BELL NOW STANDS INSIDE THE SAN MIGUEL MISSION.  NOTE THE HAMMER  UNDER THE BELL.

ACCORDING TO ANOTHER LEGEND--- THE SPIRITS SAY IF YOU RING THE BELL ONCE WITH A HAMMER YOU WILL RETURN TO SANTA FE---- YOU RING THE BELL TWICE YOU WILL COME BACK AND LIVE IN SANTA FE.

BELOW LEFT--- ON TOUR-- THIS TEENAGER  GETS READY TO HIT THE BELL.. BUT ONE WHANG  MAKES A LOUD GONG SOUND.  GOT TO HIT THE BELL SOFTLY.

HER WHANG ON THE BELL WAS THE LOUDEST, I EVER HAD ON A TOUR. SHE IS DEFINITELY COMING BACK TO SANTA FE! 

IT WAS LIKE THE OLD BRITISH RANK FILM _ WITH THE GUY HITTING THE GONG BEFORE THE CREDITS ROLE.  

ON ALLAN's TOURS -- ALL KINDS OF FUN THINGS HAPPEN --- SCHEDULE A PRIVATE HISTORY TOUR 505-986-5002 or 505-231-1336
USUALLY -- ALLAN's PRIVATE HISTORY TOURS END IN THE PLAZA -- AFTERWORDS YOU CAN GRAB A BITE OR A DRINK --BELOW KEVIN & JEANETTE AFTER A FANTASTIC OLD TOWN EXPEDITION --- ALLAN's HISTORY TOURS ARE NOT-NOT-NOT DONE IN A VEHICLE. THEY ARE A HISTORIC WALK -- THIS WAY YOU SEE SANTA FE----WITHOUT BEING RUSHED.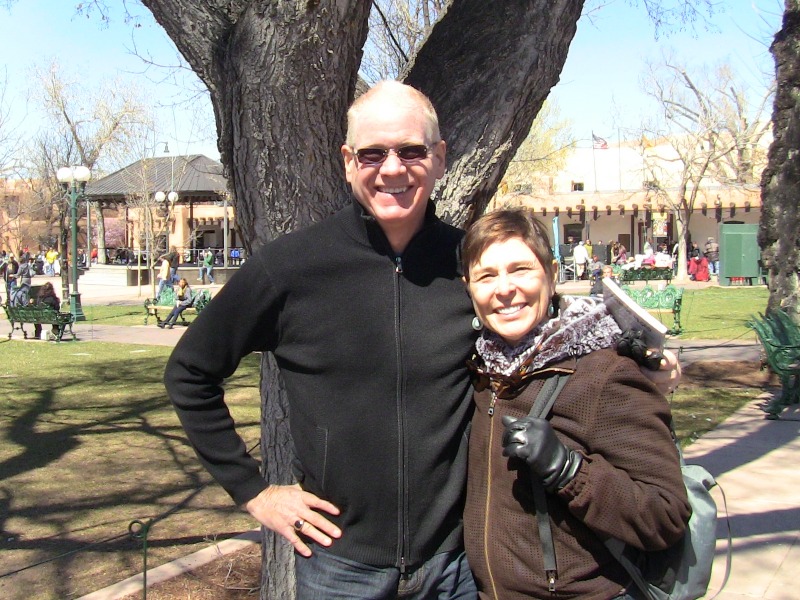 INTERESTED IN  A SPIRIT WALK- GHOST TOUR--- CLICK HERE DATA  & PICTURES

FOO FIGHTER UFO ABDUCTION PAGE -- L8 MYSTERY A BAFFLING CASE

BELOW: SUMMER TOUR - LATE AFTERNOON  -- INSIDE "THE OLDEST HOUSE IN THE USA"  (A LANDMARK)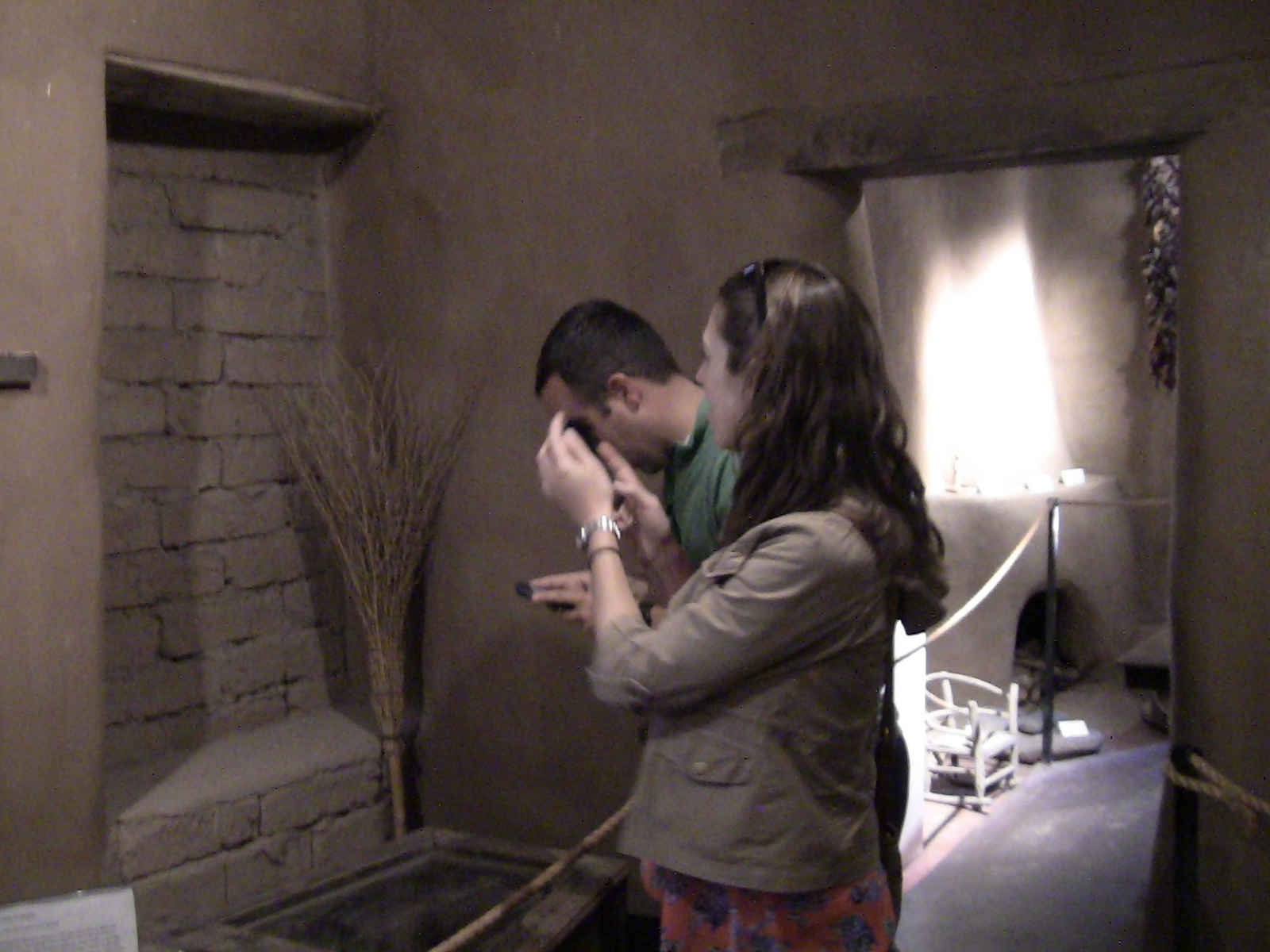 Besides the day time HISTORY tour, Allan also does Night time ghost and history tours --- SANTA FE AWAITS! 505-986-5002 or 505-231-1336 Below inside the Oldest Church-- this teenager hist the bell--with the hammer--- legend says if you ring the bell that dates back to the 1356,  you will return to SANTA FE! This bell is rather irresistible, when we tour the church, people in my group have to hit the bell. AND, AND, AND, this bell does have a wonderful sound when it is rung!  BONG! BONG! BONG! A great sound.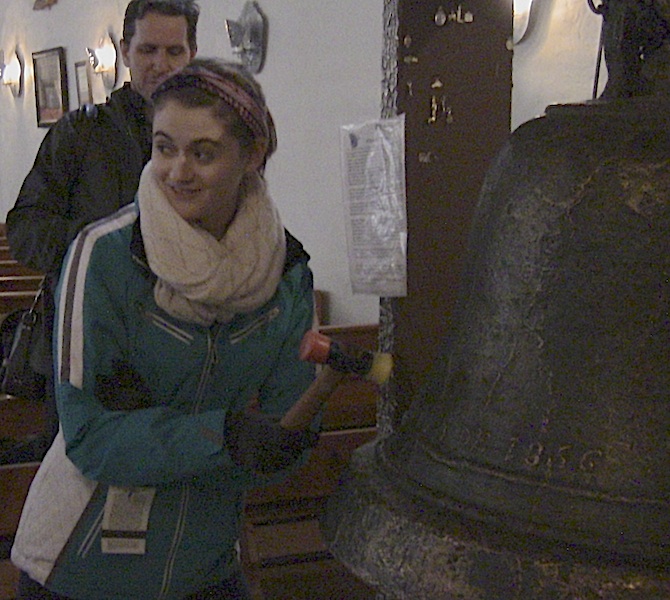 Once somebody on my tour gongs the bell, then others try it. Or that is how it usually works.  Remember == THE SPIRITS SAY === RING THE BELL ONCE YOU RETURN TO SANTA FE!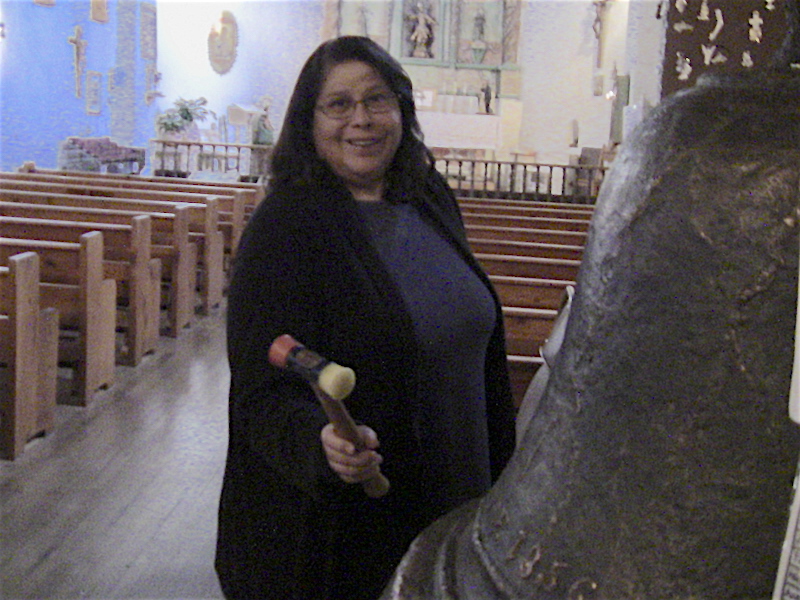 Be part of the tradition, the magical bell… Above 2016, below 1947….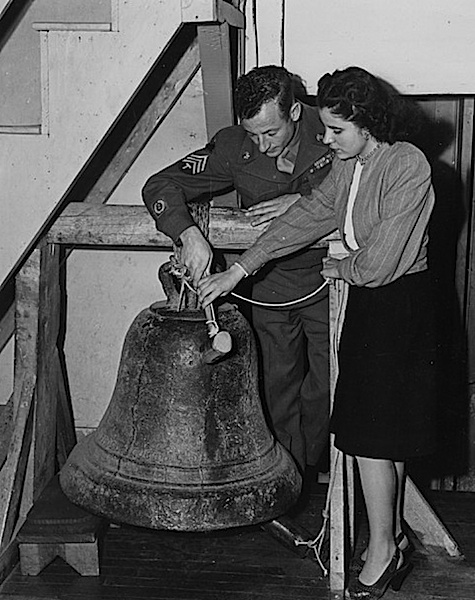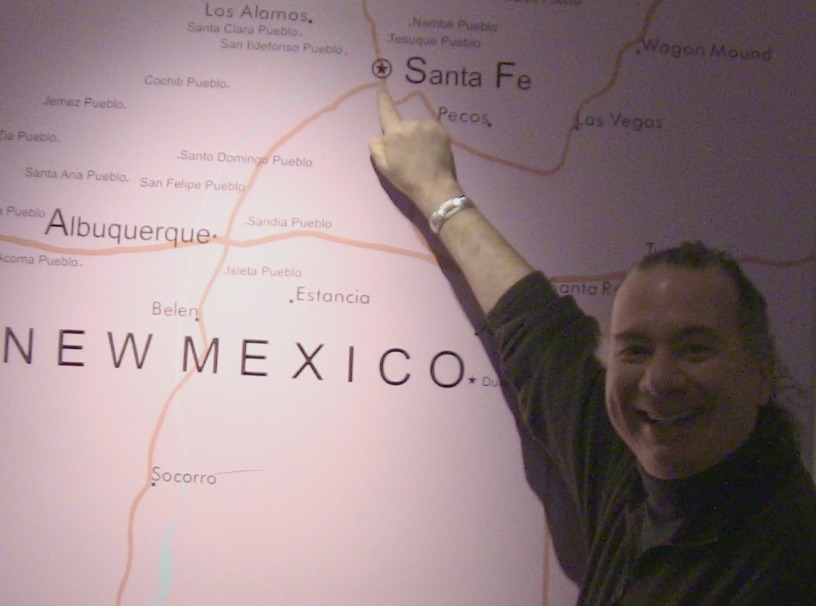 Above -- Tour Guide, Historian & Author -- ALLAN PACHECO = 505-986-5002 or 505-231-1336  You get the "skinny" on AL's tours -- He was born & raised in Santa Fe. - Yes, a native SANTA FEAN!  A rare thing --- when it comes to Santa Fe tour guides! ALLAN -- SANTA FE GHOST AND HISTORY TOURS 505-986-5002
RIGHT: IN THE MID ROOM OF THE "OLDEST HOUSE" A HISTORICAL LANDMARK. 

ANOTHER PAGE ON HISTORY & PARNANORMAL TOURS.


RESIDENT EVIL PAGE -- STRANGE SANTA FE   


THE HAUNTED MANSION -- ONLY IN SANTA FE

BELOW FEEDBACK: ON THE BEST "DAMN" TOUR IN SANTA FE!

LEFT-INSIDE THE LORETTO CHURCH- LEFT & BELOW + BELOW-- LOOKING AT "THE MIRACULOUS STAIRCASE"
  LETS GO TOURING 505-986-5002 or 505-231-1336
Allan Pacheco is the tour guide for an ultimate experience when visiting Santa Fe. I have been to Santa Fe five times, and it was on my latest trip that I had the best of all experiences. My companions and I booked two tours with Allan prior to arriving in Santa Fe. These were private tours just for us and the prices were so reasonable. 

We had the ghost tour on the first day we arrived meeting Allan right at dusk. We wound our way around town listening to fascinating information. Although I am not as much of a ghost enthusiast as my friend, I found myself very interested in the stories told on location. The tour ended back at the square just at dark. Allan even walked us (three women) to the La Fonda, where we were staying. Two days later, we met Allan for the historic walking tour. I have been on a walking tour of Santa Fe in the past, but this far exceeded my prior experience. Again, this was private to our group and, therefore, tailored to our questions. As a history buff, I came away feeling that this jewel of a city was part of me.

Both the ghost walk and history tour of Santa Fe more than met our expectations. Allan's depth of knowledge, high energy and upbeat personality are second to none. I have been on many tours both in the USA and abroad and Allan's history tour ranks in my top two! 

Go to Santa Fe. Meet Allan. You won't be disappointed. 
By the way, Allan is a one man show. If you read a review about someone other than Allan leading, it's not the correct tour!
Visited April 2016

https://www.tripadvisor.com/ShowUserReviews-g60958-d8434193-r372539025-Santa_Fe_Ghost_and_History_Tours-Santa_Fe_New_Mexico.html#
| | |
| --- | --- |
| AT THE ENTRANCE TO THE SAN MIGUEL MISSION, WITH "THE OHIO GANG". WHAT A FUN TOUR THIS WAS! ST. MICHAEL's IS THE OLDEST CHURCH IN THE USA.  THIS HISTORIC BUILDING IS LINKED TO ALL KINDS OF FASCINATING HISTORIC AND PARANORMAL TALES! | Across the street below-left, is the OLDEST HOUSE IN THE USA. Like the Oldest Church, that manor is attached to all kinds of history and paranormal haps. |
| | |
| --- | --- |
| HISTORY TOUR 505-986-5002 or 505-231-1336. | INSIDE THE HISTORIC & HAUNTED "LA POSADA". LETS GO TOURING-- 505-986-5002 or 505-231-1336 SCHEDULE A PRIVATE TOUR  |
CLICK HERE TO GET TO RECOMMENDATION PAGE --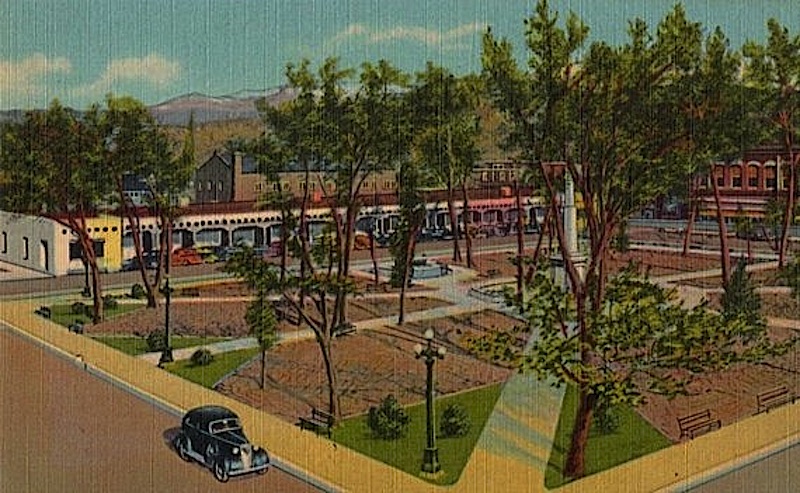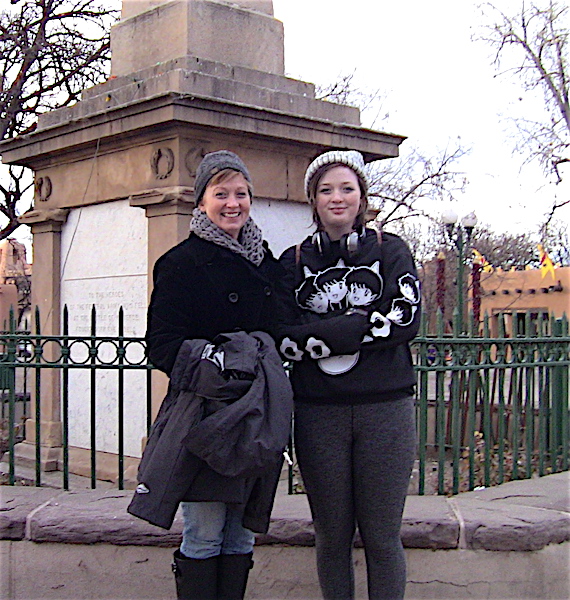 Above -- SANTAFEHISTORIcwALK-SANTA-FE-HISTORY-TOUR ---- THESE TWO STAND NEXT TO THE WILD WEST OBELISK, WHICH WAS SADLY DESTROYED BY ANTIFA-ESQU + RADICALS.  EVEN WITH CANCEL CULTURE - BEING PROMOTED BY THE LOCAL AND FEDERAL GOVERNMENTS -- YOUR TOUR  -- YOU GET THE FACTS -- THE NON PC - TRUE HISTORY OF SANTA FE. ///////////////////
RIGHT -- WEDDING PROCESSION IN THE PLAZA --  THIS TRADITiON DATES TO SPANISH COLONIAL DAYS -- LETS HOPE THIS HAPPENING DOES Not GET ZERO-ED BY BIG BROTHER /  AS IN THE CANCEL CULTURE MAYOR/ BECAUSE CARPET BAGGER - DWEEB - OFFICIALS - SAY, IT OFFENDS.

MAIN PAGE -- THE MENU PAGE --- CLICK HERE 

505-986-5002 or 505-231-1336 HISTORY TOUR!