SANTA_FE_GUIDE_TOUR  / history or ghost tour is led by AL PACHECO/ 505-986-5002 or 505-231-1336.  Your tour is done at a relaxed  pace. 
Who leads your    SANTA_FE _GUIDE_TOUR   -----  Allan Pacheco is your sherpa he is an author, historian and paranormal investigator of renown, he is also a native Santa Fean, AL PACHECO knows his stuff, he is not somebody who just got off the bus and reads off of index cards.  Allan's tours have been rated the best by the media. Schedule a private  SANTA_FE_GUIDE_TOUR  = 505-986-5002 or 505-231-1336 or have him as your keynote Santa Fe Speaker -- (HISTORY OR PARANORMAL).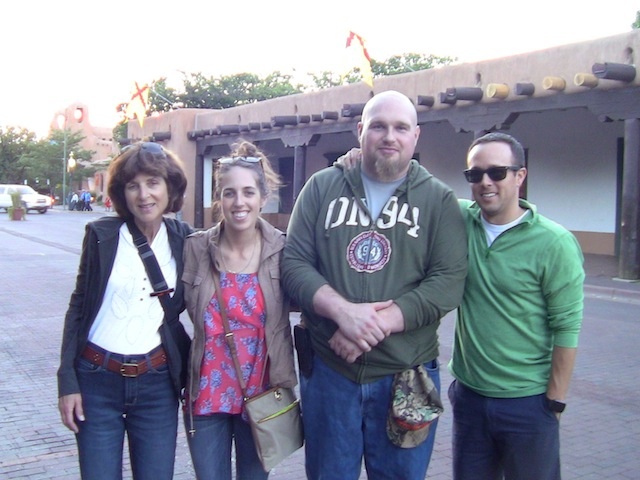 Above:  SANTA_FE_GUIDE_TOUR  =  A picture is worth a thousand words, in the plaza at the end of a wonderful enjoyable tour led by ALLAN PACHECO 505-986-5002 or 505-231-1336...  Below: photos from another private walking tour /Inside the historic "Oldest House"
Below -- Review of Al Pacheco's HISTORY TOUR
GREAT HISTORY TOUR                                                           February 8, 2020
My boyfriend and I booked this during our visit to SANTA FE.  Allan was incredibly knowledgable, engaging, interesting and punctual.
We very much enjoyed learning about the history of Santa Fe.  The prices was also great compared to the other history tour options in the area.
All in all a very nice experience.
Kayla
| | |
| --- | --- |
| Right & Below /Al Pacheco = 505-986-5002 or 505-231-1336 SANTA_FE_GUIDE_TOUR  | |
INQ. about add space santafewriter@me.com

BELOW: (HISTORY TOUR) in the plaza.  Allan's history tours are just as fun and interesting as a paranormal/ ghost tour.   505-986-5002 or 505-231-1336 schedule your own private =  SANTA_FE_GUIDE_TOUR
No matter what tour you take    ----   ghost tour or history tour --- you safari through Santa Fe will be a tour for the ages.  BELOW:  At the end of a tour in the patio of the historic & haunted La Posada...  During Wild West days La Posada was the Staab Mansion.   LETS GO TOURING!  505-986-5002 or 505-231-1336.

LIKEWISE BELOW: Even in the late night, you can see that this group is full of smiles, these Hawaiians enjoyed their safari and Allan enjoyed being their guide.

ABOVE: Happy tourists with one of Allan's book's, yes Al signed the book... The fellow on the right makes the Santa Fe Ghost and History Tours Hall of Fame page; (Brett) is one of the few people who has toured with Allan who knew about the CIVIL WAR battle fought outside of the Royal City -- (THE GETTYSBURG OF THE WEST).  On your private safari  questions are welcomed, let Allan know what your interests are and he will do his best to direct the tour towards those themes.
| | |
| --- | --- |
| GHOST TOUR SECTION  | |

Allan's   SANTA_FE_GUIDE_TOUR is question and camera friendly. BELOW: Ghost tour -- bring your ghostometers!  You never can tell! These people saw something!  505-986-5002 or 505-231-1336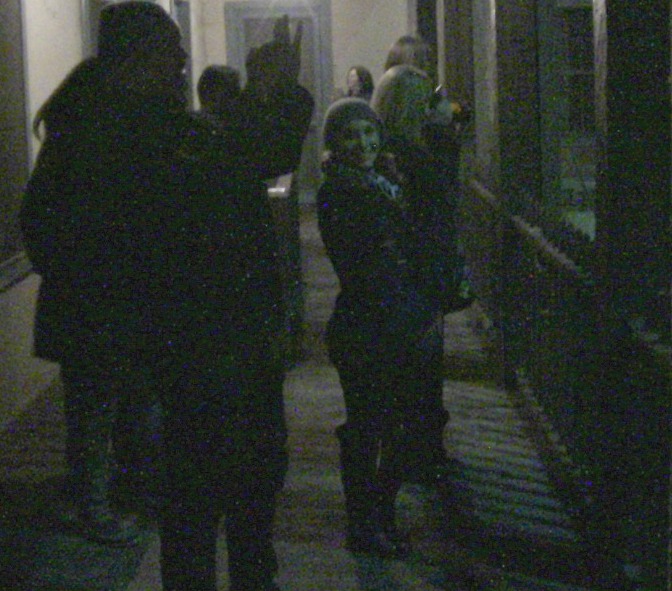 505-986-5002 or 505-231-1336 schedule a tour.
Above: Some contact was made on one of Allan's ghost tours. All kinds of activity around Stan who is a professional ghost hunter. Below another tour-- a ghostometer in use.  Sometimes on a ghost tour contact is made .... YIKES!  505-986-5002   or 505-231-1336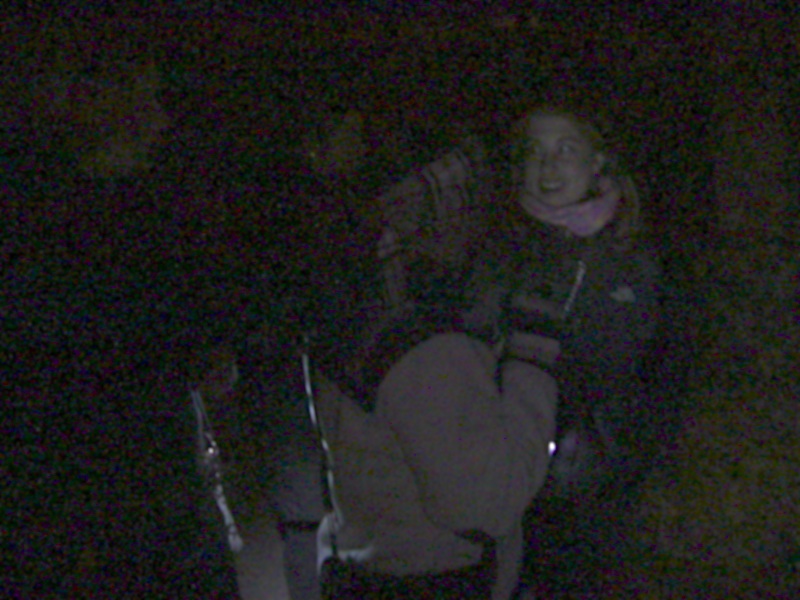 Above: major contact was made on this tour, one of the girls was shoved in a haunted location on SPOOKLANE. The photo was taken right after the incident.  At times this area and pathways can have major energy.  505-986-5002 schedule a ghost tour or 505-231-1336  /On your   SANTA_FE_GUIDE_TOUR    you never get a substitute guide all tours are led by Historian, author, metaphysician, ALLAN PACHECO. 
Your  SANTA_FE_GUIDE_TOUR   is a QUALITY CHECKED safari!  Schedule a trek 505-986-5002 or 505-231-1336 GHOST TOUR or HISTORY TOUR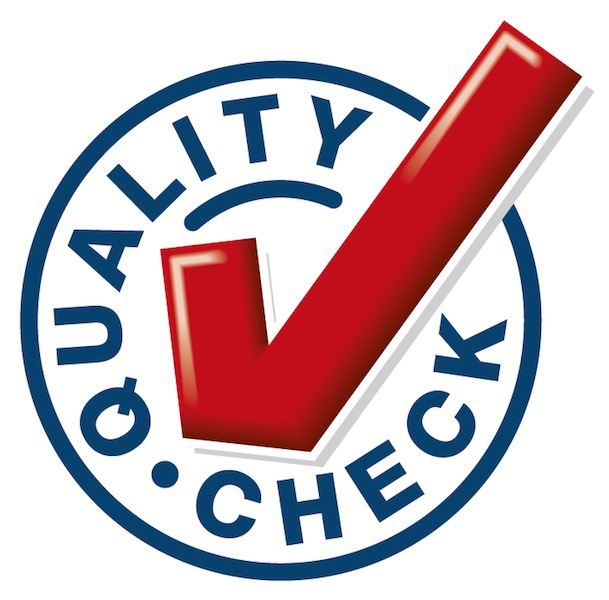 BELOW: The inner courtyard of (HAUNTED) La Posada.... Actually this area is rarely visited by spirits.  Large group, small group, family, or pals -----  Allan's private tours are done at a comfortable pace and they are FUN.   SANTA_FE_GUIDE_TOUR   = 505-986-5002 or 505-231-1336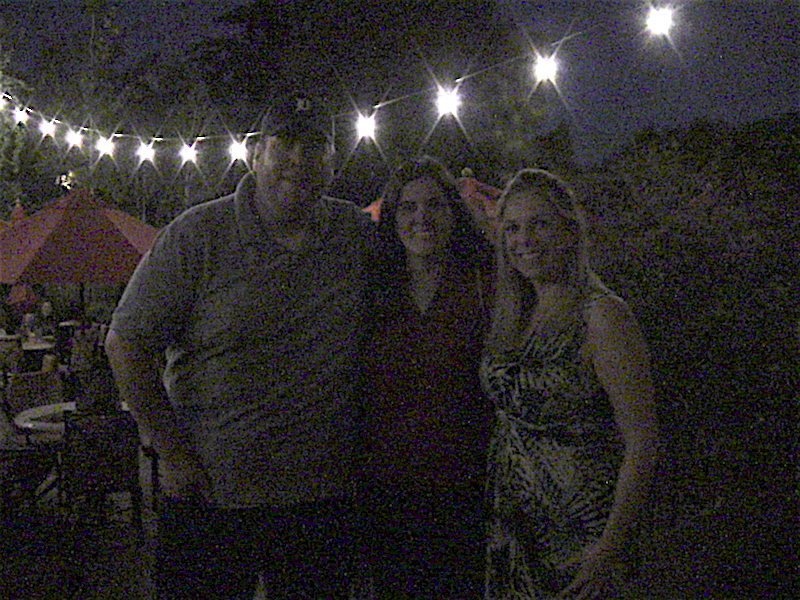 PRIVATE TOURS -- HISTORY or GHOST  505-986-5002 or 505-231-1336 CALL NOW RESERVE A SAFARI TIME.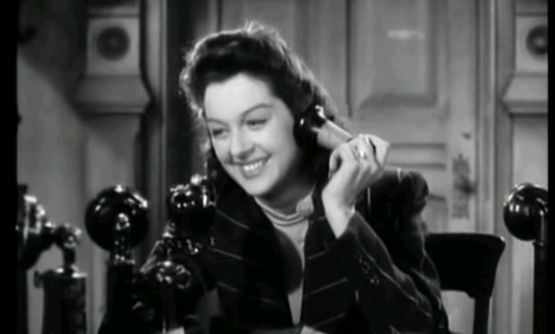 SOME OF ALLAN's BOOKS--to purchase click on "ORDER" left menu or go to Amazon ---- search = ALLAN PACHECO-- you will find numerous books.