On Allan Pacheco's Santa Fe New Mexico Ghost Tours, wild things can happen  

505-986-5002 or 505-231-1336 -- SCHEDULE A SANTA FE GHOST TOUR ---

take a look at this short docu done at haunted La Posada..
The green light is because the docu was shot in the dark
| | |
| --- | --- |
| RIGHT: Yes La posada is haunted --- but I am as skeptical as I can be... I think this photo is a trick of light --- but others will point out -- they see a skeleton with a sombrero...  SO was something looking though the window or again be logical -- light refraction? However sometimes logic is not the answer and in the above video along with certain photos taken through the decades at La Posada --- THE CONCLUSION IS -- the old STAAB MANSION is  a haunted manor. | |

Schedule a tour with Allan Pacheco  -- 505-986-5002 or 505-231-1336  & Safari through Santa Fe

BELOW: SERIES OF PHOTOS FROM THE GHOST HOTEL (YEARS- 1994-2004) = INSIDE THE STAAB SUITE.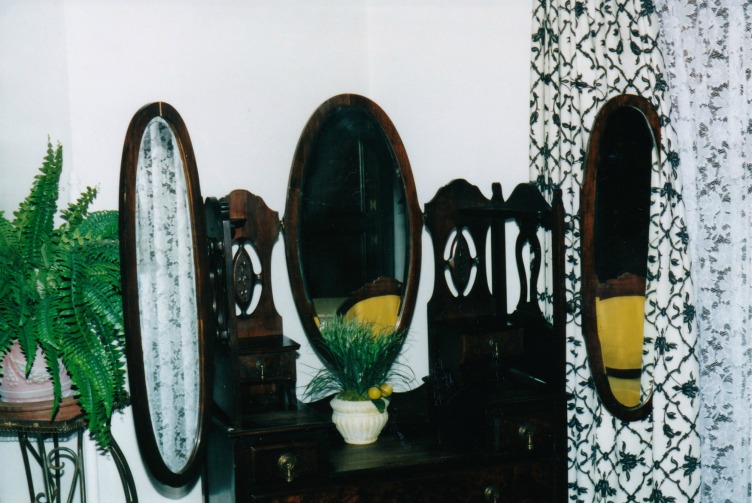 ABOVE & BELOW: THIS BUREAU SUPPOSEDLY BELONGED TO JULIA STAAB, ALLAN DID NOT BELIEVE THIS TALE AND ALLAN WAS PROVEN WRONG....  THE HIGH SHERIFFS AT LA POSADA (MANY DIFFERENT MANAGEMENT TEAMS --- TOLD ALLAN THROUGH THE DECADES THAT THE BUREAU WAS JULIA's.
CONSEQUENTLY -- GHOST HUNTERS & LA POSADA MANAGEMENT  SAID --- JULLIA'S GHOST WAS SAID TO APPEAR AT TIMES IN THIS MIRROR AND AROUND IT ---- AGAIN ALLAN WAS SKEPTICAL-- AND AGAIN  ALLAN WAS PROVEN WRONG.
THROUGH THE CENTURIES MANY PEOPLE, SKEPTICS AND GHOST HUNTERS HAVE CAUGHT ODDITIES ON THEIR FILM WHEN SHOOTING THE MIRROR OR THE AREA AROUND THE BUREAU.  ALSO PEOPLE WHO HAVE RENTED THE ROOM OR SHADOW CHASERS HAVE ENCOUNTERED A GHOST OR GHOSTS AT THIS OBJECT.. 
SADLY WHEN LA POSADA WAS REMODELED THIS OLD FURNITURE WAS DISCARDED-- WHO BOUGHT THIS BUREAU OR WHERE IT WAS DUMPED AT-- ALLAN WAS NOT ABLE TO FIND OUT.
Note the ancient ANKH symbol on the mirror-- is it a trick of light or does it mean something-- as in concerning the paranormal activities that used to be so common in this room, before it was remodeled? Below is the ancient Egyptian symbol, which is known as the handled cross--- it symbolizes eternal life…. IN the SCI FI film "LOGAN's RUN" it symbolizes--- SANCTUARY. There is no way now, being that the bureau is gone --- to test to see if this ANKH symbol is or was a reflection or light trick. Decades ago, ALLAN stayed in this room and conducted investigations. ALLAN was not able to find the source of this ANKH reflection or light trick, was it ineptitude on ALLAN's  part -- or does that odd symbol mean something as far as the haunting?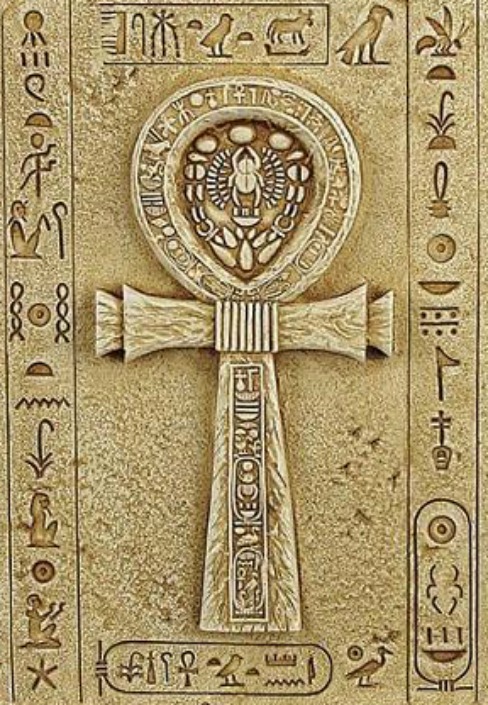 COUNTLESS TIMES, PEOPLE HAVE REPORTED THAT WHEN JULIA APPEARED IN THIS BURUEA'S MIRROR--- SHE WOULD LOOK LIKE AN OLD WOMAN WITH LONG GRAY HAIR OR AS A YOUNG WOMAN WITH SHORT BLACK HAIR. ASLO====ORB ACTIVITY ABOUNDED AROUND THIS PIECE OF FURNITURE, SOMETIMES====== ENERGY BOLT LIKE SQUIGGLES WERE SEEN ON PHOTOS THAT SHOT THIS DRESSER. 

ABOVE PHOTO------SOME ECCENTRICS CLAIM THEY CAN SEE A GHOSTLY IMAGE IN THE SIDE MIRROR OF THIS BUREAU... HMMMM? LOWER PHOTO------ WHAT IS EVIDENT? ACCORDING TO SOME --- THE FORM OF A DARK HAIRED WOMAN IN 1800S GARB WEARING A HAT----- IN THE MIDDLE CAN BE SEEN --- ALONG WITH THE SQUIGGLE LINES CAUGHT IN THE SHOT...........................     UNFORTUNATELY THIS ROOM HAS BEEN REMODELED-- THE OLD FURNITURE IS NO MORE, THE FIREPLACE IN THIS ROOM HAS BEEN CLOSED UP.
The mysterious photos- above and below; Through the decades Allan has researched the many different ghostly locations in Santa Fe and spent many a night + day in the haunted La Posada suite, that is the room where Julia was dispatched. Allan took many photos during his investigations and shot a lot of 35 mm and VHS video in the murder room.
After one of his La Posada investigations, Allan gave the front staff desk management a number of photos of some of the paranormal activity he had recorded in the murder room and in the old mansion. Unfortunately decades ago they were stolen and that was the end of that.
The question is does the photo below look like the photo above? YES. DO these photos look like snapshots that were taken in a sequence as compared to the photo above? Maybe or maybe not? Do the photos look like photos taken on different days, that is very possible.
SO maybe it is one or not one of Allan's old photos that he lent to the front desk.
Rumor has it that the old beaten up photo (BELOW PHOTO) that was posted onto the internet is being used on a Santa Fe tour. If that is true what a journey this photo must have had as in being passed on from owner to owner to owner.
The old front desk at the LA PASADA is no more and the old staff that used to run the front desk have gone onto other jobs or have passed on due to old age. Likewise Countless GM's - General Managers -CEOs  have come and gone since Allan lent the front desk some photos from his investigations….
THE POINT OF ALL OF THIS----If anybody--ANYBODY--- has a copy of the VHS films that were shot on some of Allan's ancient tours (SHOT) inside the La Posada suite (THE MURDER ROOM BEFORE IT WAS REMODELED) --- shot during a BOYS SCOUTS tour and a FLORIDA family tour, please send Allan back the original tape or a good copy of the VHS film or a copy of the photos....
On these ancient tapes and photos activity happened--- with the VHS -- the camera does a black out and in one of the films, the curtains move, people get cold + afraid, then the door handle moves, and a few other things happen.
Of course this was ages ago when VHS was the state of the art and the old suite had not been remodeled. If somebody has the original or a copy of those films, Allan would appreciate the original or a good copy--- contact ALLAN at santafewriter@me.com or- send him the old film/tape= ALLAN PACHECO / PO BOX 6875/ SANTA FE, NM/ 87502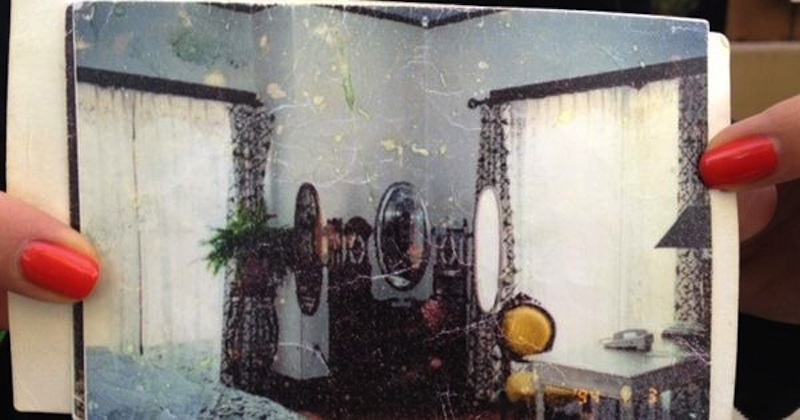 REMINDER --- THE ABOVE BUREA IS NO MORE ---- DURING LA POSADA 'S REMODELING DECADES AGO --- A LOT OF JULIA's OLD FURNITURE IN HER BEDROOM WAS DISPOSED OF ----  SO WHEN A TOUR WANTS TO SEE THE BUREAU --- NO GO -- ITS NOT THERE... BELOW: STRANGE PARANORMAL PHOTO FROM THE LA POSADA STATEROOM.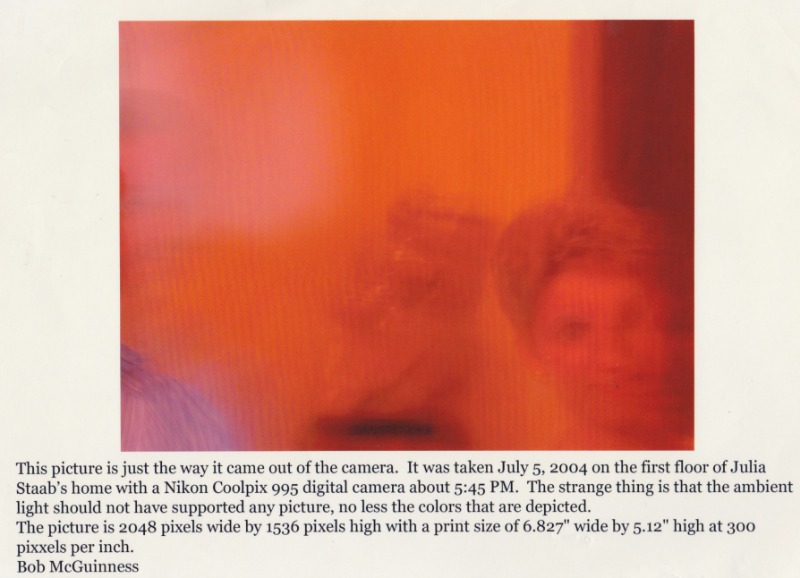 | | |
| --- | --- |
| RIGHT: Snippet with the  LA POSADA Chef, he cooks & talks a bit about Julia Staab's ghost. | |
BELOW: Downstairs from the STAAB SUITE -- at the entrance to a stateroom at LA POSADA --- This resort used to be the STAAB MANSION (WILD WEST DAYS into the 1930s) it was beautiful then and today it is as grand as the TAJ MAHAL... Schedule a tour --- with ALLAN PACHECO -- 505-986-5002 or 505-231-1336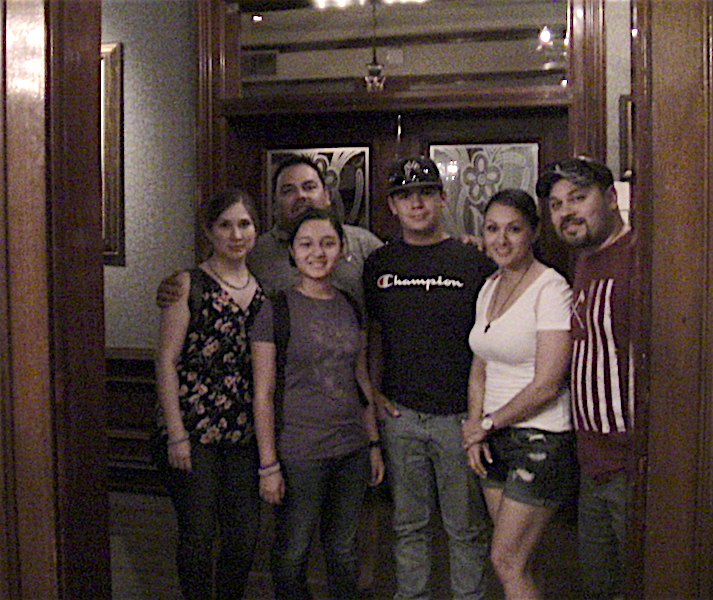 NOVEMBER2, 2017
As new residents of Santa Fe, we are interested in learning more about the city and it's history so we decided on a walking tour. Since it was Oct, we opted for a ghost tour.
We were joined by a friend who has been in Santa Fe for 30 years, we thought we'd have the best of both worlds (not knowing how long Allan had lived here). Reasonably so, our long time resident/friend was suspending her disbelief to see how much the guide knew.
 
I can only say, as will the others in our group, - the breadth of Allan's knowledge is beyond impressive. Not only could he speak to the history of Santa Fe but to many other facets of the city's background & development.
When we booked the tour, I had no idea we selected someone who must be (if he's not already) considered an expert in what he does. Having crossed paths with another tour, the difference between the two was staggering!
Thankfully the ranking on TripAdvisor helped us make the right decision.

Allan is entertaining, knowledgeable, honest, easy to schedule and reasonably priced for a private tour. If you're considering a walking tour, THIS is the one you want!!
KARINA
BELOW: At the entrance --  before we head into the haunted La Posada --- the most active -- ghostly --- resort in New Mexico or in the USA!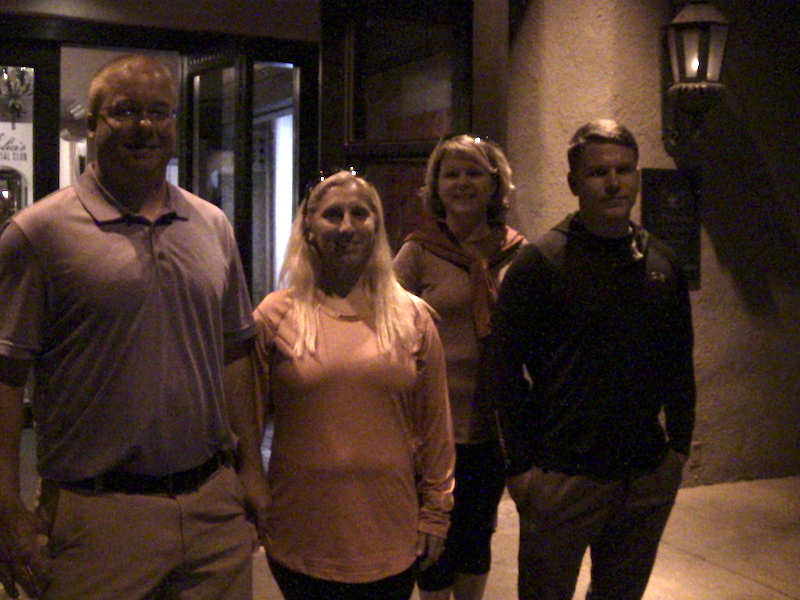 Below: What are these two pilots yakkkking about -- "We are over Santa Fe, this is where ALLAN PACHECO leads private Ghost or History Tours."  THE BEST DAMN TOURS IN TOWN. 505-986-5002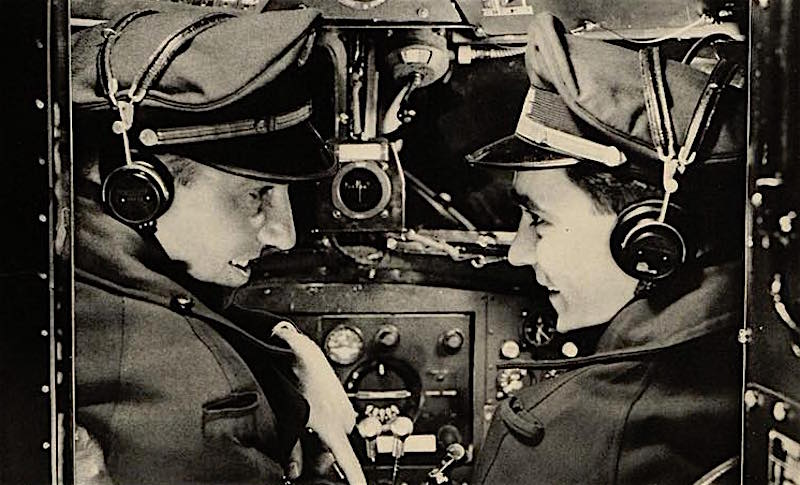 GET WITH ALLAN-----GO ON ONE OF HIS TOURS & IF YOU LIKE-- DRESS FOR THE OCCASION! (SKULL MASK) 505-986-5002 or 505-231-1336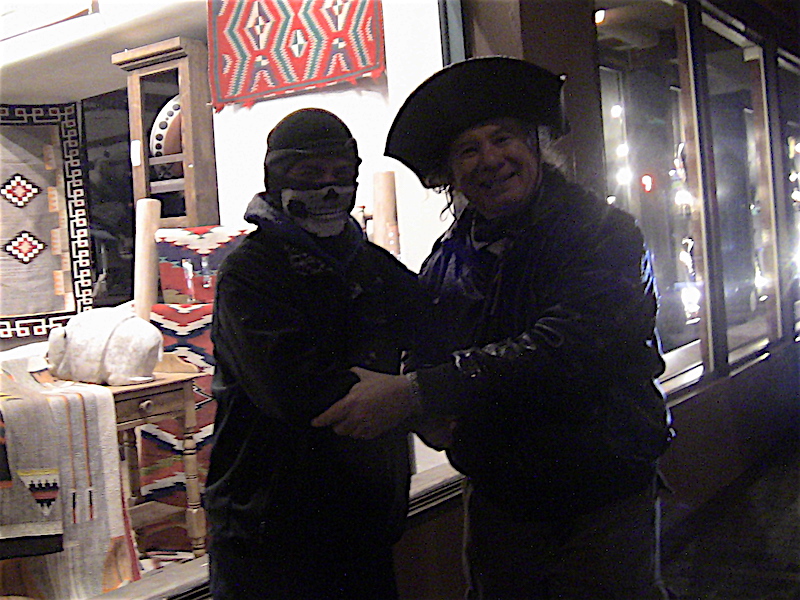 ALLAN IS FOR HIRE----TOUR GUIDE----- RADIO--TV GUEST------LECTURER------505-986-5002 or 505-231-1336-------santafewriter@me.com