Holiday Tours led by Allan Pacheco.  History tours = daytime//Ghost (Paranormal) = night or daytime! 505-986-5002 or 505-231-1336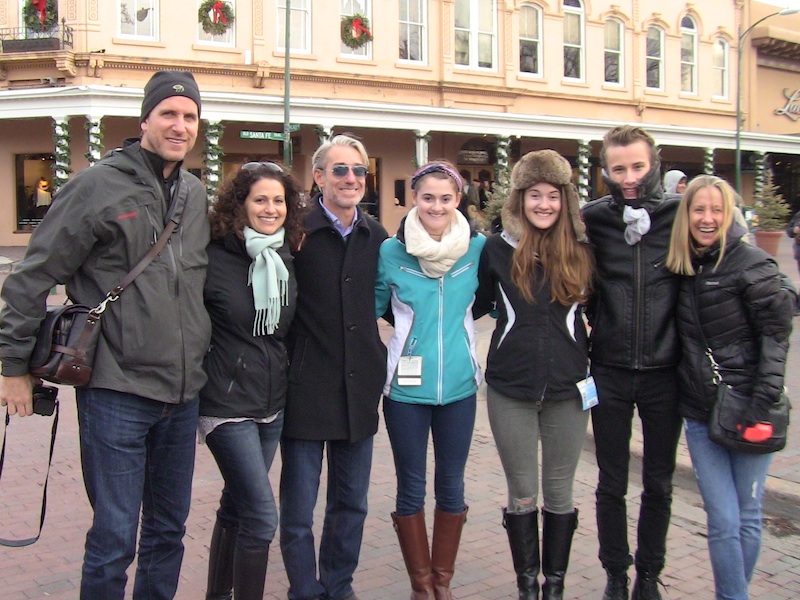 ABOVE: Santa Fe is a magical place during the holidays --- book a tour with Allan, you will be glad you did   505-986-5002     .....    BELOW: A daytime history tour that ended at the La Posada, which was a Wild West mansion that is now a world class resort.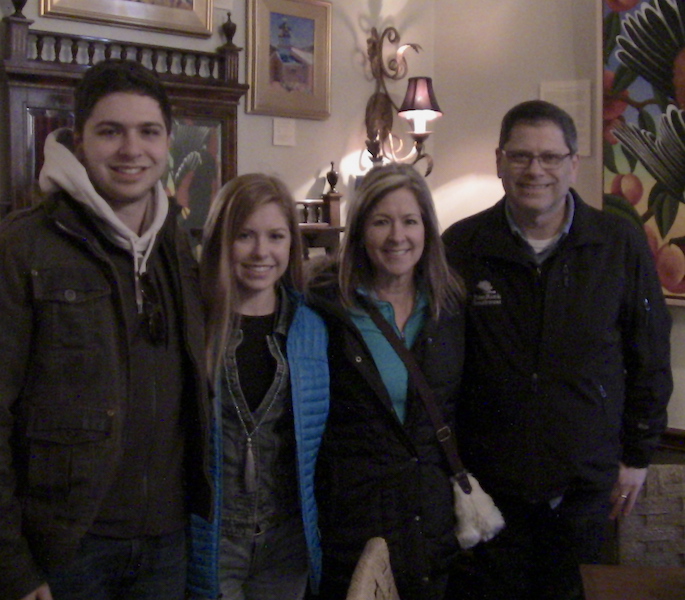 Below: This Holiday History Tour ended in a stateroom at LA POSADA -- the group was going to warm up with some drinks from the bar...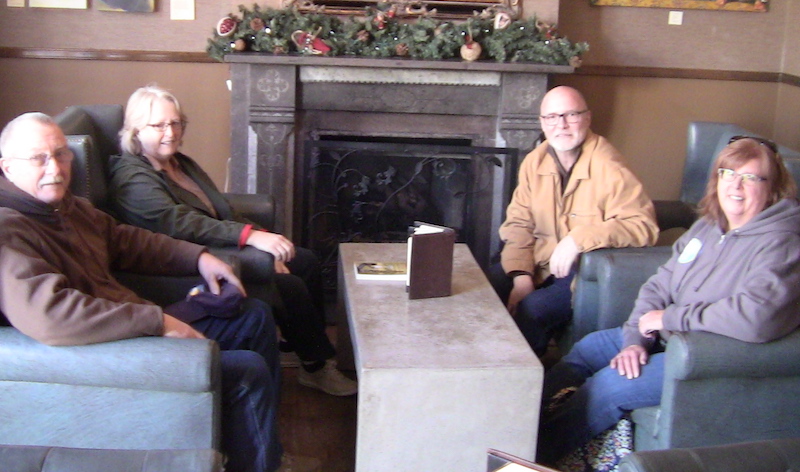 BELOW: IN THE PLAZA CHRISTMAS EVE--PRIVATE HOLIDAY TOUR/ BOOTS ON THE GROUND = FUN TIMES!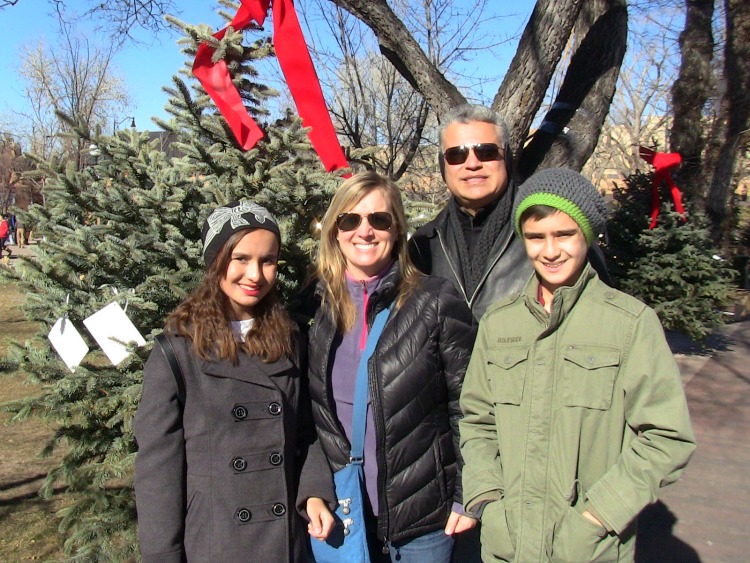 BELOW: In the plaza, the holiday lights are on the monument, late afternoon -- daytime HOLIDAY GHOST TOUR.  ON this trek contact was made -- at numerous haunted places in old Santa Fe.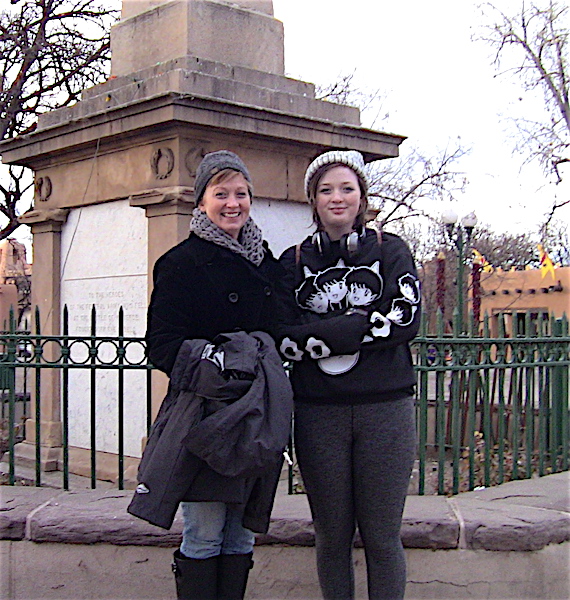 Below: In the plaza -- night tour -- ghost tour.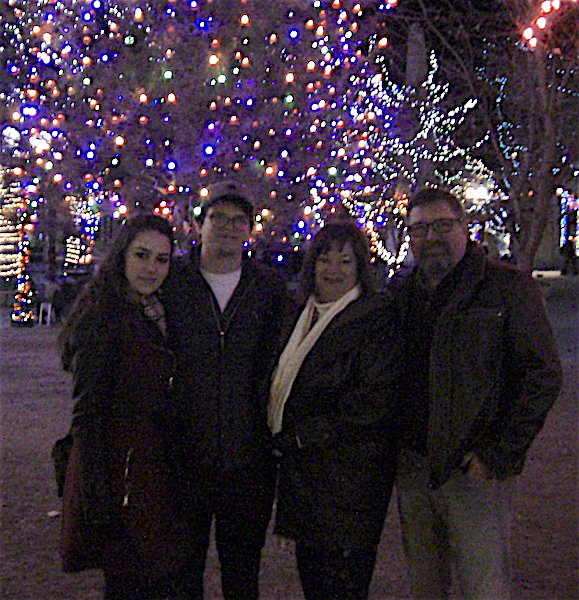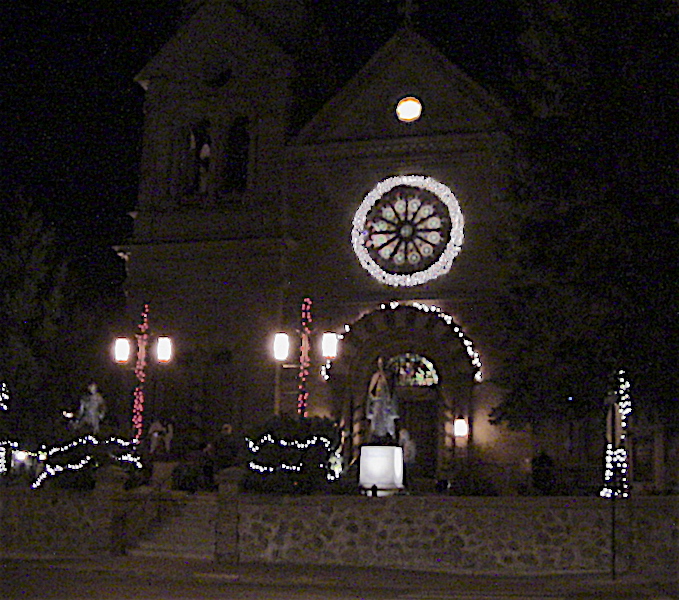 Above & Below -- on our way to the St. Francis Cathedral... The statue is that of ARCHBISHOP LAMY, he was the power -- cleric style -- during Santa Fe's Wild West days. Behind his statue is his monument the basilica, he made it happen -- the construction.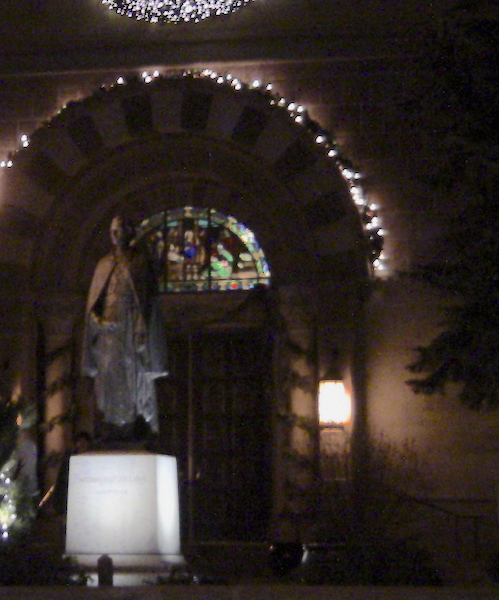 BELOW: THE LARANAGA TOUR: ON THIS HOLIDAY TOUR WE DID GET CONTACT WITH SOME TYPE OF GHOSTLY ENERGY -- ON AND NEAR SPOOK LANE... THE BELOW PICTURE WAS TAKEN IN THE PLAZA... GHOSTS -- COLD WEATHER AND BEAUTIFUL LIGHTS!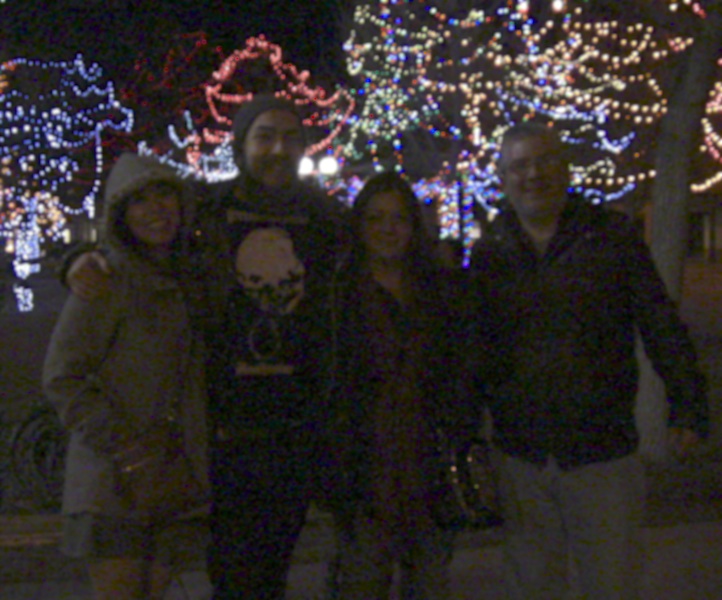 After the tour -- Allan can direct you or walk you to one of Santa Fe's fine watering holes; where one can warm up with some good stuff...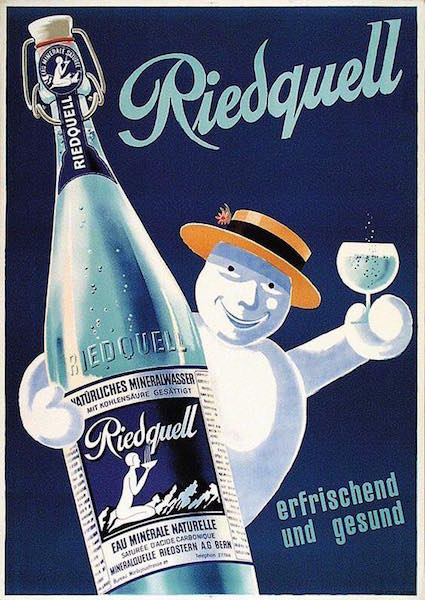 Below, in the plaza near the end of a holiday ghost tour.  Fidel & Carmelita, Fidel who is from sunny El Paso and the cold did not bother him at all. Fidel was a good guy and as tough as a polar bear when it came to the low temperatures.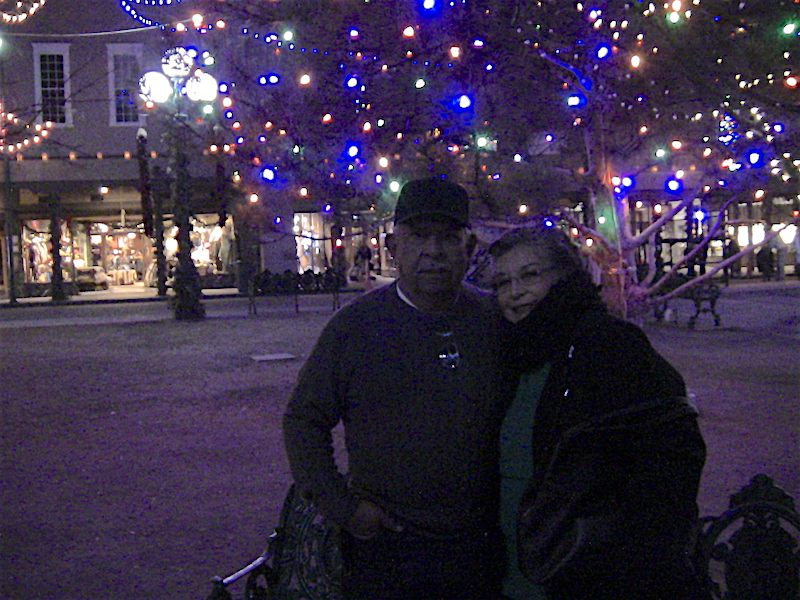 BELOW: This holiday tour of Allan's was Pet Friendly!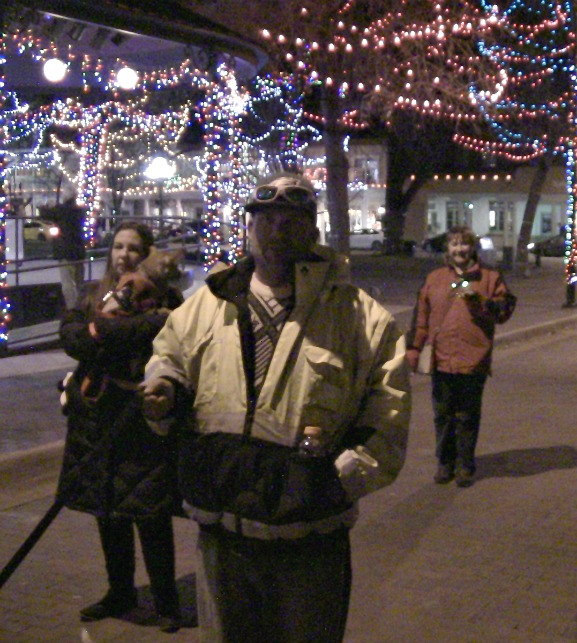 Below: Holiday tour -- old ST. Vincent's in the distance -- today it is the DRURY HOTEL.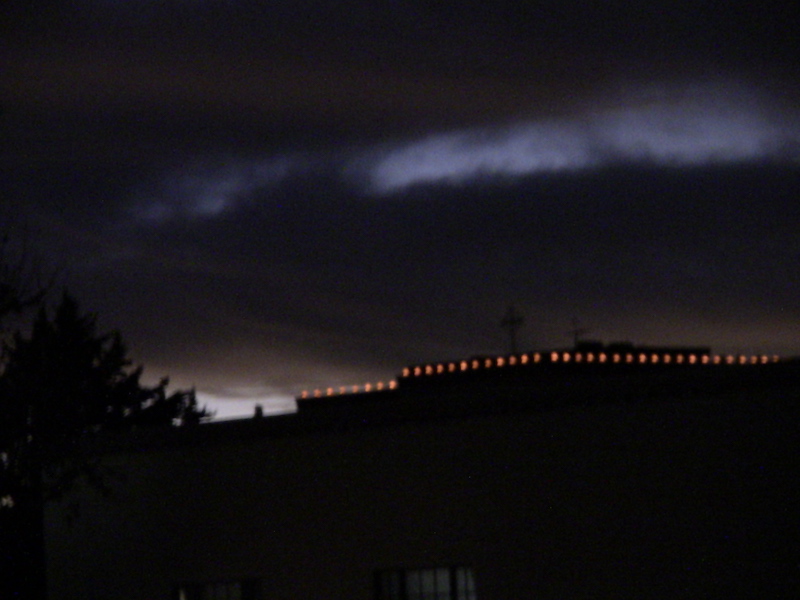 Above & Below: Epic Christmas spirit!
Below & then some: More happy people who went on a ghost tour during the Holidays.
WINTER TOURS -- NO WORRIES --- TOUR GUIDE ALLAN -- DOES LOW TEMP HOLIDAY SAFARIS!  Schedule a winter private safari 505-986-5002 or
505-231-1336.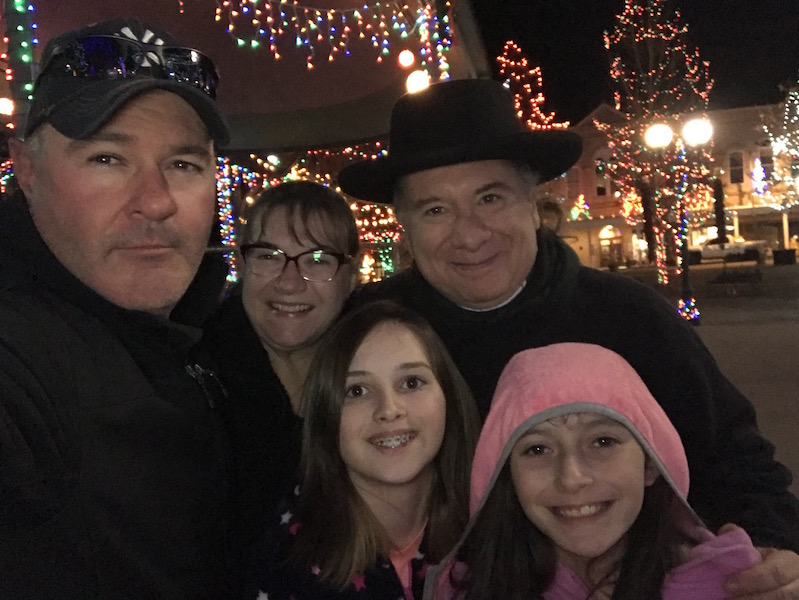 Like the commercial below --- RING IN THE HOLIDAYS with a private tour led by Allan Pacheco (Historian, Author & Paranormal Investigator) --- 505-986-5002 or 505-231-1336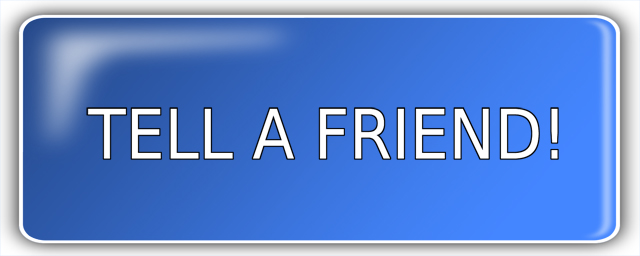 505-986-5002 or 505-231-1336 schedule a tour...