SANTA-FE-GHOST-TOUR-tour-information  =  Private tours day or night -- led by Author, Paranormal-Investigator = ALLAN PACHECO 505-986-5002 or 505-231-1336
SANTA-FE-GHOST-TOUR-tour-information ---  Call Allan Pacheco and arrange  a tour with him, his ghost tours are done day and night --- summer and winter.  He tries to schedule the ghost tour at your convenience.  Big group (Family or pals), Small group, or Solo --- it is your private tour -- in other words --- you or your group is free from obnoxious strangers.  
SANTA-FE-GHOST-TOUR-tour-information  --- ON your Santa Fe safari  questions are encouraged, guide Allan is a wealth of knowledge and is a hands on paranormal investigator. Your guide is sought out by national paranormal shows.  Got ghostometer or ghost AP on I-phone -- bring em along.  
SANTA-FE-GHOST-TOUR-tour-information -- Your tour does pass by or through some haunted areas, sometimes that rustling in the bushes is not the wind, get my drift?  On this website you will see hundred of pictures from countless ghost tours -- where thaaangs have been registered on ghostometers or  energies have been photographed.  It is rare that a tour runs into ghosty power or a shade, but it has happened. Take look at the snapshots on this large site.  GOT GUTS -- GO ON ONE OF ALLAN's NIGHT TOURS.
SANTA-FE-GHOST-TOUR-tour-information --- On your ghost tour -- at certain locations  Allan does  show you zerox copies of energies and ghosties that have been taken on his tours and investigations.  That is why ALLAN always says GOT SHADOW CHASER GADGET?  BRING IT!
SANTA-FE-GHOST-TOUR-tour-information -- Allan tries to tack your tour towards your interests. If you have read any of his books or heard him on national programs and want info his investigation or about UFOS or THE MISSING, let him know, he will go into detail about those subjects. Likewise the 1947 Roswell Incident or the phenomena of Cattle Mutilations.
SANTA-FE-GHOST-TOUR-tour-information  STREET CRED ----Allan Pacheco is a renown paranormal investigator and historian, he is a regular on many national radio broadcasts (PARANORMAL). Allan was born in Santa Fe, his family was here before the Pilgrims landed at Plymouth Rock. He is of Spaniard and Indian heritage. With his roots being ---- of this town and area -- Allan gives you the low down, on the legends, lore and facts. Allan's tours have been rated as the best in Santa Fe. 
SANTA-FE-GHOST-TOUR-tour-information Your tour is NOT- NOT -NOT  a tour where the guide proclaims this is here where the PHANTOM WAS SEEN.  On Allan Pacheco's tours -- you get the paranormal story along with the history of the location.  The way you can determine if there is link between teh history and ghosty yarn. You also get the data and sometimes pictures of what Allan has uncovered in his metaphysical investigation of the locale or shade.  
SANTA-FE-GHOST-TOUR-tour-information  -- Allan's tours are filled with facts, and inside info that only a hands on investigator would know.  Yes, his ghost tours -- are thorough and so very interesting. Sometime they are filled with CHILLS - SPILLS --THRILLS --- it depends on the ghost and how aware you area/
SANTA-FE-GHOST-TOUR-tour-information  505-986-5002 or 505-231-1336 --- schedule a paranormal safari with Allan you will be glad you did.
SANTA-FE-GHOST-TOUR-tour-information  = Tour with Allan Pacheco  505-986-5002 or 505-231-1336. Below: reviews of one of Al's "Ghost Tours". 
Hello, Allan
Wanted to thank you for the best tour ever, I loved it. 
Just wanted to express my gratitude to you for an amazing experience!
Sept 5, 2018
Lynn
JULY 14, 2019
Vast amount of historical and paranormal knowledge
I recently had taken the paranormal tour with Allan Pacheco. What a wonderful tour!
Allan has an incredible amount of historical and paranormal knowledge of the Santa Fe area. We were able to visit many of the well-known historical sites where Allan would add the verifiable paranormal activity at each site.
Also, Allan was very accommodating to any modifications we may have needed along the way without missing a beat in the narrative of information. Such an enjoyable tour. I highly recommend for all ages and abilities.
MARY S.

On safari --- ghost tour (DUSK) ---Leslie on SPOOK LANE a.k.a La LLORONA LANE the path has many nicknames-- --- This is a historical and haunted place!  SANTA-FE-GHOST-TOUR-tour-information -- on your tour take as many pictures as you want, all that Allan asks is that you do not record his tour, that is verboten.  As for hand held shadow chasing gear --- bring it along, Allan will tell you at what spots == this is where --- ghostly activity has been seen or recorded.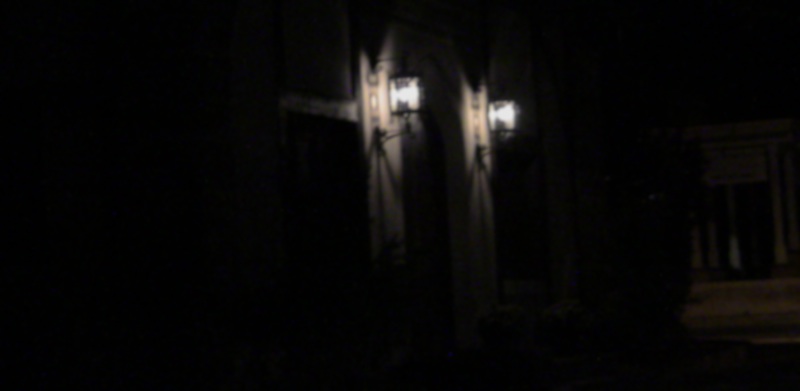 BELOW -- you never can tell what will register (Outside or inside the haunted historical OLDEST HOUSE)

Above -haunted Santa Fe streets… SANTA-FE-GHOST-TOUR-tour-information  

ON your tour YOU CAN WEAR YOUR LUCHADOR MASK -- OR COME IN CoStUmE! More importantly, if you have a mini ghost box, bring it!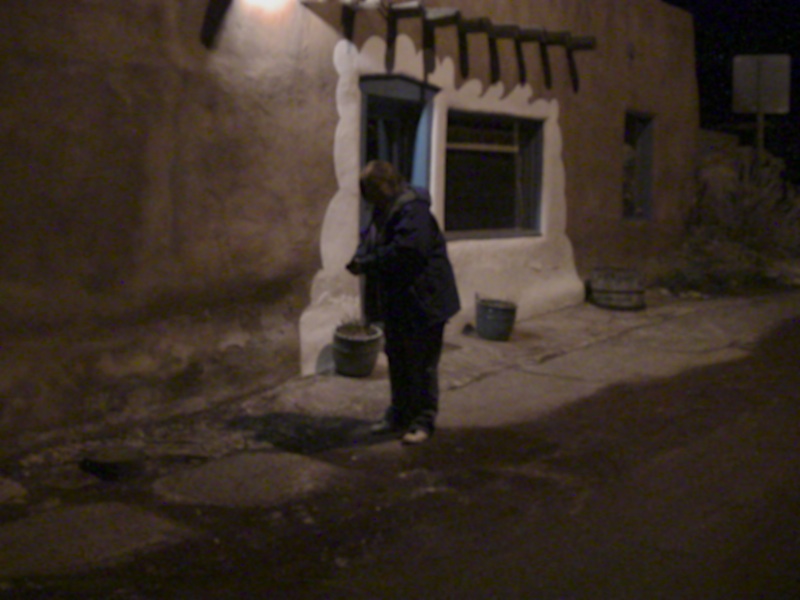 The HAUNTED OLDEST HOUSE ---- ABOVE: CONTEMPORARY NIGHT TOUR LED BY ALLAN 
SANTA-FE-GHOST-TOUR-tour-information  ---  BELOW: Nice words -- ANOTHER REVIEW      -- concerning ALLAN PACHECO's "GHOST TOUR"                                                505-986-5002 or 505-231-1336
I just wanted to say thank you for the fascinating tour to gave to my wife, my best friend, his kids and I on April 15th. It was truly one of the highlights of our trip to New Mexico. An account of our experiences in the Oldest House:
 My wife, Christina, and I went to the Oldest House for the first time on Friday, April 14th, 2017. At the time, we were the only people in the house. While I was exploring the front room of the Oldest House, Christina went ahead into the back room alone. She had not been in the room  for more than a minute, standing by the long dining table, when she heard a loud, heavy and gutteral sigh literally inches from her right ear. This was followed immediately by cold chills. She hurredly called to me from the other room.
The moment I stepped into the back room, I felt chills emanating from the soles of my feet to the top of my head. We have been in plenty of haunted locations throughout our travels, so we instantly knew what this meant. Nevertheless, we looked around for air conditioning vents, other visitors or anything else that might naturally explain what she heard. The only thing we found was a hole in the ceiling, which is where I thought the spirits lived (it was only the next day that you told us that no one has been in the upper story of the Oldest House in decades).
 Christina wanted me to take a picture of the room, in hopes of catching something on film. We had done this once before with great success in the Tower of London. As I turned on my camera, and Christina was exiting the room, I noticed a tall, thin white wisp pass in front of me, moving from the table to the left display case. I took a picture (see attachment), but I'm not sure if anything really came out on the photograph. There does appear to be a long black shadow in a vaguely humanoid shape between the table and display case. We took some more pictures of the room both that Friday and the next day on your tour, and nothing similar has reoccured in those.
I hope one day you can find an explanation for these events in the house, and, if you get permission to go into the upper story, I'd love to be there!
Thank you again for the wonderful stories of Santa Fe.
Sincerely,
Michael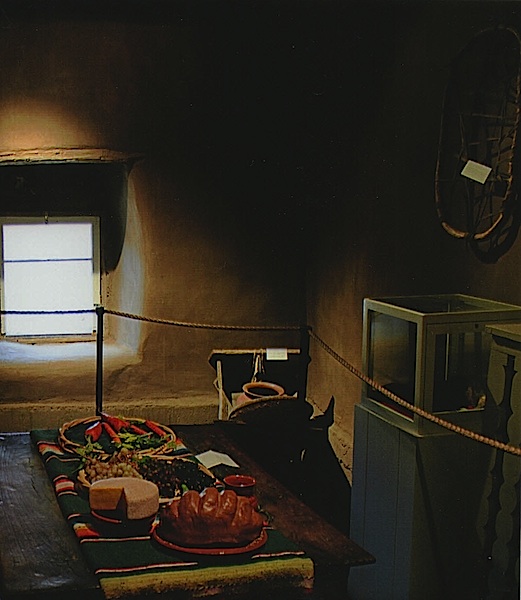 The account above  happened the day before Michael and his group went with ALLAN on tour into the OLDEST HOUSE.
ON the GHOSTS OF SANTA FE TOUR --- Allan explained the myth, lore and facts of the haunted OLDEST HOUSE.  
As in the many murders that happened inside or around the building, the witches that used to live there, and what was discovered during investigations at this house.  
In other words, what Michael and wife felt or saw was not outlandish, this property is the domain of a number of energies that date back to CONQUISTADOR DAYS, WILD WEST DAYS and MODERN TIMES. 
ABOVE & BELOW = OLDEST HOUSE CEILING = PHOTOS DECADES OLD. A few people on tours (Very Few) that are sensitive to the paranormal  have through the years had a feeling that something paranormal lives or stirs in this area of the OLDEST HOUSE.
These photos may or may not confirm MICHAEL's above statements about  getting a vibe from this area.  
AGAIN = ABOVE & BELOW. In the past what sounded like distant coughing was heard now and then inside the OLDEST HOUSE, specifically in the rooms above, that face SOUTH.
The photographer felt something up by the VIGAS and took a series of pictures. The first looks okay but only to a degree because the odd light can not be accounted for or the out of focus quality. The second photo, has LIGHT REFLECTION OR ENERGY OF SOMETHING PARANORMAL? It has been pointed out to me that a demonic face can be seen to the left of the things. Hmmm? Imagination or something there?
It is of interest, on different occasions cameras have malfunctioned outside and inside the building and then when away from the structure, the devices begin working perfectly.
The building has been investigated by Allan many times and by psychics during the day and evening. At times this building and area is filled with things that go bump in the night.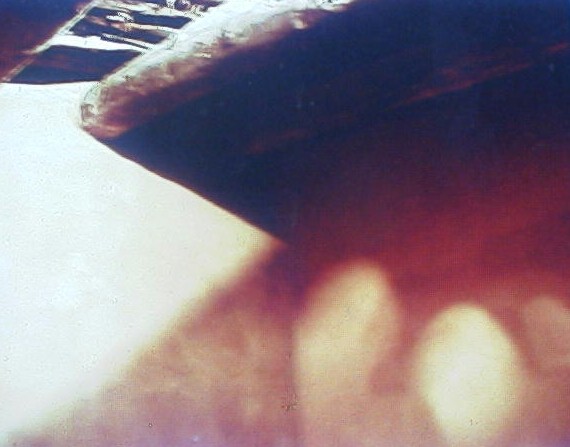 BELOW = From decades ago, a plaque and 1984 photo, documents an apparition that was felt, seen, and photographed inside the OLDEST HOUSE.  
This account does dovetail into what Michael saw inside this building as in a WHITE WISP of ghostly energy in one of the ghost rooms.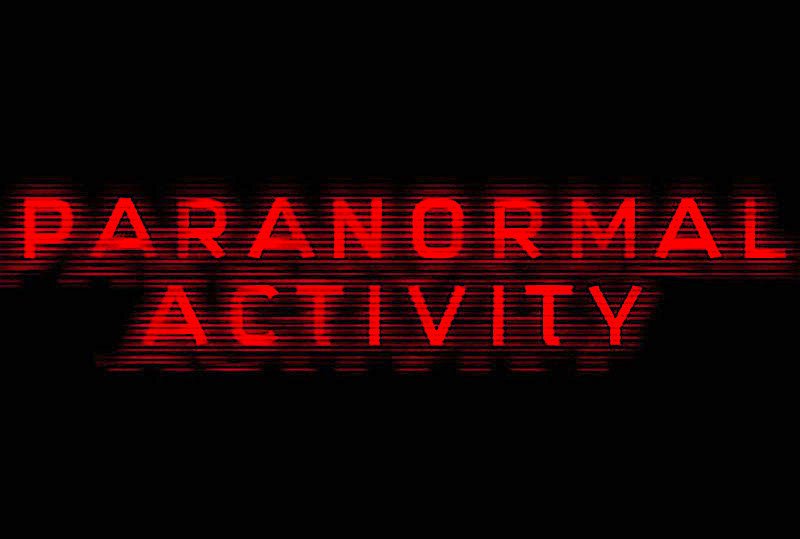 SANTA-FE-GHOST-TOUR-tour-information    REPEATING -- GOT GHOSTOMETER -- BRING IT WHEN YOUR TOUR WITH ALLAN PACHECO  505-986-5002 0r 505-231-1336   BELOW: State of the art ghost-gadget (2017)--- this unit pegged out in the far ghost room of the OLDEST HOUSE… There is no electric line under this concrete slab to trigger it and there are no electric lines in the adobe walls. This area of the building has been known through the centuries to be haunted and strange things have been seen.  Likewise cold air has enveloped people who have visited this and other room of the OLDEST HOUSE.
BELOW: MARG inside the OLDEST HOUSE.  Behind MARG you can see the COFFIN. At times this area of the building is overloaded with paranormal activity. PRIVATE TOURS WITH ALLAN 505-986-5002 or 505-231-1336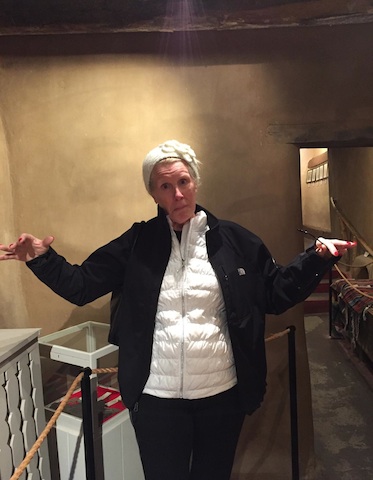 Below: When it is open, Allan and his tour do visit the haunted historic building.
Sometimes people on tours have registered pulses of energy on their ghostometers and occasionally pictures of thaaaaangs have been taken after dark at this location.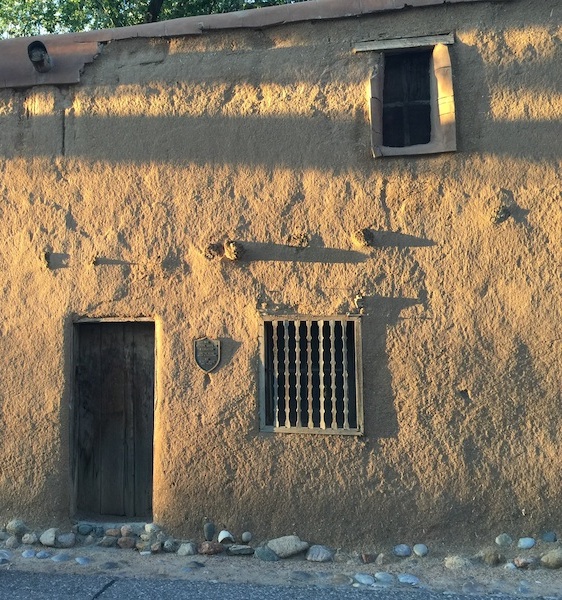 BELOW: I maintain that this photo is of light, but others say it is something else, the photo was taken as the fellow on Allan's tour was about to take a snapshot of the OLDEST HOUSE.
Note the twisting light or energy mixed in with the light.  IT is a odd photo.
As skeptical as Allan tries to be, the idea of light twisting like it does in this picture --makes one think maybe something was captured on film.
However one views this photo -- be it light or paranormal activity ---- Allan does not deviate from the idea that the OLDEST HOUSE and THE OLDEST CHURCH (behind the Belgium photographer) is haunted.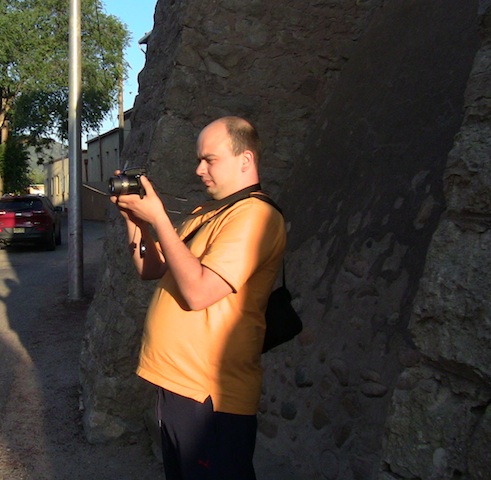 On your tour with Allan, bring your ghostometers, you never can tell ---- schedule a tour 505-986-5002 or 505-231-1336   --- BELOW --- THE OLDEST HOUSE -- CIRCA 1940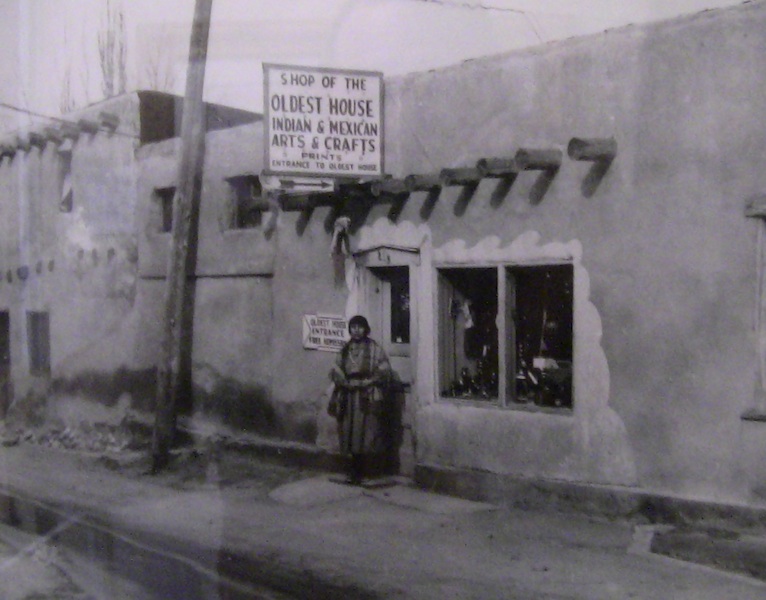 BELOW -- GHOSTS OF SANTA FE TOUR -- Inside the haunted and historic Oldest House in the USA.  ON Allan's GHOSTS OF SANTA FE TOUR , you find out about the "LOST GRAVEYARD".  

It is not LOST, it is close to the OLDEST HOUSE and Allan knows where it is at.

(ANOTHER REASON) Why the Oldest House is filled with ghostly energy.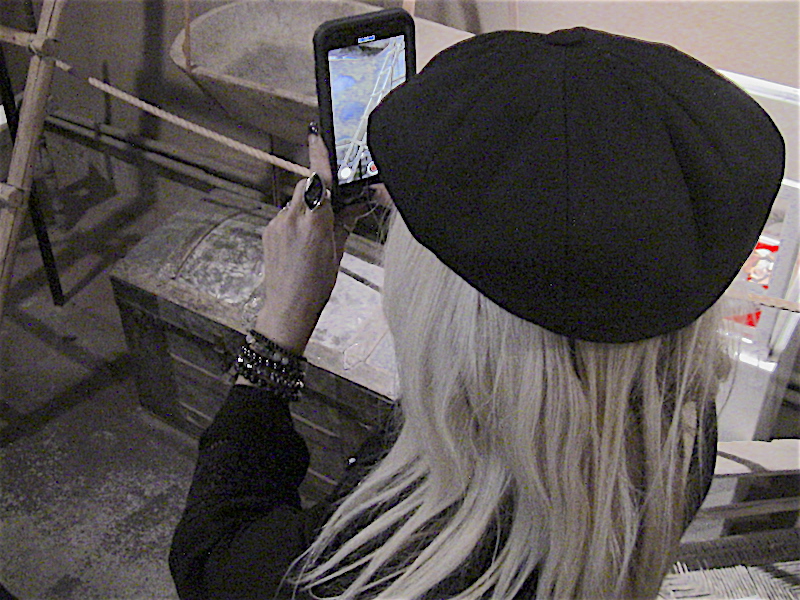 More than anything else--Allan's ghost of Santa Fe tour are fun & very interesting.  BELOW: Sergio & Liz outside the paranormal LORETTO CHAPEL. ( A good kind of paranormal at the chapel) 505-986-5002 schedule a tour.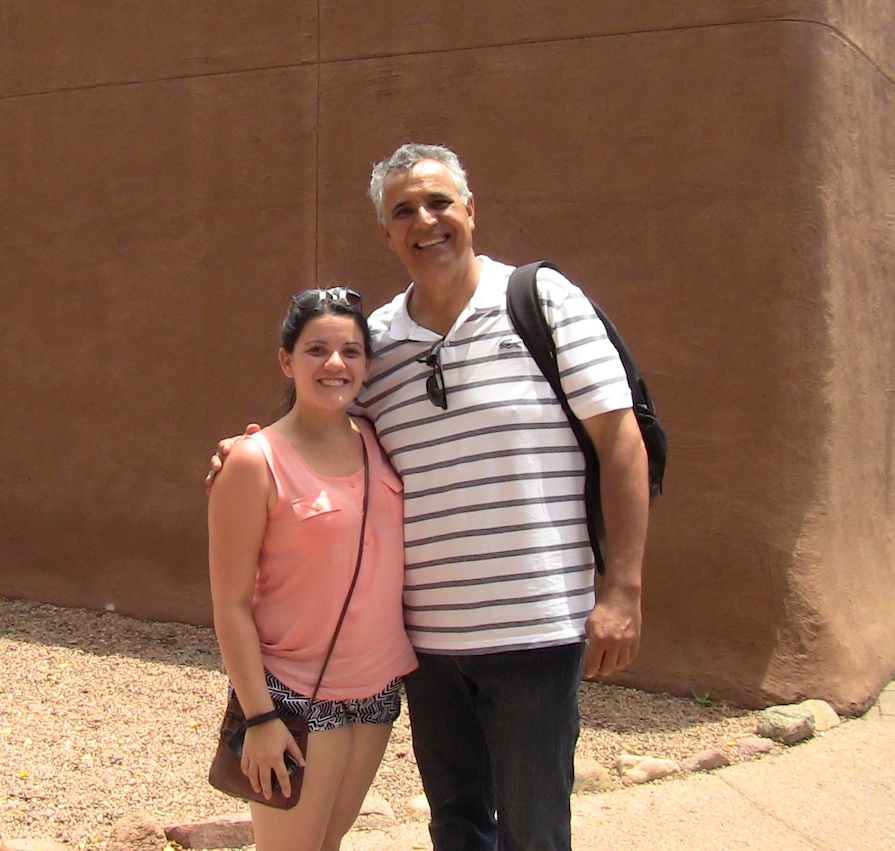 505-986-5002 or 505-231-1336 schedule a tour with ALLAN PACHECO…. = A TOUR FOR THE AGES!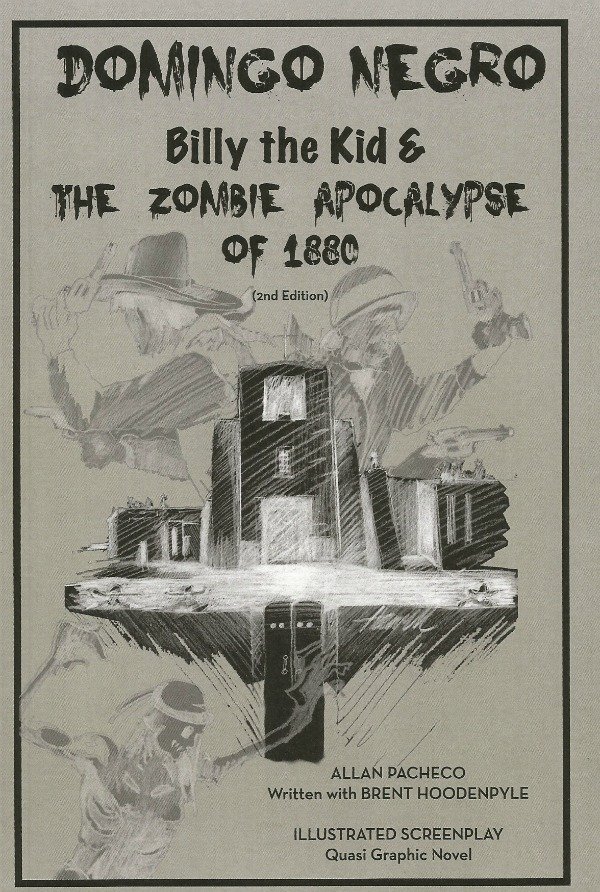 COMING SOON ---- COMING SOON --- COMING SOON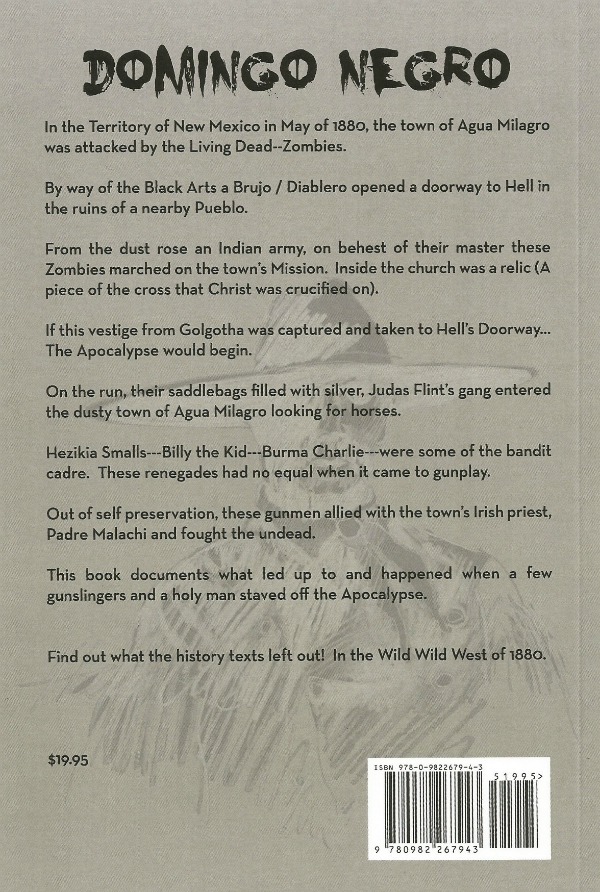 SANTA-FE-GHOST-TOUR-tour-information   -- To order one of Allan's books click on "ORDER" button on the left menu or go to Amazon.com and purchase a book there.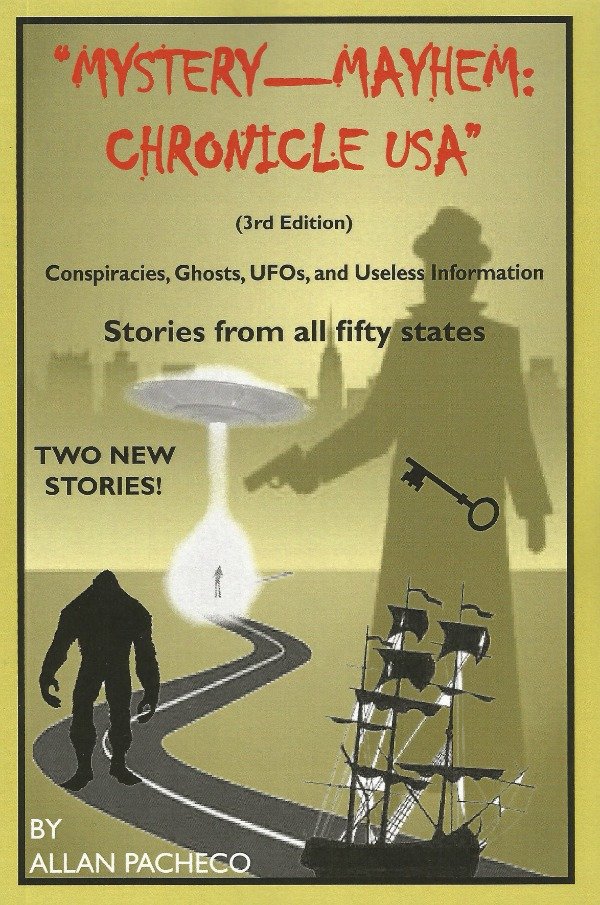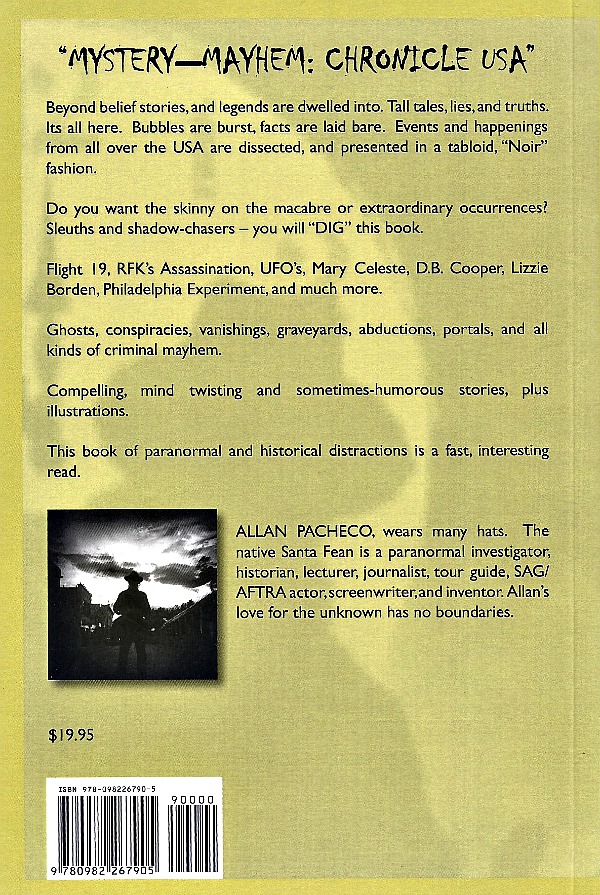 Get AL PACHECO on your radio show 505-986-5002 or 505-231-1336 santafewriter@me.com --- he is a very interesting guest -- below some of the programs he has been on.  GHOSTS -- UFOS - CONSPIRACY- PARANORMAL -  SANTA FE - Allan is your man.