FEMME-FATALE-VAMPIRA   /MALIA NURMI/   HER SCENES FROM "PLAN 9 FROM OUTER SPACE."  THIS FEMALE VAMPIRE WAS TV's FIRST MACABRE TELEVISION HOST.  
FEMME-FATALE-VAMPIRA  (THE FACTS)  MALIA NURMI was the actress who who played the character Vampire during the 1950s into the early 1960s.  
Nurmi who was of Finnish extraction hosted a monster show out of San Diego, this weekly Saturday night at the movies program -can be likened to the 1960s CREEPY CREATURE FEATURE or SCIENCE FICTION THRILLER type program.  
Nurmi's exotic look had never been seen before on television, the female vampire theme caused a sensation...  Nurmi was perfectly cast for that era ate 1950s into early 1960s. On the screen Nurmi could exude the energy of --- FEMME-FATALE-VAMPIRA.
The black low cut vampire costume caused that FEMME-FATALE-VAMPIRA wore cause a nationwide stir. This macabre look that was mixed with sexuality, led to Nurmi being featured in many major USA magazines and newspaper articles.  
After the curtain fell on Nurmi's show, NURMI's FEMME-FATALE-VAMPIRA character from the late 1960s onward became a cult icon for monster magazines.  
From the 1970s  onward, sexy female vampire stories, that reads comic novels, they were heavily influenced by Nurmi's FEMME-FATALE-VAMPIRA.
Case and point: It is obvious that NURMI's  VAMPIRA  influenced the character ---  "Elvira" - "The Mistress of the Dark."  
However, Nurmi's characterization of a female vampire, was not that of a warm or comical visage. Norma's FEMME-FATAL-VAMPIRE  came across as an eye catching but lethal lady.  Perhaps this power that Nurmi exuded came from her conjuring... WHAT?  According to the press and Nurmi herself, - the actress who played the FEMME-FATALE-VAMPIRA was a self avowed witch.  
In some of Nurmi's film/video interviews, the actress attested she was a witch.  Judging by the interview that are on this page,  this high cheek bone actress is probably telling the truth.
One thing that stands out about Nurmi's FEMME-FATALE-VAMPIRA character, or in Nurmi's videos where she is not in character makeup or costume - (The interviews are on this page) --- she does come across as having a very hard edge.   It seems an evil veneer projects from Nurmi, for sure it radiates from her as she got older.  
Note how VAMPIRA -- NURMI -- comes across in her conversations with the broadcaster. It is as if, she a steeled occultist personality, or there is a demonic energy about her.  
Observe how the actress who played VAMPIRA chooses her words, notice the look from Nurmi's eyes, her body movement.   It kind of seems that Nurmi was an actress who did not have to act when she played  VAMPIRA .  Did Nurmi play herself when the camera was on, or perhaps she just toned down who she really was when she was playing the ICON, MISTRESS OF THE DARK!.
Depending on the source, NURMI during her Vampire days was friend or the lover of the actor JAMES DEAN, who died in 1955 in a horrific car accident. 
Dean had said that he did know VAMPIRA-MALIA-NURMI and his knowledge of the occult was vast but found that the knowledge of FEMME-FATALE-VAMPIRA  was not at his level.
Enjoy the  VAMPIRA page and what do you think, was this woman a occultist with energy?  A NORMA DESMOND type of witch?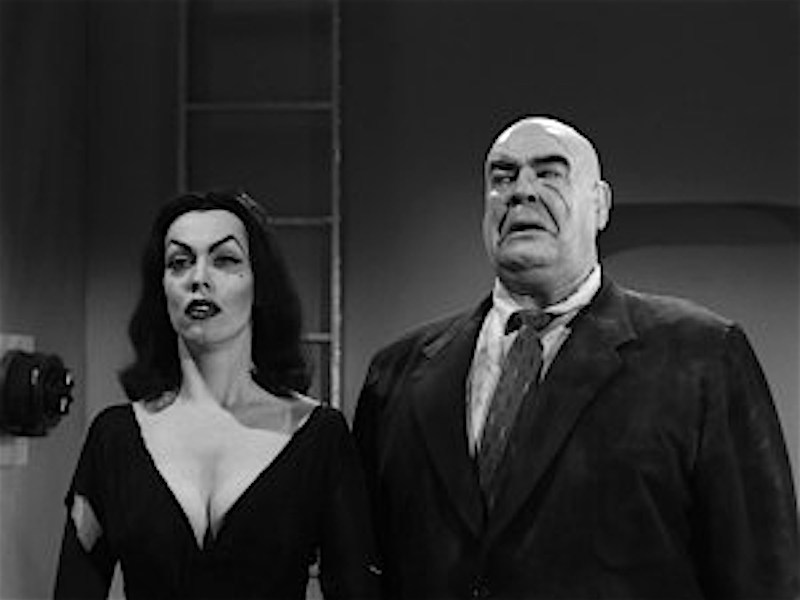 Who is the guy on the right? The actor's name is TOR JOHNSON,  he was also a professional wrastler.  In the pro wrastling world, he was know as the Swedish Angel.  Some internet blurbs or data banks have Tor going b y the name of the SUPER SWEDISH ANGEL.  I always remember him as the Swedish Angel.  As a strongman and wrastler, Toe  mainly worked out of the Los Angeles area.  
Tor became a favorite of director Ed Wood and was featured in number of his films. IF you get chance see a few of them, they are so bad as I done so cheaply, they are good... Yes, they re so bad they are good, that is best how one can describe Ed Wood's films.
As for Tor, he had a full head of blond hair, but he shaved his head bald to look more menacing.  Tor started in the film biz in the 1930s  and continued non into the 1960s.  When he got a gig, he was in front of camera. When there was no film work, he did commercials. If there was no tv or film work to be had, he would wrastle.
Tor's late son was a Los Angeles, police officer.
 Below some excerpts from the film ED WOOD --- If it was not for his ED Wood  casting Tor in his films, Tor would not be the icon that he is today. 
Excerpts featuring TOR -- PLAN 9 FROM OUTER SPACE / left the trailer / right -- TOR
Back to:  LA FEMME FATALE  VAMPIRA!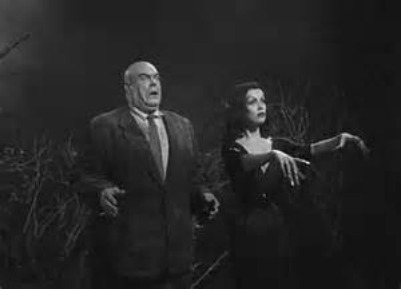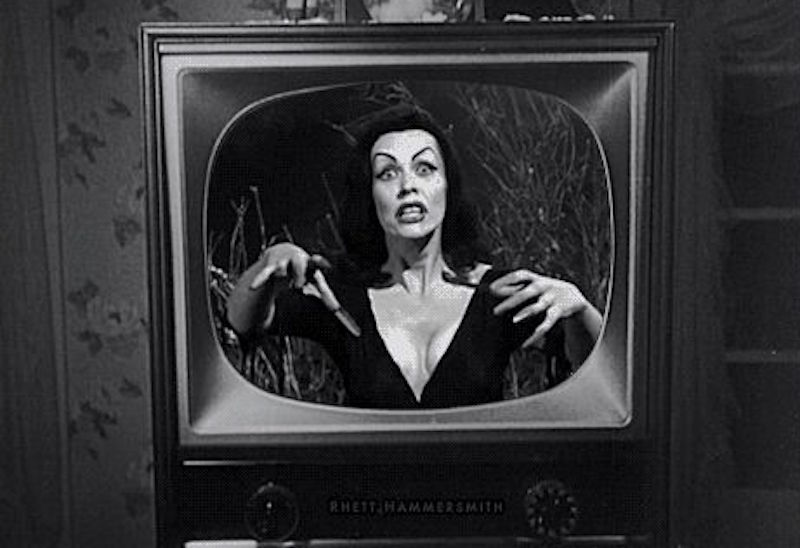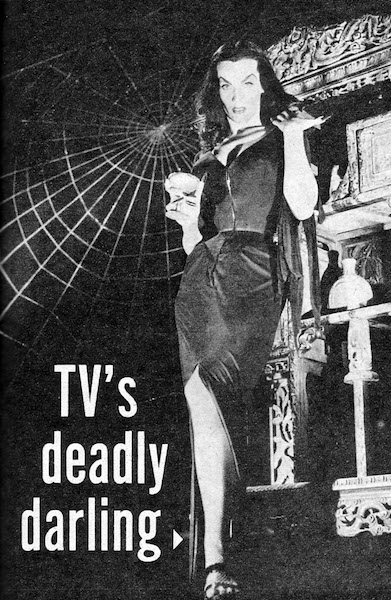 VAMPIRA  DATA --- BELOW: Some good info on the icon in the video below, the music or song that is in the first half of the video -- is -- is -- well bare with it.