GHOSTTOUR-SANTAFE --  GHOST TOUR SANTA FE private paranormal safari led by ALLAN PACHECO -- GHOSTS -- HAUNTINGS -- LA LLORONA -- UFOs -- THE MISSING & MORE. BOOK A TOUR 505-986-5002 or 505-231-1336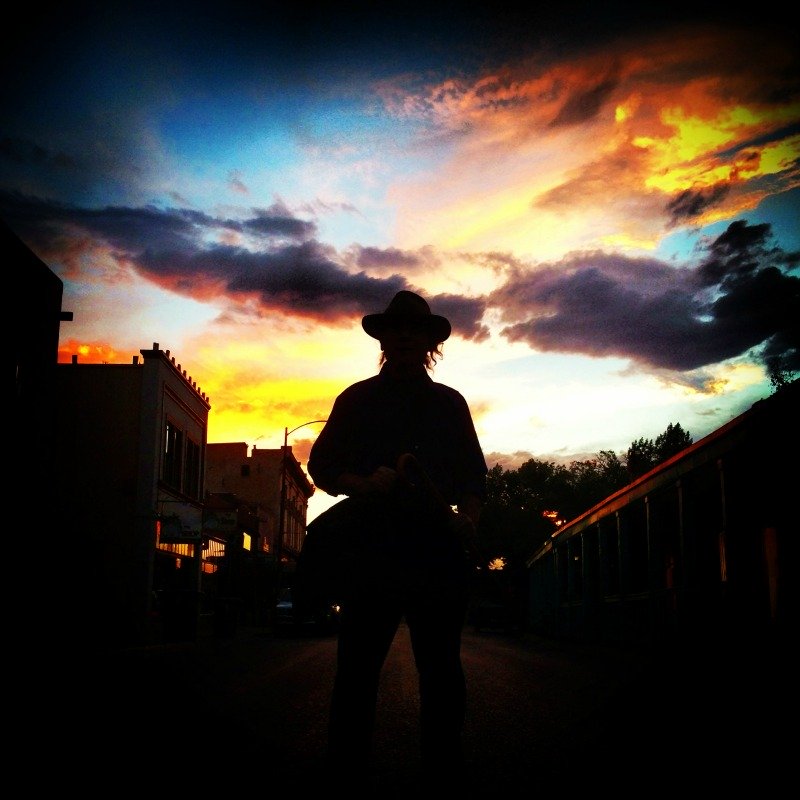 GHOSTTOUR-SANTAFE --- Below -- on a late night winter tour -- contact is made. Bring you ghostometer, it does not matter if it is an AP on the celll phone, an ICARUS or K2.   Inexpensive or expensive equipment, you got it bring it!  BRING IT!  Schedule a tour  5050-986-5002 or 505-231-1336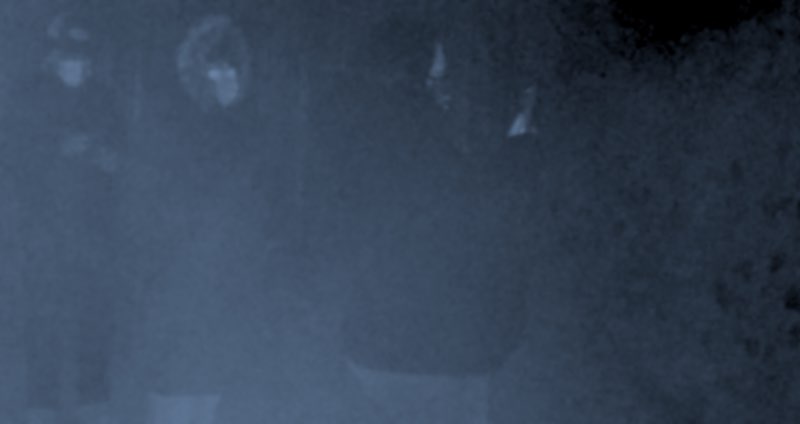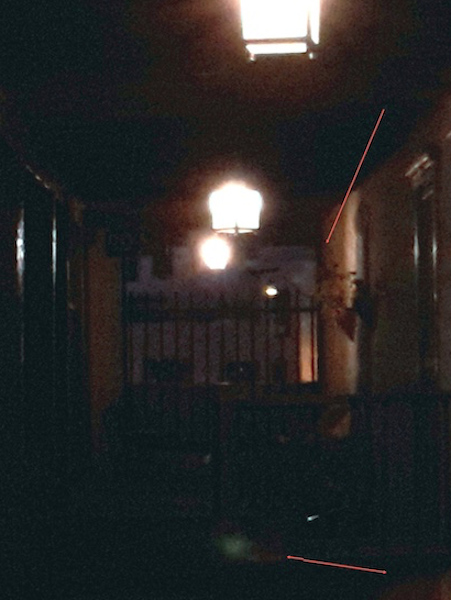 Years between the ABOVE & BELOW photos -- but something remains, ghostly energy? Demonic energy?  --The above photo, at a haunted landmark, old mansion, when it was a darker area.  Below the location is lightened up ---again,  many years between the snapshots. Something was there  and seen === and something was sensed, years apart.  GHOSTTOUR-SANTAFE. 505-986-5002
| | |
| --- | --- |
| | santafewriter@me.com |
GHOSTTOUR-SANTAFE.  Below a review = ALLAN PACHECO's GHOST/PARANORMAL TOUR
My husband, a friend, and I, who are all Santa Fe locals, went on a walking ghost tour with Al. We had an amazing time and learned new facts we didn't know about Santa Fe history. Al was fantastic and has a wealth of knowledge! We highly recommend a tour with Al if you have an interest in the paranormal!

GHOSTTOUR-SANTAFE --- Above -- the California -Santa Fe connection -- ( LOCALS & FAMILY GUESTS FROM CALIFORNIA )  this group had a lot of fun. The ghost tour or paranormal tour is best done at night. Book a safari 505-986-5002 or 505-231-1336  All tours are led by ALLAN PACHECO

HOWEVER-- BELOW -- this toro was done during the late afternoon.  Note the right edge of photo.  What is that, first reaction is a trick of light. Then look at  blowup of photo. This area is known for its paranormal activity.  That does not look to be a trick of light, but energy caught on film.  This PHOTO WAS TAKEN IN THE BRUJAS house.  

THE WITCHES HOUSE -- a national landmark, due to the  age and history of the building. YEs,  witches did live in this abode during  SPANISH CONQUISTADOR DAYS and before COLUMBUS GOT TO THE neW WORLD.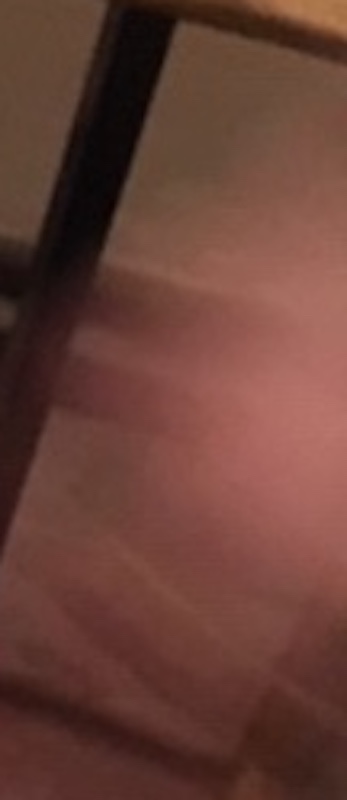 GHOSTTOUR-SANTA FE --- Got  gadgets above --- got guts below -- bring em both!  Lets safari through some eerie areas -- book a tour 505-986-5002 or 505-231-1336... All tours are done at a comfortable pace,  and questions are welcomed.  IF you like this page or Allan's tours, you will like his podcast, COMING SOON!
Above and below -- on your safari -- we go to where no other ghost hunter ventures to. The  below group had all kinds of contact with their ghost machines and  ghost rods, with energies that were negative that came from the era of pre Columbian witch doctors.  This group, as the 1800s TEXICAN saying  goes --- WAS LOADED FOR BEAR --- These hunters had all kinds of accurate energy readers  and ghost detectors. AGAIN YOU WILL READ THIS -- if you have shadow chaser  equipment, bring It on tour!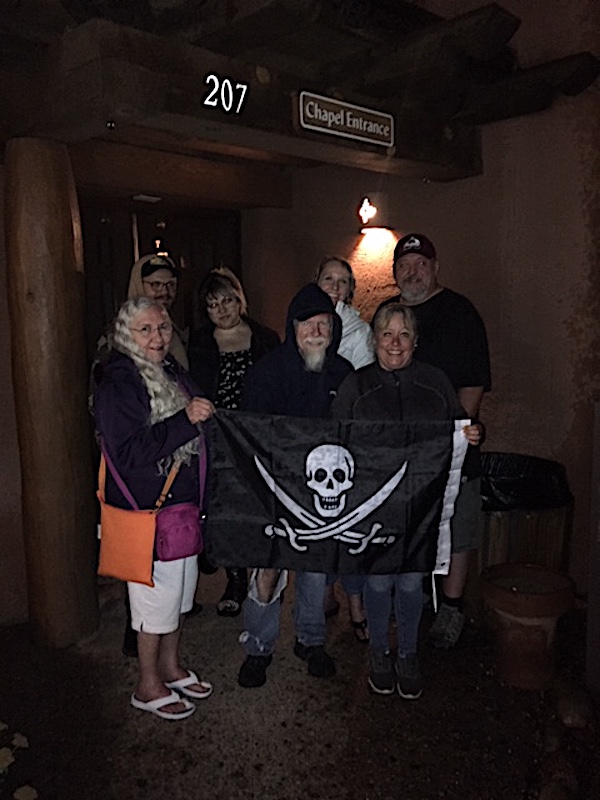 Sometimes -- some strange stuff happens on tour, see below, yes this area -- is haunted. All kinds of thing have bee reported here, through the centuries.  GHOSTS, INVOKINGS, WITCHES, OCCULTISTS, LUSIFERAINS,  BAD DEEDS, DEATHS, MURDERS, etc.  Have happened in this location, naturally it is loaded with power.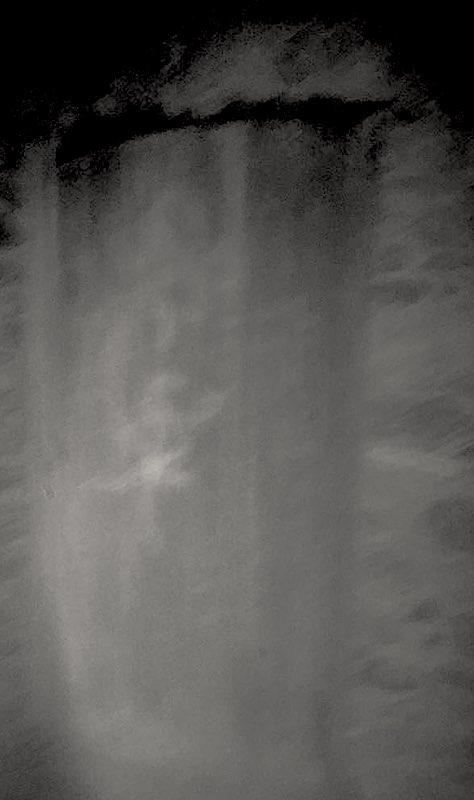 You decide --- what was in the photo above, something sinister like the black and white below illustration?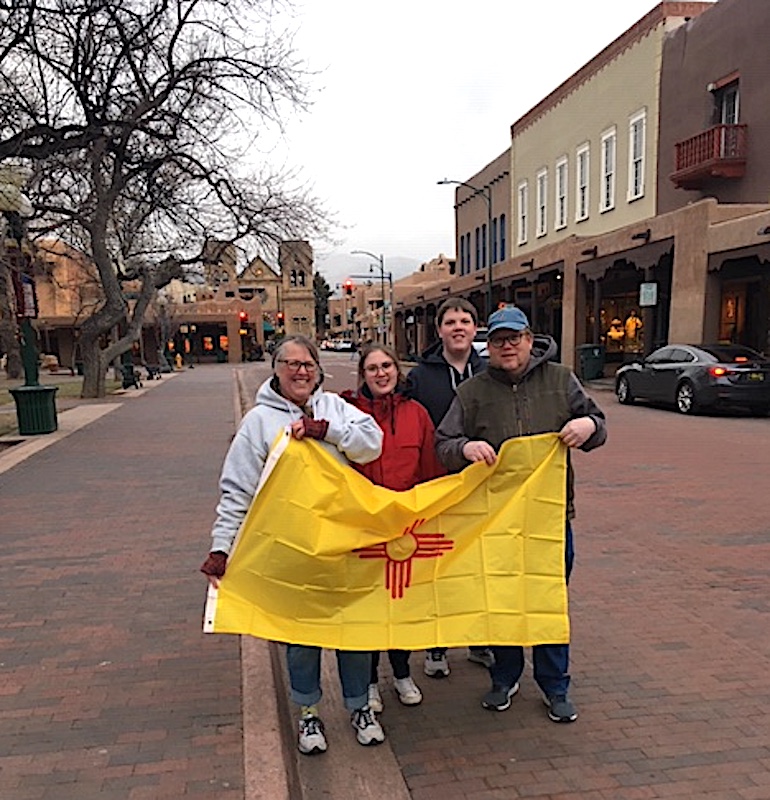 IT IS NOT JUST ROUTE 66!
IT's a private tour led by author, historian,  paranormal investigator, metaphysician, media personality, SANTA FEAN --- ALLAN PACHECO.  When you tour with AL PACHECO -- it's a tour that you will remember!   THE ALLAN PACHECO EXPERIENCE!  The man knows his stuff!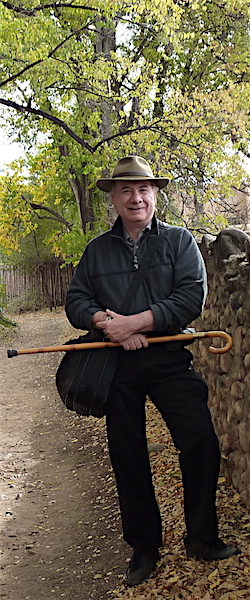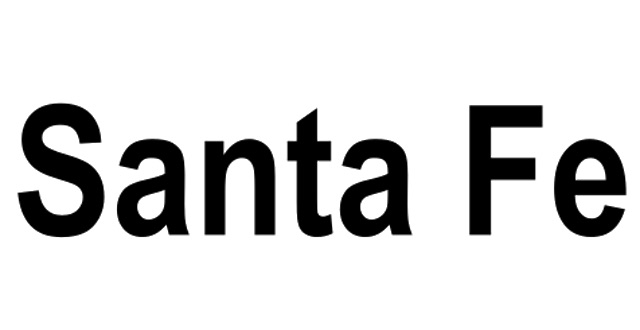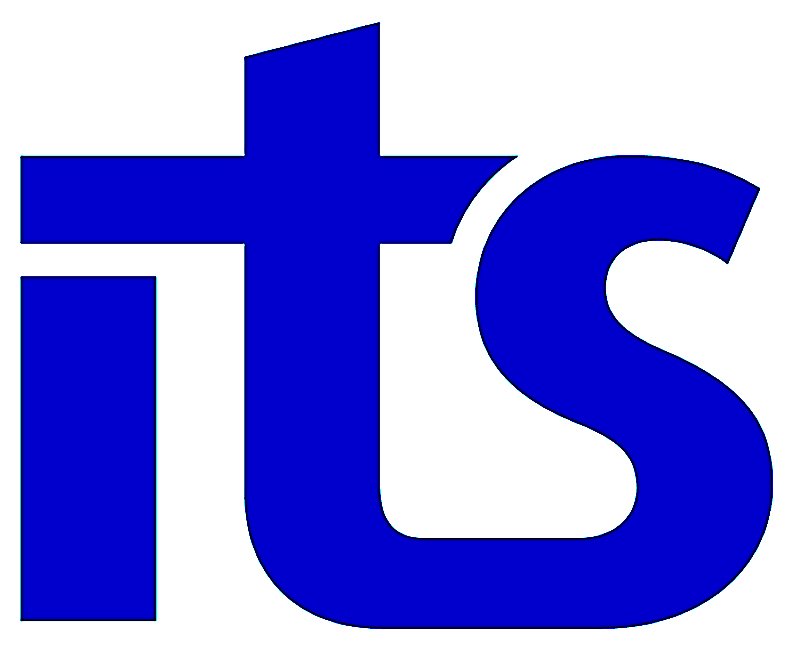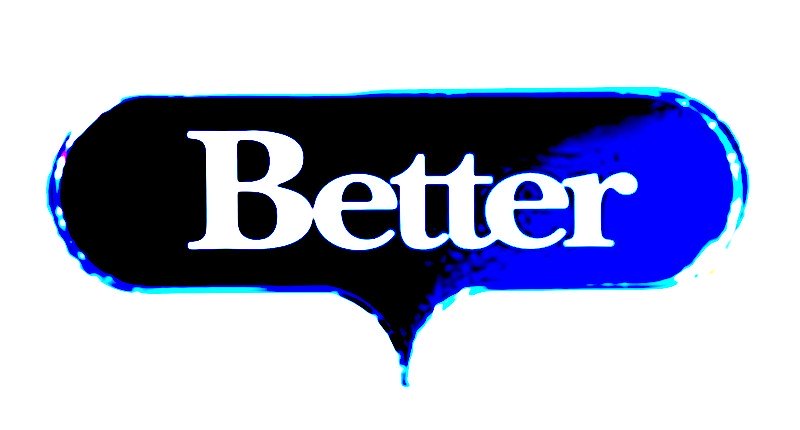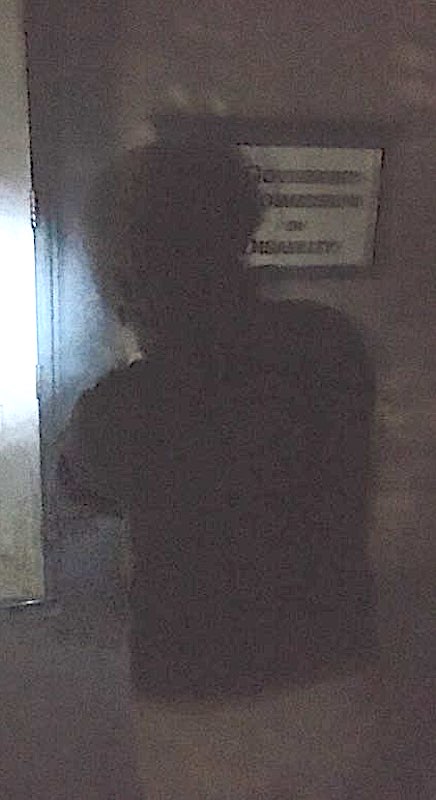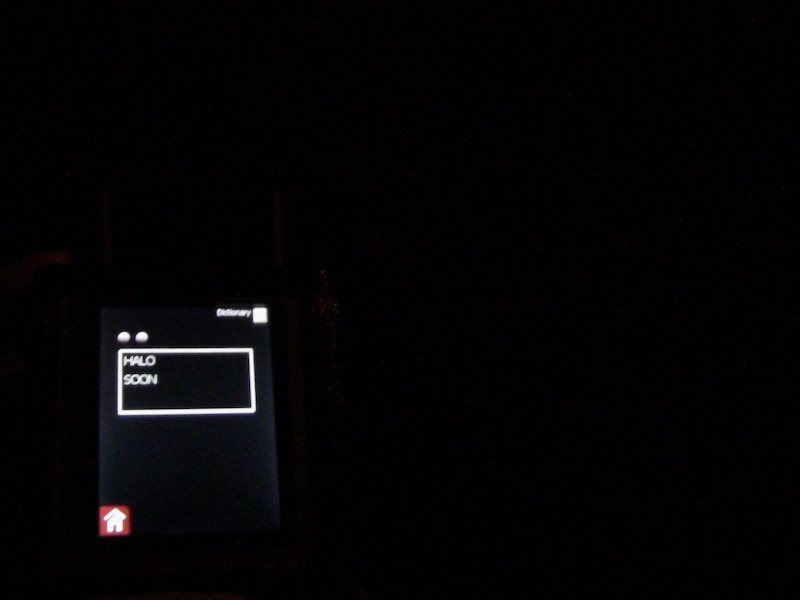 THE ABOVE GHOST TOUR ENCOUNTERED ALL KINDS OF FORCES CERTAIN LOCALES.  ABOVE IS A PLACE WHERE THE TOUR HAD A MEETING WITH ENERGY OR ENERGIES,?  ON THIS TOUR, A PERSON WAS SHOVED AND THE GHOSTMETER WENT WILD AND CAMERAS AND FLASHLIGHTS WERE DRAINED OF THEIRE  BATTERY POWER.  PEOPLE FRO ALL OVER THE USA HAVE TAKEN ALLAN PACHECO's TOURS.. 
YOU HAVE A GOOD CHANCE OF SURVIVAL -- IF YOU TOUR WITH --- ALLAN PACHECO    505-986-5002

GHOSTTOUR-SANTAFE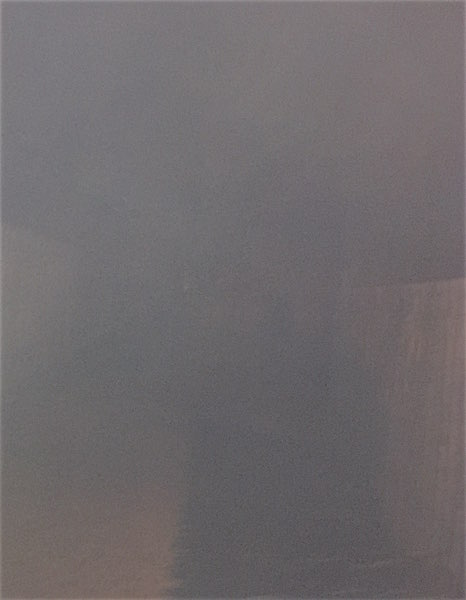 BELOW end of a 2022 tour -- this family poses with AL PACHECO's  Satchel The leather sling on this tour was torn from the  carry bag with force.  This happened at  the above area  in photo.. ON this tour, the energy was different and it tended to not be as wide spread as it was on other tours, however at a certain spot it was darker and  foggy like. .    DID THE NEREGY FOLLOW THIS SAFARI?  Note the below photo, top right, is that trick of light or did  ghostly energy  appear in the shot, making a boast --- I GOT THAT SATCHEL & MADE MY PRESENCE FELT!   Hey, the satchel was heavy duty,  it was leather with steel  hooks, yet the  sling was pulled and cut/torn, then fell from tour guide ALLAN PACHECO's shoulder.    This group -- family had a tour for the ages -- the satchel is posed around -- as on,  this is what happened!  UNEXPLAINABLE!
BELOW -- a view of a satchel on another tour -- daytime.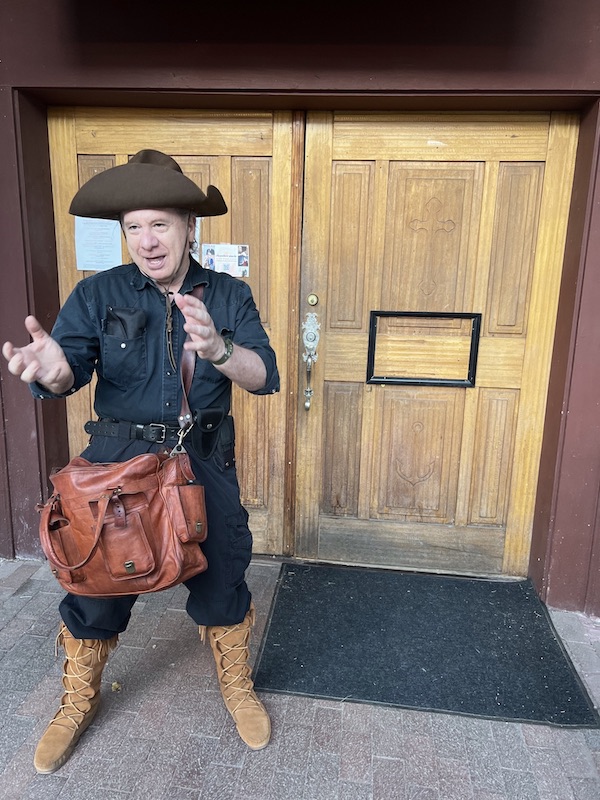 GHOSTTOUR-SANTAFE    Above -- NO -- ALLAN is not mimicking  ROLAND GIFT the lead singer of the group 1986 THE FINE YOUNG CANNIBALS -- besides AL moves better.   ROLAND, just busts a move and that is it. AL -- has  power and rhythm to his moves -- wink- wink!  The above picture -- ALLAN was explaining to the group of the energies that are found at this haunted, historical, landmark, at  night.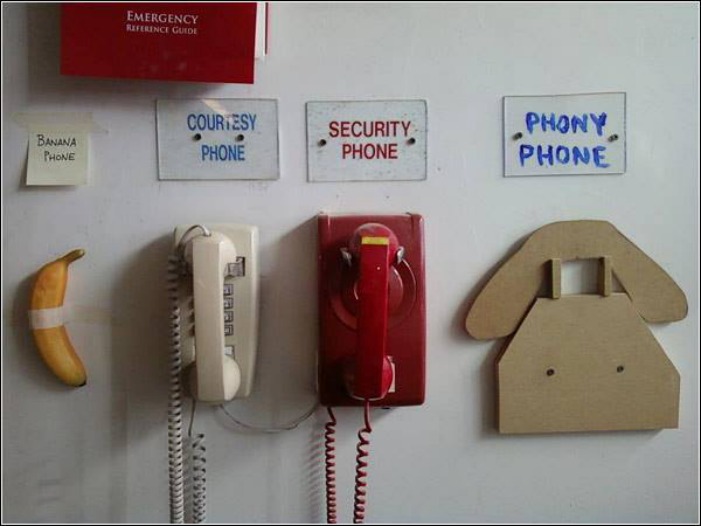 PICK A PHONE -- CALL --- ALLAN PACHECO --- SCHEDULE A SAFARI --- 505-986-5002