The Ghostly Tour led by ALLAN PACHECO 505-986-5002 or 505-231-1336 santafewriter@me.com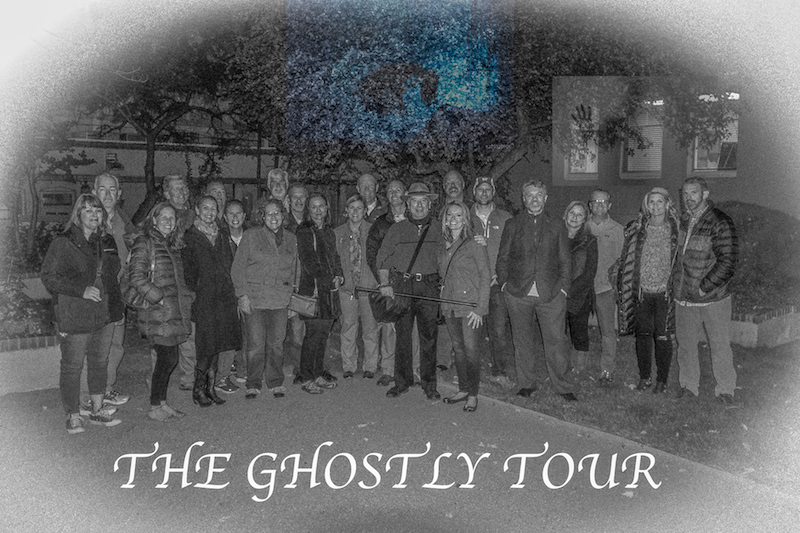 Lets go touring --- HISTORY or GHOST TOUR -- schedule a private WALKING TOUR led by Allan Pacheco--- / 505 986 5002 or 505 231 1336 / -- Below: The end of a Magical Mystery Tour at La Posada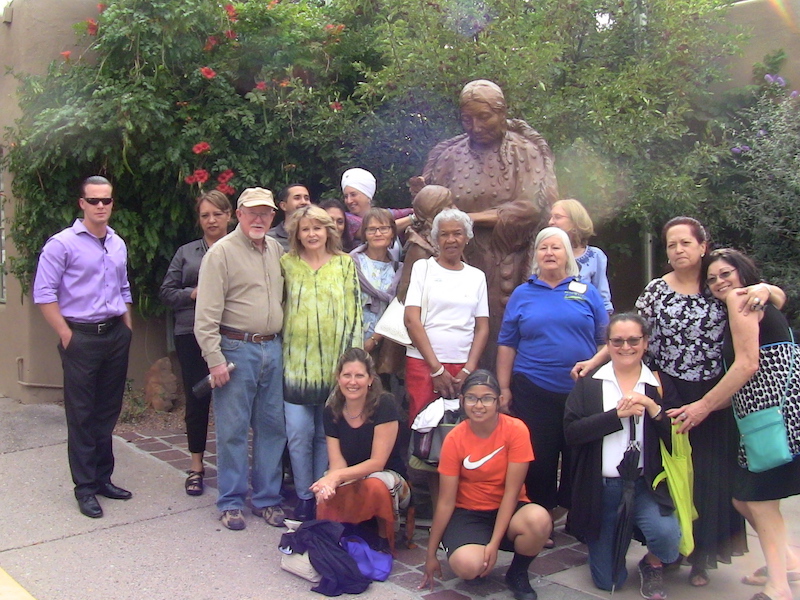 June 14, 2018
Alan knows Santa Fe, inside and out, old and new, the weird and normal, scary and sad......and we had a blast.

Highly recommend. Don't hesitate to leave him a voice mail as he called us back promptly and the tour was set.

Don't let the idea of a walking tour scare you off. He was so full of valuable history that the 2 hours flew by. He gave us plenty of time to rest or take a pit stop between the stories.
Juanita S.
_____________________________________________________
April 6, 20202
Mr. ALLAN provided a very fun, interesting and spooky evening for me and my family. We learned all about different portals, energies and spirits. He shared multiple eyewitness accounts and made my trip to SANTA FE, a one to remember. I highly recommend scheduling a ghost tour with Mr. PACHECO.  10/10
Asher F.
Private Group Tours - Done at a comfortable pace ... HISTORY or GHOST / DAY or NIGHT / Led by ALLAN PACHECO 505-986-5002 or
505-231-1336 schedule a tour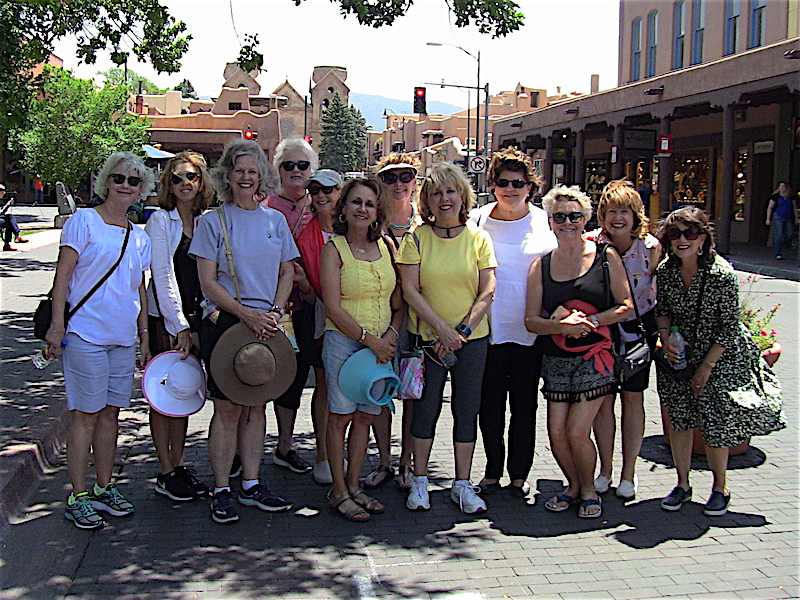 Allan Pacheo leads your private Santa Fe historic walk, questions are welcomed, the daytime tour is done at a comfortable pace 505-986-5002. Below the safari's end at world famous "THE SHED" restaurant. 
May 27, 2018
Last minute tour, but something we are still talking about!
After reading reviews here, our group of 4 really wanted to take Allan's tour. I reached out to him one morning to enquire about a tour.
Promptly, he called me back and informed me that although he was booked for the evening, he could fit us in for a two hour afternoon tour. We jumped at the chance and were not disappointed.
Allan truly tailors each tour to your interests. Our group enjoyed the historical information about Santa Fe but also asked questions that ranged from hauntings to UFO sightings to various conspiracy theories. Allan answered all our questions and by the end, we felt like old friends.
Even if you can't do this tour at night (which would be a bit spookier), I would still encourage you to take the opportunity to do one anytime he can fit you in.
Heather

https://www.tripadvisor.com/ShowUserReviews-g60958-d8434193-r585200058-Santa_Fe_Ghost_and_History_Tours-Santa_Fe_New_Mexico.html#
----------------------------------------------------------------------

May 13, 2018
Group of 12 and he kept our interest the whole time
Allan is very knowledgeable and professional. He kept our group of 12 captivated with his history information...separating fact from myth.
We wanted to take his ghost tour but he was booked. I highly recommend Allan Pacheco for great stories about Santa Fe past & present.
Casey A.
Your tour is directed towards your interests ---- if its history tour -- bring your questions --- if its a ghost tour bring your ghostometers___________  505-986-5002 or 505-231-1336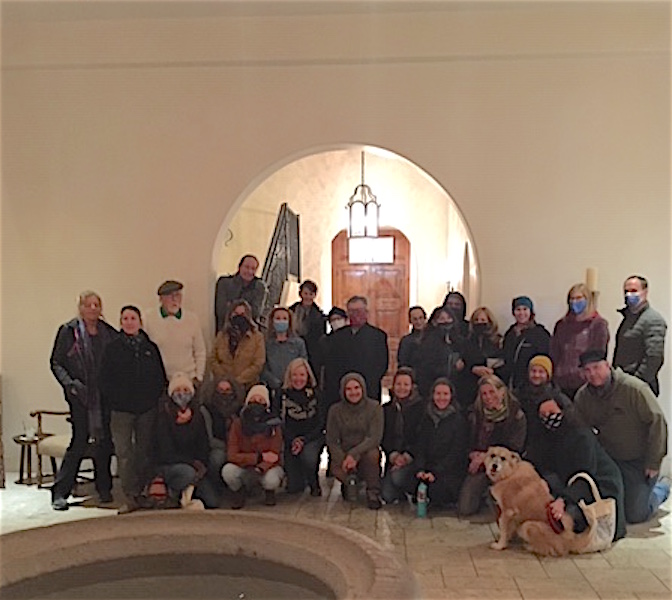 A picture is with a thousand words --- they all had a tour for the ages.
May 29, 2018
Allan is an amazing guy. He has an awesome ability to really connect with people. He is definitely not your average tour guide. Allan went above and beyond to make this tour fun.
He was very knowledgeable and told some amazing stories. I learned a lot about Santa Fe that I didn't know before. I highly recommend taking a tour with Allan if you are interested in the paranormal or history.
Amber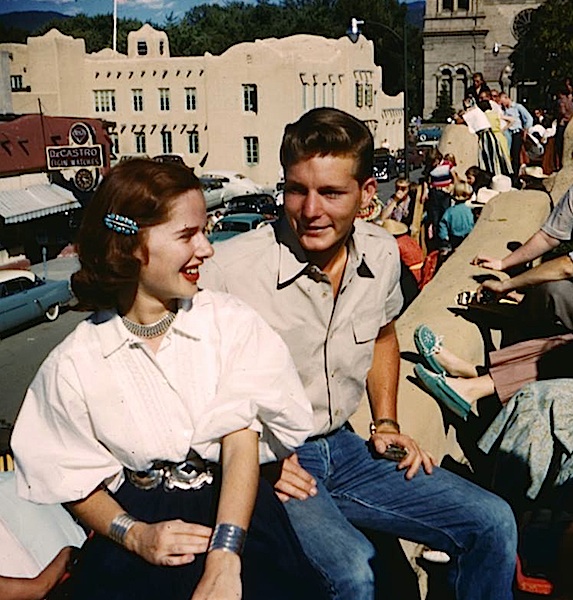 The above picture was taken in 1950 during the FIESTA (a celebration), below 2016 Allan not in photo leads a tour through downtown SANTA FE during a celebration. The above photo was taken roughly above where the tour column was walking 2016.
ABOVE & BELOW = same street -- EAST SAN FRANCISCO --- CIRCA 2017 & CIRCA 1947.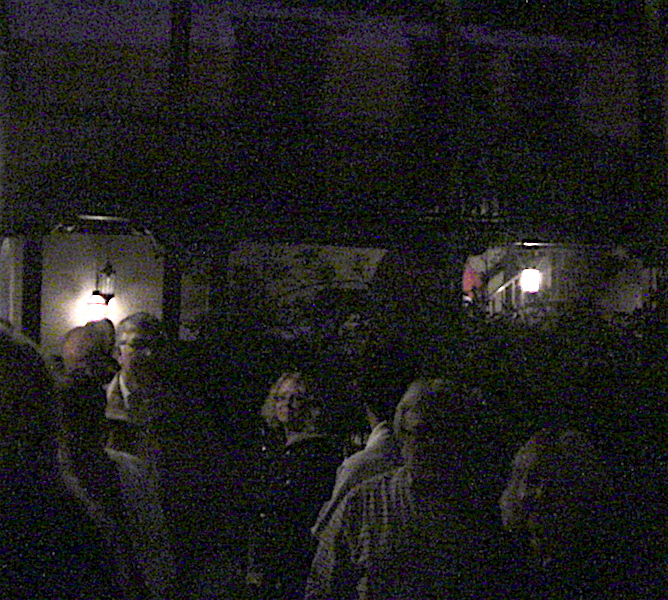 GROUP TOUR ABOVE: LATE NIGHT GHOSTWALK --- ALLAN does History tours during the day and Ghost tours at night or into the evening... 505-986-5002 or 505-231-1336... 
| | |
| --- | --- |
| YOU OWN THE DAY, THE SUNSET, THE DUSK, & NIGHT; WHEN YOU TOUR WITH AL PACHECO 505-986-5002 | |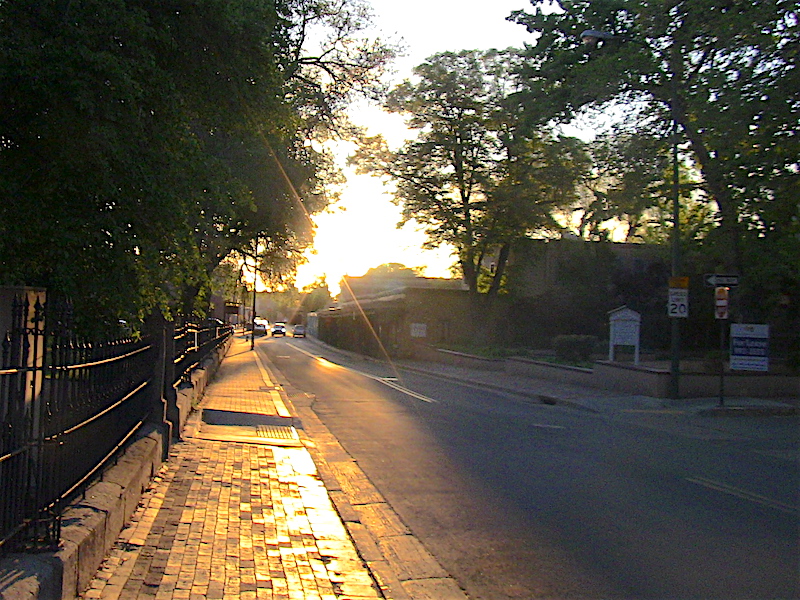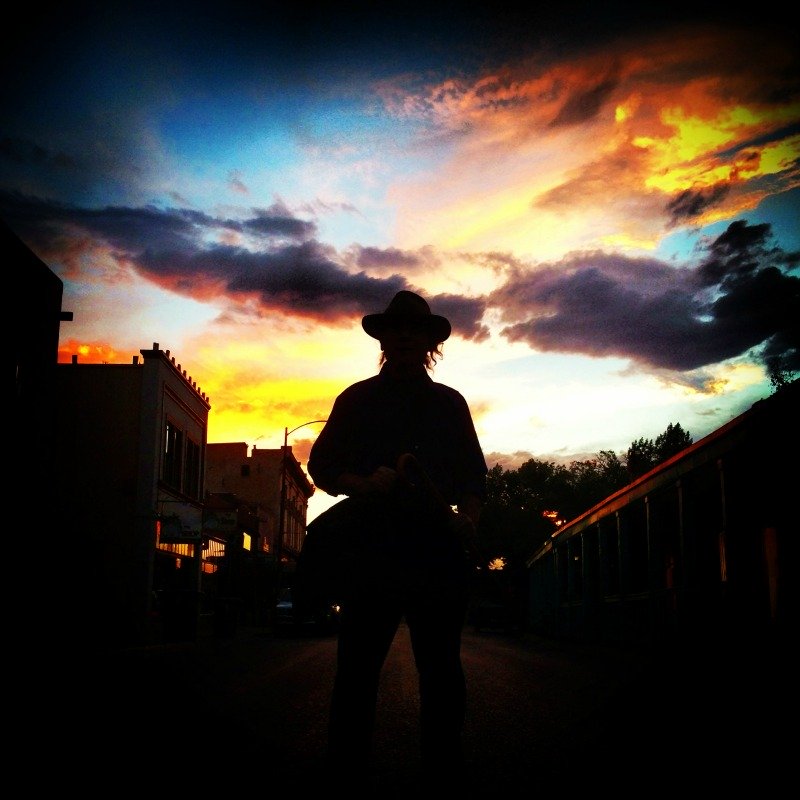 BELOW: A happy group -- end of the safari in the plaza  -- this group took Allan's FRIDAY 13TH TOUR.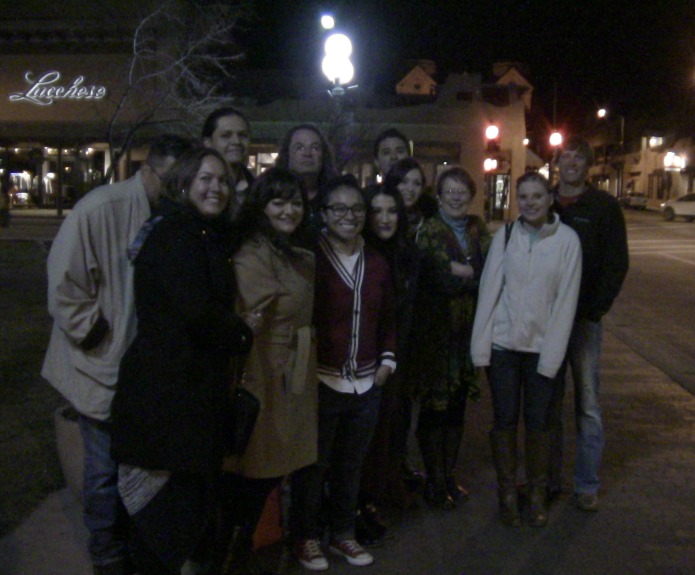 BELOW SOME OF THE RADIO PROGRAMS ALLAN PACHECO HAS BEEN GUEST ON...... 
| | |
| --- | --- |
| | Get Allan on your radio program 505-986-5002 or 505-231-1336 |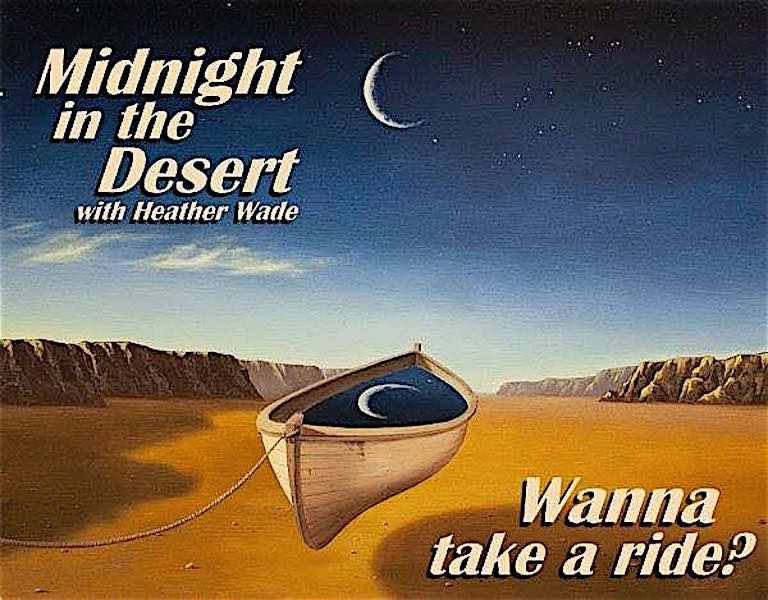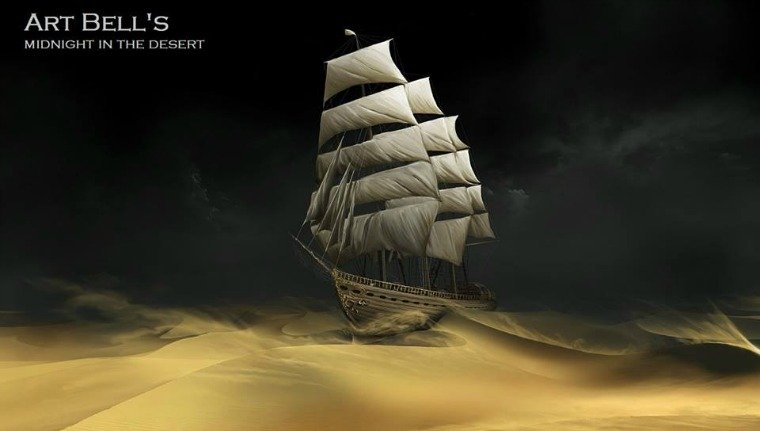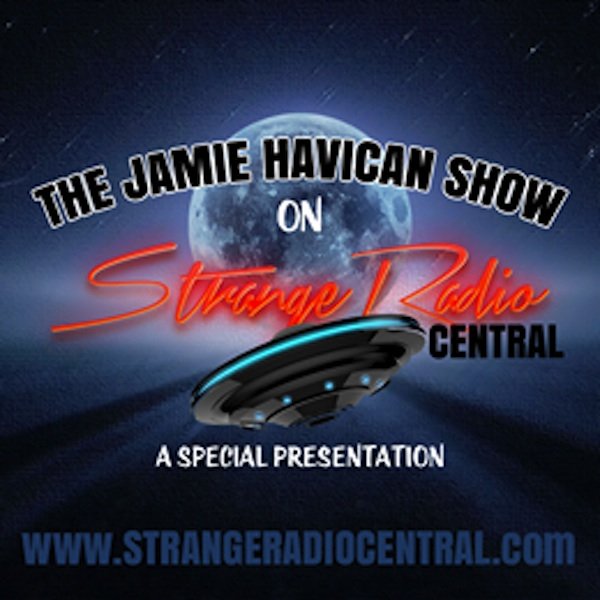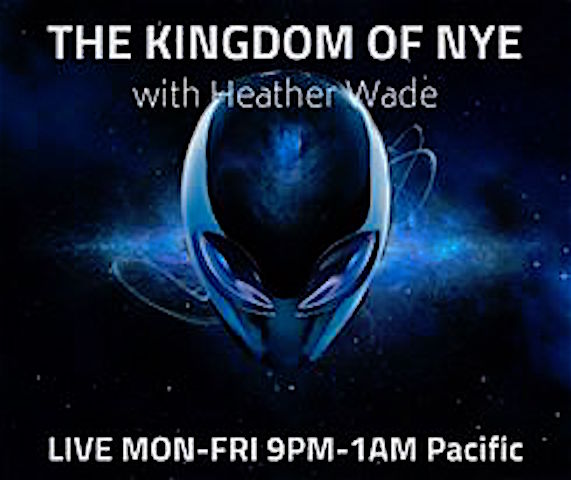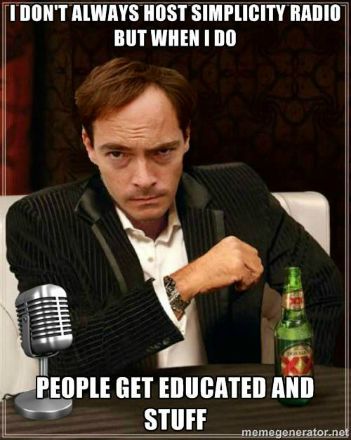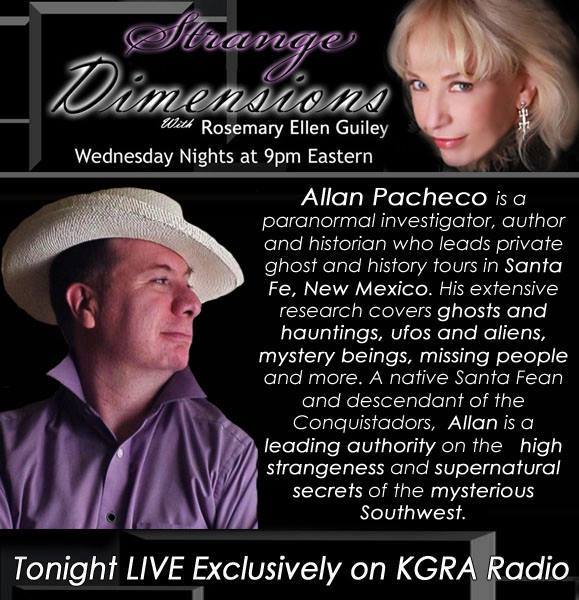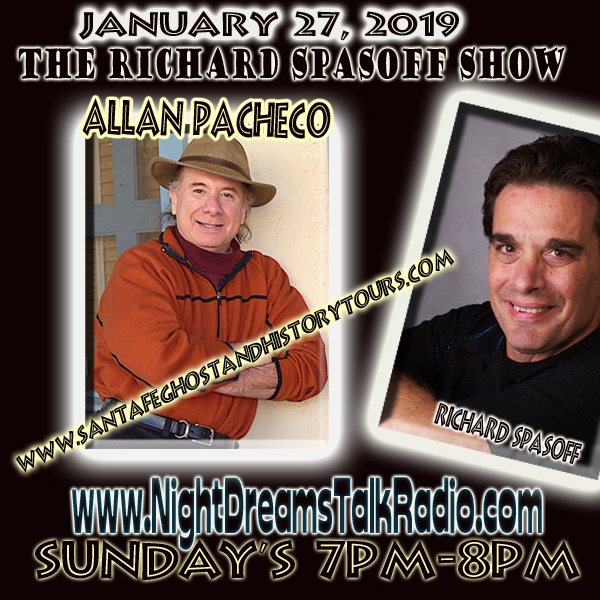 TOUR with ALLAN PACHECO or get him on your show -- 505-986-5002 or 505-231-1336 santafewriter@me.com   check out his books on Amazon or on this website...