| | |
| --- | --- |
| Santa Fe New Mexico History Tour = your trek is led by historian & author Allan Pacheco 505-986-5002 schedule a safari.  BELOW: What people had to say about Allan's Santa Fe New Mexico  History Tour! | 505 986 5002 |
July 18, 2018
Group of 12 and he kept our interest the whole time
Allan is very knowledgeable and professional. He kept our group of 12 captivated with his history information...separating fact from myth. We wanted to take his ghost tour but he was booked. I highly recommend Allan Pacheco for great stories about Santa Fe past & present.
Casey A.
July 10, 2018
Hi Allan, 
We really enjoyed the tour you provided to us of the City of Santa Fe.
You did a great job and exceeded our expectations.
GREG B.
 May 13, 2016 
The Ultimate Tours in Santa Fe
Allan Pacheco is the tour guide for an ultimate experience when visiting Santa Fe. I have been to Santa Fe five times, and it was on my latest trip that I had the best of all experiences.
My companions and I booked two tours with Allan prior to arriving in Santa Fe. These were private tours just for us and the prices were so reasonable.
 
We had the ghost tour on the first day we arrived meeting Allan right at dusk. We wound our way around town listening to fascinating information. Although I am not as much of a ghost enthusiast as my friend, I found myself very interested in the stories told on location.
The tour ended back at the square just at dark. Allan even walked us (three women) to the La Fonda, where we were staying.
Two days later, we met Allan for the historic walking tour. I have been on a walking tour of Santa Fe in the past, but this far exceeded my prior experience. Again, this was private to our group and, therefore, tailored to our questions.
As a history buff, I came away feeling that this jewel of a city was part of me.

Both the ghost walk and history tour of Santa Fe more than met our expectations. Allan's depth of knowledge, high energy and upbeat personality are second to none. I have been on many tours both in the USA and abroad and Allan's history tour ranks in my top two! 
Go to Santa Fe. Meet Allan. You won't be disappointed. 

By the way, Allan is a one man show. If you read a review about someone other than Allan leading, it's not the correct tour!
N.J.G.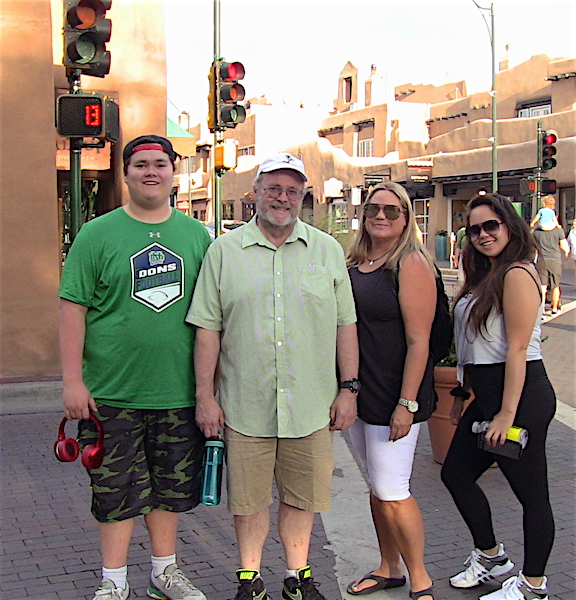 1st time in Santa Fe or your 100th, schedule a history tour with Allan Pacheco.  This is not a POLITICALLY CORRECT (PC) tour -- NO PROPAGANDA on your tour -- you get the low down on Santa Fe's fascinating past -- topics = Conquistadors, Wild West & WWII Soviet Spies = (MANHATTAN PROJECT MAYHEM).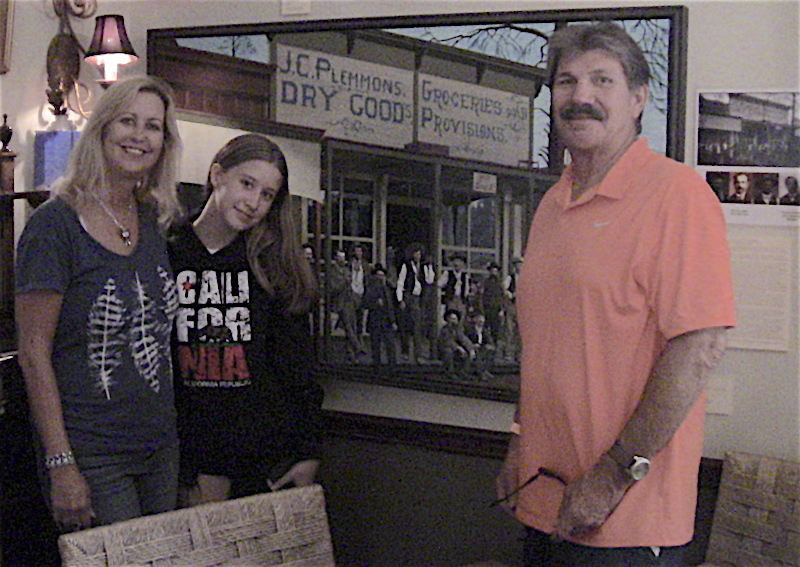 Below & Above -- on tour with  Allan = Santa Fe New Mexico History Tour. 505-986-5002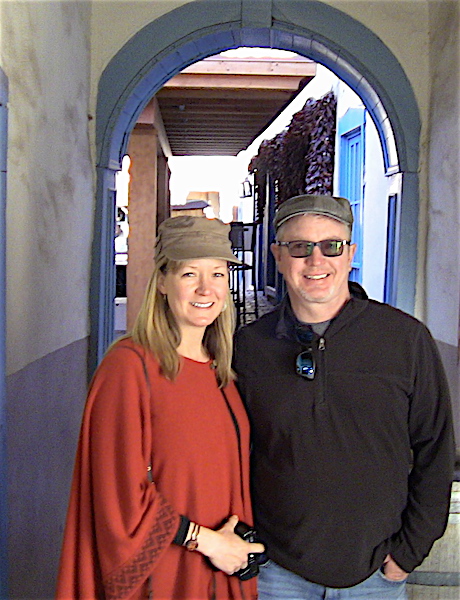 Your tour is done at a comfortable pace, this is a fun and so very interesting trek.  Book a private historical jaunt with "The Santa Fe Sherpa -- Allan Pacheco" 505-986-5002...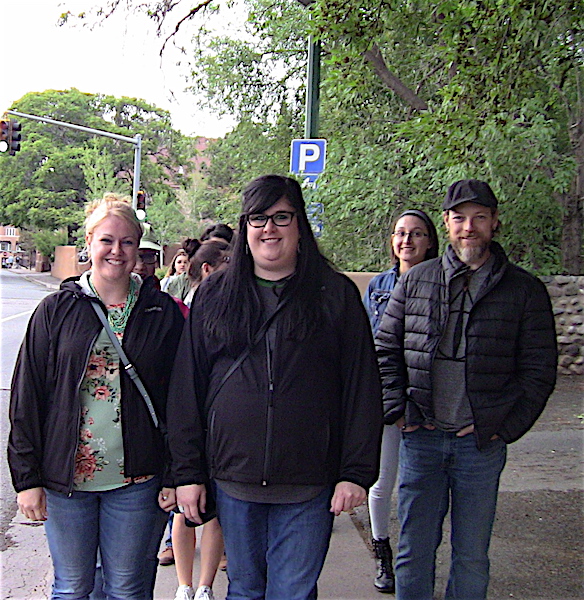 BELOW: At the end of the tour -- at the historic La Posada -- The Taj Mahal of Wild West Santa Fe... This thirsty group ordered sodas and stiff drinks from the resort's bar --- this magnificent hotel during pioneer days was the mansion of the notorious Abraham Staab.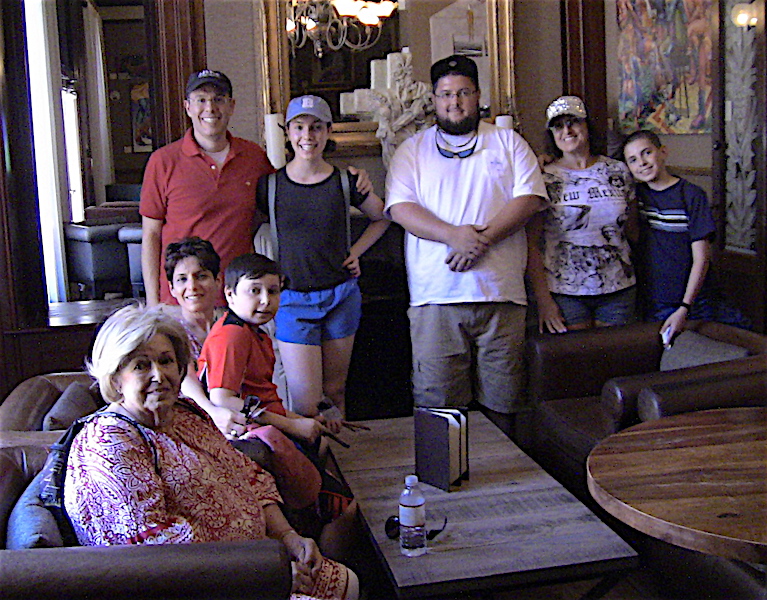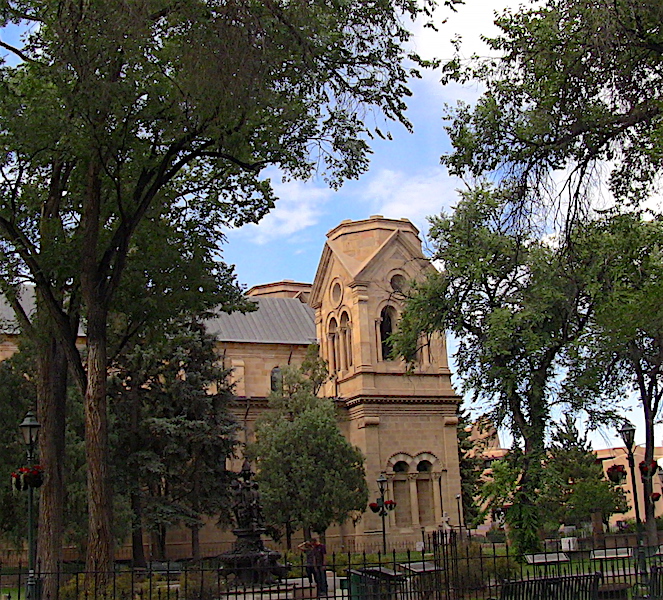 Above Beautiful Santa Fe: Below --  on tour with four small masked banditos ---  505-986-5002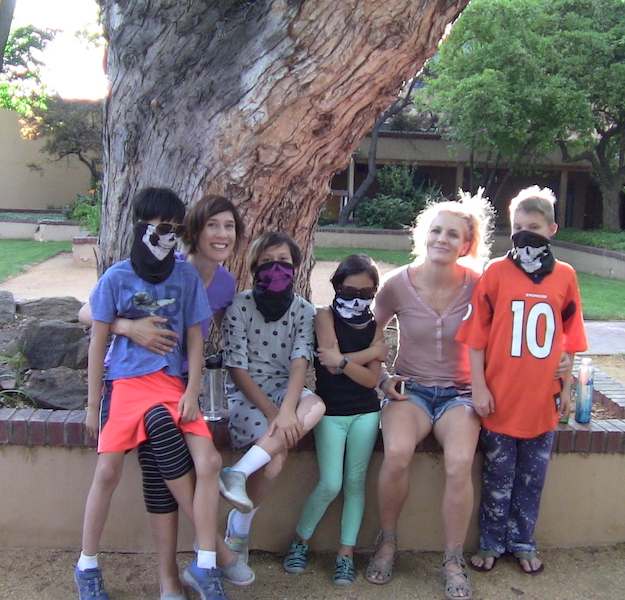 Explore Santa Fe the old and the new --- private tour with author & historian AL PACHECO 505-986-5002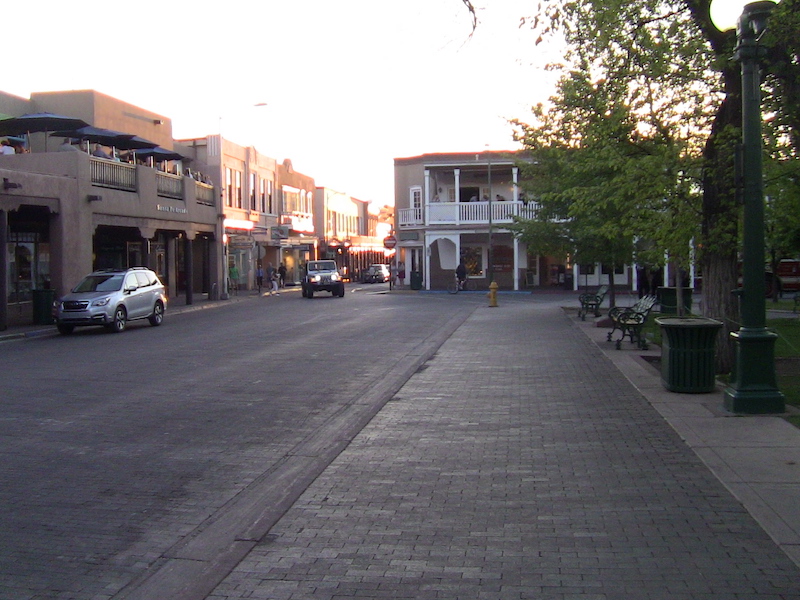 Down San Francisco street -- the end of the plaza picture above --- --below = this is what the street looked like circa 1920.............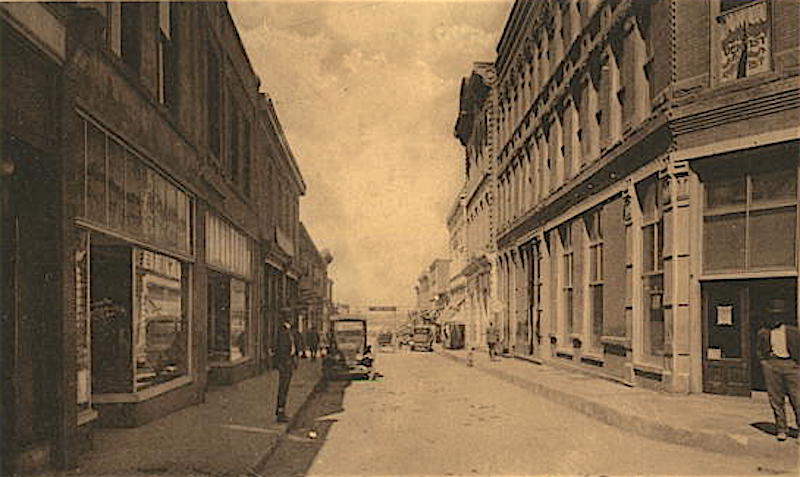 Below another version of this area --- looking down WEST SAN FRANCISCO from the middle of the plaza  - JANUARY 2023
Below: History tour 2018 --- the street behind this Colorado & New York group is historic WEST SAN FRANCISCO.  You see old Santa Fe -- as in where history happened on Allan's private tours...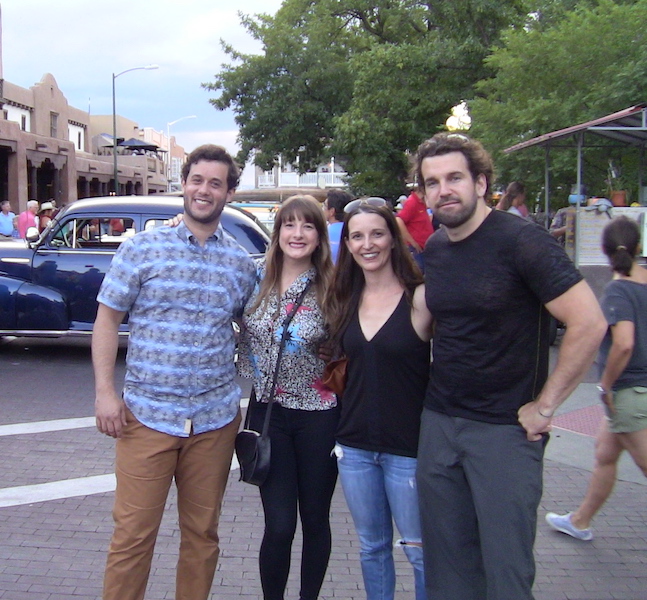 BELOW:  Another group who took Allan's Santa Fe New Mexico History Tour  --- 505-986-5002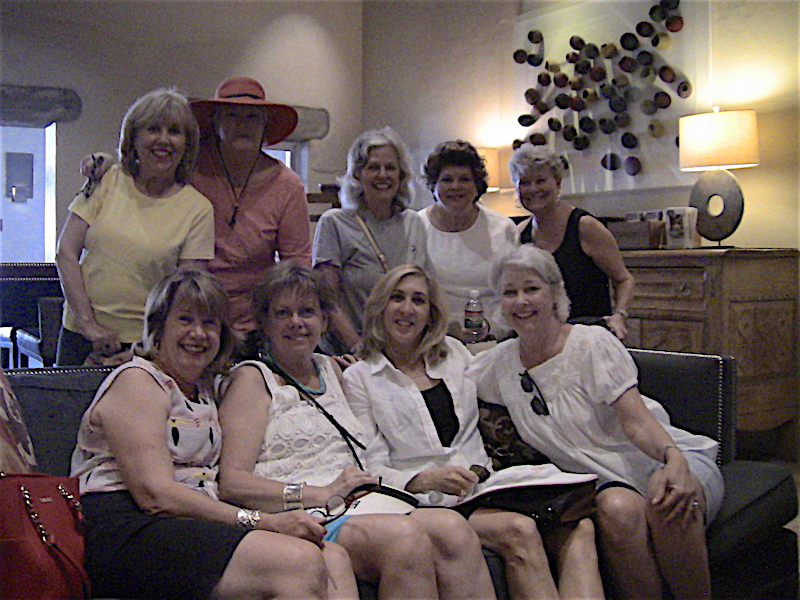 Large or small groups ----  Adults -- School Class --- Family = schedule a tour with Allan -- you will be glad you did. 505-986-5002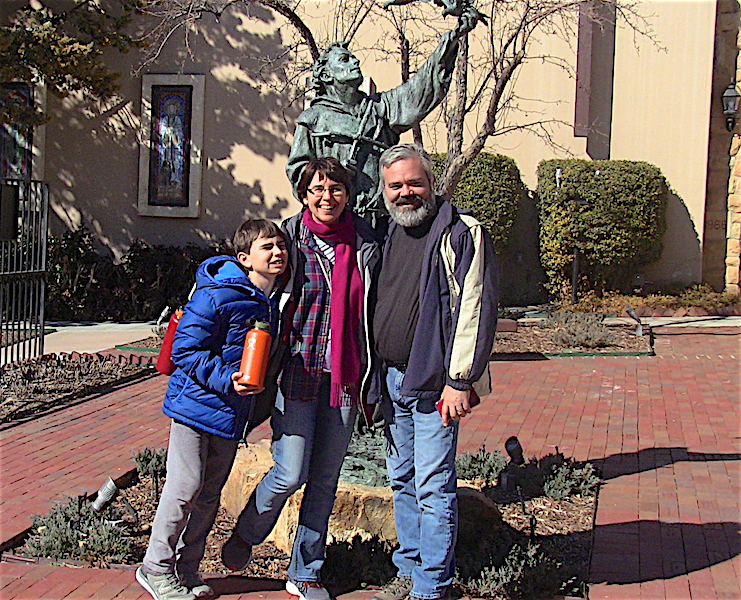 BELOW: Father & Daughter tour -- at the last wild west hitching post in Santa Fe -- when you tour with Allan -- History or Ghost Tour -- you get a complete tour --- tidbits, monuments & paranormal locations.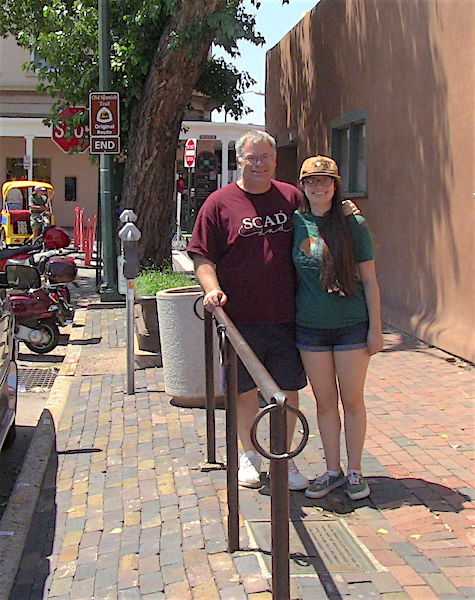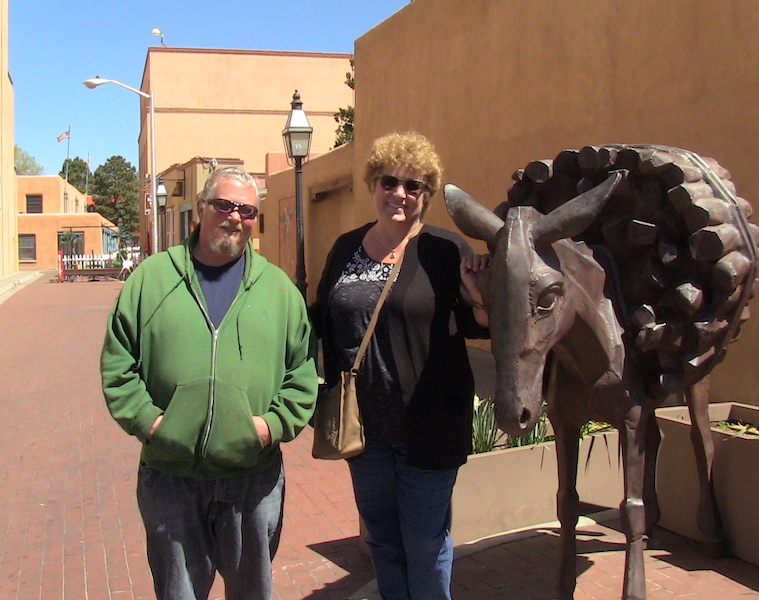 BELOW: After touring with Allan --- on your way home -- through the late hours --- all you will be talking about is Historic -- wonderful Santa Fe...  Schedule a Santa Fe New Mexico History Tour = 505-986-5002 or 505-231-1336 or get Allan as your key note speaker.