ALL-AMERICAN-GHOST-TOUR     PEOPLE FROM ALL OVER  THE USA HAVE TAKEN ALLAN PACHECO's  GHOST-PARANORMAL TOUR  AND HAVE GIVEN IT GREAT REVIEWS!  

ALL-AMERICAN-GHOST-TOUR    / 505 986 5002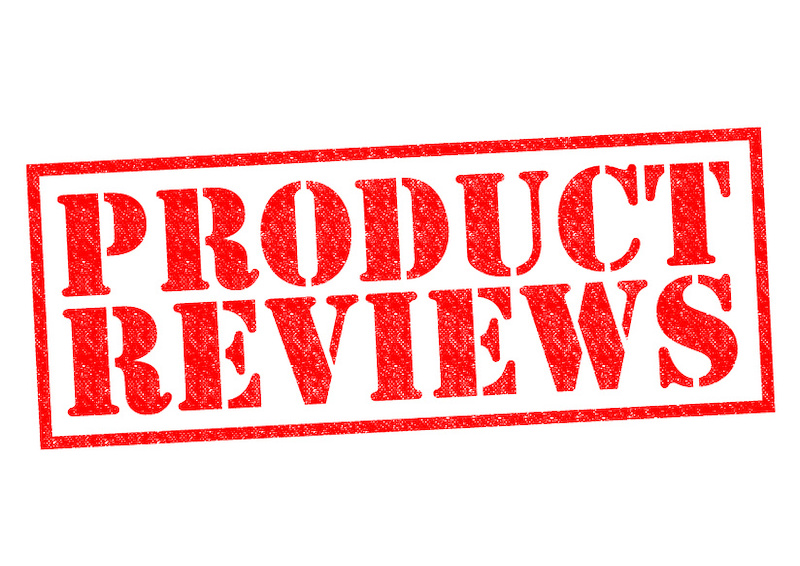 Nov 2021
Spooky and fun !The tour was fantastic and Allen is a great tour guide and story teller. Allen has a vast knowledge of the town of Santa Fe and of the paranormal 
ALBERT T.
--------------------------------------------
          MAY 2022
Thank you again for a wonderful and educations tour. Take care friend.   
John E.

OCT 2011
On a recent trip we were able to take a Ghost/History tour with Allen. He captivated us with his stories for the entire tour. While we didn't see any paranormal activity, I do believe I heard a presence walk up behind me just before we headed down a very dark alley. Fascinating stories in the beautiful town of Santa Fe by a guide that really knows all the local lore.
KEN D.
--------------------------------------------------------------------------------
JULY 21, 2022            ------------------------------------------------------------
Hello Allan!
Thank you for a wonderful ghost tour last night. We all had a great time and learned so much! 
 All the best in your new podcast venture. We will stay tuned!
Wayne S.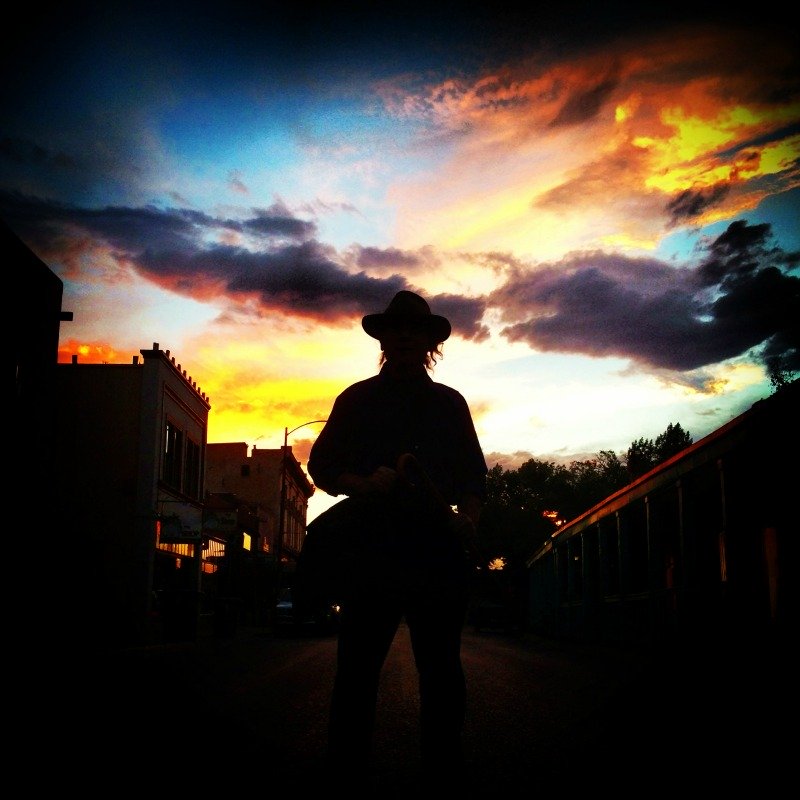 ALL-AMERICAN-GHOST-TOUR
Your tour is led by ALLAN PACHECO, who is a hands on investigator, author, historian, and a m metaphysician of renown.  Your tour covers not only ghosts, but the historical link to them, along with hauntings, LA LLORONA, UFOS, the MISSING, etc.  Your tour has been enjoyed by people from all over the USA.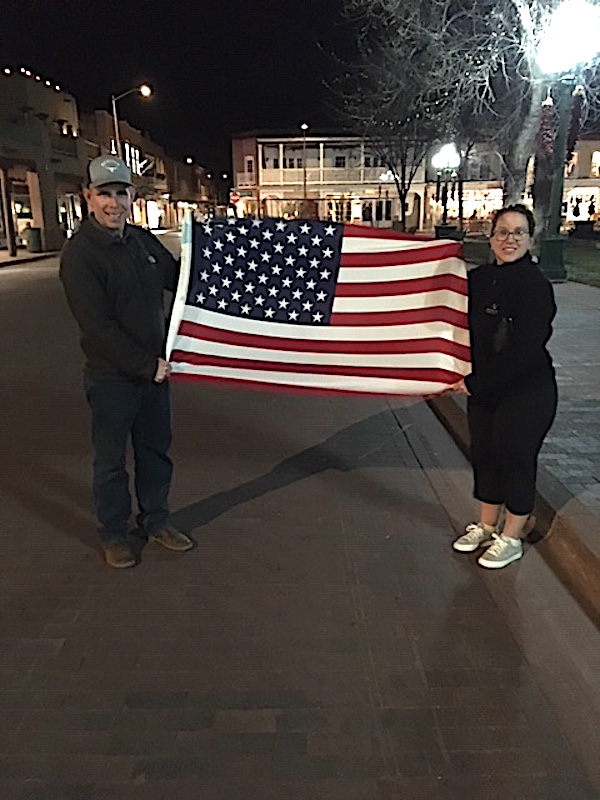 ALL-AMERICAN-GHOST-TOUR.   505-986-5002
Above old GLORY IN THE PLAZA -- this is where OLD ROUTE 66 USED TO PASS THROUGH SANTA FE, and BELOW -- A HAPPY GROUP UNDER  THE RT 66 SIGN. ON YOUR TOUR -- YOU GET ALL KINDS OF TIDBITS ALONG WITH THE PARANORMAL INFO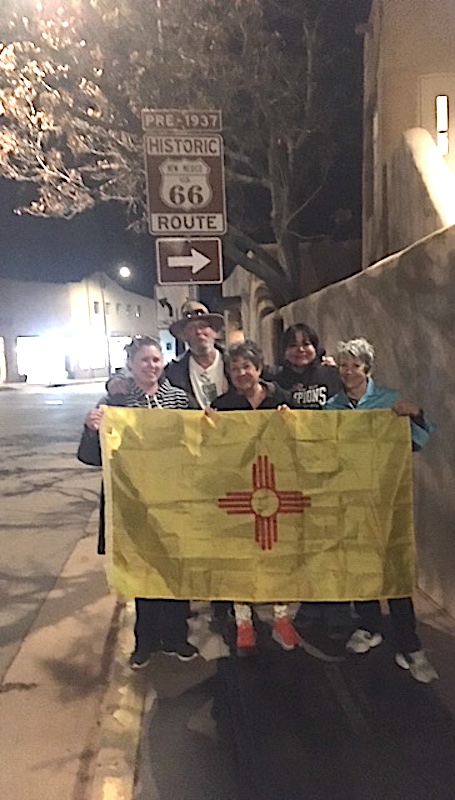 The above photo would be located on the below map at SHELBY AND  WEST WATER.  This was old RT 66, on the map it shows as RT84 - 85, a state road. But this was the old RT66 coming into SANTA FE and exiting on ROUTE 85 -- again this is different state numbers but this was or is RT66. 
ALL-AMERICAN-GHOST-TOUR     BELOW -- The MICHIGAN  bunch - WOVERINES!   What a unique state flag, the stags.  Instead of ending the tour in BURRO ALLEY.  Which was a wild --- old west lane, it is also a well known landmark.    The group from the midwest  finished the tour a the historic and haunted La Posada -- below -- lobby area.   LA POSADA -- A HAUNTED HOTEL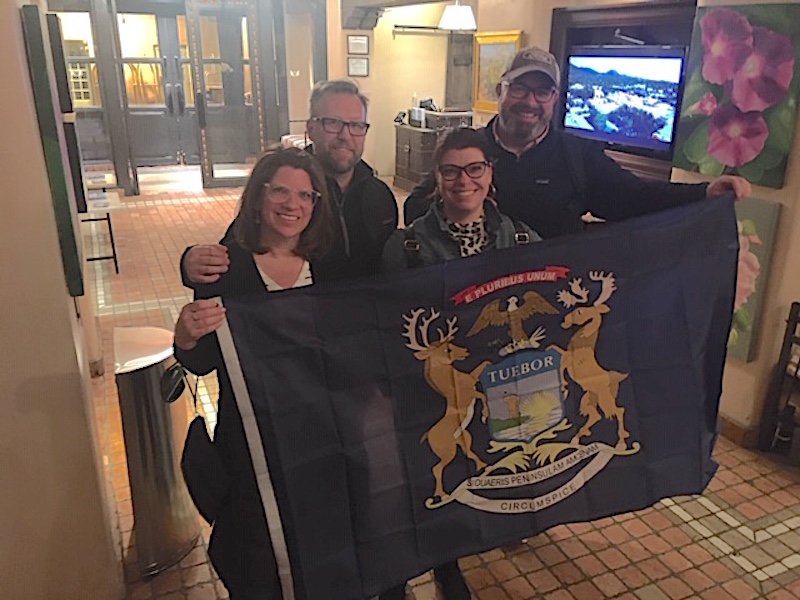 BELOW --- GHOSTS IN THE MACHINE -- GHOST IN THE CAMERA ----THIS -- FAMILY GHOST CLUB -- PHOTO TAKEN IN THE HAUNTED LA POSADA -- DID NOT COME OUT CORRECT ---  NO MATTER THIS FAMILY  HAD A WONDERFUL ITME -- ---  SOMETIMES -- AT LA POSADA -- ODD THINGS ARE CAPTURED ON FILM -- OR THE CAMERA GOES WONKY.   PROOF ABOVE ===  LETS GO TOURING -- PARANORMAL SAFARI  LED BY AL PACHECO -- 505 986 5002 ///.   ALL-AMERICAN-GHOST TOUR --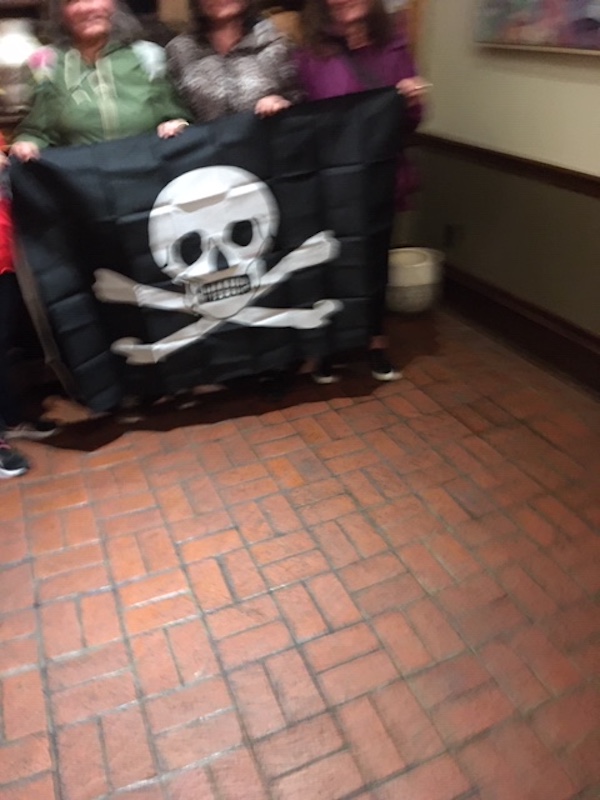 If you have a ghost  box, ghost ap, ghostometer, it does not matter how expensive or inexpensive it is bring it!  The tour does pass by and through locales where energies have been registered on shadow chasing equipment. Likewise, people have felt presences, and some times photos have been taken of the energies or energies. All of this is rare, but it has happened, so you got the gadgets, BRING IT!!
ALL-AMERICAN-GHOST-TOUR
Below on old ROUTE 66, the MOTHER-ROAD from CHICAGO to LOS ANGELES passed through SANTA FE.  The Royal City is a unique crossroads, that is filled with all kinds of metaphysical tales.  Due to its wild and unique history and its location.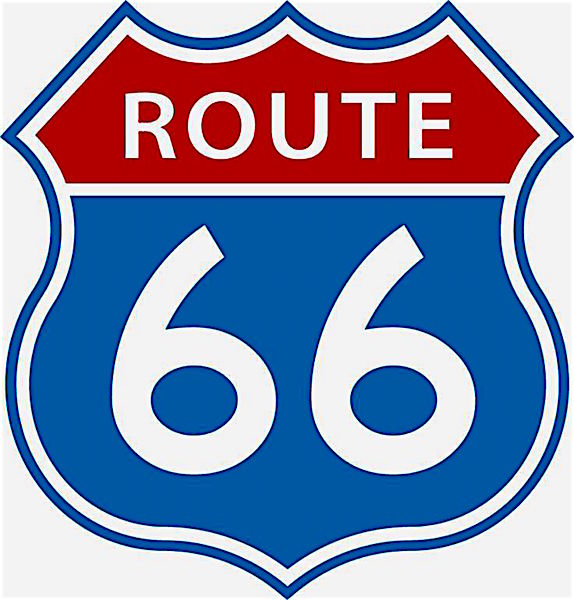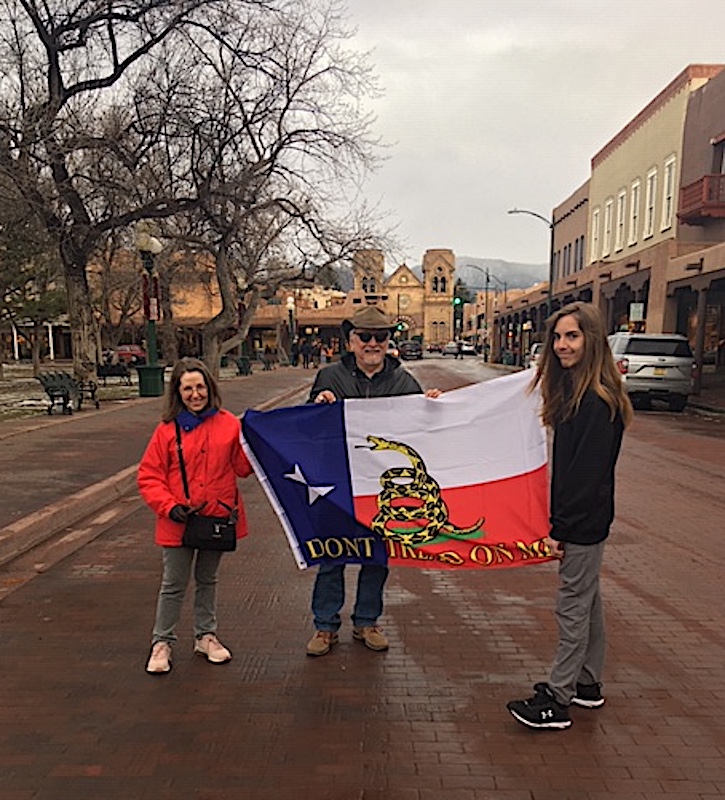 THROUGH THE CENTURIES --- ABOVE - BELOW PHOTOS--- THE PLAZA, WHERE ROUTE 66 USED TO PASS THROUGH.   YES THIS FAMILY IS STANDING ATOP RT66.  THIS WAS A GREAT TOUR. THIS TEXAS FAMILY, ARE PROUD OF THERE HERITAGE AND ASKED SOME GREAT QUESTIONS ON THEIR SAFARI.  I LIKE THEIR FLAG ------ DON'T TREAD ON ME! VIVA TEXAS!  THE LAND OF PATRIOTS !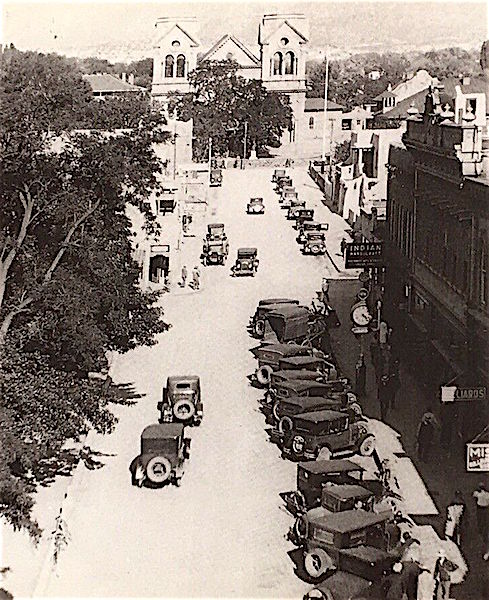 ALL-AMERICAN-GHOST-TOUR
The below couple would be standing  in the above phot  -- where the two cars on the left, heading eastward.  A bird's eye view of ROUTE 66 as it passes through the plaza.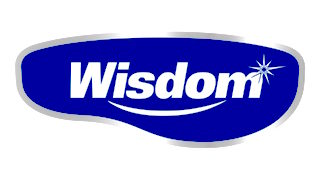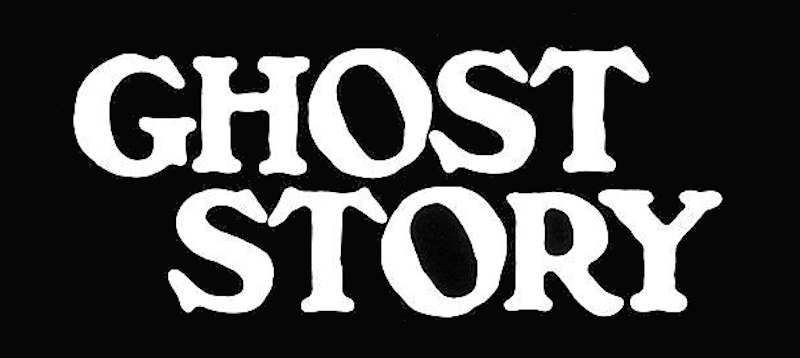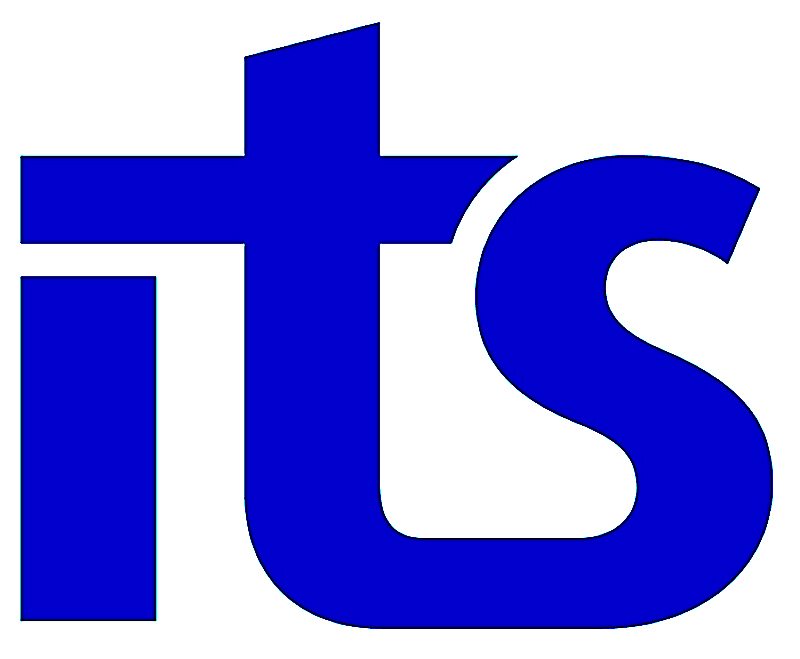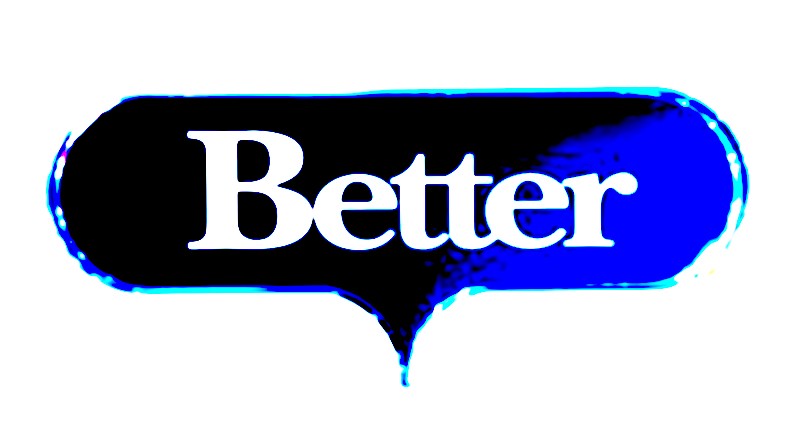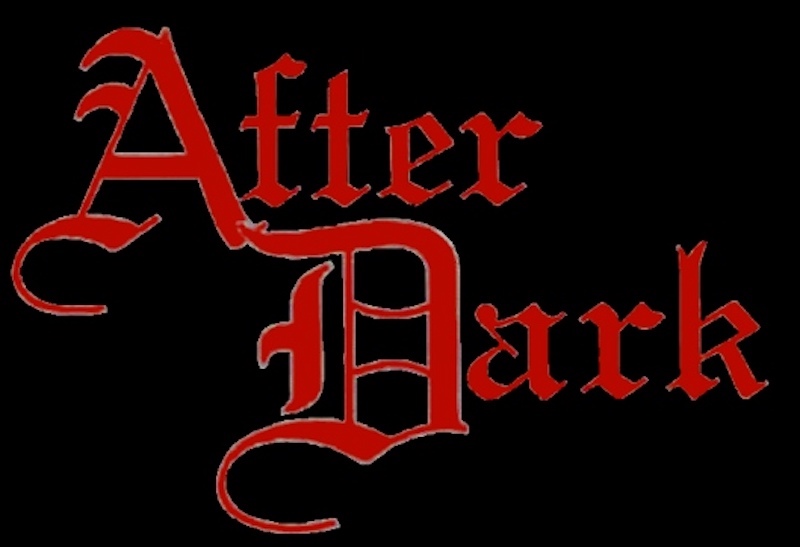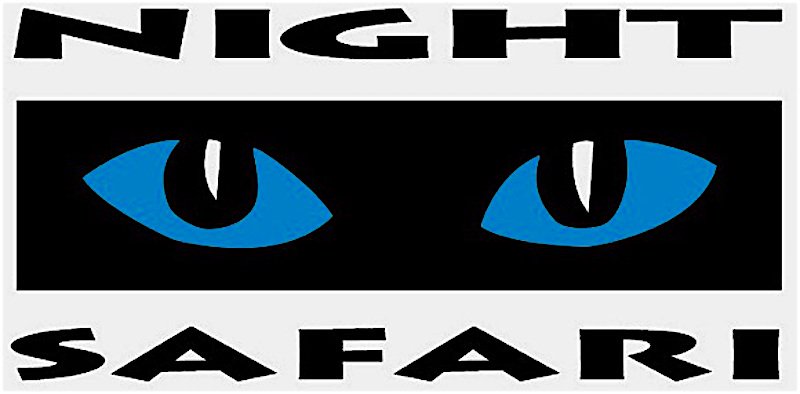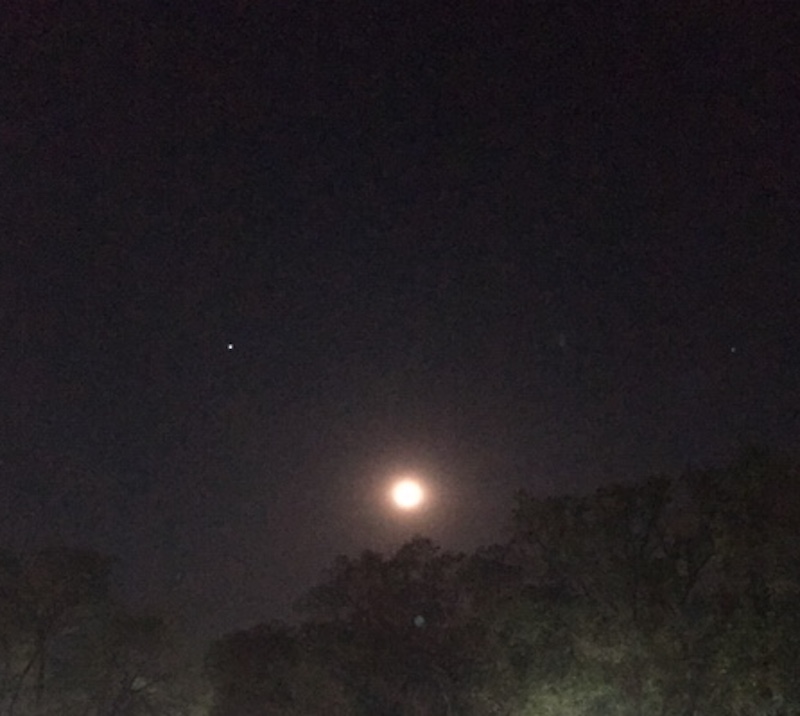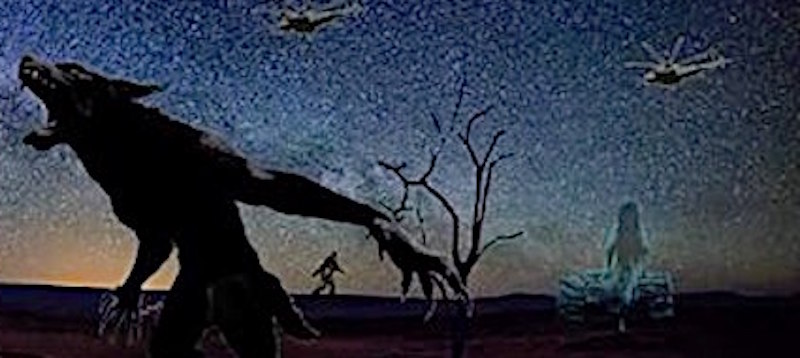 Your safari = paranormal deluxe.  All facets are covered, ghosts, hauntings, facts concerning  investigations of these mysteries, UFOS, the phenomena, the missing, the mysterious happenings at certain spots be it portal or bad ground, all kinds of topics are gone into. On your tour, questions are encouraged.  It is rare, but sometimes on Al Pacheco's tour's the group or person on safari has had contact with something  unearthly. Be it  chills, heart palpitation, or sighting of  energies, orbs, beams or  ghostly form.  Your tour is a safari that is led by a fellow who knows his stuff, that is why AL PACHECO is in such high demand for  national radio  broadcasts -- podcasts and television shows.   When you tour with ALLAN, you get a guy who is not a army chair investigator, but a fellow who has explored the paranormal.
505-986-5002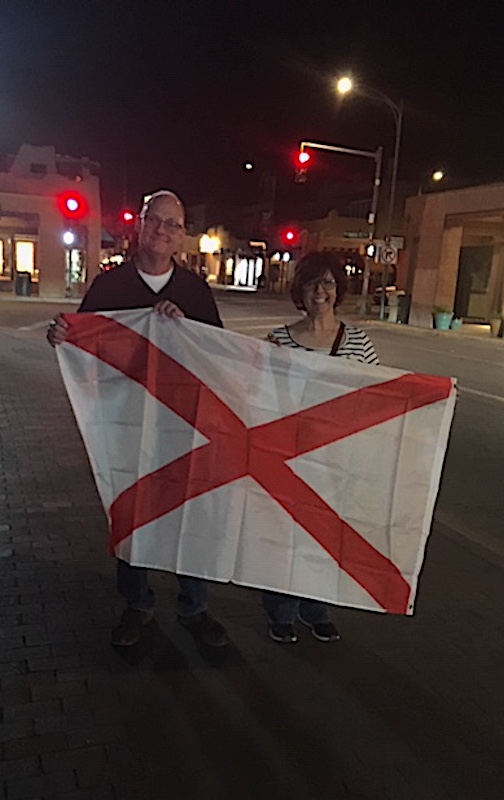 The BAMA flag on the plaza after a wonderful paranormal tour. Got a flag, got shadow chaser equipment, bring it. This is is your tour.. Below -the BAMA ghost license hunting permit.  On AL PACHECO's tours, permit is not necessary.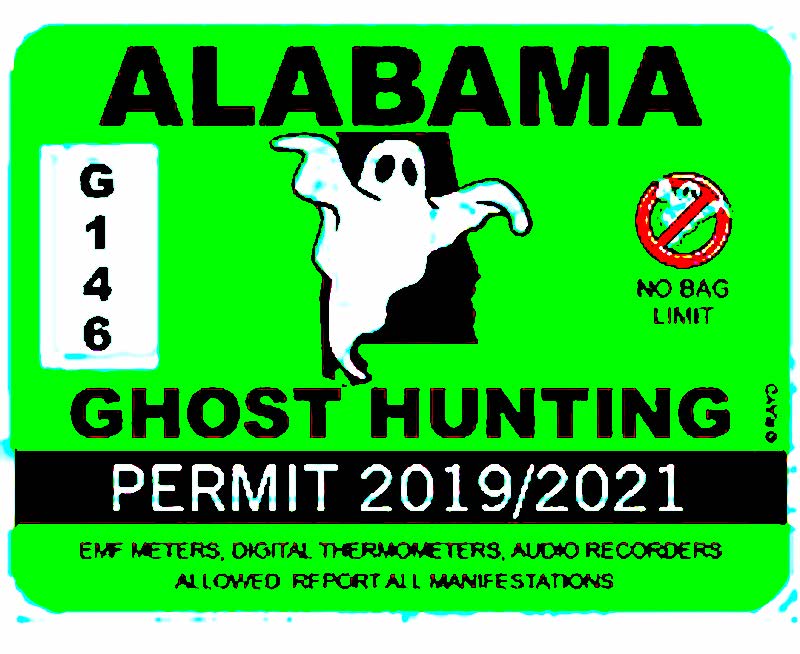 ALL-AMERICAN-GHOST-TOUR     505-986-5002.  When THE GHOSTS GOT ALLAN PACHECO --- or the day they hung Kid Pacheco WINK-WINK!    Because the energies surrounded ALLAN---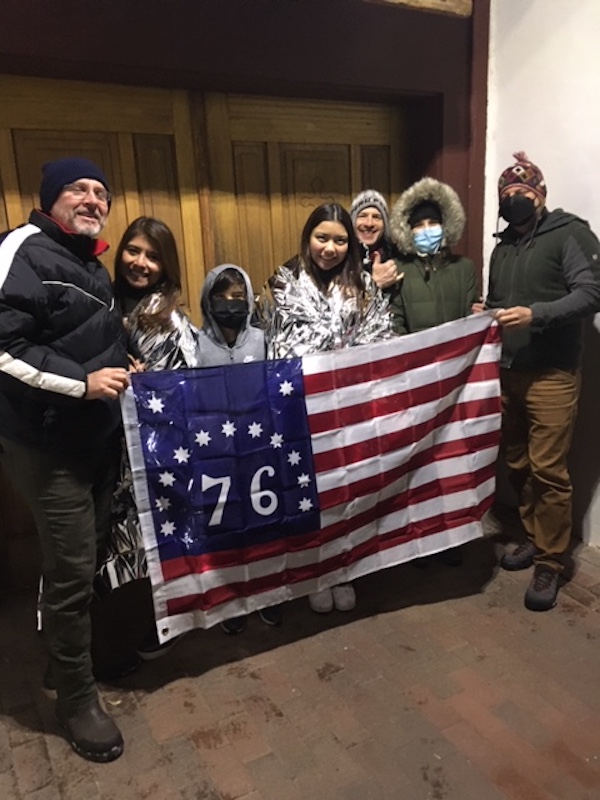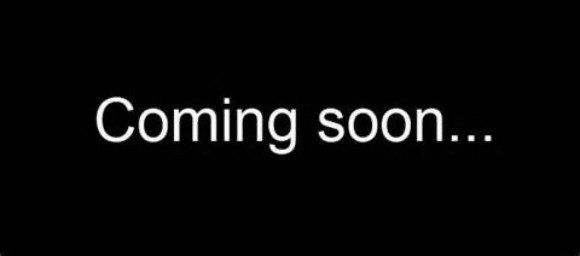 ALLAN  PACHECO -- PARANORMAL PODCAST