GHOSTORIAN-ALLAN-PACHECO-TOUR    / PRIVATE SAFARI  / your own paranormal trek with bits of history.
led by AL pacheco 505 986 5002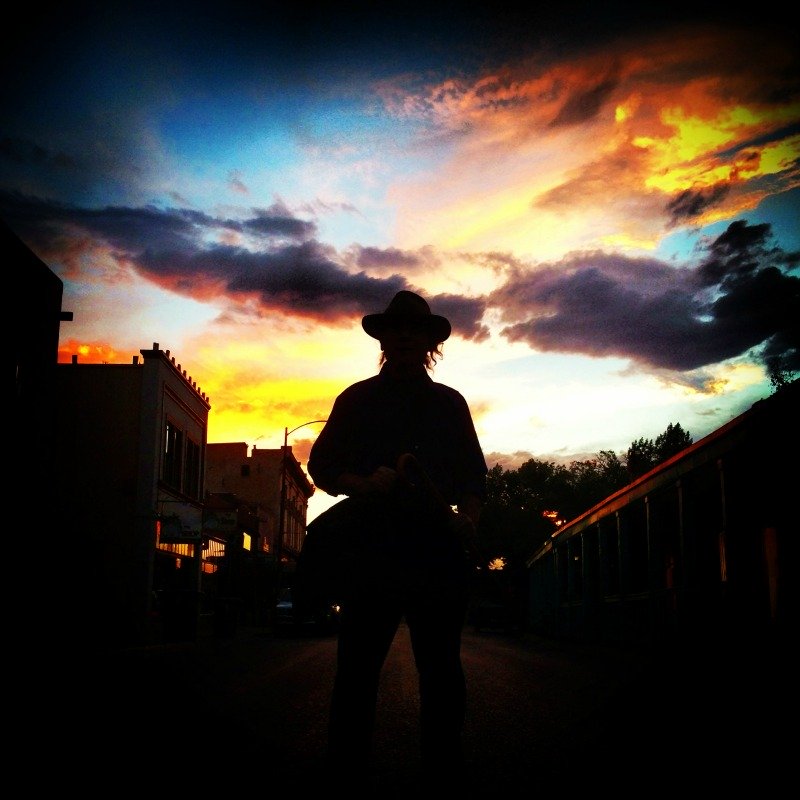 GHOSTORIAN-ALLAN-PACHECO-TOUR / your safari is done at a comfortable pace, questions are encouraged.  Al PACHECO tries to bend the tour towards your interests.  Topics = ghosts - hauntings -investigations - discoveries - hidden or unknown history - encounters - Pecos Triangle - UFOS - conspiracy - Illuminati - La Llorona - etc.  

GHOSTORIAN-ALLAN-PACHECO-TOUR
Above --- These shadow chasers and Route 66 fans,  ended their tour outside of the historic and haunted LA POSADA resort.  The resort hotel at one time was the mansion of JULIA STAAB, her ghost and other energies haunt the premises.  BELOW --- on safari.  If you have ghost gadgets bring them along, the  paranormal walk, dos pass by and through some haunted locales.  On this tour, something from  another world was detected.  All types of people have taken Allan Pacheco's tours. Ghost hunters, paranormal enthusiasts, couples, families, pals, executives, professional wrastlers, lumberjacks, psychics, teachers, Boy Scouts, blue collar workers, tourists, etc. On your tour, questions are encouraged be it paranormal or historica

GHOSTORIAN-ALLAN-PACHECO-TOUR  /// Got ghost gadgets  --- bring em along. Does not mater what brand or how inexpensive they are.  Got a ghost ap on your iPhone bring it!  Do you have  a K2 - Trifield - pendulum - gieger counter - temperature gauge -  ghost box -- bring it.  Your tour does go by and thoroguh some haunted locales.  On tour previous tours led by AL Pacheco, contact with forces has happened.  Sometimes, a photo will reveal a globular or even a shadow or outline of a ghost. It is rare but it has happened. Even rare on a few safaris, people have been pushed by an unseen force or their batteries on their phone or ghost device have been drained.  Likewise on a few  treks, a person on tour has felt the chill of the  energy and the result is chicken flesh.   Got guts --- lets go tour 505 986 5002
| | |
| --- | --- |
| | YOUR TOUR GUIDE ; Above - leading a tour.  Below - not leading a tour. |
BELOW -- Take a look at the pictures -- they are blown-up.  This area where the snapshot was taken is in the haunted quadrant where all the above  photos have been taken.  On this tour, of when the photo was taken, a strange feeling was felt by some of the tourists. Later on a photo was sent to me that had a human -ghost like face.  Yes, there was activity in this  tract on the night  that ALLAN PACHECO 505 986 5002  led a safari into GHOSTLANDS.  Note on the below photo to the left of a lady, a strange mist or globular. In this cloud like, transparent and white visual, if one looks closely, one can make out a ghostly or skeletal face in the mist or rough hewn globular. 
SUPERNATURAL-SANTA-FE TOUR     the photo is enlarged below -- can you see that this ghost has a triangular like head. Similar to the  photo of the ghost at the top of the page, that is on or in the wall.   IS this the same entity or a different one?  When it comes to ghost  snapshots, there will be different  accounts of what people see in the snapshot.  Some will say it is a ghost others a demon, or a chimaera.  Study the picture, what do you see?  Naysayers will claim it is a hoax by way of shadow and light.  But let it be known, that this area has had all types of paranormal acuity in the past. From fast moving  orbs, near the ground, here and gone shades, as well as ghosty tubes entities, plus occultist goings on.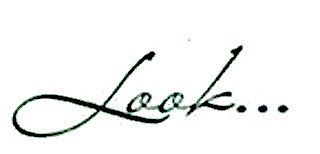 Take a gander at the white like cloud or mist with a face, the photo is a zoom in, and is in black and white by way of the computer.  In order to get a better view of what is on the snapshot.  SANTA FE GHOST AND HISTORY TOURS -- led by ALLAN PACHECO --- sometimes your safari nets zero in ghost contact and then sometimes ---- BINGO!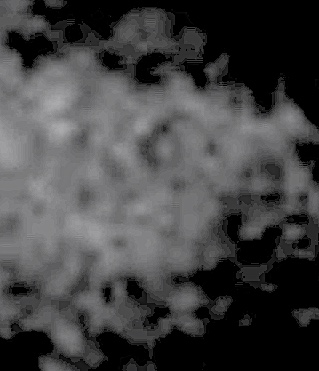 Below a series of photos of     GHOSTORIAN-ALLAN-PACHECO-TOUR. a rather strange light and shadow showed up/  behind AL PACHECO.  In this area, in the past  ghostly activity has been recorded on ghost gadgets and sometimes  have been seen with the naked eye or felt. Historically, the area through the centuries has witnessed murders invoking by withes, and demonic conjuring.  The place is or has been ripe with energy. On that addendum, the area at times  is very docile.  Activity behind  Allan or trick of light, one has to say, that is an odd series of photos.  They were blown up to see if there was something behind the tour guide, was it legit or light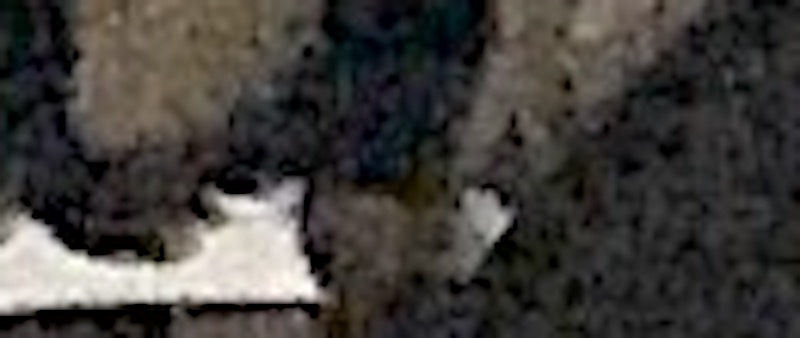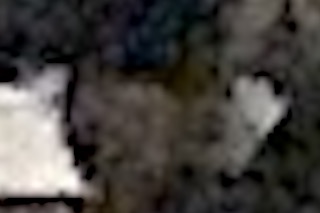 GHOSTORIAN-ALLAN-PACHECO-TOUR  505 986 5002  The above set of photos and the phot below --- prank photos --- trick of light --- they've to be!  However, these areas  where the photos were taken are known through the centuries for apparitions or sightings. 
| | |
| --- | --- |
| | ON TOUR, A LOT OF WHAT IS SEEN CAN BE EXPLAINED.  as a TRICK OF LIGHT & SHADOW. BUT SOMETIMES ENERGY, OR an APPARITION CAN APPEAR ATOP OF, OR in an object, or is just OUT THERE, IN plain SIGHT!  //// Can you make out a face on the above photo? just imagination right? OR ? YEOW! |


| | |
| --- | --- |
| | Would you give AL PACHECO a ride when he is in his HITCHHIKER MODE --as in above --  doing an investigation on old haunted ROUTE 66?  Actually -- AL is good at spoofing, when it comes to certain subjects. His tours are fun and have bit of gallows humor.     |
GHOSTORIAN-ALLAN-PACHECO-TOUR  505 986 5002

| | |
| --- | --- |
| Not interested in night tours --  fancy day tours? Call AL PACHECO,  set up a daylight tour.  Below -- At the PLAZA's edge, a daytime paranormal tour.  Behind these two, on the left is old RT 66. The MOTHER ROAD used to run through the plaza on its way to Los Angeles WEST or Chicago EAST  GET YOUR KICKS ON  ROUTE 66. Below where the arrow is, circa 1954, is where husband & wife are standing 2023. | |
| | |
| --- | --- |
| | On your ghost tour -- being your shadow chaser box, we do venture to where the spooks are. Below - This man sensed something at a very haunted landmark. |
GHOSTORIAN-ALLAN-PACHECO- TOUR    Above & BELOW -- different safaris 505 986 5002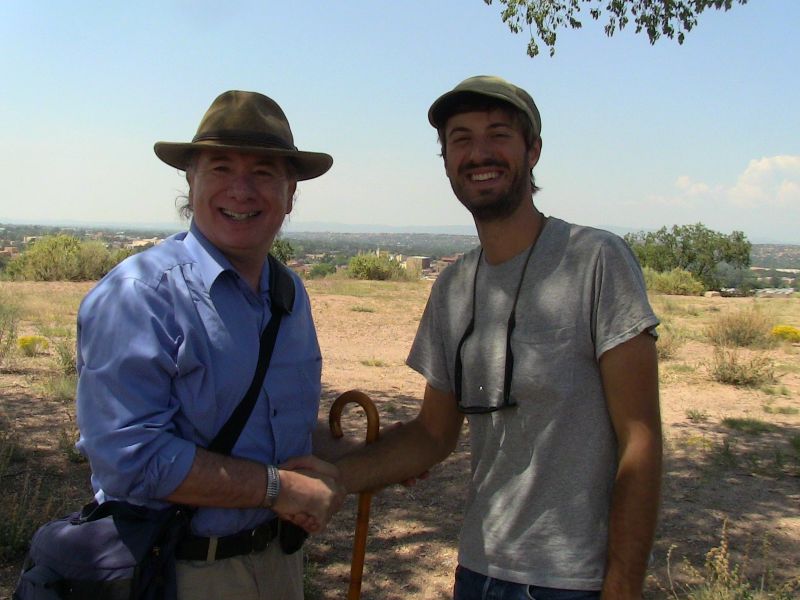 NOT interested in Ghosts of Santa Fe or history of the Royal City? The UFO mystery is for you? Then click here --- the MYSTERIANS