SANTA-FE-TOURS:  Ghost or History Tour are led by Author, Historian & Paranormal Investigator ALLAN PACHECO 505-986-5002 or 505-231-1336
SANTA-FE-TOURS  -- On Allan Pacheco's Ghost or History Tour, you get the best of Santa Fe's interesting heritage or the best of its odd paranormal.  On either safari, Ghost or History tour, questions are encouraged.  Tours are done day and night, summer or winter. Allan tries to tack the tours towards your interests. All tours are done at a good comfortable pace this is not a rush-rush type of tour.
505-986-5002 or 505-231-1336 schedule a ghost or history safari (SANTA-FE-TOURS) with AL Pacheco...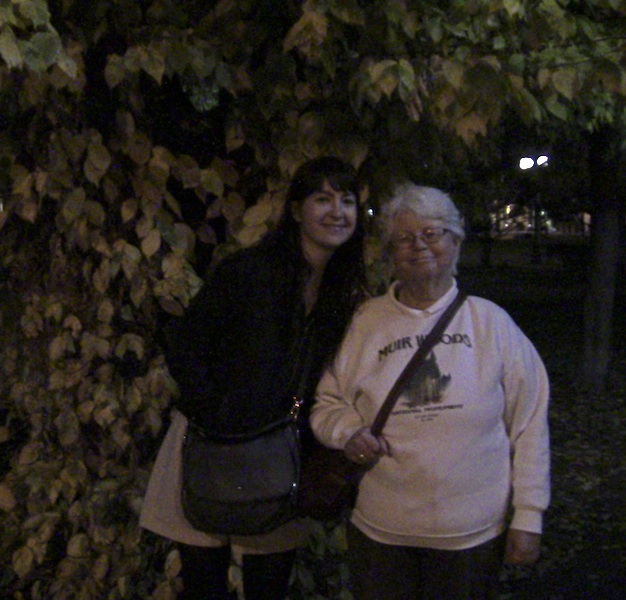 BELOW: SANTA-FE-TOURS  -- Some nice words concerning Allan's tour, from Nadege, she is from France.  Nadine, her husband and son enjoyed  their safari through Santa Fe.
August26, 2017 by Nadège A
Mystérieuse santa fé avec un tour sympathique dans la ville Permet de voir la ville différemment sous l'angle des légendes et histoires locales.
SANTA-FE-TOURS  More reviews.
JULY14, 2019
Vast amount of historical and paranormal knowledge
I recently had taken the paranormal tour with Allan Pacheco. What a wonderful tour! Allan has an incredible amount of historical and paranormal knowledge of the Santa Fe area. We were able to visit many of the well-known historical sites where Allan would add the verifiable paranormal activity at each site. Also, Allan was very accommodating to any modifications we may have needed along the way without missing a beat in the narrative of information. Such an enjoyable tour. I highly recommend for all ages and abilities.
MARY S.
JANUARY 1, 2019
Allen Pacheco is is a highly knowledgeable historian and a consummate story teller! Our 2-hour tour was engaging and fascinating, set within the historical context but peppered with tons of information about ghost stories and paranormal activity. He really brought the stories to life! Allen was entertaining and came well prepared. My husband and I - and our daughters (20 and 24) - all enjoyed our walking tour immensely! We highly recommend Allen!
T.T.
Small or large, your ghost and history tour is the best!
SANTA-FE-TOURS = DAY OR NIGHT 505-986-5002 or 505-231-1336
| | |
| --- | --- |
| SANTA-FE-TOURS = GHOST or HISTORY TOUR /DAY & NIGHT -- SANTA FE IS EXPLORED | Above, this Californian found his Santa Fe roots, the street where his wild west family lived... HISTORY COMES ALIVE ON YOUR TOUR, ITS NOT SNORESVILLE FACTS. |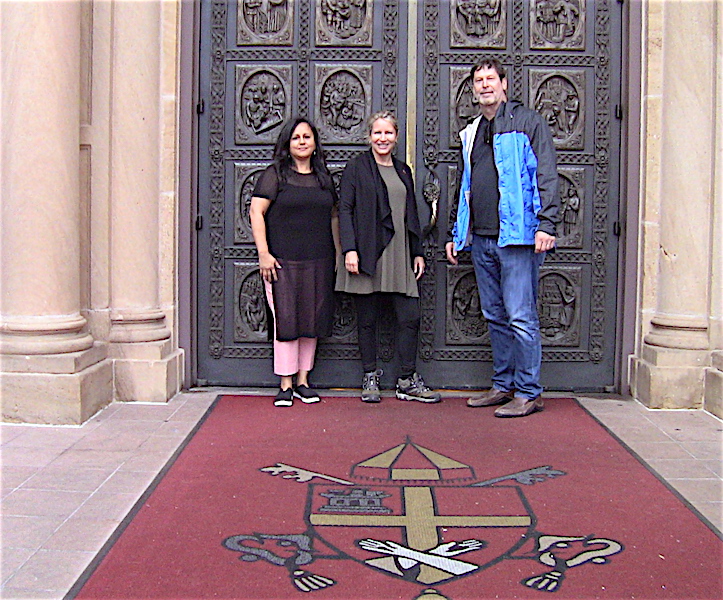 ABOVE: the St. Francis Cathedral -- note the massive beautiful doors.  BELOW: San Miguel Mission -- the oldest church in the USA.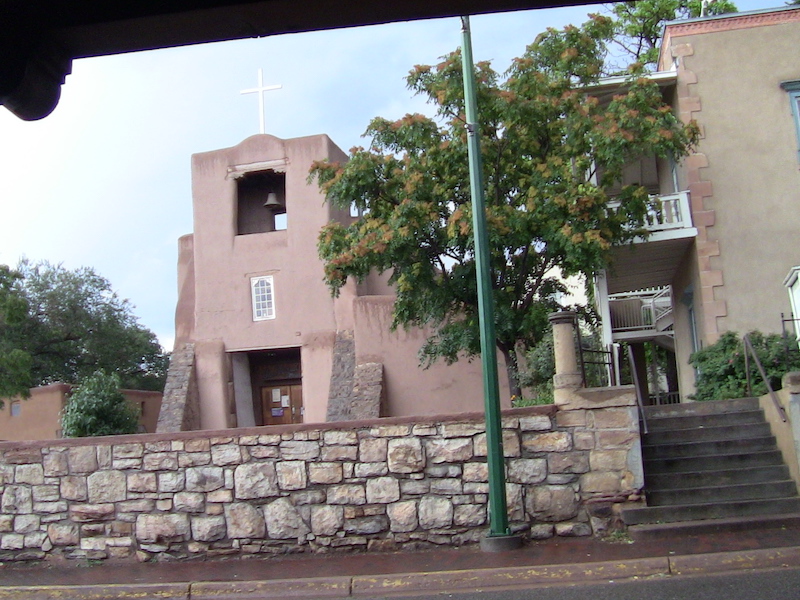 SANTA-FE-TOURS --- the historic landmark -- the LA POSADA -- during WILD WEST days, it was the mansion of ROBBER BARON - ABRAHAM STAAB.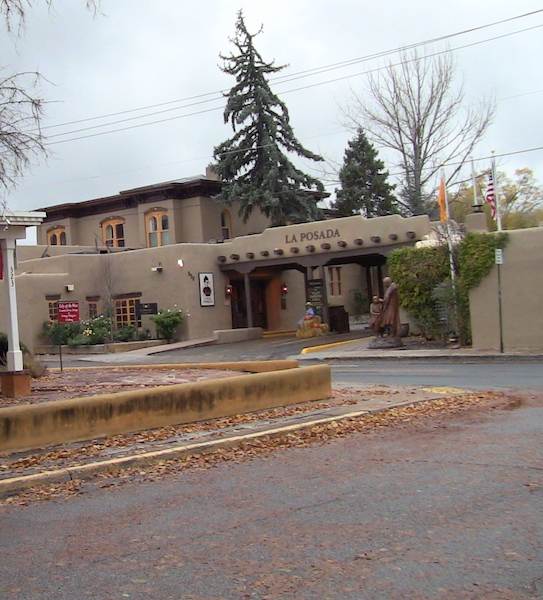 Santa Fe was BILLY THE KID's old stomping grounds -- on Allan's History tour -- you here about THE KID's exploits.  505-986-5002 or 505-231-1336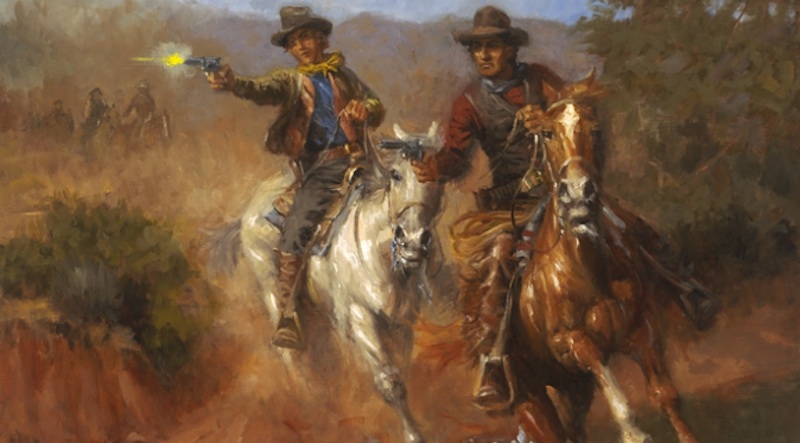 The Santa Fe Plaza -- at the Santa Fe Trail monument --- the Plaza has not changed much since the days  when Billy The Kid walked this square...  On your history tour you will learn about CONQUISTADORS - THE SANTA FE RING (OUTLAWS) and all kinds of  ROYAL CITY characters.  Below -- Happy group on tour at the monument.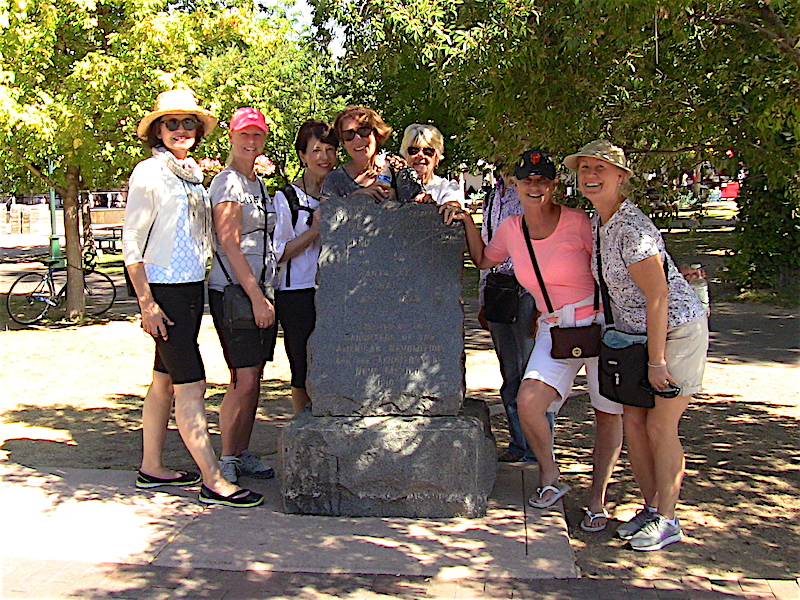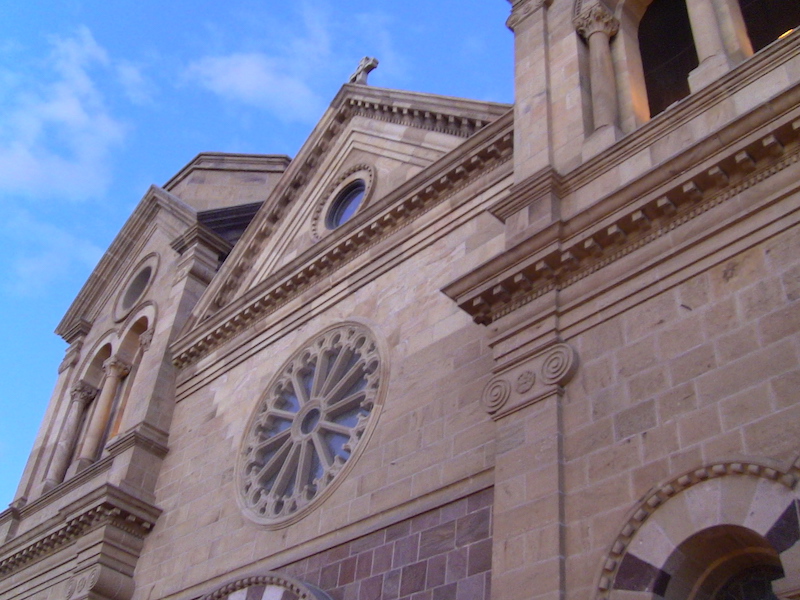 Santa Fe is historic and haunted --- it is the oldest capital city in the USA. It's also the most haunted city in the USA!

The paranormal came alive on the tour BELOW: That is why AL PACHECO attests - got shadow chaser equipment, bring it. Cameras capture energies and ghost gadgets as well.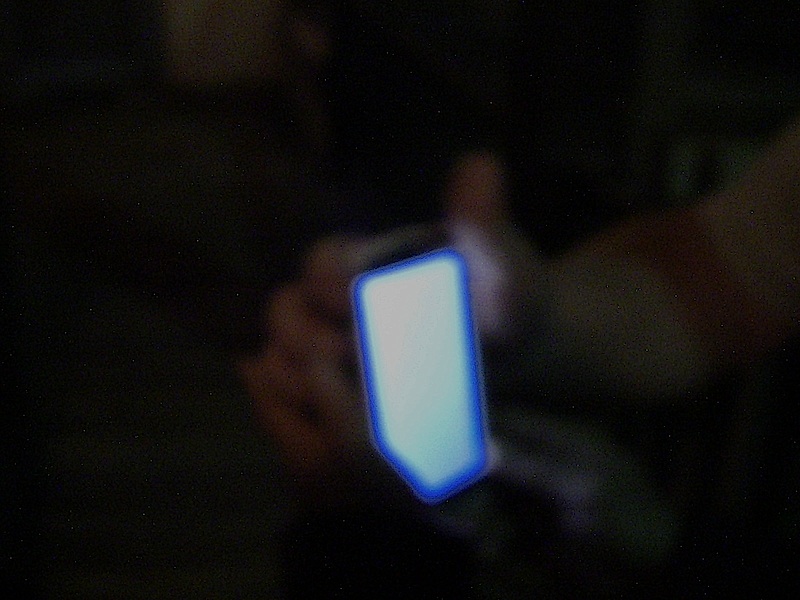 SANTA-FE-TOURS   ---  ABOVE: THis photo was enhanced, it is a picture of what was taken on a I PHONE on tour at a haunted location. WHat is it, ghostly energy, a ghost, a whiteout, a polar bear in a blizzard. When you tour with Allan you trek through some areas or locations that have been haunted since colonial days,  bring your camera and ghostometers. As for the above photo what are you going to believe? The skeptics that claim there is no such thing as ghosts or are you going to believe your  LYING EYES?


505-986-5002 or 505-231-1336 SANTA FE AWAITS!
TOUR GUIDE -- AL PACHECO/ WITH A GROUP BELOW: CONTACT MADE  IN THE ABOVE AREA PHOTO -- THE SNAPSHOT IS LIKE A FRITZ LANG PRINT, BLOW UP  OF PHOTO SHOWS A FEW ODDITIES.  PURE STRANGENESS!

LEFT ABOVE- LEFT  -- Different SANTA-FE-TOURS -- Spook BELOW -- INSIDE THE HAUNTED LA POSADA. The  room-- where JULIA met her end!

BELOW - THE MOTTO OF TOUR GUIDE -ALLAN PACHECO / 505 986 5002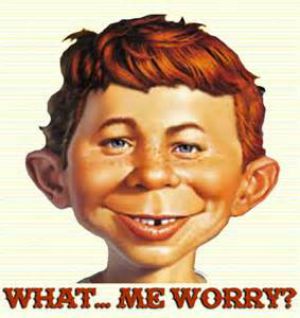 LEFT: INSIDE THE HISTORIC AND HAUNTED OLDEST HOUSE = GHOST AND HISTORY TOUR--BELOW:
NIGHT TOUR THROUGH OLD SANTA FE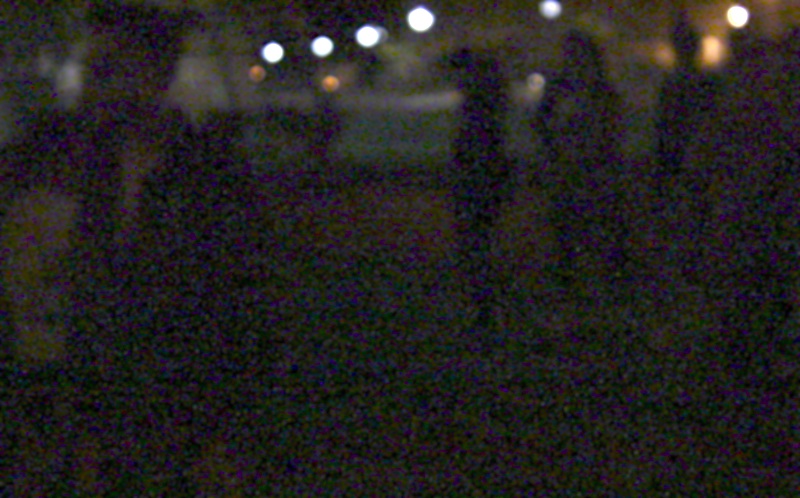 BELOW: DAYTIME = GHOST AND HISTORY TOUR 505-986-5002 call to schedule a safari! 
| | |
| --- | --- |
| | MEN IN BLACK have not been encountered on ALLAN's ghost tours, he makes your trek as safe, as it can be/  |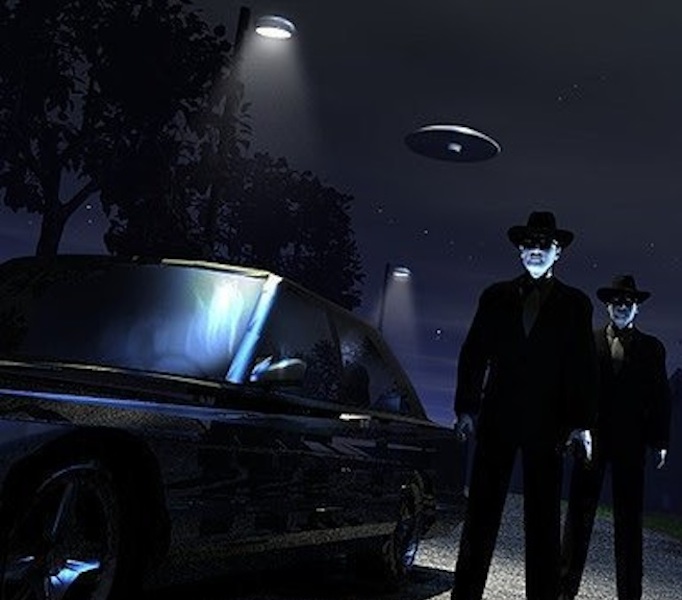 EL WRONGO!  THE MEN IN BLACK WERE SEEN ON ALLAN's TOUR --- WINK-WINK.. BELOW IS THE PROOF!  IT HAPPENED ON A DAYTIME GHOST TOUR --- 

THE GALAXY DEFENDED -- THE MEN IN BLACK (MIB)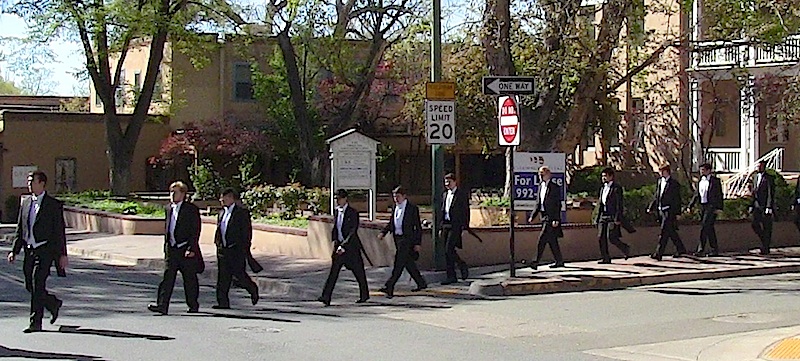 Below: THE MEN IN BIEGE or a different version of MIB's! You never can tell what will happen or what you will see when you tour wit Allan Pacheco SANTA-FE-TOURS 505-986-5002 or 505-231-1336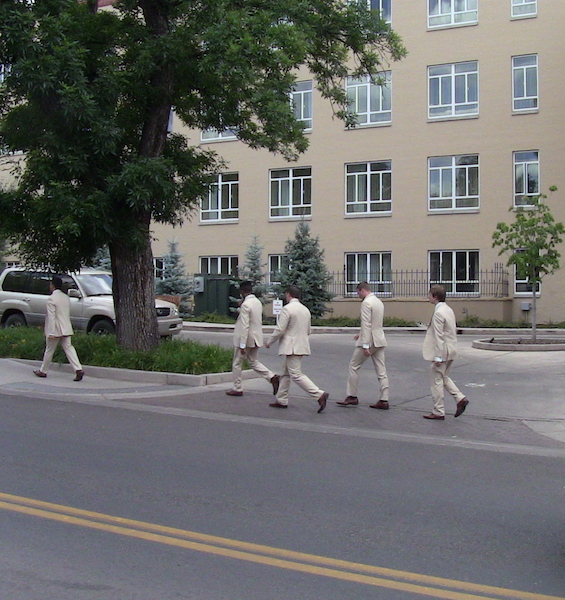 Allan's Ghost or History Tour is done at your convenience --- you set the time -- day or night, private tour. 505-986-5002  or 505-231-1336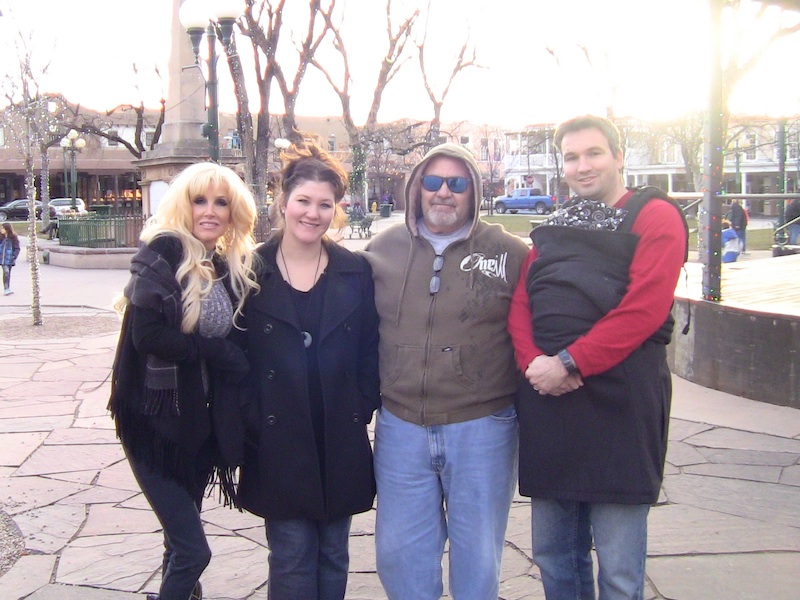 ABOVE: End of a magical tour in the PLAZA… BELOW: GHOST TOUR -- a full moon with an odd cloud formation, it had better be a cloud formation.  BOOOOOOO!!!!!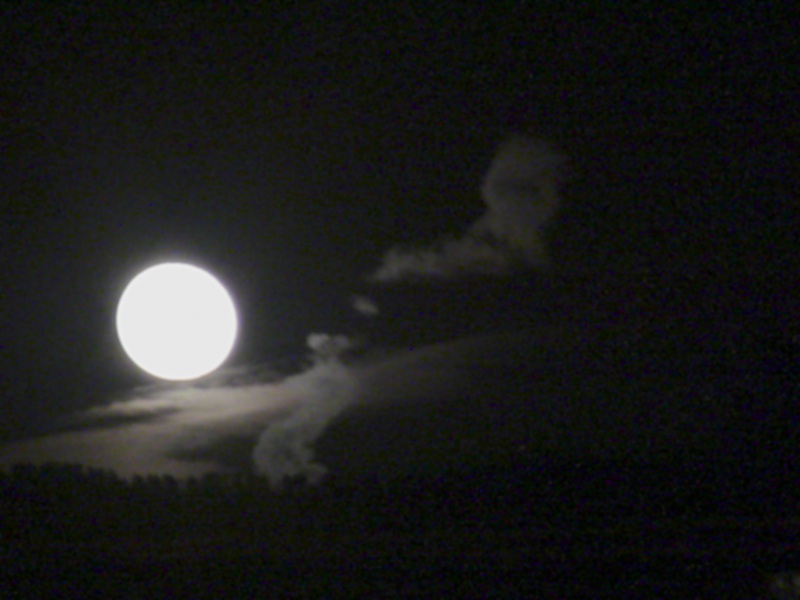 BELOW: On a daytimes Ghost Tour, this lady felt some not so nice vibes while inside one of the rooms of historic and haunted OLDEST HOUSE… The ghostometer picked up pulses that could not be accounted for.  On Allan's tours, sometimes you run into energy  that is not of this world.  Got a ghostometer -- bring it on your safari!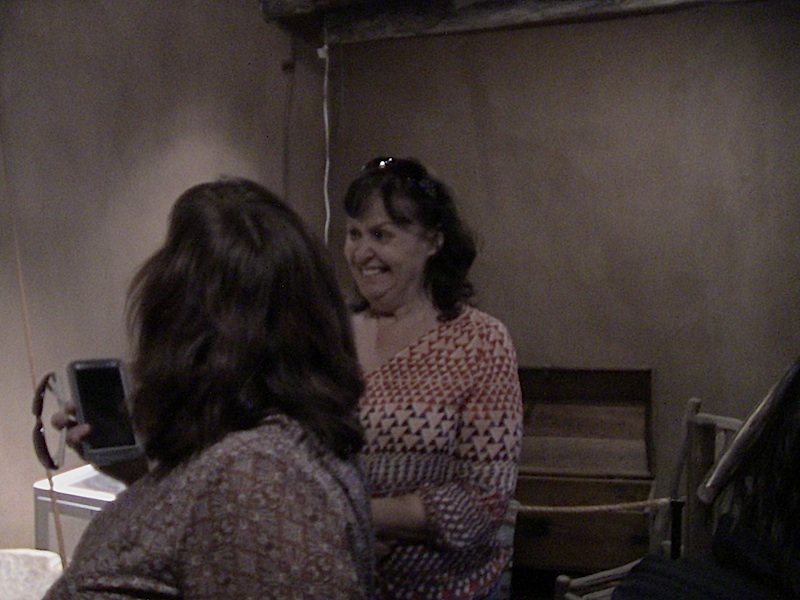 505-986-5002 or 505-231-1336 PRIVATE TOUR W/ ALLAN PACHECO/. BELOW -- GHOST TOUR -- SOMETHING  WAS HEARD OUTSIDE OF THE LA POSADA  RESTAURANT -- CLOSED DUE TO COVID 2021... CAMERA MOVED TO FAST -- BUT sOMETHING WAS FELT, HEARD AND SEEN.  THEN IT WAS GONE -- THE GHOST OF JULIA STAAB, THE MISTRESS OF THE OLD MANSION THAT IS NOW A RESORT?

OR ANOTHER GHOST THAT INHABITS THE REMODELED MANSION ?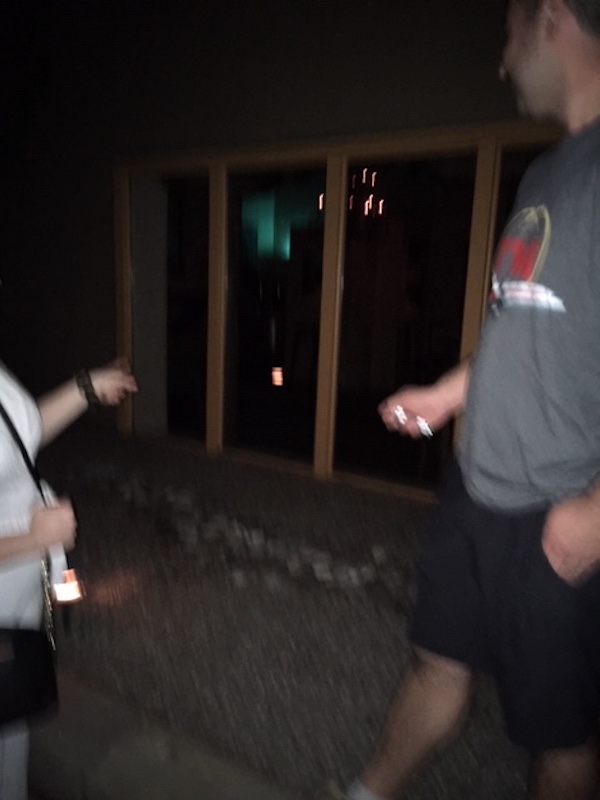 SANTA-FE-TOURS --- PARANORMAL DELUXE --- -- ABOVE AND BELOW  505-986-5002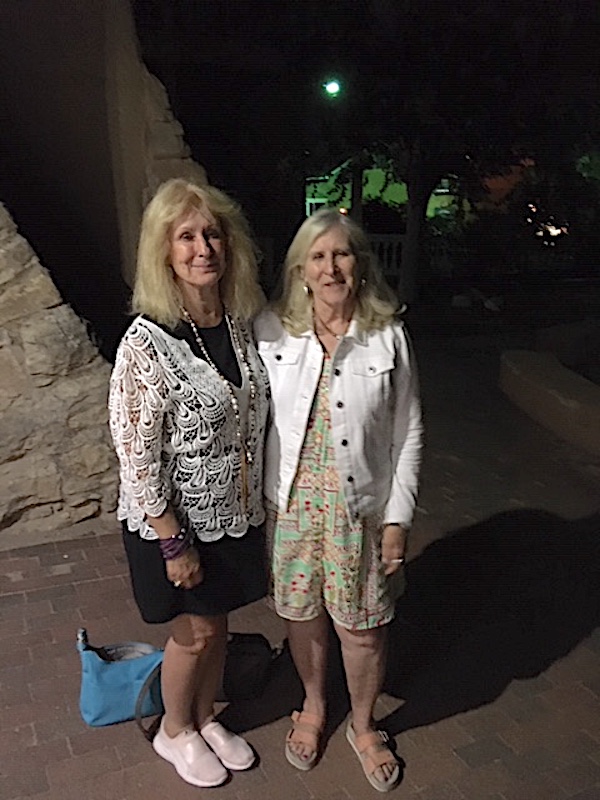 LETS GO TOURING --- GHOST TOUR -- PARANORMAL SAFARI THROUG THE ODL TOWN -- SOME HAPPY CUSTOMERS WHO WENT TREKING WITH AL PACHECO 505-986-5002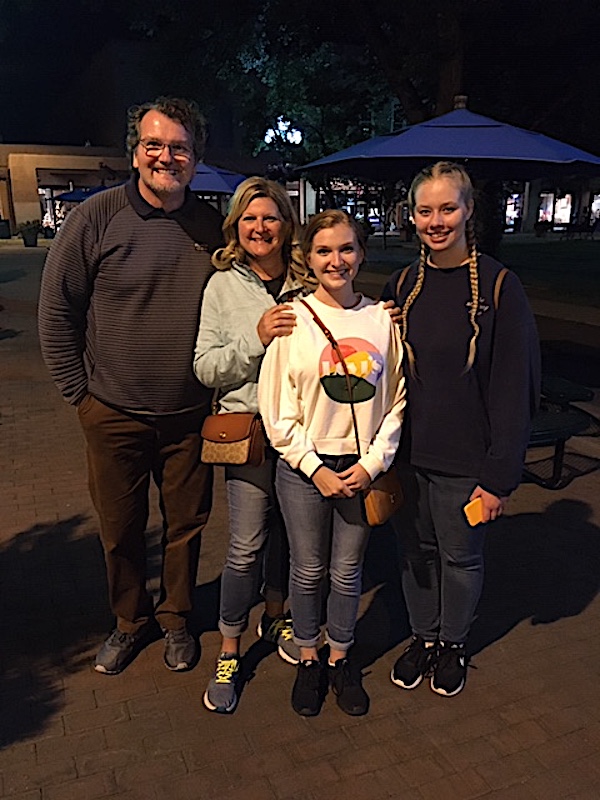 ALLAN also does daytime tours.  Above -- where the arrow  is pointing is where the below,  New York & EL PASO ghost hunters, who are  patriots, stand. Behind them in the trees is the ROUND HOUSE, the slag name for the STATE CAPITAL BUILDING.  Another name for the building is the PEPTO BISMAL BUILDING or THE LAIR OF THE ANTI CONSTITUTION PEOPLE. On your tour, you get the low down on history and paranormal.   It is a fun and interesting. tour -- 505 986 5002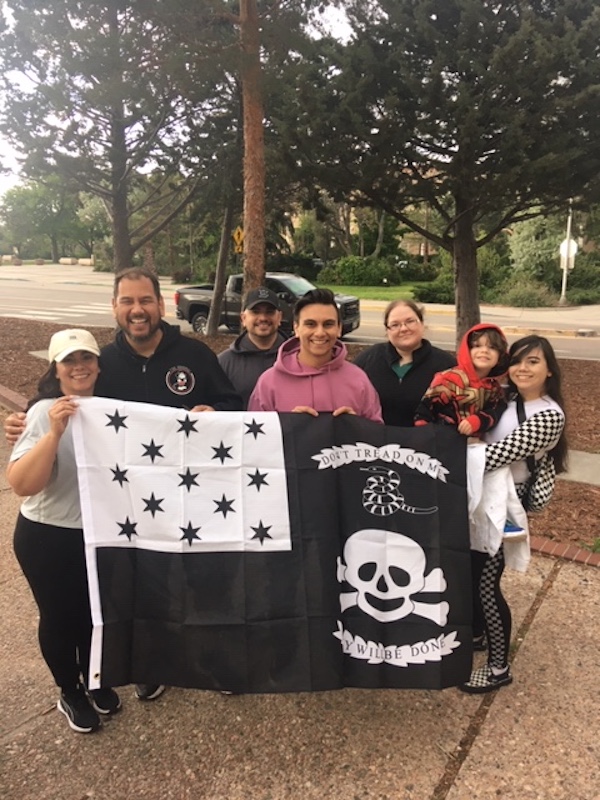 Your tour guide Allan knows his stuff---he is a regular on many paranormal conspiracy shows. Below some of the shows he guests on.
| | |
| --- | --- |
| To get ALLAN on your program contact him at santafewriter@me.com | |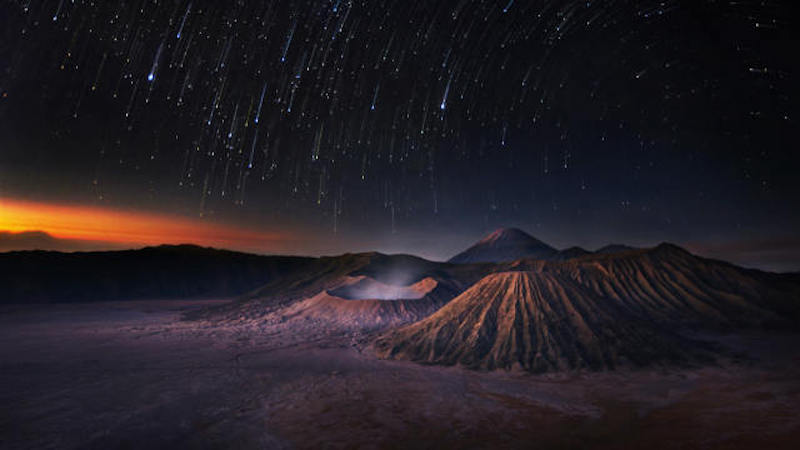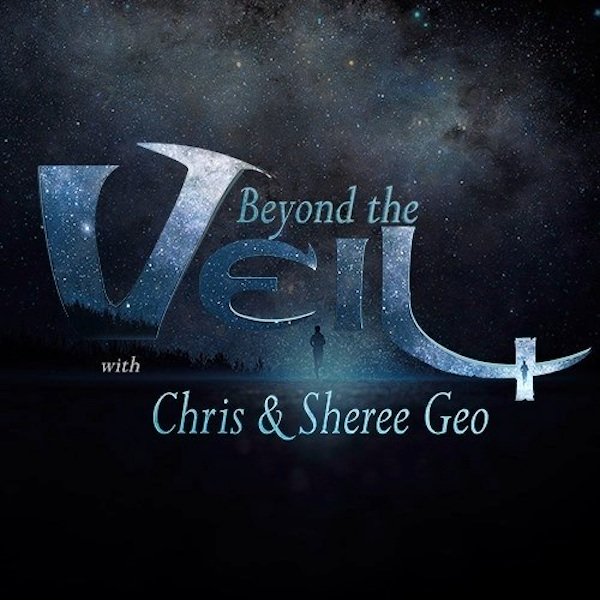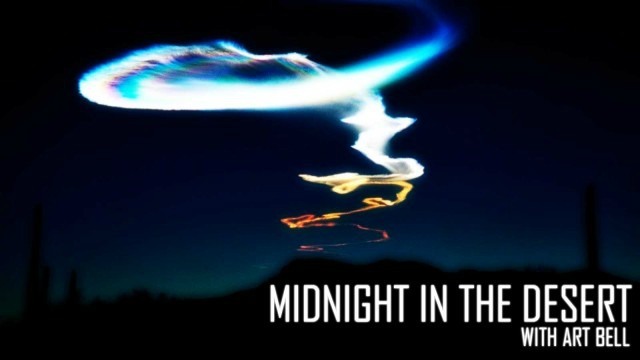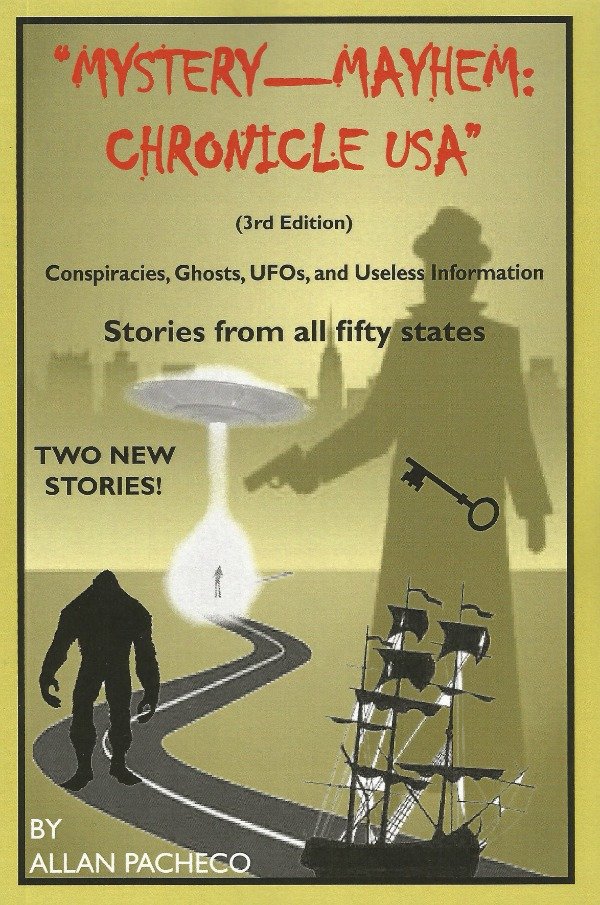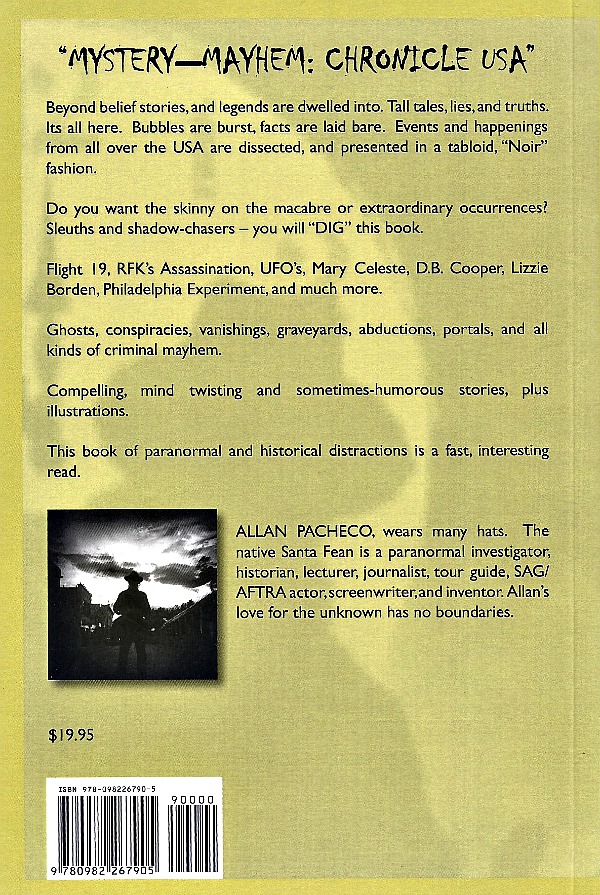 Some of ALLAN's books, you can purchase them --LEFT RED BUTTON (RODER) or go to Amazon.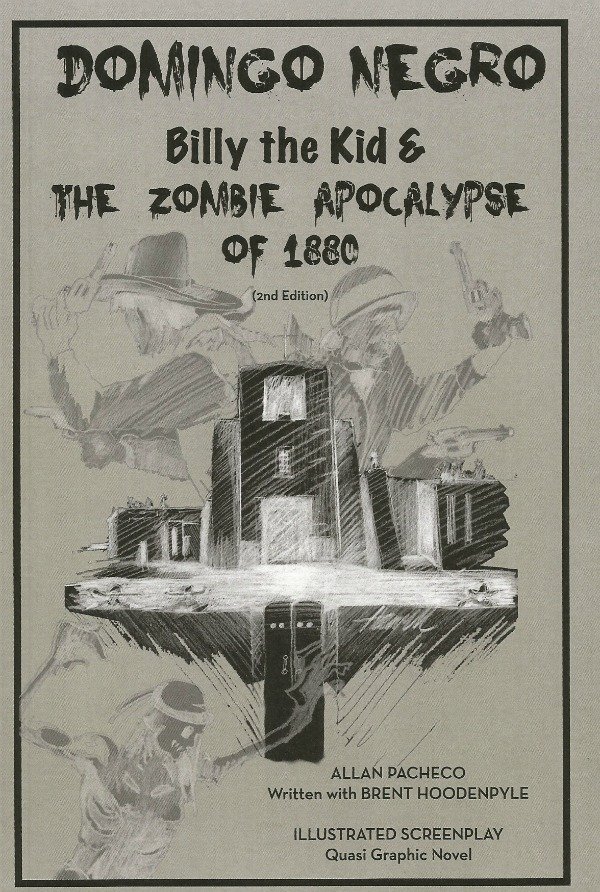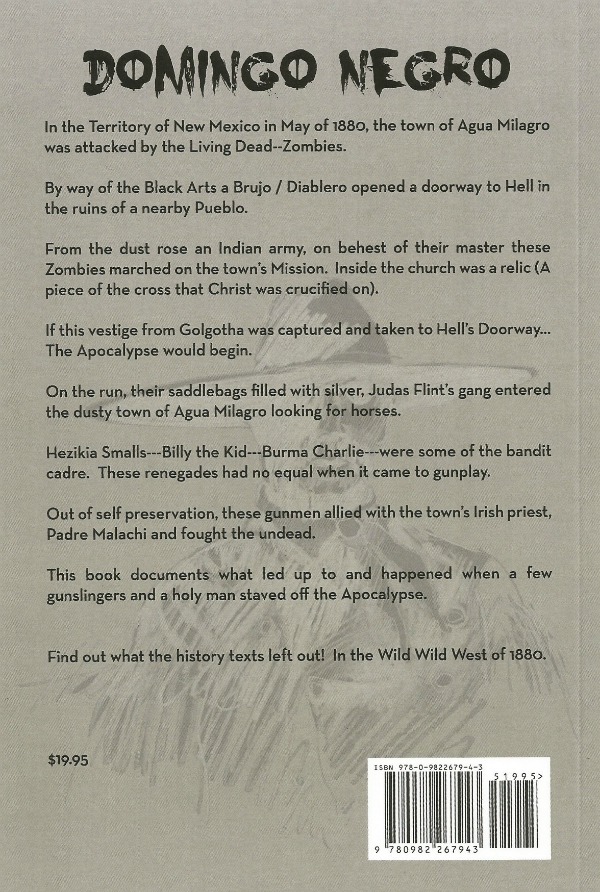 SCHEDULE A TOUR-- BUY A BOOK OR GET ALLAN ON YOUR RADIO SHOW-- 505-986-5002 or 505-231-1336