GHOST TOUR SANTA FE /Day/Night
       505-986-5002 or 505-231-1336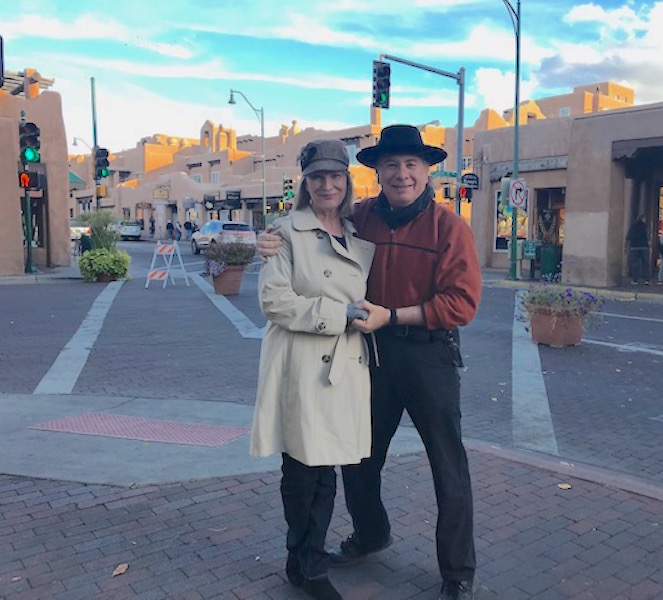 Santa Fe native, Allan Pacheco--leads you through the old town.  Your private Ghost Tour Santa Fe is filled with facts, legends, & tall tales.  

Bring your camera and ghostometer--ghost tour Santa Fe--is a fun and interesting trek that is done at a comfortable pace.  

You get Allan's undivided attention and questions are encouraged, your private tour is free of obnoxious strangers or know it alls. 



Below: on tour at the old Territorial Courthouse Property, which is the home of some interesting MOJO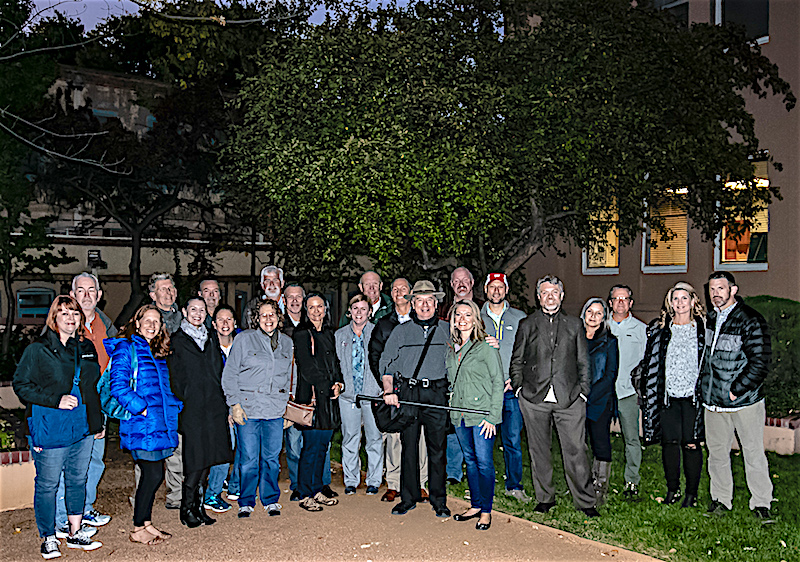 Large or small - it is your private ghost tour Santa Fe!  Reserve a tour-505-986-5002 or 505-231-1336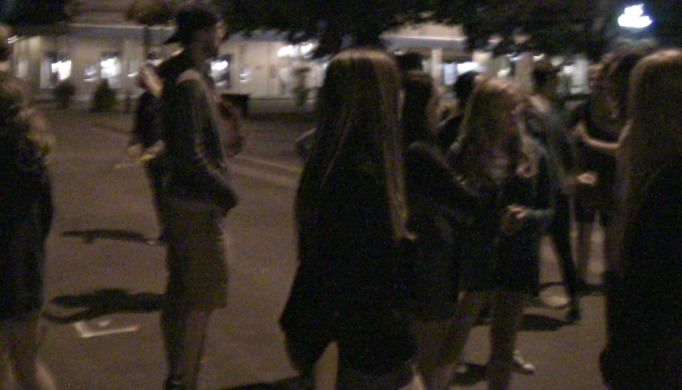 ABOVE AND BELOW PHOTOS ---GHOST TOUR SANTA FE --- your guide ALLAN PACHECO.  You go where the paranormal activity is at --- 505-986-5002 or 505-231-1336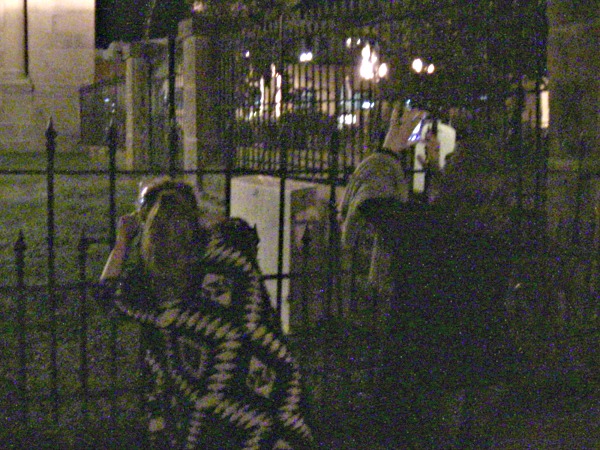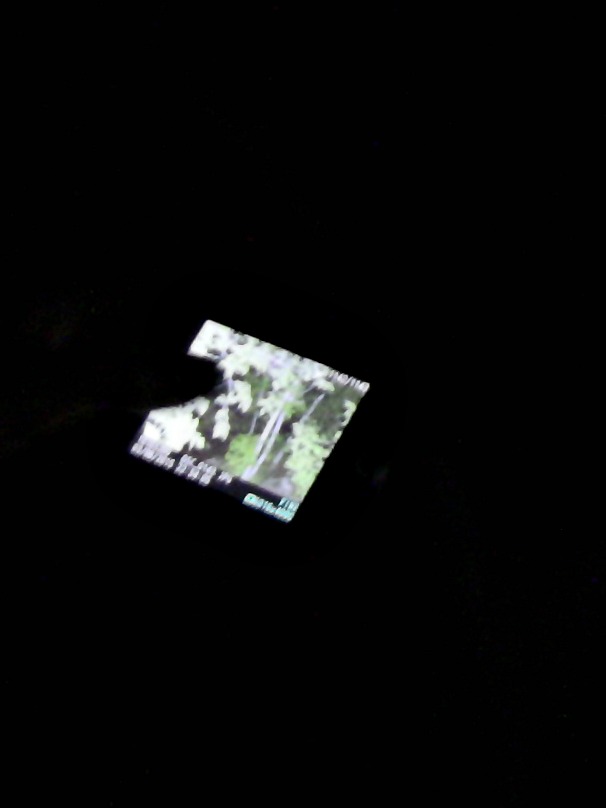 | | |
| --- | --- |
| On your ghost tour Santa Fe,  sometimes people capture ghostly images on film. Nay sayers claim there is no such thing as phantoms, but skeptics and know it alls with credentials have been wrong in the past. Note the right picture.  EL WRONGO! Just because people with credentials endorse a point of view, that does not make that viewpoint correct. | |
Below- before a tour---a photo is taken with this halloween ghost hunter--Allan's tours are done into the dusk, at night and during the day.  

In OCTOBER--- DRESS FOR THE EVENT!!!! SUIT UP!!!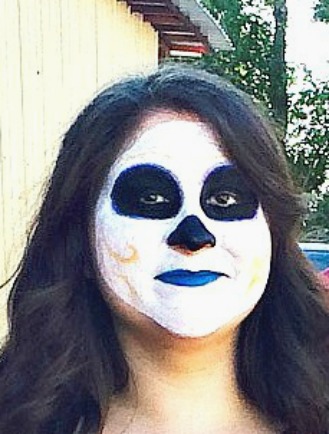 Below: Allan with ghost hunter Terri, she wears her shadow chaser shirt.   
Allan's ghost tour Santa Fe  is a walkabout that you will enjoy + remember.   BRING YOUR CAMERAS AND GHOSTOMETERS! You never can tell, when something will register or be photographed.  Below -- cold was felt,  an energy looking upward? --Light-shadow? Judge for yourself. Nothing was seen at where  the picture was taken.  A strong chill was felt.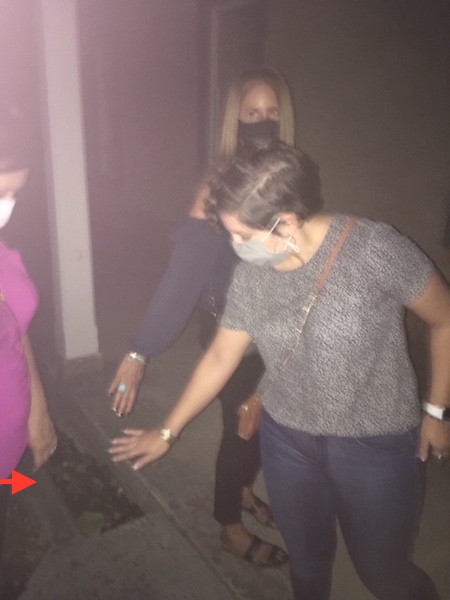 Private event groups, Seminar groups, School class or solo--- your tour takes you through the old town-- day or night! Camera's are encouraged!  
SOMETIMES!!! WHAT IS PHOTOGRAPHED OR FELT-- IS CHILLING! OR SCARY -- BELOW -- AN ORB IN THE PARKING LOT THAT  STANDS OVER A CEMETERY.
IF YOU LIKE TABLOID JOURNALISM, OR TWILIGHT ZONE LIKE--TRUE GHOST STORIES, THEN THIS TOUR IS FOR YOU.

THE YARNS & TALES HAVE BEEN THOROUGHLY INVESTIGATED.  ALLAN IS A GHOST HUNTER OF SOME RENOWN AND HAS BEEN ON COUNTLESS RADIO & TV SHOWS---- ALLAN's TOURS HOLD YOUR INTEREST-- HE IS ALSO A SAG-AFTRA ACTOR.
THROUGH THE YEARS, ALLAN HAS INVESTIGATED THE PARANORMAL IN SANTA FE AND ALL OVER THE USA.  
ON ALLAN's TOURS BALLOONS ARE POPPED & YOU GET THE SKINNY-- SOME OF THE FACTS ARE SCARY
YOUR PRIVATE GHOST TOUR SANTA FE INCORPORATES THE INVESTIGATIONS THAT WERE DONE OVER THE DECADES BY ALLAN IN SANTA FE----GHOSTS-- HAUNTINGS---MACABRE--- UFOs, etc.. 
PRIVATE TOUR WITH ALLAN 505-986-5002 or 505-231-1336 or santafewriter@me.com
On your tour: YOU OWN THE NIGHT, tour guide Allan is not afraid of the dark!  He has researched the haunted places!  

 505-986-5002 or 
                505-231-1336
bring camera & gadgets!  LEFT; On tour headed for the historic mansion, the candle/light in the window. OR IS IT A CANDLE, SEEMS RATHER HIGH IN THE WINDOW FOR ONE? (TO THE Right & behind of photo, ATOP THE old graveyard) Below: outside the haunted OLDEST HOUSE. "GOOD ADVICE" from a ghost on the ghostometer!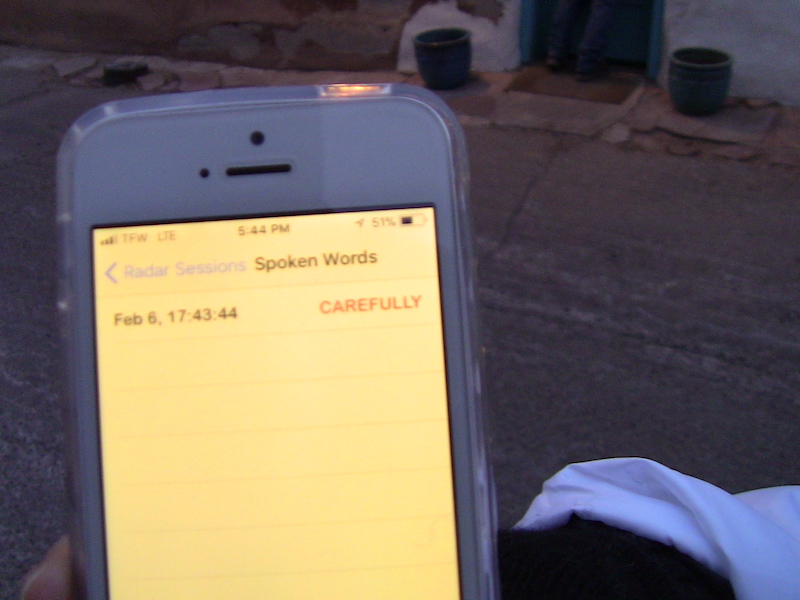 ALLAN's GHOST TOUR--SANTA FE is a combination of the 1970s tv show "In Search Of" with CHILLS + THRILLS + FACTS!  
505-986-5002 or 505-231 1336
What kind of song would capture the spirit of Allan's tours, investigations and wild radio shows? Hmmm?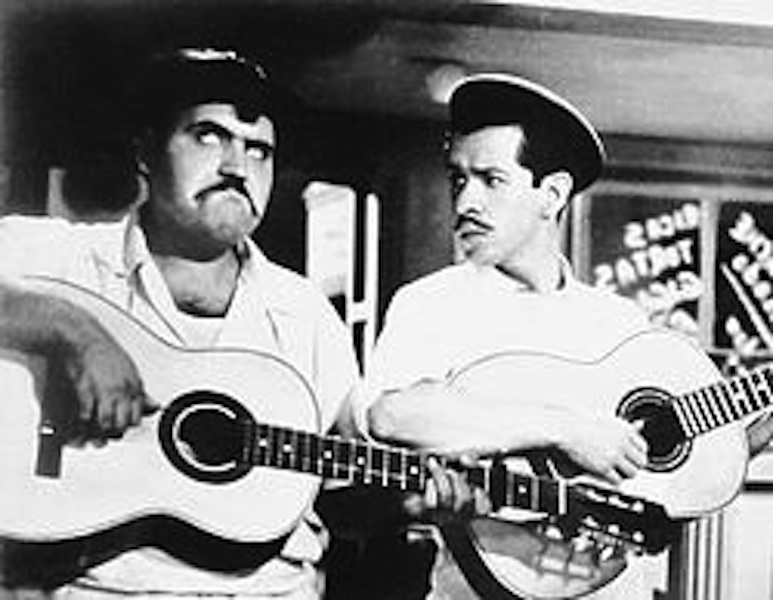 | | |
| --- | --- |
| | Press left icon: This was sent to Allan, the song is "BIG TROUBLE IN LITTLE CHINA".  The tune does kind of capture the theme of Allan's treks, which are fun and adventurous. At times, odd things have happened on the ghost safari.  Schedule a tour. |
TOUR GUIDE ALLAN PACHECO-- Summer night ghost tour.  Bring your cameras & ghostometers -- DO NOT leave home without them.  YOU NEVER KNOW?  505-986-5002 or 505-231-1336.

Tour guide & author Allan pacheco is rarely in a flap.  If you want a guide who is an investigator & a regular guest on many  national paranormal radio shows = schedule at tour with  ALLAN--505-986-5002/ 505-231-1336 santafewriter@me.com
BELOW: The Super Moon of 2014, what a tour that was! All kinds of supernatural thannngs got triggered on that night's tour!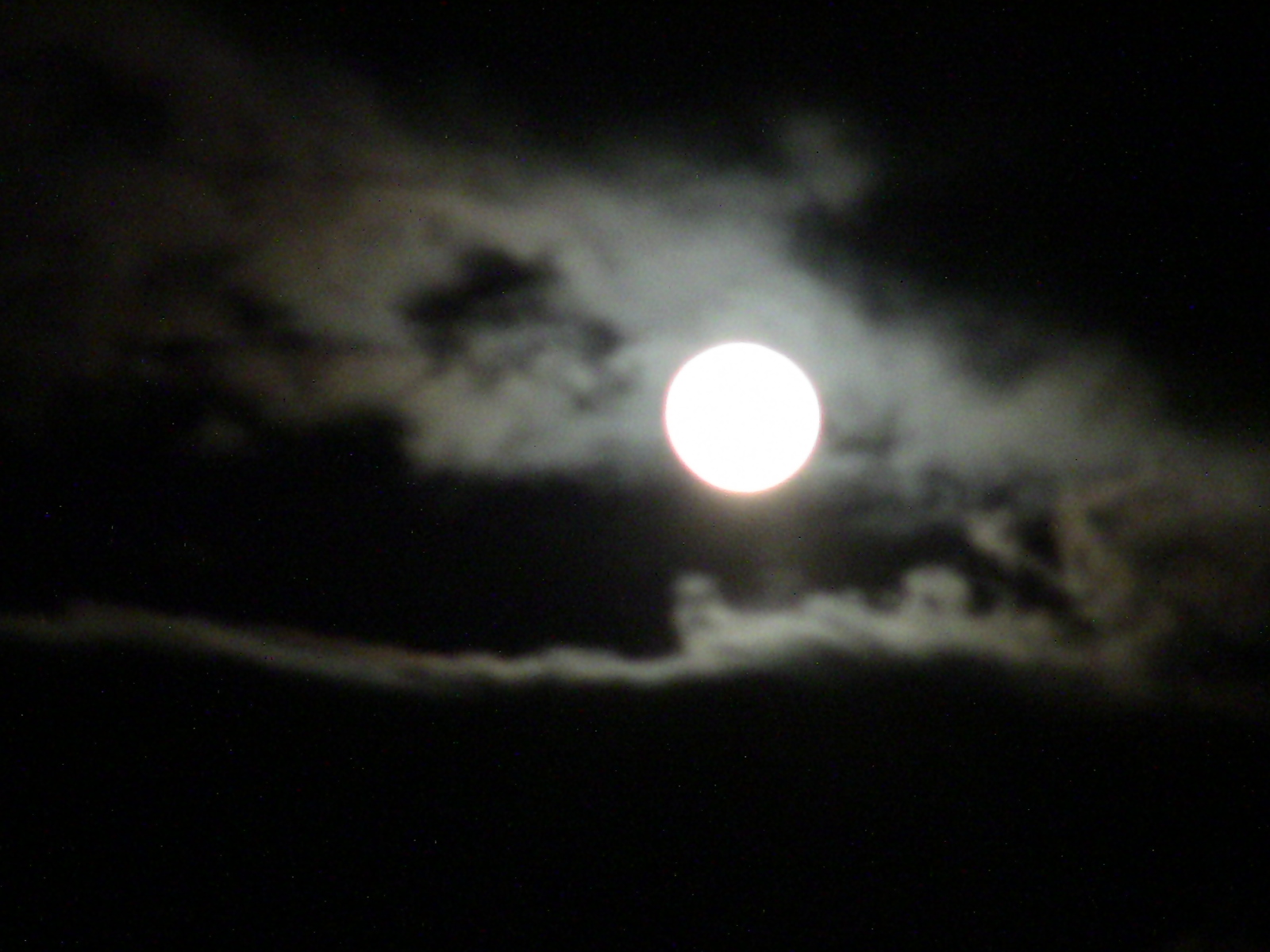 IF YOU ARE IN SANTA FE ---BOOK A GHOST or HISTORY TOUR --  ALLAN KNOWS HIS STUFF--
505-986-5002 / 505-231-1336
| | |
| --- | --- |
|  When you tour with ALLAN, bring your camera! You never can tell. Right-Cathedral graveyard--Below on safari in the old town, something was captured on film… YIKES! | |
TO GET TO HOME PAGE--CLICK ON BELOW ICON

 CALL ALLAN                 505-986-5002 or 505-231-1336   --           santafewriter@me.com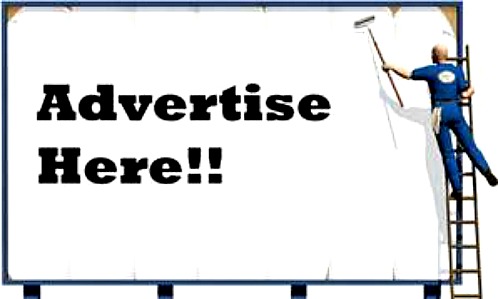 "The Only tour guide who has ghost hunting experience in Santa FE"
Reviewed July 15, 2015
Local historian and Author Allan Pacheco is the only tour guide in Santa Fe who actually has ghost hunting experience and has investigated many areas over his 30 plus years of being in the Santa Fe area. He personally took us to many places where there was history of apparition sighting and shared photographs of some of his personal hunts, with a few photos that stand out, such as one taken in a local cemetery where a power surge of some kind comes up from the ground (grave site) and fries the circuitry of the camera. This is a rare occurrence and exceptional to capture a photo of it through a second camera while it was occurring. He spent a couple of hours with us walking us around and even though it was a pay for tour I felt that I came away with a friend that I could contact as I needed later. 
Not interested in the paranormal?: Allan does historical tours and can leave out the ghostly experiences for the squeamish if requested. He is the author of several "easy read" history books on the Santa Fe area. Grab one for the ride home on the plane and your flight will go by quick, as our's did. 
PS: Allan also has experience in keeping the local beggars at bay while on the tour and they can be pesky in the plaza areas after dark. For the most part they recognize him as a local and will leave your group alone. We never felt threatened while walking the streets at night on this tour. Because of many narrow stairways of the buildings, I don't believe that this tour would be handicapped friendly and you should contact him for the minimum age that he would like to see on his tours. 
....StanJanParanormal
SOME OF THE RADIO SHOWS ALLAN HAS BEEN ON---NEED A GUEST--GET ALLAN 505-086-5002 or 505-231-1336  or    santafewriter@me.com