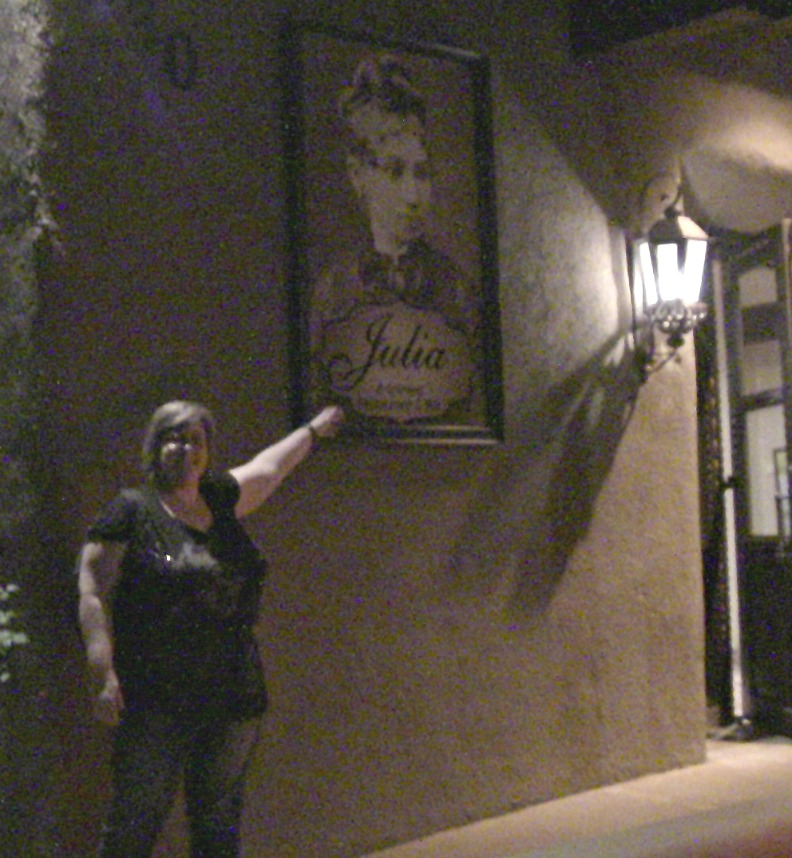 SANTAFEPRIVATETOURS-LAPOSADAGHOST-JULIA-STAAB

THE LA POSADA RESORT--IS HAUNTED --BY THE GHOST OF JULIA STAAB!  

Schedule a Santa Fe Ghost Tour with ALLAN PACHECO  505-986-5002 or 505-231-1336 ---

Scroll Dow = Photos & Data on the Haunting
--- DOCU ABOVE -- EXPLAINS --LATEST REMODELING -- SANTA FE--PRIVATE TOURS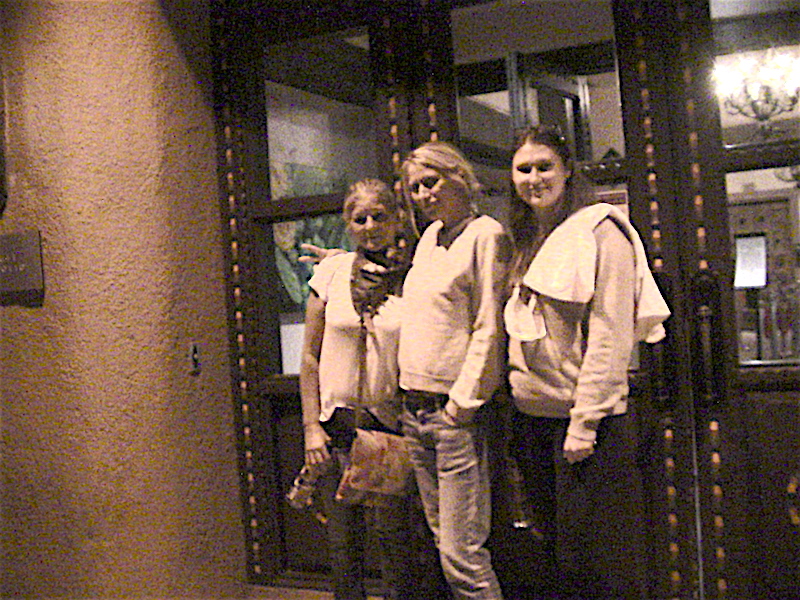 GROUP, COUPLE, OR SOLO TOUR --- W/ ALLAN----- YOU SEE SANTA FE ---------- HISTORY OR GHOST TOUR ------ @ A COMFORTABLE PACE! 505-986-5002 or 505-231-1336 ------ DAY OR NIGHT --- PRIVATE TOURS-----------------------------------------------------------------------THESE PEOPLE HAD FUN! LETS GO TOURING!
---
HERE ARE SOME TIDBITS ABOUT THE HAUNTED LA POSADA --- 
(THE GHOST MOTEL)---La Posada, is a premier hotel resort, it is also home ot the ghost of Julia Schuster Staab, who left this mortal coil in a sinister manner. The main building which used to be the Staab mansion is loaded with paranormal energy.  BELOW: a photo of the old mansion - resort circa 2017 .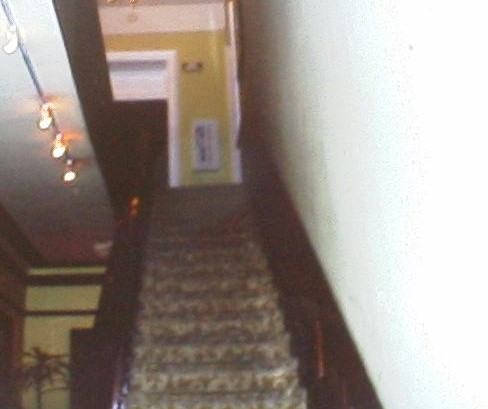 A photo taken on one of ALLAN PACHECO's tours, is that a ghostly cloud atop the stairs? Upstairs in rooms to the left of the stairs is where Julia died in May 1896. Skeptics will say the ghostly cloud is the result of a dirty camera lens. NAY! NAY! NAY!!!------A ghost has been seen or felt, and even photographed in this area since the old mansion became a hotel in the 1930s. The Weird Beards call the property-- the ghost motel. Compare the this left photo with the below photo.
---
Below: A 2019 photo of the remodeled STAAB SUITE window area --- this quasi corner - location is where Julia kept her bureau.

LA POSADA was remodeled, unfortunately Julia's old furniture is no more.  

This is the area where paranormal activity would happen, in this corner by her old bureau which was in mint shape.
BELOW -- AN OLD SNAPSHOT OF THE OLD HAUNTED STAAB SUITE-- BEFORE IT wAS REMODELED.  THIS ROOM IS WHERE JULIA PASSED ON. HER DEATH IS DISPUTED AS IN HOW IT HAPPENED.
SHADOW CHASERS AND PSYCHICS CLAIM THAT JULIA WAS MURDERED. THE ABRAHAM STAAB PARTISANS (ABRAHAM WAS HER HUSBAND) CLAIM SUICIDE.
HISTORY HAS IT, THAT ABRAHAM STAAB WAS CAPABLE OF ANYTHING. JULIA's CUNNING HUSBAND RAN THE "SANTA FE RING" WHICH WAS A CABAL OF BUSINESSMEN AND HITMEN, THAT RULED THE TERRITORY OF NEW MEXICO, AS IF IT WAS THEIR KINGDOM.
ABRAHAM WAS THE ARISTOTLE ONASIS OF SANTA FE. JULIA WAS IMPRISONED IN THE ABOVE ROOM FOR 5 YEARS BEFORE SHE DIED. SADLY THE OLD FURNITURE WHICH WAS JULIA's AND IS SEEN IN THE PHOTO IS NO LONGER THERE. THIS PHOTO IS AROUND 20 PLUS YEARS OLD, OR LETS SAY -- MANY MANY YEARS AGO. JULIA's GHOST AT TIMES USED TO APPEAR AS AN ORB AROUND THE BUREAU, OR AS SHADE IN THE ROOM. --------- THIS INTERESTING PHOTO DOES HAVE A LOT OF THINGS GOING ON.  

Below: a better photo of the AUNK or ANK symbol from the 1976 film "LOGAN's RUN". Notice how the symbol matches the ABOVE -- middle mirror image.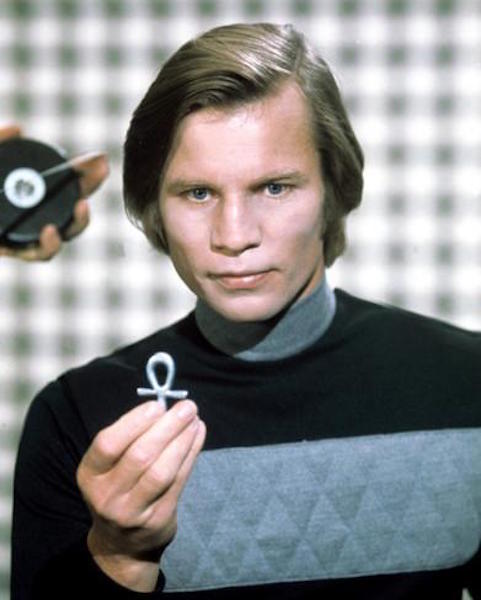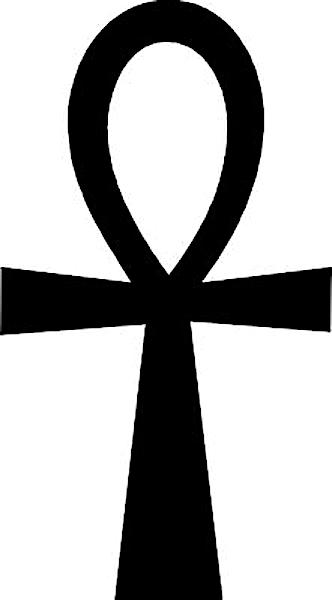 Note the AUNK or ANK symbol in the above- above  mirror picture --  as in how it compares to the above pictures and then how it compares to the below pictures, what significance if any is this?  Note the ghost photos from CASTELLO DELLA ROTTA, ITALY. This ghost has a AUNK or ANK symbol...  Is it an emblem for a secret society, a demonic society, or an SOS symbol?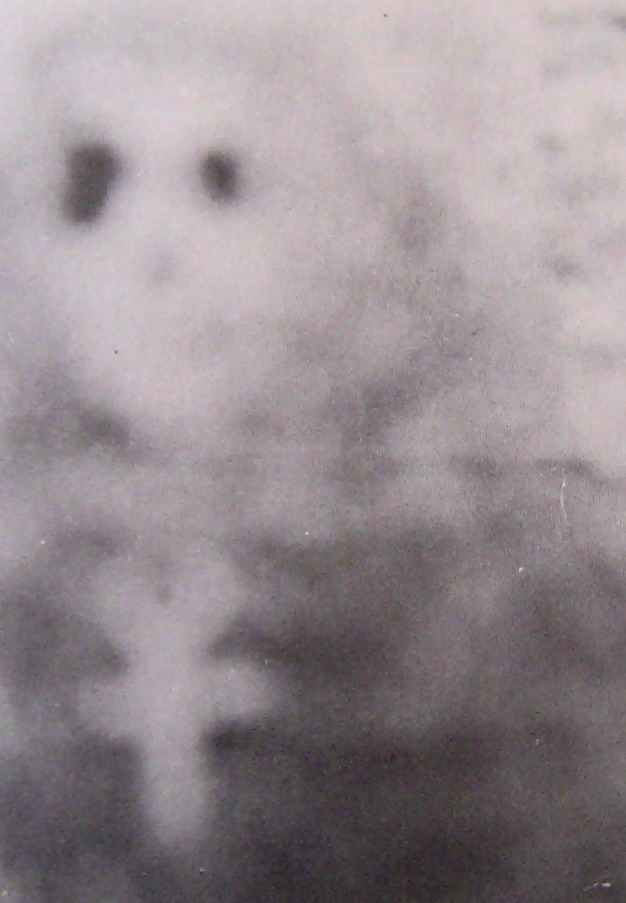 MORE PHOTOS OF THE ITALIAN GHOST- MONK- PADRE or KNIGHT  click here -- many shades
---
The energy at La Posada can be dormant or incredibly powerful -- for example -- one time AL PACHECO was a guest on the old COAST TO COAST radio show -- when the topic turned to JULIA STAAB and haunted LA POSADA -- everything went smash at the radio station. SATELLITE LOCK was lost -- that is impossible,  but it happened.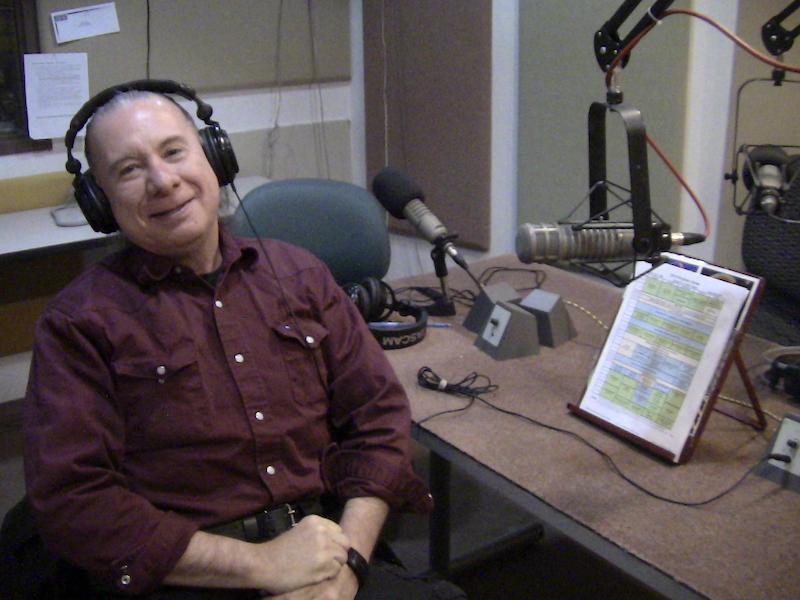 ---
Did the energy of JULIA or ABRAHAM or SECRET SOCIETY ENERGY from LA POSADA's WILD WEST DAYS cause it?  Whatever zapppppped the station -- ALLAN -- enjoyed the high wire radio show -- Get Allan for your show 505-986-5002 or 505-231-1336. 
---
---
---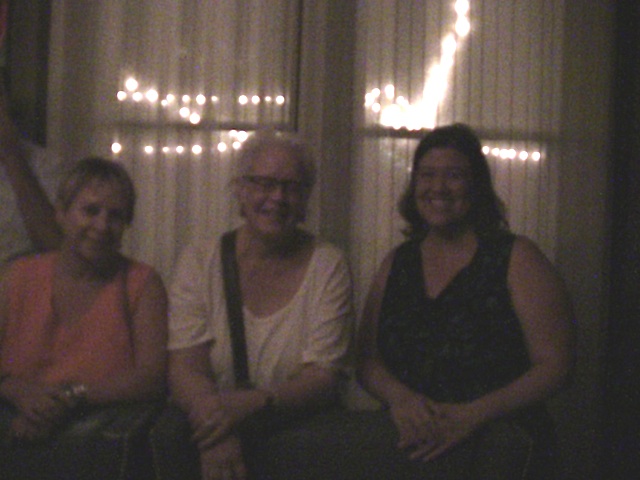 ANOTHER PHOTO OF HAPPY TOURISTS--END OF THE TOUR- IN THE GHOSTLY LA POSADA PARLOR ====ON ALLAN's TOURS ONE NEVER KNOWS WHAT WILL BE CAUGHT ON FILM!  SEE BELOW.
| | |
| --- | --- |
| Right -- THE AL CAPONE OF SANTA FE & NEW MEXICO TERRITORY ABE STAAB -- BILLY MUMMY SUMS UP WHO THIS MAN WAS. | DUE TO HIS DEEDS AND INVOKING = STAAB's  MANSION IS HAUNTED! |
BELOW -- ON A GHOST TOUR -- AT THE STAAB MANSION -- LA POSADA. NOTE THE LETTERING OVER THE DOOR. IS THAT SECRET SOCIETY -- SYMBOL, BE IT SKULL AND BONES OR SOMETHING SIMILAR. IF IT IS  MASONIC, ALLAN PACHECO HAS NOT BEEN ABLE TO FIND ANY LINK THaT ABRAHAM STAAB WAS A MASON.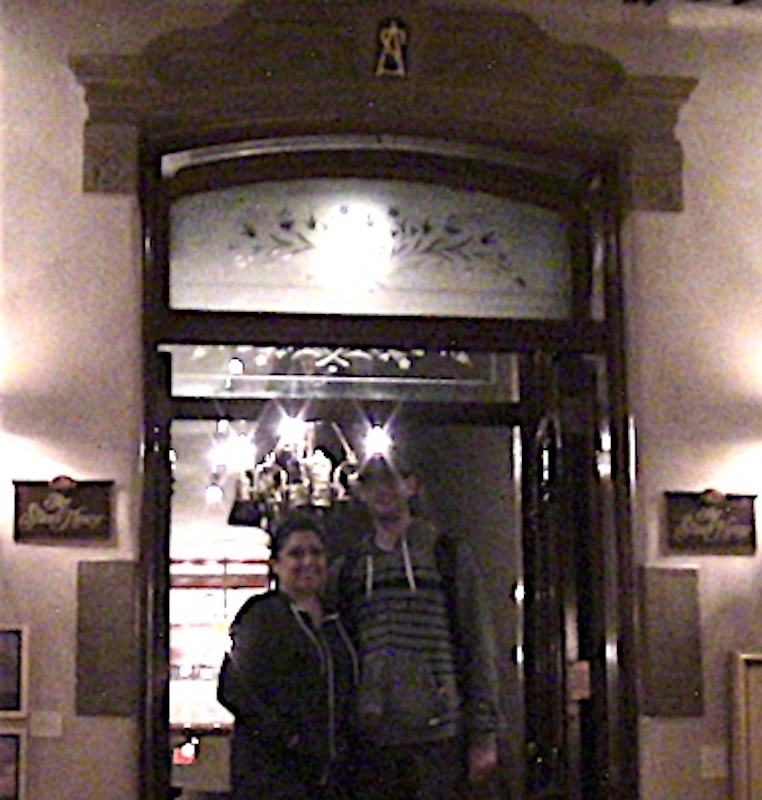 BELOW: THE BAR AT LA POSDA IS FANTABULOUS. ITS HISTORY IS FASCINATING AND AGAIN-- YES -- THE OLD MANSION IS HAUNTED--------CHUCK & JEN IN THE BAR's PARLOR ROOM, AT THE END OF A LATE NIGHT GHOST TOUR.
----CLICK HERE-----MORE TOUR INFO & TIDBITS CONCERNING ALLAN's BOOKS----TALES & YARNS-----

505-986-5002 = PRIVATE GHOST OR HISTORY TOUR = 505-231-1336
---
---

CLICK HERE MORE SANTA FE PARANORMAL & HISTORY INFO---ODD GRAVEYARD-- SANTA FE'S HELL UPSIDE DOWN
BEFORE YOU GET TO SANTA FE--CALL 505-986-5002 or 505-231-1336 SCHEDULE A PRIVATE TOUR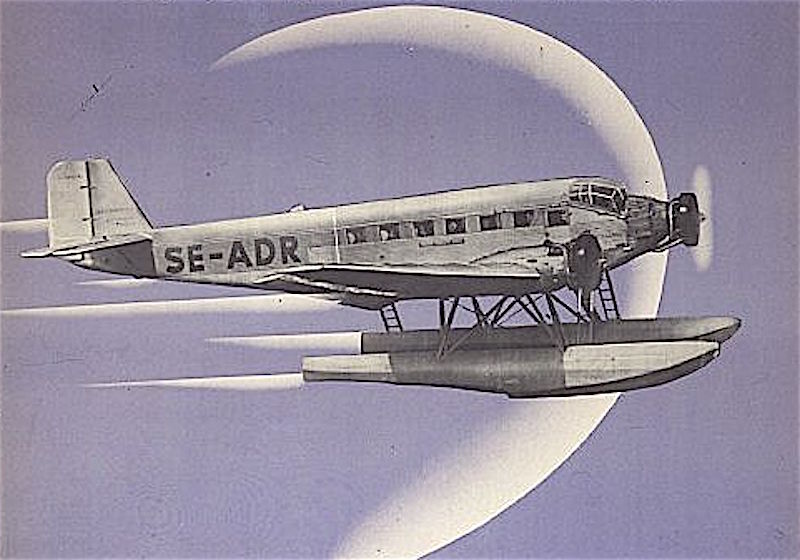 SANTA FE PRIVATE TOURS CLICK HERE FOR MORE INFO
CLICK HERE-----SANTA FE GHOST AND HISTORY TOURS--------MAIN PAGE
//////SANTA FE GHOST AND HISTORY TOURS -- REVIEW PAGE