SANTA-FE-NEW-MEXICO-GHOST-TOUR-ALLAN-PACHECO
= 505-986-5002

led by Allan Pacheco --author -- investigator --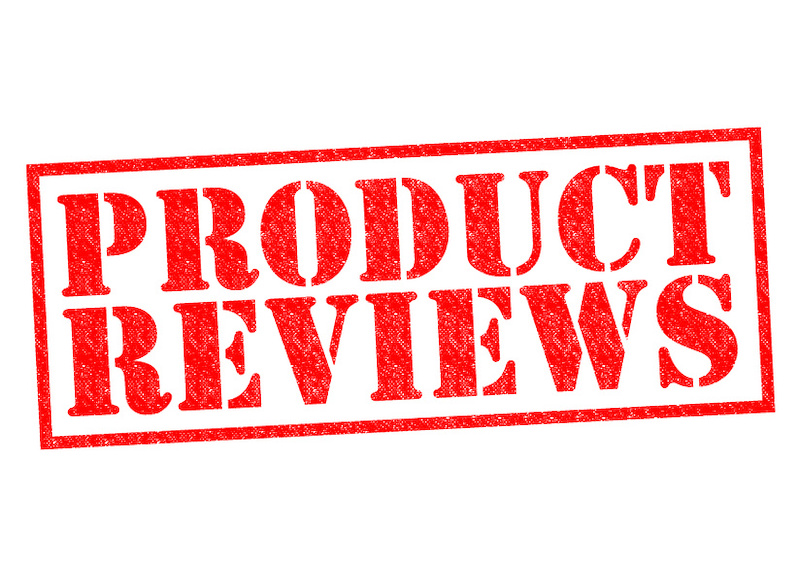 SANTA-FE-NEW-MEXICO-GHOST-TOUR-ALLAN-PACHECO
August 7, 2016
This was an unbelievable tour. Allan was a great guide, who told his stories with so much passion. 
He really brings you into the world of ghosts even if you don't believe in them.

We had a great evening and saw things we could not believe, even now we still have trouble believing what we experienced during the tour. 
But we have the pictures as prove!

Allan Always does his tours himself so reviews about other guides are about other tours.
Nancy
Below: The picture captures the apprehension & fright factors -- OF

Santa-Fe-New-Mexico-Ghost-Tour-Allan-Pacheco

ON safaris, YOU sometimes enter the TWILIGHT ZONE.
505-986-5002 or 505-231-1336.
Above: Haunted Marian Hall - at times thanks are scene or captured on film in this area.
| | |
| --- | --- |
| Below: BAD MOON RISING over a Santa Fe tour led by Allan.  The moon does look sinister or eerie.  The song on the RIGHT -is appropriate, for the tour had spills, chills and thrills. | |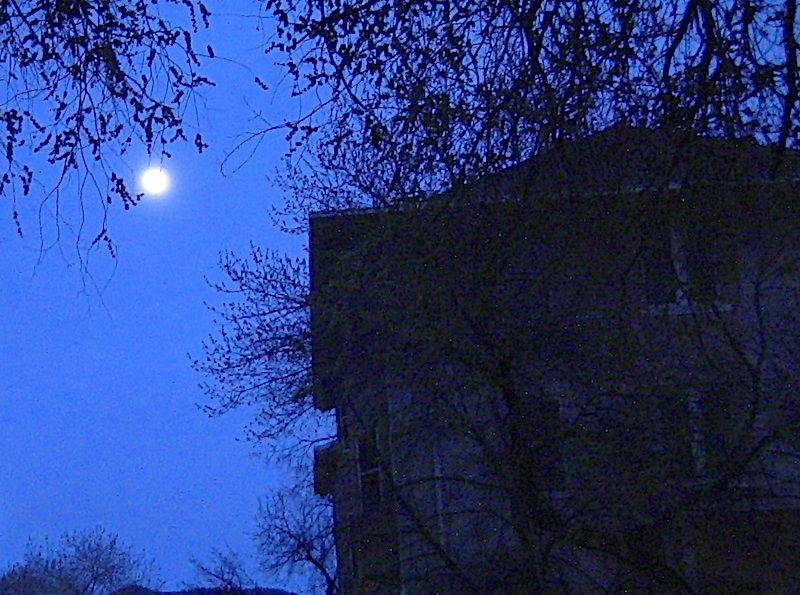 Above &Below: Haunted Marian Hall, schedule a tour 505-986-5002 -- THE BELOW PHOTO -- THAT LIGHT IS NOT A SECURITY GUARD WITH A FLASHLIGHT, THE PHOTO WAS LIGHTENED, THERE IS NOBODY THERE. 
Below; Sunset Santa Fe, on the left is Marian Hall, even with daylight the place looks haunted. Well, it is!
SANTA-FE-NEW-MEXICO-GHOST-TOUR-ALLAN-PACHECO ---- BELOW A SERIES OF PHOTOS FROM  ANOTHER GHOST TOUR. THEY ARE PROBABLY A TRICK OF LIGHT --- BUT THEY ARE INTRIGUING, THAT WINDOW OR AREA -- HAD AN IMAGE AND  THEN -- WHAT HAPPENED TO IT?  WHERE DID IT GO?  A LIGHT ON AND THEN OFF, BUT THE PLACE WAS DESERTED?  HOWEVER -- THE IMAGE DOES FILL UP A GOOD PART OF THE WINDO. SO WHAT IS IT -- A FLASHLIGHT FROM A SECURITY GUARD INSIDE DOING HIS ROUNDS? THE  IMAGE WAS BLOWN UP -- AND IT  CAN LOOK LIKE A HEAD -- LOOKING OUT THROUGH THE GLASS -- THE WHAT IS IT. REMEMBER -- MARRIAN HALL HAS BEEN KNOWN FOR ITS GHOSTLY ACTIVITY -- THROUGH THE CENTURIES.  ANOTHER POSSIBILITY -- A PRANK --- THERE ARE PRANKSTERS -- OUT THERE -- THEY GOT ALLAN'S CAR  ONE NIGHT WITH  HALLOWEEN MEMORABILIA... THE PHOTO BELOW AS TAKEN TO CAPTURE THE FULL MOON OVER MARRIAN HALL --- SO WHAT IS IT -- THE FULL MOON IS NOT A PRANK -- SO IS THE THAAANG IN THE WINDOW LEGIT?  CURIOUS PHOTO.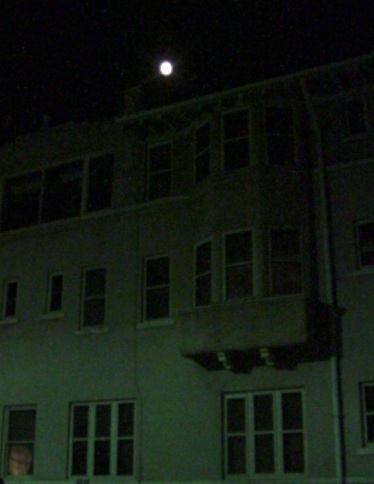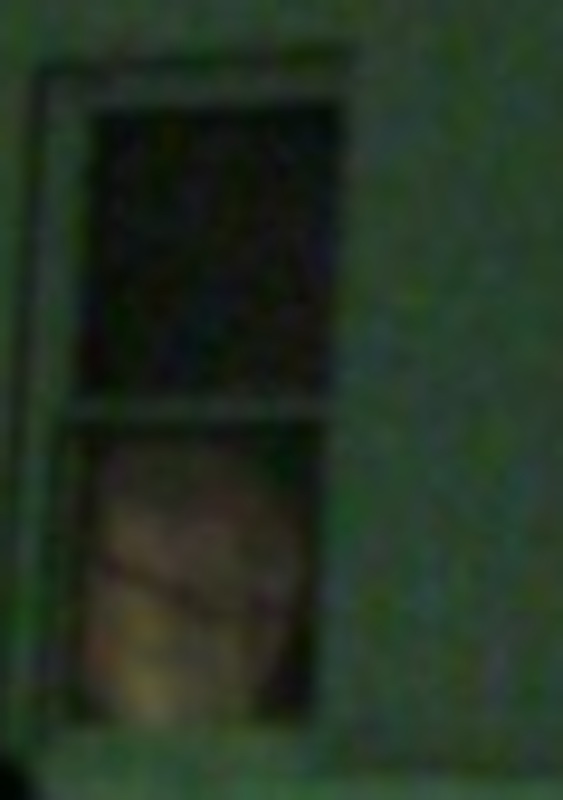 Santa Fe is one of the most haunted cities in the USA, ghosts abound due to the Royal City's macabre history.  BELOW: Some people say they see something -- maybe there is an orb or something ghostly in the window, maybe? YEA or NAY?

BELOW: In this picture on the haunted balcony -- known as the BETTE DAVIS BALCONY --- something was captured on film during one of Allan's  (Santa Fe New Mexico Ghost tour). 505-986-5002 

ABOVE --  What is it?
IS it an ORB OR GLOBULAR and are these things an unknown energy?    Or IS IT A TRICK OF LIGHT?

Whatever your answer is, there are locations in and outside of Santa Fe, that through the centuries have been known as being haunted.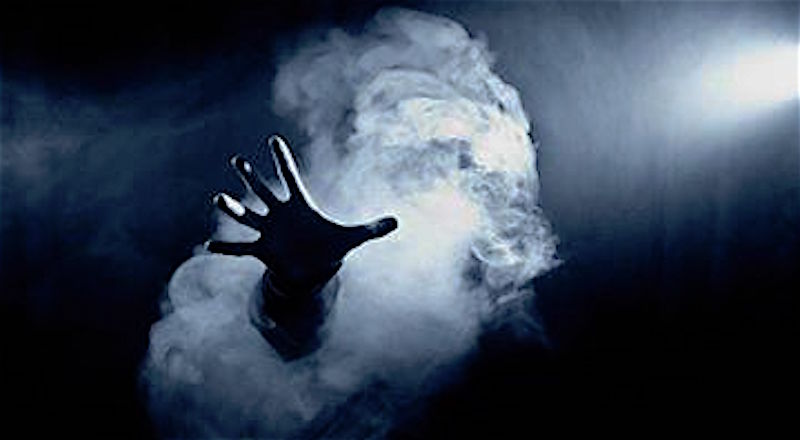 Below: Touring with Allan, these two stayed in the Drury Hotel's "dreaded" room 411.  As the husband pointed, Allan told them the tale -- the facts -- the lies -- the lore of the haunted ROOM 411!! GASP!!!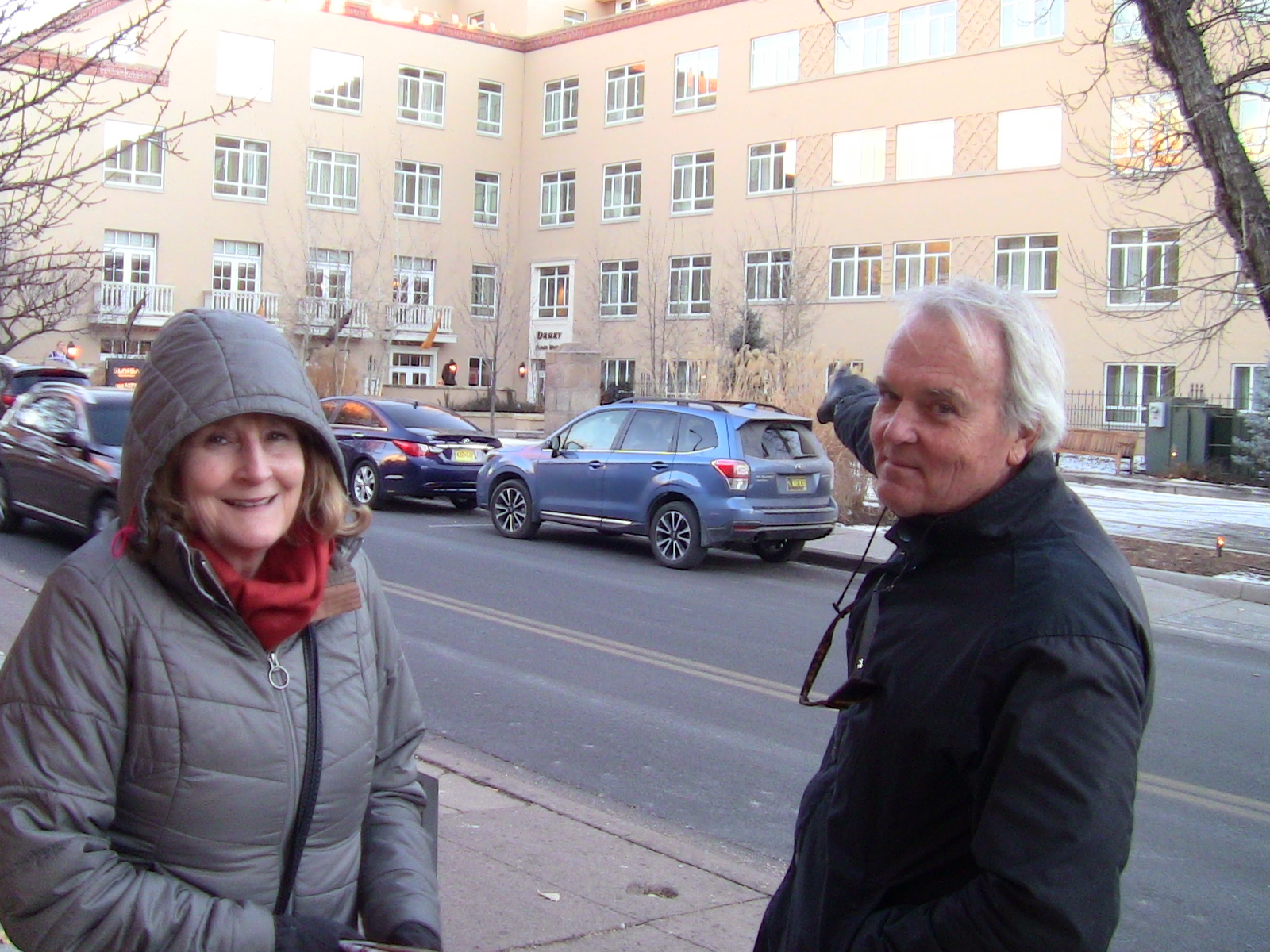 Above on tour --- sometimes thaaangs are encountered or photographed on your Santa Fe New Mexico ghost tour… It does not matter how inexpensive or expensive your equipment is, bring it. When you SAFARI with ALLAN …. paranormal activity can be registered on all types of gadgets, one brand does not fit all --- as in pulse or movement.Below: Outside the Cathedral, left of the entrance area, the old graveyard. 

Above & Below, different Santa Fe New Mexico Ghost tours -- the Cathedral.
Not sure about the year in the below photo -- above today -- below during Wild West days.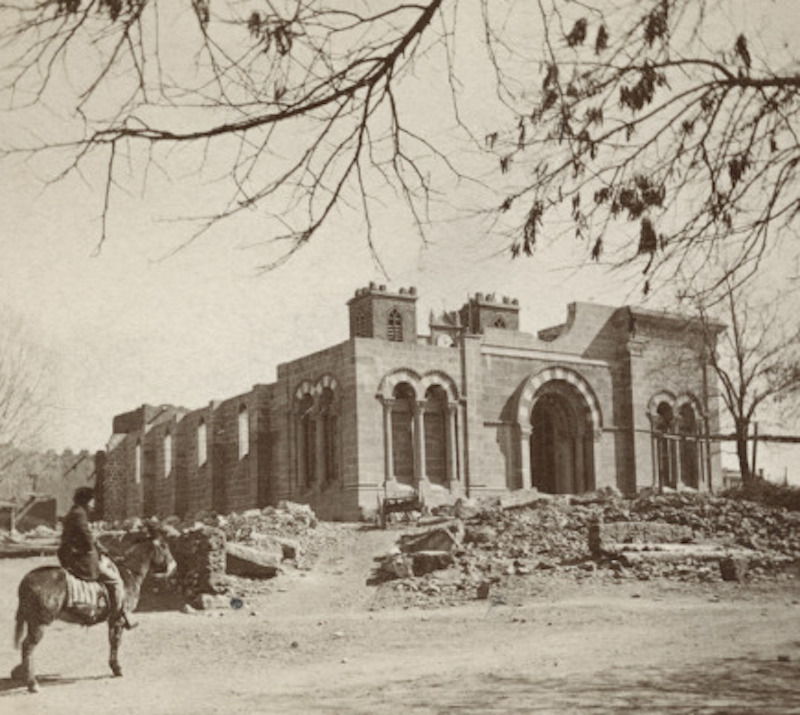 ABOVE -- 1885 CONSTRUCTION OF THE CATHEDRAL -- TOUR GUIDE ALLAN PACHECO -- BELOW -- CONTEMPORARY TIMES --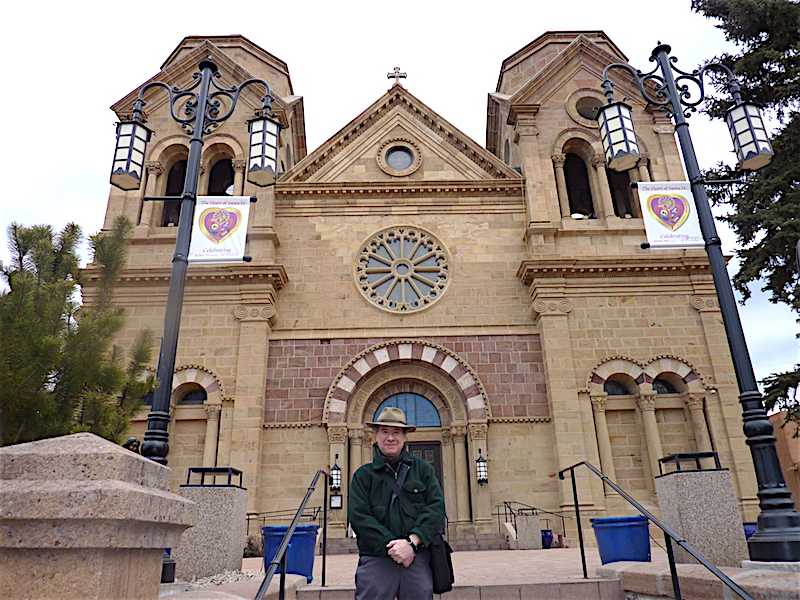 Below: On a Santa Fe New Mexico Ghost Tour -- on the way to Shades of Death Path looking back on Spook Lane -- note the oblong out of place burst of light in the photo, lower right side of path. Some shadow chasers think they can see something in the tree?  Is it a shadow, trick of light or is it --- an inhabitant of Spook Lane. 
Below:  Appropriate music for some of the places the tour goes to.  GULP! !  Thaaangs happen on tours, bring a camera -- no zombies but ghost have been photographed -- are they not the undead in a technical WEIRD BEARD sense?
IF night tours are to intense, or your schedule does not allow for an evening safari   -- Ghost tours are also done during the day. Set up a tour day or night 505-986-5002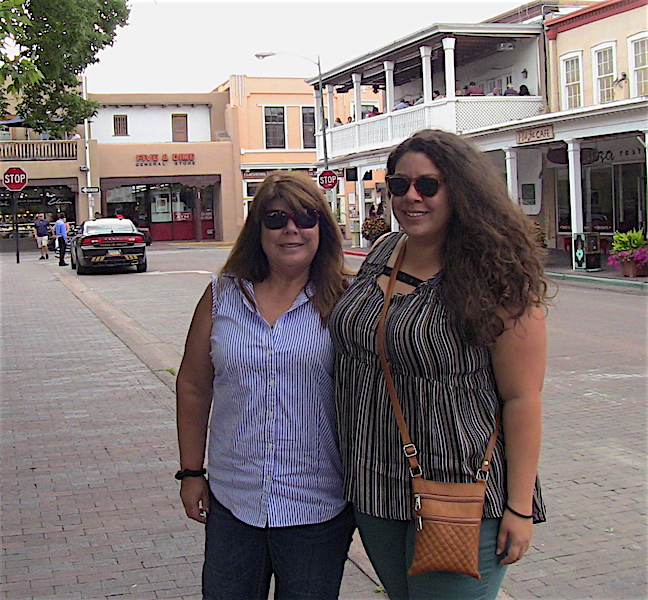 Get Allan Pacheco on your radio show  505-986-5002
Some of the Programs Al has been on, topics = ghosts, Santa Fe paranormal, investigations, conspiracy, ufos, the missing --- Pecos Triangle, etc...