SURVIVED-GHOST-TOUR-SANTA-FE  -- SANTA FE --  Below: people who went on a ghost walk with Allan Pacheco 505-986-5002 --505-231-1336 = Fun -- Interesting --- Family -- Friends -- tours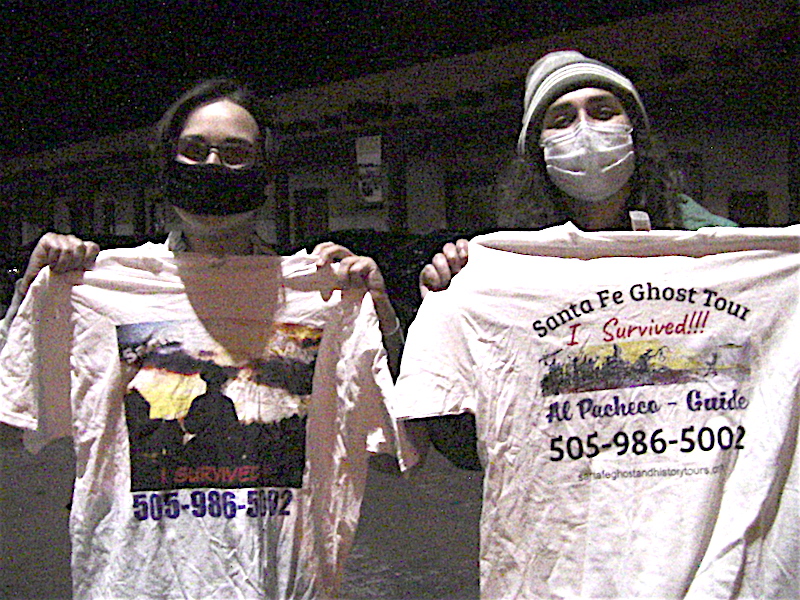 REVIEW --- ALLAN PACHECO's SANTA FE GHOST TOUR 505-986-5002 or 505-231-1336
SURVIVED-GHOST-TOUR-SANTA-FE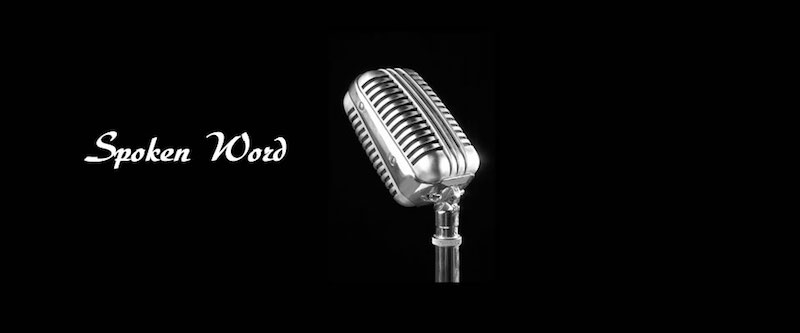 OCT20, 2020
Not only is Allan incredibly knowledgeable about the history of Santa Fe (in general and in terms of paranormal activity), but he was also our pit bull. He kept us safe and made sure we got back to our car after we heard a gunshot. A spooky way to end a spooky tour!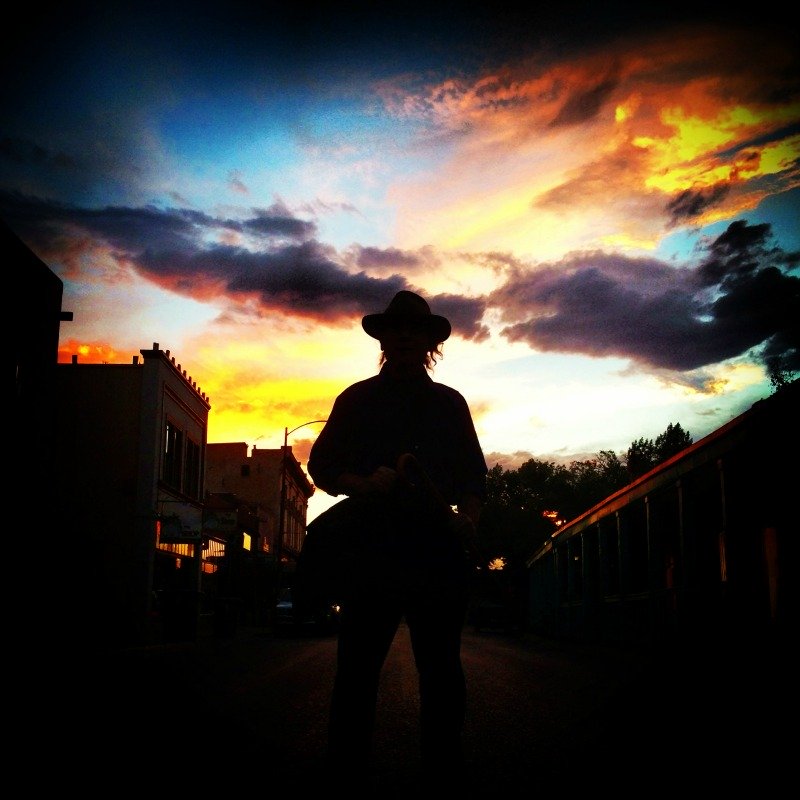 SURVIVED-GHOST-TOUR-SANTA-FE  -- These people trekked by and through some haunted Santa Fe locales. These hardy should had fun and survived -- will you -- wink-wink 505-986-5002 or 505-231-1336 
SURVIVED-GHOST-TOUR-SANTA-FE --- Below: these two New Mexico Cowboys survived! (Father & Son) Lance & Cole are two Catron County Cowboys who have taken Allan's tour, 3 times... These guys know their history and always want to learn more about WILD WEST SANTA FE... Their knowledge of the nefarious SANTA FE RING is superb, they have given Allan a few insights in how Abraham Staab & Thomas Catron (Santa Fe Ring Gangsters) expanded their carpetbagger empire.   Yes on Ghost Tours -- some History is thrown in.  Be READY TO DRAW in certain haunted areas -- shoot down the ghosts -- wink-wink.
Day tours -- Night tours -- will you boldly proclaim -- that you are in the category of  / SURVIVED-GHOST-TOUR /   -- ON your ghost tour we do trek through -- are haunted locales --- got guts -- go on one of ALLAN PACHECO's ghost walks... His History tours are superb, as well.  505-986-5002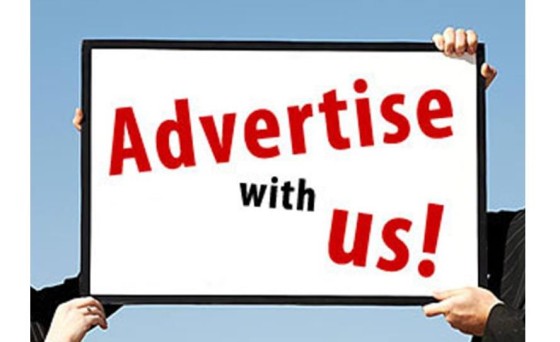 When you ghost safari with Allan Pacheco --- 505-986-5002 --- you go to some interesting haunted places --- or places that through the centuries activity -- paranormal has been reported.  That is why --- (THE I)  SURVIVED-GHOST-TOUR -- boast is so appropriate when you tour with AL PACHECO
ABOVE & BELOW --- on your SURVIVED-GHOST-TOUR  = SPOOK LANE -- the blocked off areas ---  evening tour picked up  a chilling vibe + something was  registered on  the ghost box.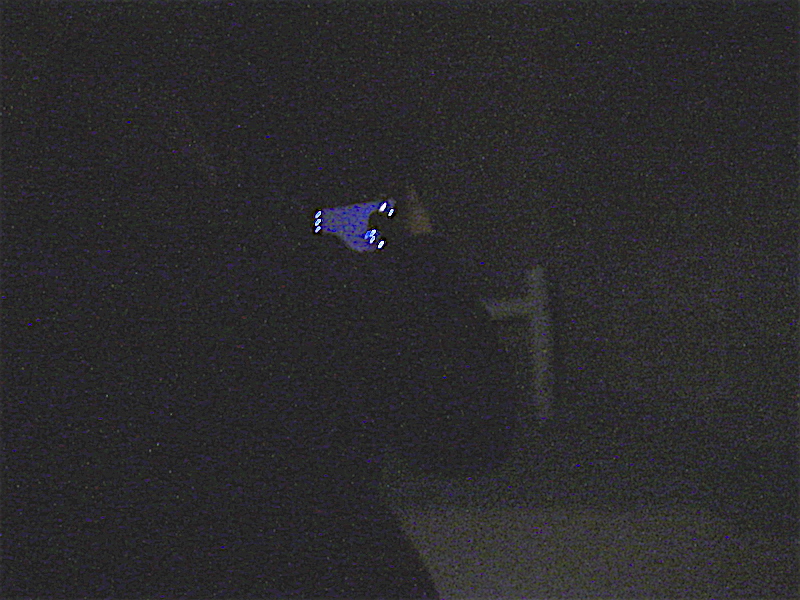 Below ALLAN on tour inside haunted La Posada  with a brave Estonian! The lady from the Baltic was a LIONESS, what a great tour, filled with some paranormal, happenings.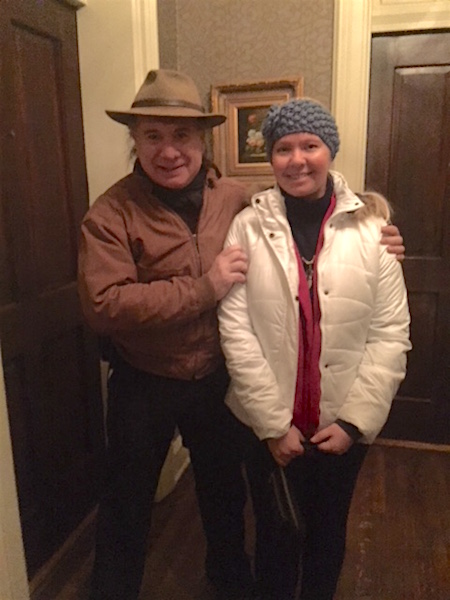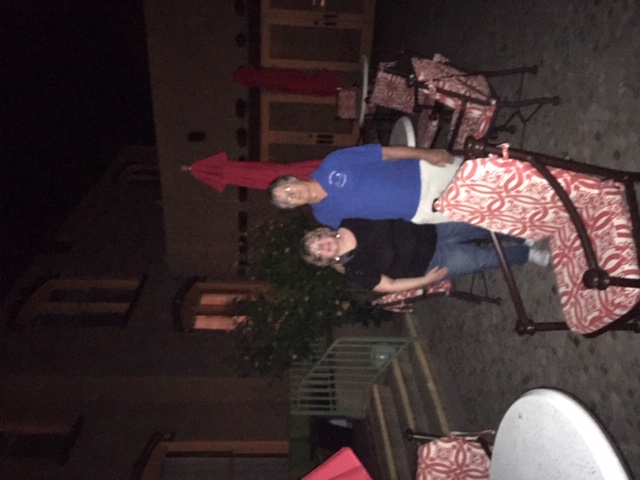 SURVIVED-GHOST-TOUR-SANTA-FE

ABOVE -- OUTSIDE of THE HAUNTED ( MURDER ROOM ), SANTA FE SLANG FOR THE LOCATION -- 2ND FLOOR --- at THE LA POSADA. THE LOCALE IS WHERE ( THE POLITICALLY CORRECT VERSION ), OF WHERE JULIA STAAB MET HER FATE.  

THE COUPLE IN THE PHOTO TOOK A LATE sUMMER NIGHT TOUR WITH AL PACHECO.

THE NEXT PHOTO-BELOW, WHAT GIVES?  NO IDEA WHY OR WHAT HAPPENED?  
THERE SHOULD NOT BE A TRICK OF LIGHT --IT IS A PHOTO -- FOR INSURANCE -- IN CASE  OF A BLUR IN FIRST ONE.

SO WHAT IS THAT FOG -- OR MIST --  IS IT THE ENERGY OF JULIA STAAB -- WHO HAUNTS  HER OLD MANSION, THAT IS NOW A RESORT? 

FLASH from a camera? -- THere was nobody next to TOUR GUIDE  AL PACHECO, with a flash camera ---  THE GUIDE -- ALLAN, and duo  were  in a deserted area of the resort, nobody else was there.

REPEATING -- THE MANSION WAS DESERTED AND  THE TOUR + GUIDE  -- ALLAN PACHECO -- EXPLORED THE HAUUNTED GROUNDS AND MANNER.

THIS PHOTO WAS TAKEN DURING THE  -- IDIOTIC -- COVID SHUTDOWN.  CONSEQUENTLY -- ALLAN's TOURS DURING THIS TIME, WERE ABLE TO GO TO PLACES THAT WOULD BE JAMMED WITH TOURISTS DURING THE SPRING AND SUMMER.  
WITH "BIDEN's , MORONIC SHUTDOWN."  A.K.A. 
"THE GREAT RESET,"   LA POSADA -- AS IN THE OLD MANSION WAS PERHAPS FILLED WITH ENERGY THAT WOULD NOT NORMALLY BE THERE, due to the crowds.

BOOK A TOUR WITH ALLAN PACHECO 505-986-50002  or 5050-231-1336... COMING SOON HIS PARANORMAL  PODCAST -- FROM SANTA FE.
SURVIVED-GHOST-TOUR-SANTA-FE -- This young lady from NORTH CAROLINA went on one of AL PACHECO's paranormal tours -- and had a wonderful time.  BOOK A TOUR 505-986-5002
ABOVE & BELOW -- different  safaris -- same location. Sometimes there is no energy at a location  and other times ==evn during the day -- the vibe is felt or on your  SURVIVED-GHOST-TOUR --- energies are detected with the SHADOW CHASER  gear.    Note the look in the group below -- a burst of unearthly or scary energy was felt,  the lady in the black got a good blast of it, she has her hand over her chest.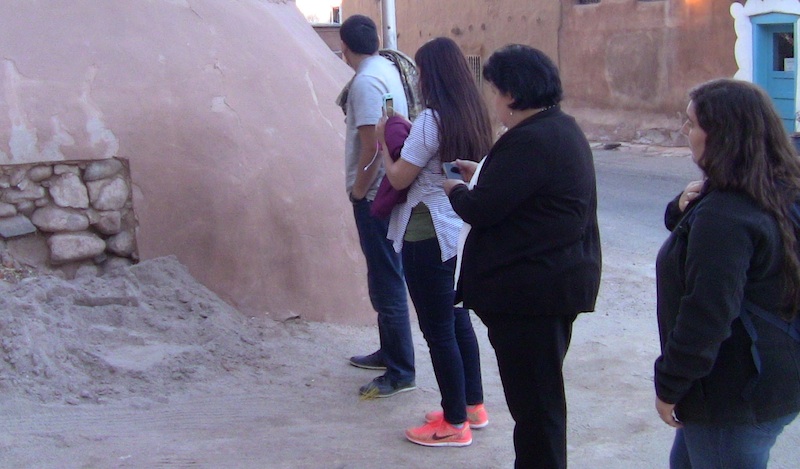 THE LEGEND OF HELL HOUSE -- SANTA FE -- Below the haunted OLDEST HOUSE - click here --
One of the lanes where energies have been photographed --- there are different routes Allan takes for his   tours --- THE HAUNTED -- MEAN -- CAMINOS of SANTA FE.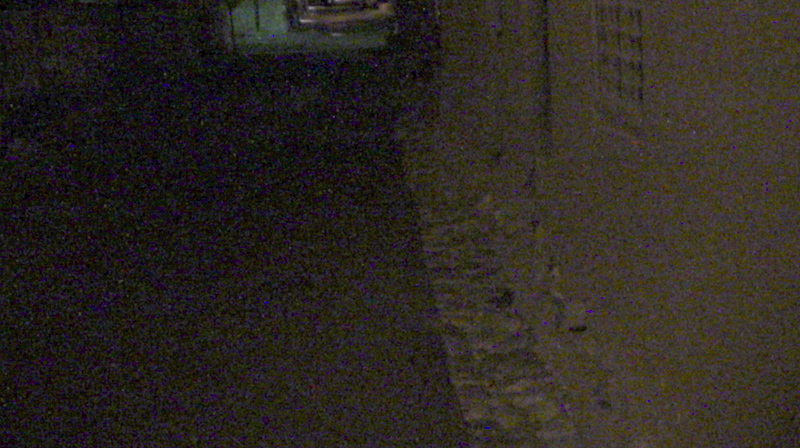 Notice how the below  photo is charged with energy --- on tour this lady did some GHOST HUNTING -- GHOST RODS, they picked up some type of energy and then some more!

ABOVE & BELOW -- on tour --- shadow chasing with  DOWSING RODS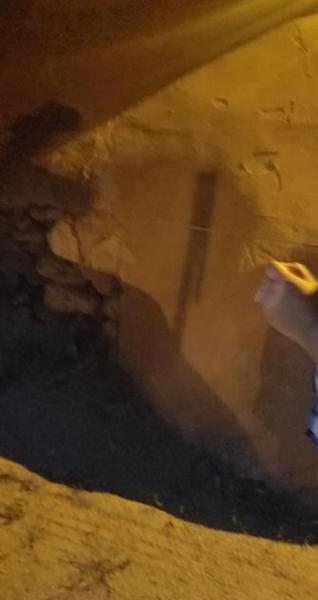 This area -- on EAST DEVARGAS STREET on occasion is known for its paranormal activity.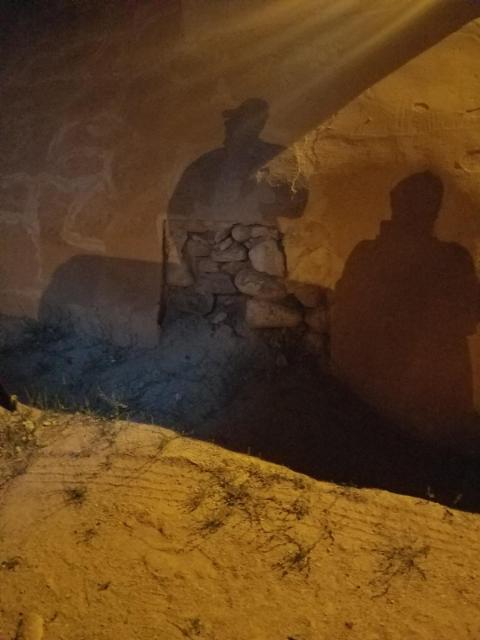 GHOST TOUR SANTA FE! DIG IT!!!  
BELOW
505-986-5002 AT THE END OF THE SAFARI -- you can SAY --- I --- SURVIVED-GHOST-TOUR-SANTA-FE   ---- and THE TOUR WENT BY AND THROUGH, SOME HAUNTED AREAS! 

THIS IS THE SANTA FE GHOST CLUB KNOWN AS THE KOOKS --- THEY SURVIVED THE SAFARI!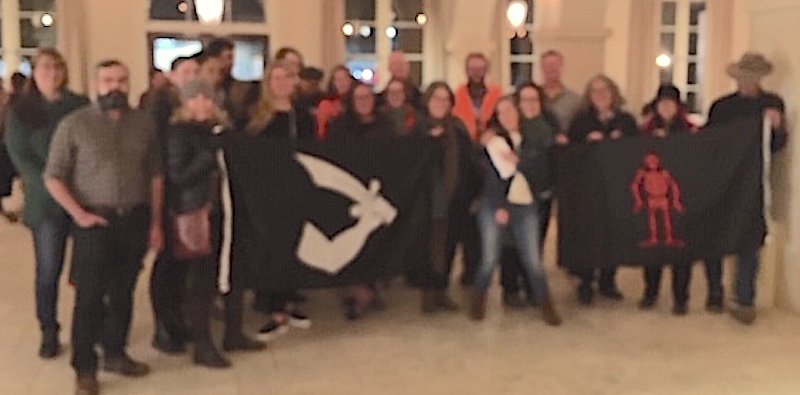 BELOW -- OLDEST HOUSE -- BEHIND THE DOWSERS -- WHAT IS THAT DARK THING -- BY THE FAR RIGHT LADY.  TRICK OF LIGHT OR CONTACT? NOBODY SAW THAT DARK THING WITH THE NAKED EYE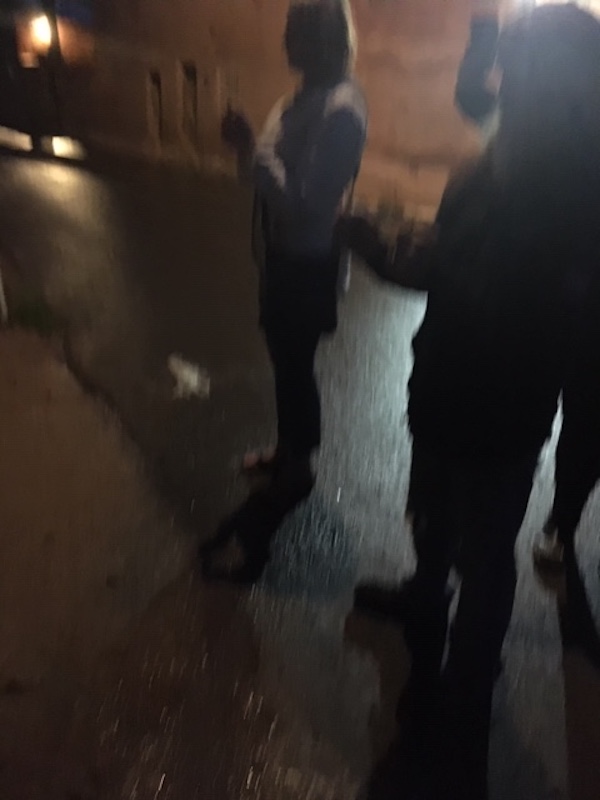 On your SURVIVED-GHOST-TOUR --- got ghost gadgets -- bring them... 505-986-5002 THE PAGE YOU CAME IN ON -- GHOSTOMETER -- Click here