AL-PACHECO-GHOST-TOUR
           /505-986-5002/    /505-231-1336/   
                                                         Day or night safari!

AL-PACHECO-GHOST-TOUR --- explore Santa Fe at a comfortable pace,  your ghost walk passes by or through some haunted areas..  
AL-PACHECO-GHOST-TOUR  --- you are led by a hands on metaphysical investigator, who is a sought after Paranormal radio -- television --- film --- guest...   Your guide know's his stuff --- if you want a tour where you can ask questions this is the one 505-986-5002 or 505-231-1336
AL-PACHECO-GHOST-TOUR ---- Got a GHOST-AP on your I-PHONE  ----- Got a GHOSTMETER ----- Got Guts ---- BRING IT!  505-986-5002 or 505-231-1336... Large Group-- Small Group-- Couple -- Solo Seminar Group --- Class Group --- a spirit walk --- AL-PACHECO-GHOST-TOUR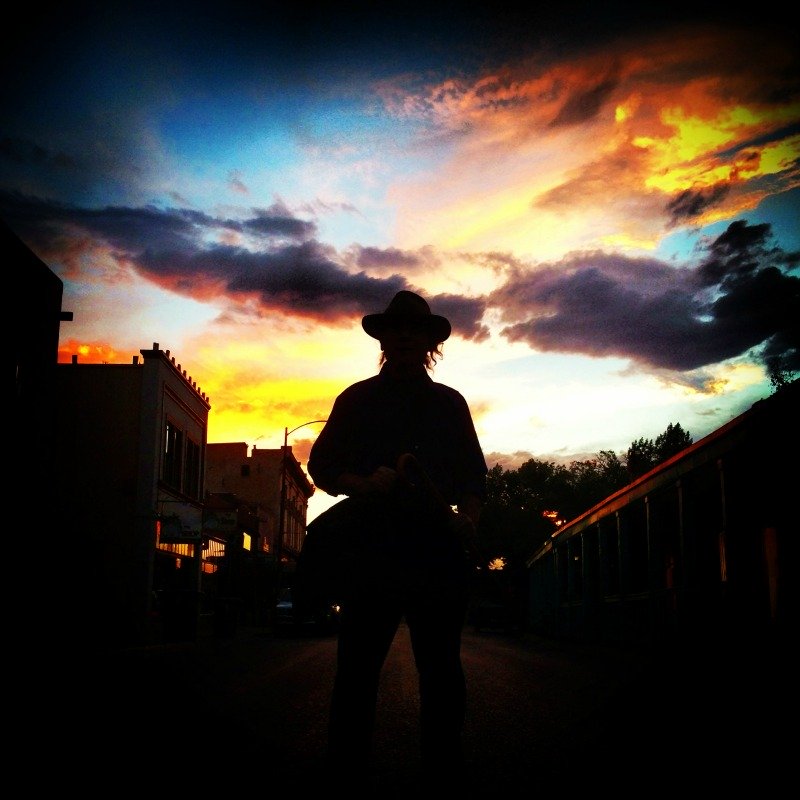 AL-PACHECO-GHOST-TOUR ---------------------- --- Santa Fe --- macabre tales. 505-986-5002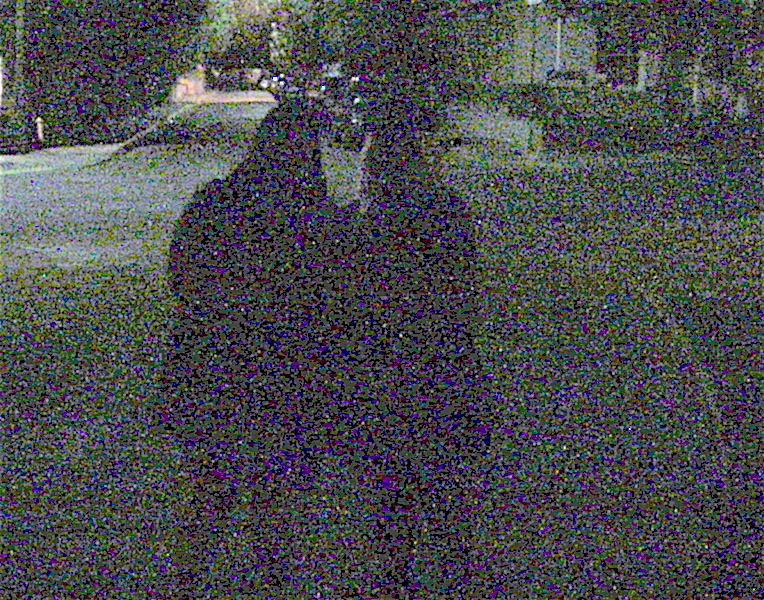 ---
MANY PEOPLE HAVE ASKED TOUR GUIDE/AUTHOR ALLAN PACHECO TO ELABORATE ON THE GHOST THAT HAUNTS LA POSADA---HERE IS THE "SKINNY".  THE HOTEL USED TO BE THE MANSION OF ABRAHAM STAAB --(BELOW) DURING SANTA FE's WILD WEST DAYS. STAAB WAS A WICKED EMPIRE BUILDER.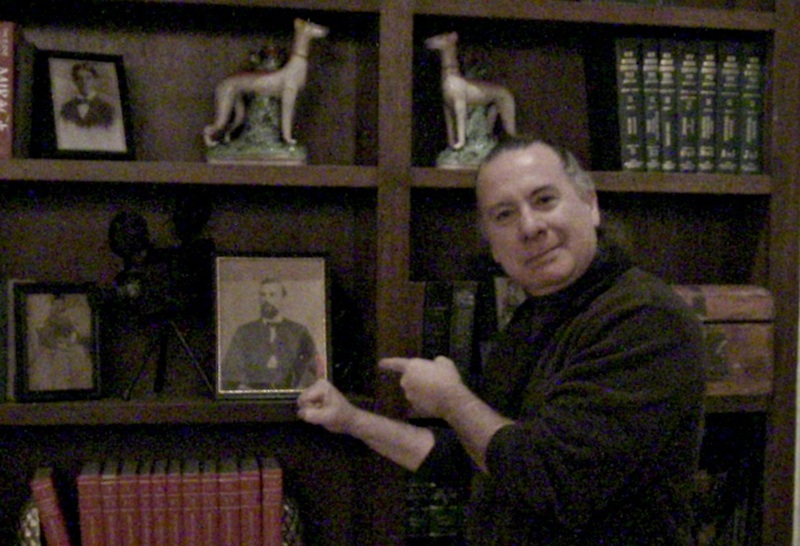 AL-PACHECO-GHOST-TOUR      SANTA FE PARANORMAL TOUR DELUXE 505-986-5002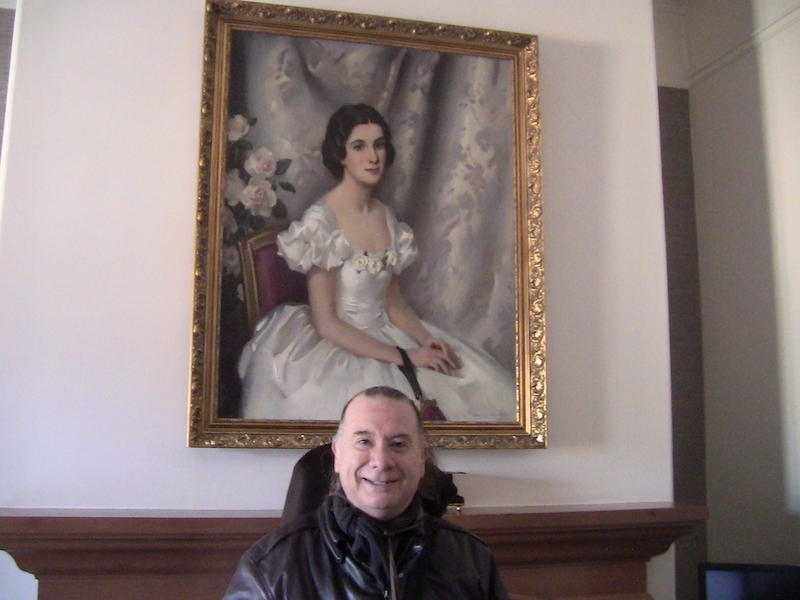 JULIA STAAB -- ABRAHAM's WIFE -- MET HER FATE IN THIS ROOM -- WHICH IS NOW THE STAAB SUITE...

AT TIMES ---JULIA'S GHOST HAUNTS THIS LUXURIOUS LODGING.  

PURE HOCKUM THINK THE SKEPTICS!  

YOUR TOUR GUIDE ALLAN PACHECO THINKS -- THERE IS MORE THAN ONE ENERGY THAT HAUNTS THE BEAUTIFUL MANSION RESORT.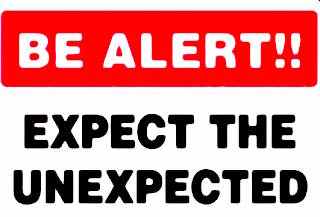 Below -- not a faked photo --- in the room where Julia breathed her last --- KACHUNK! Some force was there and made its presence known.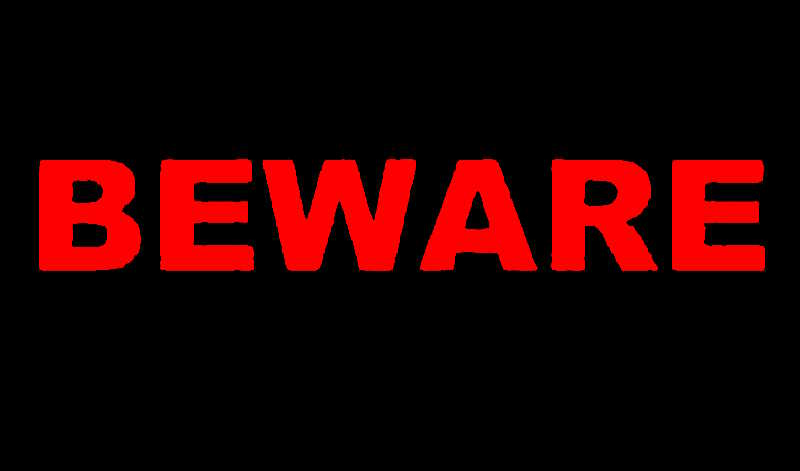 LA POSADA ORBS    
Below are a series of photos, shot outside the entrance to to Julia Staab's old room (JULIA STAAB SUITE). Notice the orbs close to my cane. Jesica (lady on the tour), took these photos of Allan Pacheco and her mother. These orbs were not noticable, but they came out on film.
The last two photos (AFTER the blowup photo)  were flooded with blue and green light to give the viewer a different look at the orbs, and their light.
Jesica who took the photos and others, was one of those special people one gets on a tour, who has a feel for the paranormal and studies the metaphysical as well. 
When you go on one of Allan's tours, take a camera, you never can tell.
Yes the photos are form a ZILLION YEARS ago --- but when you tour with AL PACHECO you get a guide who has experience and is not an arm chair expert -- ALLAN PACHECO knows SANTA FE PARANORMAL -- 505-986-5002 or 505-231-1336 Book a tour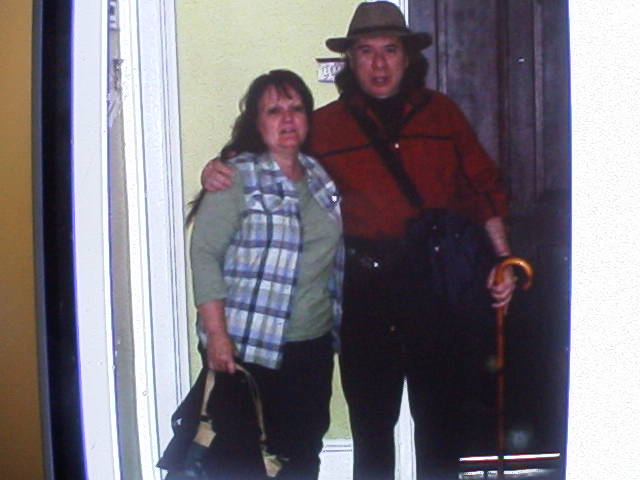 GROUP, COUPLE, OR SOLO TOUR --- W/ ALLAN----- YOU SEE SANTA FE ---------- HISTORY OR GHOST TOUR ------ @ A COMFORTABLE PACE! 505-986-5002 or 505-231-1336 ------ DAY OR NIGHT --- PRIVATE TOURS----------------------------------------------
LINK TO ORB PAGE--DEVIL LIGHTS

---
BELOW: WHERE JULIA STAAB &ABRAHAM WERE BURIED ---- EL CORECTO -- THIS CEMETERY -- THIS PLOT AREA IS HOME TO ALL KINDS OF STRANGE ACTIVITY ...  

THE GHOSTLY ENERGIES HAVE BEEN PHOTOGRAPHED AND THEY HAVE BEEN REGISTERED ON GHOST GADGETS!
SOME GHOST HUNTERS OR PARANORMAL ENTHUSIASTS-- SAY THAT THEY CAN SEE AN ORB OR ORBS IN THE ABOVE PHOTO -- IS IT MAGNIFIED SLEET, A LENS FLAIR? AS NEGATIVE AS AL PACHECO TRIES TO BE CONCERNING PARANORMAL PICTURES -- THERE MAYBE AN ORB OR OBS IN THE PICTURE.  AL-PACHECO-TOUR-GUIDE -- IS A TYPE OF GUY __ THAT WHEN IT COMES TO INVESTIGATIONS -- PHOTOS -- EVPS --- BEFORE HE GREEN LIGHTS THE HAPPENING AS LEGIT --- HE DOES HIS BEST TO DISPROVE THE EVIDENCE.  IN OTHER WORDS --- WHEN YOU TOUR WITH ALLAN PACHECO -- YOU GET A GUIDE WHO TRUELY DOES GO OVER THE EVIDENCE THAT WAS RECORDED -- SHOT --- SEEN AT (X) LOCATIONS...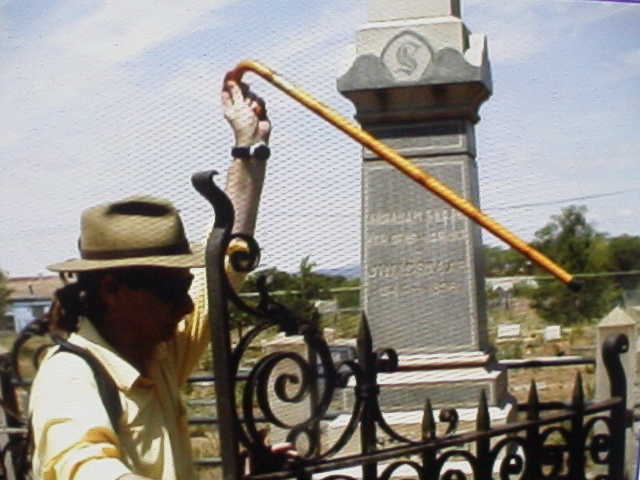 ---
Outside of Julia's grave, Abraham's grave monument towers over every other crypt or marker.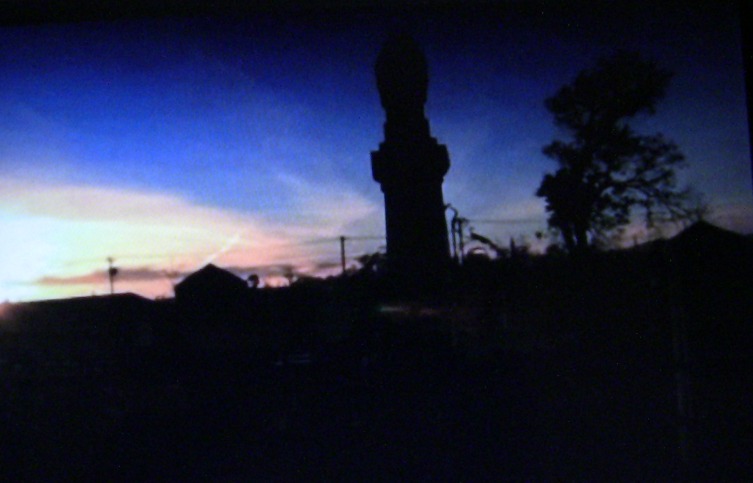 THE GHOST THAT HAUNTS LA POSADA IS BURIED HERE AT THAT OMINOUS PILAR.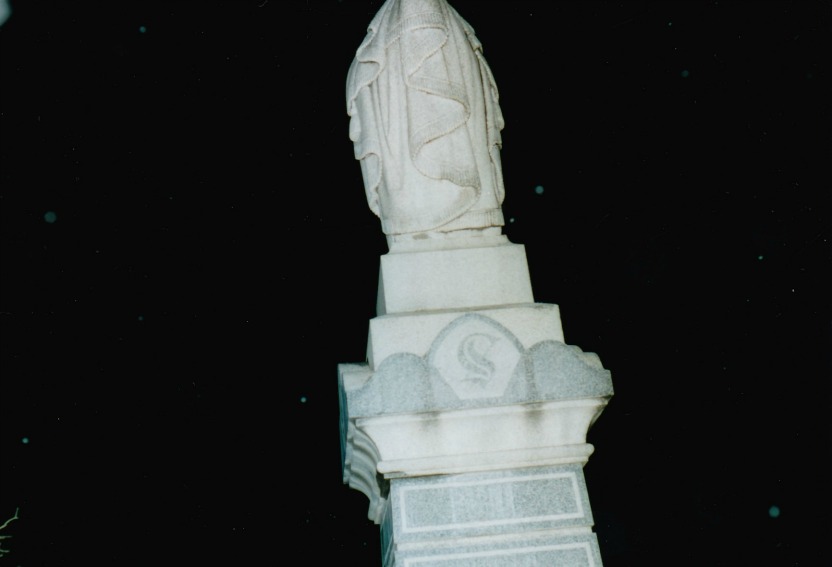 ACCORDING TO SOME METAPHYSICIANS, THE GHOST OF JULIA STAABS TRAVELS FROM HER GRAVE WHICH IS UNDER THE PILLAR TO LA POSADA. THERE IS AT TIMES, PARANORMAL ACTIVITY AT THE PILLAR. WHAT TRIGGERS IT-- NO IDEA. AT LA POSADA- THE GHOST OF JULIA STAAB HAS BEEN SEEN AS A YOUNG OR OLDER WOMAN.
LIKE THE PYRAMIDS -- THIS GRAVESTONE HAS BEEN AROUND IN SANTA FE -- A LONG - LONG TIME!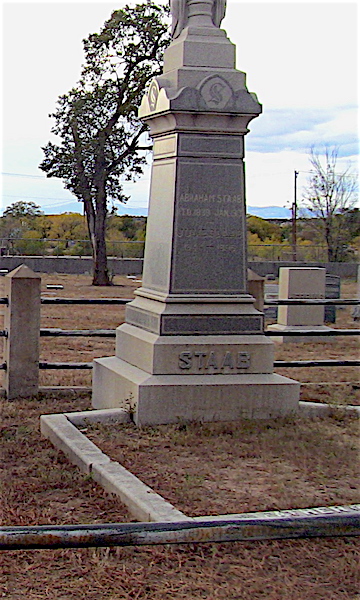 AL-PACHECO-GHOST-TOUR    Your safari is throughly researched -- below -- AL PACHECO on an investigation --- fighting the power --- felling the energy ---  505-986-5002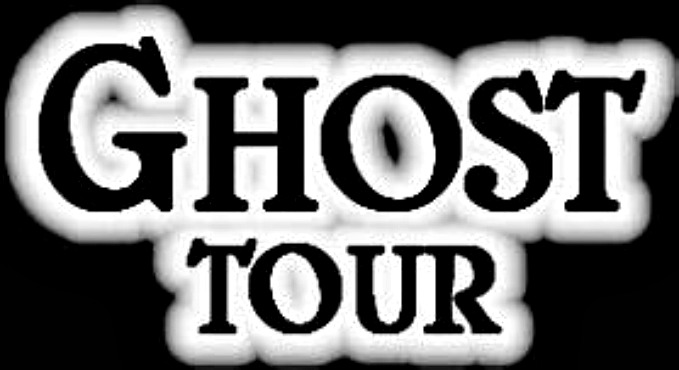 ON TOUR, QUESTIONS ARE ENCOURAGED.  HISTORY, GHOSTS, UFOS, THE MISSING, PECOS TRIANGLE, & CONSPIRACY. 

| | |
| --- | --- |
|  AL PACHECO WIILL GIVE YOU, METAPHYSICAL FACTS! | |
---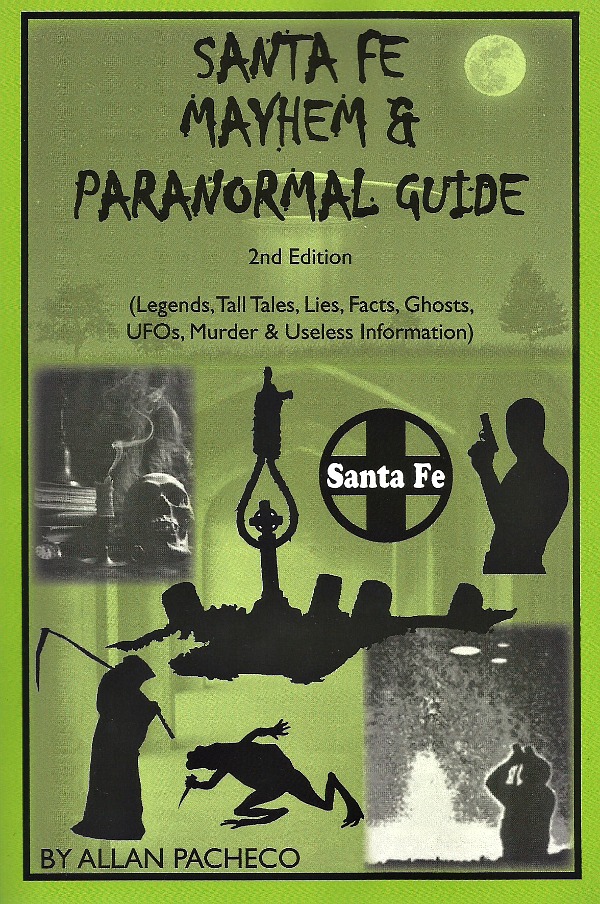 "SANTA FE: MAYHEM & PARANORMAL GUIDE" GIVES YOU THE "LOW DOWN" ON LA POSADA's TALES AND LORE.
---
----CLICK HERE-----MORE TOUR INFO & TIDBITS CONCERNING ALLAN's BOOKS----TALES & YARNS-----

505-986-5002 = PRIVATE GHOST OR HISTORY TOUR = 505-231-1336
---
---

CLICK HERE MORE SANTA FE PARANORMAL & HISTORY INFO---ODD GRAVEYARD-- SANTA FE'S HELL UPSIDE DOWN AS NOTED ABOVE. WHAT IS ONE TO MAKE OF THESE PHOTOS AND INVESTIGATIONS AT LA POSADA? CIRCA 1991, THE TV SERIES-- "UNSOLVED MYSTERIES" SHOT A DOCUMENTARY ON THE LA POSADA's GHOST (JULIA STAAB), AND THE PRODUCTION WAS BEDEVILED BY PARANORMAL HAPPENINGS. CLICK ON LEFT ABOVE WINDOW FOR SHORT DOCU. BE WARNED THE THE PROGRAM HAS A LOT OF HISTORICAL INACCURACIES, HOWEVER THE PARANORMAL ACCOUNTS ARE TRUE. ALLAN DID TRY TO EXPLAIN OT THE PRODUCTION COMPANY WHAT THE FACTS WERE CONCERNING JULIA'S DEMISE BUT IT WAS A NO GO. FOR THOSE THAT ARE COMING TO SANTA FE--- THE LA POSADA A GREAT PLACE TO HAVE A DRINK, THE BEST BAR IN TOWN. YES, SOMETIMES ALLAN'S TOURS END AT THE LA POSADA AND THIRSTY TREKKERS HAVE A BREW WHILE DISCUSSING AMONGST PALS AROUND A TABLE-- THE TOUR THAT YOU JUST WENT ON. THE ABOVE RIGHT WINDOW IS ANOTHER SHORT DOCU ON HAUNTED LA POSADA. BOTH ABOVE DOCUS ADD PROOF TO ALLAN'S INVESTIGATIONS, THAT LA POSADA IS HAUNTED. READER, FORGET ABOUT THE BOOKS OUT THERE THAT NEGATE THE HAUNTING OR CLAIM THAT THERE IS NO SUCH THING AS A GHOST AT LA POSADA…. YES, LA POSDA IS HAUNTED.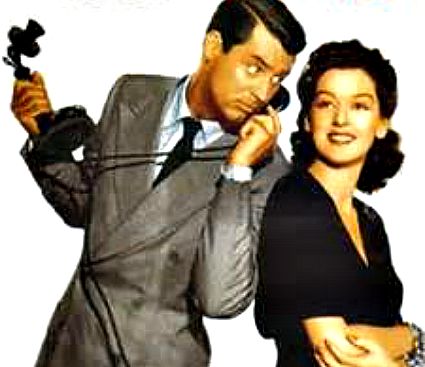 BEFORE YOU GET TO SANTA FE--CALL 505-986-5002 or 505-231-1336 SCHEDULE A PRIVATE TOUR
---
---
SANTA FE PRIVATE TOURS CLICK HERE FOR MORE INFO
CLICK HERE-----SANTA FE GHOST AND HISTORY TOURS--------MAIN PAGE
//////SANTA FE GHOST AND HISTORY TOURS -- REVIEW PAGE