1949 UFO-FOO-FIGHTER-CONSPIRACY = NORWOOD, OHIO.
LEFT PHOTOS -- LEGIT!
On August 19, 1949, starting at 8;30 PM and lasting till 6:30 Am of the following day a Ufo was sighted over Norwood OHIO, which is a suburb of Cincinnati Ohio. 
The UFO or Foo Fighter was first sighted by hundreds of people who were attending the Jitney Carnival at the (Catholic) St. Peter & St. Paul church, now renamed as The Holy Trinity church.
The church carnival at Drex Avenue and Montgomery Road had rented a searchlight from a surplus store that was operated by sergeant Donald Burger (R.O.T.C. University of Cincinnati). Up until 1970, the law allowed searchlights to be turned on at night for business or sporting events. A light beam slicing through the night sky was dramatic and it tended to bring people to the business or event.
As Donald Burger moved the 800 million candle power searchlight through the night skies a UFO was sighted.  (LEFT & BELOW photos of Burger and searchlight.)
The UFO was lit up by Berger's searchlight. Carnival goers, policemen, townsfolk, Padres reporters, military personnel, and scientists saw the UFO, it was not mass hysteria.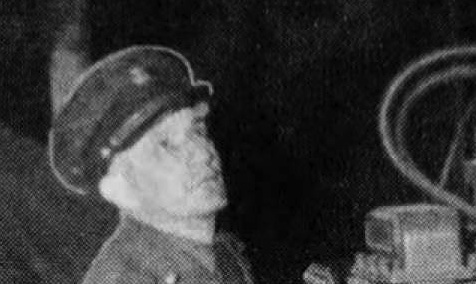 People way beyond the carnival area reported seeing strange lights or light in the night sky. Radio stations, newspapers and police stations were slammed with people calling in and reporting that they had seen a UFO or FOO FIGHTER.
Depending on the witness and there view of things, the UFO at times would blink out but it did not move wildly over skies of the greater Cincinnati area which Norwood is a suburbs of, or the UFO stayed pretty much in the same place all night long.  By 6:30 AM the UFO was no longer seen or no longer in the area. 
Curiously, there is no reports of  AIR FORCE jets scrambled to intercept this UFO, the Dayton OHIO airbase (WRIGHT PATTERSON AFB) is close by. This Base is home to the infamous Hangar 18, where supposedly parts of a crashed alien ship is stored.
The debunkers claim that the witnesses to this event saw meteors or a weather balloon that was lit up by the searchlight.  

Witnesses attested what they saw was not a shooting star or a meteor. As for the weather balloon idea, the wind  blew at 32 -35 MPH that night, if it was a weather ballon, why did it not float with the gusts and leave the Cincinnati air space?
Another nay sayer idea has it that a cloud was lit up by the searchlight and misidentified by the  viewers. Or the beam of light from the searchlight bounced onto a nearby cloud and that is what the eyewitnesses saw.
Feeble debunking excuses, if you ask me.
This was not the end of the sightings, this UFO or one similar to it was seen off and on in the night skies over Norwood, OHio  until March 10, 1950.
What was this UFO's mission was it looking for someone of some people?  IS there any evidence of people going missing in this area of OHio during this UFO WAVE?
Interestingly, the original photos of this sighting that were seen by the authorities along with 2 reels of film that were shot of this event, have gone missing.  The film was last documented to be at the WCPO TV 9  studio in 1952.  
One wonders with today's technology if something could be seen or blowup on the photos or film that was invisible due to primitive technology of the 1950s.
BELOW PHOTO, this snapshot was taken by police officer, sergeant Leo Davidson. According to the skeptics who claim civilian witness are not trained  for observation, a police officer due to his training is a reliable witness.  Some UFO hunters think they see orb like craft in this picture. SO was what was seen over NORWOOD OHIO in 1949, a carrier type craft that was waiting to land its scout ships?