BLAIR-WITCH-PATH  / VERY HAUNTED PATHS = THE FACTS
Blair-Witch-Path has had many different names.  La Llorona Trail, Shades of Death Lane, who knows what it will be labeled next decade or next year? One thing that does not change about this lane, is that the trail or Blair Witch path is haunted. Below on tour, near the start of the BLAIR WITCH TRAIL, something paranormal frightens the ladies on the tour. Footsteps and nobody is there and the cameras + flashlights a moment later, drain or go wonky.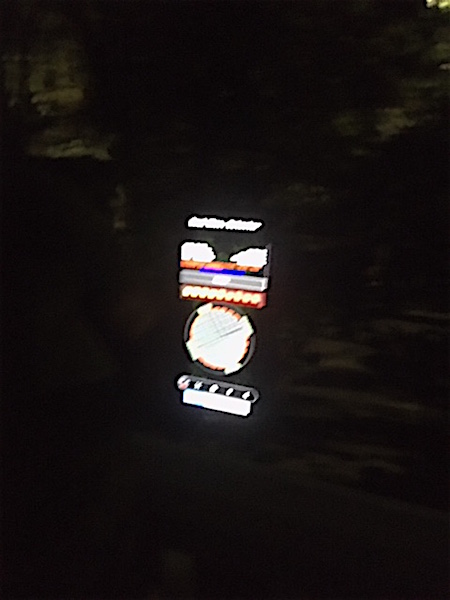 According to lore and legend, La Llorona roams this path and the riverbed that flanks it. What is fact is that through the decades, near this path or near the river banks, a number of murders and deaths have happened.  I was neighbors with a man who was murdered about 20 yards from the left of this above picture. So this place (Blair-Witch-Path) does have a sinister reputation, depending on who you talk to. Also, according to the weird beards this pathway is filled with some occult art.  What cannot be denied is that the Blair Witch Path does have some odd art left lying or hanging around.
Below some dated photos from year round, this odd area has been known by many names -- the latest  name is BLAIR-WITCH-PATH.
BELOW:  These WITCH items or occult art, do not look friendly, especially the cat o nine tails. Which is a barb wire whip. This whip is located at where SPOOK LANE intersects the Blair Witch Path which has been called different names, depending on the decade or century.
RIGHT on this path lane - is that a profile of a ghostly face? What is it?

LEFT: On Spook Lane this haunted trail intersects or is part of the Blair Witch Lane..    ------------- --------- ------------- --------------- -------------------- ------

-Below: black dot under the CAT O NINE TAILS.  Why black & so foreboding?  The Weird Beards  attest, it is a PAGAN evil OBJECT. WHAT IS FACT, This place can be creepy & ghost hunters through the decades have had some curious experiences in this sector.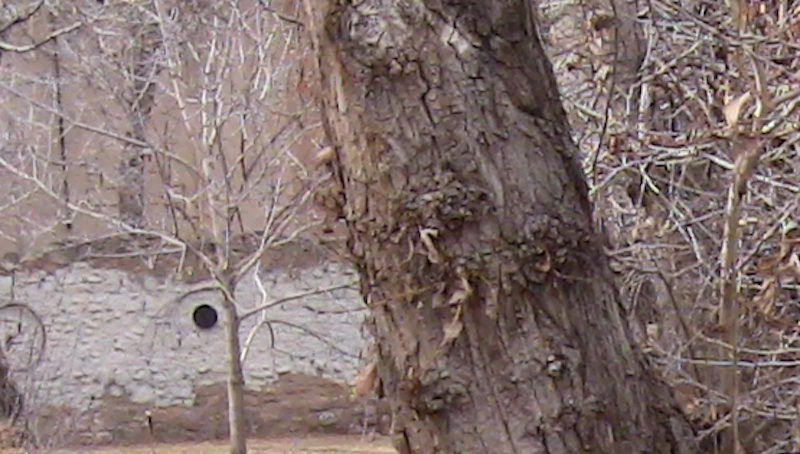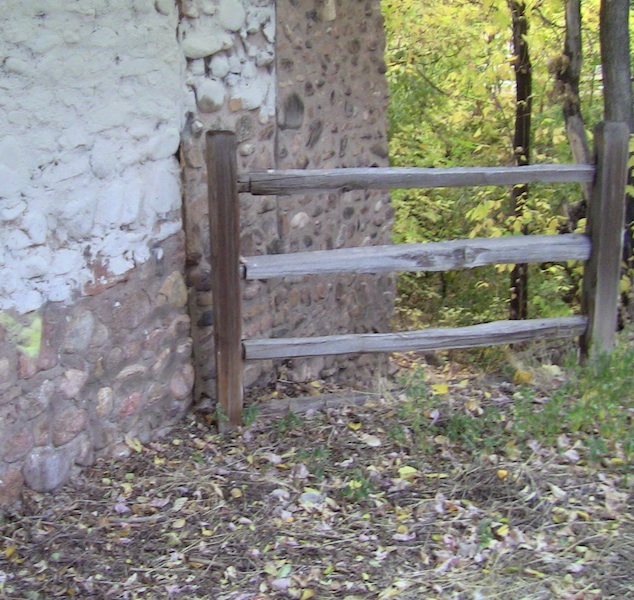 Below some of the oddities found on this lane or path, the weird beards  claim it is occult art.What is fact is that at times, people get a bad feeling on this path and sometimes  their cameras go wonky and then come back to life after leaving the trail or area.
On the BLAIR-WITCH-PATH--- things are changed-- but by whom and why?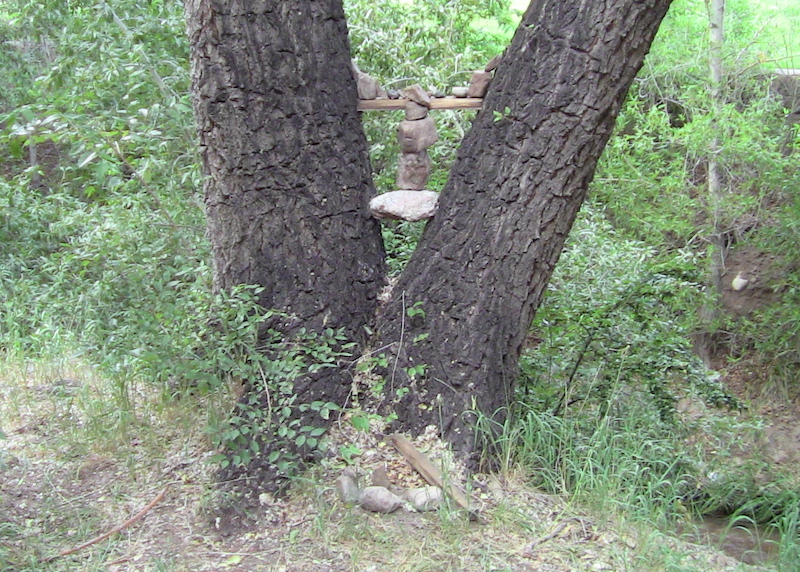 BELOW: Roughly in the vicinity of the above photo --- the below photo was taken from across the river.  No doubt a trick of light, a prank photo, but it is a curious image.  What is fact is that some strange objects are found in this area, an at time some odd people are seen in the vicinity.  The objects are not not not tricks of light, they are reality.  THE OCCULT PEOPLE - DRESSED IN BLACK, that are seen in this area are a reality. HOWEVER --- it is a rare thing when they are seen. The Blair Witch area or the old Shades of Death locale can be creepy.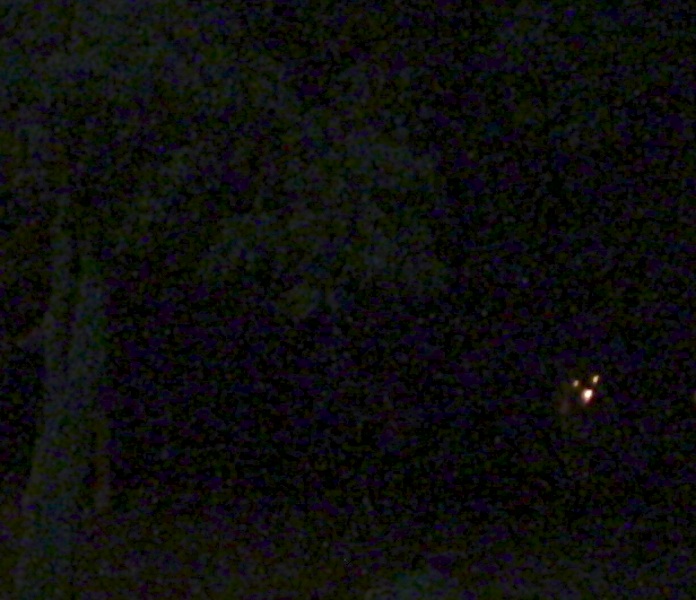 ABOVE AND BELOW--BLAIR-WITCH-PATH. Just having fun? A person laying things out,or is there a symbolism. According to the eccentric the below circle  frames the moon when it rises, hmm? I will have to see one of these nights, if the moon is framed?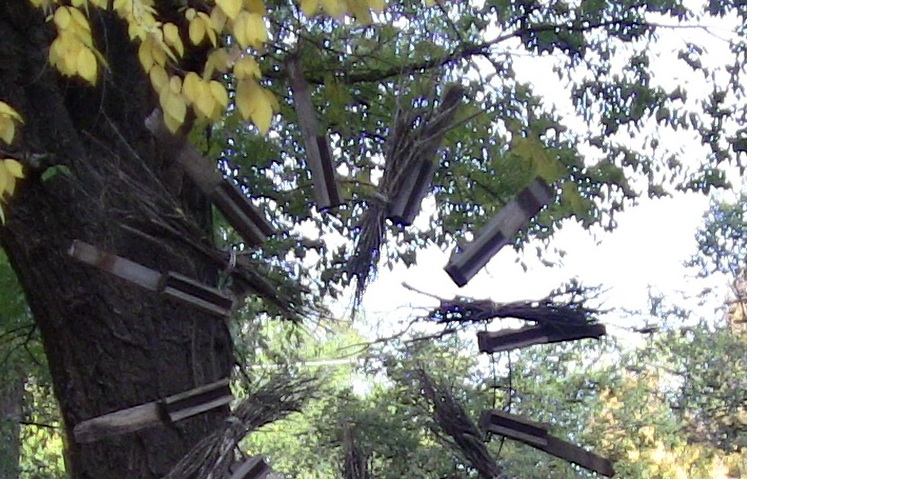 Above: Santa Fe's Blair Witch object. Below: The Blair Witch movie DE SANTA FE!  What happened, lightning strike, the wind blew it down or did the WITCH push it down, rather creepy what is found in this area, be it unnatural or natural.
Below: more Blair Witch Santa Fe...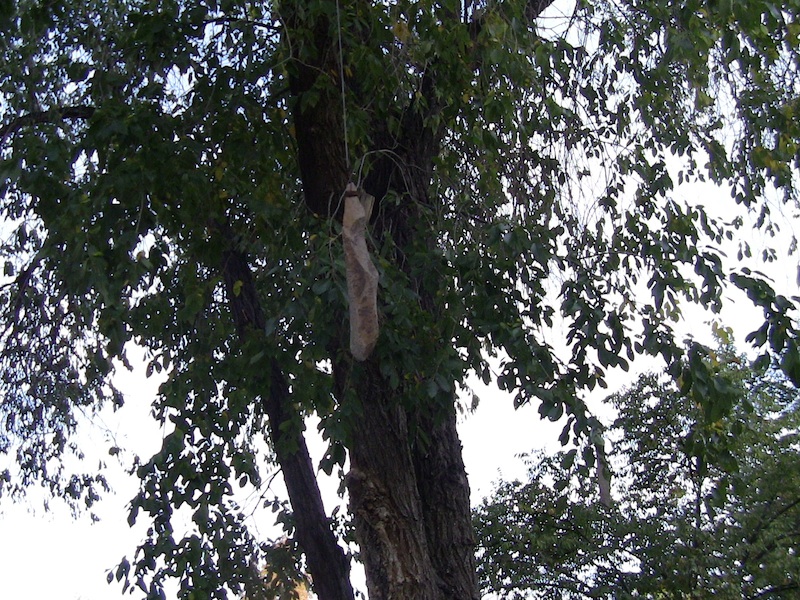 Above -- oblong rocks dangling, center and right. The BLAIR-WITCH-PATH or the SHADES OF DEATH PATH, (what it used to be called) does have some oddities, who is going to climb up this tree and do that. Below more hmm, another hanging slender rock. Some effort went into putting thee things up. As stated before, this area is home to some strange ghost stories and creepy history.  Even before this stuff showed up, this area was known by the old timers as a place where a ghost was seen -- LA LLORONA.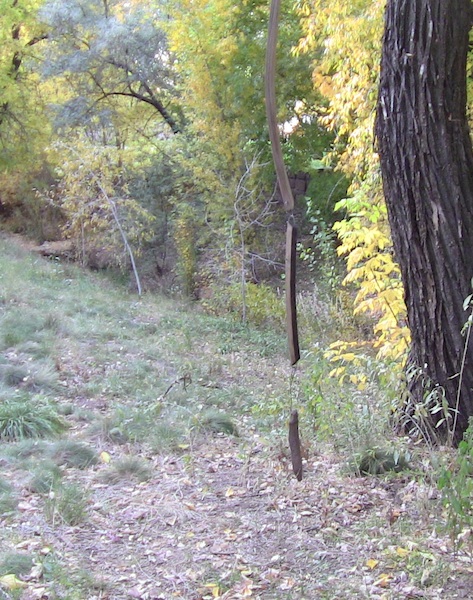 These thaangs were put up on branches.  Someobdy  or some people went to great lengths to get these up there, a number of these branches can not be reached from the ground. It is of interest, that this area is filled with odd looking occult things---as the ghost hunters would say--invoking symbols. The place does have a history ghost hauntings and this history & lore is centuries old.  BELOW: on SPOOK LANE which intersects this path is another odd work of art---or work of something----the ghost busters think it has to do with the paranormal energy that is found there, it does look rather creepy at night.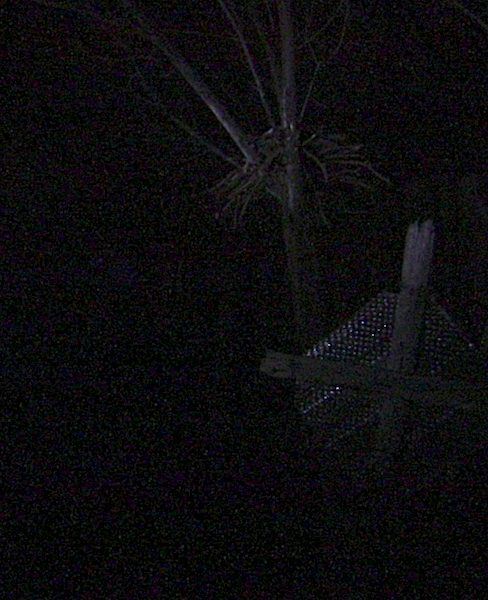 Above the SANTA FE BLAIR WITCH TREE AT NIGHT vs. the film version below… DOES THE BLAIR WITCH  now live in SANTA FE? 
THE PORTAL!  ABOVE --- SOMETIMES THIS AREA IS RIFE WITH GHOSTLY ENERGY.  HISTORICALLY -_ ALL KINDS OF BAD DEEDS HAVE BEEN DONE IN THIS AREA -- THESE DEEDS GO BACK TO CONQUISTADOR -_ WILL WEST DAYS -- AND THEY STILL OCCUR TODAY. THERE IS A POWER THAT AT TIMES TENDS TO AMP UP THE DARKNESS IN THE HEARTS OF THOSE OF BASE SPIRITUALITY. ONE CAN AT TIMES FEEL THAT DARK POWER, IT TENDS TO VISIT THE LOCALE, NOW AND THEN.

A COLD DOOR -- DURING SUMMER TIME! THE PORTAL IS ACTIVE!  YES AT TIMES THIS AREA IS A PLACE WHERE STRANGE ENERGIES ARE DETECTED ON GHOST HUNTER INSTRUMENTS AND SOMETIME FELT  BY PEOPLE ON AL PACHECO's SAFARI  505-986 5002.

LEFT: DAY TOUR--ON a haunted lane that has many different names "THE BLAIR-WITCH-PATH", LA LLORONA LANE, etc.

Somebody  or some people went to great lengths to get objects into the branches. This area is filled with odd occult things---as the ghost hunters would say--invoking symbols. The place does have a history of ghost hauntings and this history & lore is centuries old.  


YOU LIKE TO EXPLORE? GOT GUTS --- TOUR WITH AL PACHECO 505-986 5002 
Santa Fe is a town that is filled with "THE GOOD, THE BAD, & THE UGLY" Or should I write, the town is filled with "THE GOOD, THE EVIL, & MYSTERIES". BELOW: The so called DRUID STUMP stump. Does any of this have any kind of significance besides creeping people out?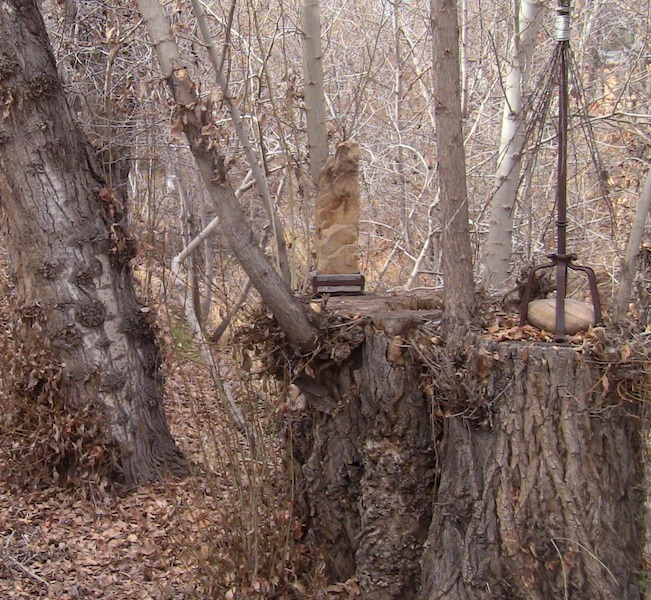 ABOVE & BELOW: Different times (FALL AND SUMMER) at the DRUID STUMP-- note the different objects or ceremony objects.. The only constant is that iron bar with barbed wire,  which looks like a MEDIEVAL  torture device.  In an area that is rich in LA LLORONA lore, one finds occult art or occult something, only in SANTA FE!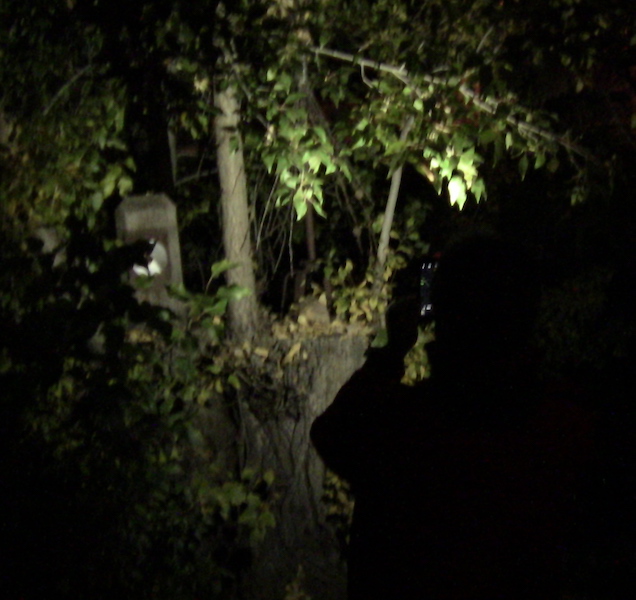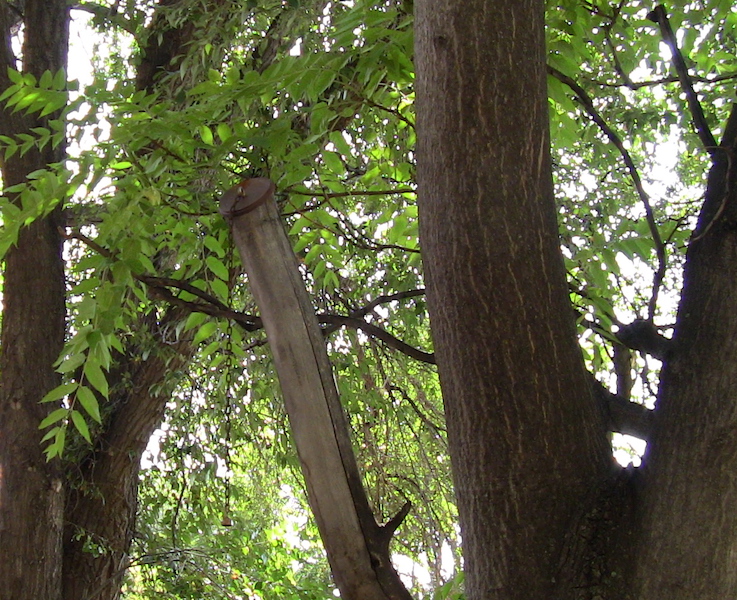 Santa Fe' version of the BLAIR WITCH WALL --- the amount of hours it took to do all of this -- many -- many -many.