UFOMUTILATIONS  =(CATTLE-MUTILATIONS)! WHAT IS BEHIND THIS PHENOMENA? -------------------------ALLAN's PRIVATE TOURS TOUCHES ON THIS SANTA FE MYSTERY = TOPICS + -GHOSTS-HISTORY-UFOS/ 505-986-5002 / 505-231-1336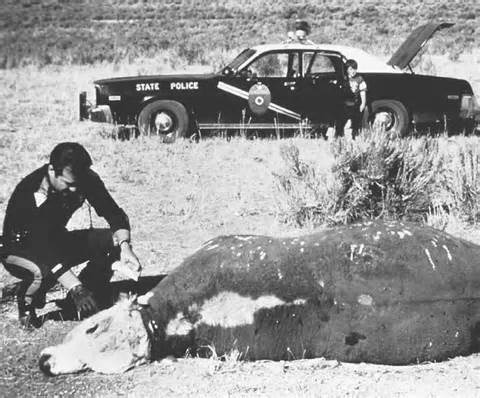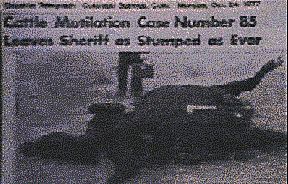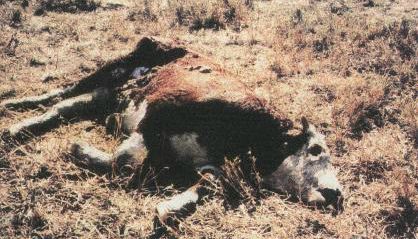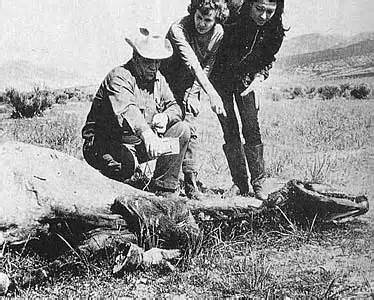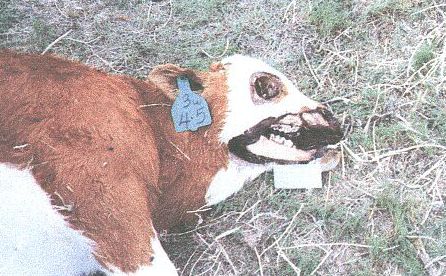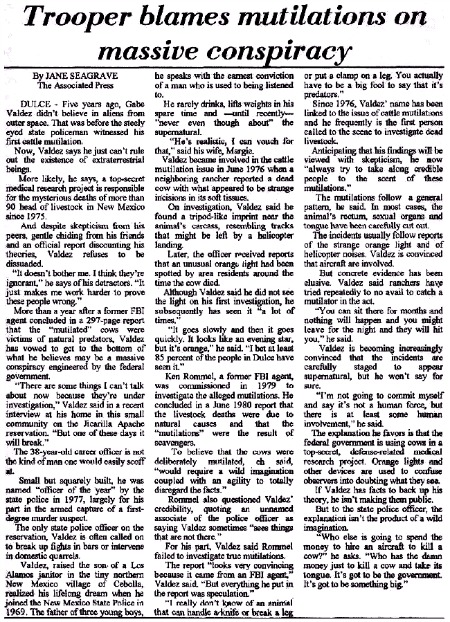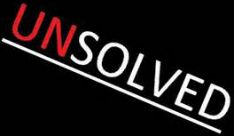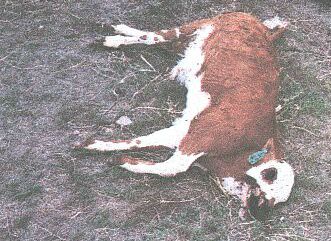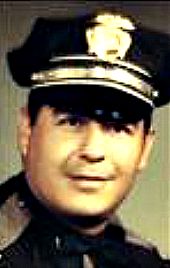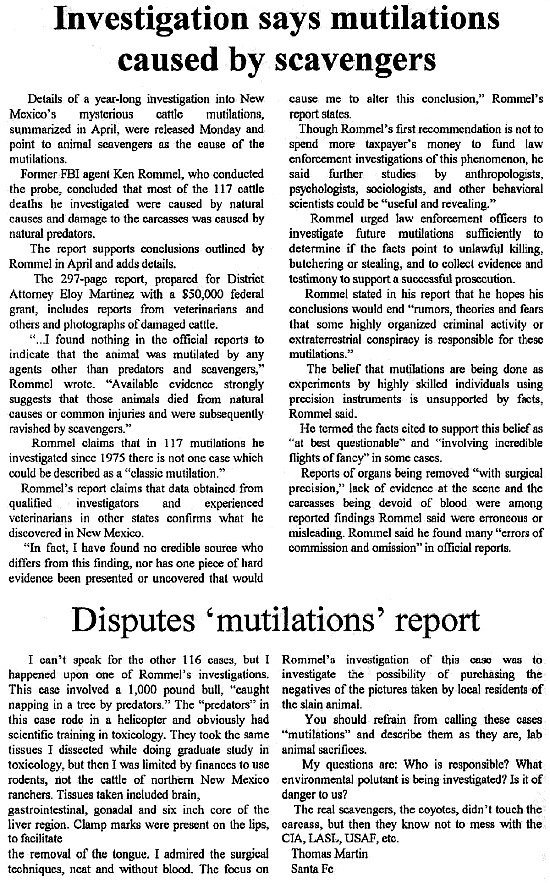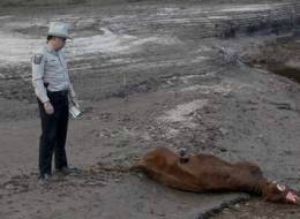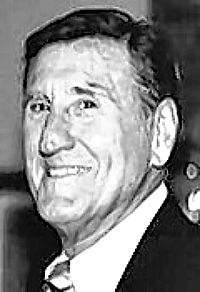 UFOMUTILATIONS
Parts of the following first section section, that concentrates on cattle mutilations in the Santa Fe & Northern New Mexico area is found on a different page on this website with different pictures. This cow mutilations article was placed here-- because many UFOLOGISTS think that this phenomena---CATTLE MUTILATIONS -- is linked to UFO activity. THe bovine mystery is the result of alien cattle mutilation. == IN other words-- when a UFO wave occurs-- cattle are found mutilated. And according to some weird beards-- this phenomena is also linked to the subject of missing people, as in the HAVE YOU SEEN ME-& AGE ENHANCED PHOTO that are put onto milk cartons or media mail.
UFOMUTILATIONS

Since 1947 the Santa Fe area and Northern New Mexico have been plagued by rashes of cattle mutilations. Ranchers have found laying in their pastures cows that have had the majority of their blood drained, their sexual organs removed along with their eyes, tongue and sometimes heart. The mutilated cows show no sign of struggle, whatever kills the bovines does it fast. No foot prints or tire tracks can be found around the dead beefs.
UFOMUTILATIONS

Rewards have been offered by ranch associations yet nobody has come forward with evidence as to what group or who is conducting the slaughter.
UFOMUTILATIONS

Also no one has been apprehended in connection to these crimes. The slashing of cows as it was called in the 1940s and 1950s, is a most peculiar mystery. The slaughters tend to come in waves, and then their is none, then the activity starts up again.
UFOMUTILATIONS

UFO activity seems to precede and occurs during these time spans of cattle mutilation, as in aerial sightings and rare hove rings have been reported. Are UFOs as in aliens responsible for the dissections of these cows?
UFOMUTILATIONS

Researchers and ranchers have concluded that cults or deranged men are not behind this phenomena. Due to the fact that the incisions on the dead beefs are done with laser like equipment, furthermore some of these dead animals are found in almost inaccessible places.
UFOMUTILATIONS

The late Gabe Valdez, (PICTURE IN UNIFORM-CONSTABLE)  a former New Mexico State Police officer who was stationed in the Dulce area during the 1970s, thought that a secret government program--by way of the military was behind the waves of mutilations. Valdez reasoned that the the UFO activity that had been seen during the mutilation waves was high tech, secret military or Black Ops aerial craft. It is of note, that the Dulce area in the 1970s was a hot spot for cattle mutilations and UFO activity. Valdez also worked with Paul Bennewitz, a noted UFO researcher who was fed false information by certain people inside the military.
UFOMUTILATIONS

Valdez scouted around the Dulce wilderness and found for lack of better words-- abandoned military guard posts that were camouflaged to look like a dear hunters shacks. Valdez and Bennewitz as well as other investigators thought they had been misdirected by perhaps a secret branch of the CIA, in their study of the cattle mutilation phenomena.
UFOMUTILATIONS

Different researchers think Valdez maybe partly right, in that a secret Federal program is behind some of the cattle mutilations, but not all of them. Some researchers have concluded that some of the cattle mutilations are misdirection done by a secret group inside the military or government. The misdirection or red herring, is to throw the media or public off the idea that something not from Earth is mutilating cattle and the military can not do anything about it.
UFOMUTILATIONS

The following idea has been pointed out and it does make sense. If the military, CIA, or Black Ops program are %100 behind the cattle mutilation mystery, one must ask how well can the military or the Federal government even --Black Ops operations-- be kept silent. Secrets do come out, for example the Bin Laden raid or 1945's Top Secret Info from the Manhattan Project have been blabbed to spies or to the media.
UFOMUTILATIONS

Why are cow being mutilated?-- According to those that believe that the Fed or military are doing this-- cows by what they eat are an easy way to check on the areas radioactivity and other experiments that the Fed have done in that quadrant.
UFOMUTILATIONS

The UFO partisans think bovine mutilations is done for some type of genetic experiment. Extra Terrestrials are in need of bovine DNA and human DNA --- for the engineering of some new prototype human or alien. That reads as odd, but some researches note the missing human phenomena that has hit the USA.
UFOMUTILATIONS

That is a scary thought when one thinks about he many handbills or paper sheets that come through the mail that contain age enhanced pictures of the missing. The Upshot--as stated before --some UFO researchers think the missing phenomena goes hand in hand with the cattle mutilation mystery.
UFOMUTILATIONS

What cannot be denied is that Santa Fe and Northern New Mexico at times has been a hotbed for UFO activity. In these UFO areas is where many cows have been found slaughtered. Furthermore, these cows were not killed by predator, hit by lightening or died from eating poisonous weeds.
UFOMUTILATIONS

Ranchers who have been in the cow business all their lives, can tell when a cow has been killed by a bear or mountain-lion as compared to finding a dead bovine with precision incisions on its hide, as in having a heart sucked out of the cow through a small hole in the animal's chest. Ranchers are not stupid, they know their business.
UFOMUTILATIONS

In the past some disinformation specialists have gone out of their way to discredit ranchers, in what they have attested to. One Ex-FBI agent, (KEN ROMMEL), (6'2" 200 PLUS POUNDS BLONDISH-BROWN HAIR) who ramrodded a poor (DISTRICT ATTORNEY FIRST JUDICIAL DISTRICT) investigation concerning cattle mutilations, went as far to call Gabe Valdez, Officer Numb Nuts---because Valdez would not go along with the charade or false idea Rommel championed, that the mutilated cattle had died by eating poisonous plants.
UFOMUTILATIONS

Rommel who was a verbal bully had a lot of other negative things to say about investigators and Valdez.
UFOMUTILATIONS

A few UFO,CATTLE MUTILATION researchers thought----ROMMEL was a paid disinformation mouth piece, his job was to discredit research or researchers-- who investigated this mystery.
UFOMUTILATIONS

It is a fact that Rommel was given $44,000 and change to research this mystery, he divided up the money and paid some people to work for him. Was this the total amount that Rommel was paid? I have my doubts going by Rommel's personality,, I would venture that the man was paid a salary or had other money coming his way.
UFOMUTILATIONS

The direction of this investigation from THE GET GO was to state that poisonous plants kill cows and that the carcasses are not mutilated, they are eaten by scavengers. In paraphrasing Rommel's words, he was going to ridicule these investigators who need a life, and little old me "Rommel"-- was going to find an explanation that did to have to do with GREEN MEN FROM MARS.
UFOMUTILATIONS

Rommel did not do any out in the field investigation---while compiling his book. Rommel did organize the book, but that is about it. Another faulty part of Rommel's investigation is that his paid-investigator or lackeys did very little on hands research. Rommel's stooges simply wrote down what certain people told them and these people were partisans of the idea that ranchers do not know their business.
UFOMUTILATIONS

Rommel went to great lengths to restate the company line or government lingo that all the cows found dead in pastures by ranchers were killed by ingestion of poisonous plants and the incisions on these dead cows was the result of hungry predators.
UFOMUTILATIONS

Valdez on the other hand was a hands on man. While on duty near Dulce, New Mexico, Valdez had the fortitude to chase after strange moving lights in the sky, in his patrol car or on foot. By himself, Valdez would go into fields day or night and see if he could find where the light or UFO or black helicopter had landed.
UFOMUTILATIONS

I did not agree with Valdez's conclusions and we locked horns--- before, during and after an investigation that had us walking through glades and fields. I disagreed with Valdez over the phone, face to face and out in the field, etc… No, Valdez and I were not pals.
UFOMUTILATIONS

Even though Valdez and I were miles apart on what the cattle mutilation evidence meant, or where it pointed to, I give Valdez credit for doing his own research, and braving the wilds and not handing off his research to a squad of arm chair employees like ROMMEL did. Valdez risked his life and reputation in trying to come to grips with this mystery, even though, as stated before, I do not believe in his conclusions.
I have to EMPHASIZE, that Valdez had guts, I can not say that about Rommel, who seemed to be powered by ego, not by bravery.
Valdez was a man who would NOT- NOT- NOT- wimp out, when danger was about. Even if Valdez did not like you or your ideas, when things got extreme he would be there at your side facing "COME WHAT MAY" out in the wilds. Valdez was no - no - no coward. Again, I disliked some of the things Valdez did and thought, but as a man, I had the highest respect for Valdez. In life there are a few people one meets--- that you will say-- I want that man in my foxhole when things get rough---Valdez was one of those guys. 
UFOMUTILATIONS

Ex FBI agent Rommel looked like he had stepped out of a 1930s recruiting poster, he tended to belittle anything that did not go along with his narrow mindset. Rommel was very proud of his poor investigation and tended to wave or point to his text when questioned or make snide remarks about LITTLE GREEN MEN FROM MARS.
Rommel's bad investigation (ROMMEL's INVESTIGATION & PICTURE are in this article) ) was never questioned by the media and it was sighted as proof that their is nothing out of the ordinary when it comes to ranchers finding their cows mutilated in their pastures.
Some UFO researchers have concluded that their is a secret FED/military group that is intertwined with the cattle mutilation phenomena, however this group mainly monitors what is going on as in UFO activity and cattle slashing. That I can agree with. I do not agree with ROMMELl's conclusion that all these mutilated cows found by ranchers died from eating poisonous shrubs. Likewise, I do not agree with Valdez's ideas that the cattle mutilation mystery is the result of Black Ops.
CONCLUSIONS--on researchers----
As far as Rommel goes-- I always thought he was one of those guys who hid behind his badge or his authority. If he had not had that protection, be it FED or STATE badge, caustic Rommel would have been decked countless times by people that he insulted. Because Rommel was a fat mouth, he would always try to dominate a conversation and make snide remarks.
Valdez on the other hand, as much as I disliked parts of his personality, or how far his thinking would take him, I never saw Valdez hide behind his badge or cloak himself in a realm of authority. Rommel was the opposite of Valdez, the Ex-GMAN ROMMEL was full of bluster and had a superiority complex. Valdez was much more open minded and he would go out into the hills and research. I can not say that about Rommel.-----------------------------------------------------------------------------BELOW- CLICK ON VIDEO INON-- WHY ROMMEL IS WRONG!!!!!
UFOMUTILATIONS   a.k.a. UFO MUTILATIONS
ARE ALIENS WITH ADVANCED TECHNOLOGY BEHIND THE CATTLE MUTILATIONS? IF THE FOLLOWING IS A SAMPLE OF NON HUMAN SCIENCE---THEN THE ALIEN QUESTION IS NOT SO FAR FETCHED. TAKE A LOOK AT THE FOLLOWING 3 VIDEOS---2ND VIDEO = SLOW MOTION---SUPPOSEDLY THIS IS THE RESULT OF A FAILED MISSILE LAUNCH--- IT WAS ESTIMATED THAT THE HOLE IN THE SKY WAS 150 MILES LONG---- IS THIS A STARGATE OPENING AND CLOSING?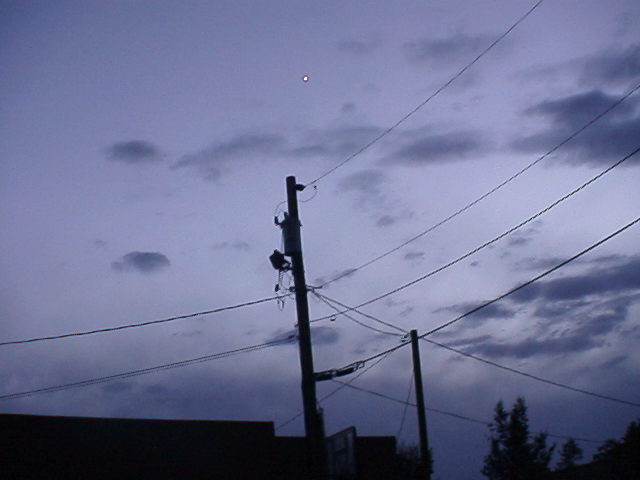 ABOVE--I HAVE NEVER SEEN A FAILED MISSILE LAUNCH LOOK LIKE THAT!!!---------
SANTA FE COUNTY-MYSTERY--MAY 2012 UFO!
---
THE FOLLOWING FACTS & PROOF ----CONCERNS ITSELF WITH ALIEN-CATTLE-MUTILATIONS IN SANTA FE COUNTY !!!!!!!--- WHEN A WAVE OF UFO SIGHTINGS OCCURS, THE MAJORITY OF TIME---- THIS EVENT IS FOLLOWED BY REPORTS OF RANCHERS FINDNG SCORES OF CATTLE MUTILATIONS. HUH? YES-- THERE IS CONNECTION BETWEEN UFO ACTIVITY AND THE PHENOMENA OF COW SLASHING (ALIEN-CATTLE-MUTILATIONS). THESE SLAUGHTERED COWS HAVE NOT BEEN KILLED BY LIGHTENING, PREDATORS OR BOVINE DISEASE. THESE DEAD COWS HAVE HAD MOST OF THEIR BLOOD REMOVED, ALONG WITH THEIR HEART, EYES, TONGUE, RECTUM, UDDERS, AND SEX ORGANS.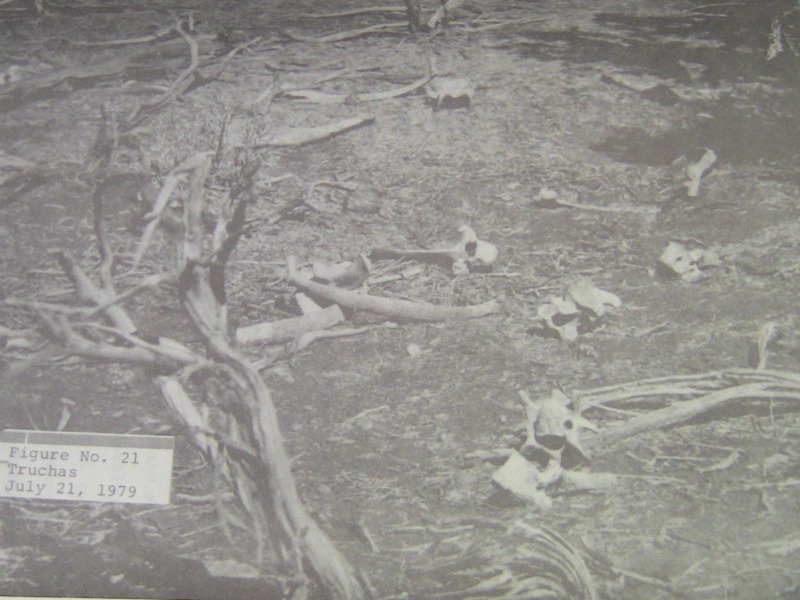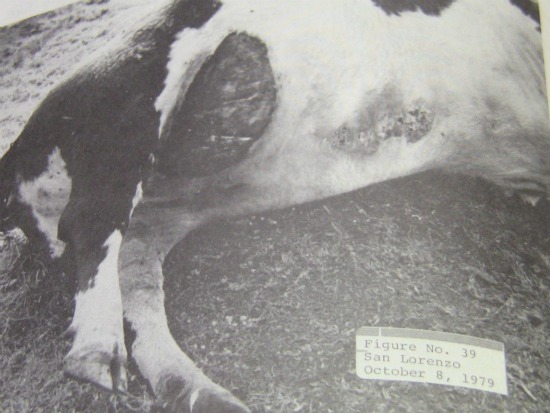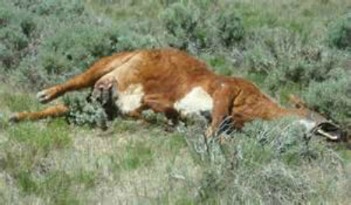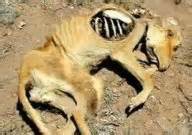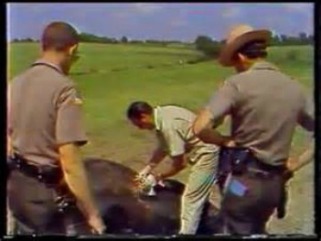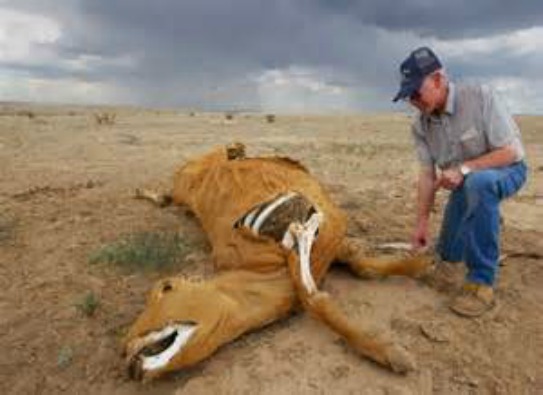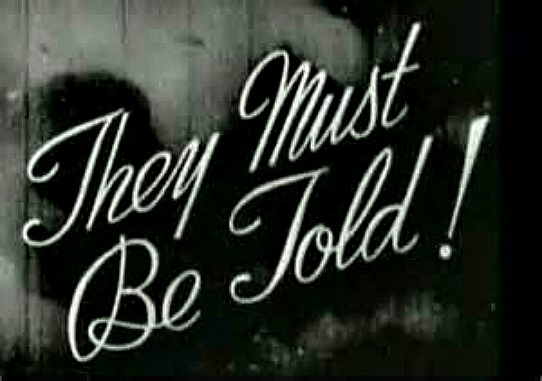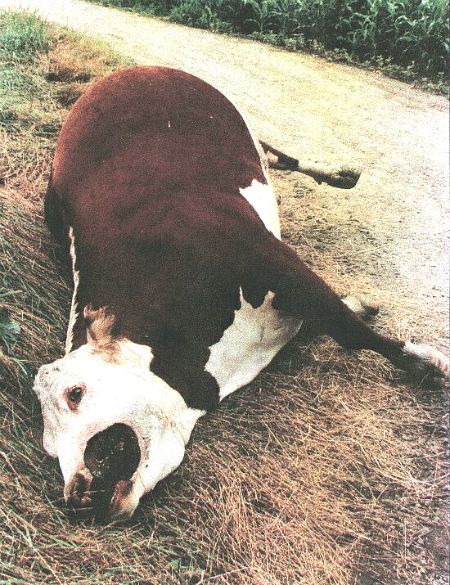 ---
ABOVE: IS THIS IS WHAT IS CAUSING THE MUTILATIONS -- IS THIS A SKINWALKER OR FAKE-- A GUY ON STILTS COVERED BY FABRIC?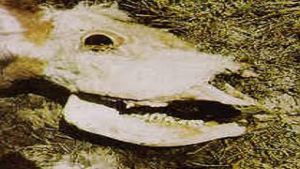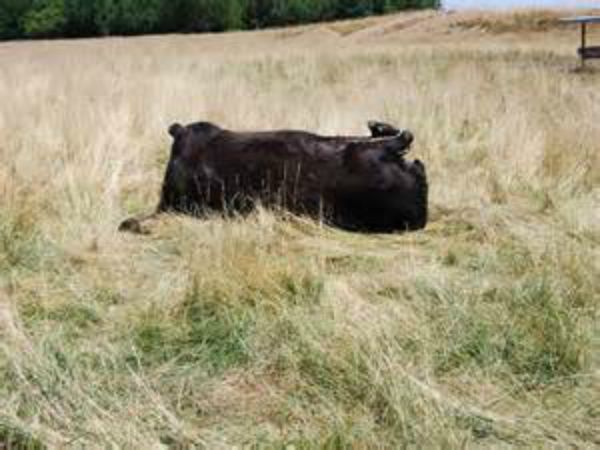 ALIEN-CATTLE-MUTILATION---On May 14, 2012 between the hours of 5-6AM (best estimate) a six to seven year old cow was mutilated near Santa Fe county's Buckman Road (geographic area) . The middle aged cow was close to the northern shore line of the Rio Grande river or on the San Ildefonso reservation.
The cow was seen alive all through the night by way of a security camera atop a raw river-booster station. The cow was seen repeatedly during the night as lightning strikes lit up the area.
At dawn the cow was seen lying dead near the RIo Grande shore line, the authorities were called in!!!
The cow was examined by state, tribal and Fed constables and by 24 year old Nick Sanchez of Espanola, NM; who happens to be one of the most aware observers that I have ever talked to. The beef had been killed and mutilated. Interestingly, there was no sign of struggle, there were no foot prints or tire tracks around the carcass. (ALIEN- CATTLE-MUTILATIONS PROOF)-- If the cow had been hist by lightening-- then how did the cow in a few hours become mutilated? REPEATING---There were no predator or human tracks around the carcass.
The utter anatomy or part of the underside area of the cow, was sliced off. None of the arteries (at least 3 arteries in that area of the cow) had not been severed. The ground by the cow was not awash in blood. Furthermore, some of the tissue around the dead cow's jaw was missing and the skin of this area had been stripped. Again it this mutilation was not done by a human hand.
A brown color or spotted area was observed on the dead animal's hide, was this bovine hemoglobin? In the past, brown spots on the hides of mutilated cows have been proven to be drops of bovine blood that has been separated- hemoglobin. During the examination of this Santa Fe county find, it was noticed that the cow's hide did not seem like it had been rained on, yet it had rained off and on all night long. ODDLY--the cow's hide seemed to be dry.
REPEATING--(PROOF OR DARN GOOD EVIDENCE; ALIEN-CATTLE-MUTILATIONS)---During the morning, after the carcas had been found===== the dead cow was rained upon and only then did the beef's hide look like it had been out in the weather!
The cow's wounds were not butcher style slashes, it was done with a technology that made for clean cuts. The newspaper "NEW MEXICAN May 16, 2012" mentions this mysterious find in a small article. In the dispatch, constable Major Ken Johnson said, "The cuts on the cow were not consistent with an animal attack. "Something killed this cow, and then mutilated it, and the wounds on this beef were not man made or animal made! Is that not proof of some kind of ALIEN LINK-----Yet as astounding as this story is-- the national media ignores it!
AGAIN- AND AGAIN--- I WILL REPEAT THIS EVIDENCE BECAUSE IT SHOWS THAT THERE IS A UFO LINK TO THE COW SLASHING PHENOMENA-- THAT SHOULD BE KNOWN AS ALIEN-CATTLE-MUTILATIONS = The ground around the cow was saturated, due to the rainstorms, yet there were no human tracks in the saturated ground, and no tire tracks.The investigating party left tracks on the wet ground because the soil was saturated with water. But there were not --NOT-NOT-NOT--any tracks by this dead beef, prior to the investigation.
Nick Sanchez who was at the scene, and is an outdoorsman, said that the cows wounds were not done by a guy with a blade.
The cow had no brand, it was a wild cow. Furthermore the area where the cow had died was in a location that is about ten miles from any road------on its side of the northern shore of the RIO GRANDE in the DIABLO CANYON quadrant. As for the southern RIO GRANDE shoreline----it was impossible to get across the fast flowing Rio Grande ------from the south shore, due to the depth of the river at this time of the year-because of the water runoff. Only later in the morning, on the day of the find, were the investigators able to procure equipment to get to the mutilation scene.
If the constables, the Feds, the state authorities, or the MAN FROM GLAD--- could not get across the RIO GRANDE--- then how could some cult or crazed man cross the river--- and if they did or he did--- how come they or he did not leave tracks?
As stated before- the cow's carcass was only noticed by way of a security camera at dawn on Sunday morning May 13, 2012. Remember reader, the cow was seen alive all night long by way of the lightening bolts that lit up the sky. But sometime before dawn, a secret or stealth intelligence killed this cow and this cow according to the authorities was not mutilated by animal or human. ALIEN-CATTLE-MUTILATIONS =NO TRACKS AROUND DEAD COW!!!! LOOK AT PHOTO TO THE LEFT--OR ABOVE LEFT- MORE INCIDENTS WHERE THERE IS NO SIGN OF STRUGGLE OR BLOOD STAINS AROUND THE DEAD --MUTILATED BEEF---
As for the DIABLO CANYON MUTILATED BOVINE scenario--there was nothing in common about that kill as compared to other cattle-mutilation sites. Some cow mutilation scenes before and after are linked to strange noises-ARC WELDER sound, lights in the sky, and odd smell.
The sound of an arch welder was NOT heard in the area where the cow was mutilated. NO strange craft or lights in the sky were seen in the area before this incident. NO smell that can best be described as what one would smell down a battery aisle at a car-parts house was recorded.
Reader, this cow was killed in a pretty much remote location or untouched area. Furthermore, about a month before this happening, a mutilated bull was found near Dulce.
In the past the Buckman area or DIABLO CANYON quadrant, has been known for strange goings on, as in UFO activity at night. Everything from strange lights in the sky, be it a solo craft to a gaggle of lights has been seen through the decades over this wild area of Santa Fe county at night.
All info concerning this mystery or other cow mutilations is welcomed. email me---santafewriter@me.com
The following photos are from the late 1970s- cow mutilations.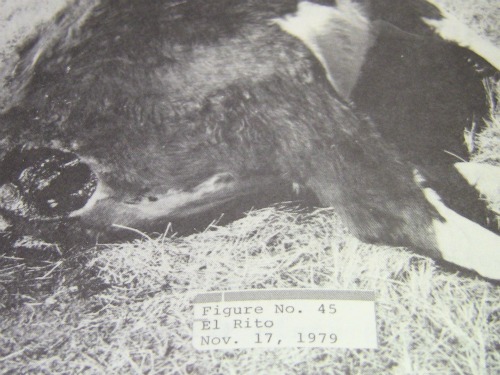 ---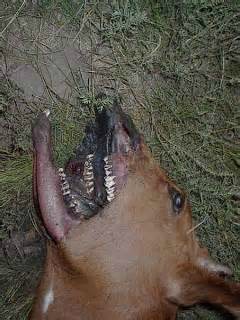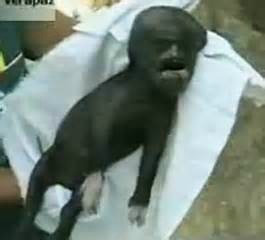 Cattle mutilations-at first were mainly older cows 7-8 years old, as of today calves and mature beefs are targets. Younger cows when found, in some instances they are unlike other mutilations because there is almost nothing left of them.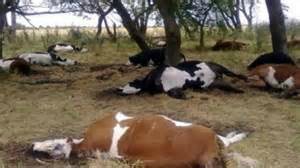 THE PHOTO ABOVE--THE STORY: A calf was born early in 1999 and died at birth, the incident happened North of Santa Fe. This herd of where this oddity came from had been hit by cattle mutilations. The son's rancher an elementary student thought that the dead calf looked like an alien. Supposedly this is the calf, if this is a legit picture, it certainly does have a odd head, some people think it looks human like. What can account for this oddity in an area that has had UFO activity and many cow mutilations. Is this a product of some kind of alien breeding with human and bovine DNA or is it a simple odd-cow deformation, or is the calf snapshot a hoax? An Albuquerque television station did a report on this calf, for its news broadcast. If anyone has a copy of that news blurb contact me. Once I get the new broadcast , post it onto YOUTUBE, the question will be answered is that black calf snapshot fact or fabrication? Below-click on video icon for a news telecast on cattle mutilation, unsolved--3 beef mutilations.
UFO STORIES ARE FOUND IN "M&M CHRONICLE USA"-----------PRESS ON COVER TO ORDER-PAY PAL--A GOOD READ!!!!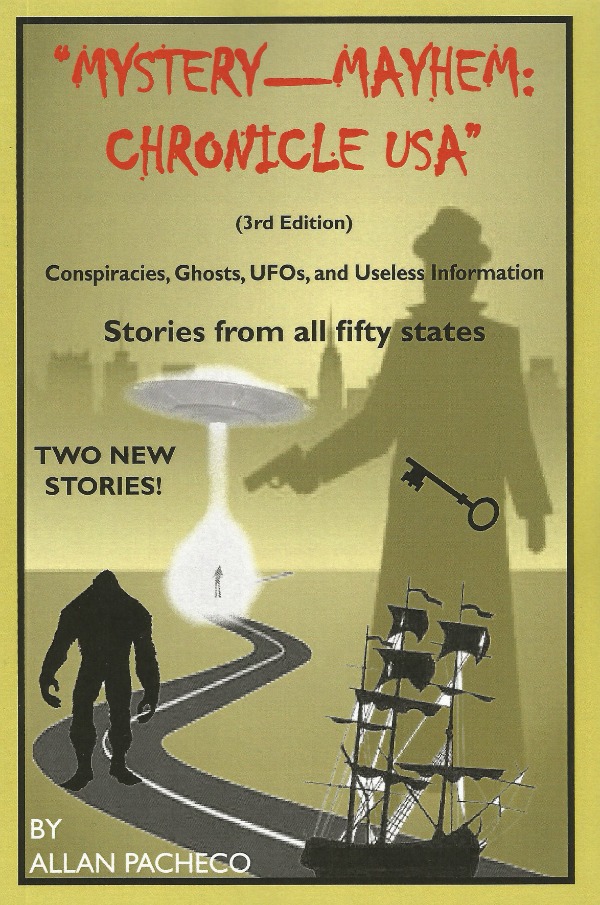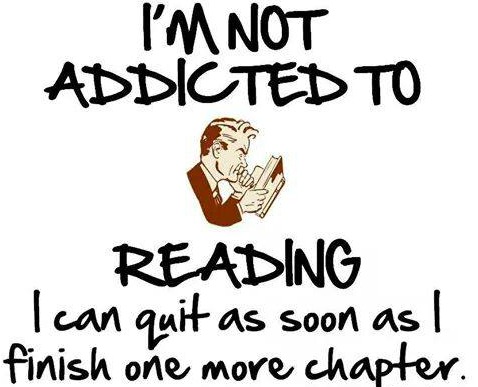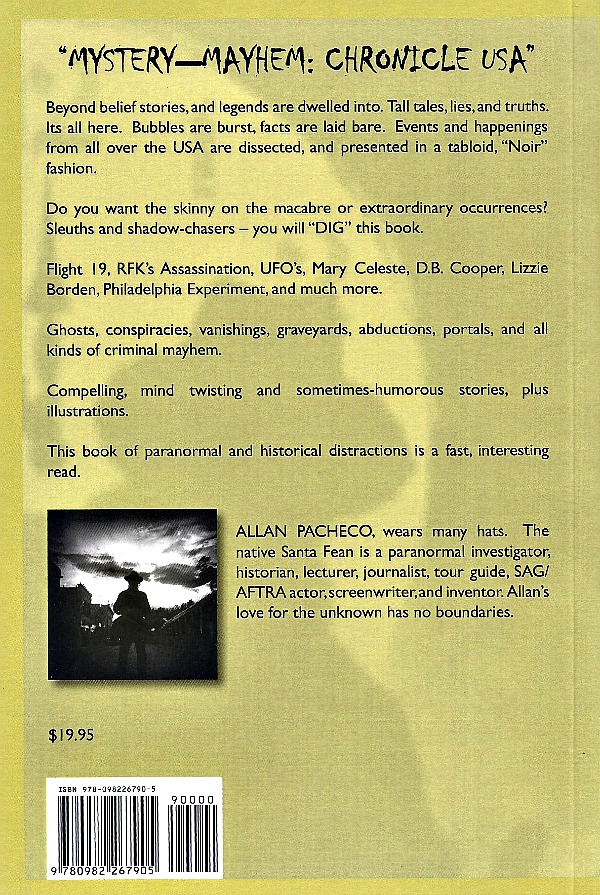 YOUR TOUR-GUIDE & AUTHOR----ALLAN PACHECO------------------------------------------------------------------------------------------------------ALLAN's TOURS ARE FILLED WITH ALL KINDS OF ODD SANTA FE MAYHEM ----&----INTERESTING HISTORY--- TO BOOK A TOUR--505-986-5002---OR 505-231-1336GHOSTS, UFOs, ROSWELL 1947, ALIEN-CATTLE-MUTILATIONS--ALLAN's TOURS ARE DIRECTED TOWARDS YOUR INTERESTS!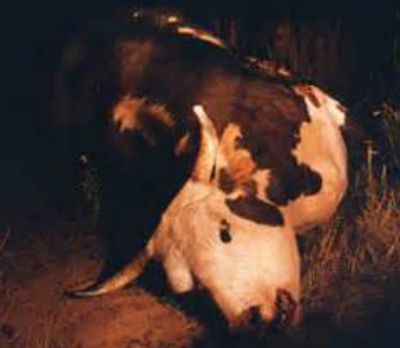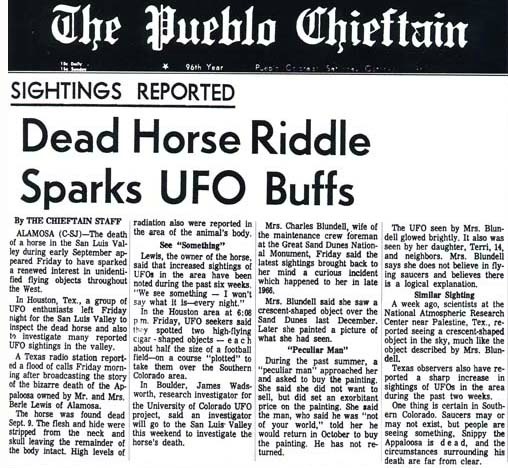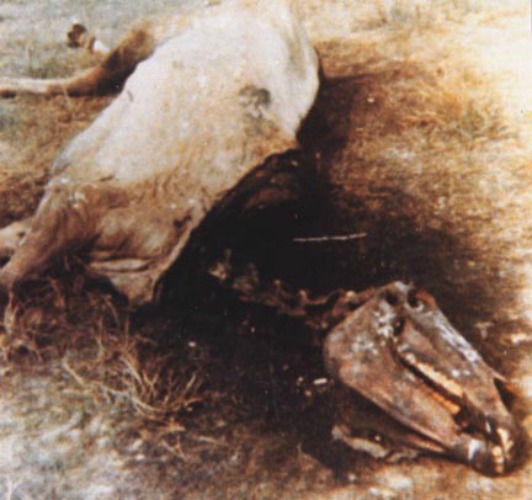 ACCORDING TO THE PRESS--THE CATTLE MUTILATION PHENOMENA STARTED IN 1967--THE PHENOMENA PEAKED DURING THE 1970s------------ EL WRONGO!!!!! CATTLE MUTILATIONS CONTINUES AS OF TODAY--- AND THE WAVE OF MUTILATIONS STARTED IN 1947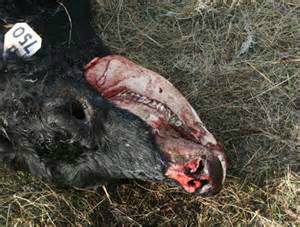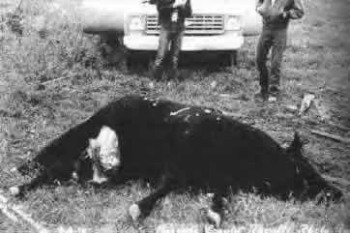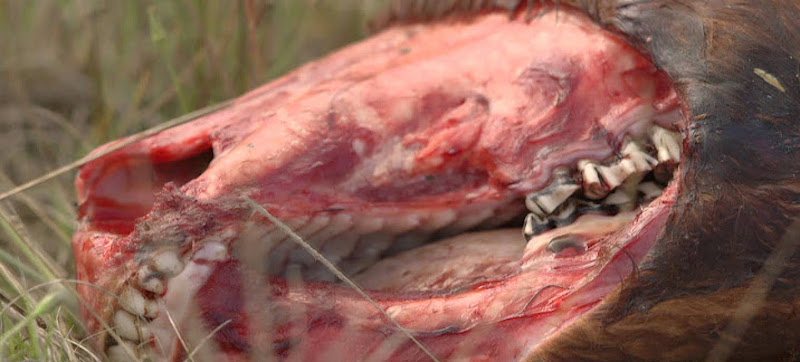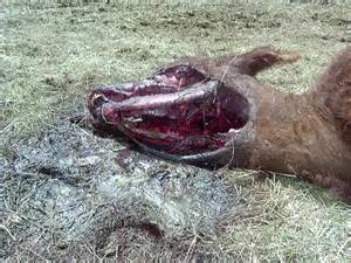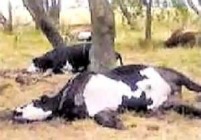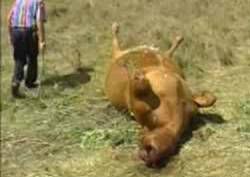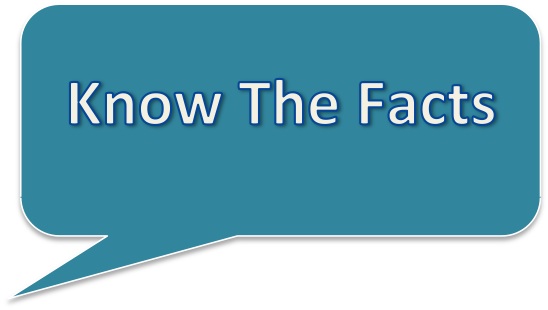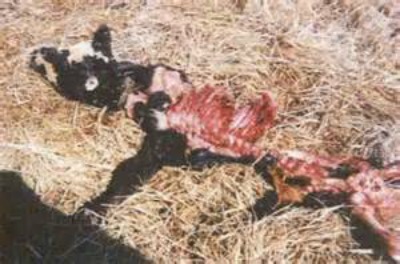 CATTLE MUTILATIONS HAS BEEN HAPPENING SINCE 1947 BUT THISE GHASTLY EPIDEMIC HAS NOT REPORTED BY THE NATIONAL PRESS. WHO- HOW- WHAT? THROUGH THE DECADES RANCHERS HAVE BEEN FINDING SOME OF THERE COWS JUST TORN APART--IN SOME CASE ALL THAT REMAINS OF THE DEAD ANIMALS ARE (BEST DESCRIPTION) GREASE SPOTS WITH SOME HIDE. WHAT EVER KILLED THE COW DID IT FAST AND THERE IS NO STRUGGLE SIGNS--- THERE ARE NO PREDATOR TRACKS AROUND THE MUTILATED BEEF.
---
--- IS THIS---WHAT IS MUTILATING THE BEEFS? IS IT A HOAX OR???? THE CREATURE HAS BEEN LABLED "THE NIGHT CRAWLER"--- IS IT A VERSION OF ---- OR IS IT A SKINWALKER?
---

505-986-5002 = PARANORMAL TOURS ( HIGH STRANGENESS TOURS) OR HISTORY TOURS = 505-231-1336----------------------------------------- or GET ALLAN ON YOUR RADIO or TV SHOW-- SOME OF THE SHOWS ALLAN HAS BEEN ON CLICK ON LINK BELOW -- HE IS A VERY INTERESTING GUEST & HERE IS SOME OF HIS STREET CRED...
---
RADIO SHOWS ALLAN HAS BEEN ON -- LINK
---
CLICK HERE TO GET BACK TO PAGE YOU CAME IN ON--CATTLE MUTILATION MYSTERY
---
------------MAIN PAGE---SANTA FE GHOST AND HISTORY TOURS---CLICK HERE