SANTA-FE-WITCHES  --- The royal city is home to numerous BRUJAS --- Spell casters --- wicans -- white and black magic people.  BALDERDASH!  Noooo --- here is proof.  Taken from tours -- expeditions -- videos from around the world.  Yes -- Santa Fe is a place filled with all kinds of high strangeness.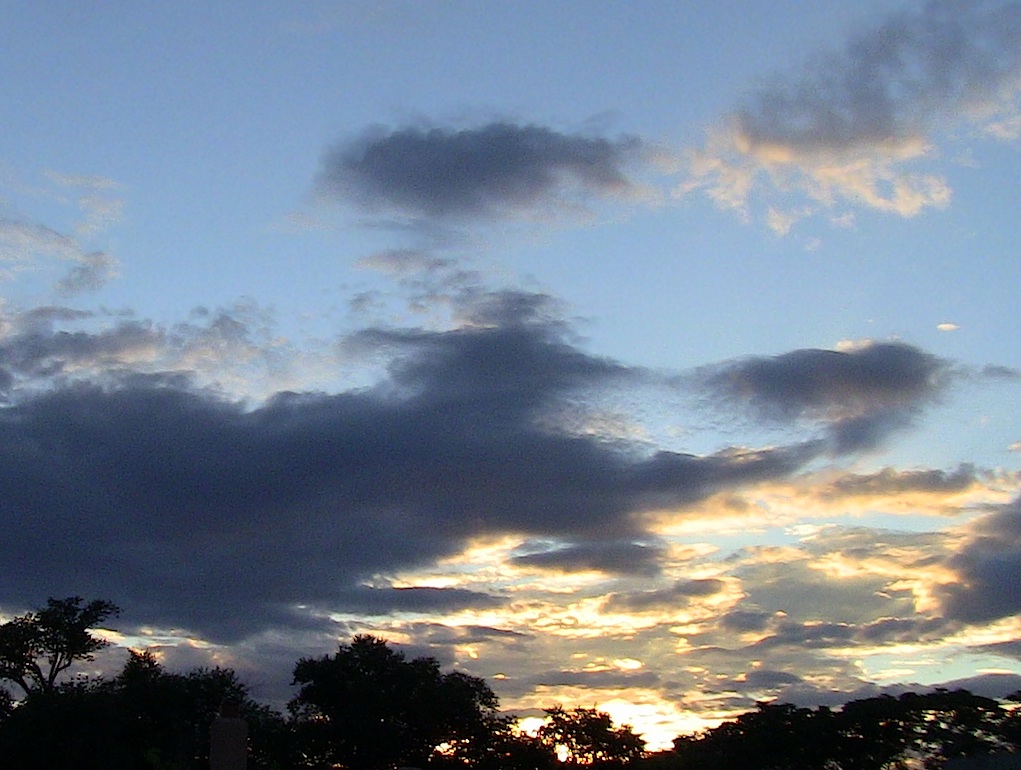 SANTA-FE-WITCHES --- Above and below -- DUSK --- --- after dark the energies gain power and the witches tend to be more active. The photo of the old graveyard below -- is a bit creepy.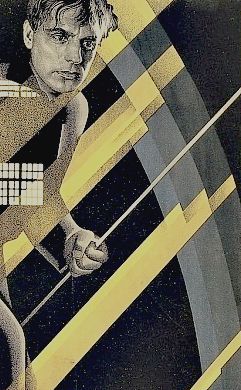 When it comes to SANTA-FE-WITCHES ----- be aware and be prepared ------WITCHES-BRUJAS-BRUJOS - --- take a look at these videos  -- there is a power --- that they have --- judge for yourself if these are legit videos. 
 People think there is no such things as WITCHES --- take a look at these photos. 
PLACES  where the MACBRE PEOPLE--- have gathered -- places of invoking --- areas that are just filled with power.
SANTA-FE-WITCHES --- this area there has been all kinds of paranormal activity --- yes it looks like something out of the BLAIR WITCH PROJECT movie...  Note how the photos -- capture the vibe -- yes -- at times the invoking energy or nesting energy -- is at a peak.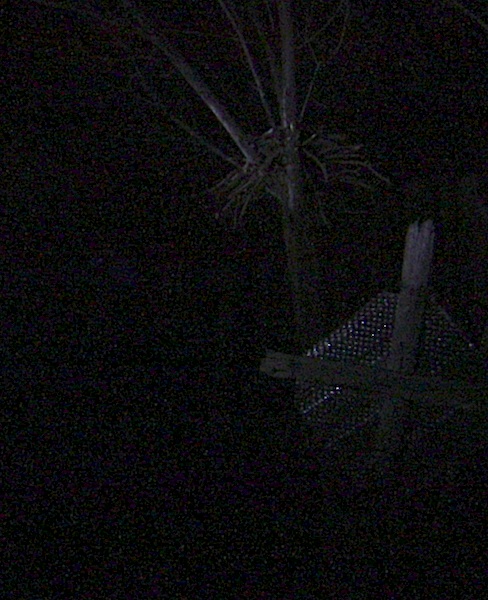 The effort and time to put something into the tree -- SANTA-FE-WITCHES --- scoffers will say -- NAY -- it is the work of an artist or  tricksters ----  think on this ---  this place -- this tract --- through the centuries has been linked to all kinds of metaphysical activity -- death ---- and bloody crime... On tours and investigation Witches -- Luciferians have been  seen -- encountered on this tract.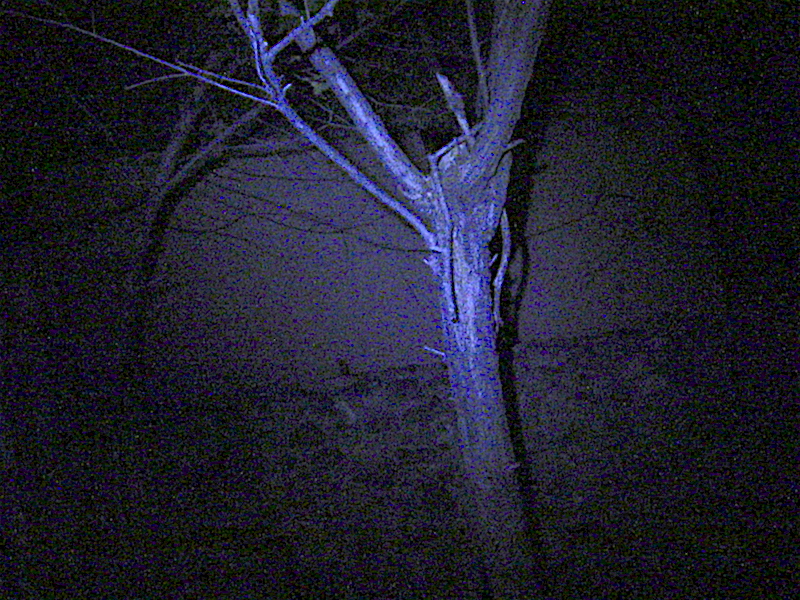 This area at night above and below pictures --- has had all kinds of strong energies -- not all the time -- but when they are there -- HEY BABY!   What does this all look like -- offerings?  Creepy art work for a film NO THE BLAIR WITCH PROJECT was not filmed here -- but what is found in this tract -- you would think it was) ?  Point being -- this area -- at times -- at night is or can be loaded with macabre forces.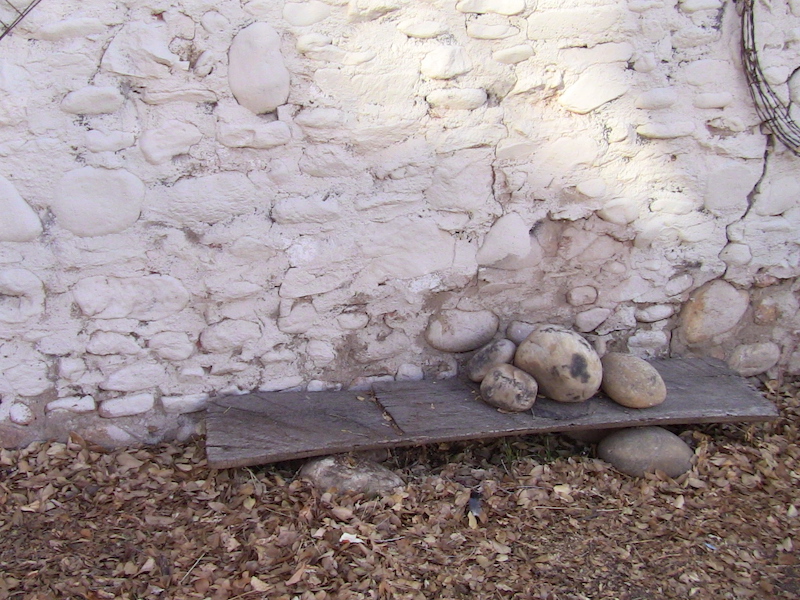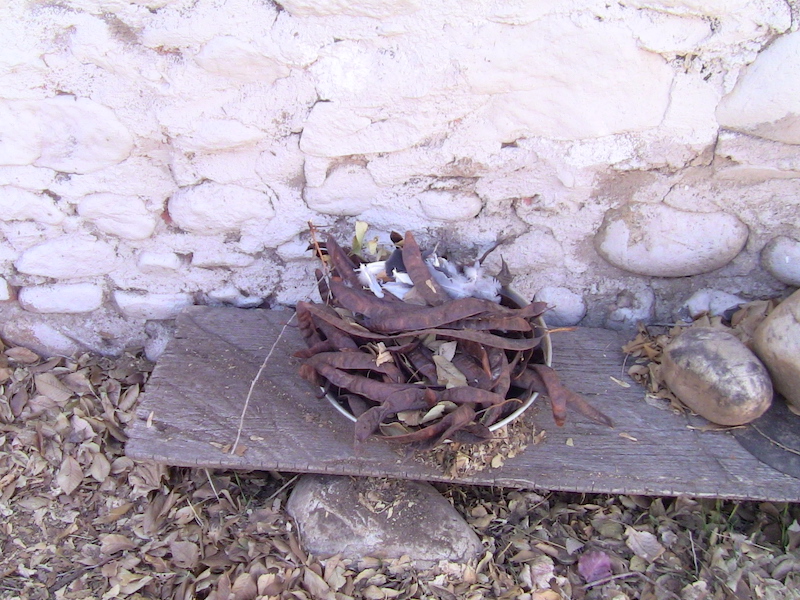 NOTE the feathers above and below ---  GUTTED FOUL --- 
What is this --- a focusing device -- for the macabre people --- a stunted twisted piece of art work that has been highjacked --- a Trojan horse of sorts for pow wow magic?  Note the black feather put into the rondel, what does that mean?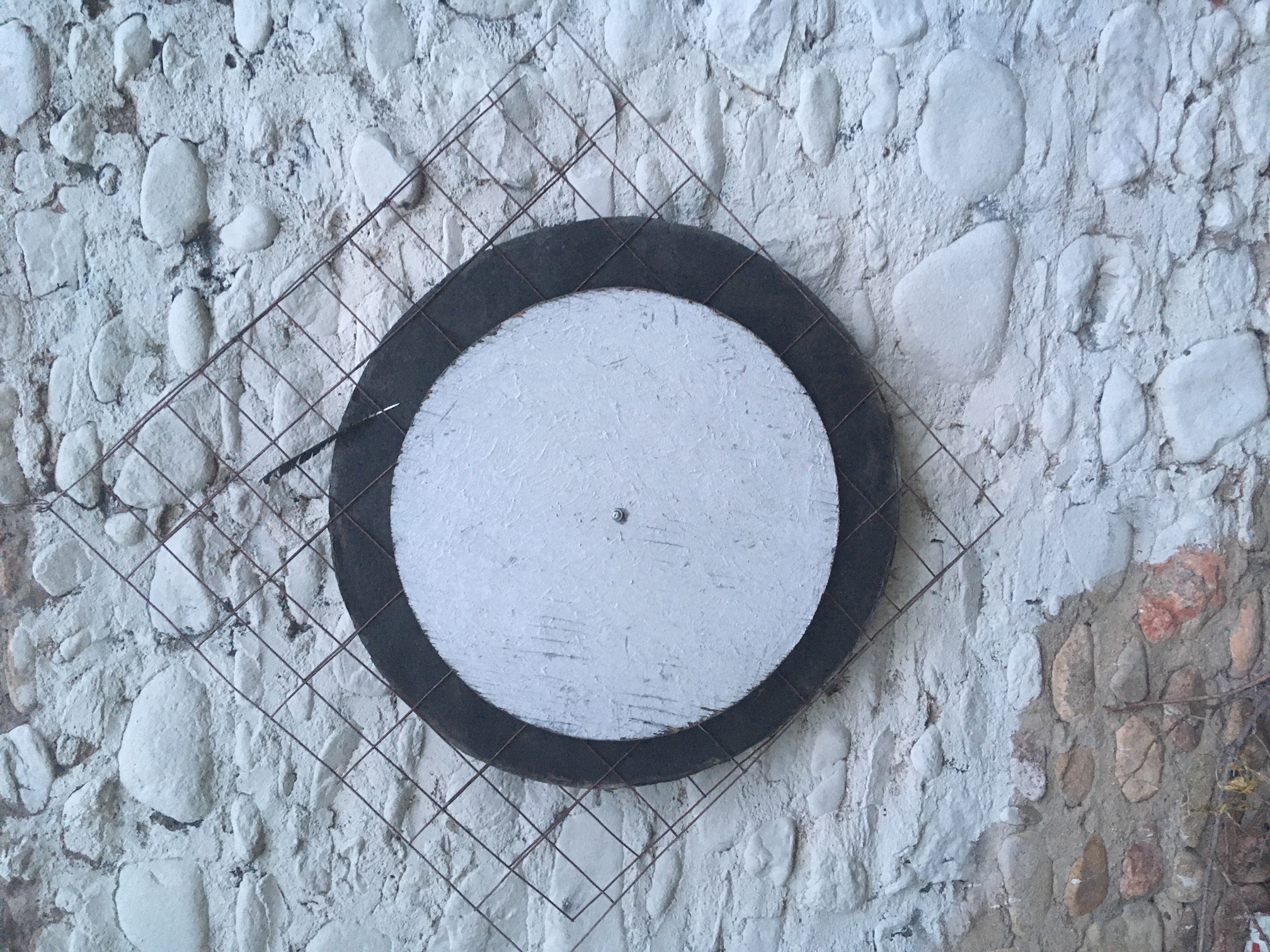 CHANGE UP -- below---  kind of creepy --- the area --- its history, etc...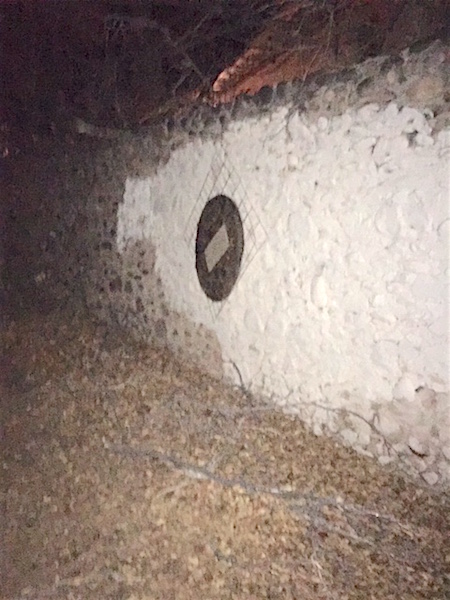 The focus device, years after the above two pictures.  A new point for  invoking, grounded. In time it will be replaced or put back onto the wall with a new shield.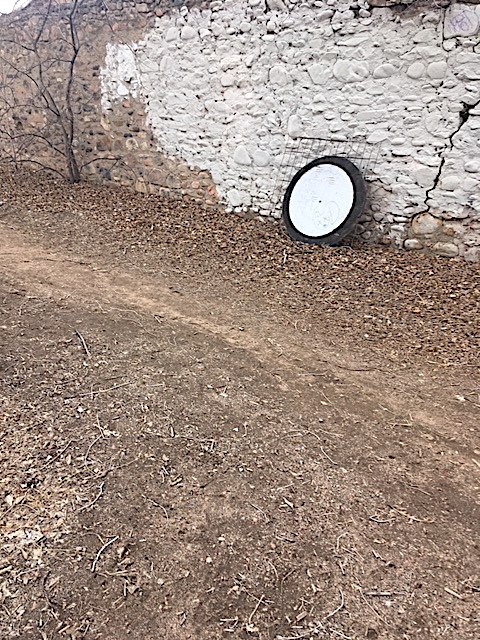 AT times -- somebody or some people leave black feathers  around town -- or at strategic places --- as in the feather will be seen.  What is the significance of the BLACK FEATHER -- everybody  will have a different  take on it -- -- but they tend to  agree  that it is --  magic symbol.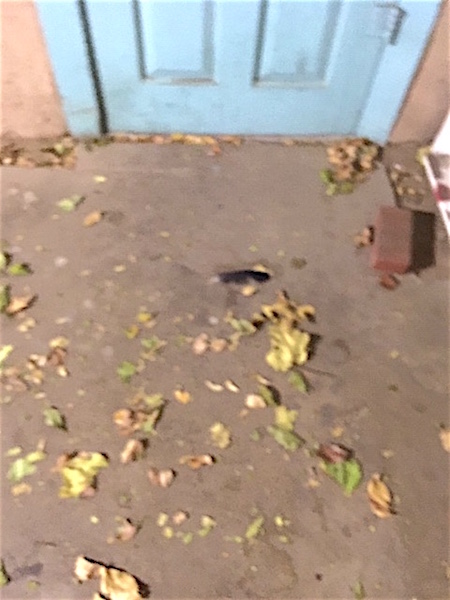 The next photo -- no explanation --- wind gust -- burst of energy -- aperture failure --  take your pick.  Very odd.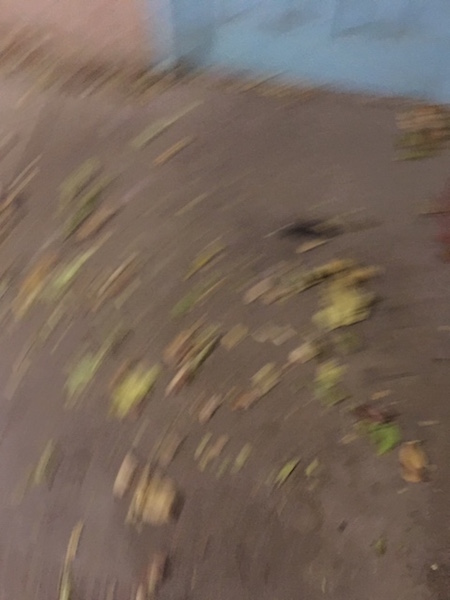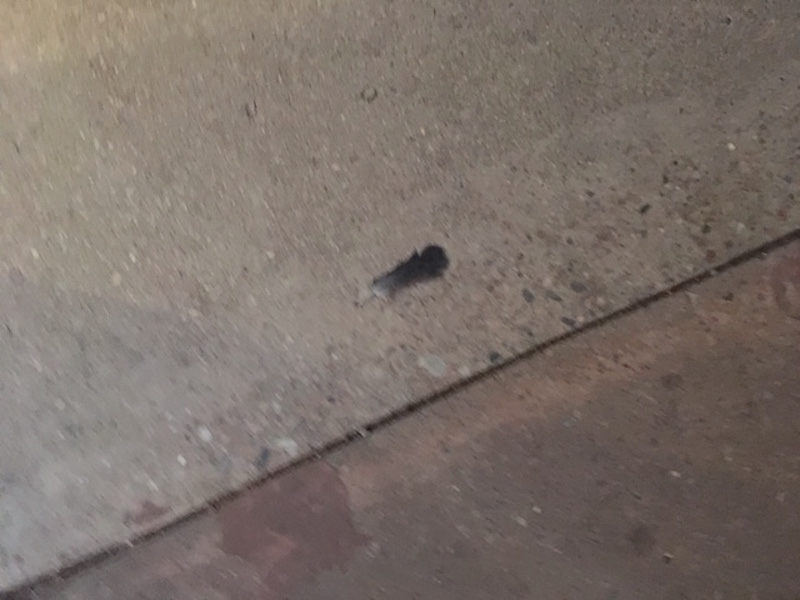 MORE black feathers  above and below -- different locales.
RAVEN --- put to be seen.   YEOW!!!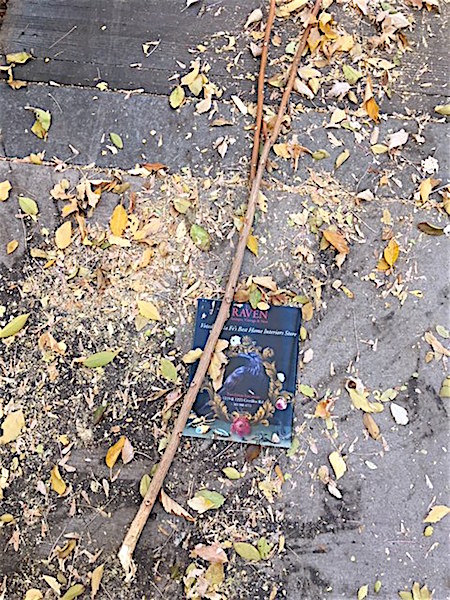 AS we safaried -- MARIA kept getting a stronger felling  -- SANTA-FE-WITCHES --- can be a scary tour -- maybe it is not for you? Like who done it mysteries, try this page. BLACK DAHLIA DE SANTA FE  II,  The ROSEBUSH SKULL MYSTERY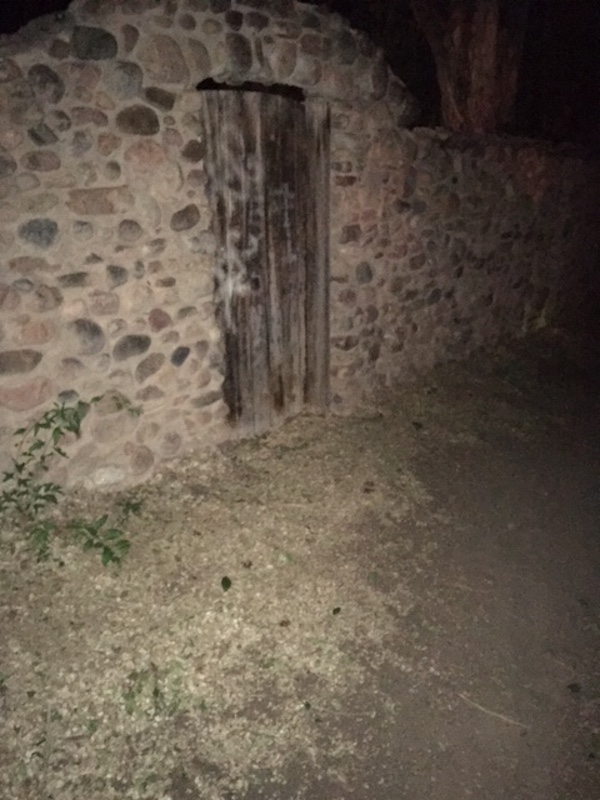 THE DOORWAY -- of DR. PHIBES! AN old  1970 movie.  Usually the door is locked. It is unlocked, who goes  first?   This area is used  for all kinds of dastardly rituals, the tract is also linked to some gruesome endings. 
WHAT FORCE --
WHAT EVIL DEED --WHAT  ENERGY --
IS READY TO SPRING FROM BEHIND THE DOOR?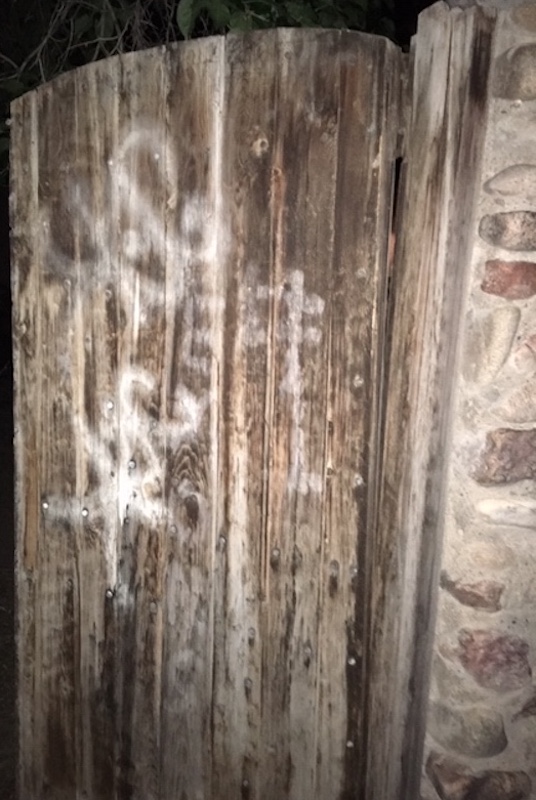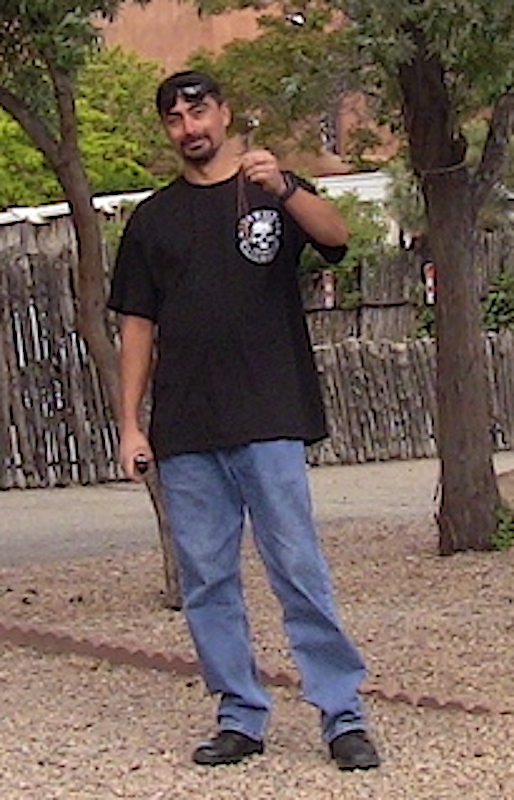 POWERFUL FORCE or FORCES - SANTA-FE-WITCHES -- above on a daytime ghost tour -- this ghost hunter found a spearhead. Was this object left or dropped after a spell an invoking at night? I do not the think the warhead  dates back to CONQUISTADOR days?  On your tour, you do visit places where  history, as in battles happened. Also, you visit haunted locales where occultists cast their spells.  
ABOVE --- Investigator -- tour guide -- Al Pacheco outside of the haunted Oldest House in the USA, points to something left behind. YIKES! This national landmark is also known as the house of the BRUJAS.  Translated from Spanish, Brujas means Witches. The Royal City is filled with occultists, on your tour with Allan Pacheco, you go past and through areas that are known for metaphysical activity as well as being known for cult bashes.