One theory that was in vogue for a while but has lost its credibility over the years. Is that the Dyatlov group were swept away by a avalanche. The evidence at the sight vetoes  this idea.
ANother notion has it that the group heard an avalanche off in the distance, the panicked and ran out into the lethal night, with little clothing, because they thought they were going to be submerged by tons of snow. 
Away from the tent, at night, with no lights, they became lost and froze to death.
How dark that night was, with the snow, clouds and starlight, one will never know.  But the idea of nine experienced hikers not being able to get back to their tent, when they discover there is no avalanche, does not sound right. Also, the manner that they exited the tent does not make sense either, barefoot or in socks, barely dressed, in single file they ran.  IT does not compute.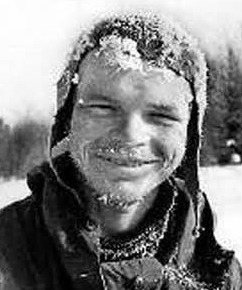 WAS THIS SLAUGHTER DUE TO AN ALIEN ABDUCTION THAT WENT BAD?  CLICK HERE--- TO GET TO FOO FIGHTER PAGE