BURRO ALLEY, SANTA FE, NEW MEXICO :  Yes, the burro is always getting dolled up.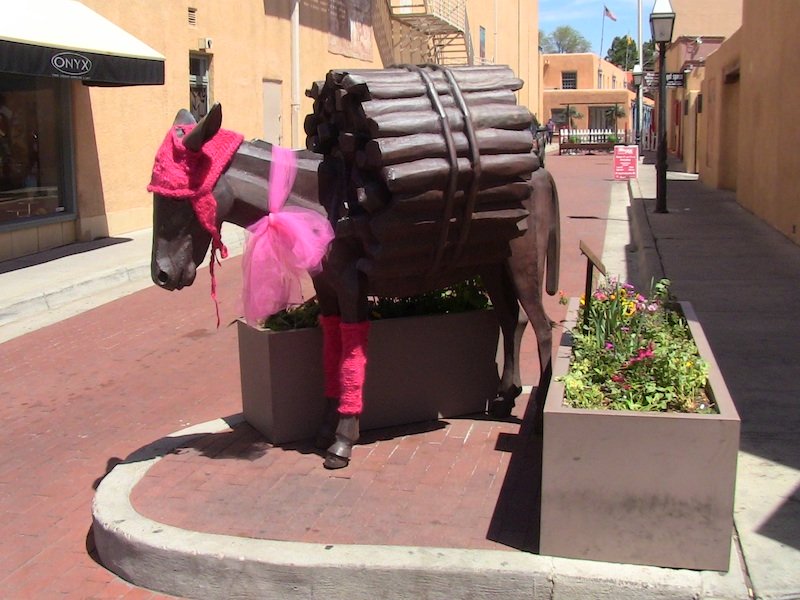 SCHEDULE A TOUR 505-986-5002 or 505-231-1336
BELOW: ALLAN leads a private events group down Burro Alley.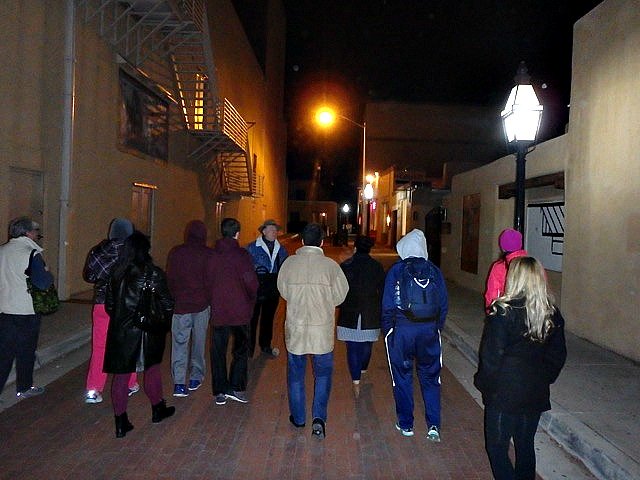 BELOW: It looks like the SO-HO (London - JACK the RIPPER area) no its not; its old Santa Fe - BURRO ALLEY -- winter time.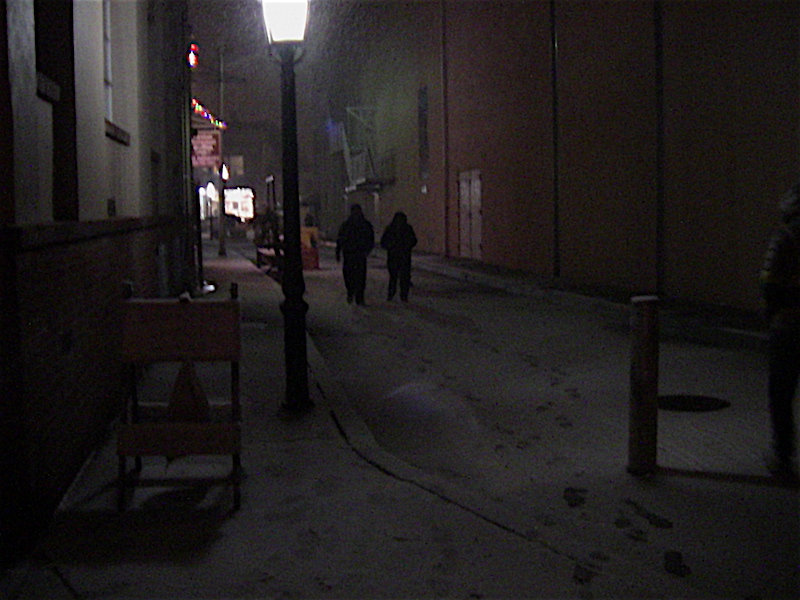 Below left:  The metal burro is perhaps the most photographed beast of burden in the world.
At night  (OCCASIONALLY) Burro Alley does have a vibe -- (GHOSTLY) -- it does happen --- its a rarity but shades -- globulars have been seen or photographed -- -- BELOW: On a late night tour -- this young lady (Amanda) hesitates before entering the landmark street -- yes -- there was paranormal activity in the old Santa Fe street that night... History tour or Ghost tour -- bring your camera...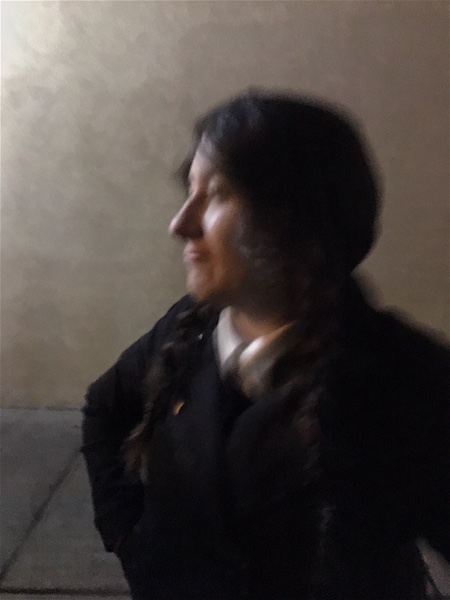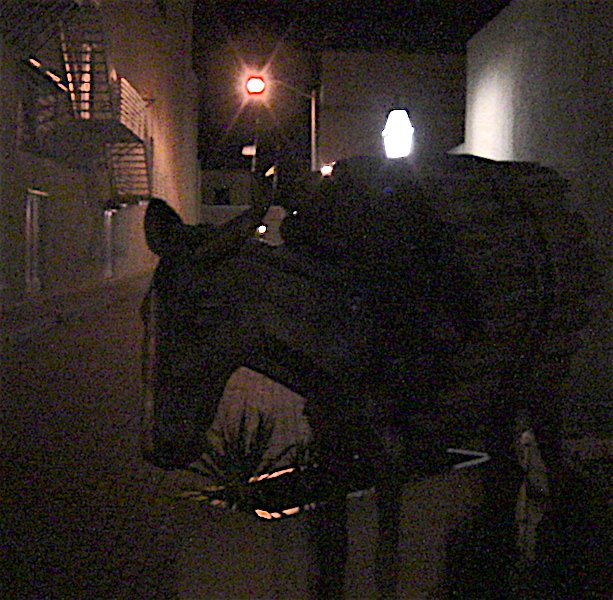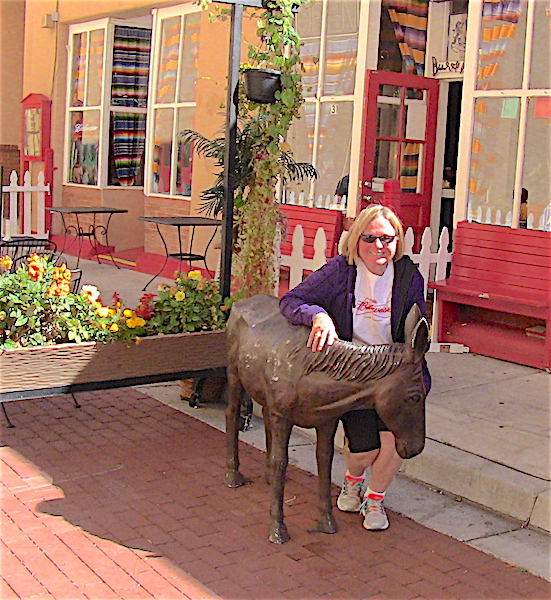 Above & Below --- Further down BURRO ALLEY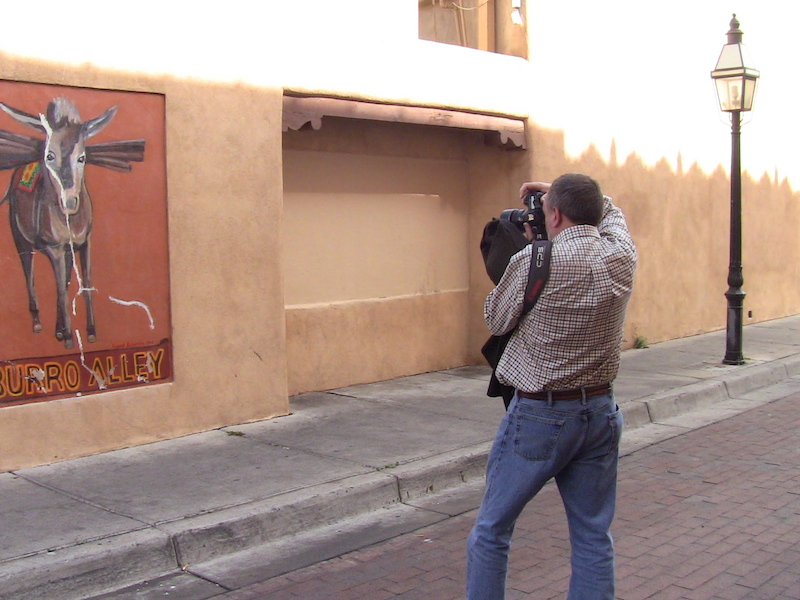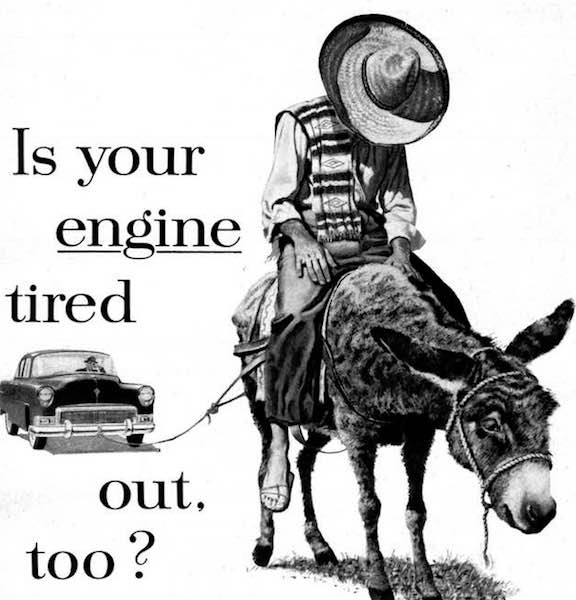 There is a lot of history in Burro Alley!  REPEATING!  At night on rare occasions ---  through the generations ---paranormal activity has been witnessed in this area -- ghosts from Burro Alley's Wild West days! 
| | |
| --- | --- |
| On your private tour, you see old Santa Fe, as Allan details the city's legends, tales, locations, history and people.  Schedule a safari --History tour or ghost tour 505-986-5002 or 505-231-1336... RIGHT: Santa Fe --Circa 1905 BURRO ALLEY is behind the lady to the right. | |
| | |
| --- | --- |
| Burro Alley was once an entrance way for alleys and businesses.  Below: part of the old Casbah. | |
BURRO ALLEY = ALL KINDS OF MAYHEM & HISTORY HAPPENED HERE !!!   WHEN YOU TOUR BURRO ALLEY BE READY TO DRAW YOUR SIX SHOOTERS!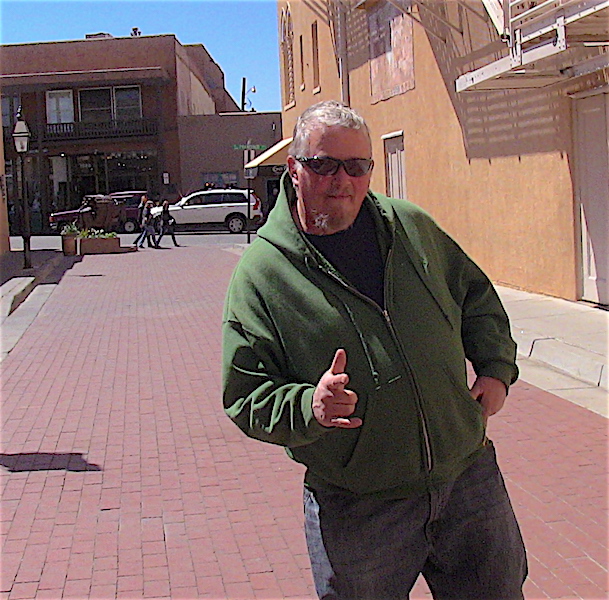 Below: Two modern day Catron County Cowboys --- Lance and Cole get ready to shoot it out with skin colored 45caliber pistols in Burro Alley.  On your tour you visit where the bullets flew during Wild west days.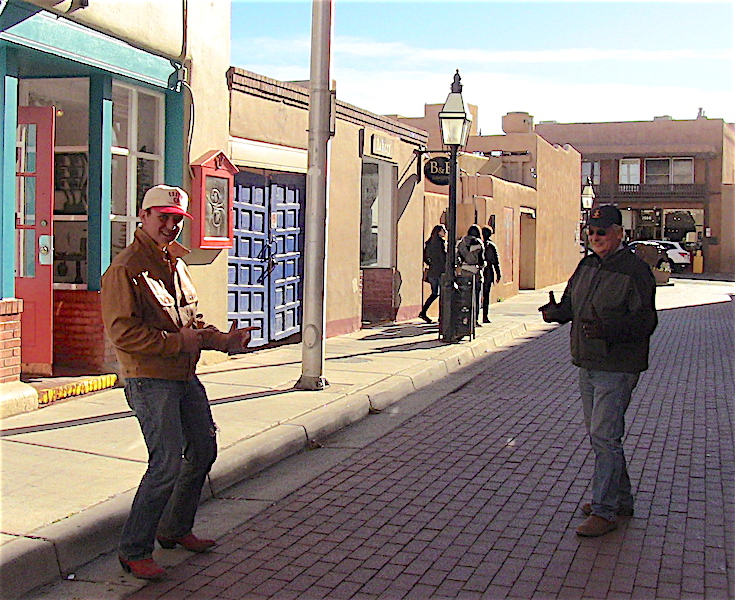 BELOW: Modern cowboy gunslingers or a version of contemporary BONNIE & CLYDE .  This town aint big enough!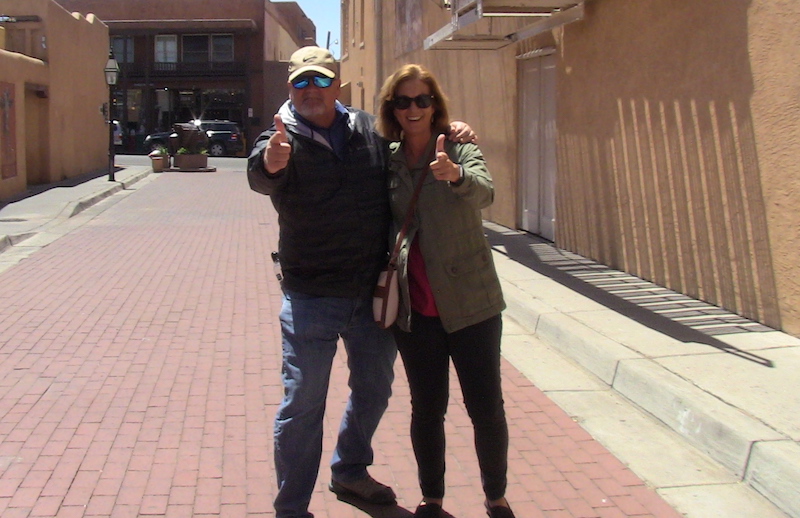 BELOW: Entering the north side of BURRO ALLEY its  "THE SUNDANCE KID AND ETTA PLACE"!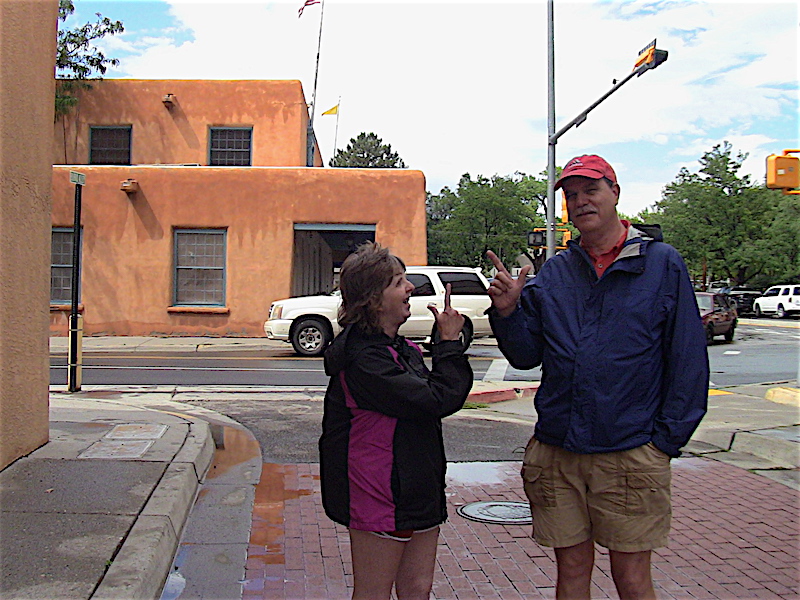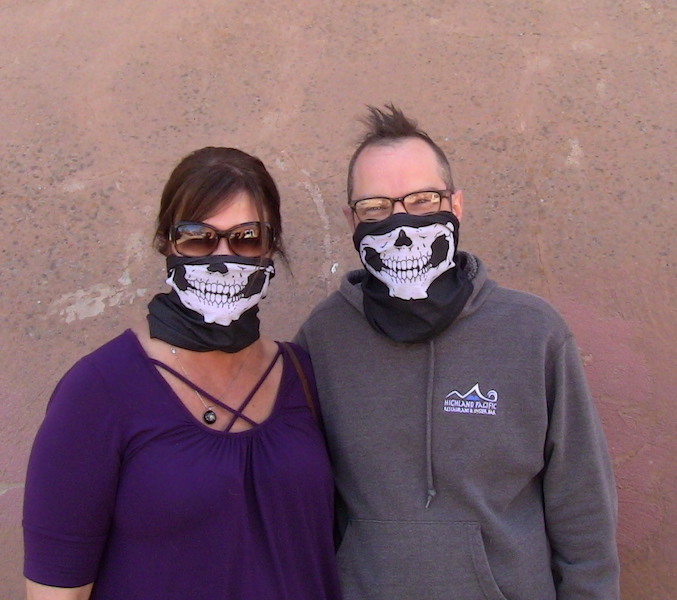 In old Santa Fe, when you tour with ALLAN, bring your outlaw bandanas.  BELOW:  Santa Fe Trail monument -- those draft animals are headed for Burro Alley.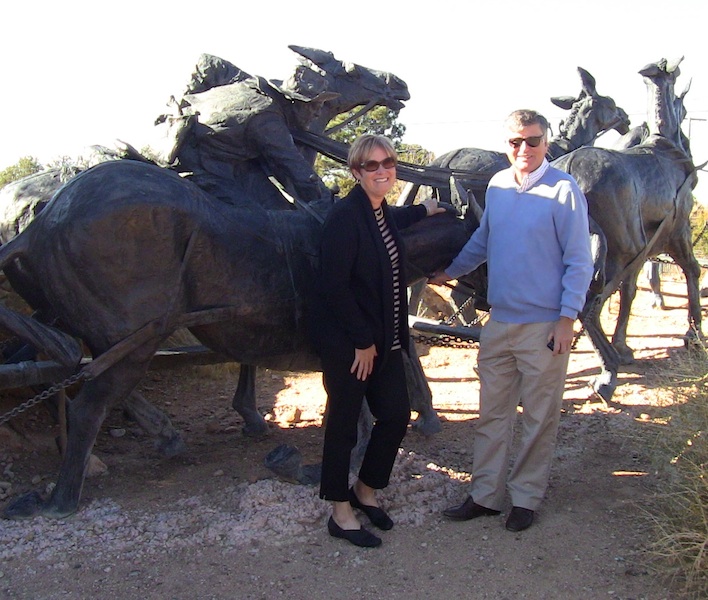 SANTA FE GHOST AND HISTORY TOURS -- LED BY ALLAN PACHECO  505-986-5002 or 505-231-1336 schedule a tour, his books are available on Amazon.    

SCHEDULE A TOUR OR GET ALLAN ON YOUR RADIO SHOW  505-986-5002 or 505-231-1336
Some of the radio shows your tour guide has been on.