SANTA FE PRIVATE TOURS: GHOST OR HISTORY are led by historian and paranormal investigator ALLAN PACHECO.  Your safari is done at your convenience -- DAY or NIGHT tours -- and both ghost or history walks are so very interesting --- schedule a tour with AL 505-986-5002 or 505-231-1336 ..... Below Father and Son tour -- late night trek-- in the plaza on the bandstand --- 
Below: Inside "THE OLDEST CHURCH IN THE USA" legend has it -- ring the bell you will return to Santa Fe...  There is a hammer and you hit it, the sound from the bell is magnificent.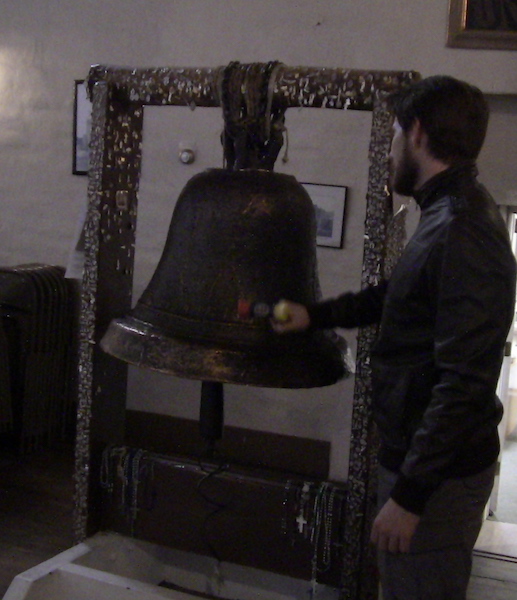 Below: A Review of Allan Pacheco's tour -- schedule one 505-986-5002 or 505-231-1336
August 4, 2018
I decided to book a tour with Allan after reading some of the reviews and was not disappointed.
My daughter, my sister and I were entertained with the history and stories of Old Santa Fe.
We were more interested in the paranormal, so Allan tailored the tour towards that subject and we had a great time, even learned about a few of our ancestors who may haunt the old town.
If you are looking for something a little different to do while visiting Santa Fe, I highly recommend Allan's tour - you may walk away with a different view of this interesting old town.
D.D.
Santa Fe is filled with Lost Roads and Lost History -- when you tour with Al Pacheco, you gleam Santa Fe's rich heritage and paranormal mayhem.

Old RT. 66  or ROUTE 66, used to pass through Santa Fe, on your history tour -- you learn about Santa Fe's interesting and seldom mentioned fascinating past.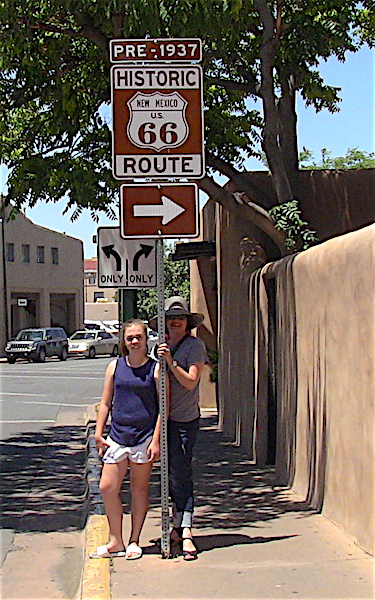 All roads lead to Santa Fe --- Below -- at the end of the Spanish Trail ---  History Tour.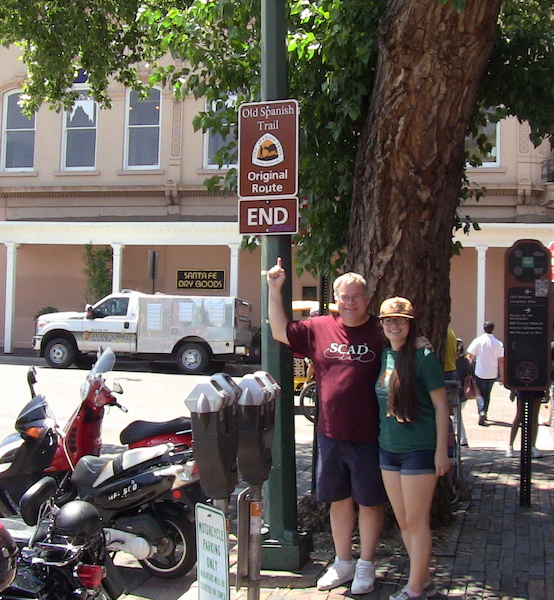 Below-- Daytime History tour -- in the La Conquistador chapel --- this chapel has a tranquility that is beyond belief --- kind of what one finds in the Sistine chapel -- special energy here.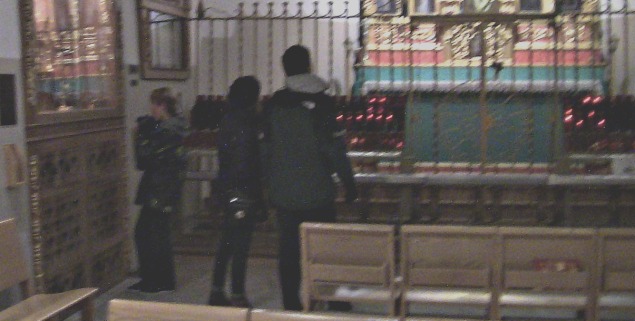 GHOST TOUR--PARANORMAL TREK--GHOST WALK                         ---------                        BELOW                    --------
BELOW: before we enter into the haunted La Posada resort, a pose in front of the picture of "A SPIRITED RESTAURANT".  Julia Staab and other energies haunt this building, Julia was a young bride who was the wife of ABRAHAM STAAB.  La Posada was Abraham;s mansion, this man was also the king gangster who ran the notorious SANTA FE RING during wild west days.  Orbs along with Julia's ghostly outline at times have been seen inside LA POSADA.  No she did not die as a teen, she was dispatched upstairs as an adult!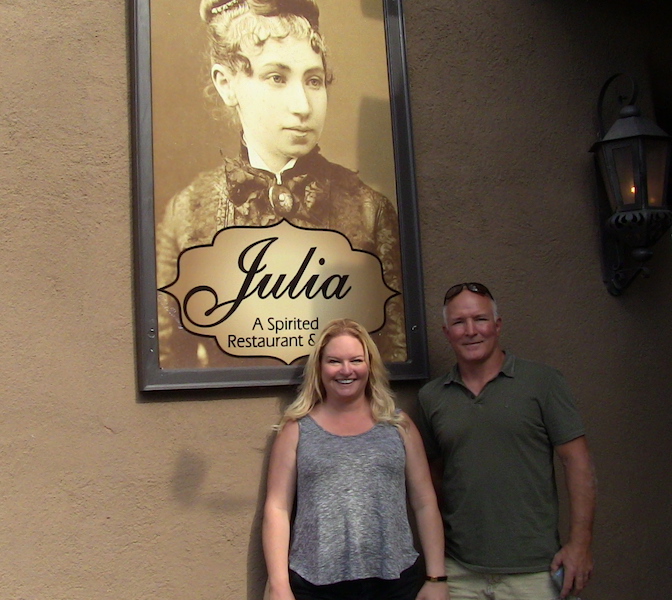 BELOW: Inside the La Posada study, the framed picture of the AL CAPONE of the NEW MEXICO TERRITORY, ABRAHAM STAAB.   Abraham was the equivalent of LOUIS LEPKE of New York's 20th Century's "MURDER INCORPORATED".  On your Ghost or history tour -- you get eh SKINNY!   505-986-5002 lets go touring.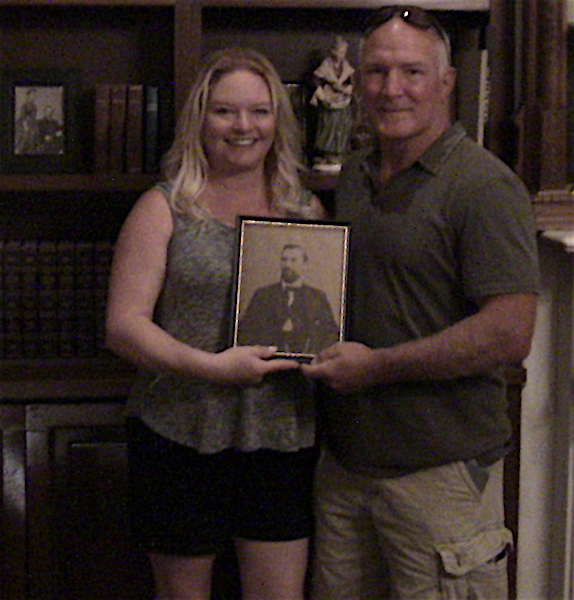 Below outside of the Staab suite--- this is where Julia met her fate.
YES! ON TOUR -- POWER OUT at the haunted LA POSADA -- this is the ROSE ROOM where strange things have happened in the past... Ghostly strange things...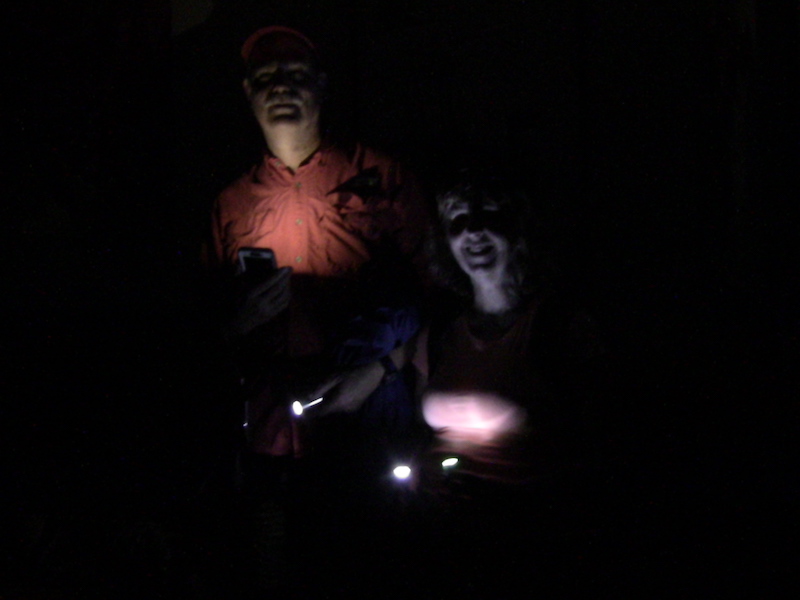 PROOF -- there is something in the ROSE ROOM at times ---- and it aint from this world!!!  Get the drift?
| | |
| --- | --- |
| | Left: End of a fun daytime tour with NY Michele... Below -- Allan leading a ghost tour outside of haunted Marian Hall. |
Below: --_ What a nice commercial for Allan's book --- yes bring one of his books along and Allan will autograph it ---- The SKY CLUB --- at the end of a tour ---from this rooftop bar -- you can see all of old Santa Fe ..... set up a tour with Al 505-986-5002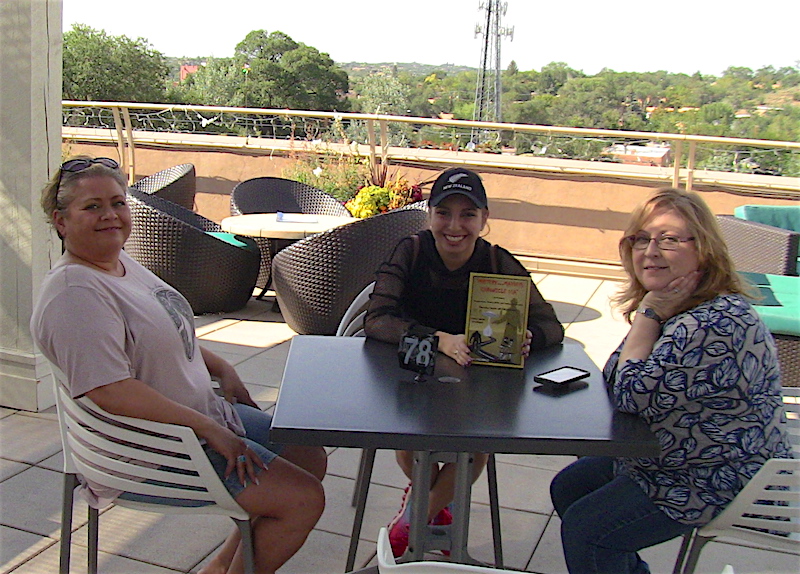 BELOW:  ALLAN PACHECO does go to some strange places in his investigations.  That is why his tours are so interesting and thorough!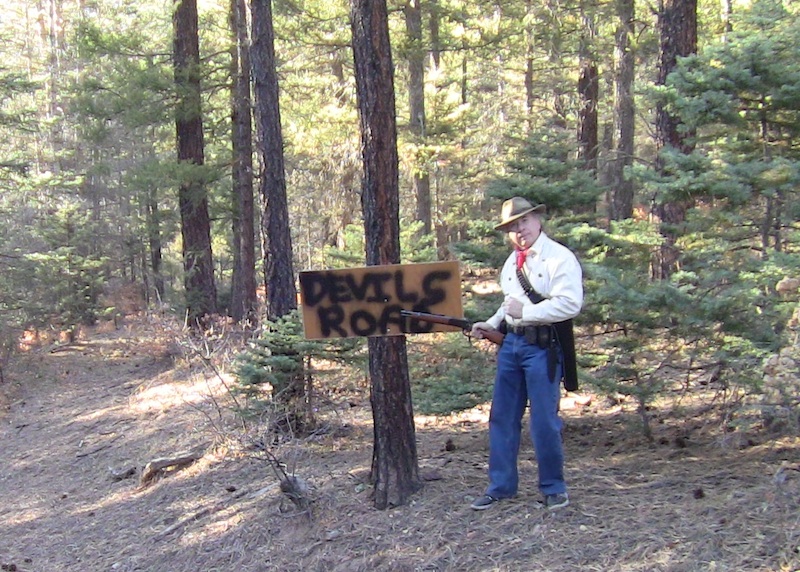 Allan's add -- I think he is joking -- he had better be ---- Yes Allan does have an odd humor and that is what makes his tours so much fun and so interesting...  Likewise when he guests on national radio shows - when he is on a program ---- the audience is in for a memorable time.
WANTED: Someone to go back in time with me.......  ................PO BOX 6875 Santa Fe, NM 87502.....  
_______________________________________
You'll get paid after we get back.  Must bring your own weapons........................................  
 ....     Safety not guaranteed.  I have only done this once before............................................................  _____________   The time portal is located somewhere around DEVIL's ROAD in PECOS, south of Santa Fe ---------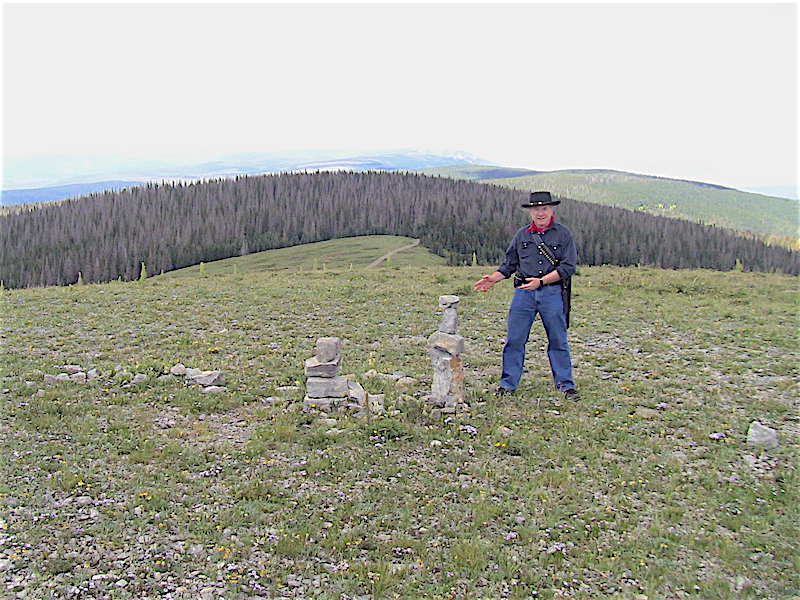 Tour with a guy who has a sense of humor and is an adventurer --- Allan's history or ghost tours are fully researched --- schedule a trek, they are interesting and fun 505-986-5002  History Ghost Tour.