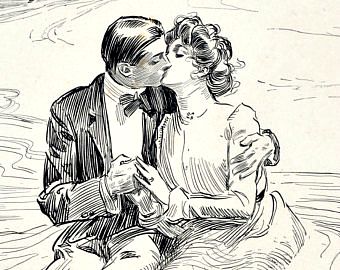 SANTA FE GHOST TOUR -- MARRIAGE PROPOSAL or WEDDING - PROPOSAL ----- & GHOST-PHOTOS! ON ALLAN's PRIVATE "CUSTOM" TOURS ANYTHING CAN HAPPEN!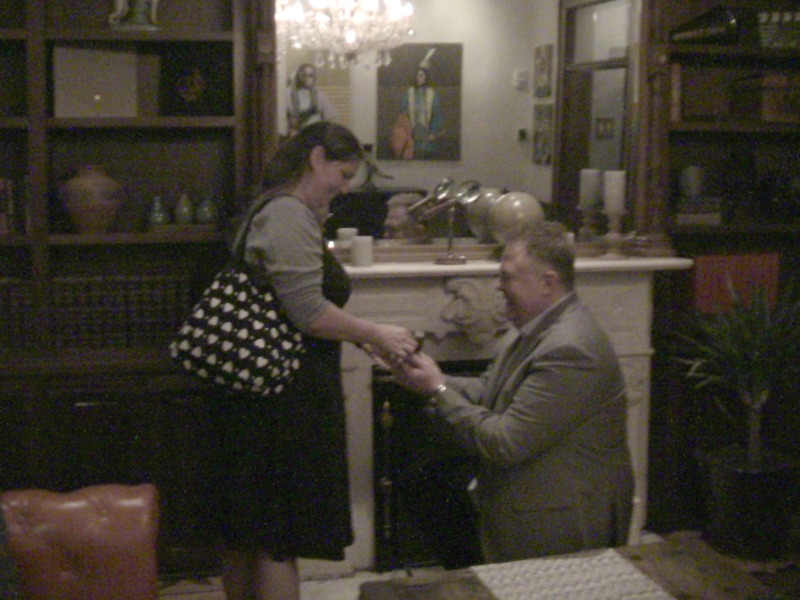 WHAT A TOUR!!!! HISTORY WAS MADE!!! AT THE HAUNTED LA POSADA -- IN THE OLD DINING ROOM -- THE QUESTION IS ASKED -- YES!!!! YES!!!! YESSSS!!!!!!!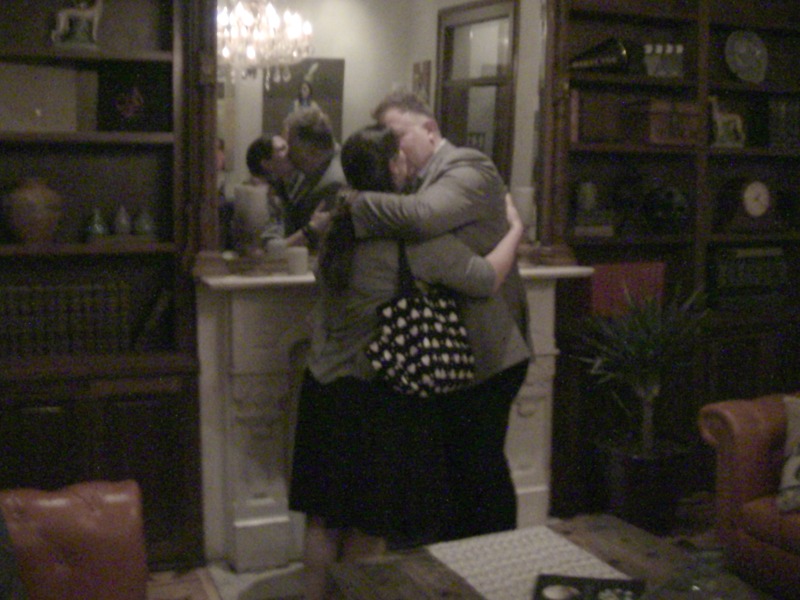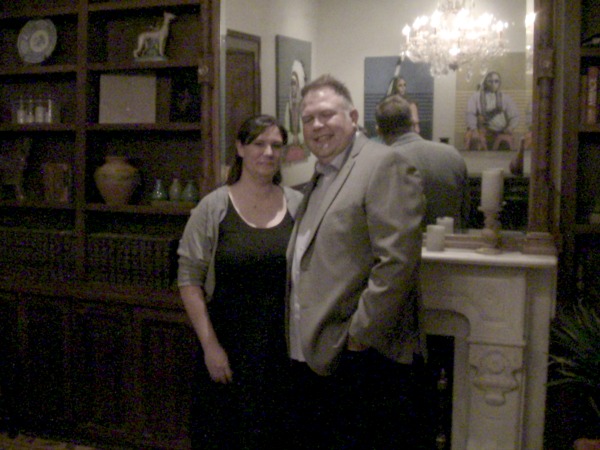 I AM SURE THE GHOST OF JULIA STAAB WHICH INHABITS LA POSADA WAS DELIGHTED & APPROVED!!!! THIS WAS A TOUR FOR THE AGES!!!! GREAT STUFF!!!!! ERIC & MICHELLE!!!!! SOON TO BE HUSBAND & WIFE!!!! HOOOOORRRRAAAAAAH!!! WISHING YOU TWO THE VERY BEST!!!!!

LETS GO TOURING 505-986-5002 or 505-231-1336 SANTA FE STYLE!!!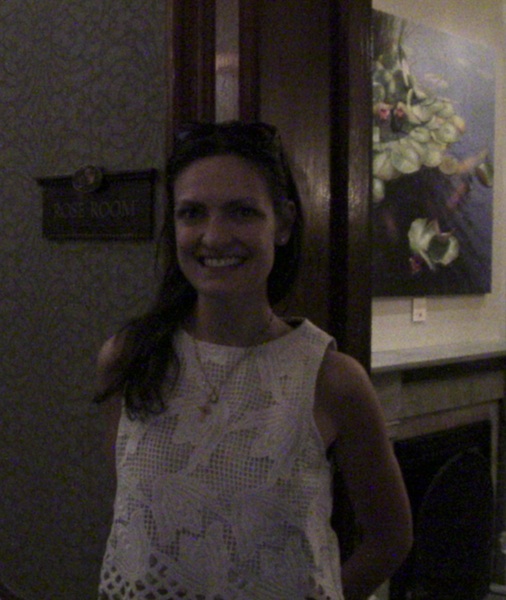 Sara Cook was married at La Posada, this is Sara in the ROSEROOM of La Posada in 2016. Sara was married on a Sunday ----- on Saturday she had me guide her wedding party, in two large groups through Santa Fe on a GHOST AND HISTORY TOURS.    
---
Below: Tour guide Allan and BELL CAPTAIN RICHARD of LA POSADA---the staff is very good to Allan's tour groups, on some tours we end our trek at the LA POSADA BAR.  History & paranormal at La Posada.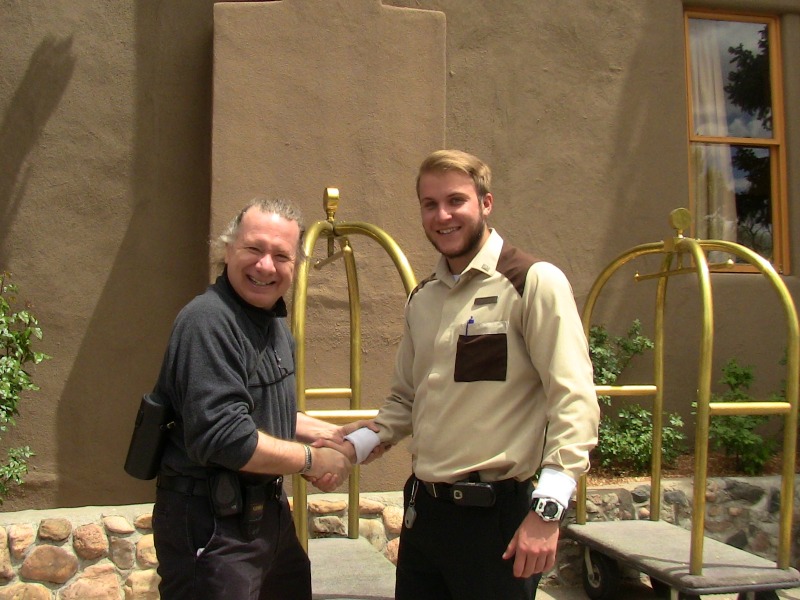 Below are some GHOST-PHOTOS taken on Allan's private tours.
Here is the data concerning what these shots captured----
On May 14, 1896, Julia Shuster Staab, died (Murder-Mayhem) in her mansion. The deed was done in her private quarters: bedroom-bathroom-parlor area. Her heirs, eventually sold the mansion, since 1932 the grand property has housed a first rate-resort hotel. For over a century Julia's shade has been seen by Santa Feans passing by the mansion or by the resort's guests and employees.
Julia has appeared in many forms, be it a globular ball of energy or the classic standard misty form.
| | |
| --- | --- |
| 505-986-5002--schedule a private tour!  505-231-1336  - or get ghost hunter/author/ guide Allan Pacheco on your pod - radio broadcast santafewriter@me.com | LEFT--End of a wonderful GHOST AND HISTORY TOUR some happy people at the La Posada bar. BELOW: La Posada fireplace -- captivating and unsettling at the same time.  On other occasions the room is filled with good energy. |
BELOW: Two beautiful ladies. The portrait of Julia Staab, who is the ghost that haunts the La Posada, and next to the picture is  NEW YORK (KATIE) who was on ALLAN's tour.  At Spooklane contact was made with another  energy or entity!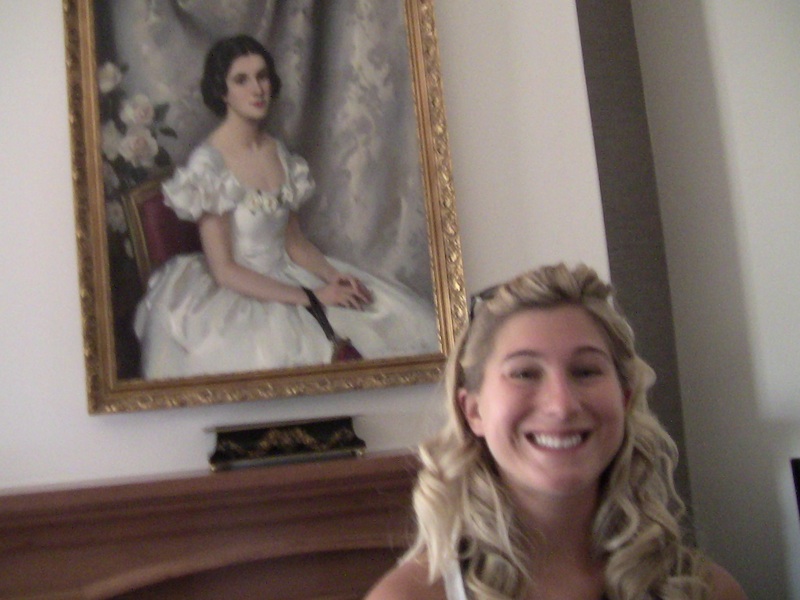 ---
---
---
---
ABOVE---a picture of Julia, isn't she pretty! I always had problems with this portrait---What kind of problems? I had my doubts that this was Julia----I thought this portrait is that of Julia's niece, who was a near duplicate of Julia. However --- resort employees and historians were adamant and have been telling me since the 1960s that this portrait was of Julia…. having been told that for so many years, the only easy conclusion that I could come to about this painting is that whoever this woman was-- be it Julia or a niece or LADY X--- this lady was very striking.
Even after I was told over and over again this was Julia, I was still a DOUBTING THOMAS. The facts are this  there was a fire at La Posada and the top floor was damaged and had to be torn down, the year of when this happened is foggy, but it was supposedly during the turn of the century  as into the 20th century.
The original portrait of Julia was smoke damaged by way of the fire-- and that Julia's daughter or niece modeled for their middle aged mother or aunty (JULIA) - -- as in touching up the portrait.  Now that tale did sound logical--- - but it just did not feel right to me…….. A few years ago I finally stopped expressing my doubts about the portrait--- WHY?
Because through the decades--- on many different occasions the resorts different management teams--stated FIRMLY--- to me-- that the portrait is that of Julia--- END OF LINE!
 Eventually it dawned on me, that if the chiefs of La Posada say that it the portrait is Julia --- and they have been saying that to me since the 1960s, then maybe I should put my stubbornness & skepticism-- on ice… because the high sheriffs who run this resort would know better than I, by way of in-mansion documents.
SO I finally accepted the idea that this portrait -- is a touch up from the smoke covered portrait of Julia that was slightly damaged in a fire. --------------------------------------------------BELOW: sinister Abraham Staab pointed out, this is the man who did in Julia and many other people by ways of his gangster organization called "THE SANTA FE RING" during wild west days.
LA POSADA CLOCK… Tall tale, half truth or fact? This antique clock that dates back to (Abraham Staab and wild west days) stopped counting time when Julia was done in. It is disputed if the clock was in Julia's bedroom or in the dining room which is now a stateroom - library, when it stopped ticking. Through the centuries it has been rewound and SUPPOSEDLY now and then it works?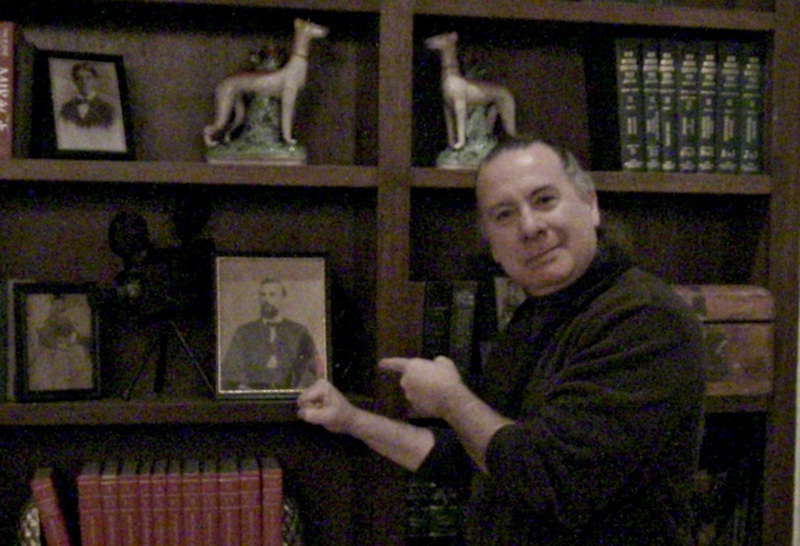 BELOW: LA POSADA… The far left top floor window is part of the JULIA STAAB SUITE --- this is where Julia was imprisoned (BEDROOM) and later she met her fate behind that glass.  The central window is where candies are left for JULIA's ghost, the candies are placed on the windowsill. Below right is picture of Julia when she was a young teen, there is dispute at what age she was married, it is possible she was a mid-teen when she became the bride of ABRAHAM STAAB, the AL CAPONE of wild west SANTA FE. The below building was Abraham's mansion, today it is a world class resort, that has one of the finest bars in the world.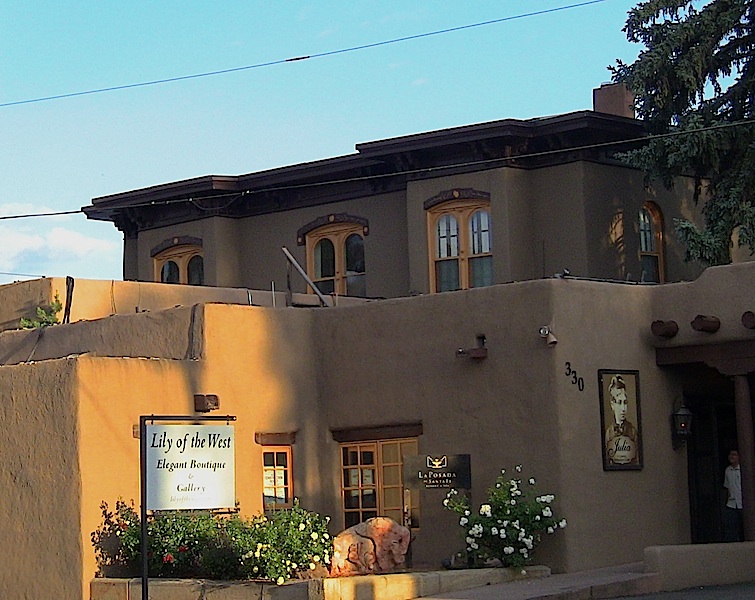 BELOW--CANDIES FOR JULIA--HOLIDAY SEASON. TO the right of James are the rooms where Julia was imprisoned and later murdered.  Her ghost has been seen by this window and its hallway. Resort maids from south of the border put candies by the window for JULIA's ghost.  Rather like something out of MEXICO's "DAY OF THE DEAD" festival, in this case it is done during XMAS time.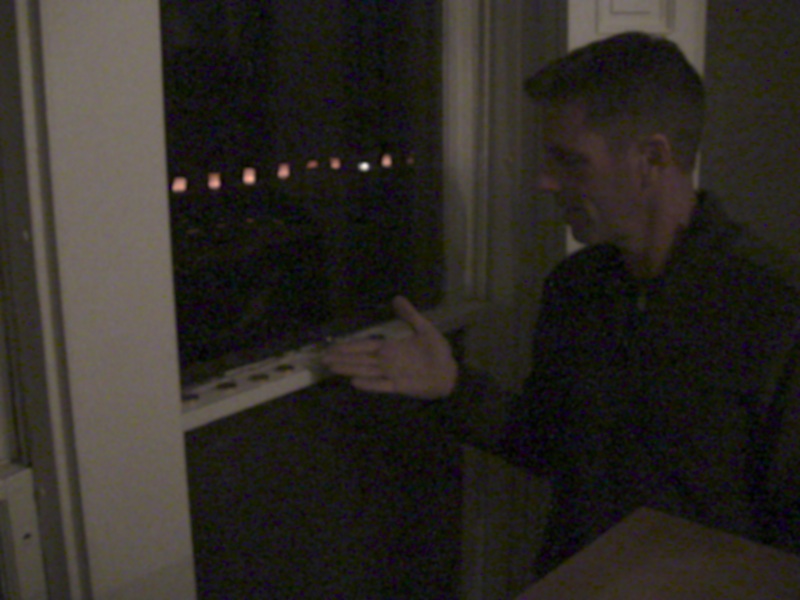 BELOW: SUMMER TIME JULY: The window area, some type of activity was briefly seen and a quick photo was taken. Skeptics will say it is tricks of light, the BELGIAN lady on Allan's tour who took this snapshot , was not into exaggerations, she attested that she saw something there. I am a skeptic in all things presented, in this photo I can see what looks like a face, so is it twisted light or JULIA?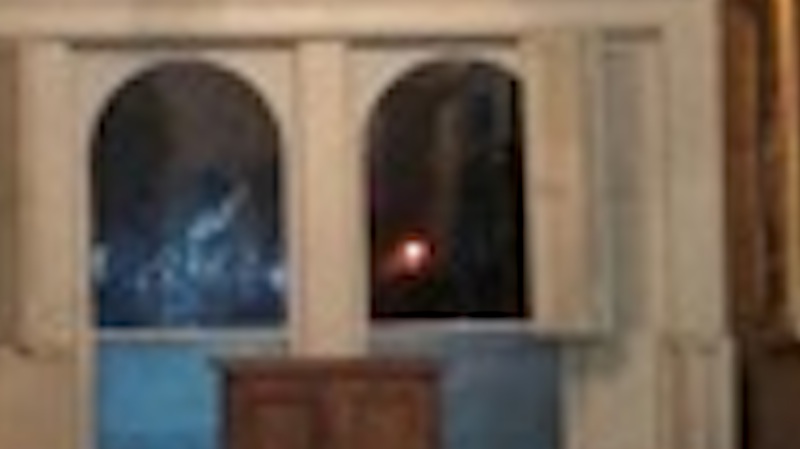 BELOW: On the opposite end of this hallway or opposite the above window is the main entrance to the STAAB SUITE. The suite is a series of rooms where JULIA was imprisoned, she was held there until her termination.  These ladies on Allan's tour, stand by the plaque that states "STAAB SUITE".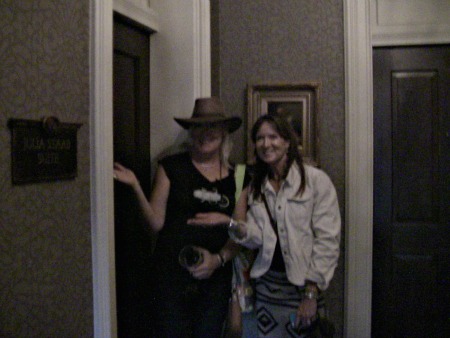 Below: the end of the tour at the LA POSADA -- home of the ghost of JULIA STAAB and other ghosts. TO the  right of the couple is the infamous ROSE ROOM!!! YIKES!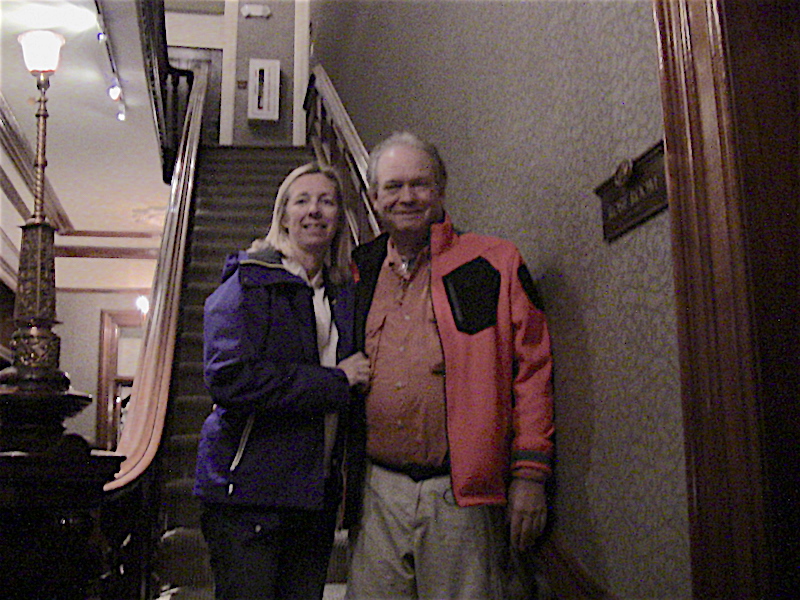 HAVE A PARANORMAL PICTURE, GHOST-PHOTO = (Julia Staab -La Posada) CONTACT ALLAN----santafewriter@me.com
---
LINK TO COW MUTILATION PHENOMENA
---
LIKE WHAT YOU SEE HERE THEN ORDER MY LATEST BOOK! "SANTA FE MAYHEM & PARANORMAL GUIDE"IT GIVES YOU THE SKINNY ON THE LA POSADA HAUNTING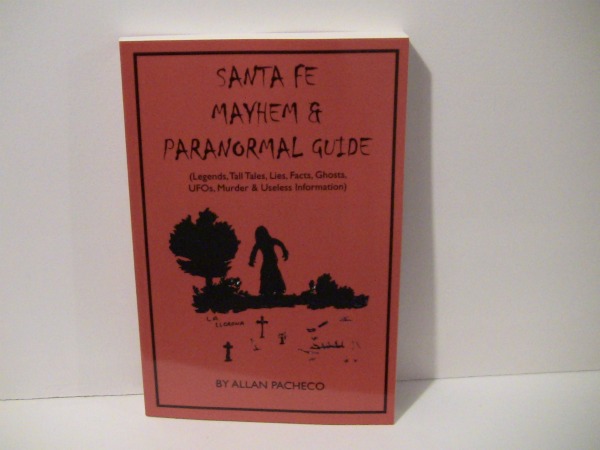 _____CLICK ON BOOK COVERS TO ORDER__________
READ ABOUT MYSTERIOUS SANTA FE IN THE BOOK
"SANTA FE-MAYHEM & PARANORMAL GUIDE.
THE BOOK IS WRITTEN IN A QUAIS KEROUAC STYLE
OTHER BOOKS ARE ALSO AVAILABLE-BELOW
CLICK ON BOOK COVER FOR PAY PAL PURCHASE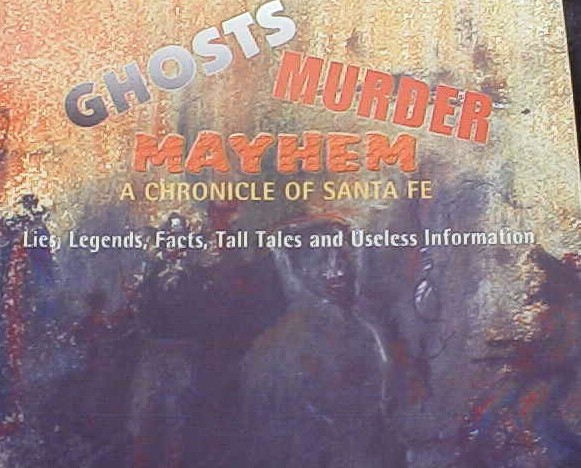 IF YOU LIKE MY BOOKS OR WHEN I GUEST ON RADIO SHOWS--- YOU WILL--LOVE MY TOURS-----YOUR TOUR--IS YOUR PRIVATE TREK-YOU GET TO ASK QUESTIONSYOUR TOUR = INSIGHTS + SPECIAL INFO--FROM A NATIVE SANTA FEAN WHO IS AN AUTHOR ON SANTA FE's HISTORY & PARANORMAL HAPPS!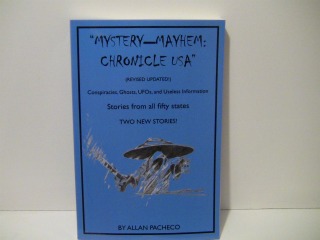 505-986-5002 = PRIVATE PARANORMAL (GHOST) OR HISTORY = 505-213-1336
SANTA FE HISTORY TOURS
SANTA FE GHOST AND HISTORY TOURS---HOME PAGE----CLICK HERE-----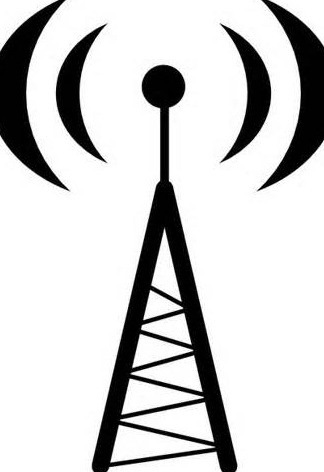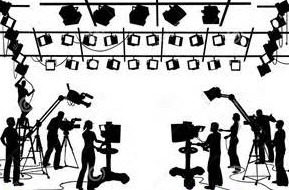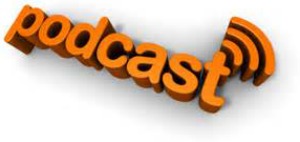 SCHEDULE ALLAN FOR A TOUR OR RADIO-TV BROADCAST 505-986-5002 or 505-231-1336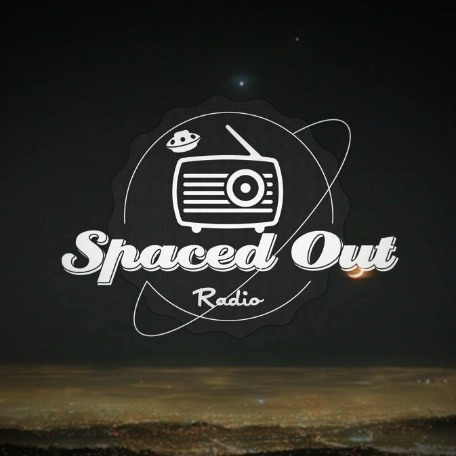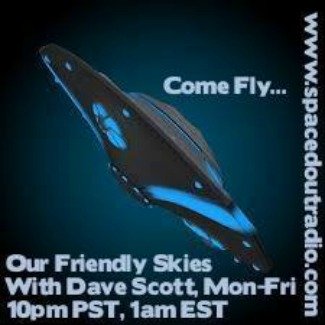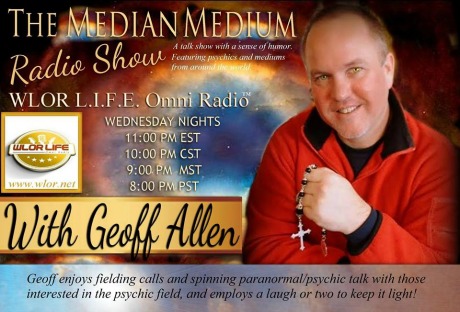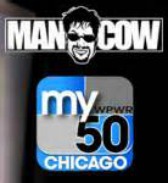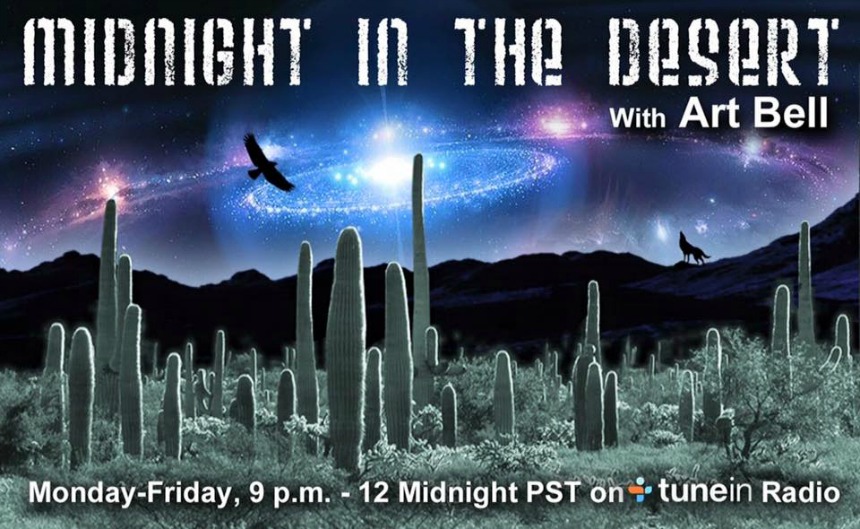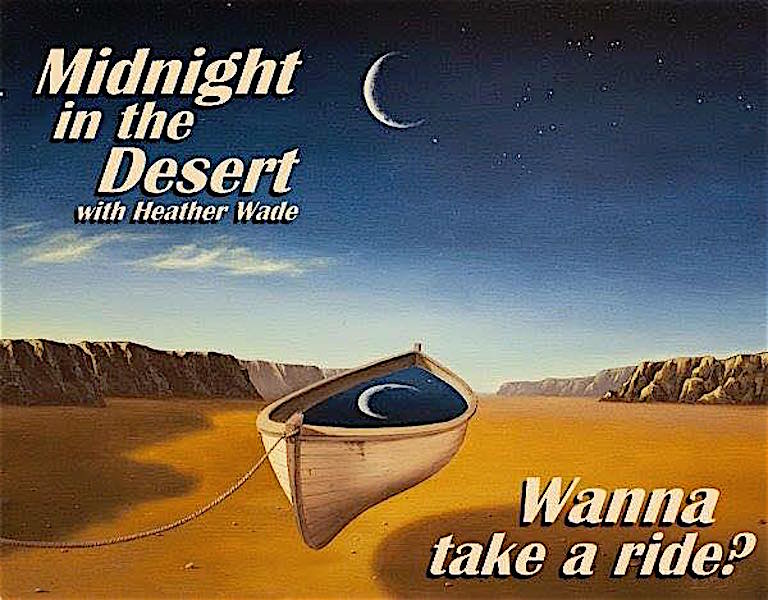 SOME OF THE SHOWS ALLAN HAS BEEN ON-----ALLAN IS FOR HIRE---505-986-5002 or 505-231-1336--------THE TOPICS---------- GHOSTS------------UFOS--------------THE MISSING---------------- MACABRE---------CONSPIRACIES---------LA LLORONA---------------TALES FROM HIS TOURS & INVESTIGATIONS

---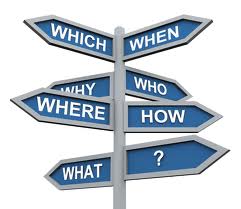 505-986-5002 /// 505-231-1336 santafewriter@me.com TOURS- RADIO - TV-- ALLAN IS YOUR MAN!!!