THE END OF A GHOST TREK TOUR--A PICTURE IS WORTH A 1000 WORDS!-------------------------------------------------------------------- PRIVATE GHOST TOURS ------505-986-5002-----------------------SANTA FE GHOSTERS TOURS---------- 505-231-1336------------------SANTA FE,NM CUSTOM TOUR--------------------------------santafewriter@me.com

ON A TOUR--IN THE PLAZA--HUNTING GHOST ORBS & GHOST LIGHT PHANTOMS---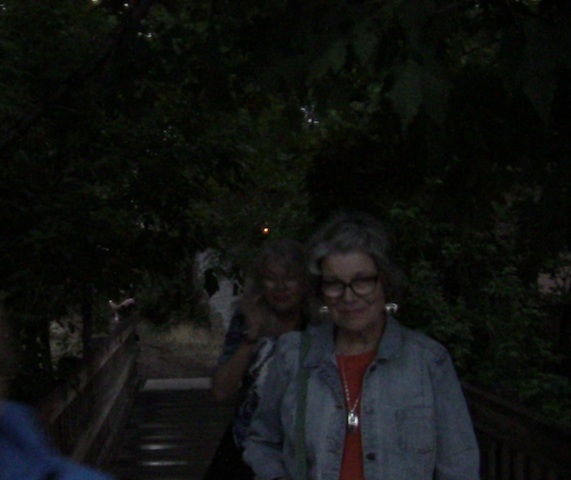 LETS GO ON A SPIRIT WALK!!!! TOURING!!!! A TREK FOR THE AGES! A LOT GOING ON IN LEFT PICTURE -- CAN NOT ACCOUNT FOR PERSON OR FIGURE IN B.G… NOTE THE LIGHT OVER THE SLIGHTLY CROUCHING WOMAN's HEAD. PERFECT TIMING… IS IT A CITY OR BUILDING LIGHT OR ????
I conducted a spirit walk w/ a top notch psychic and astrologer-BORIQUA.
We were at different locations where paranormal activity had been reported.
Skeptics will say the spiritwalk was a stupid-walk and all that we were chasing was
SWAMP GAS or light reflections.
Some photos on this page +website are from that in depth ghost-walk.

---
GHOST-ORBS AN EXPLANATION?
Ghost Lights-Devil Lights-Ghost Orbs--can be explained--according to some WEIRD BEARDS
Below are half hazard explanations, that tries to explain what it's all about, earn it comes to GHOST LIGHTS
These explanations are from psychics, ghost hunters, books, or ACCORDING TO HOYLE. Uh huh!
White or silver is supposed to signify that the energy is trapped in this world. Or does not want to leave.
White and silver energy, have caused mayhem, uncomfortable vibe and on occasions have attacked.
In the UFO phenomena-missing time-(contact-attack) there are reports of white and silver colors.
Does that mean ghost orbs or shades are linked to UFO phenomena--some paranormalists believe Devil Lights use portals to enter into this world--like some UFO civilizations do.. HUH?
Through the annals of paranormal history, different colors (shades) sometimes bring disaster or trauma . Nothing is exact-- depending on what culture one champions with their metaphysical beliefs.
Transparent, bright white or dirty glass color energy supposedly can briefly communicate.
As in something happened here, or it needs help in being sent free.
Dark orbs or ghosts (Black & Brown) = disaster aimed at you.
Black energy, is filled with evil intentions and harm or death notice for somebody.
Brown energy according to some New Agers, means that the energy is Earthy.
Some say, Brown energy is dangerous, its powerful during rain storms + deadly to computers.
I am not satisfied with the following Blue explanations, of orbs or ghosts.
Supposedly the color blue designates that the energy is calm and a spectator.
I agree with some shadow chasers, that blue ghost-orbs could be guides, helpers.
Dark red and orange energy is said to be that of anger, revenge or attacking power.
Red-pinkish ghost or orbs supposedly is energy of a bad person, who still wants to do evil.
Perhaps, I tend to go with some weird beards who claim that red energy tends to be on guard duty.
Be it angrily or selfishly -redish-orange is thought to be found in a house, room, or area where death occurred. Also the color can mean that the now deceased person was attached and still is in a evil way to their wealth or possessions.
Dark-or reptile green energy? According to some means an energy full of fertility.
Others think this energy is full of rape-groping-violent sexual energy.
Light Green is that of ghost or orb that wants to bring healing.
Yellow? Angry ghost or orb that will burn out your equipment.
Confused on what the colors mean, so am I.
HOWEVER--in Santa Fe--Ghost Lights or Ghost Orbs or DEVIL LIGHTS come in all colors.
MYSELF--I have yet to get a quality explanation on what it all means, as in COLORS
Can ghostly color be cataloged as in this is what kind of behavior it gives off gives off? Maybe--- I am still trying to figure things out---and like a lot of things in the paranormal world--- there is disinformation out there and contradictory data. So go figure?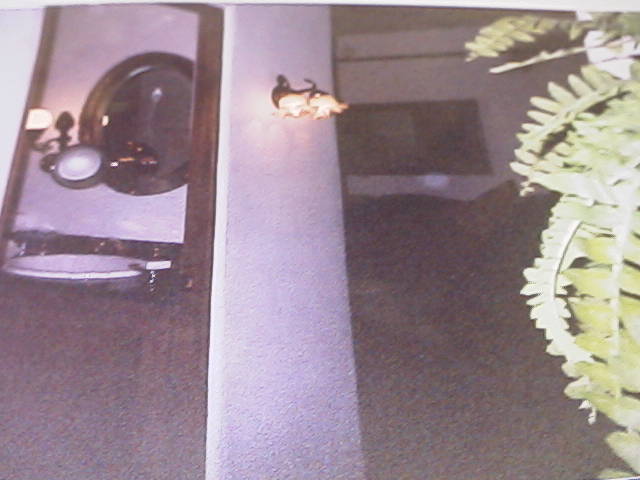 white ghost-orb or trick of light in the far room = under a painting.
This photo was taken on tour in the parlor room of Julia Schuster Staab's room.
This room is located at La Posada Resort in Santa Fe, New Mexico.
Julia frequently haunts this parlor room, along with her bathroom and bedroom area.
In May of 1896, Julia was done in, (Mayhem-murder), in this suite.
Is this globular white or transparent, and what does it all mean?
Is the above explanation correct in what the colors signify?
Or are the skeptics correct- what is on film is a dust speck.
There are better examples of orbs below...
---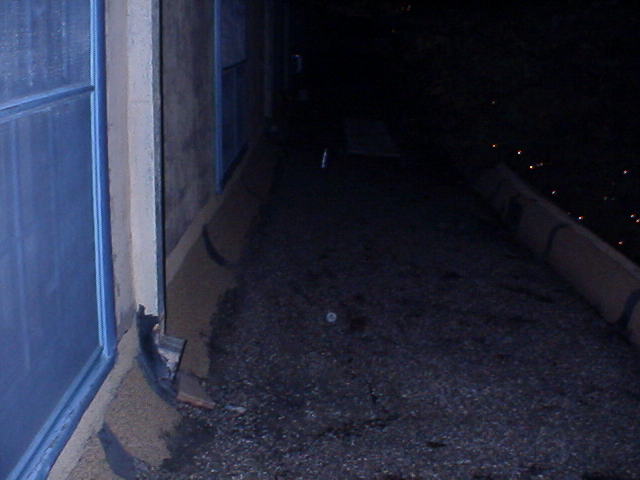 A ghost orb? Ghost light/ Devil Light? This photo captures something, note the small globular on the roof.
Debunkers will claim it is a dust particle---well maybe it is----HOWEVER!
There was a lot of paranormal + instrumental activity the night this photo was taken.
I do not go much for ghost meters---but a lot of things happened that night.
A camera was knocked out of the hands of an investigator. Skeptics will say, "BUTTERFINGERS".
Legend has it, the 2nd floor of CASA SENA, is where Jose Sena's ghost is sometimes heard or seen.
This is where this photo was taken, second floor overlooking the courtyard.
Supposedly below the camera position are one of two rooms of where Sena of WILD WEST days expired.
Historians and lore can not agree on the correct room.
According to lore, SENA was cursed many times, by many people, for the many bad things he did.
History books state the first woman ever hung in the USA, was MARY ELIZABETH SURAT in 1865.
Her crime was being a conspirator in the assassination of PRESIDENT LINCOLN.
The history books are wrong.
The first woman hung in the USA was PAULA ANGEL in the Territory of NEW MEXICO in 1861.
Sena, was responsible for the botched hanging of this woman.
You can read about this tragic, unjust event, in "Santa Fe Mayhem & Paranormal Guide". Order the book below by CLICKING on cover.
photos are copyrighted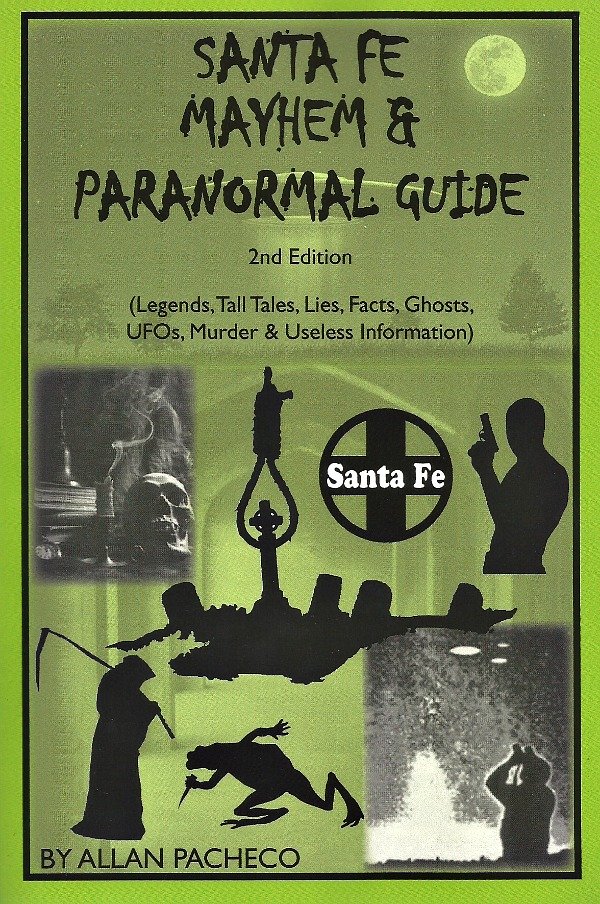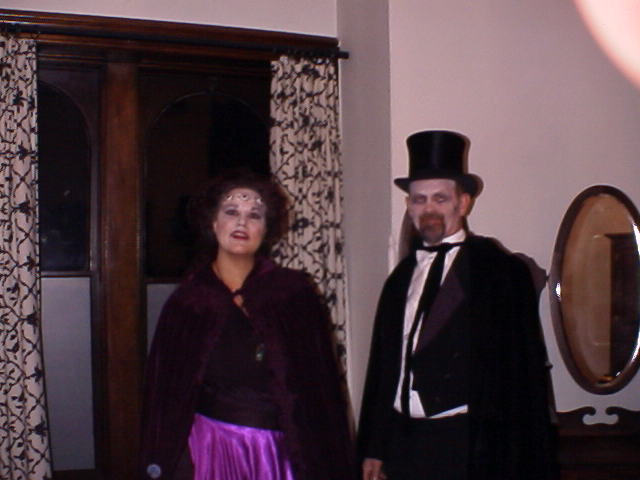 Note the white ghost orb near the Althea's hand, looking at her,(left).
This photo was taken HALLOWEEN NIGHT inside LA POSADA RESORT, in a room that is said to be haunted.
AT TIMES THIS ROOM IS! HAUNTED!
LA POSADA is a modern resort that used to be Julias Staab's mansion.
The room in photo is JULIA STABB last residence.
(LA POSADA's IN HOUSE ghost) some call her quarters the murder room.
My private tour duo, dressed for HALLOWEEN NIGHT as DR. JEKYL or Mr. HYDE & WIFE.
THIS DUO KNOWS HOW TO DRESS FOR HALLOWEEN.
I HAD A GREAT TIME LEADING THEM DOWN THE HAUNTED STREETS OF SANTA FE!
Before photo was taken, (ALTHEA) she does have psychic ability, sensed something by the window.
Althea saw briefly, lights behind the area where she is standing.
What ever it was, it did not cause us any problems, except a cold feeling later on.
Some people who have viewed this photos say they can see something in the mirror.
The ghost of Julia has been know to appear through the mirror or her old bureau, but is that something in the mirror a trick of light?
However --The orb, cannot be explained and the contact that was made in this room cannot be explained.
The room has since been remodeled

---
This ghost orb or ghost light picture was taken in the MURDER ROOM (LA POSADA).
Althea had sensed something, this came up on digital.
This bureau has been involved in many sightings, ectoplasmic energy or something coming through the mirror.
Next photo below is a close up of the ghost orb.
Note the haze, some people say they can see a face next to the orb.
My tours---be it history or paranormal - sometimes become tours for the archives!
---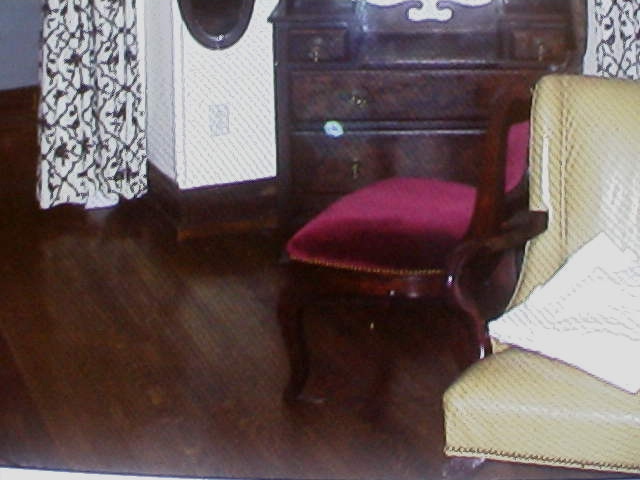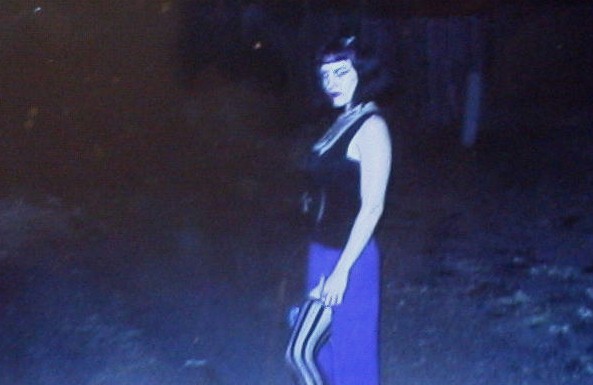 Notice the activity infront and close to Saturnelia Noxlux. Orange + light Globular and haze.
Skeptics will say, it is dust on the camera, reflections, etc..
Saturnelia, was in a graveyard, she felt energy around her, this photo was taken.
Saturnelia (Goth Princess-weekends) questions the unknown, and has fun while doing investigating.
---
Abandoned St. VIncent's Hospital (SANTA FE).
The old building is supposed to be haunted, note the orbs, look hard.
Debunkers will claim-- it is dust particles or insects on film
To the SKEPTICS, dust or insects---forget about the picture then--- however--- this building is haunted.
Now comes the NAY OR YEA part--- because a lot has happened since I took that photo ages ago.
As of 2014 the old hospital is now the DRURY HOTEL--- the building was remodeled and is now open for BIZ----
The question is-- did the gutting of the old hospital structure-- chase off or free the ghosts or energies that were seen repeatedly through the decades at the old abandoned hospital?
TIME WILL TELL---- about the old property.
---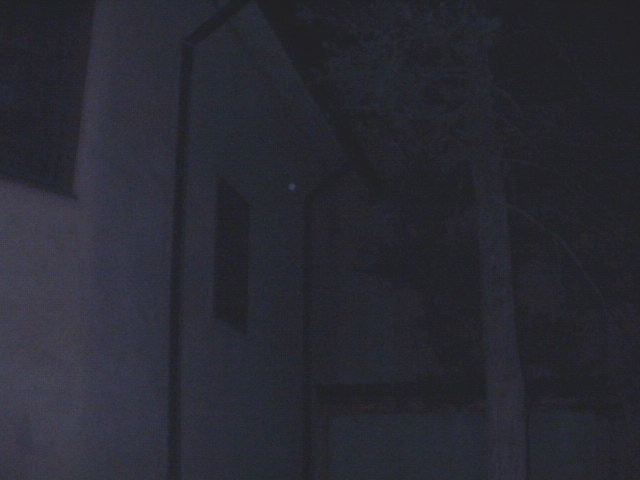 LEFT photo from a zillion years ago----An orb, near abandoned, haunted, ST. Vincent's Hospital--the globular is agains ST. Francis Cathedral.
Debunkers will claim that orbs are camera malfunctions, pollen on the lens part of leaf, etc… I am sure that a lot of orbs are just that-- misidentified objects on film, but some are --- not dust particles! They are energy that at times tease those that try to photograph them.
Some weird beards claim orbs or globulars do not like being detected by electronic disturbance field meter.
When ghosts, orbs, are detected they vanish.
Some weird beards claim orbs are moving portals or keyholes to other dimensions or worlds.
Then again, if these orbs come in contact with a human does that person vanish? Wink, wink!
A daft thought, or a possibility?
BELOW---- LEFT--- This photo was taken on private tour, the area behind the wall is where a graveyard was located --the cemetery is roughly against the North side of Santa Fe's Cathedral-- or adjacent to the high wall area of the above photo ---where orbs have been occasionally seen and photographed. This photo-- is it Light refraction that makes for such a foggy looking photo? I guess so? Some Weird Beards think that these is an energy at the bottom of the photo, that has the makings of an orb. That I doubt, I think it is a different shade of light at the bottom left of picture from some type of shadow effect. But what gets me is that there was no fog that night, and the photo looks so dark or misty. This I can not explain-- because this camera ( a lady's camera who was on the tour) worked great before and after the private tour passed this location. That is what I find so odd about this photo in how glassy or dark this photo was. Is it all a trick of light, however we were in a area that is known at night for having occasional orb or haunting activity. For the millionth time---SO what is it-- trick of light or was something there?
---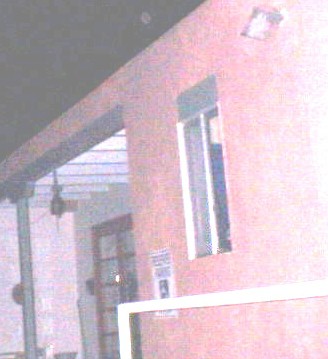 This building in Santa Fe, is supposedly haunted + loaded w/ energies.
Globulars to shadowy-ghostly like figures are supposedly seen in the area.
Above the roof is a bad picture of a orb or of a dust particle or insect in the light.
More research has got to be done on the area's history. What happened here?
---
To slow on the draw with the camera.
There was something atop the beam, but all that I got was that ectoplasmic mist.
---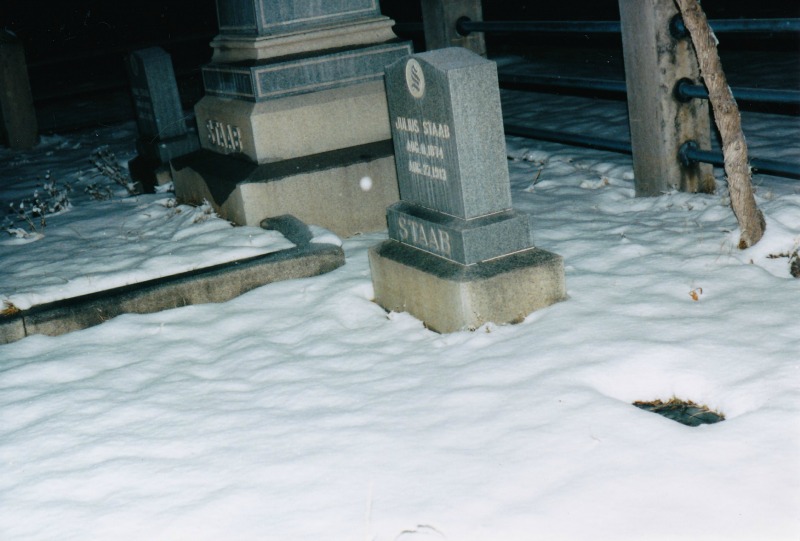 LOOK CLOSELY, ARE THOSE ORBS -AROUND THE STAAB MONUMENT-GRAVESITE. THIS PHOTO WAS TAKEN ON A WINTER NIGHT_ AROUND 2AM, THE TEMPERATURE WAS AROUND -6, YES-THIS PHOTO WAS TAKEN A NUMBER OF YEARS AGO. I AND A WORLD RENOWN PSYCHIC WERE DETERMINED TO DO AN INVESTIGATION AT THIS SITE--AT THE NIGHT WE WERE ALLOWED IN THIS CEMETERY TO SEE IF THE GHOSTLY ACTIVITY WAS MORE INTENSE ---WHEN THE TEMPERATURE DROPPED-- WE HAD NO IDEA THAT THE TEMP WOULD DROP AS MUCH AS IT DID!!! ON A SIDE NOTE-- THIS NIGHT-- THE COLD WEATHER MADE FOR MANY WATER PIPES BREAKING IN SANTA FE.
---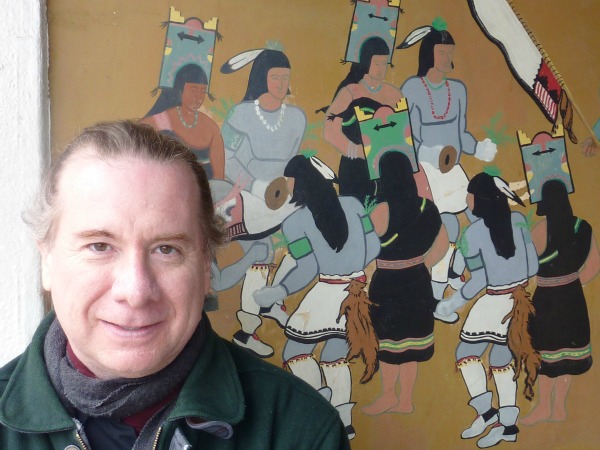 RESERVE A GHOST WALK OR A HISTORY TOUR WITH ALLAN = 505-986-5002 OR 505-231-1336.
SANTA FE GHOST & HISTORY TOURS ARE PRIVATE WALKS, DONE AT A COMFORTABLE PACE.
IF YOU LIKE THIS SITE-- YOU WILL DIG THE FOLLOWING BOOK! "MYSTERY-MAYHEM: CHRONICLE USA" THE BOOK IS FILLED WITH PARANORMAL--MACABRE TALES & CONSPIRACY YARNS.
PRESS ON TH BOOK TO ORDER A COPY.--------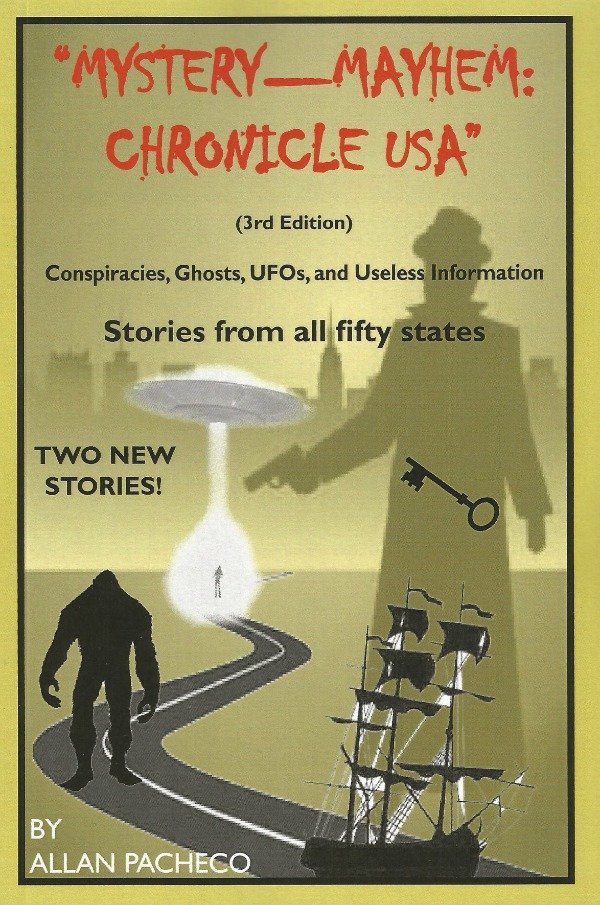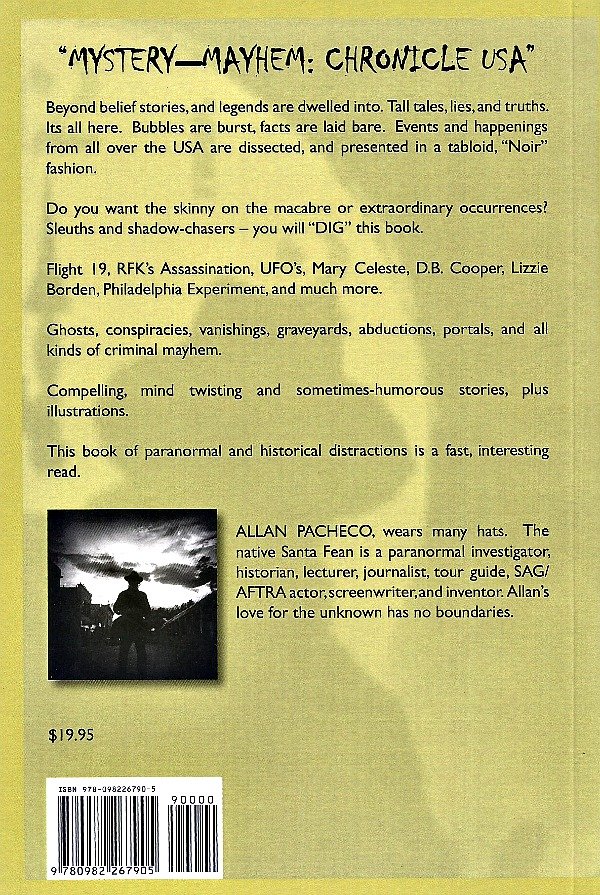 ---
---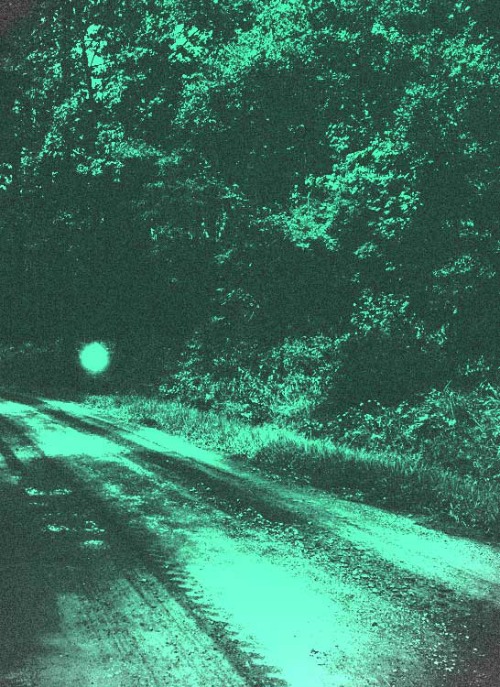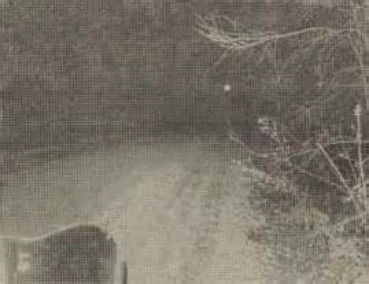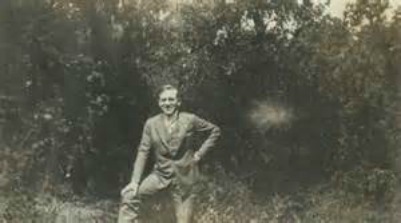 ORBS--- OR SPOOK LIGHTS. NOBODY IS FLASHING A LIGHT.
ARE THESE -- PORTALS --- TO WHERE? OR JUST ENERGY BURSTS?
THE (LEFT) ARE UNEXPLAINED OLD PHOTOS- OF WHAT USED TO BE CALLED
"THE DEVIIL's "JACK-O-LANTERN"._____________
---
NO, THE ORBS IN THE ABOVE PICTURES ARE NOT BALL LIGHTENING!
HOWEVER----IN THIS DRAWING BALL LIGHTENING CAME DOWN A CHIMNEY
AND FRIGHTENED A 1839 FAMILY.

505-986-5002 = (PRIVATE) PARANORMAL OR HISTORY TOURS = 505-231-1336ALLAN'S TOURS ARE THOROUGHLY RESEARCHED--- SANTA FE AWAITS!!!!!! LETS GO TOURING!!!! PRIVATE TOURS!!! BOOOK A TOUR--505-986-5002 or 505-231-1336
---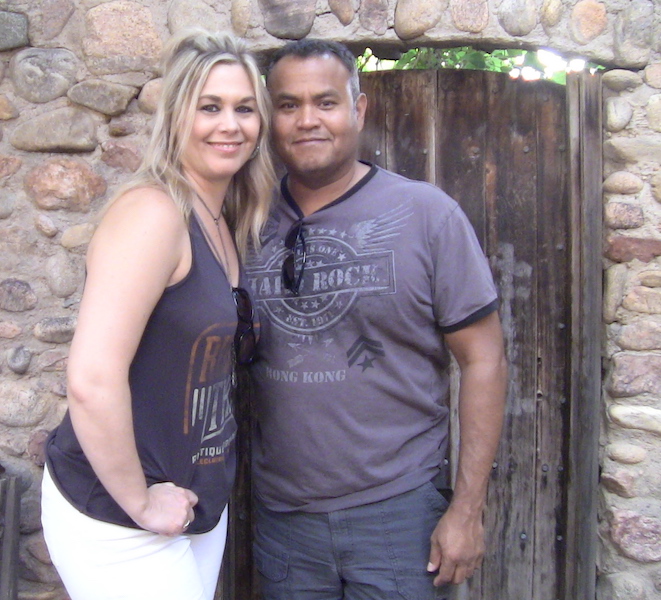 ABOVE: Night or day, paranormal or history tour--year round----- tour Santa Fe with ALLAN--- his private treks wind through Santa Fe's old town.  Happy duo on tour with ALLAN at a haunted Wild West location.  The area has been discovered by witches -- and occultists.
---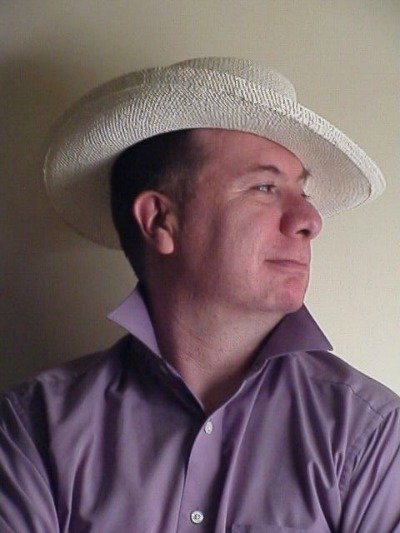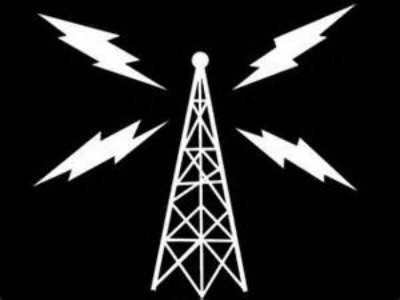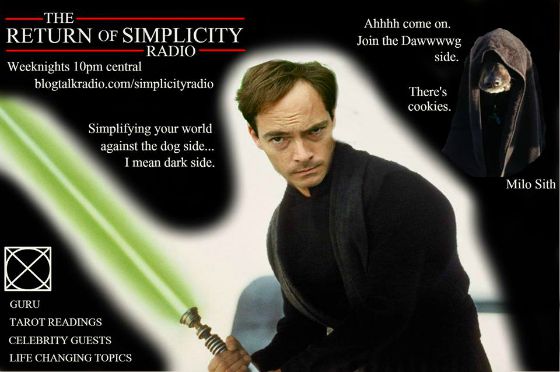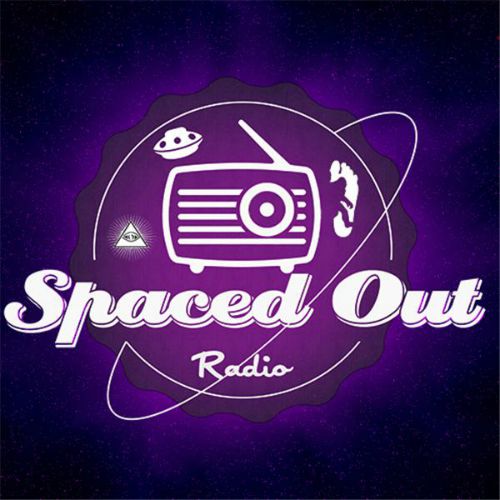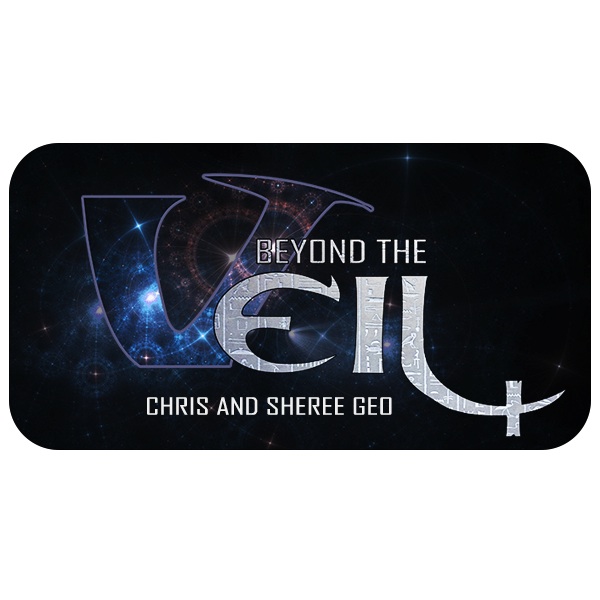 505-986-5002 =PRIVATE HISTORY OR PARANORMAL TOUR //////// 505-231-1336 -------------------------------------------- OR HIRE ALLAN FOR YOUR RADIO SHOW--------------- --------------------------------------------------------BELOW LEFT----SOME OF THE SHOWS ALLAN HAS BEEN ON----------------------------------ALLAN IS NEVER BORING & THE TOPICS ARE ALWAYS INTERESTING!!! ------------------------ GHOSTS------------------------INVESTIGATIONS-----------------------------------HAUNTED HOUSES---------------------------------GHOST TREKS----------------------------THE MACABRE-----------------------------------UNSOLVED MYSTERIES-------------------------UFOS----------------------------------------------THE MISSING---------------------------------------------CONSPIRACIES------------------------CLOSE CALLS---------------------------TALES FROM HIS TOURS----------------------& USELESS INFORMATION -----------------------------------FROM THE ALLAN PACHECO FILES!!!!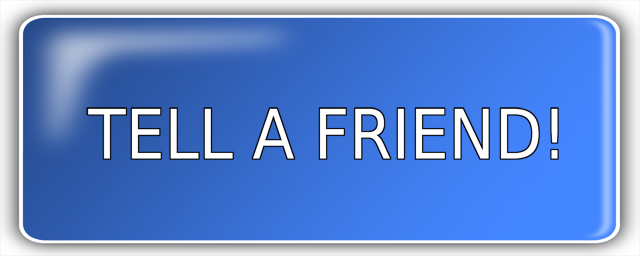 ---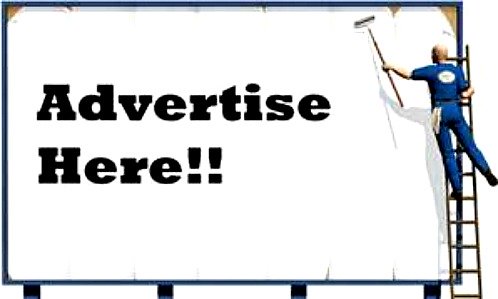 FOR ADVERTISEMENT OR TO BOOK A TOUR = CONTACT ALLAN = santafewriter@me.com 505-986-5002 //// 505-231-1336
---
DEVIL LIGHTS PAGE -- CLICK HERE TO GET BACK TO ENTRY PAGE
---