FOO FIGHTERS
ALLAN's TOURS ARE GEARED TO YOUR INTERESTS--505-986-5002/ 505-231-1336 --GHOSTS-UFOs, etc.
Pilots during World War II reported small sphere or fireball like objects flying near or beside bombers or fighters.
Allies and Axis pilots thought the flying objects were secret weapons, from the opposing side.
The Allied pilots named these mysterious flying craft, "FOO FIGHTERS".
---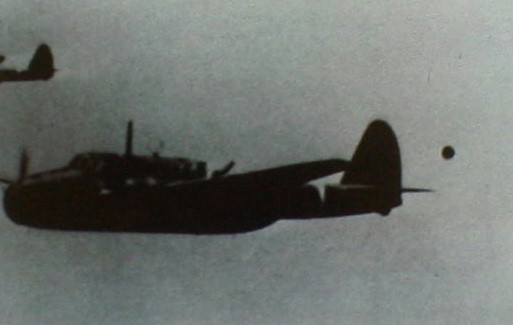 ---
A Japanese SALLY bomber (some say it's a BETTY), with a UFO (FOO FIGHTER) trailing it.
Some of these dot like craft were calculated to fly at speed of 1000 MPH to 3600 MPH.

---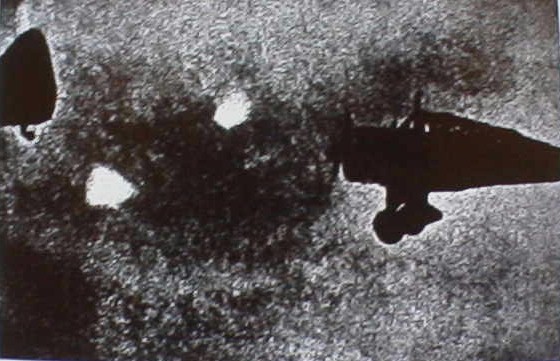 ---
This photo has been in public view since at least the 1960's. There is some question what make these aircraft are.
Some experts say the planes are R.A.F. Lysanders.
Others say they are Tahikawa KI 34's (recon) from 1942.
The UFO's are plainly seen.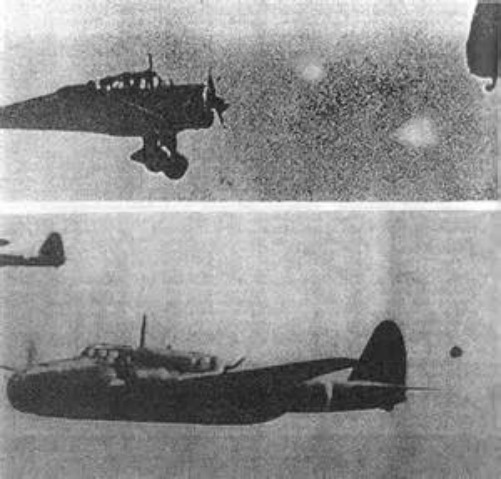 Another picture of the above, but clearer and REVERSED--PHOTO? Skeptics claim it is hoax, too clear---the UFO-OLOGIST think it is a real photo.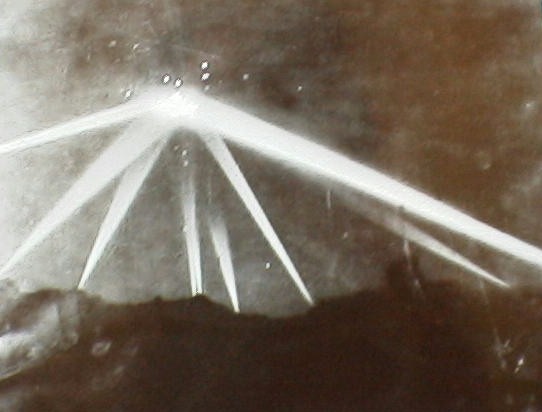 ---
This February 1942 photo, is of a UFO that was tracked and fired upon over World War II, Los Angeles.
There were many explanations for the LOS ANGELES barrage.
The authorities at first thought that a Japanese plane or planes were over the city, a night raid.
Others said the UFO was a off course American pilot who was in a no fly zone.
Other accounts have a barrage balloon breaking from it's cable, or it was swamp gas, itchy trigger fingers.
As in some culprits set off fireworks and imaginations went wild.
Comedy movie "1941" includes this incident. This photo is of the shot at UFO as it went over Los Angeles in 1942.
Some people say it's a picture from a propoganda film.
The bottom line is, the night skies of Los Angeles were lit up by A/A fire in 1942, what was shot at is debated.
One page viewer suggested the photo is from a WWII gunnery film or montage, how to shoot down an enemy plane.
TO me there seems to be something just not right about this photo. BUT OTHERS!!!! EXPERTS IN UFO-OLOGY-- have told me that this is a legit snapshot. I have seen others pertaining to this event, and even though this photo looks staged, I have been assured that it is not a hoax and is a picture of the 1942 incident.

---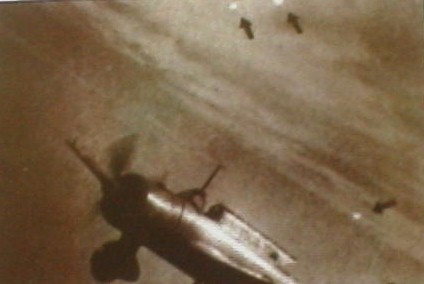 ---
This World War II photo of a Japanese torpedo/bomber has been around since the 1960's.
The UFO's (LIGHTS) can be clearly seen.
---
---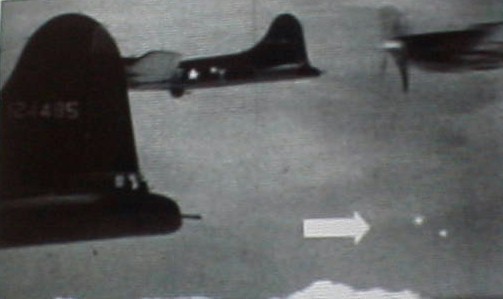 ---
This photo shows B17's in combat formation, UFO's off in the distance and a fighter closing on a flying fortress.
Is this fighter, a single engined allied plane or an enemy Me109, by it's cowling it looks like an Axis (enemy) fighter.
I think this photo is a fake, notice how close the fighter is to the B17 and how out of proportion the fighter is?
Then again this photo could be legit, and I could be wrong, but where is the tracer fire?
Maybe its a doctored photo from film stock from the 1962 movie "THE WAR LOVER".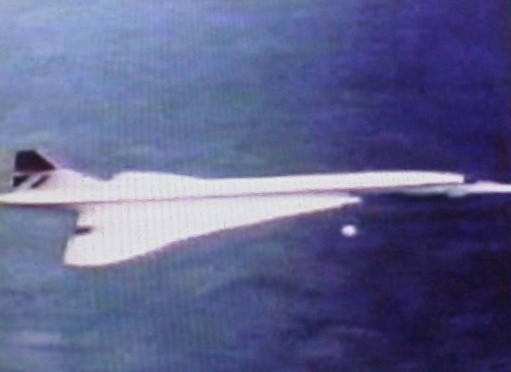 This photo is not PRE 1947. It is a modern photo of a CONCORD jet over UK with a UFO (FOO FIGHTER) next to the jet.
The FOO FIGHTER, cruised above the jet, then cirlced unfderneath the craft, and melded with the plane or just blinked out.
Various sources claim this happened in the 1970's and others 1990's.
This is a still from a film, shot from a jet that was flying next to the Concord.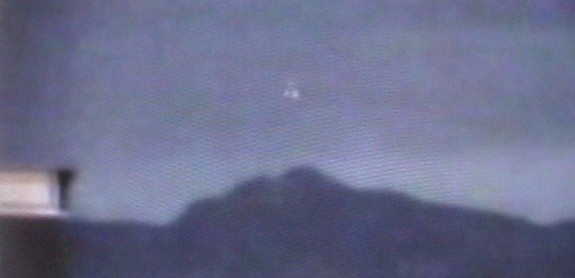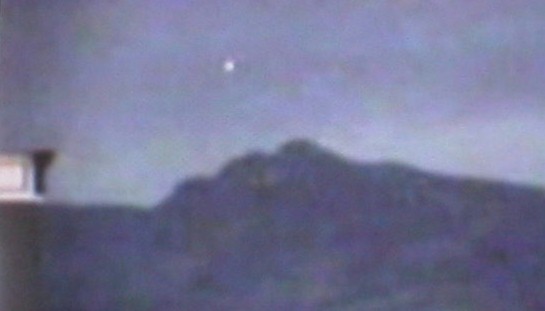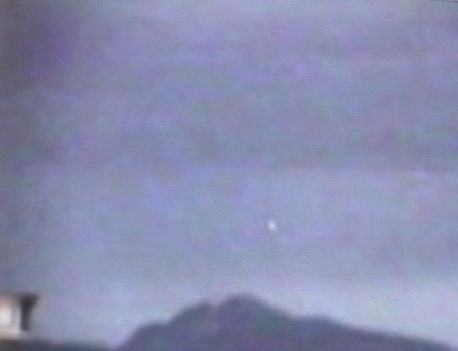 Foo Fighter? Spherical UFO? Does it morph into three?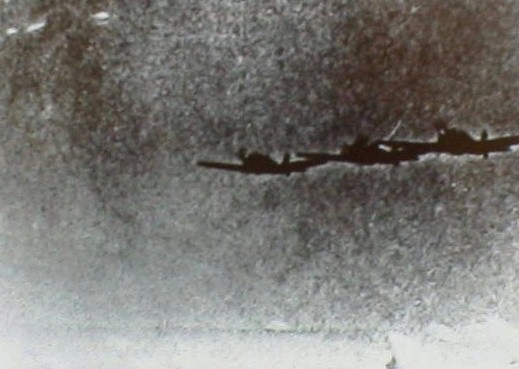 ---
Top corner of photo, FOO FIGHTERS?
The photo was taken of Japanese torpedo planes in 1943 over the DEVIL's SEA.
The Devil's Sea is the Pacific's version of the Devil's Triangle.

---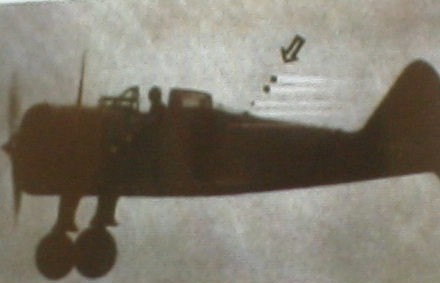 ---
Old Zero fighter plane non-retractable landing gear. What do you think?
Foo fighters or a guy with a flair pen doctored the photo?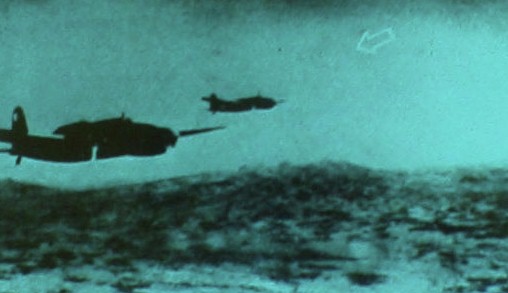 ---
Arrow points to Foo fighters.
Under the planes there seems to be some roundish things?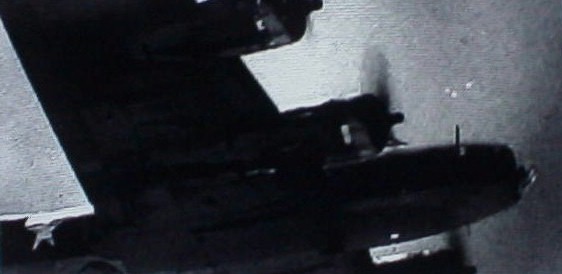 This photo shows Foo fighters during World War II. I think not, maybe? The Foos could be flairs from another B-17.
Maybe the lead bomber had battle damage its r/t was shot out and signals by flairs for Deputy Leader to take over the squadron.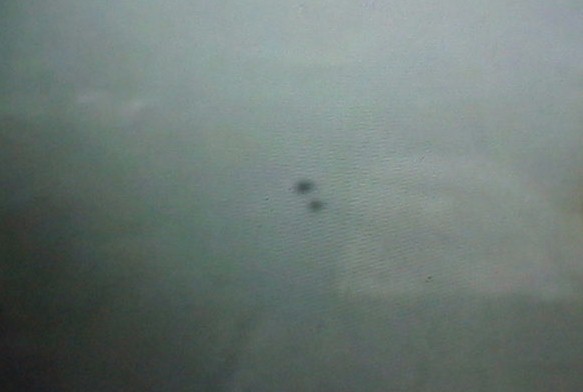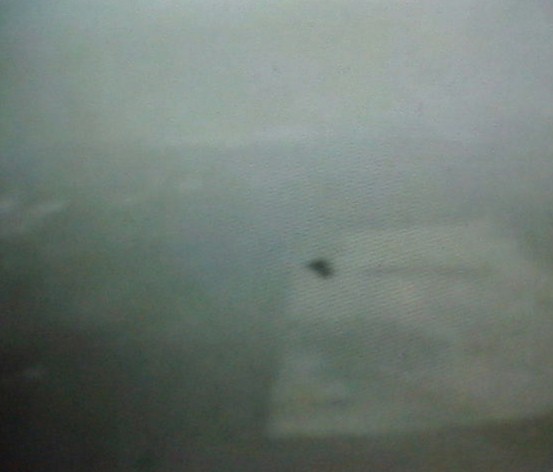 Foo fighters have been reported to morph into each other.
This is gun camera footage from a SOVIET fighter.
Note how the Foo Fighters merge into each other, they then blink out or just zip away.
Convnetional UFOs seem to not morph and are solid.
The modern UFO may enter into holes in the sky,(Dimensional or Speed Portals).
Or exit the atmosphere at fantastic speed.
While Foo Fighters are not huge craft, they can meld and seperate from each other.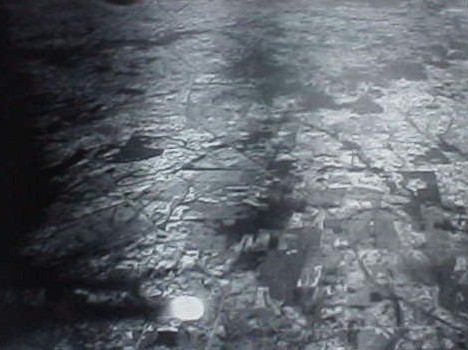 Foo Fighter over Germany.
A reflection, a bogus photo, or a flying saucer-a.k.a. Foo Fighter?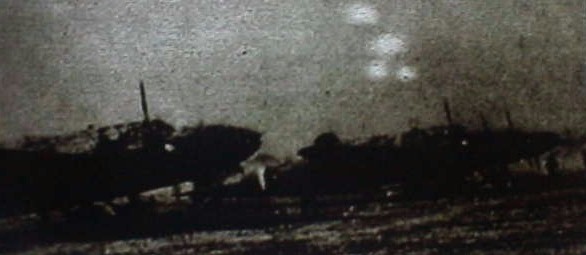 ---
Fake WORLD WAR II photo? Or the real thing? I think it is real.
Notice this cluster of craft or light, as compared to the 1952 photo out of MASSACHUSETTS below.
One group of aliens, seems to travel in groups of four craft or light spheres.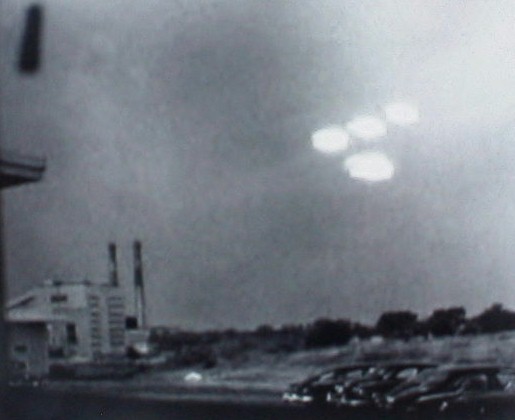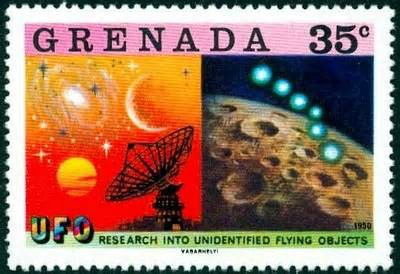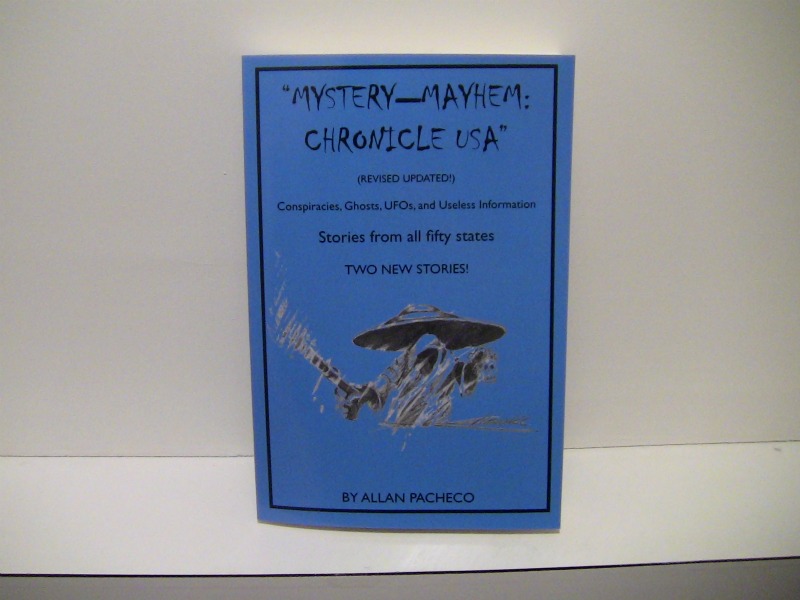 THIS BOOK IS LIKE THIS SITE, FILLED WITH PARANORMAL STORIES-UFO-GHOST-ODD-STRANGE!
TO GET USA BOOK-CLICK ON BOOK OR ON PURCHASE BOOK.
Email me on PAY PAL is you want book autographed.
CLICK HERE TO PURCHASE BOOK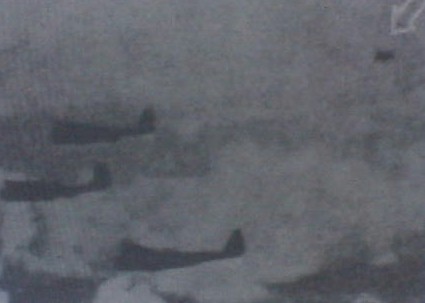 World War II photo with UFO? What is it?
---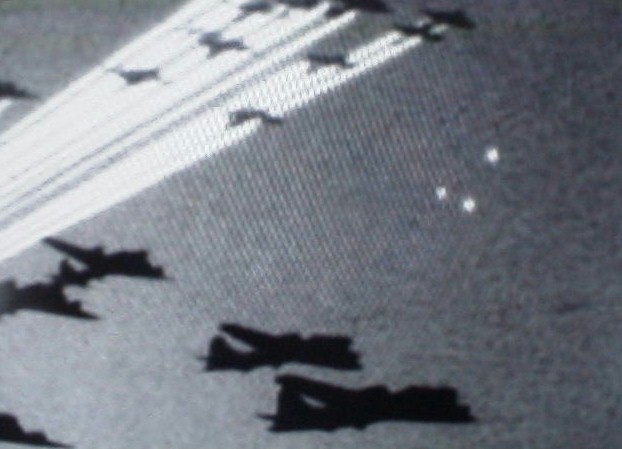 ---
FAKE PICTURE! BOMBERS ARE NOT CALIBRATED SIZE WISE & SOMEBODY PUT FOO FIGHTERS IN THE MONTAGE.
---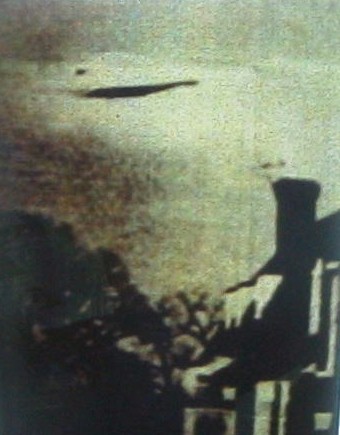 ---
THIS IS A 1944 PHOTO OF A UFO OVER ENGLAND. IT HAS BEEN AROUND FOR AGES, MANY PEOPLE THINK IT IS A FAKE.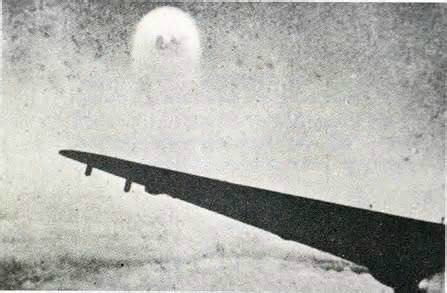 No idea, this UFO picture has been around for ages, it is of a odd FOO fighter off the wing. UFOLOGY-CLICK HERE ------GEORGE ADAMSKI---UFO CONTACTEE--OR WAS HE A FRAUD? CLICK HERE