TOURS+BOOKS+PHOTOS-----LETS GO TOURING-----------------------------505-986-5002 or 505-231-1336
---
FULL MOON PRIVATE TOUR---SHADOW CHASERS HAVING FUN---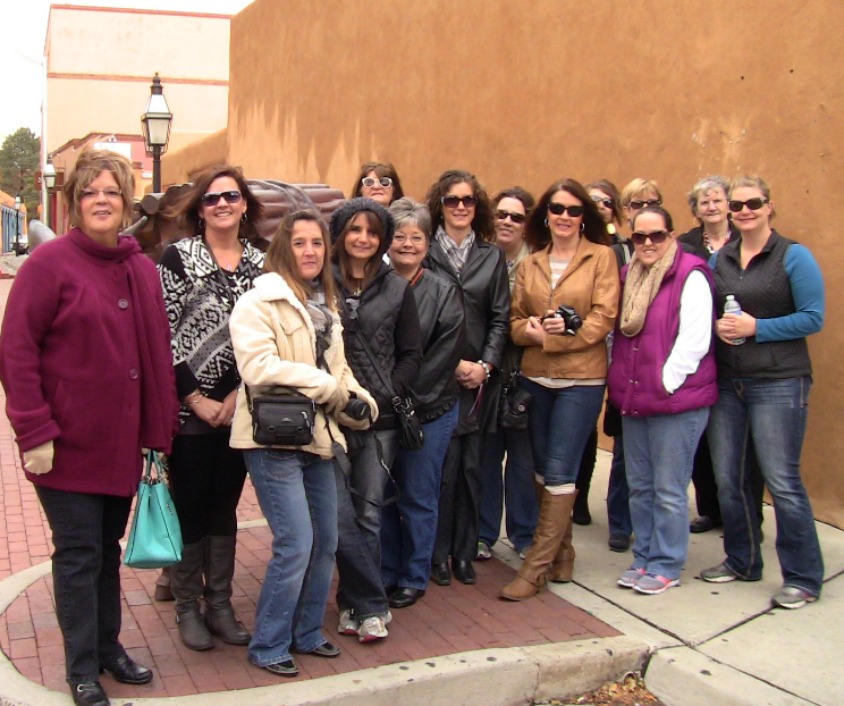 ON A BIRTHDAY TOUR----AT BURRO ALLEY---THERE IS A BURRO BACK THERE BEHIND THIS HAPPY GROUP
THE PALACE OF THE GOVERNORS--THE END OF A PRIVATE PARANORMAL TOUR--A HAPPY TEXAS FAMILY---ON MY TOURS YOU GET = GHOSTS- UFOs-CONSPIRACIES-HISTORY--&--FUN!!! 505-986-5002 or 505-231-1336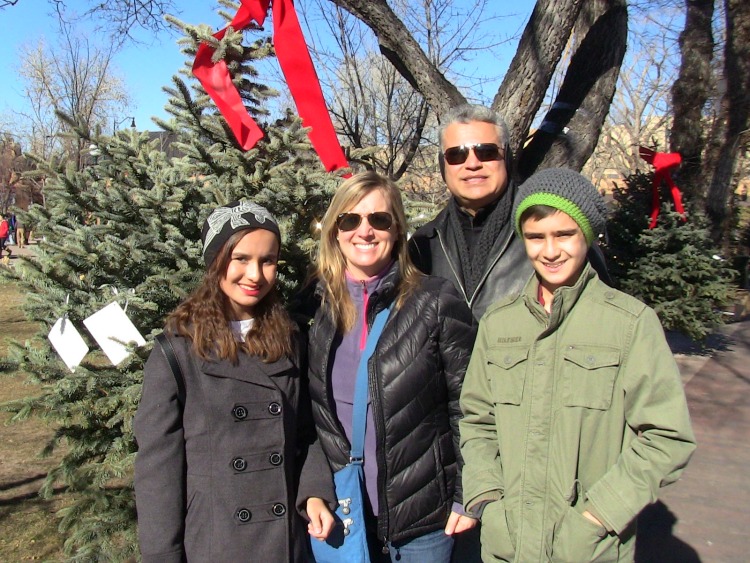 IN THE PLAZA CHRISTMAS EVE--PRIVATE TOUR/ BOOTS ON THE GROUND= FUN TIMES!
WINTER OR SUMMER--- TONS OF FUN TOURING SANTA FE! BRING A CAMERA AND YOUR GUIDE- (ME--WHAT A LUCKY GUY) WILL LEAD THE WAY!!!!
----------------------------------------------------------------------------------------------------- A HAPPY DUO AND--ALLAN----AT THE END OF A TOUR- IN "THE OLD STAAB MANSION" WE HAD SNACKS & MORE CONVERSATION ABOUT THE PARANORMAL--LETS GO TOURING 505-986-5002 or 505-231-1336
---
A HAPPY GROUP AT THE END OF THE TOUR--- THE SANTA FE PLAZA --EVENING TOUR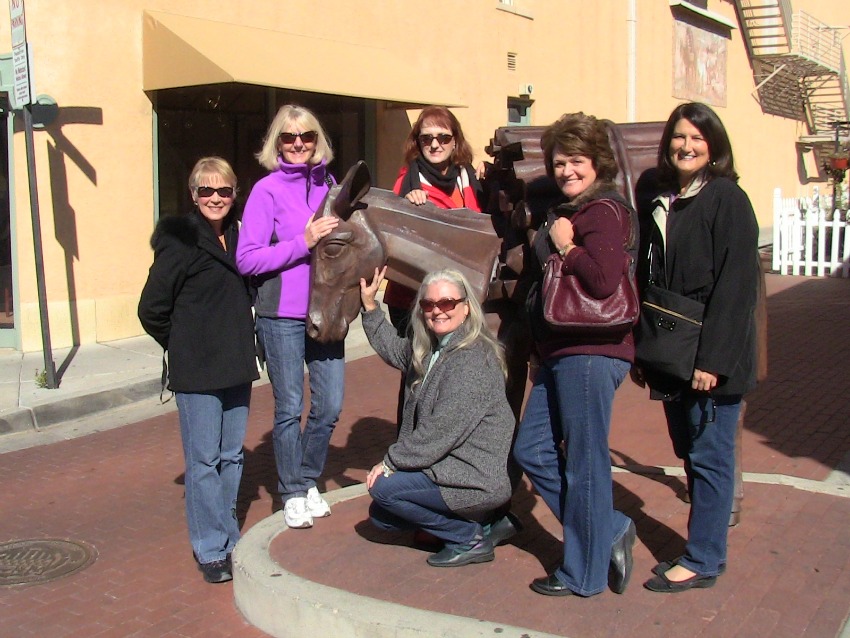 BURRO ALLEY--- TREKKING THROUGH SANTA FE ON A HISTORY TOUR--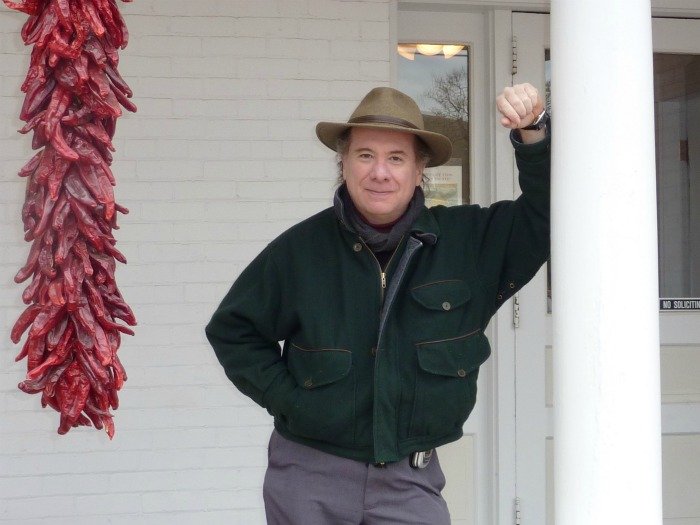 TOUR GUIDE-ALLAN PACHECO--SPELLBINDING TOURS AT A COMFORTABLE PACE---DAY OR NIGHT
---
ALLAN's TOURS KEEP YOU INTERESTED!!! W/ GREAT TALES & FACTS--ALLAN WORKS WITH YOUR SCHEDULE-FOR BEST RESULTS
SCARY TALES + INTERESTING FACTS AND FUN TIMES!!!!! AT THE END OF THE TOUR--A HAPPY GROUP!!!
CLICK HERE FOR MORE INFO ON TOURS---SCHEDULE A TOUR-505-986-5002
YOUR TOURS TAKE YOU THROUGH HISTORICAL & PARANORMAL OLD TOWN
---
SO BEAM DOWN TO PLANET EARTH--GET TO SANTA FE AND LETS GO TOURING!
---
BELOW ARE STORIES IN MY BOOKS AND TOUR-- MODERN & OLD SANTA FE--(HISTORIC + PARANORMAL)
---
LA FONDA: A short history on the fine hotel.
---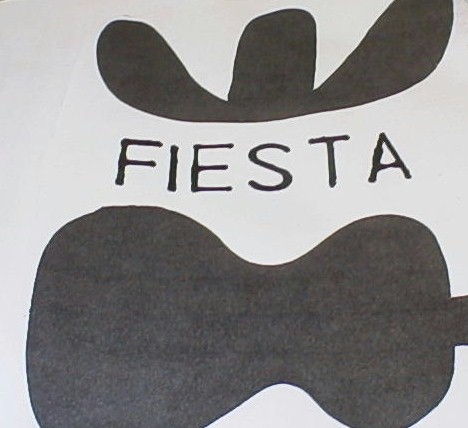 FIESTA AND IT'S HISTORY: A short history on Santa Fe's unique September celebration, "FIESTA".
THE UNCOMPLETED BUILDING: The story of the St. Francis Cathedral and what it was supposed to look like. This house of prayer was the brainchild of Arch Bishop LAMY.

---
MY TOURS & BOOKS=GHOSTS, UFO'S, NOIR, & HISTORY!
"GHOSTS-MURDER-MAYHEM: A CHRONICLE OF SANTA FE".
"SANTA FE MAYHEM & PARANORMAL GUIDE"
"MYSTERY-MAYHE-CHRNOICLE USA"
santafetwriter@me.com
CLICK ON ORDER BUTTON BELOW TO PURCHASE ONE OF MY BOOKS

---
GO ON ONE OF MY PRIVATE TOURS, FUN, INTERESTING FACTS! OR GET THE BOOK!
505-986-5002
PELE gave 100% in his WORLD CUP games--likewise on my history or paranormal walks--you get a tour for the ages. Your walks-tours are filled with interesting information. GHOST WALK SANTA FE CLICK HERE

505-986-5002 = PRIVATE HISTORY OR PARANORMAL TOURS = 505-231-1336
SANTA FE TOUR GUIDE--CLICK HERE TO MEET ALLAN PACHECO--QUASI BIO PAGE or---HIS STREET CRED--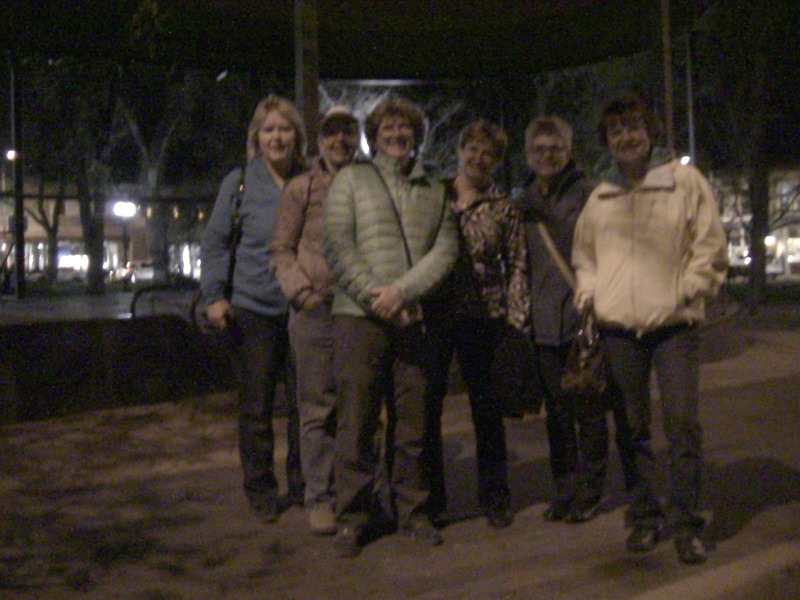 A HAPPY GROUP-- AT THE END OF THEIR PRIVATE GHOST TOUR--IN THE PLAZA-- ALLAN'S TREKS = FUN & YOU CAN AKS AS MANY QUESTIONS AS YOU WANT--- IT IS YOUR PRIVATE TOUR!!!
AND ON THIS TOUR--WE MADE CONTACT--AT HAUNTED CASA SENA--AND OUTSIDE THE OLD HOSPITAL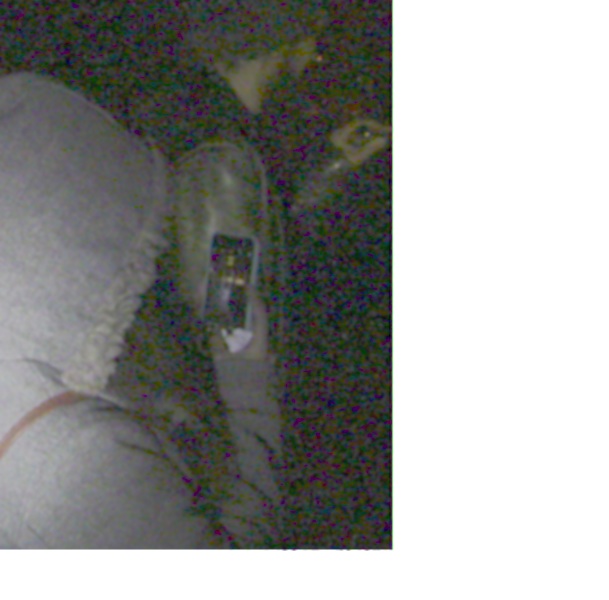 -----THE TOUR GROUP THAT TOOK THIS LEFT PHOTO MADE CONTACT WITH A LL KINDS OF ENERGIES AT A LOT OF PLACES IN THE OLD TOWN OF SANTA FE! ----SOME TOUR GROUPS OR SOLO TOURISTS HAVE A DARN GOOD CHEMISTRY WHEN IT COMES TO THE PARANORMAL AND THIS MAKES FOR ENERGIES + ORBS TO BE SHOT ON FILM. THIS LEFT TOUR GROUP WAS ONE OF THOSE MAGICAL GROUPS, IT RATES UP THE WITH AN APRIL GROUP OF MANY YEARS AGO. BELOW OUTSIDE OF CASA SENA. YES,--CASA SENA IS A HAUNTED BUILDING-- OLD JOSE SENA WHO OWNED THE MANSION DURING WILD WEST DAYS ---DEPENDING ON WHAT DAY IT WAS ----WAS A GOOD GUY OR BAD GUY--DR. JECKYL-MR. HYDE…ALL KINDS OF LETHAL MAYHEM--HE WAS INVOLVED IN---AND THIS GROUP GOT ALL KINDS OF SNAPSHOTS--AND AT TIMES SOME OF OUR CAMERAS DID NOT WORK. WHEN YOU TOUR WITH ALLAN-- YOU NEVER CAN TELL WHAT WILL HAPPEN---WHAT IS DEFINITE-- IS THAT ALLAN DOES KNOW HIS STUFF BE IT PARANORMAL OR HISTORY---DUE TO ALL THE RESEARCH HE HAS DONE AND BOOKS HE HAS WRITTEN.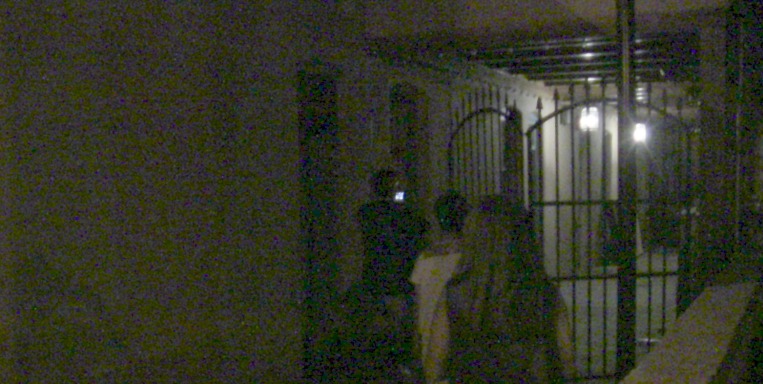 ON ALLAN's PRIVATE TOURS-- YOU CAN GHOST HUNT AS WE TREK THROUGH OLD SANTA FE--BRING A CAMERA! BELOW --THE HAUNTED "OLDEST HOUSE"--HOME OF THE TWO BRUJAS (WITCHES)---FROM CENTURIES PAST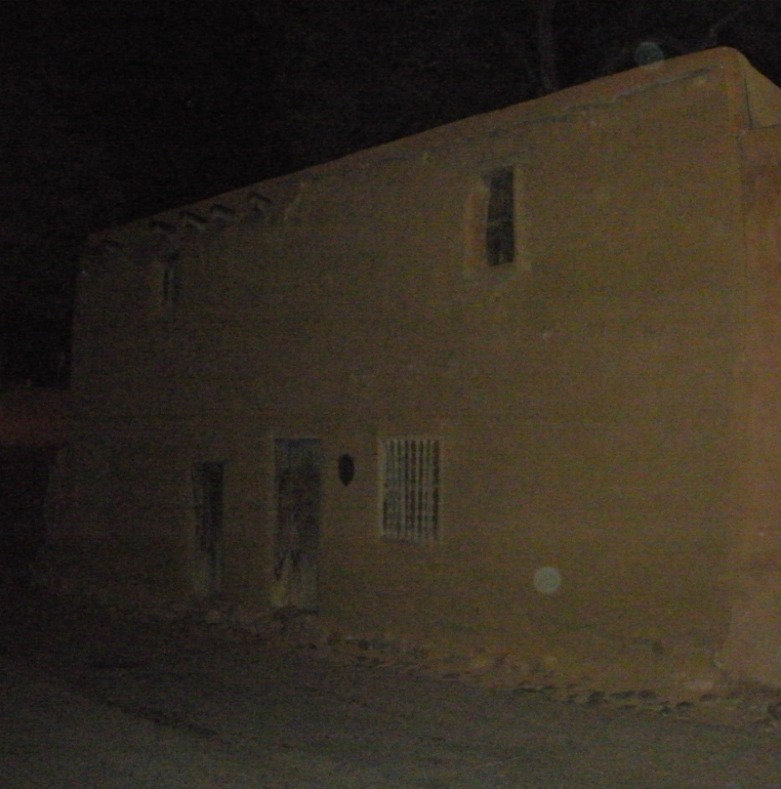 To see the inside of the OLDEST HAUNTED HOUSE--click on photo above----- BELOW: WORDS FROM SOME HAPPY CUSTOMERS--WHO TOOK TOOK A PRIVATE TOUR (WALKED THE OLD TOWN) WITH ALLAN
___________________________________________________________________________________
HI ALLAN,
I wanted to thank you again for two fantastic tours. Both the ghost walk and history tour of Santa Fe more than met our expectations. Your depth of knowledge, high energy and upbeat personality are second to none. I have been on many tours both in the USA and abroad and you rank in my top two! The price was so reasonable and went beyond the amount of time we expected.
With warmest regards, Lena
------------------------------------------------------
ALLAN, I CAN'T SAY ENOUGH NICE THINGS ABOUT YOUR TOUR. YOU TOLD US MANY MORE STORIES THAN I EXPECTED. IT WAS AN EDUCATION AND SO VERY INTERESTING. THANK YOU.
LESLIE
=======================================
ALLAN, JUST A SHORT NOTE TO LET YOU KNOW HOW MUCH SUSANA AND I ENJOYED THE TOUR LAST FRIDAY. IT IS ALWAYS NICE TO HAVE SOMEONE EXPLAIN WHAT WE'RE REALLY SEEING. YOUR HISTORICAL PERSPECTIVE AND STORIES WERE INFORMATIVE AND AT TIMES AMUSING AS WELL.. ALL IN ALL, THE HIGHLIGHT OF OUR TIME IN SANTA FE. THANKS AGAIN.
BRENT. ___________________________________________________________________________________
TOURING (AT DUSK) WITH J & B + LUCKY "THE WONDER DOG"---YOUR PRIVATE TOUR = COMFORTABLE PACE -- AND FUN! ALLAN's TOURS = FAMILY FRIENDLY & PET FRIENDLY, BUT SMALL DOG MUST BE ON LEASH + TRAINED AND SOME PLACES WILL NOT ALLOW PET INTO THE AREA OR LANDMARK.
---

CONTACT ALLAN = santafewriter@me.com
---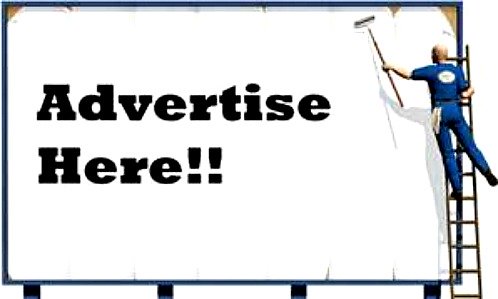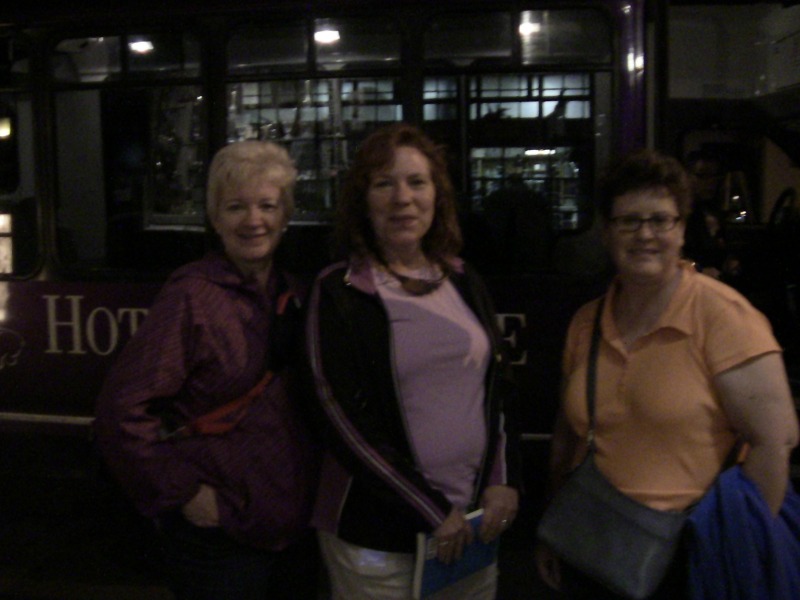 BELOW: AT LA FONDA----THE END OF A (PRIVATE) LATE NIGHT GHOST TOUR. THE GROUP GETS READY TO BOARD THE COURTESY BUS TO TAKE THEM TO THEIR LODGING AT HOTEL SANTA FE.
ALLAN's TOURS CAN PRETTY MUCH END WHERE YOU WANT THEM TO. THIS FLEXIBILITY ENABLES A PERSON OR GROUP--TO CATCH A RIDE--(COURTESY BUS) BACK TO THEIR HOTEL. SOMETIMES ON ALLAN's TOURS-- IT IS REQUESTED--TO END THE TREK IN FRONT OF THE LA POSADA RESORT-- (THE OLD STAAB MANSION). AFTER HEARING THE GHOST STORY OF JULIA STAAB-- SOME TOURS LIKE TO GO INTO WHAT WAS THE OLD MANSION AND HAVE A DRINK AT THE LA POSADA BAR-- ONE OF THE FINEST (SMALL) BARS---ANYWHERE. ALLAN's TOURS ARE UNIQUE, DONE AT A COMFORTABLE PACE--AND SOOOO INTERESTING.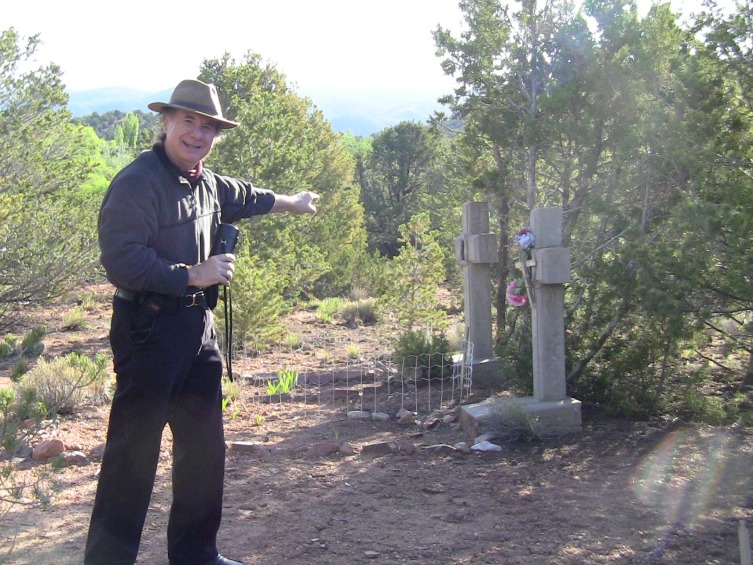 WHEN YOU TOUR WITH ALLAN--YOU GET THE SKINNY ON (THE CITY DIFFERENT) FACTS & TALES---BECAUSE TOUR GUIDE & AUTHOR--ALLAN-- RESEARCHES AND INVESTIGATES SANTA FE's STRANGE YARNS, LEGENDS & LOST LOCATIONS!
---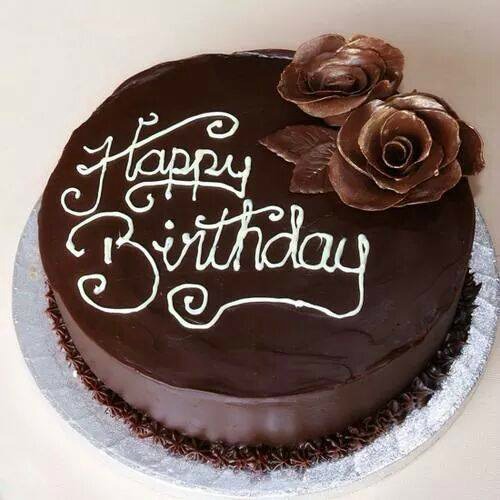 LATE NIGHT GHOST TOUR / BIRTHDAY TOUR---IN THE DESERTED SPANISH MARKET -------ALLAN IS AVAILABLE FOR BIRTHDAY TOURS & PRIVATE LECTURES-------------CLICK ON BIRTHDAY CAKE TO GET TO HALLOWEEN TOUR PAGE-------------------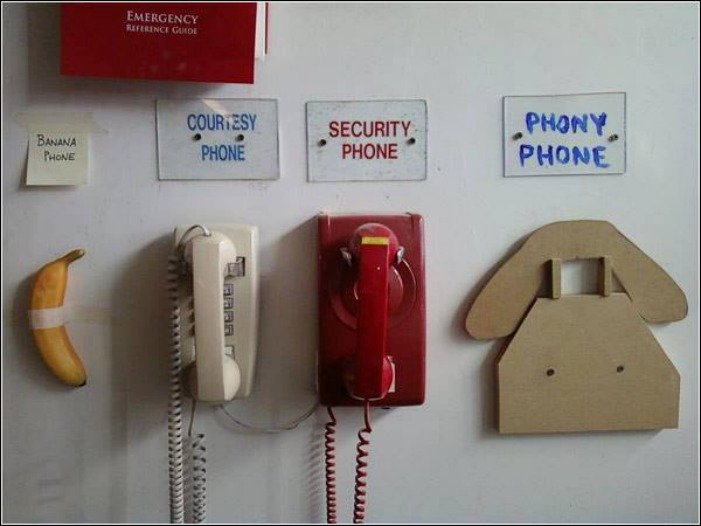 ---
LET'S GO TOURING----505-986-5002 or 505-231-1336 PRIVATE TOURS----SANTA FE AWAITS!!! ----- HISTORIC WALKS OF SANTA FE or SPIRIT WALK------ TOURS LED BY A SANTA FE NATIVE ----ALLAN PACHECO ____click on the picture below to view a short video about his tours

---
STILL HAVE DOUBTS ABOUT GHOSTS -- DO THEY EXIST -- CLICK HERE TO GET TO "GHOST ON FILM" PAGE-- ON THIS SECTION = ENTITIES CAUGHT ON VIDEO -- LEGIT!
---
HOME PAGE----SANTA FE GHOST AND HISTORY TOURS--- CLICK HERE-----