ALLAN's GHOST WALK SANTA FE OR HISTORY WALK = SPELLBINDING FACTS & CHILLING YARNS FROM HIS BOOKS!
(PARANORMAL) GHOST WALK SANTA FE or HISTORY WALK, === IT IS YOUR PRIVATE TOUR -- ----BE IT--GHOST TOUR-or-SPIRIT WALK-----YOUR TOUR IS DONE TO FIT YOUR SCHEDULE-- DAY OR NIGHT. -ALLAN's TOURS ARE DONE AT A COMFORTABLE PACE. BELOW-- OCT 13TH (HANGING DAY) TOUR! WHAT FUN WAS HAD!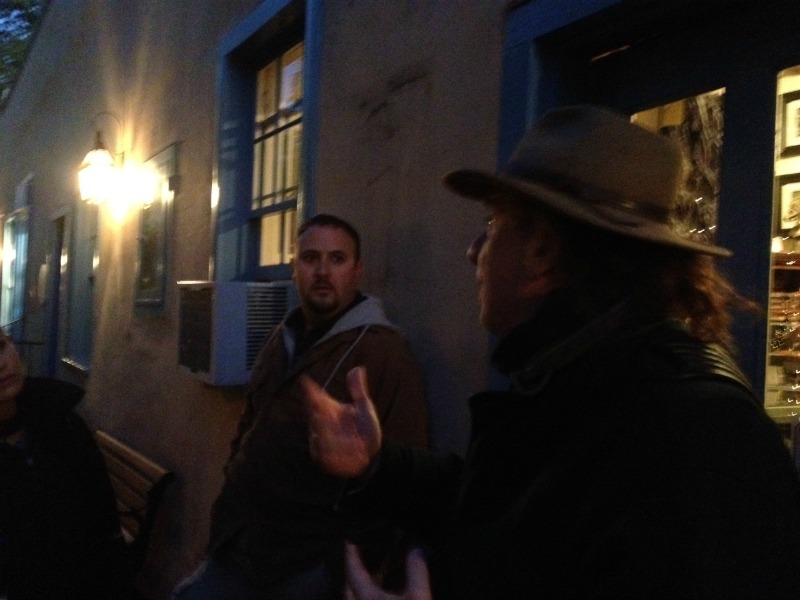 RESERVE A PRIVATE HISTORY TOUR or GHOST WALK = 505-986-5002 OR 505-231-1336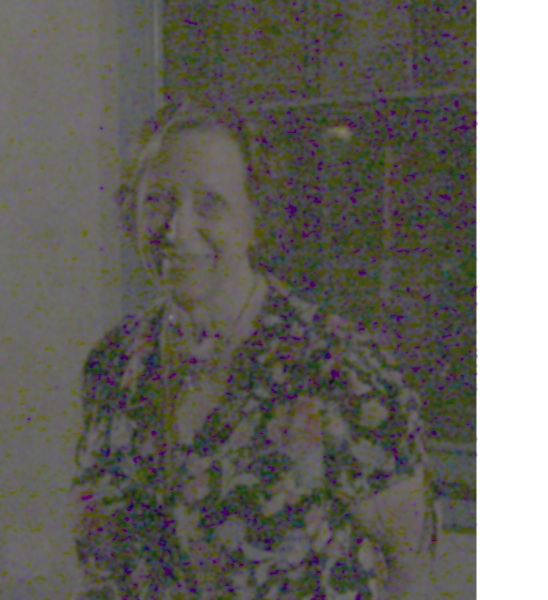 SOLO, DOUBLE, OR GROUP TOURS---INTERESTING + FUN! + DONE AT A COMFORTABLE PACE!! NIGHT OR DAY-- YOU GET A TOUR FOR THE AGES!! (PARANORMAL) GHOST WALK OR HISTORY TOUR. BOTH TREKS ARE FILLED WITH FACTS, LORE AND YARNS!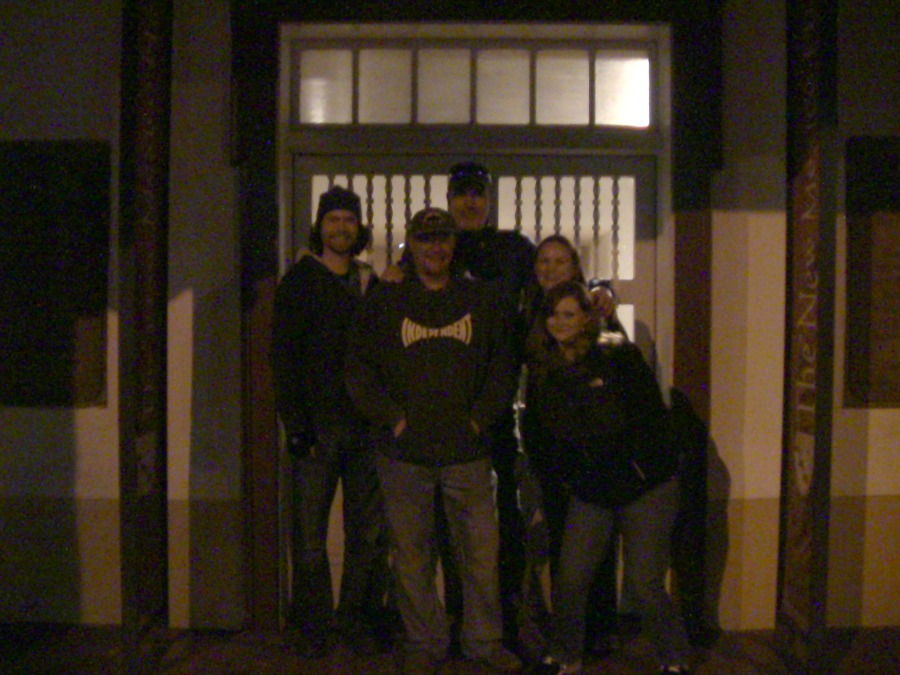 BELOW: OUTSIDE THE HAUNTED PALACE OF THE GOVERNORS-- PARANORMAL NIGHT TOUR -- WITH THE "CHICAGO GANG"--A "WINDY CITY" BUNCH THAT HAD A LOT OF FUN--ON THEIR PRIVATE TOUR
INSIDE LA POSADA--TESS--WROTE AN ARTICLE ON ME!!! IT WAS VERY COMPLIMENTARY!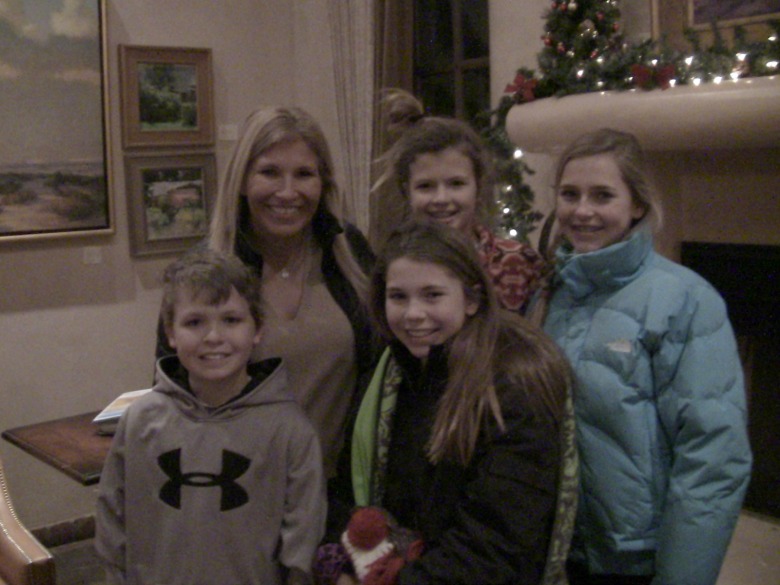 HAUNTED-HISTORICAL LA POSADA-- AT THE END OF A PRIVATE GHOST WALK-----TOURING WITH ALLAN = YOU NEVER KNOW WHO YOU WILL MEET--(HUMAN & GHOST) --- WHAT YOU WILL LEARN ---WHAT YOU WILL PHOTOGRAPH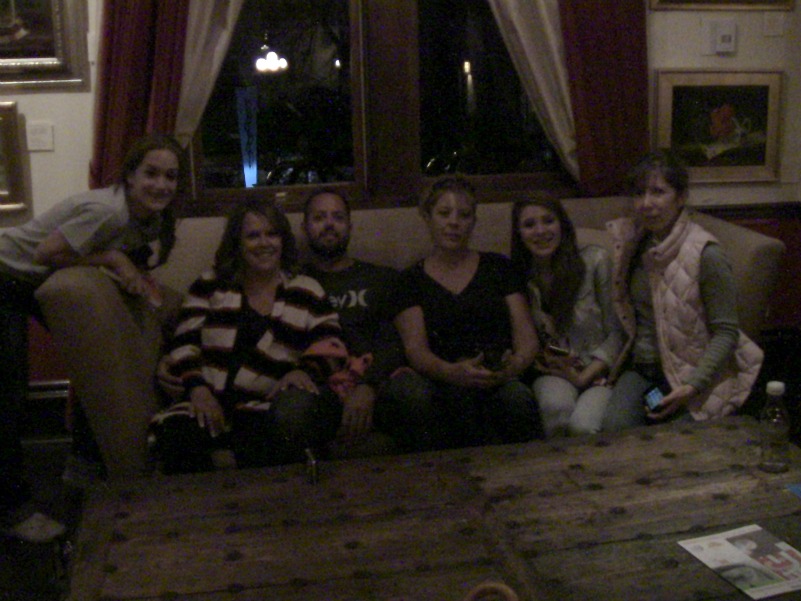 AT LA POSADA-- AT THE END OF A LATE NIGHT TOUR, BEFORE ORDERING SODAS & MARGARITAS.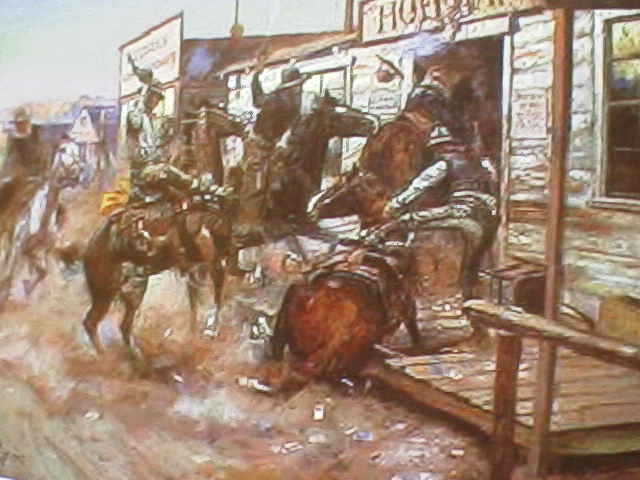 YOUR HISTORY TOUR TAKES YOU TO WHERE THE WILD WEST DEEDS HAPPENED. BUT THESE PLACES ARE PRETTY SAFE AS COMPARED TO PIONEER OR COLONIAL DAYS.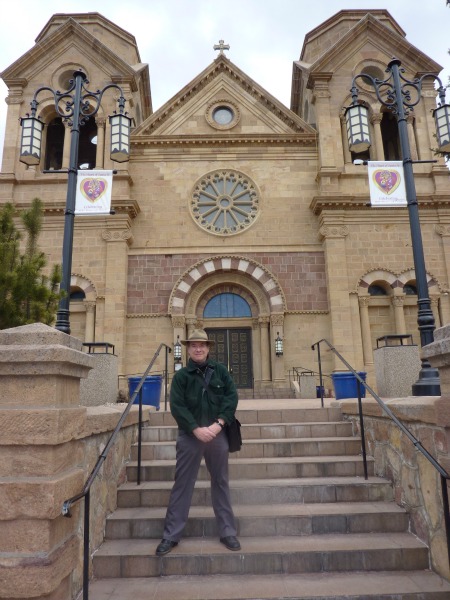 ---
Allan's different private custom tours, from the Cathedral to Spook Lane--you get the skinny on the lore, facts, lies, myths, while you have a good time. Click on below photo = SPOOK LANE PAGE--- please come back--- a lot of good stuff on this page!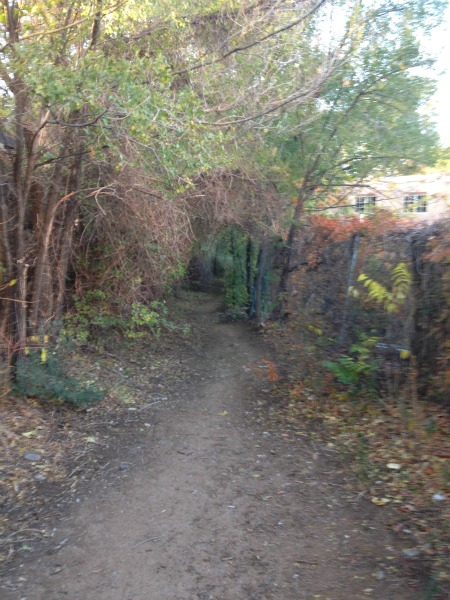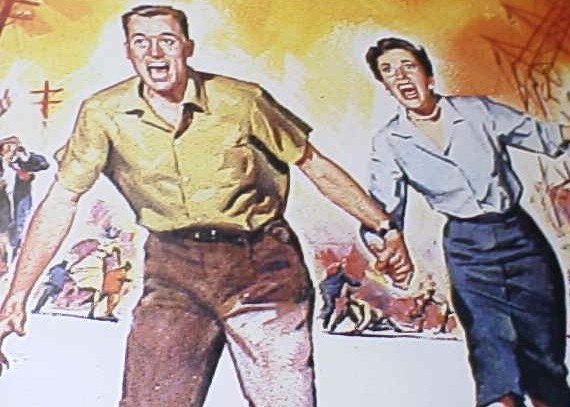 Sometimes Santa Fe's macabre yarns stay with you and back home you have flashbacks! Wink-Wink! GHOST WALK OR HISTORY TOUR-- your treks through old Santa Fe will be one to remember. Click on left picture to get to HALLOWEEN TOUR PAGE-- which are done year round.
SANTA FE's PAST & LORE COME ALIVE ON ALLAN's HISTORY OR PARANORMAL TOURS--
HERE ARE SOME TIDBITS FROM ALLAN's HISTORY TOURS
THE SANTA FE TRAIL: Interesting facts are woven together and the true story of how the trail came into being. From 1821 to 1880, the trail was the commerce artery for the southwest.
SANTA FE'S MR. INDOMITABLE (A FORGOTTEN GOOD GUY): Charlie Siringo's life read like it was fashioned by a novelist. Siringo worked as a cowboy, was friends with Billy The Kid, Shanghai Pierce, Bat Masterson, and worked all the major western trails. Siringo then went onto become a lawman, and pursued some of the West's most notorious outlaws. As an elderly gentleman, Siringo moved to Hollywood and worked as a script writer for silent films.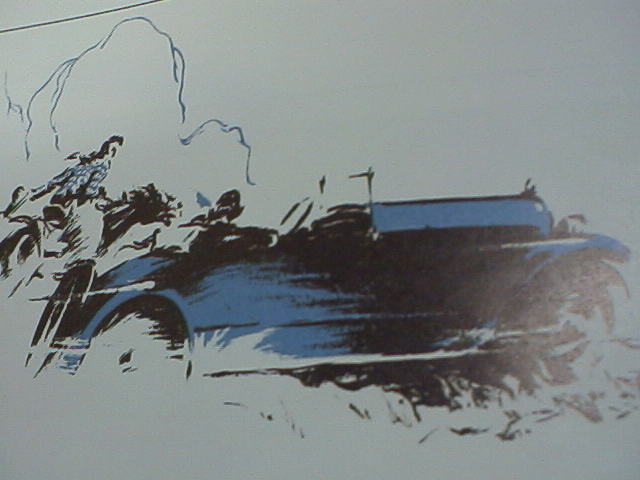 ---------------------THE HONORABLE WILLIAM HENRY BONNEY, A.K.A. BILLY THE KID: The west's most notorious outlaw, his life is revealed on tour or in print. Read about THE KID'S EXPLOITS in Santa Fe. Facts, tall tales, the legend of THE KID comes alive.
---
YOU CAN'T BEAT THE PERCENTAGES: Do~na Tules, a Santa Fe madam, is examined. Tules' life is some what similar to that of Evita Peron. Tules rose from nothing to become one of the richest lady's in the west. A Scarlet O'Hara type story but with brass tacks, and unlike the "GONE WITH THE WIND" heroine, Tules was not of the landed class.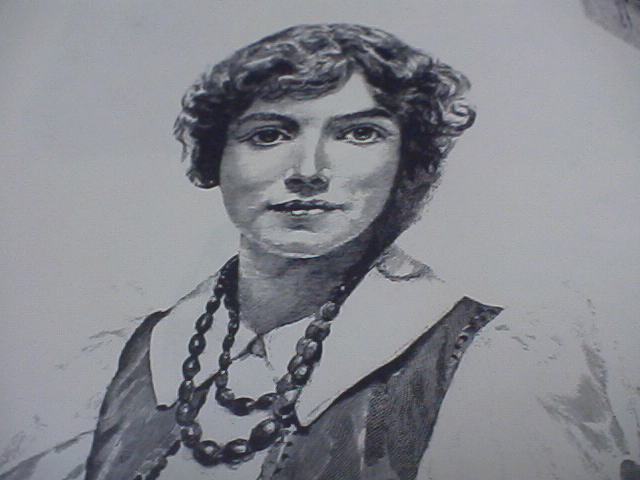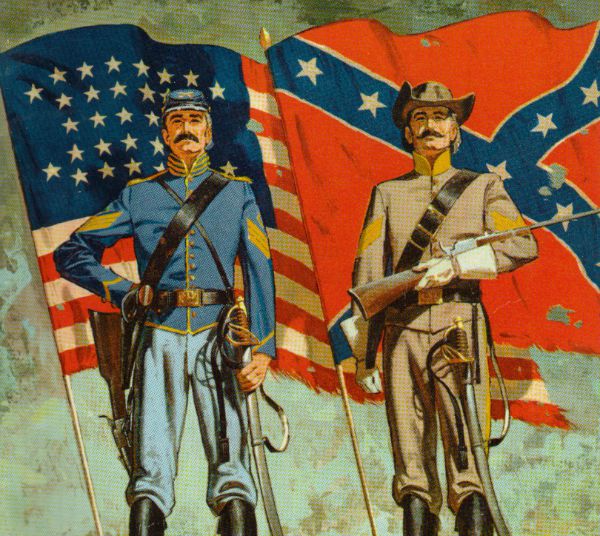 NEW MEXICO INVADED AND THE GETTYSBURG OF THE WEST: The battle of Glorieta, 1862, fought fifteen miles to the East of Santa Fe, was the turning point of the Civil war in the west. Yet teachers and history books, ignore this 3 day battle that was fought between Confederate and Union armies. -----------------------------------------------------------------------THE WORDSMITH: Lew Wallace author of "Ben Hur", was Governor of New Mexico from 1878-1881. Wallace born in Indiana and was a general for the Union army during the Civil War. Due to his honesty, Wallace was appointed Governor of the New Mexico territory by president Rutherford B. Hayes. During his term, Wallace did his best in bringing law and order to Santa Fe and the territory. In his office at the Palace of the Governor's which is located off the plaza, Wallace in his spare time penned the novel, "BEN HUR".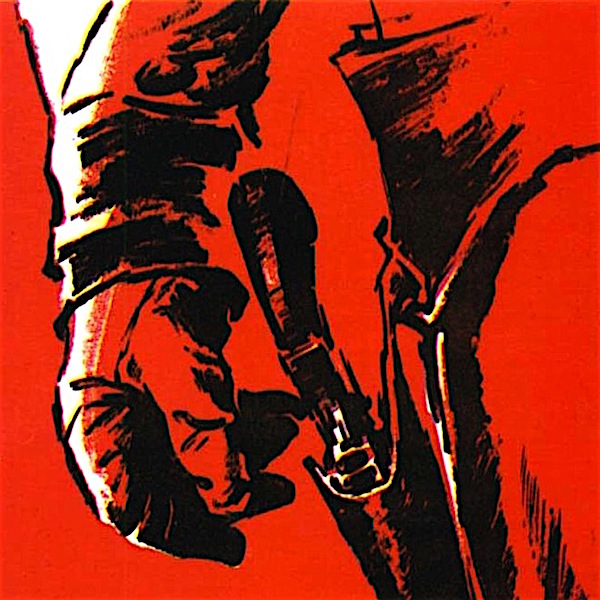 Many more stories are found in my books.
KIT CARSON (A MAN MISSUNDERSTOOD)
THE INQUISITION
LADY GODIVA ON THE PLAZA
GHOSTS
STRANGE HAPPS
SHOOTOUTS, etc....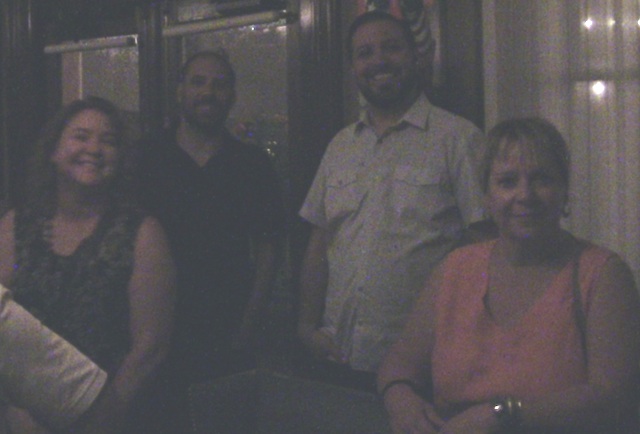 ANOTHER SATISFIED GROUP WHO TOOK ALLAN's DAYTIME INTO DUSK TOUR, THE SAFARI ENDED INSIDE THE HISTORIC LA POSADA. DURING WILD WEST DAYS THE LA POSADA WAS THE FINEST MANSION IN SANTA FE. THE MAN WHO OWNED THE ESTATE WAS ABRAHAM STAAB, WHO IN MODERN TIMES IS KNOWN AS THE "AL CAPONE OF NEW MEXICO TERRITORY". TODAY THE SPLENDID MANOR IS A RESORT AND HOME OF A FINE BAR. ALLAN's PRIVATE TOURS ARE DONE AT A COMFORTABLE PACE AND YOU CAN ASK AS MANY QUESTIONS AS YOU WANT.
505-986-5002 = PRIVATE TOUR = 505-231-1336 /// SANTA FE, NEW MEXICO TOURS w/ ALLAN PACHECO---SPIRIT WALKS--HISTORIC WALKS--GHOST WALKER TOURS---

AN INTERESTING READ---"MYSTERY-MAYHEM: CHRONICLE USA" ---- PARANORMAL DELUXE-------CLICK ON COVER TO ORDER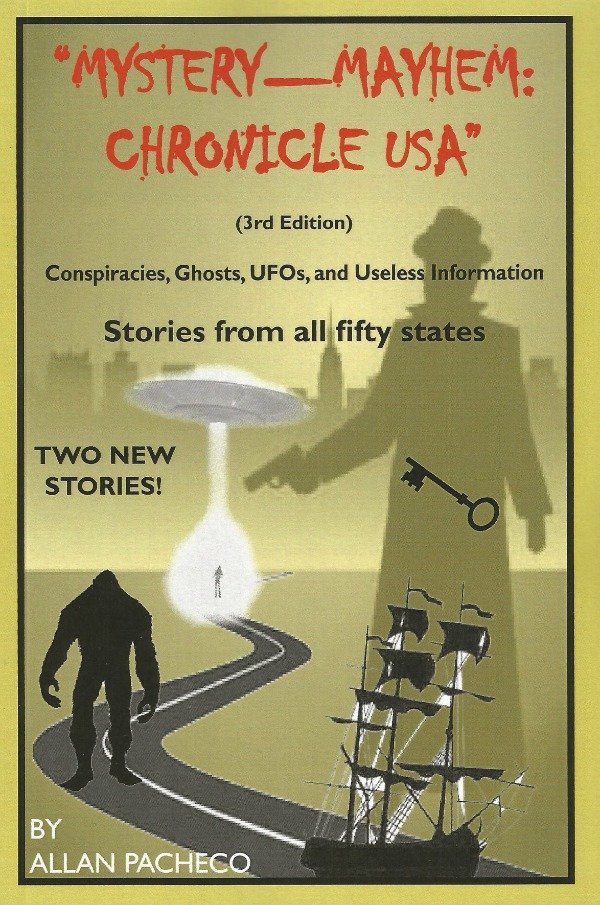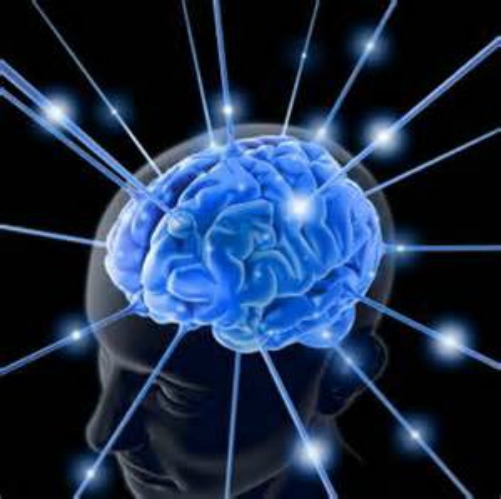 MY TOURS AND BOOKS--DO CONTAIN SOME CHILLING CONTENT!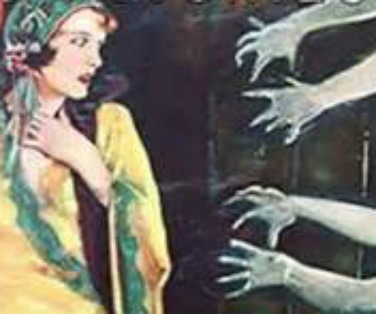 IF YOU WANT A INTELLIGENT GHOST WALK---A THINKING PERSON's PARANORMAL TOUR----------- 505-986-5002 or ---505-231-1336
PRIVATE TOURS FOR BIRTHDAYS, GROUPS, SOLO, OR COUPLES-----THE BEST DAMN TOUR IN SANTA FE! GHOSTS AND HISTORY DONE AT A COMFORTABLE PACE----DAY OR NIGHT---SANTA FE AWAITS-----505-986-5002 or 505-231-1336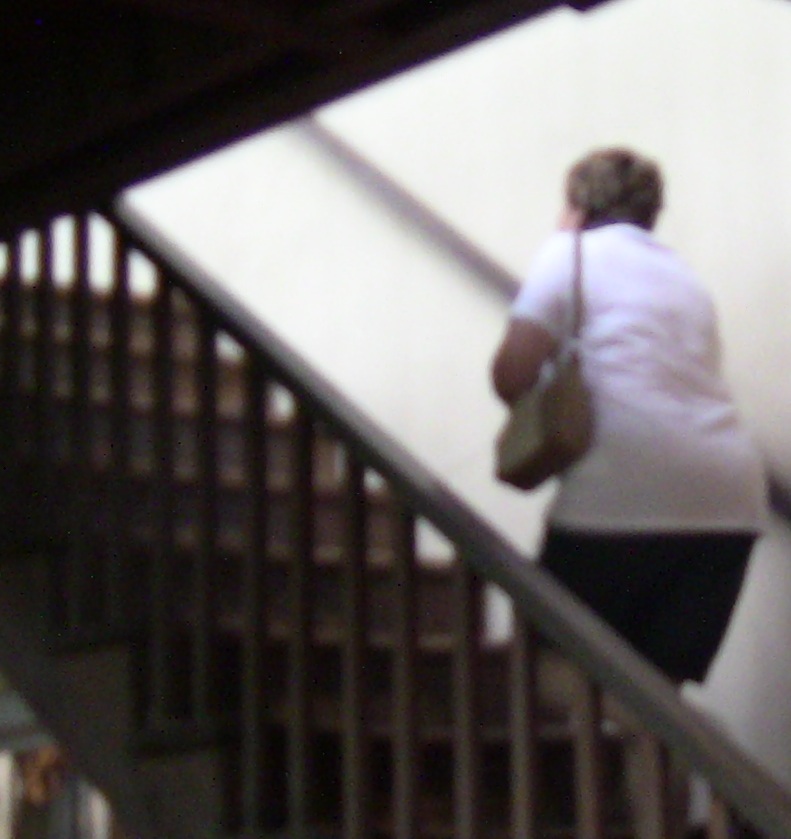 NOTE THE HESITATION ---EVEN DURING THE DAY, AT TIMES THE HAUNTED BALCONY CAN CREEP PEOPLE OUT! THIS LADY SENSED SOMETHING--WHAT HAS BEEN POINTED OUT TO ME IS AN ODD FACE BELOW THE STAIRS ON THE LOW-LEFT SIDE-- A REFLECTION OF LIGHT - OR IS IT THE FACE OF AN EVIL-ANGRY ENTITY?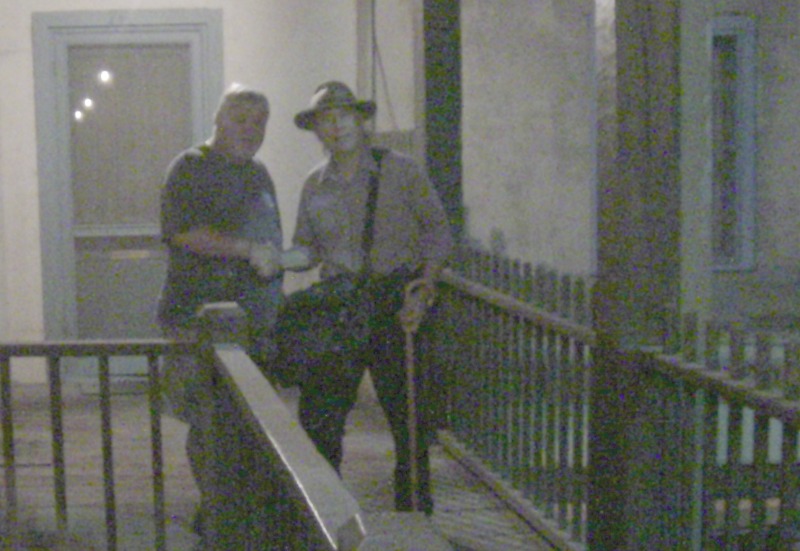 MICKEY & ALLAN ON A LATE NIGHT GHOST TOUR----(AT SANTA FE'S "HUSH HUSH SWEET CHARLOTTE BALCONY"-WINK-WINK - A 1964 HORROR FILM) NOTE THE ARM AND PART OF THE SHIRTS-- HOW ODD-- TRICK OF LIGHT-- OR ???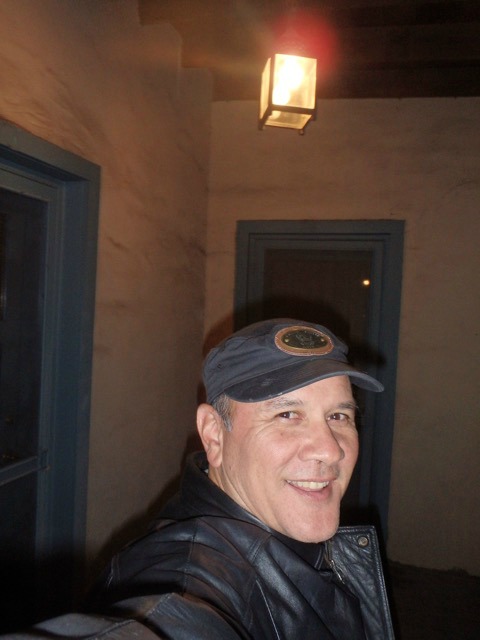 ----------505-986-5002 = PRIVATE TOUR--HISTORY or GHOST = 505-231-1336
-----------------------------------------------------------------------------------------------------------------------------------AVAILABLE NOW---"DOMINGO NEGRO" ALLAN's LATEST BOOK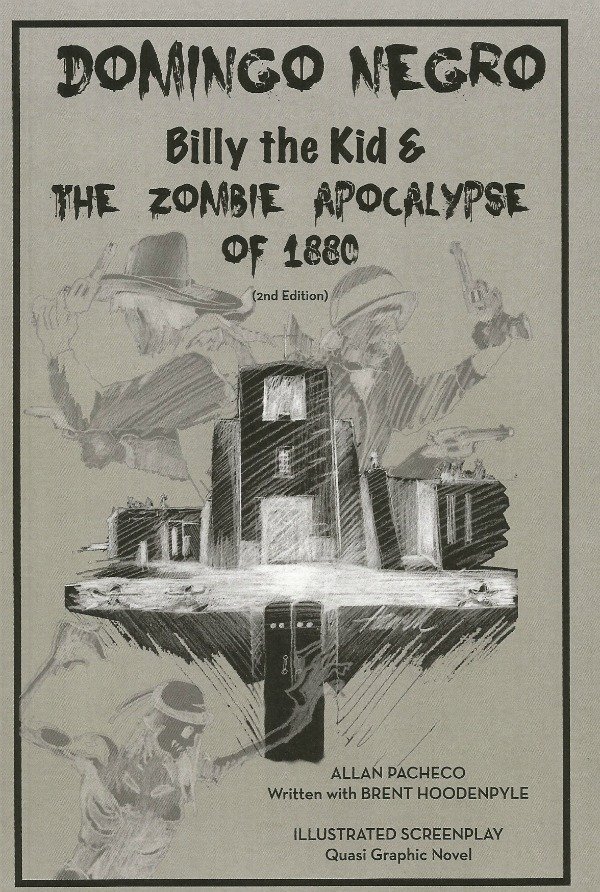 ---------------------------------------------------------------------------------------------------------------------------------------------------------------------------------------------------------------------------------------------------------NEW MEXICO---SANTA FE--- UFO MYSTERY---CATTLE MUTILATIONS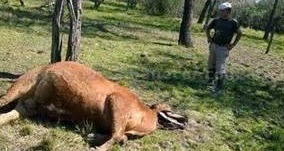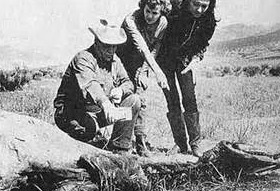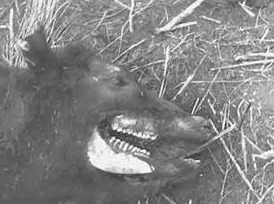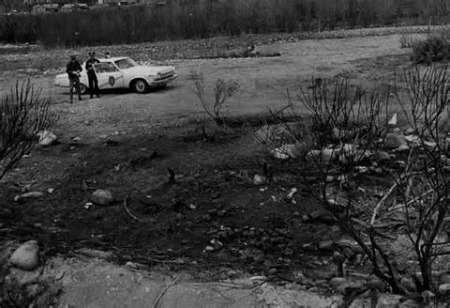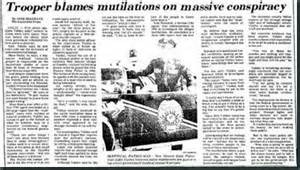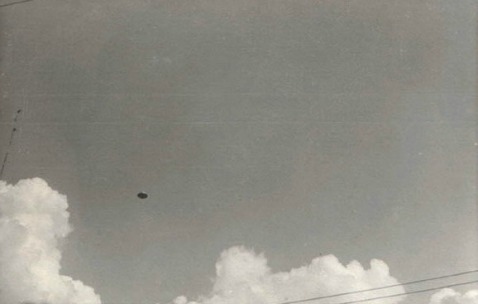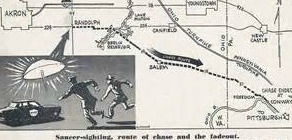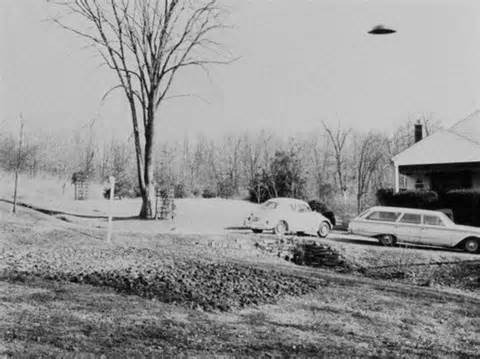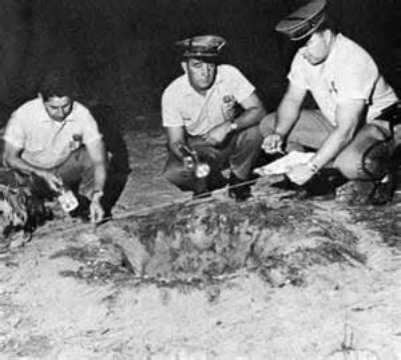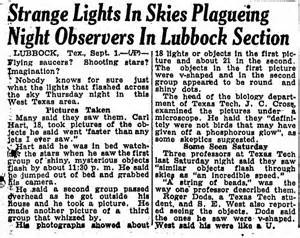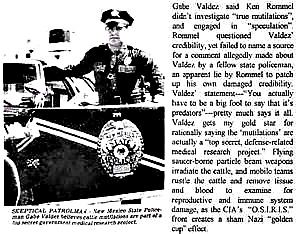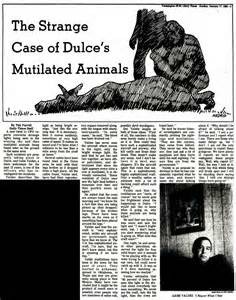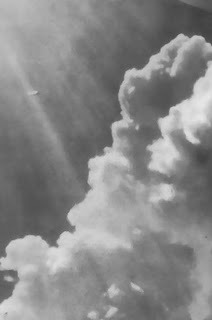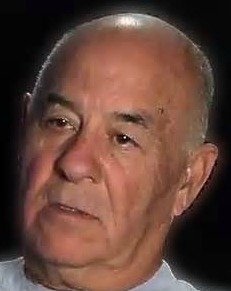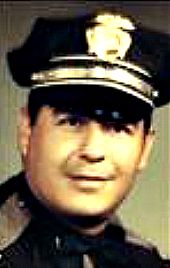 Since 1947 the Santa Fe area and Northern New Mexico have been plagued by rashes of cattle mutilations. Ranchers have found laying in their pastures cows that have had the majority of their blood drained, their sexual organs removed along with their eyes, tongue and sometimes heart. The mutilated cows show no sign of struggle, whatever kills the bovines does it fast. No foot prints or tire tracks can be found around the dead beefs.
Rewards have been offered by ranch associations yet nobody has come forward with evidence as to what group or who is conducting the slaughter.
Also no one has been apprehended in connection to these crimes. The slashing of cows as it was called in the 1940s and 1950s, is a most peculiar mystery. The slaughters tend to come in waves, and then their is none, then the activity starts up again.
UFO activity seems to precede and occurs during these time spans of cattle mutilation, as in aerial sightings and rare hove rings have been reported. Are UFOs as in aliens responsible for the dissections of these cows?
Researchers and ranchers have concluded that cults or deranged men are not behind this phenomena. Due to the fact that the incisions on the dead beefs are done with laser like equipment, furthermore some of these dead animals are found in almost inaccessible places.
The late Gabe Valdez, (CENTER PICTURE & RIGHT PICTURE) was a former New Mexico State Police officer who was stationed in the Dulce area during the 1970s, thought that a secret government program--by way of the military was behind the waves of mutilations. Valdez reasoned that the the UFO activity that had been seen during the mutilation waves was high tech, secret military or Black Ops aerial craft. It is of note, that the Dulce area in the 1970s was a hot spot for cattle mutilations and UFO activity. Valdez also worked with Paul Bennewitz, a noted UFO researcher who was fed false information by certain people inside the military.
Valdez scouted around the Dulce wilderness and found for lack of better words-- abandoned military guard posts that were camouflaged to look like a dear hunters shacks. Valdez and Bennewitz as well as other investigators thought they had been misdirected by perhaps a secret branch of the CIA, in their study of the cattle mutilation phenomena.
Different researchers think Valdez maybe partly right, in that a secret Federal program is behind some of the cattle mutilations, but not all of them. Some researchers have concluded that some of the cattle mutilations are misdirection done by a secret group inside the military or government. The misdirection or red herring, is to throw the media or public off the idea that something not from Earth is mutilating cattle and the military can not do anything about it.
The following idea has been pointed out and it does make sense. If the military, CIA, or Black Ops program are %100 behind the cattle mutilation mystery, one must ask how well can the military or the Federal government even --Black Ops operations-- be kept silent. Secrets do come out, for example the Bin Laden raid or 1945's Top Secret Info from the Manhattan Project have been blabbed to spies or to the media.
Why are cow being mutilated?-- According to those that believe that the Fed or military are doing this-- cows by what they eat are an easy way to check on the areas radioactivity and other experiments that the Fed have done in that quadrant.
The UFO partisans think bovine mutilations is done for some type of genetic experiment. Extra Terrestrials are in need of bovine DNA and human DNA --- for the engineering of some new prototype human or alien. That reads as odd, but some researches note the missing human phenomena that has hit the USA.
That is a scary thought when one thinks about he many handbills or paper sheets that come through the mail that contain age enhanced pictures of the missing. The Upshot--as stated before --some UFO researchers think the missing phenomena goes hand in hand with the cattle mutilation mystery.
What cannot be denied is that Santa Fe and Northern New Mexico at times has been a hotbed for UFO activity. In these UFO areas is where many cows have been found slaughtered. Furthermore, these cows were not killed by predator, hit by lightening or died from eating poisonous weeds.
Ranchers who have been in the cow business all their lives, can tell when a cow has been killed by a bear or mountain-lion as compared to finding a dead bovine with precision incisions on its hide, as in having a heart sucked out of the cow through a small hole in the animal's chest. Ranchers are not stupid, they know their business.
In the past some disinformation specialists have gone out of their way to discredit ranchers, in what they have attested to. One Ex-FBI agent, (KEN ROMMEL), (6'2" 200 PLUS POUNDS BLONDISH-BROWN HAIR) who ramrodded a poor (DISTRICT ATTORNEY FIRST JUDICIAL DISTRICT) investigation concerning cattle mutilations, went as far to call Gabe Valdez, Officer Numb Nuts---because Valdez would not go along with the charade or false idea Rommel championed, that the mutilated cattle had died by eating poisonous plants.
Rommel who was a verbal bully had a lot of other negative things to say about investigators and Valdez.
A few researched thought----ROMMEL was a paid disinformation mouth piece, his job was to discredit research or researchers-- who investigated this mystery.
It is a fact that Rommel was given $44,000 and change to research this mystery, he divided up the money and paid some people to work for him. Was this the total amount that Rommel was paid? I have my doubts going by Rommel's personality,, I would venture that the man was paid a salary or had other money coming his way,
The direction of this investigation from THE GET GO was to state that poisonous plants kill cows and that the carcasses are not mutilated, they are eaten by scavengers. In paraphrasing Rommel's words, he was going to ridicule these investigators who need a life, and little old me "Rommel"-- was going to find an explanation that did to have to do with GREEN MEN FROM MARS.
Rommel did not do any out in the field investigation---while compiling his book. He organized the book. Another faulty part of this investigation is that his paid-investigator or lackeys did very little on hands research. Rommel's stooges simply wrote down what certain people told them and these people were partisans of the idea that ranchers do not know their business.
Rommel went to great lengths to restate the company line or government lingo that all the cows found dead in pastures by ranchers were killed by ingestion of poisonous plants and the incisions on these dead cows was the result of hungry predators.
Valdez on the other hand was a hands on man. While on duty near Dulce, New Mexico, Valdez had the fortitude to chase after strange moving lights in the sky, in his patrol car or on foot. By himself, Valdez would go into fields day or night and see if he could find where the light or UFO or black helicopter had landed.
I did not agree with Valdez's conclusions and we locked horns--- before, during and after an investigation that had us walking through glades and fields. I disagreed with Valdez over the phone, and face to face etc… No, Valdez and I were not pals.
Even though Valdez and I were miles apart on what the cattle mutilation evidence meant, or where it pointed to, I give Valdez credit for doing his own research, and braving the wilds and not handing off his research to a squad of arm chair employees like ROMMEL did. Valdez risked his life and reputation in trying to come to grips with this mystery, even though, as stated before, I do not believe in his conclusions.
I have to state, that Valdez had guts, I can not say that about Rommel, who seemed to be powered by ego, not by bravery.
Ex FBI agent Rommel looked like he had stepped out of a 1930s recruiting poster, he tended to belittle anything that did not go along with his narrow mindset. Rommel was very proud of his poor investigation and tended to wave or point to his text when questioned or make snide remarks about LITTLE GREEN MEN FROM MARS.
Rommel's bad investigation (ROMMEL's INVESTIGATION & PICTURE bottom of this article) ) was never questioned by the media and it was sighted as proof that their is nothing out of the ordinary when it comes to ranchers finding their cows mutilated in their pastures.
Some UFO researchers have concluded that their is a secret FED/military group that is intertwined with the cattle mutilation phenomena, however this group mainly monitors what is going on as in UFO activity and cattle slashing. That I can agree with. I do not agree with ROMMELl's conclusion that all these mutilated cows found by ranchers died from eating poisonous shrubs. Likewise, I do not agree with Valdez's ideas that the cattle mutilation mystery is the result of Black Ops.
As far as Rommel goes-- I always thought he was one of those guys who hid behind his badge or his authority. If he had not had that protection, be it FED or STATE badge, caustic Rommel would have been decked countless times by people that he insulted.
Valdez on the other hand, as much as I disliked parts of his personality, or how far his thinking would take him, I never saw Valdez hide behind his badge or cloak himself in a realm of authority. Rommel was the opposite of Valdez, the Ex-GMAN ROMMEL was full of bluster and had a superiority complex.
ROMMEL's superior during his FBI DAYS (PICTURE BELOW THE ANIMAL MUTILATION TEXT) was MARK FELT-- who became the ASSOCIATE DIRECTOR OF THE FBI --this is the man who critics claim, out of ego became the WATERGATE INFORMANT, who leaked info to journalists, Woodword and Bernstein. Playing the King maker and breaker, Felt did not take his evidence to the GRAND JURY, which by duty he was obliged to.
Pundits think, because President NIXON did not appoint FELT to head the FBI after the death of Director J.Edgar HOOVER, false pride led to Felt's actions. The reason this is brought up- is because Rommel was seen to be cut from the same cloth as Felt--they were men who who had egos as big as the state of New Mexico..
And yet Rommel, a man of great arrogance along with a closed mind-was the man who ran the CATTLE MUTILATION investigation. Reader, Rommel's investigation is as bad as the Warren CoMmission's texts concerning the JKF assassination.
Got any info or photos concerning this Santa Fe or New Mexico mystery- shoot them my way--- santafewriter@me.com
To read about another sinister mystery click on the BELOW PICTURE FAR LEFT-- "OPERATION ANIMAL MUTILATION" and get to the "DYTALOV PAGE" were aliens behind this 1959 massacre or a Yeti?
---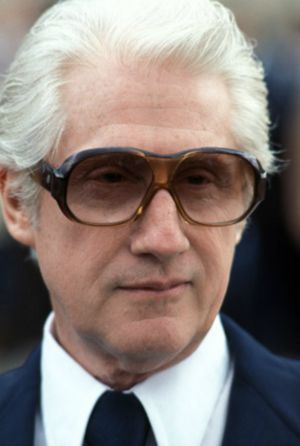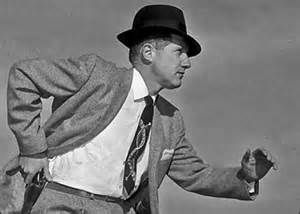 THEY SAY A PICTURE IS WORTH A THOUSAND WORDS-- THE FELLOW ON THE FAR LEFT IS MARK FELT-- HE WAS THE ASSOCIATE DIRECTOR OF THE FBI IN THE 1970s. TRANSLATED THAT MEANS----FELT WAS THE #2 MAN IN THE FBI.
DOES THIS PICTURE ON THE LEFT SHOW A VERY VAIN, RUTHLESS, POWERFUL, SMIRKING MAN? THE REASON THIS PICTURE IS POSTED IS TO SHOW YOU READER-- WHAT KIND OF PERSON KEN ROMMEL WORKED WITH OR ANSWERED TO WHEN HE WAS IN THE FBI.
DOES IT NOT REASON THAT EX-FBI AGENT ROMMEL WOULD HAVE THAT SAME KIND OF ENERGY OR EGO THAT HIS BOSS WOULD HAVE? THE PICTURE ABOVE OF THE G-MAN GOING FOR HIS PISTOL IS FELT, THE PHOTO IS A PROMO PICTURE THAT WAS SHOT DURING HIS YOUNGER DAY---FELT STARTED HIS FBI CAREER IN 1942 AND RETIRED IN 1973.
THIS MAN FELT---LIKE ROMMEL HAD AN EGO. REPEATING---THIS MAN FELT-- WAS THE # 2 MAN IN THE FBI!!!
FELT-- GAVE HIMSELF THE CODE NAME IDENTIFIER "DEEP THROAT". YOU READ RIGHT, THE #2 MAN IN THE COUNTRY's MOST POWERFUL LAW ENFORCEMENT AGENCY GAVES HIMSELF THAT CODE NAME…. WHICH IS A CRASS DEFINITION OF A SEXUAL ACT.
IS IT NOT A WONDER-- THAT EX-AGENT ROMMEL, WHO WAS A CAREER AGENT--1951 TO 1979, WOULD NOT HAVE HIS BOSSES ATTITUDE AND MIND SET.
THE FBI IS A COMPANY--A LAW ENFORCEMENT COMPANY---- TO RISE IN THE RANKS IN MOST COMPANIES-- YOU HAVE TO HAVE THE LIKE MINDEDNESS OF YOUR SUPERIORS.
MORE ABOUT THE NEGATIVE MINDSET----FELT WAS CONVICTED ON FELONY CHARGES--- FOR NEGATING THE CONSTITUTION IN HOW HE PERFORMED HIS DUTY AS A FBI MAN. FELT WAS ORDERED TO PAY A FINE AND THEN LATER PARDONED BY PRESIDENT REAGAN. THE #2 MAN IN THE NATION's PREMIER LAW ENFORCEMENT AGENCY--- WENT AGAINST THE CONSTITUTION THAT HE WAS SWORN TO UPHOLD, BY PICKING WHAT LAWS HE COULD BLINK AT. THIS MINDSET THAT FELT HAD--- SHADOWS ROMMEL's MINDSET, AS IN WHAT HE CHOSE TO NEGATE WHEN IT CAME TO HIS REPORT ON CATTLE MUTILATION.
CONCLUSION----ROMMEL IN HIS TEXT CONCERNING ANIMAL MUTILATIONS, WENT WITH THE GOVERNMENT LINE---- THERE IS NO SUCH THING AS UFOs. THE POINT OF ALL OF THIS---- IS THAT THE FBI DURING ROMMEL's CAREER CLAIMED THAT THERE WAS NO SUCH THING AS THE MAFIA AND JFK WAS ASSASSINATED BY A LONE GUNMAN…. THUS THE ANIMAL MUTILATION REPORT BY ROMMEL IS SIMILAR TO THE WARREN REPORT-- BOTH ARE PURE FANTASY.
ALLAN's BOOKS & TOURS COVER ALL ASPECTS OF THE PARANORMAL------505-986-5002 or 505-231-1336---BELOW SOME OF ALLAN's BOOKS!!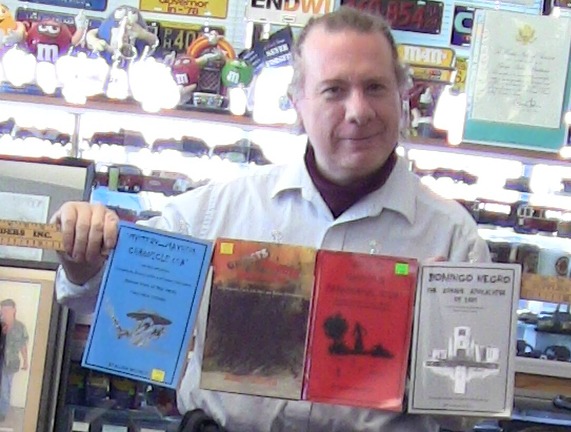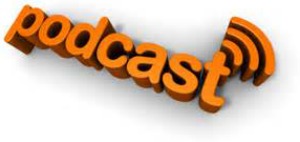 NEED AN INTERESTING GUEST? ALLAN IS FOR HIRE! -------------------------------------------------------- BELOW SOME OF THE RADIO SHOWS ALLAN HAS BEEN ON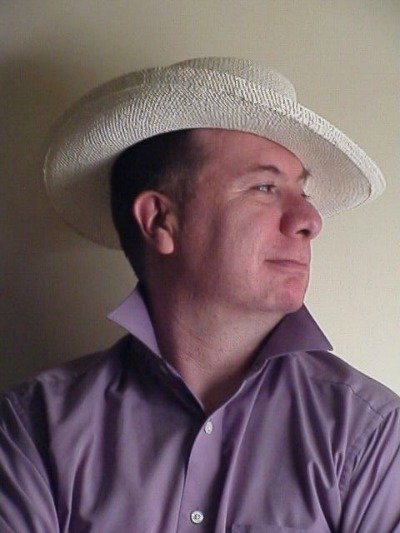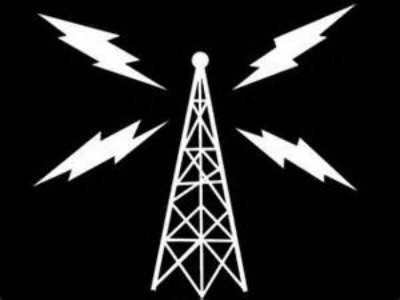 TOPICS =……... UFOS…….. GHOSTS …………. THE MISSING ………….. CONSPIRACIES …….--……… LA LLORONA ……………………….…… TALES FROM GHOST TOURS & INVESTIGATIONS ……………. GET ALLAN FOR YOUR RADIO SHOW …………………………..…….. YOU WILL BE GLAD YOU DID …………………………………….…. ..……. ……… 505-986-5002 or 505-231-1336………….To EXCHANGE LINKS---contact ALLAN = santafewriter@me.com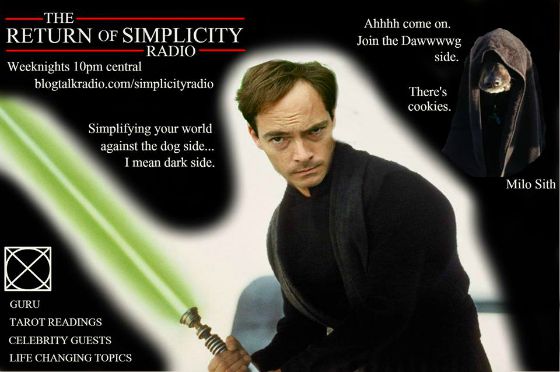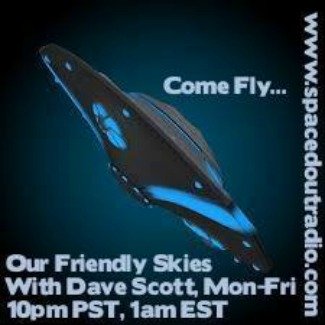 ---
SPOOK LANE CLICK HERE -- A VERY HAUNTED PLACE
---
THE BLAIR WITCH PATH -- BAD MOJO = CLICK HERE
---
PART II BLAIR WITCH- SANTA FE (LANE)
---