SANTA FE TOUR -- PARANORMAL SAFARI  -- BRING YOUR GHOSTOMETERS, CAMERAS, AND EVP GADGETS -- YOU NEVER CAN TELL!
505 - 986 - 5002 or 505 - 231 - 1336
Your Santa Fe Ghost tour is led by author, investigator, Allan Pacheco.  Below are some photos from some Santa Fe tours --- ghost tours...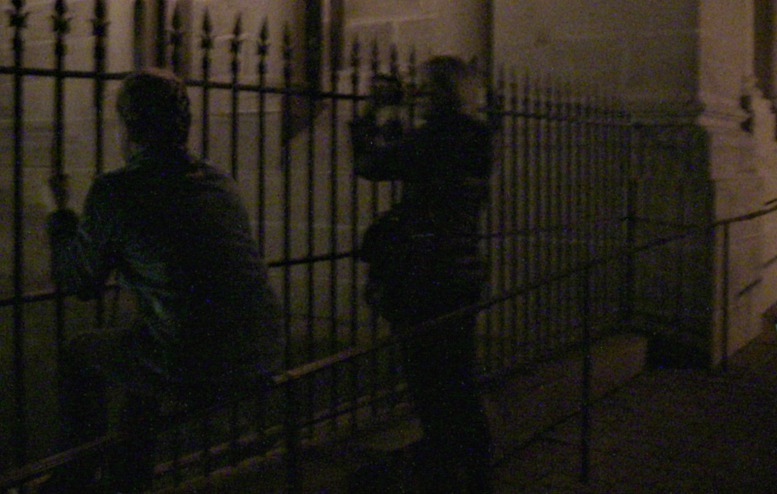 Below Allan leading a ghost tour -- the haunted old abandoned Marian Hall. The place does look ominous.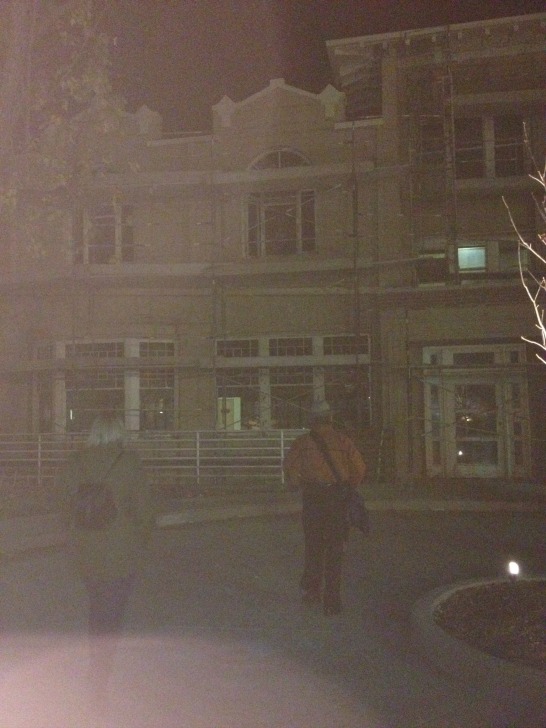 | | |
| --- | --- |
| | Schedule a tour with Allan -- 505-986-5002 or 505-231-1336 -- Your Ghost Tour is done at a comfortable pace, you will not be bothered by obnoxious strangers, this is your PRIVATE TREK!    |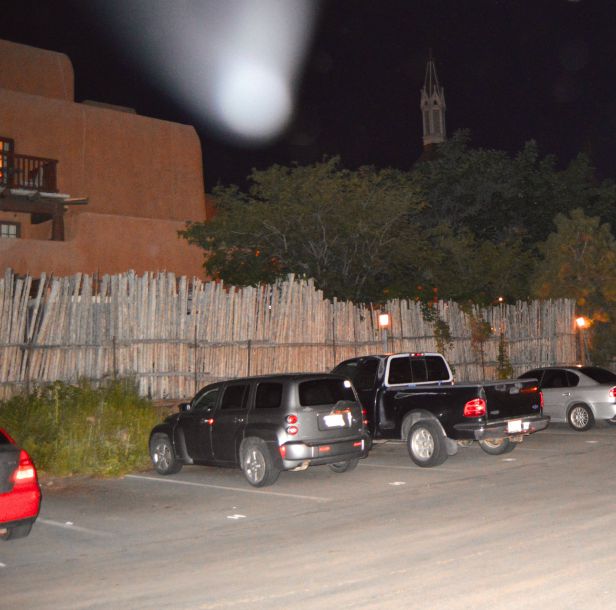 ABOVE: This whatever it is  --- (It is not the moon) was taken on tour at where the burned down Loretto Academy used to stand.  In the parking lot is where the old school used to be located, if you look in the right B.G. you can see the Loretto Chapel.   The New York lady who took this photo (MICHELE), at times tended to attract, at different places, paranormal energy around her.  Yes, at times her camera did go dormant in certain locations, after leaving the haunted area, her camera would function again.  

Above and below --- some Weird beards claim they ca see things in these photos an orb near the top of the Cathedral and some type of energy near the stairs below. Hmmmm, Allan always tries to be skeptical, is there something up near the crest of the building  or is it an insect or water droplet? OR is it a ghostly orb, it sure is white! Below, by the stairs is it a trick of light or is there a shade, this building is known for its haunted history.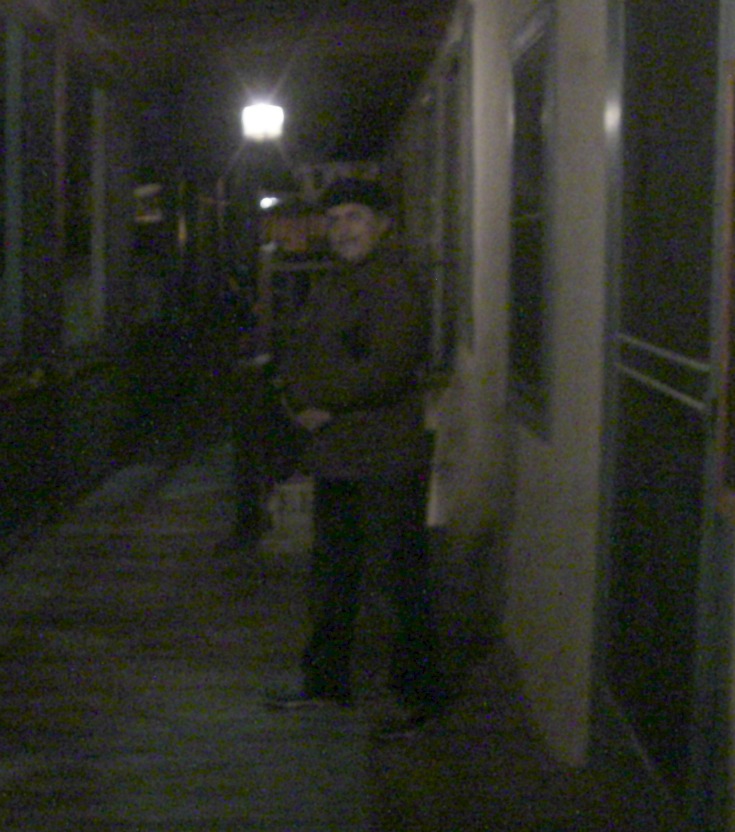 So what is it, trick of light, a ?...  disputed photo of?  What is it, light movement or something moving away?  THE BACKSTORY: Through the centuries the ghost of a Monk or Padre has been seen in this area...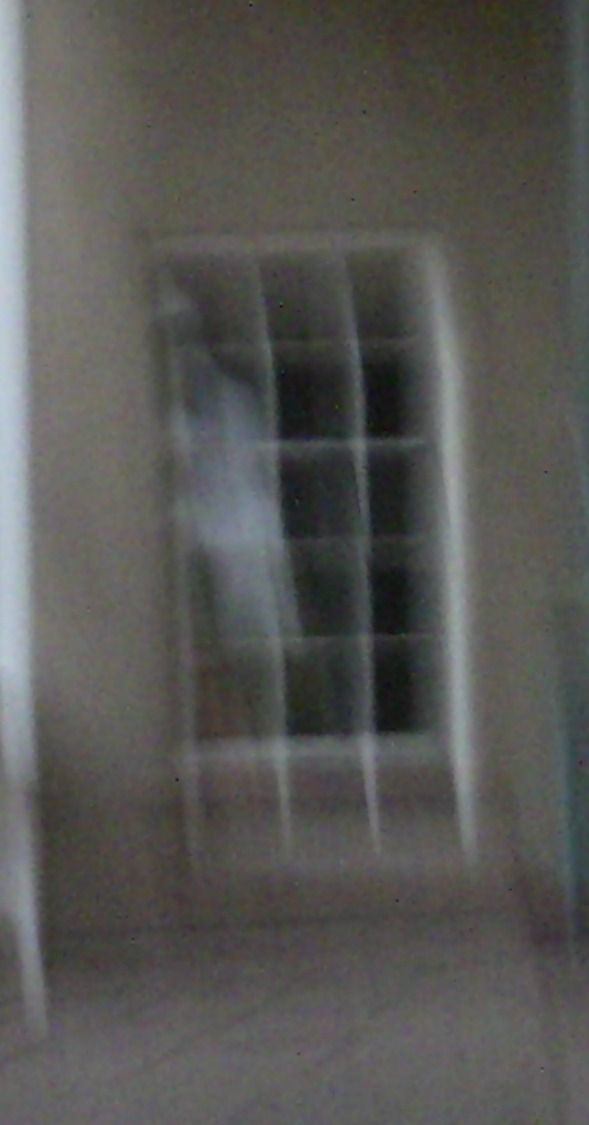 On Allan's tours sometime things are seen and even rarer, sometimes things are photographed.  Of course skeptics will claim it is everything but ghostly energy.  When you tour with Allan have your camera 7 ghostogadgets ready.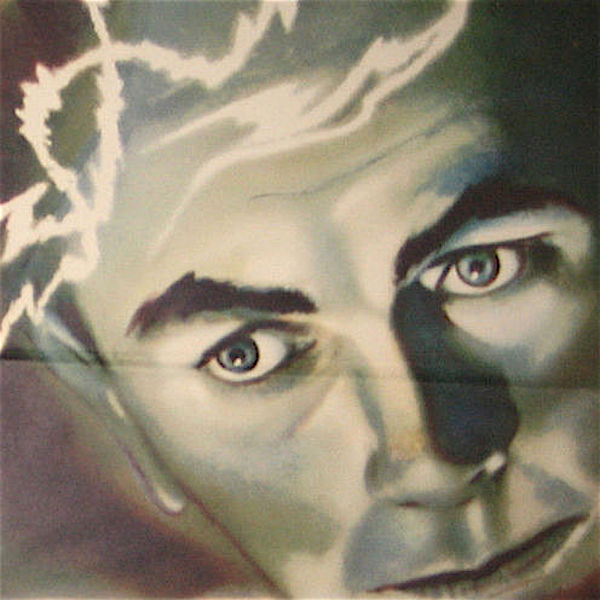 Below: End of a tour at the haunted and historic LA POSADA... Allan had a great time leading this group and yes this bunch did make contact with something ghostly at the OLDEST HOUSE... As of  this photo and the controversy, I think the half face that is on the left side of K, who is 2nd to left in the snapshot, that white profile is an optical illusion.  A good trick of light maintains Allan, others claim it is not...  Hmmm...  Every now and then some disputed pictures are taken on Allan's tours, and sometimes photos are taken that can not be questioned!  GHOST TOUR with ALLAN  505-986-5002 or 505-231-1336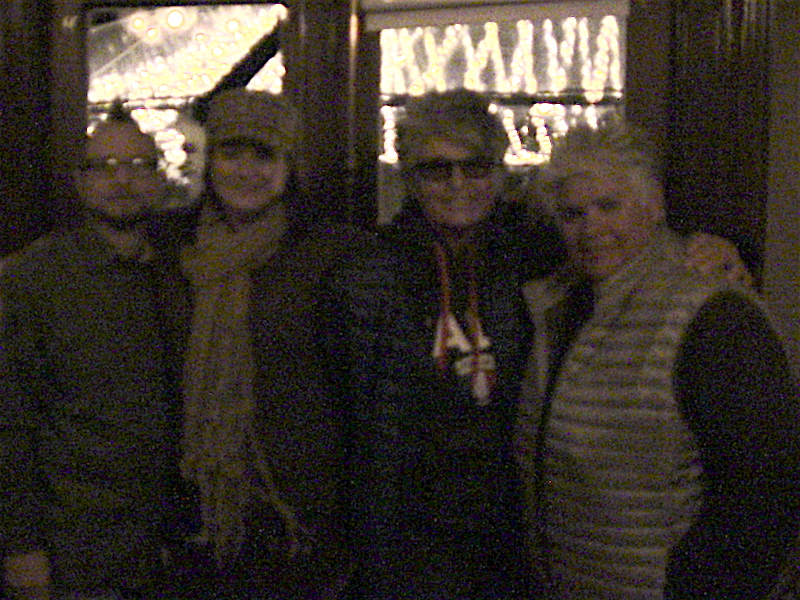 ABOVE & BELOW = Small or Big tour ---  Allan is available 505-986-5002  -- BELOW = On tour assembling in front of a historic and haunted building on old COLLEGE STREET.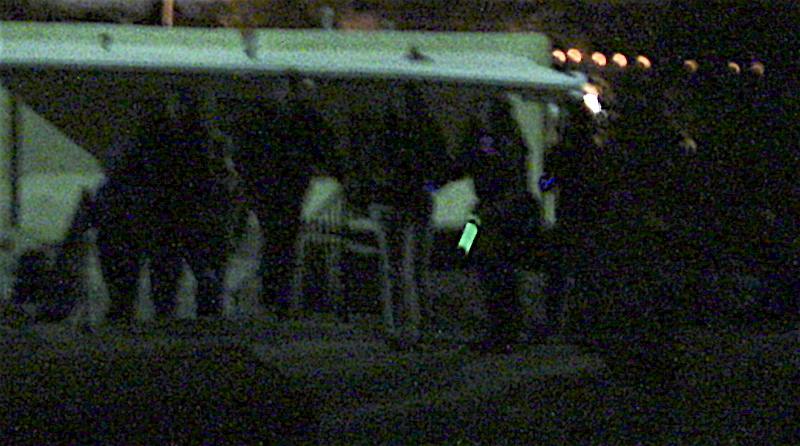 Karina H11/03/2017

As new residents of Santa Fe, we are interested in learning more about the city and it's history so we decided on a walking tour. Since it was Oct, we opted for a ghost tour. Joined by a friend who has been in Santa Fe for 30 years, we thought we'd have the best of both worlds (not knowing how long Allan had lived here). Reasonably so, our long time resident/friend was suspending her disbelief to see how much the guide knew. I can only say, as will the others in our group, - the breadth of Allan's knowledge is beyond impressive. Not only could he speak to the history of Santa Fe but to many other facets of the city's background & development. When we booked the tour, I had no idea we selected someone who must be (if he's not already) considered an expert in what he does. Having crossed paths with another tour, the difference between the two was staggering! Thankfully the ranking on TripAdvisor helped us make the right decision.Allan is entertaining, knowledgeable, honest, easy to schedule and reasonably priced for a private tour. If you're considering a walking tour, THIS is the one you want!!

Tired of being on treks -- where the guide knows - nothing ------ and reads off of  Q cards or his iPhone ------  and then gets himself and the group lost in the downtown area with his GPS... Then you find out that the guide is a new transplant to the area and his credentials pretty much mean nothing!!  Allan is a SANTA FE NATIVE, he leads his tours (He has no stooges running his treks) and the MAYHEM is at the (HAUNTED) locations you go to -- SO bring your cameras and ghostogadgets...  505-986-5002 or get Allan on your radio show.  santafewriter@me.com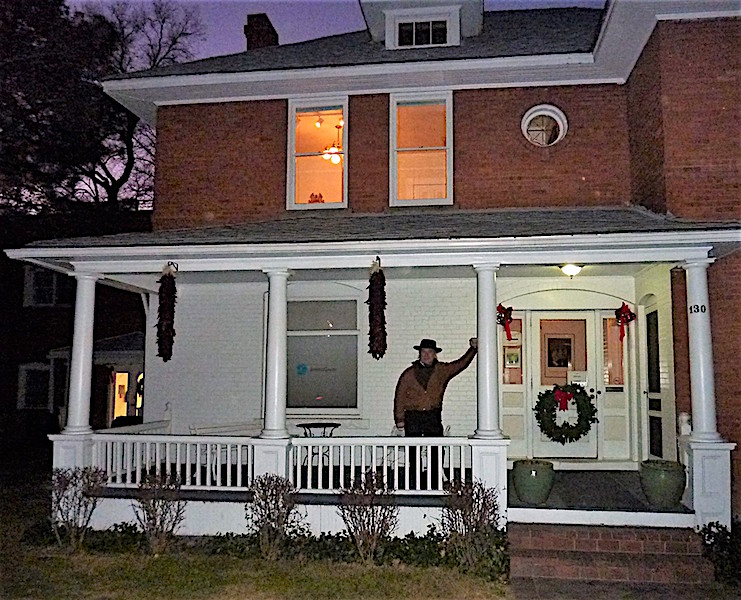 Be it (Paranormal) Ghost & History tours or just plain History tours, Allan's treks are fun and interesting!  Below --- the old saying but it is true on Allan's tours = "A PICTURE IS WORTH A THOUSAND WORDS".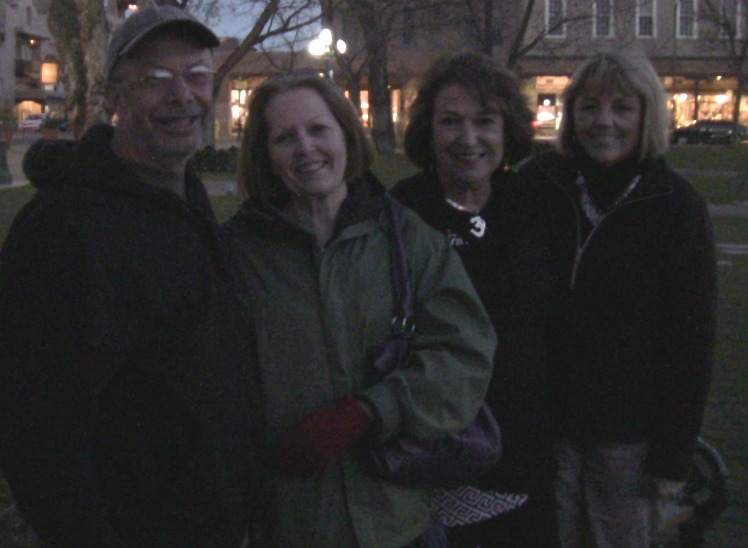 | | |
| --- | --- |
| | PLANET EARTH-SANTA FE, NEW MEXICO---TOURS WITH ALLAN PACHECO--505-986-5002 or 505-231-1336 |
| | |
| --- | --- |
| On your paranormal tour with Allan -- arm yourself with camera, ghostometer or ghostogadgets!  Below: Daytime ghost tour inside the haunted OLDEST HOUSE, dowsing for paranormal energy.. | |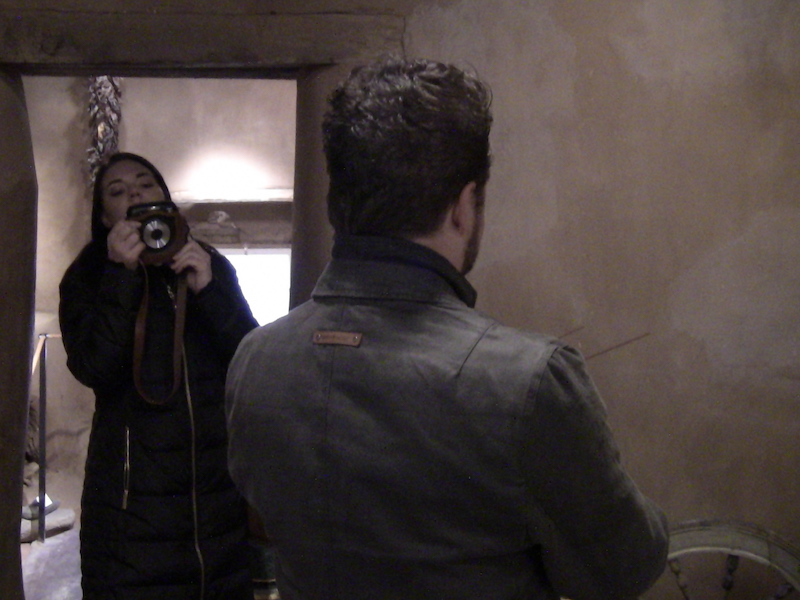 505-986-5002 or 505-231-1336