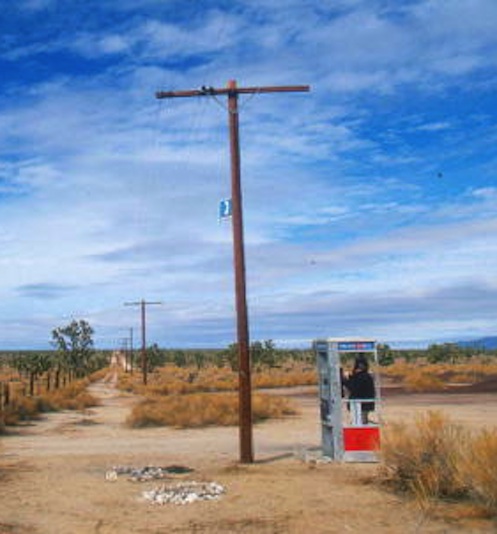 PILGRIMS TO THE PHONE BOOTH WOULD SOMETIMES LEAVE THEIR MARK, BY WAY OF METAL TATTOOING, GRAFFITI, a DECAL, OR A GIFT WOULD BE LEFT AT THE PHONE BOX.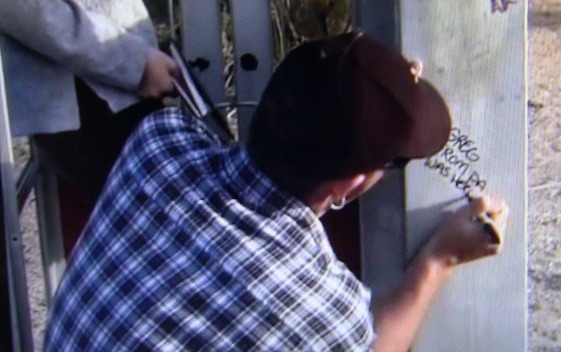 MOST OF THE MARKINGS OR DECALS THAT WERE PUT ON THE BOOTH WERE FUNNY, BUT SOMETIMES THE MESSAGES LEFT ON THE FRAME WERE PROFOUND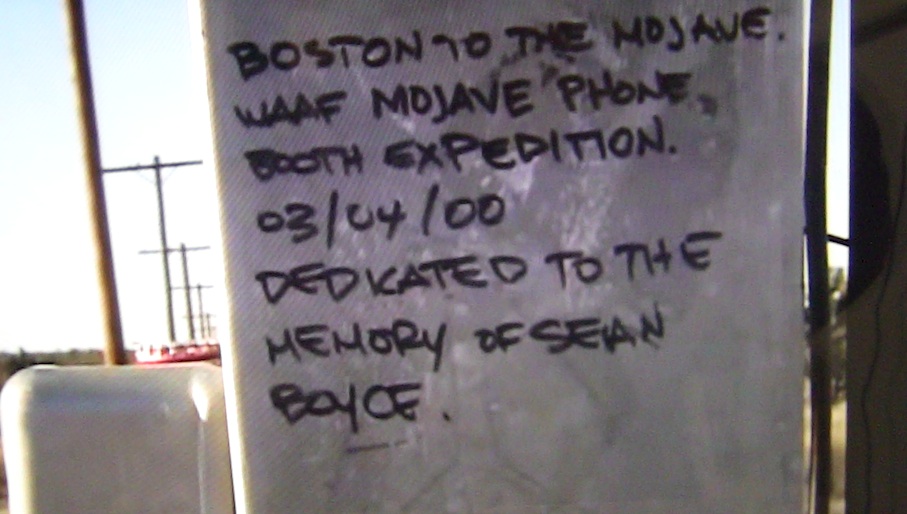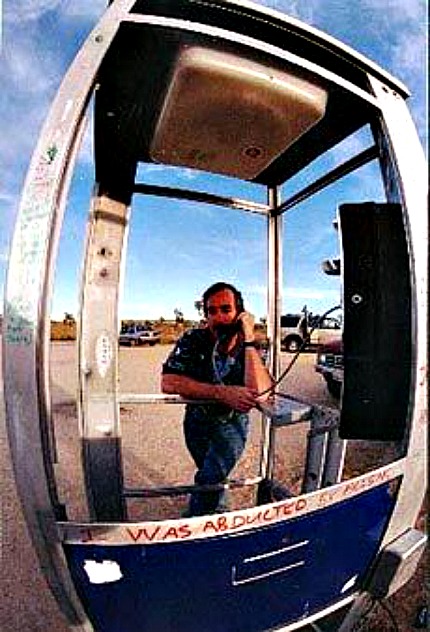 ALL KINDS OF GRAFFITI & OFFERINGS WERE LEFT ON & AT THE PHONE BOX.  MAYBE THAT AREA 51 CALLER GOT TAKEN AWAY FROM MOJAVE PHONE BOOTH BY  MIBs & THE ABDUCTEE LEFT HIS S.O.S. ON THE SIGN ABOVE,  GASP!!! MAYBE THE CALL WAS REAL!
THERE WAS ONCE A TELEPHONE BOOTH THAT SAT AT THE EDGE OF THE WORLD.  PEOPLE FROM ALL AROUND THE GLOBE  WOULD CALL IN TO THIS ISOLATED SPOT TO SEE IF ANYBODY WAS THERE OR THEY WOULD DRIVE OUT TO WHERE THE WORLD ENDED AND SEE THE PHONE BOX. THE FOLLOWING PHOTOS ARE OF WHERE THE TELEPHONE LINES OF THE WORLD ENDED AND WHERE A MAGICAL PLACE EXISTED. 
TO READ ABOUT THE MAGICAL DESERT PHONE' BOOTH's HISTORY CLICK ON THE LINKS BOTTOM OF PAGE, THEY WILL TAKE YOU TO PAGES THAT HAVE TONS OF INFO AND PHOTOS CONCERNING THE MOHAVE-PHONE-BOOTH.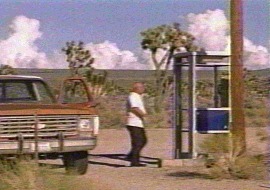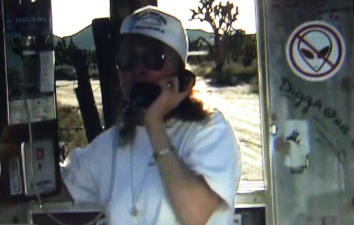 STRANGE THINGS ARE SEEN IN THE DESERT.

UFOS, SKIN-WALKERS, LA LLORONA, GHOSTS, ORBS, etc.

ALL KINDS OF THAANGS HAPPEN IN THE MOJAVE!  

IN 1997, LATE AT NIGHT, A FRANTIC CALL WAS SUPPOSEDLY MADE  AT "THE MOJAVE PHONE BOOTH", TO THE ART BELL SHOW.

ON THE RUN, STOPPING AT THE "MPB"AN EX-EMPLOYEE OF "AREA 51" ON LIVE RADIO TOLD THE NATION ABOUT ALIEN INFILTRATION.

  




NORTH OF THE PHONE BOOTH IS AREA 51. IS THIS CALL A PRANK OR LEGIT --CLICK ON BELOW LEFT ICON.



IF IT WAS A PRANKSTER HE WAS A GOOD ACTOR!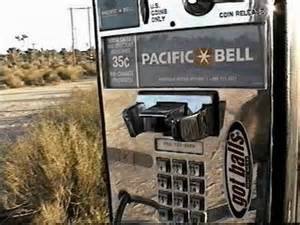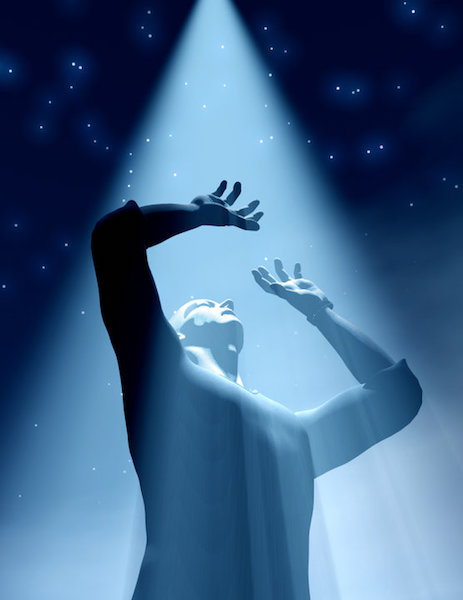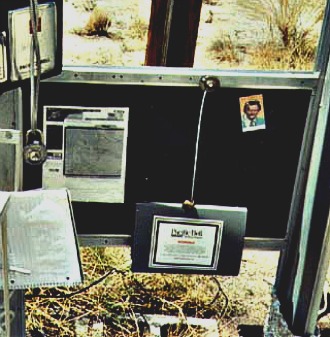 Above & Below: The Warning is what is on the protective shield for the YELLOW PAGES. The warning did not work. The California directory or directories were always missing. Taken as tokens by visitors. However!  Sometimes pilgrims would leave phone books from where they came from. Yellow Pages from different states along with notepads (LOG OF WHO CALLED) were left at the MOHAVE-PHONE-BOOTH.  It was a CULT offering -- homage!  What other phone booth was ever treated this way?