Santa Fe History Tour is led by Historian Allan Pacheco, who is a native SANTA FEAN.  Book a tour = 505-986-5002 or 505-231-1336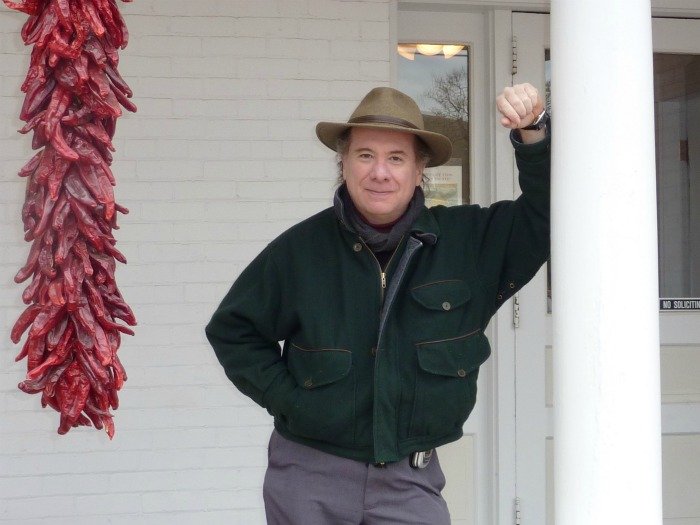 Below: some happy people who took Allan's history tour, we ended this winter trek at the historic La Posada.  Today La posada is world class resort, that has a fantastic bar, where you can order a cold or hot one. During Wild West days, La Posada was the mansion of the Al Capone of New Mexico territory -- ABRAHAM STAAB. If the state rooms are open,  we visit them.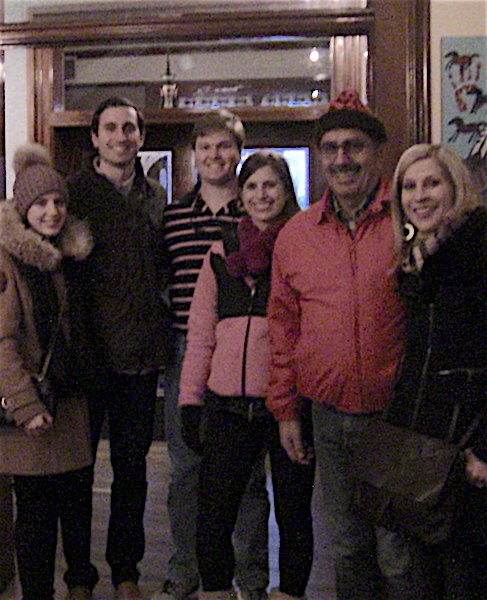 Your tour is comfortably paced - Conquistador days -- the Wild West, the Civil War & Manhattan Project Mayhem (Soviet Spies)  it is all covered and you see where it happened.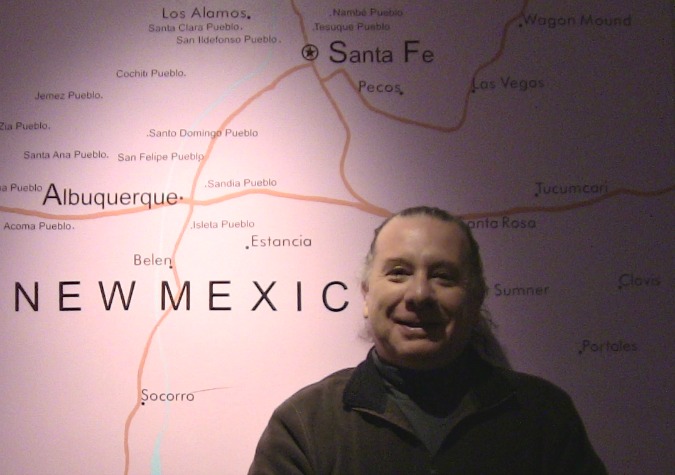 Some people like to end their tour in the Plaza -- BELOW:  Chris & Kelly at the end of the Santa Fe Trail monument.  Note the smart dog in the background.  It seems everybody or thing, finds Allan's tours to be very interesting.  REMEMBER!  Your private tour is aimed at your interests.  To book schedule a tour call 505-986-5002 or 505-231-1336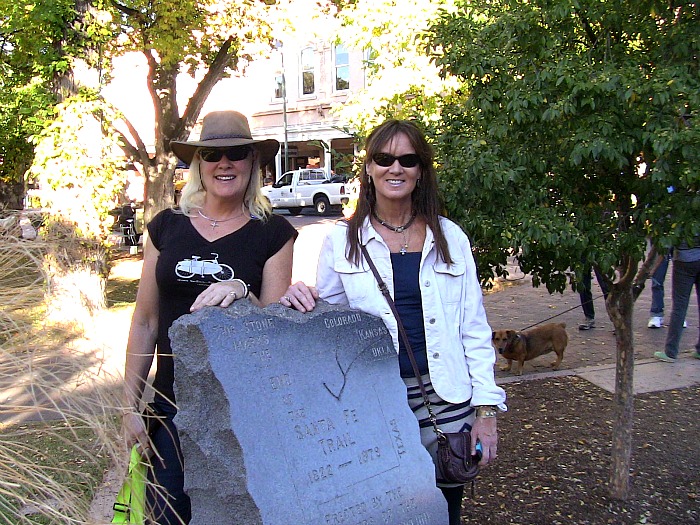 BELOW: Historic entrance to BURRO ALLEY --- Yes there is a metal Burro behind the ladies.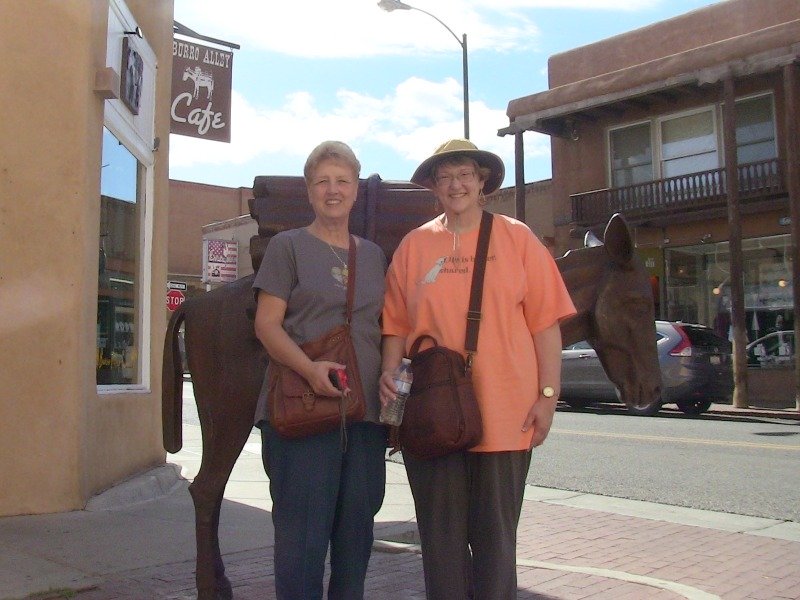 On your History tour we  cover Santa Fe's WILD WEST heritage, and we visit historic BURRO ALLEY. Yes this burro is always being dolled up.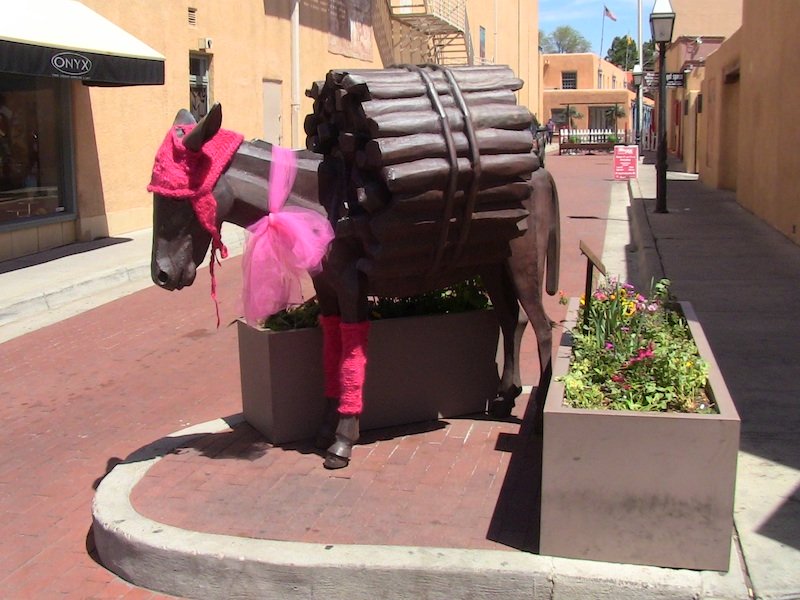 Below: Two modern day Catron County Cowboys --- Lance and Cole get ready to shoot it out with skin colored 45caliber pistols in Burro Alley.  On your tour you visit where the bullets flew during WILD WEST DAYS.
Sometimes on ALLNA's  tours  a little bit of JESSE JAMES comes out of people --- below a good video shot southwest of SANTA FE... 

BELOW: Part of your history tour covers the conquistadors, their conquests and colonial days.  Tour Guide Allan, by the statue of DON DIEGO DEVARGAS --- due to the Charlottesville fiasco, in the future this statue may not be around.....  It is a sad thing when controversial events are omitted from the history books... Rather like the novel "1984" or "BRAVE NEW WORLD" where history is rewritten......  History is not always nice or pretty, but it should not be avoided or destroyed, one should learn from it.  If one is ignorant of history one makes the same mistakes over and over again, for example.....  Apparently the politicos in D.C. learned nothing from the VIETNAM WAR and got the USA into a modern replay called the MIDDLE EAST WARS.  Book a tour with Allan 505-986-5002 or 505-231-1336. He is a fantastic historian of renown.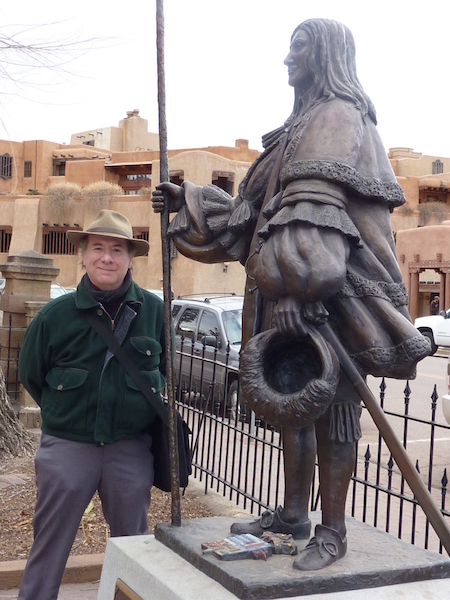 BELOW: Aerial view of FORT MARCY -- this fortification overlooks NOREAST SANTA FE --- this bastion commanded the city with its cannon.  
Above 1966 Photo of FT MARCY  -- BELOW 2017 PHOTO of FORT MARCY from downtown Santa Fe.  The cross is commemorate the 16 Spaniards who were tortured to death by the Indians atop FORT MARCY HILL in 1680.  The steel cross is known as THE CROSS OF THE MARTYR's.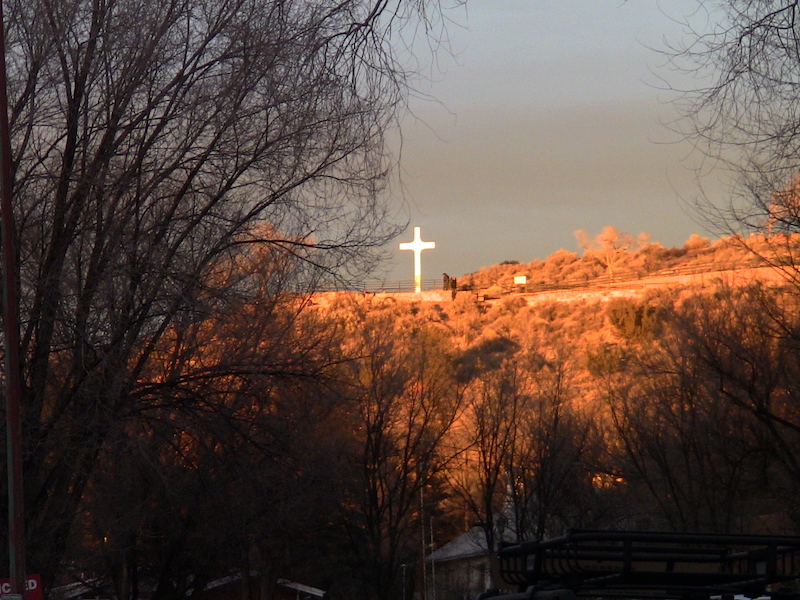 Depending on the tour,  sometimes ALLAN's tour hikes up to the CROSS OF THE MARTYRS'.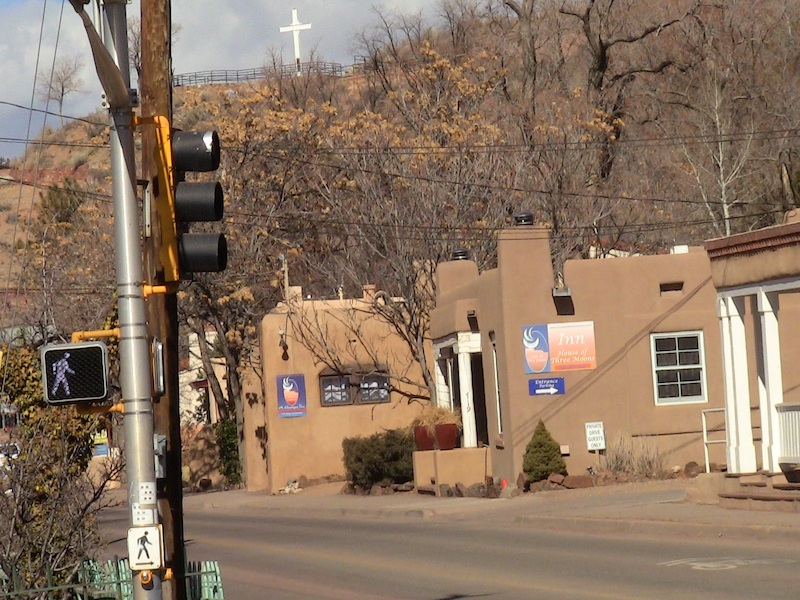 BELOW: From atop old FORT MARCY -- CROSS OF THE MARTYRS' you can see all of old Santa Fe.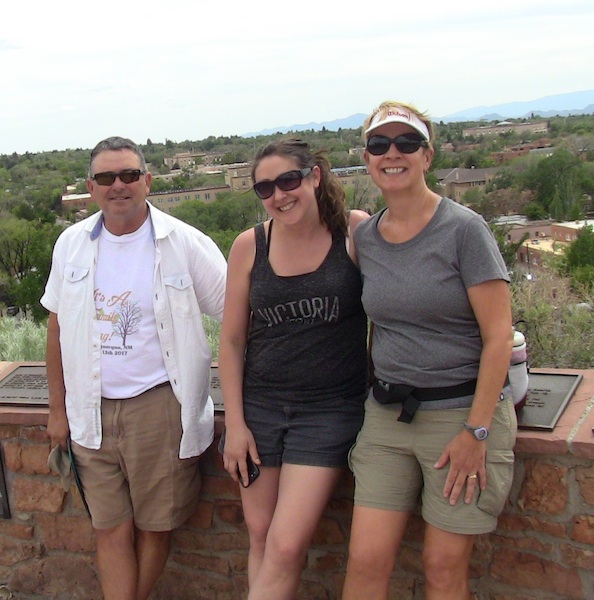 ABOVE & BELOW: Different groups --- happy campers at the CROSS OF THE MARTYR's which is also known as FORT MARCY.  If you look to the left of the BELOW photo you can see the monument, the huge cross.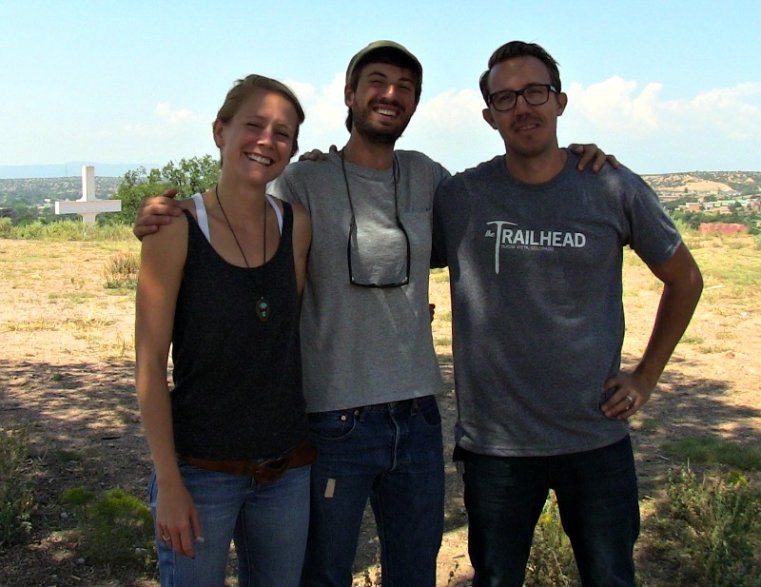 Below: Allan at the Drury hotel sky bar -- behind ALLAN is FORT MARCY.. Some times tours want to end their tour at this location so they can view Santa Fe, yes this bar is 5 stories high.  The cross is to the right of Allan's Fedora brim.

Allan is available for private tour = 505-986- 5002 or 505-231-1336 ---- Allan also does radio shows. Below are some of the programs he has been on.