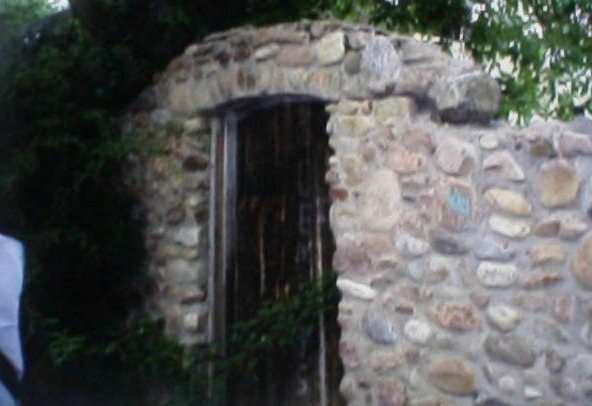 THE BOLTED, BARRICADED DOOR (AREA) ON SPOOK LANE, AT TIME IT SEEMS TO BE THE HUB FOR PARANORMAL ACTIVITY.

LEFT: DAYTIME GHOST TOURS ---the group got an odd feeling in this area of the pathway. I tried to detect if something was there.  Either nothing was there and everybody was imagining or something was there and I was off the frequency. That does happen, as in my radar is not working.  I dare say with this group, something was there, look at the expressions, it sure looks like these people did feel something.

Through the decades--going back to 1928 when this wall replaced another barrier --people have told me that they have heard La Llorona (BANSHEE) on the pathway or saw orbs or a ghost in the area.
Interestingly the path area is close to a paved over old graveyard and according to lore that cemetery is connected to La Llorona.
Another GHOST-TOURS tidbit, supposedly in 1914 murderer Alfred Padilla threw away at the top of the path, the straight razor that he used to murder his wife Rufugia with.  According to wives tales the weapon was never recovered and I guess it is decomposing under pathway some turf.  
Another tidbit, near the bottom of the old pathway-- with a ghost box investigation-- the device kept giving out the word REFUGIO. THat is an odd name-- and it was Refugia who got murdered, and the weapon is perhaps--on or near the path but buried under inches of dirt.
How much truth is there to these tales of metaphysical activity on this path at night?
Apparently something is there or a few supernatural things are there..  Because I keep getting reports of paranormal activity in this area.
As in (ON RARE OCCASION) something reaching out and touching people, I used say it was a bush because I try to be as skeptical as possible.
But I now think it is safe to say, due to all the orb pictures that have been photographed on that lane, that the shadow chasers are onto something.
Furthermore, on rare occasions I have seen on tours and investigations, people get bumped or shoved on this path.  No, they did not stumble.
As for the photo--OF THE LADY TOUCHING THE DOOR-- Nikola (WOMAN AT THE DOOR) sensed something and puts her hands where she thought something had been there or had blinked out...
SO was something there?  Well--this lady impressed me as one who did have a keen awareness and was a first class shadow chaser. She was not-NOT-NOT a phony.
Also people have photographed orbs in that area or at that door and on the rarest of occasions they have sensed or have seen something --as in a ghost's face. YES the eccentrics are right by calling this path-- SPOOK LANE.
The history of this sector is steeped in mayhem,  be it murder, evil deeds, and modern day crime, and those themes or fact, do dove tail into what has been at times, registered on this lane and the surrounding paths.